October 24, 2021 – Pumpkin/Squash/Gourd
Sunday, October 24, 2021
VBC Meeting #104: Pumpkin/squash/gourd
Host of the Month: Drew
Location: Denton, Texas
For October, we had a celebration of Fall pumpkin/squash/gourd harvest season. In Drew's words on the squash: "they are all in the same family, but there are so many options this time of year when it comes to the Cucurbitaceae family of plants, from sweet to savory."
This is what we made: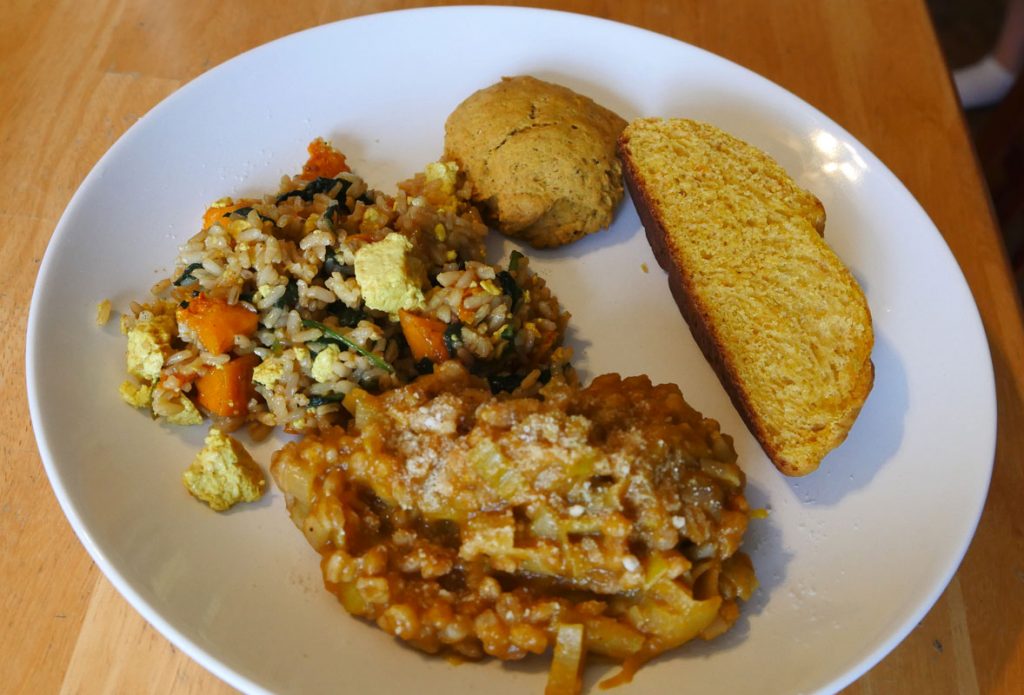 Drew: Pumpkin Farrotto
Drew made us farro cooked in the style of risotto, following a recipe for Pumpkin Farrotto from The Vegan Instant Pot by Nisha Vora. He sautéed leeks and garlic in olive oil, added in farro to toast it, then veggie broth, salt, pepper, bay leaf, nutmeg, and a can of pumpkin. This all went into his Instant Pot, but then it burned, and this prevented the Instant Pot from continuing to cook it. He removed what was burnt, stirred in more broth, and tried again. It burned more. Thus he transferred the burn-prone mixture into a pot, added more broth and then some water, and simmered on low. To add to the farrotto, he made an herb infused oil with vegan butter and olive oil, fresh sage, thyme, and rosemary and topped it all with vegan Parmesan cheese.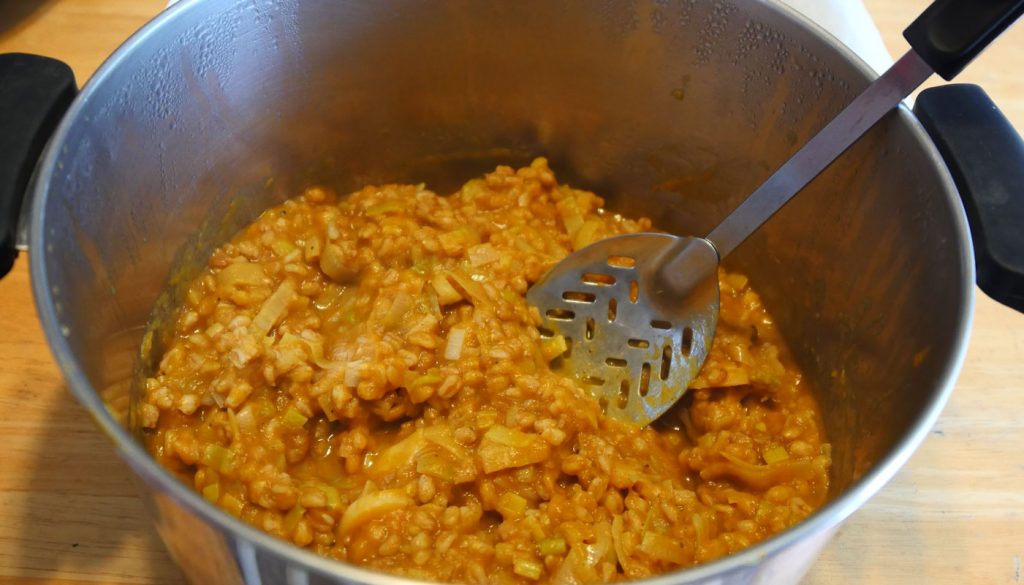 Shannon: Pumpkin Cookies
Shannon baked pumpkin cookies veganizing a recipe made with dry ingredients of flour, baking powder, soda, and pumpkin pie spice (cinnamon, nutmeg, ginger, allspice, cloves). She creamed vegan butter with white and brown sugar and mixed in pumpkin purée. Since the recipe called for only part of a can of pumpkin, she decided to adjust recipe ingredient amounts to using the full can to preempt any small leftover portion of pumpkin spoiling in her fridge…to be found and tossed days or weeks later. She used a "flax egg" in place of a chicken's egg and finished off the the recipe with vanilla. She likens the cookie dough to a drop biscuit dough, leading her to scoop and flatten portions manually. She baked the cookies at 16 minutes for 350°F. She didn't make the cream cheese frosting.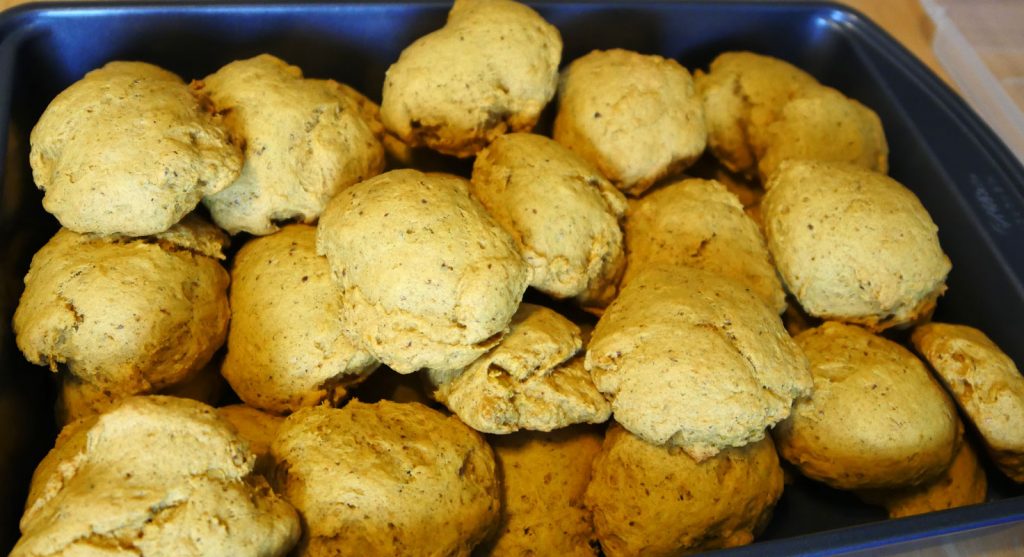 Billy: Squash Braid Bread
Billy made a braided squash bread loaf with a dough of all-purpose flour, puréed butternut squash, almond milk, brown sugar, one "flax egg", vegan butter, water, yeast, and salt. He let the dough rise in the mixing bowl for an hour, then separated it into three strands and braided them together. After a further thirty minutes of rising time, he baked the loaf at 350°F for 25 minutes.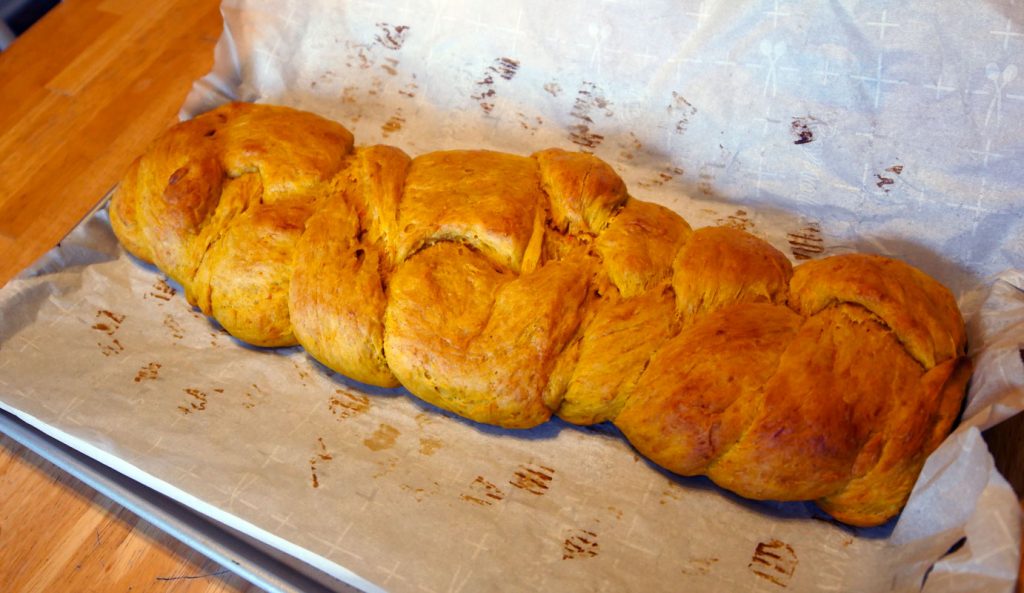 Lauren: Butternut Squash and Spinach Fried Rice
Lauren put together a fried rice filled with butternut squash, spinach, and tofu scrambled "egg". She roasted butternut squash in olive oil, lightly seasoning it with salt, pepper, and cinnamon. She made scrambled tofu with firm tofu, nutritional yeast, turmeric, garlic powder, mustard powder, lemon juice, and black salt. She stir-fried fresh spinach in vegetarian oyster sauce then drained most of the excess liquid. She put leftover already-cooked rice into a frying pan, flavored it with soy sauce, vegetarian oyster sauce, red wine vinegar, sesame oil, garlic powder, ground ginger, and onion powder then mixed in the squash, tofu, and spinach.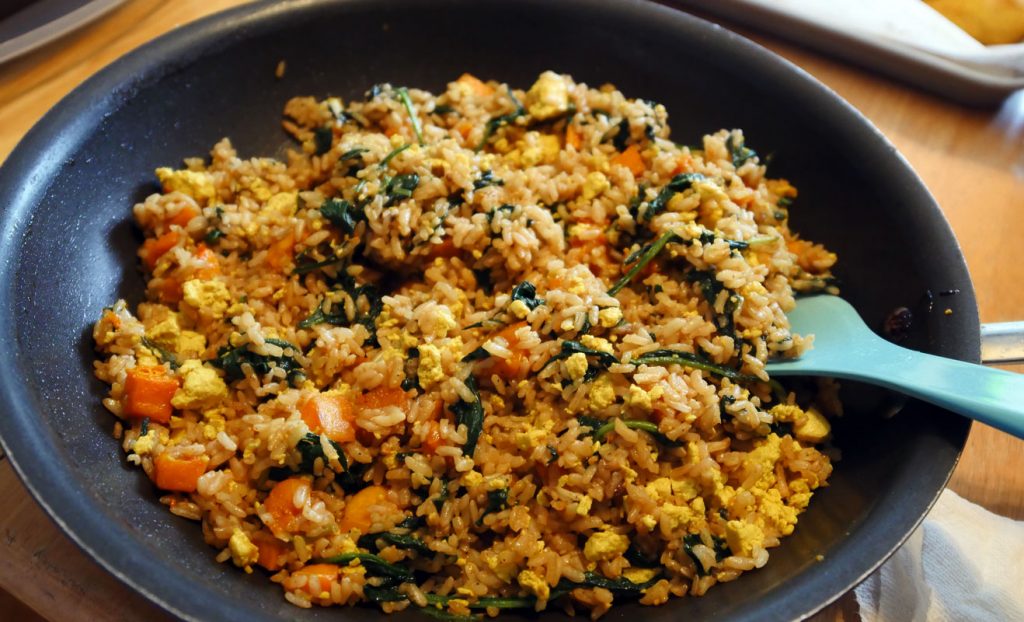 Slynn and Ramon: Baked Delicata Squash with Goat Cheese; Bean Balls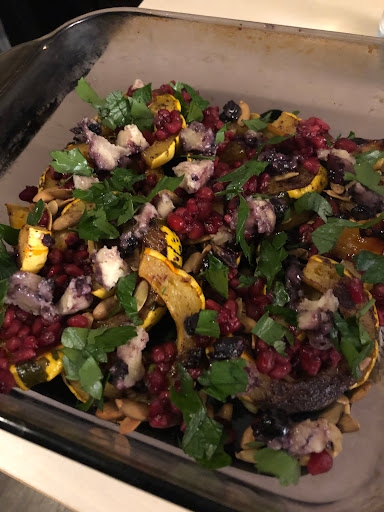 I made a squash dish for our Halloween meal. It was based on this recipe, but I used a delicata squash that I picked up at Natural Grocers. I was going to leave off the goat cheese but then Ramon and Neva found this blueberry "goat" Rebel cheese at Mashup Market. It was pricey but worth it. So delicious! The squash is roasted with maple syrup and cinnamon and then the fresh elements are added on top after baking.
Ramon made bean balls from the Veganomicon to go with the meal. No squash involved, but they are "squashed" together!