October 2020 – With A Kick
Many Days, October 2020
VBC Meeting #92: With a Kick
Host of the Month: The Internet
Location: The Internet
Caroline suggested pro-wrestling for the October theme, but since I wasn't sure what pro-wrestling food is (unless we all…STEP INTO A SLIM JIM!), for October, the theme given was "With a Kick!" This could be food with an unexpected burst of spice, but if you don't like spicy…well spicy is relative. So maybe this kick is not a hot spice thing but some other burst of flavor (does sour kick? booze kicks–I think). Or maybe it is just something you make while kicking like a Rockette or Jackie Chan. Sorry, Caroline! Pro-wrestling is way better!
This is what we made (in the words of those who made it):
Caroline, Drew, Macy-Mace: Raspberry Chocolate Chip Scones
Here's me and Drew's Raspberry Kick! for VBC October 2020! "With A Kick!"
Paul Hollywood would say something about the look being bad and the texture too crumbly, and Prue would say the spelt flour gives it an interesting, if slight gluten-free-taste.
But!
Behold! My gluten free chocolate scones with a raspberry kick!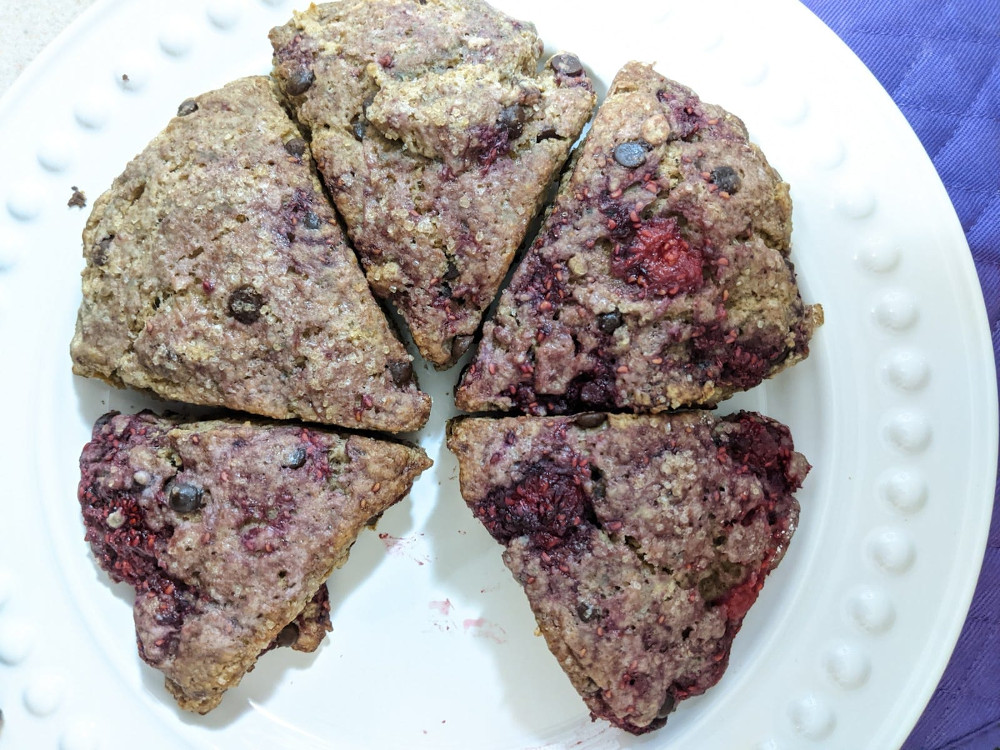 (They're actually not mine at all, they are Dreena Burton's and they are officially called "Raspberry Chocolate Chip Scones," and you can find this gluten-free scone recipe in her book Eat, Drink and Be Vegan, 2007).
Ingredients
1 cup spelt flour
1 cup oat flour if you have it, if not you can just use 2 cups of spelt
1/4 cup unrefined sugar
1/2 tsp sea salt
2 tsp baking powder
1/2 tsp baking soda
1/4 cup canola or vegetable oil
1/4 cup vegan chocolate chips
1/4 non-dairy yogurt
2 and 1/2 to 4 tbsp non-dairy milk
1 tsp vanilla extract
2/3 cup frozen raspberries
1/2 tsp spelt flour (for dusting counter)
1/2 tsp non-dairy yogurt or non-dairy milk (for brushing scones)
1/2 tsp unrefined sugar (for garnish)
Procedure
Mix the flours, sugar, and salt.
Sift in the baking soda and baking powder, and mix all together.
In separate bowl whisk the yogurt, milk, and vanilla extract.
Add oil to dry mixture and mix with spoon or hands until crumbly.
Add chocolate chips and mix with spoon or hands until crumbly.
Add wet mixture (yogurt, milk, vanilla) to dry and mix with spoon or hands until an on-the-dry-side dough forms.
Add frozen strawberries and mix in quickly so they don't thaw but until a thick and sticky but on-the-slightly-drier-side dough forms.
Plop the dough onto a flour-dusted counter and gently press it out until the circular dough shape is about 7″ in diameter and 1/2″ thick.
Cut into 6 slices.
Spatula the slices onto a parchment lined baking sheet.
For a glaze, spread yogurt or non-dairy milk on tops of scones and sprinkle with sugar for garnish.
Bake at 375° for 19-22 minutes or until tops are lightly golden (which is hard to tell when raspberries melt!) and scones are firm to the touch.
Remove from oven and immediately transfer to cooling rack.
Eat them.
Love them.
John: Figure 4 Garlic Knots; Garlic Chili Knots
It's snowing a bunch in Boulder today and a great day for baking something. Wrestling made me think of making some Figure 4 Garlic Knots, and With a Kick led me to think of making some Garlic Chili Knots. I wasn't sure how the spicy knots would turn out, so I made some of both.
For the Knots, I made a simple yeast pizza crust dough, let it rise, pulled off chunks, rolled them into snakes about 8-10 inches long between my hands, and tied them into knots. While baking them for about 12 minutes at 400°, I mixed up some more traditional topping with a couple cloves of fresh crushed garlic, basil, oregano, and Smart Balance. I also mixed some spicy topping with Smart Balance, cloves of fresh crushed garlic, and garlic chili sauce. On removing the knots from the oven, I brushed the tops of each with some of the topping and dove into eating them. The Garlic Chili Knots are surprisingly good, and I kind of wish I'd made more of them. They're not too spicy, but very nice and garlicky, with just a little kick.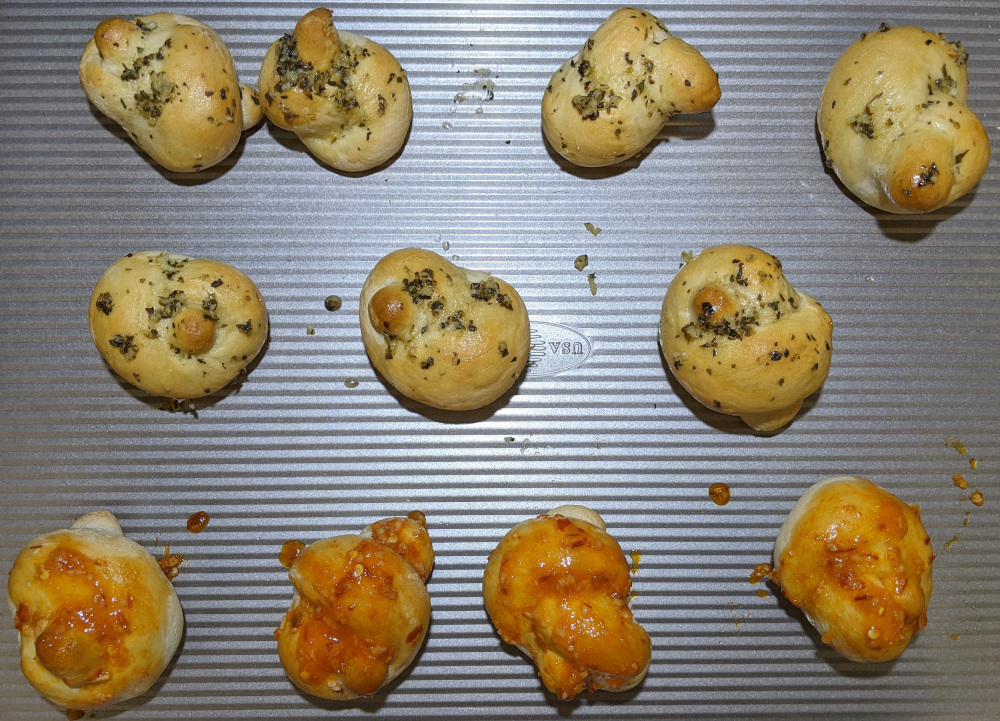 Shannon: Chocolate Vegan Egg Cream
I did not bake for my October entry. I got really fixated on a thing called a chocolate egg cream. No egg or cream in the ingredients. Ever. It's an old fashioned fountain drink I've heard mentioned a couple of times in movies, and as it only has three ingredients, it's super easy to make and super easy to veganize.
I followed this recipe from the food network, but there's not much in it, and you could probably play with the ratios a bit. I used soy milk, Sprouts chocolate syrup, and seltzer water. It's super fizzy. Not sure it fits the theme of "With a kick," but I was expecting it to taste like chocolate milk and it tastes more like a chocolate soda, and for someone who does not drink carbonated drinks, that gave it a kick for me. Also, Lauren said I could interpret the theme as "getting a kick out of something," and old fashioned soda drinks are fun! Since I now have a huge bottle of seltzer water, I might try variations with different plant-based milks. Coconut could be interesting, or oat. I also wonder if you could just buy chocolate milk and add seltzer water to it. So many versions to try!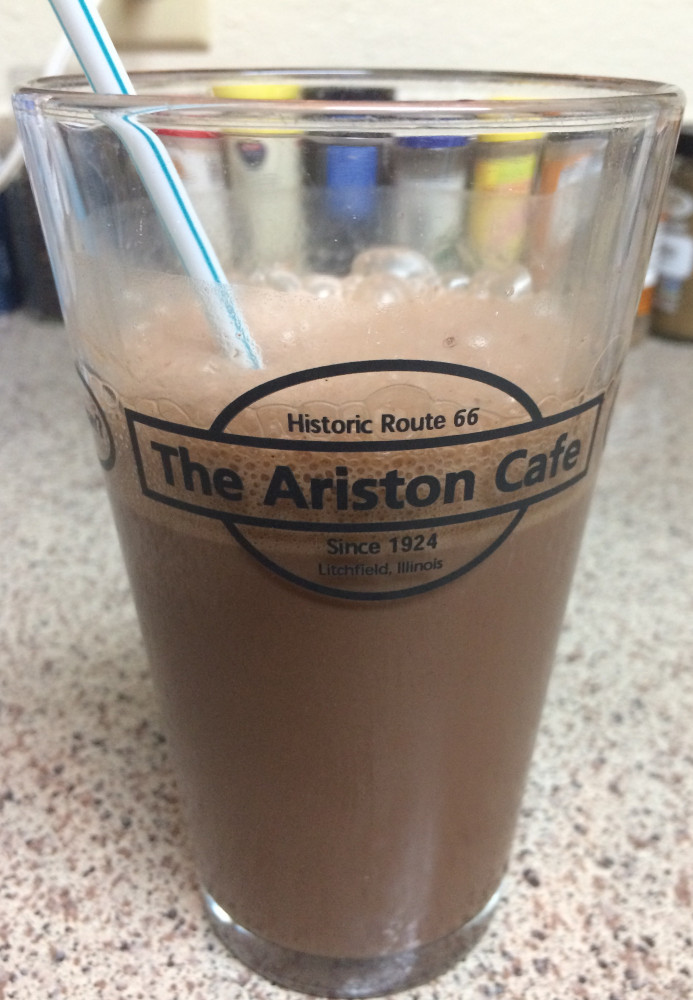 Lauren: Beer-Battered Spaghetti Squash; Vegan Corn Dogs; Kicky Tofu Eggplant Cauliflower Stir Fry
Last weekend Drew and Caroline came over, and feeling that Texas Fair time of year in the air, I decided to fry some stuff up! For one, I took pieces of spaghetti squash grown by Billy and dipped them into a batter of beer, flour, garlic powder, black pepper, cayenne, and salt (if I recall correctly).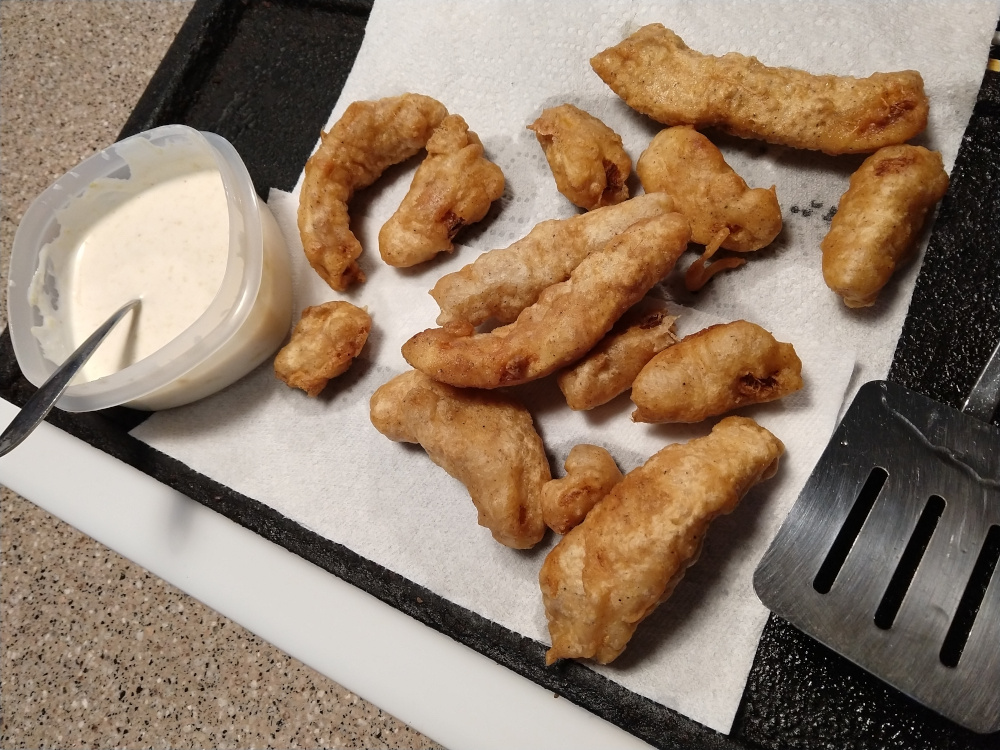 I also made some seitan frankfurters that I fried as corn dogs, with cayenne added to the corny batter again for a bit of a kick. For the squash, Billy made a tartar sauce with soy yogurt, Vegenaise, lemon juice, cayenne, garlic, and salt. Do you see a theme here?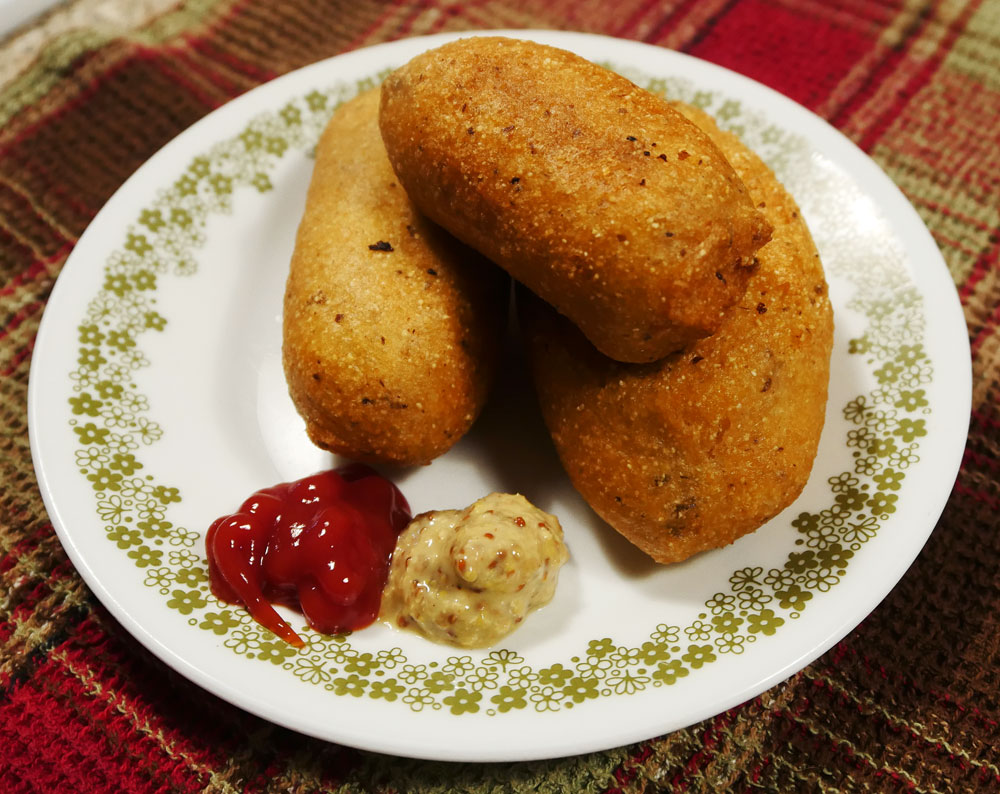 For a different peppery kick, a couple-ish nights ago I made a tofu stir fry with eggplant, cauliflower, and carrot spiced up with dried ground up jalapeño originally from Billy's garden in a sauce of veggie chick'n broth, soy sauce, rice vinegar, brown sugar, corn starch, and sesame oil.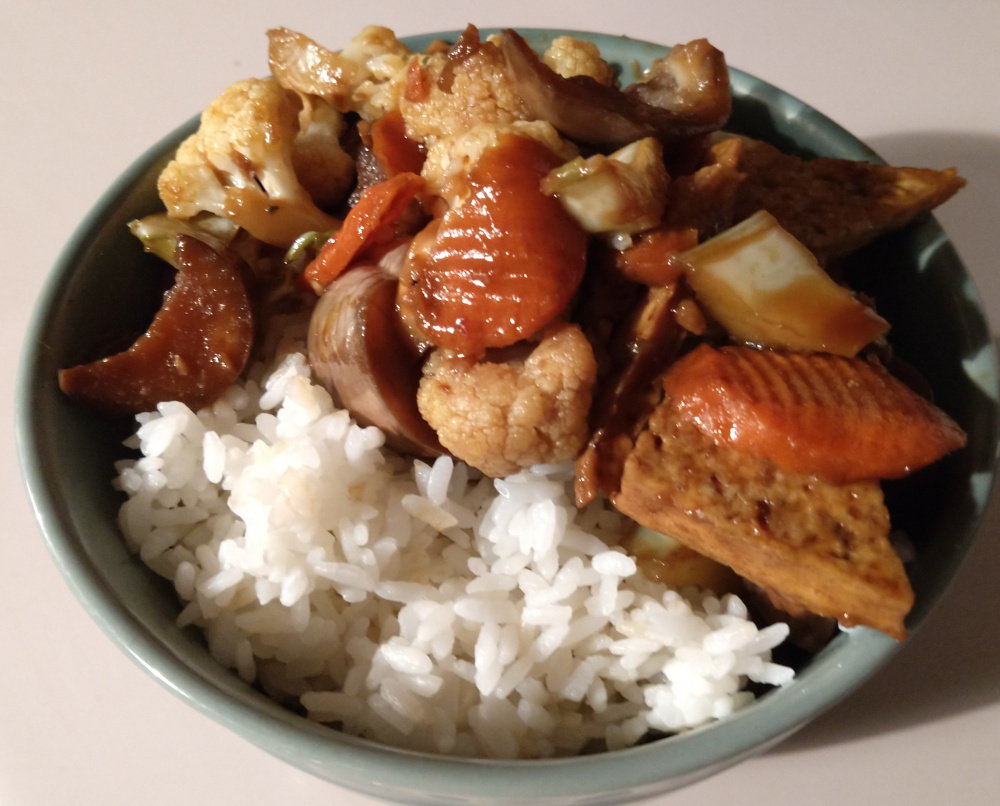 Billy: Stuffed Garden-Grown Acorn Squash; Deep-Fried Vegan Cheese-Stuffed Jalapeños
For "With A Kick" I baked garden-grown acorn squash stuffed with stir fried onion, jalapeño, bell pepper, and TVP, sprinkled with Daiya mozzarella, parsley and toasted acorn squash seeds.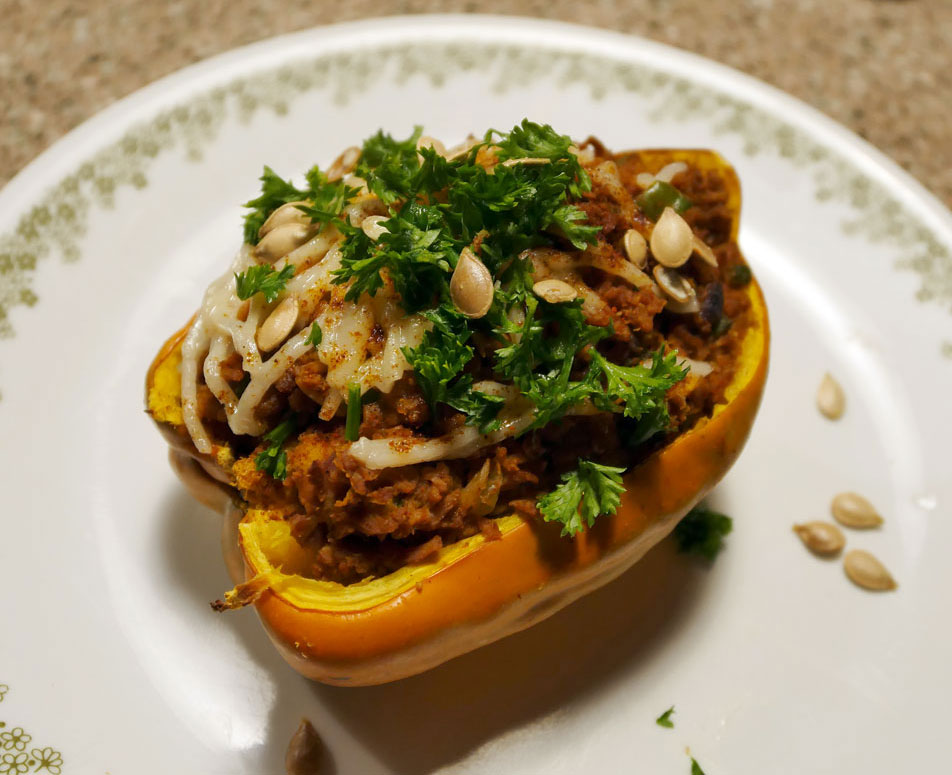 I also made some deep fried cheese-stuffed jalapeños to go with the corn dogs…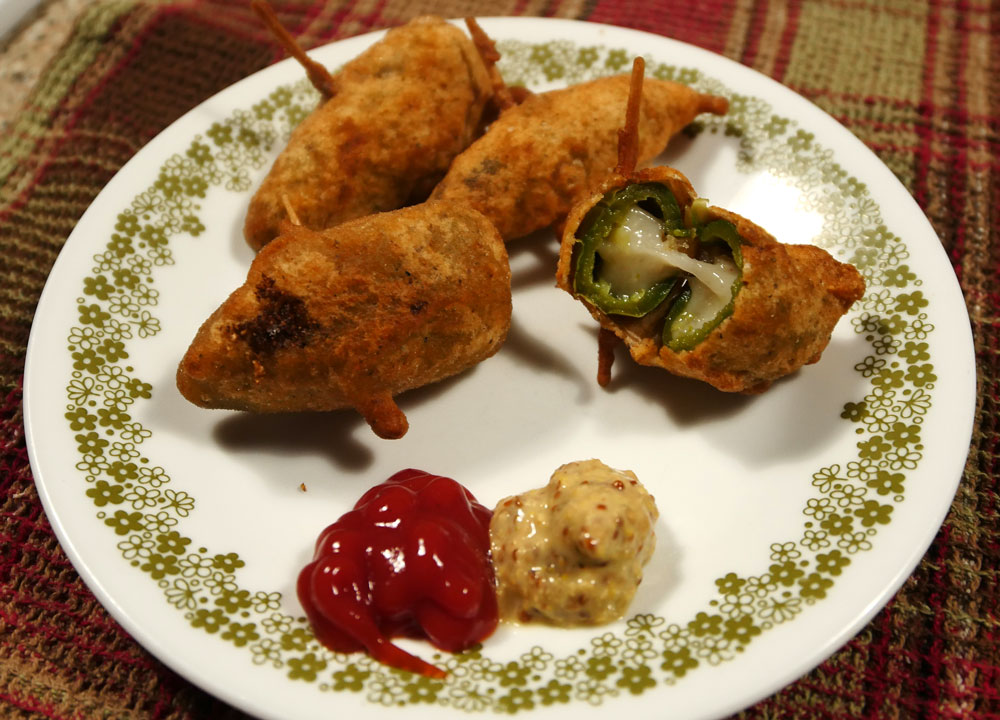 Slynn: Cayenne Cornbread Muffins

I made the skillet cornbread recipe from the Veganomicon into muffins (replacing sugar with 2TB maple syrup), but I added some dried cayenne peppers from our garden. Maybe they weren't dried out enough because the peppers didn't break up very well in the food processor. There were some bland bites and some with a real kick! With the extra batter, I made a few johnnycakes.