November 25, 2018 – Thanksgiving
Sunday, November 25, 2018
VBC Meeting #69: Thanksgiving
Host of the Month: Lauren and Billy
Location: Ponder, TX
As tradition goes, November brought us a Thanksgiving gathering with Vegan Bake Club.

This is what we made: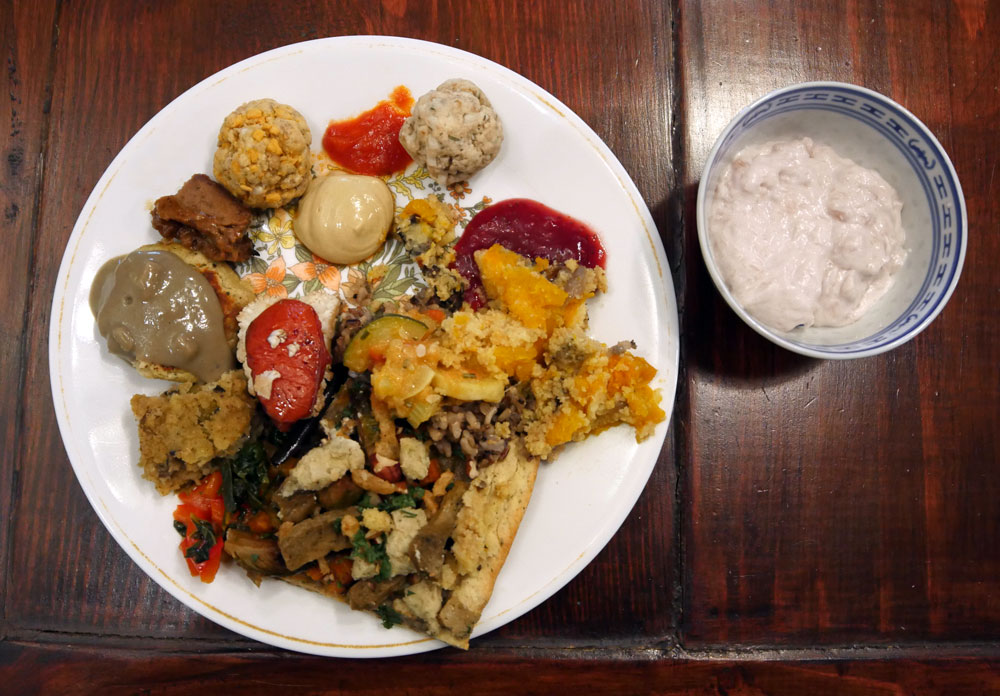 Lilly: Squashy Wild Rice
Lilly made a stew that she described as somewhat like Ratatouille with yellow squash, zucchini, chopped celery, vine ripened tomatoes, cherry tomatoes, fresh rosemary, Earth Balance margarine, water, crushed garlic, and other spices that she sautéed in a deep pan. Alongside her stew, she served wild rice that she boiled with veggie bouillon.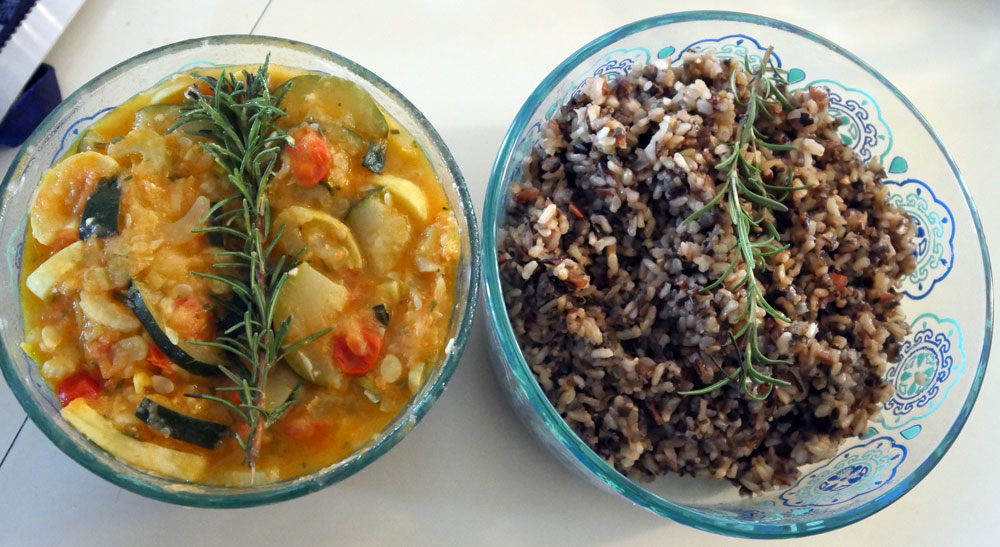 Shannon: Bisquick Sausage Balls (2 ways); Pink Stuff
Shannon has brought similar sausage balls to Vegan Bake Club before, but this time, she made them two ways: one way was traditional with Follow Your Heart cheddar style shreds and sausage served with mustard, the other way was Follow Your Heart mozzarella cheese and extra thyme served with marinara sauce.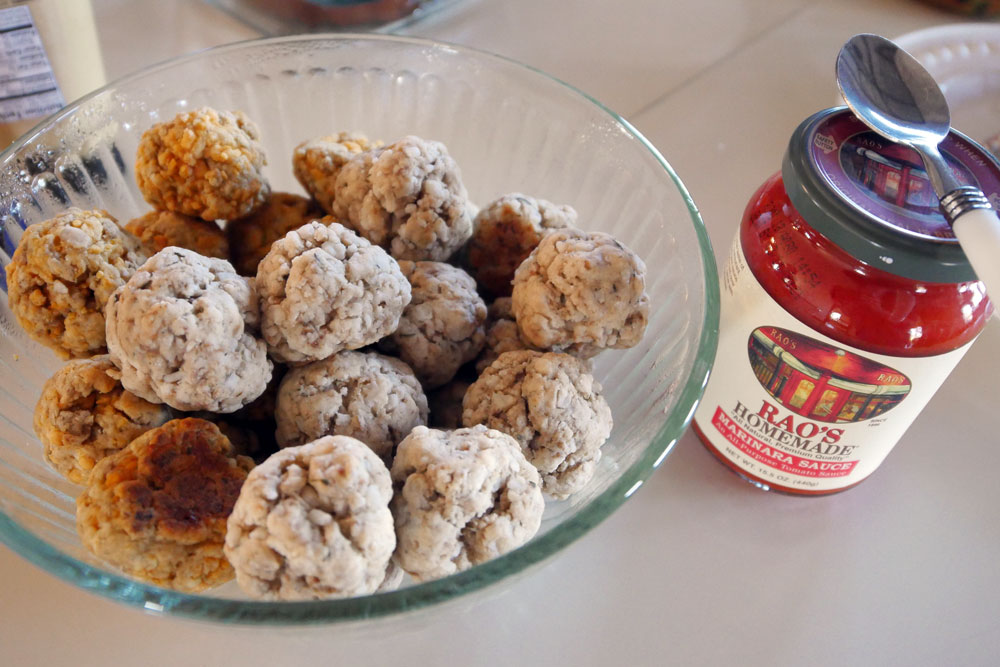 For dessert, Shannon made a veganized version of her family's classic "pink stuff" dessert made with cherry pie filling, crushed pineapple, sweetened condensed coconut milk, and So Delicious CocoWhip!™ .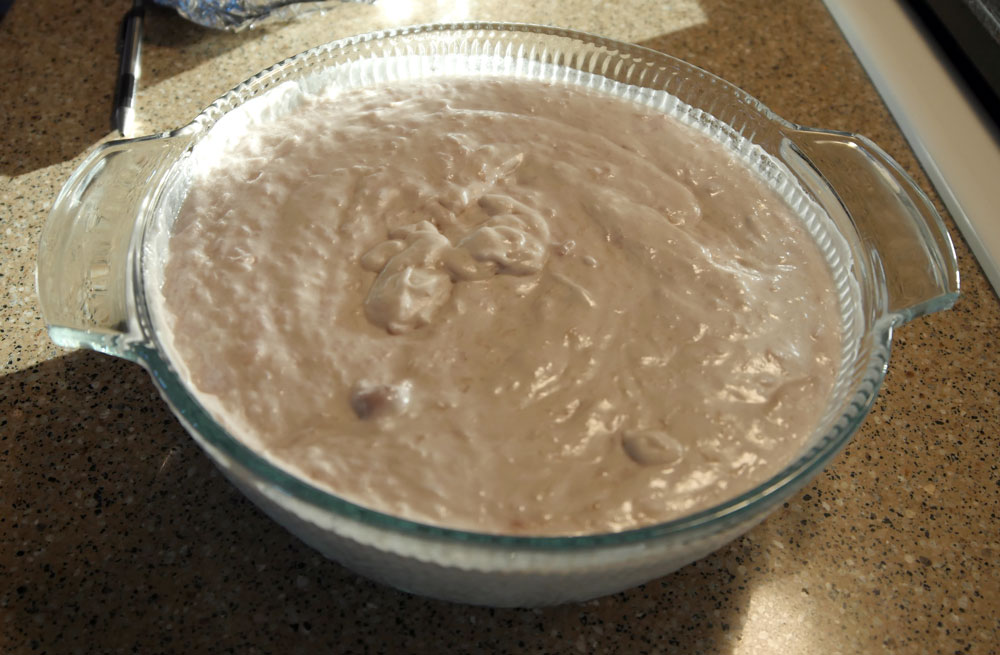 Hope: Rainbow Chard and Bell Peppers
Hope brought us a bright and colorful vegetable side dish that would be a great accompaniment to any Thanksgiving meal. She first sautéed red and yellow bell peppers, then set them aside and sautéed rainbow chard. She combined these veggies and dressed them up with fresh lemon juice, salt, and pepper.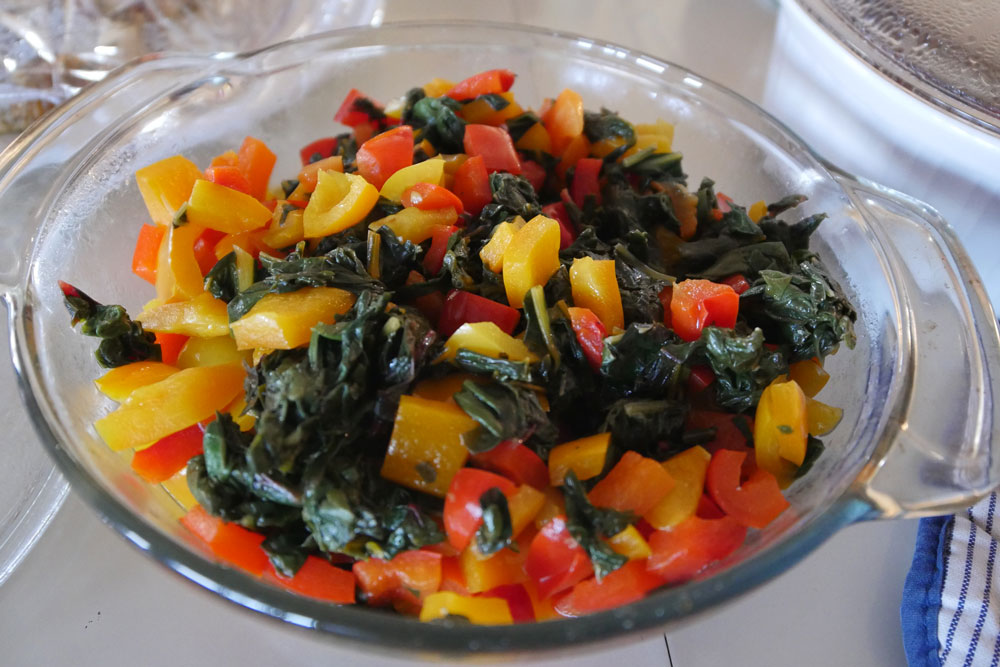 Drew: Roasted Cauliflower Not-Turkey; Leftover Cornbread Dressing
Following a recipe from delish.com, Drew made this stand-in for turkey by roasting cauliflower with tomatoes, green beans, and onions basted with balsamic vinegar, brown sugar, salt, and pepper.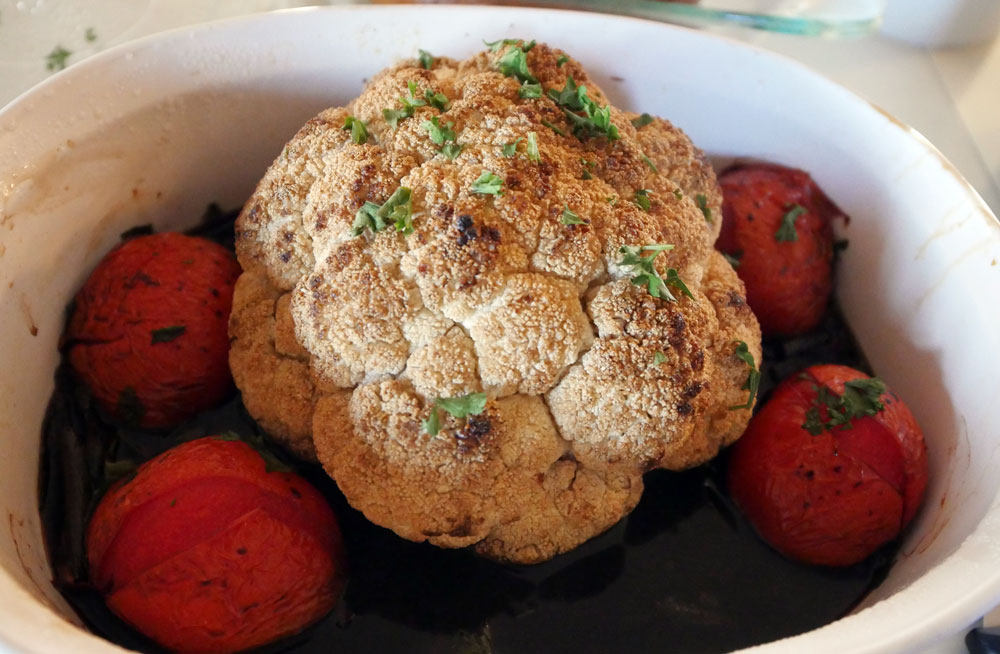 He also brought cornbread dressing leftover from his family's Thanksgiving event that they bought from Juice Lab to aid in an easy holiday gathering.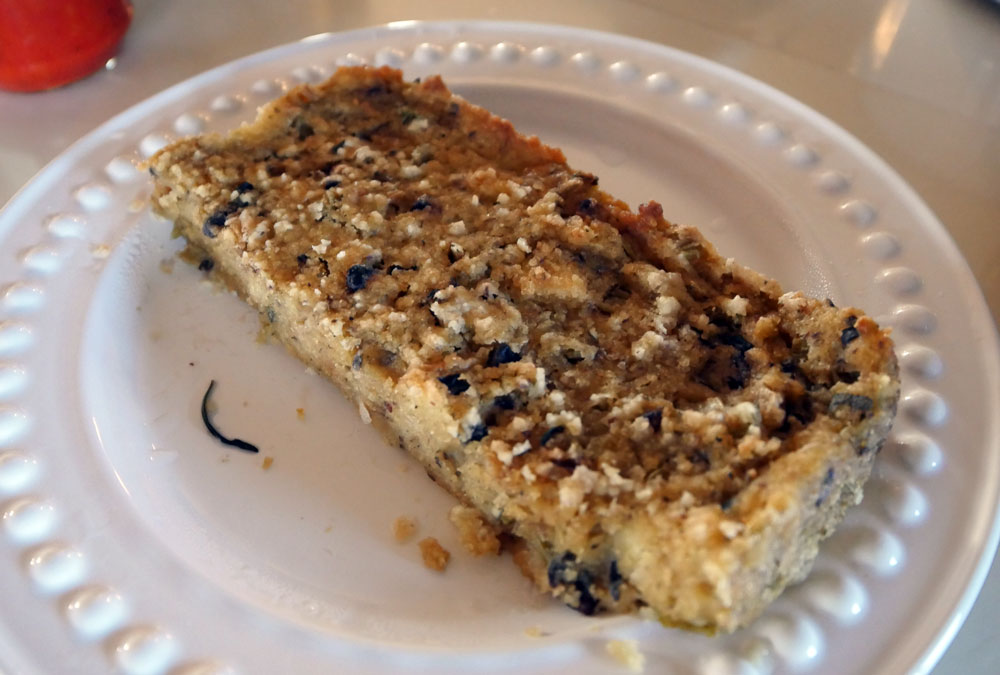 Lauren: Cornbread Stuffed Pumpkin
Lauren got a pumpkin (a little over 4 lbs.) from Natural Grocers and stuffed it with a cornbread dressing for baking. She made the Classic Cornbread recipe from Alicia C. Simpsons Quick and Easy Vegan Comfort Food then broke it into pieces and combined it with sautéed onion, celery, and mushrooms. After replacing the pumpkin's natural innards of seeds and strings with the cornbread veggie blend, she poured in a mixture of vegetable broth, coconut milk, dried rubbed sage, thyme, nutmeg, cayenne, black pepper, and salt. The pumpkin baked at 350° for two hours.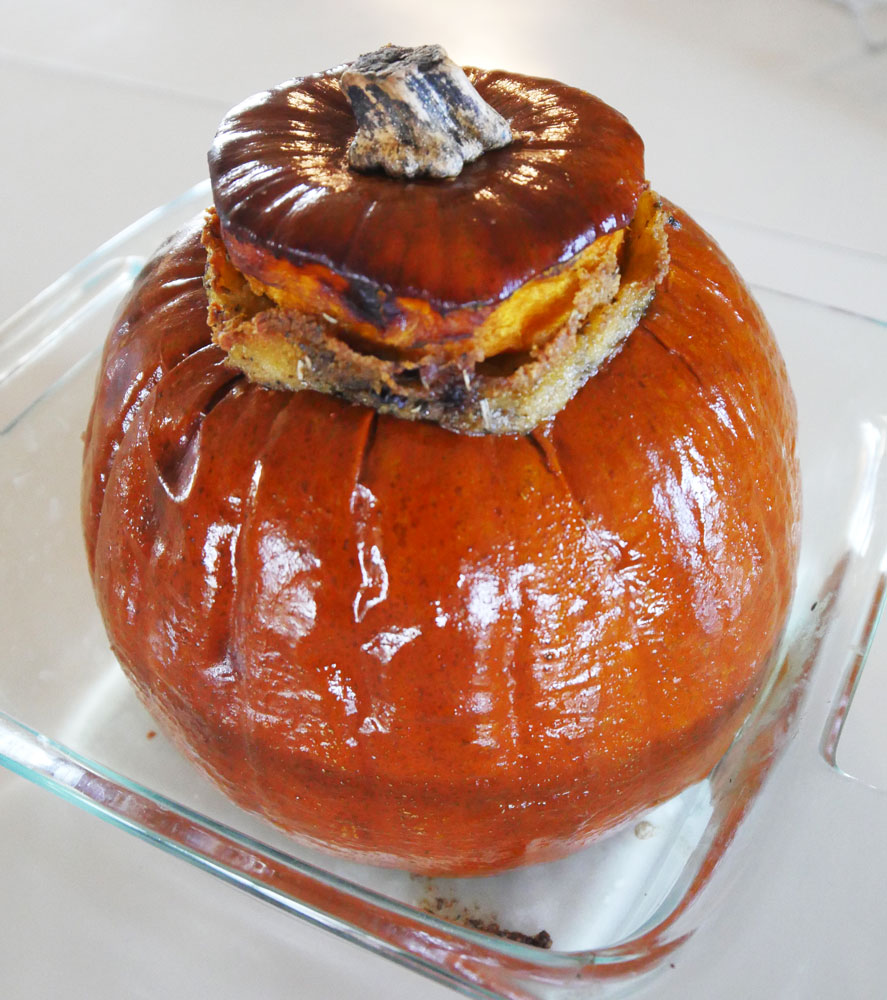 Billy: Maple Glazed Vegan Ham
Billy made a vegan "ham" colored with beet juice. He used a food processor to combine ingredients including wheat gluten, tofu, nutritional yeast, chickpea flour, onion powder, smoked paprika, white pepper, allspice, miso paste, vegan Worcestershire sauce, olive oil, maple syrup, liquid amino, and lots of liquid smoke. He formed it into a big lump, wrapped it in foil, and baked it for two hours, basting it regularly with a maple glaze of maple syrup, mustard, pineapple juice, molasses, brown sugar, vegan butter, and black pepper. He broiled it to form something of a skin on the outside and topped it with chopped fresh mint from his garden. The consensus seemed to be that this protein creation seemed more like roast beef than ham, but we don't really care if it was like any particular meat at all.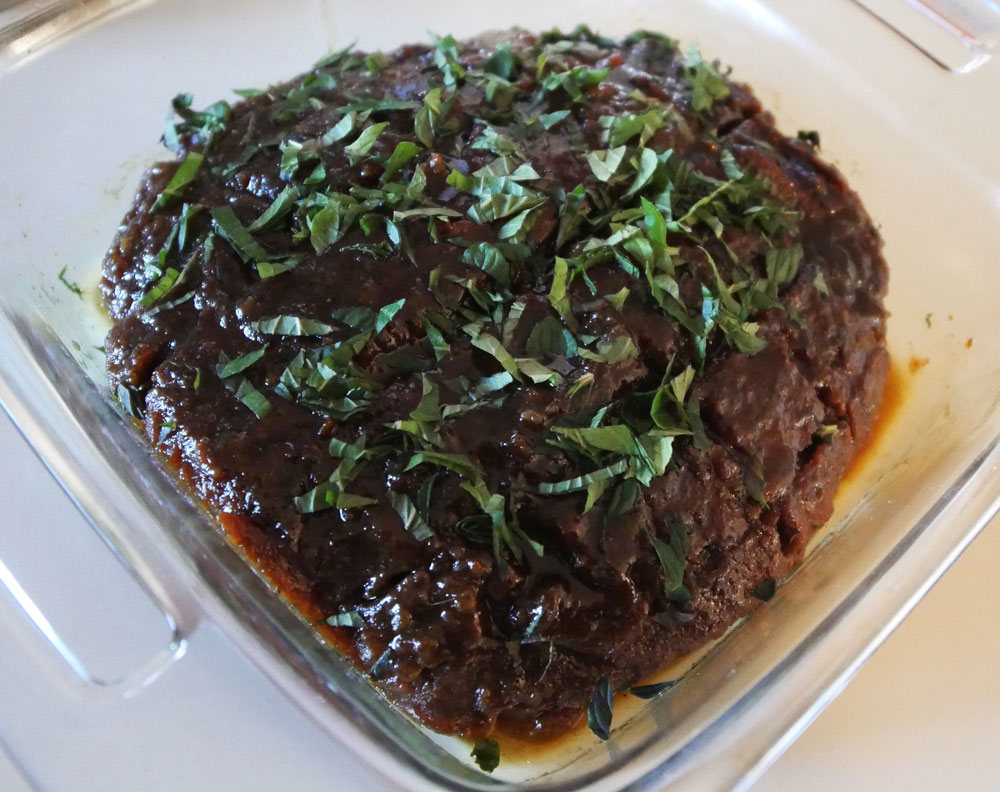 Ramon: Thanksgiving Leftovers Pizza
Ramon's leftovers pizza took an effort that he spread over several days. He made seitan that he boiled then marinated for 6 hours in a concoction of vegetable broth, lemon juice, orange juice, poultry seasoning, salt, pepper, and whole garlic cloves. He braised the seitan in the oven covered for two hours, turning it every now and then to soak up the liquid. Separately he pan fried sweet potatoes and roasted Brussels sprouts tossed in an agave, balsamic vinegar, and hot red peppers sauce. He made a corn meal pizza crust with sage and nutritional yeast in it. For the pizza sauce, he made a gravy of veggie broth and seitan cooking liquid, mushroom, and thyme. He put all of these components onto the pizza plus toasted hazelnuts and pecans, fried onions, and Treeline Treenut Cheese (soft cashew style). To accompany, he made his own version of a cranberry sauce with cranberry, strawberry, pineapple, ginger, and apple cider cooked in a pan. He filtered this through a sieve to remove pulp and seeds, but this made the sauce thinner than he wanted, so he added chia seeds to re-thicken it, and when that wasn't to his liking, he put it back on the stove and added corn starch to thicken it further.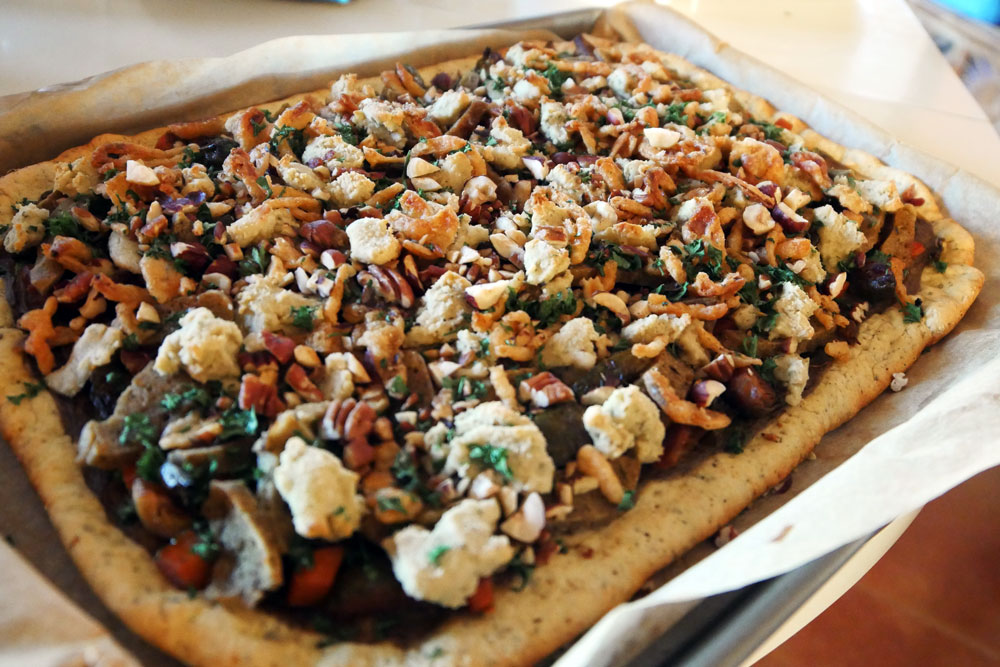 Slynn: Chickpea Patties
Slynn made a batch of these chickpea patties both for her family's Thanksgiving celebration and our Vegan Bake Club Thanksgiving. She combined chickpeas, garlic, onion, lemon juice, parsley, and spices in the food processor then formed the mixture into patties and pan fried them. She served them with the leftover gravy sauce from Ramon's pizza.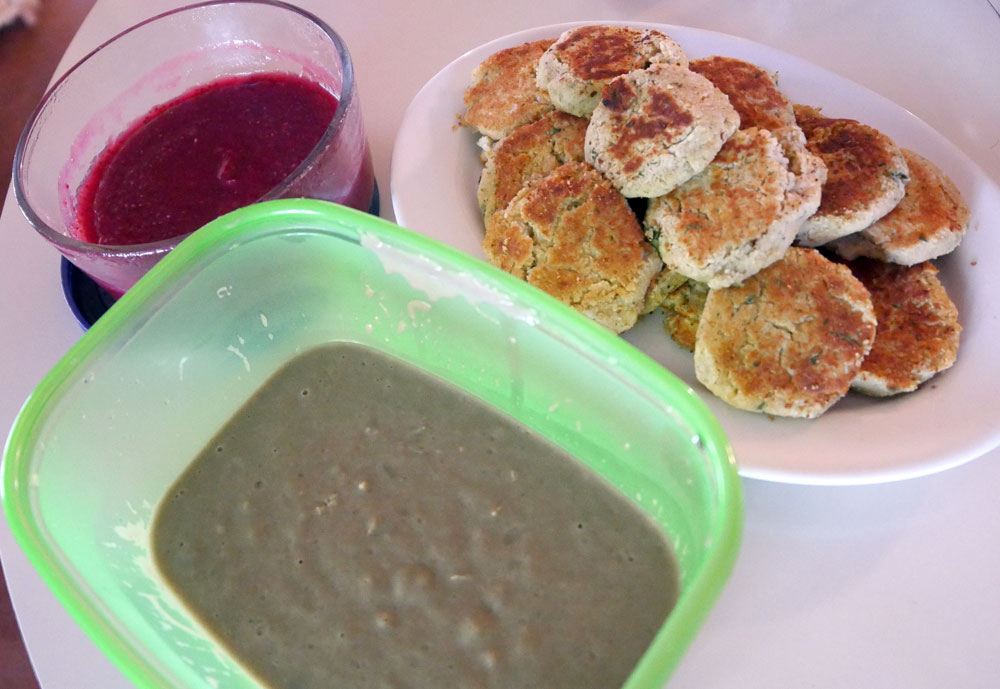 Here's the spread: