November 23, 2019 – Thanksgiving
Saturday, November 23, 2019
VBC Meeting #81: Thanksgiving
Host of the Month: Billy and Lauren
Location: Ponder, TX
The great thing about Thanksgiving foods is that there is no end to what you can do with the flavors of the holiday. That's good, since we've had several years of these vegan Thanksgiving feasts with Vegan Bake Club. This year, the holiday had a special guest show up, our friend curry.
This is what we made: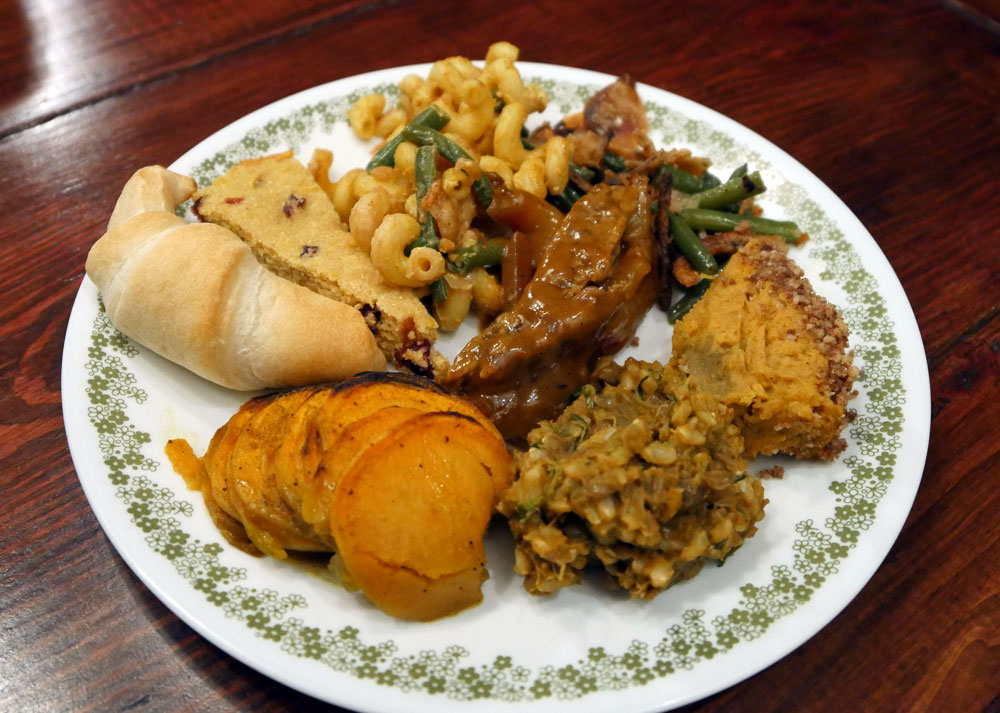 Caroline: Lentil Coconut Curry
Caroline made us a lentil-based protein-rich entree. She boiled brown lentils while sautéing a blend of greens marketed as a protein green mix. She added the lentils to the greens along with Thai red curry paste, a can of coconut milk, tomato paste, olive oil, salt, and pepper. She separately cooked brown basmati rice that she combined with everything else at the end.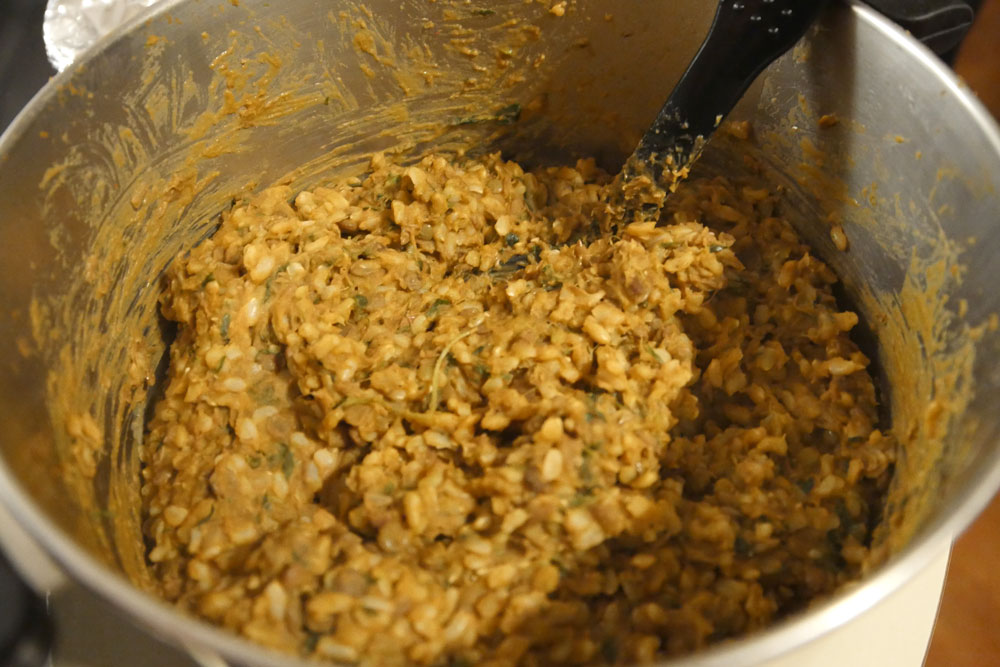 Drew: Classic Vegan Sweet Potato Casserole
Drew readied the sweet potatoes for the vegan sweet potato casserole by cubing sweet potatoes, boiling them, mashing them, and blending them with soy milk, Miyoko's vegan butter, cinnamon, brown sugar, nutmeg, and salt. He made the crust for topping off the casserole using pecans, spelt flour (he didn't have all-purpose flour), butter, brown sugar, and cinnamon.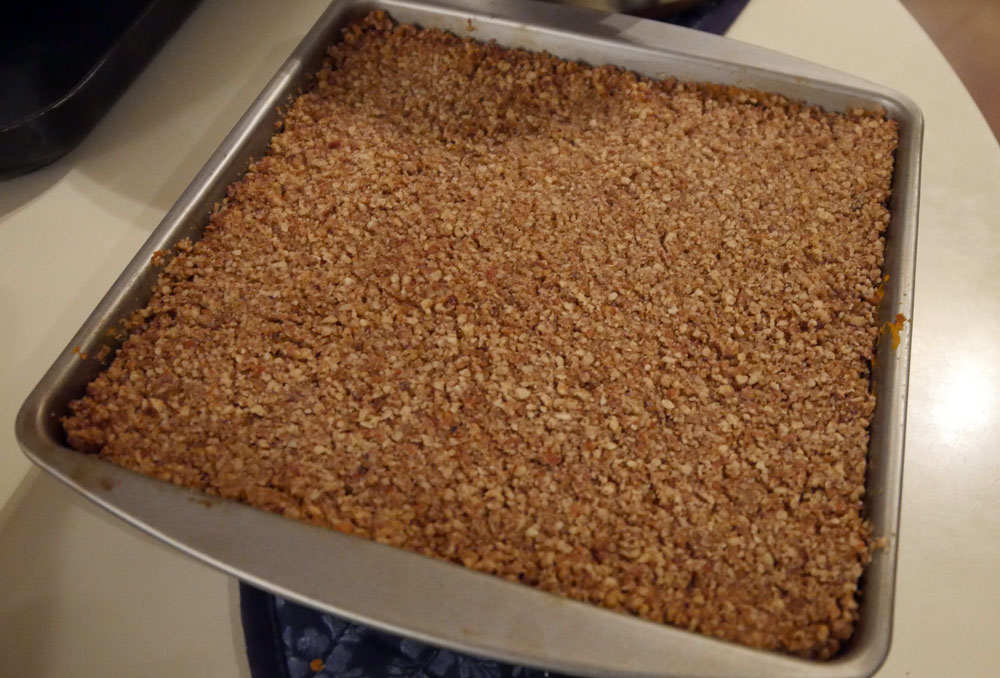 He also prepared some crescent rolls from a tube because, you know, Thanksgiving!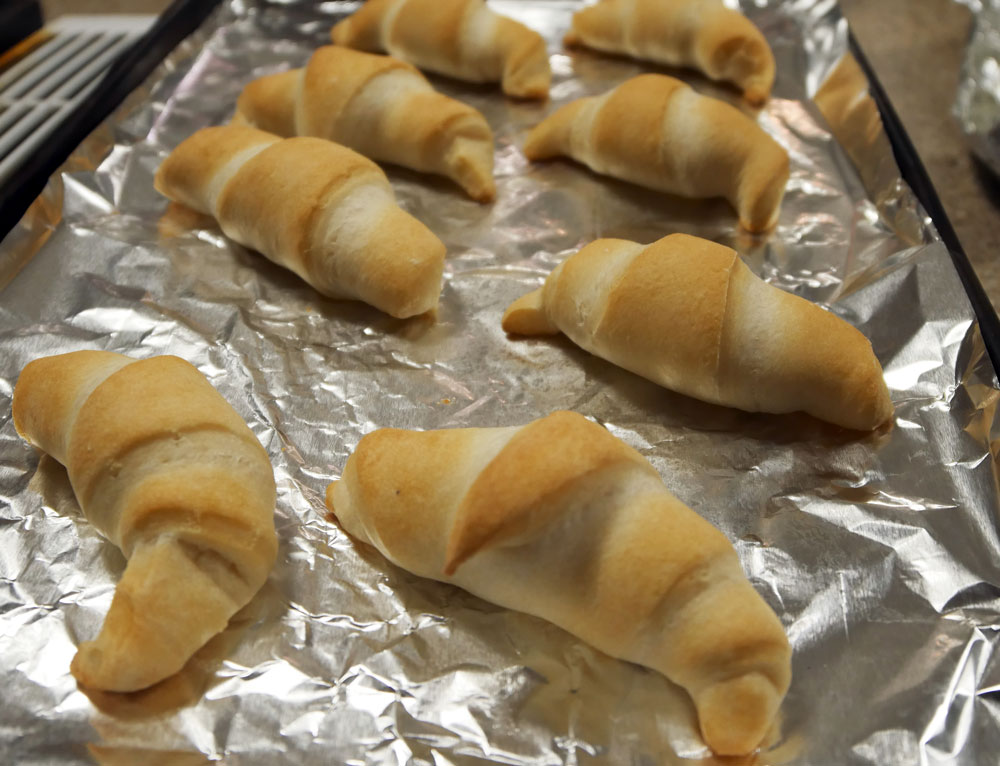 Marcia: Easy Vegan Green Bean Casserole
To prepare the fresh green beans that are the star of this vegan green bean casserole, Marcia boiled them for six minutes in salted water. For the sauce, instead of a traditionally used canned cream of mushroom soup, she chopped mushrooms, sautéed them with garlic cloves, then added vegetable broth. In a deviation from the Fat Free Vegan's blog, she left out flour because she didn't have any and substituted vanilla instead of sherry, since she didn't have that either. Instead of creamer, she used 3/4 cup of original (not unsweetened) almond milk. To this sauce, she added the green beans and poured the mixture into a greased dish. Just before baking the casserole for fifteen minutes, she topped it with Sprout's brand fried onions. When the fried onions started to brown more than desired, she put foil over the dish to prevent burning. This casserole was so delicious that Lauren decided to make it on Thanksgiving Day proper for some non-vegan family members who found it as tasty as the rest of us.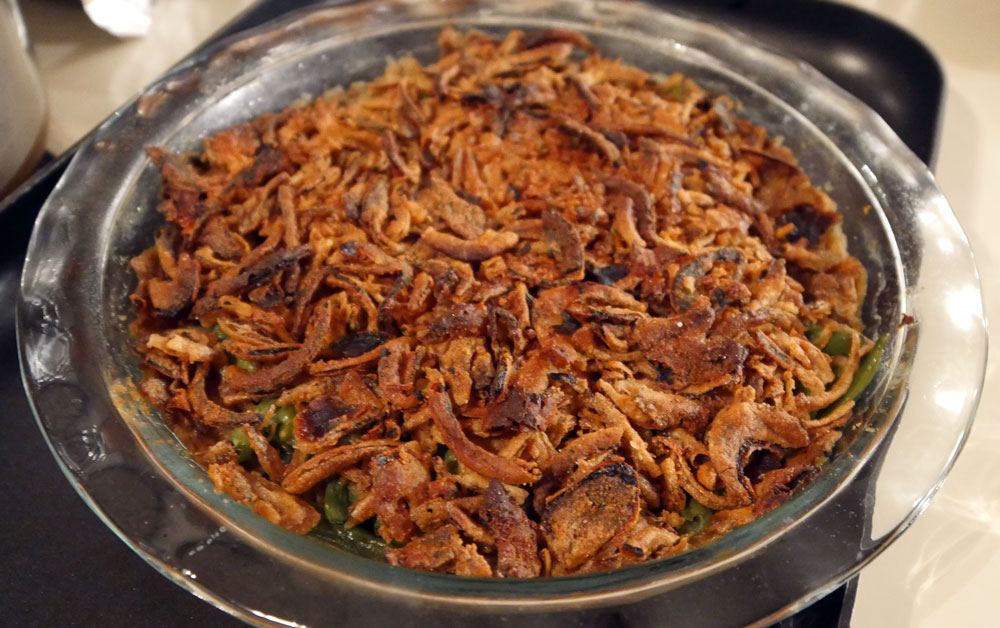 Ramon: Thai-Style Mac 'N' Cheese Bake
For his Thanksgiving mac 'n' cheese, Ramon used Detoxinista's Mac and Cheese recipe as a starting point then added a teaspoon of Thai red curry paste. He sautéed shallots, ginger, and fresh green beans that he had blanched and flavored with a sauce of peanut butter, hoisin sauce, soy sauce, liquid amino acid, and red pepper flakes. Next he put the green beans over the mac 'n' cheese, then put a whole can of fried onions over the top, and baked it.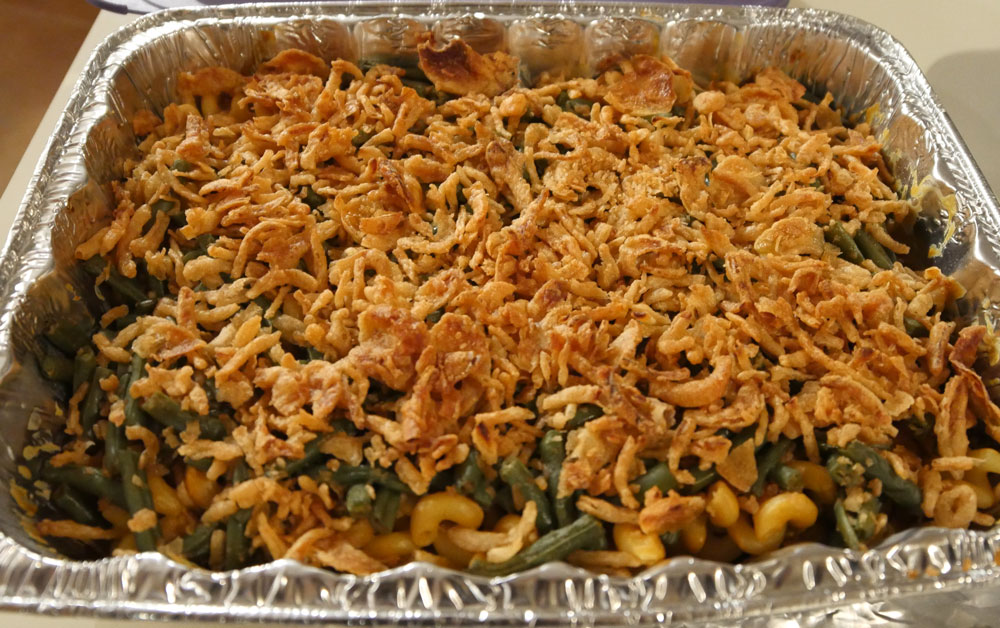 For dessert, Ramon made Pumpkin Pie Brownies from Isa Chandra Moskowitz and Terry Hope Romero's Vegan Cookies Invade Your Cookie Jar.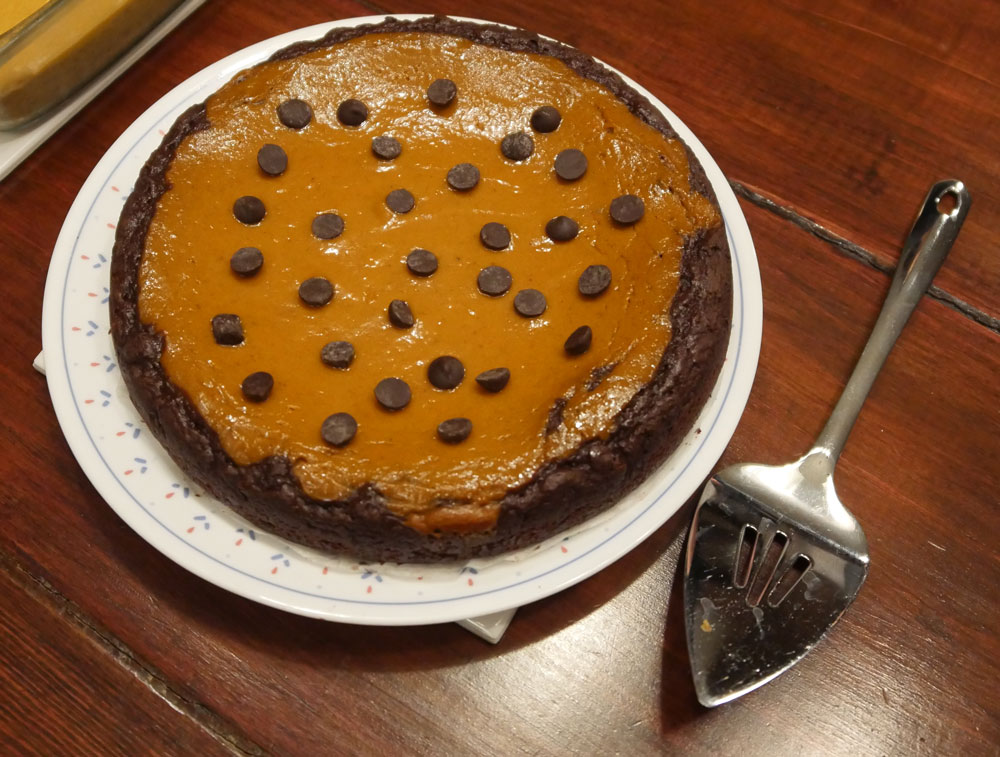 Slynn: Cranberry Orange Cornbread
Not having time to go to the store, Slynn decided to make a variation on cornbread. She made a basic vegan cornbread batter but, for a festive twist, added orange juice, orange zest, and dried cranberries.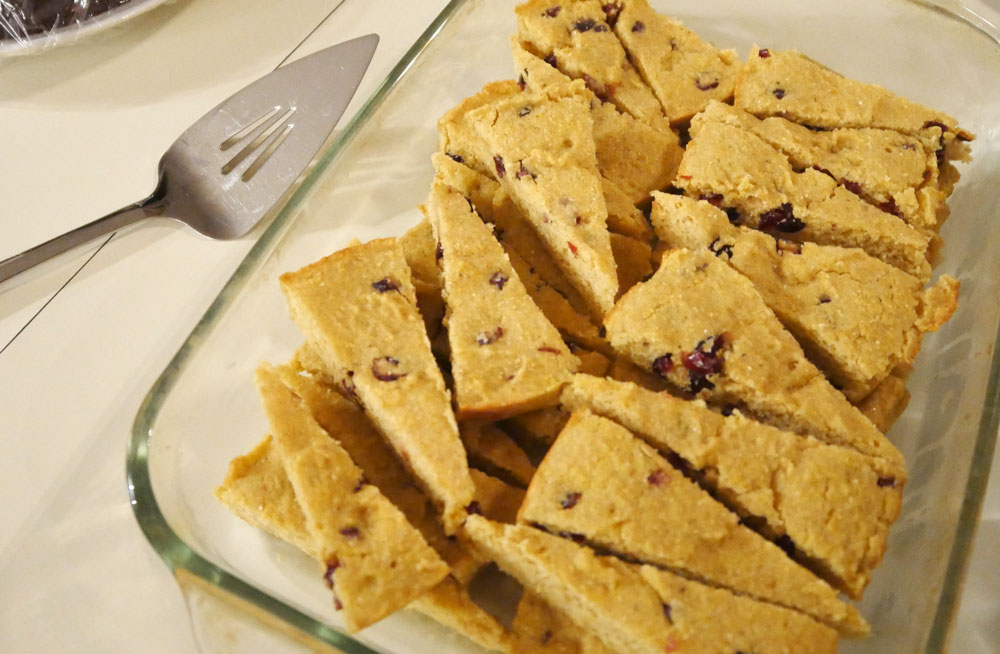 Tara: Teez Nuts
In addition to bringing her friend Josh and his chihuahua in a hoodie, Jelly Bean, to Vegan Bake Club Thanksgiving, Tara brought us Teez Nuts. She combined sugar, cinnamon, ground ginger, ground cloves, nutmeg, maple syrup, a little vanilla extract, and salt in a bowl then mixed in pecans and walnuts to coat them. She baked the nuts at 350°F for 10 minutes then flipped and stirred them around before baking them at 250°F for 10 more minutes. She stuck them in the freezer to help solidify the coating for quicker travel, but they froze into solid sheets that she then had to break up for transport.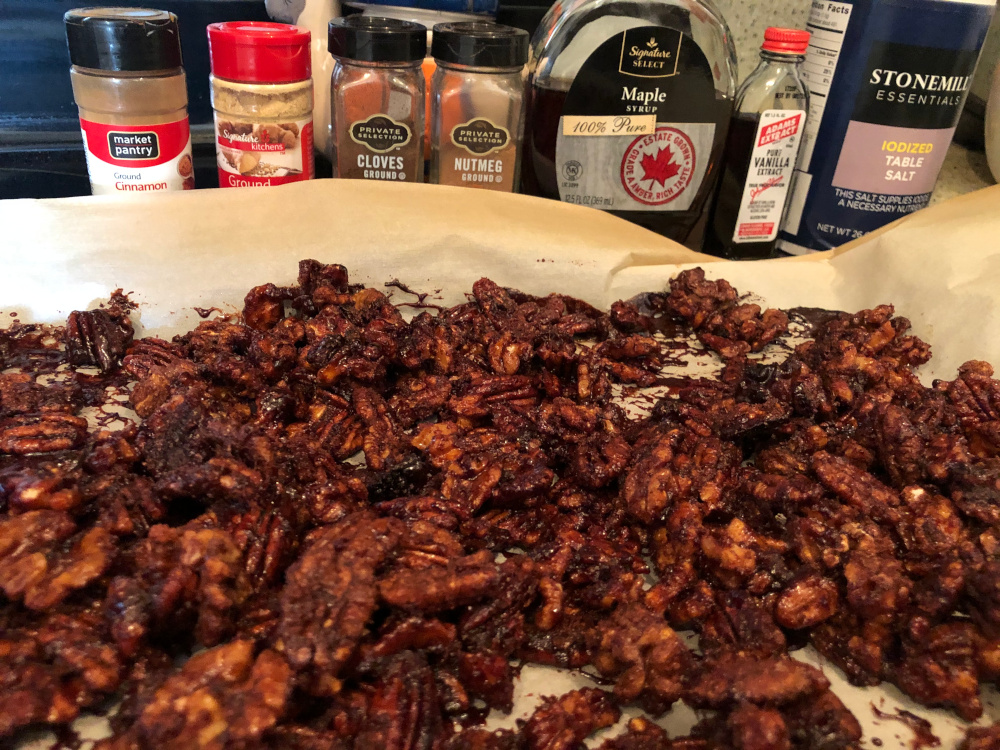 Billy: Seitanic Plum
Billy used a batch of Steamed Chicky Seitan that Lauren had made from the Isa Does It by Isa Chandra Moskowitz recipe earlier in the week. He sliced and seared the seitan and set it aside. He made a gravy with vegetable broth, cinnamon, chili powder, and thickened with a corn starch slurry and poured it over the seitan. To brighten the salty seitan, he sautéed sliced plum and added it to the gravified entree.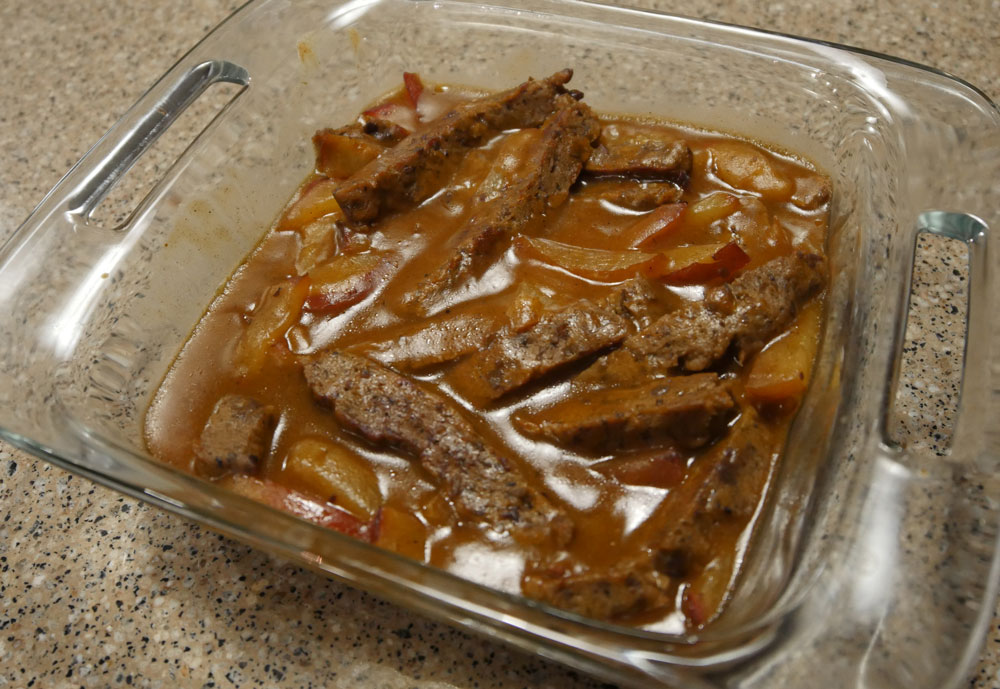 Billy also roasted some butternut squash seeds.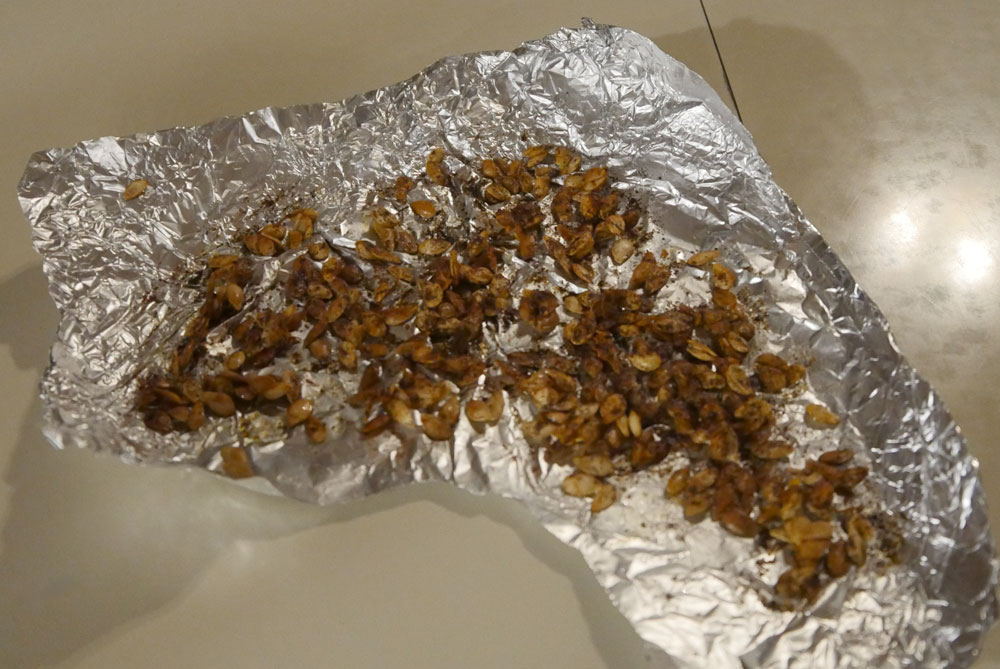 Lauren: Curry Sweet Potato Slices; Pumpkin Coconut Lemon Bars
A day before the Thanksgiving gathering, Lauren peeled sweet potatoes and sliced them with a 2mm food processor blade. She tossed tossed the round pieces in a combination of melted Soy Free Earth Balance, olive oil, curry powder, salt, black pepper, and cinnamon. She spiraled the slices standing on their ends in a round cake pan. She baked the dish for forty minutes at 375°F then stowed the orange potatoes in the refrigerator. The next day she baked the dish for twenty minutes at 425°F then broiled it for a few minutes in hopes of gaining a crispy texture. They didn't really turn out crispy, but they did turn her cake pan yellow.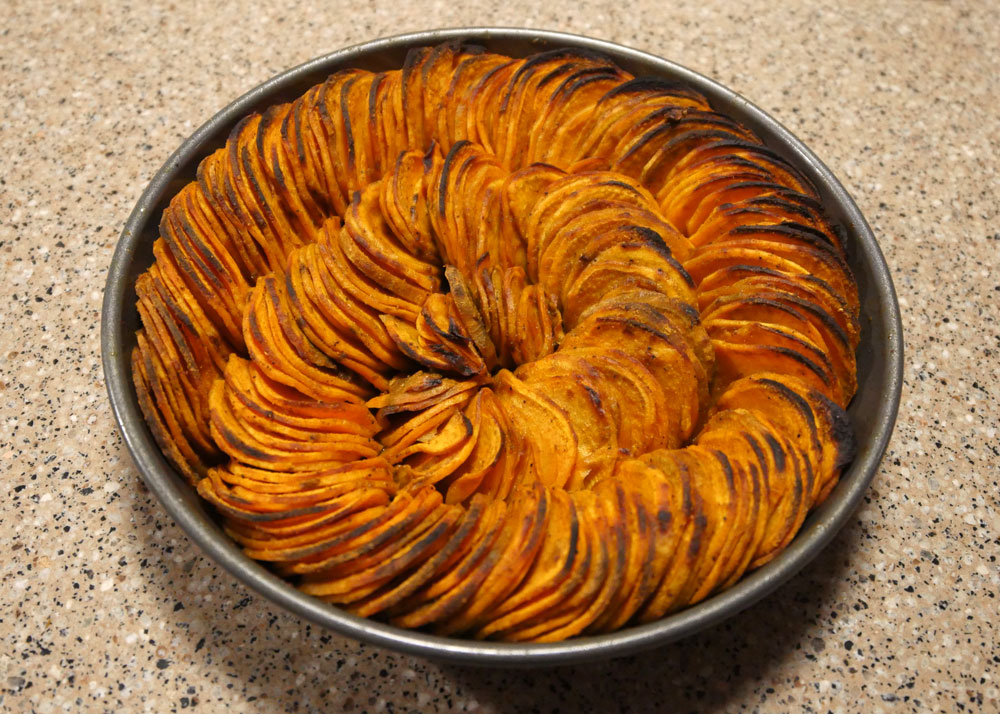 Not being a huge fan of most pumpkin pie, but wanting to make a pumpkin-based dessert, Lauren decided to concoct some pumpkin bars. She used the Minimalist Baker's gluten-free crust from a pumpkin pie bar recipe, but made a different filling using coconut cream, pumpkin puree, sugar, corn starch, cinnamon, nutmeg, grated ginger, lemon juice, and vanilla. Due to the bars not being quite as set as desired, she vowed to increase the corn starch and add some agar agar next time for a slightly denser texture.