November 21, 2021 – Thanksgiving
Sunday, November 21, 2021
VBC Meeting #105: Thanksgiving
Host of the Month: Billy and Lauren
Location: Ponder, Texas
Perhaps the most shocking take away from this year's VBC Thanksgiving was that there was not a dish of mashed potatoes in sight. No mashed potatoes!?
This is what we made: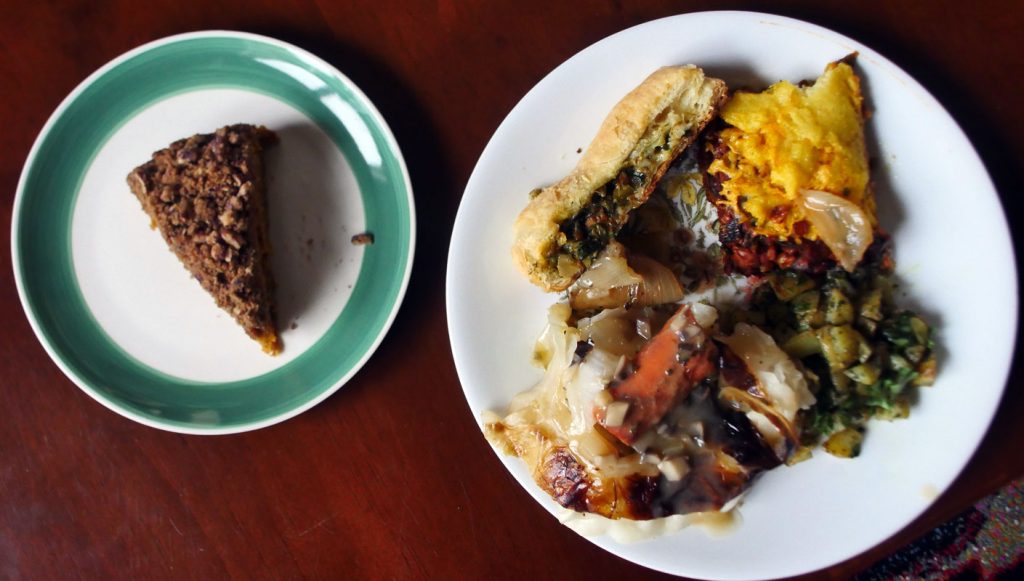 Slynn: Pesto Potato Salad
After picking a bunch of basil before the first North Texas freeze of the season earlier in the week, Slynn made several varieties of pesto with her mother-in-law for jarring. She used one of those pestos, made with basil, walnuts, and parsley (also from her garden), to bring flavor to roasted potatoes in the form of a warm potato salad. Along with the potatoes, she roasted a head of garlic to include in the dish and finished off the salad with a generous sprinkling of fresh basil, parsley, and thyme from the garden.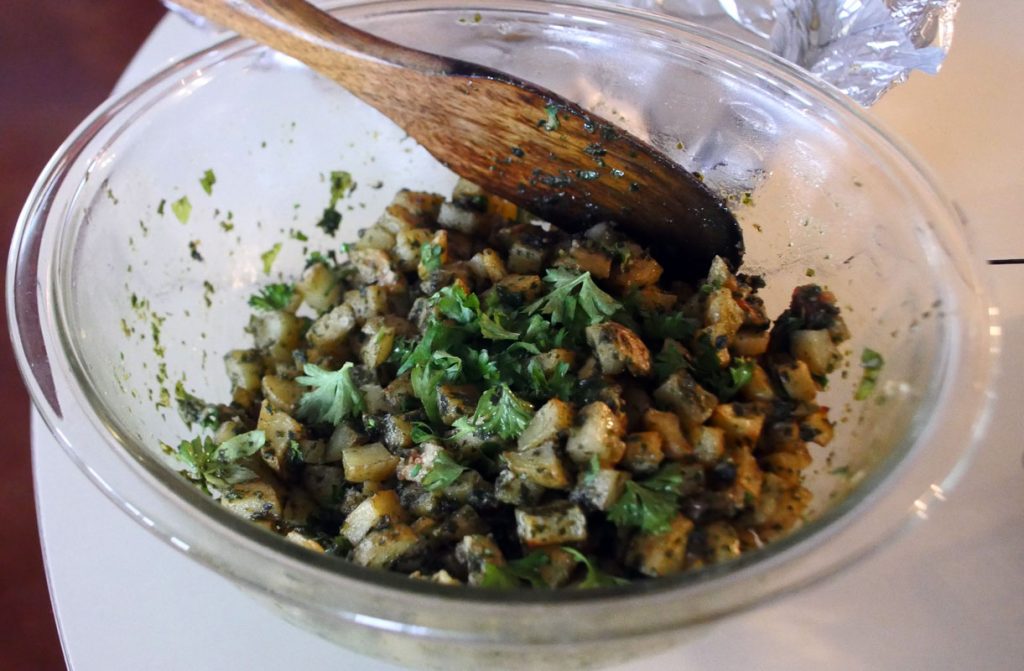 Drew: Roasted Cabbage
Drew prepared a whole roasted cabbage with carrot, onion, and the little remaining celery he had. The recipe he followed from delish.com calls for a buttery sauce of melted vegan butter, mustard, maple syrup, vegan Worcestershire, and garlic powder, plus a good sprinkling of salt and pepper. To accompany, he made the prescribed mushroom gravy with vegan butter, onion, mushrooms, vegetable broth, flour, and fresh herbs. The gravy didn't thicken as much as he expected, so when he got to Ponder, he put it back on the stove and added a cornstarch slurry to thicken it a bit more.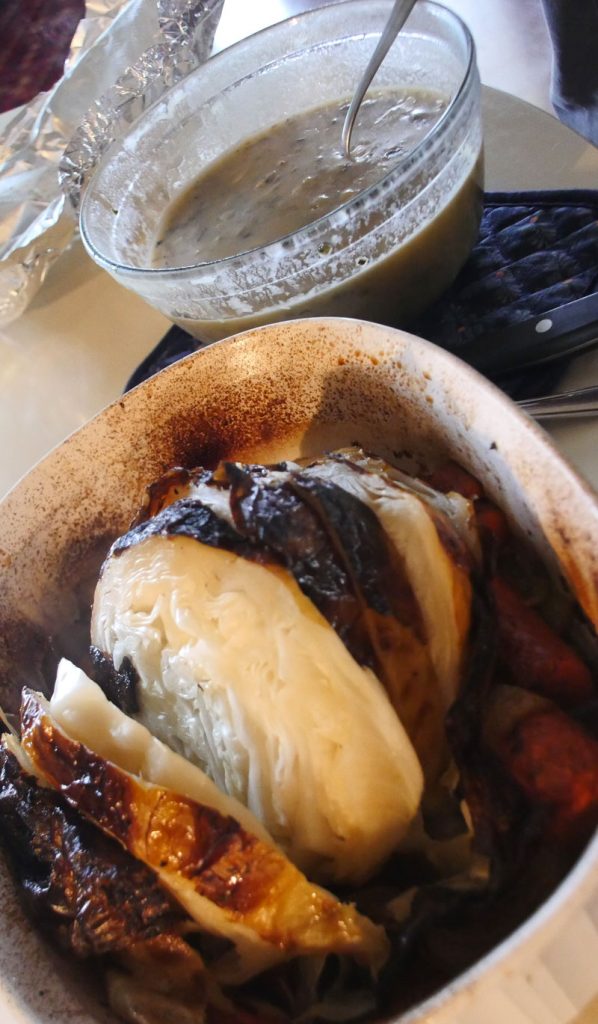 Lauren: Pumpkin Crumb Cake with Pecan Streusel; Pueblo Corn Pie
Lauren closely followed two cookbook recipes for her Thanksgiving dishes this year. For the pumpkin cake, she halved the Pumpkin Crumb Cake with Pecan Streusel recipe from the Veganomicion (she needed to use half a can of pumpkin that had been in the refrigerator a few days). The streusel contained chopped pecans, flour, brown sugar, cinnamon, allspice, and canola oil. The cake, that had a texture with a hint of pumpkin pie filling consistency, had pumpkin, flaxmilk, canola oil, sugar, molasses, vanilla extract, flour (she subbed whole wheat flour for some of the all-purpose called for), baking powder, salt, cinnamon, nutmeg, ginger, and allspice. She left out the cloves listed in the recipe because she didn't have any and doesn't love them.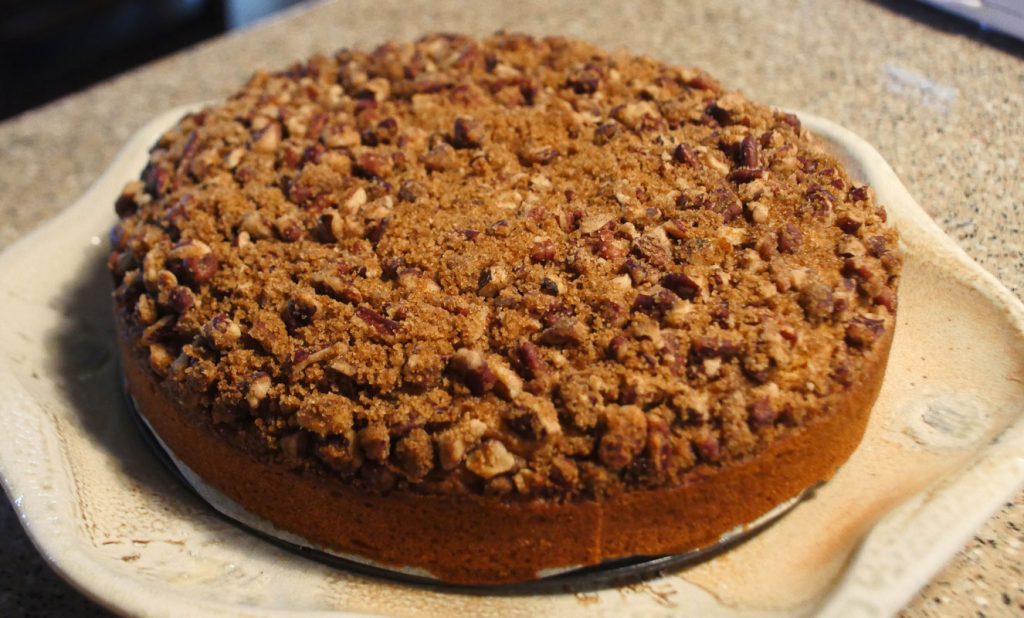 For an entrée, Lauren made the Pueblo Corn Pie recipe from Nava Atlas's Vegan Holiday Kitchen consisting of a beany filling and vegan cheddar-style shreds between two layers of cooked cornmeal. She cooked pinto and black beans with oil, onion, garlic, bell and poblano peppers, frozen corn, canned diced tomato, chili powder, oregano, cumin, smoked paprika, and salt. The cornmeal was cooked in boiling water with a little salt and sugar for seasoning. The components were layered and baked for about an hour at 375°F.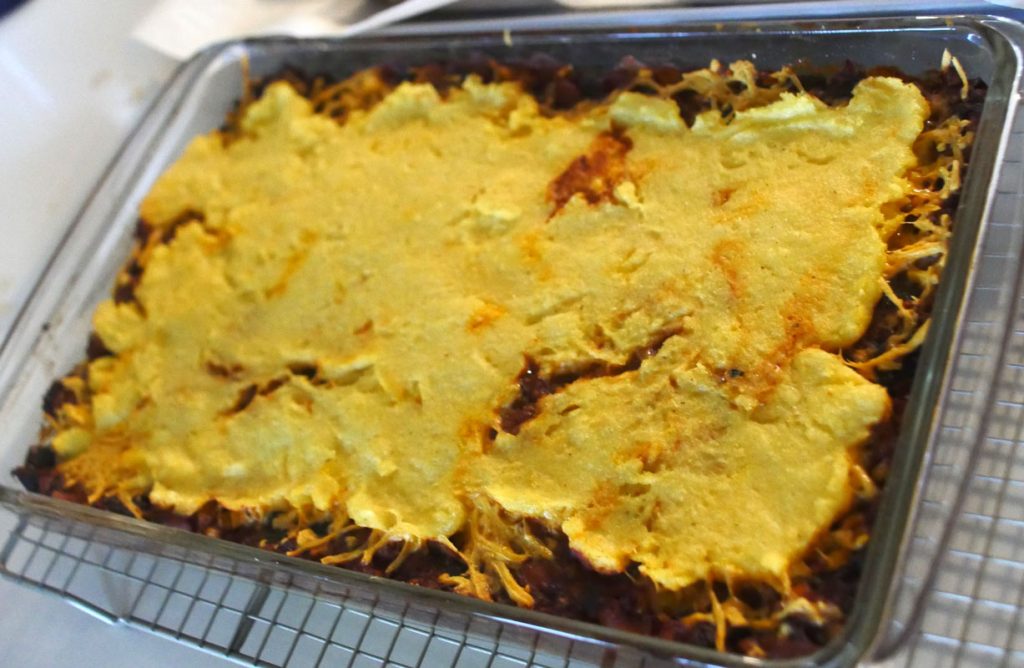 Billy: Chard Carrot Strudel
Billy based his making off of the Kale and Carrot Strudel recipe from the Vegan Holiday Kitchen. He used Pepperidge Farm puff pastry and lots of vegan mozzarella-style shreds. Instead of kale, he used his home-grown Swiss chard which he cooked with oil, onion, garlic, grated carrot, home-grown parsley, and dried dill before folding it into the pastry, slicing it, and baking it at 375°F until golden. He liked it enough to make it for family as an appetizer on Thanksgiving day!