May 31, 2015 – Regional Favorites
Sunday, May 31, 2015
VBC Meeting #27: Regional Favorites
Host of the Month: Billy and Lauren
Location: Ponder, TX
This is what we made: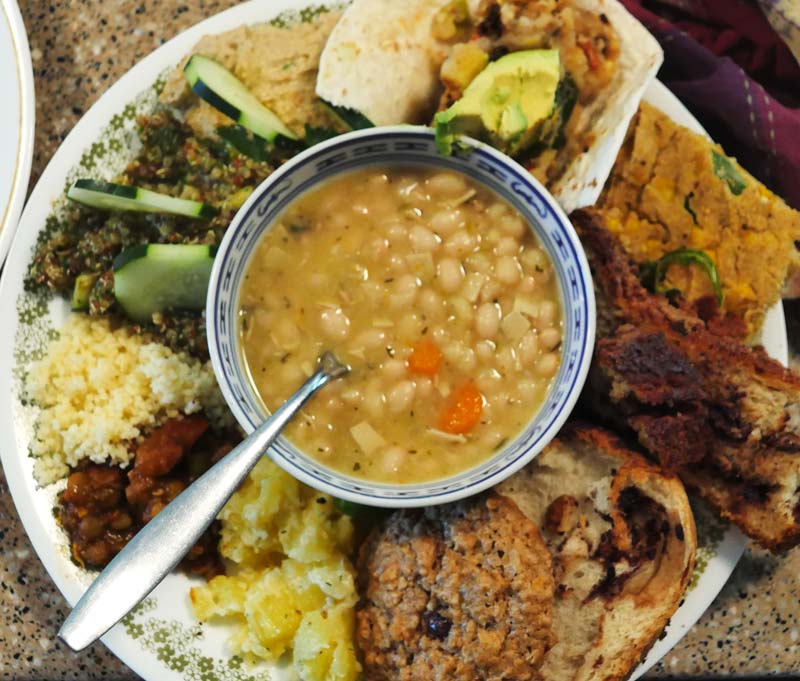 Slynn: Boston Cream Pie Cake
Slynn turned the Boston Cream Pie cupcake recipe from Isa Chandra Moskowitz and Terry Hope Romero's Vegan Cupcakes Take Over the World into a full-sized cake. The pudding filling, which got its thickness from a blend of tofu, arrowroot, and agar agar, caused some layer slippage in transport to the meeting, but the spongy yellow cake layers, creamy pudding, and rich chocolate coating made up for it.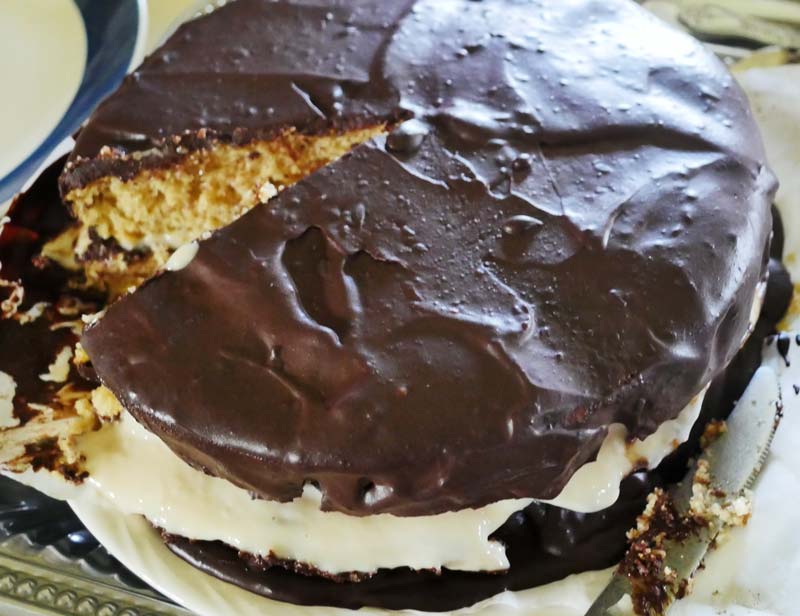 Lilly: Navy Bean "Yankee" Soup
Driven by her love of soups and non-enthusiasm for baking, Lilly concocted a navy bean soup. Basing her soup on one that is usually made with beans and ham, she veganized it using Tofurkey Hickory Smoked Deli Slices and veggie bouillon where there would traditionally be meat. Of course she also threw in navy beans, also known as Boston beans, plus carrots and onions. She seasoned the dish with music garlic, thyme, and both fresh and ground sage. She cooked this soup for ten hours!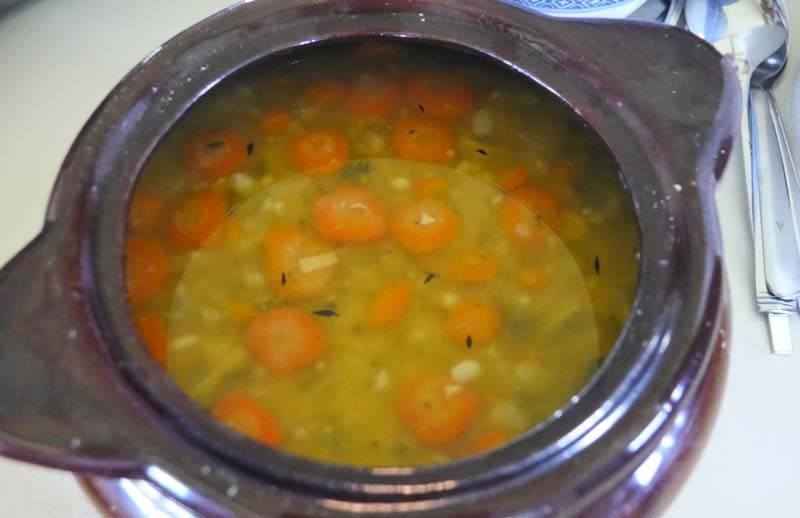 Victor and Brenda: Alioli Potatoes
Victor and Brenda made alioli potatoes, a popular tapa in Spain. Traditionally made with mayonnaise, garlic, and parsley, they made theirs with red potatoes, vegan mayo, and dill instead of the parsley.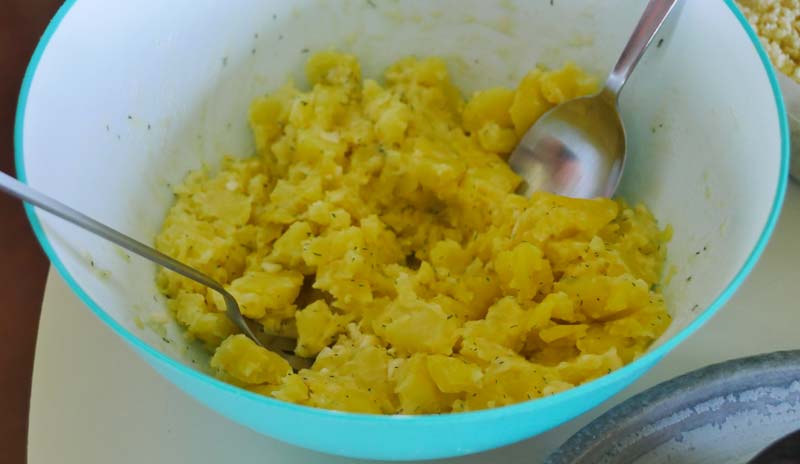 Christie: Gluten-Free Corn Bread
Christie co-runs the Denton Vegetarian Society. For her first Vegan Bake Club meeting, she made this corn bread recipe. The gluten-free flour blend she used along with the called for one cup of corn meal was 1/3 cup each of coconut flour, millet flour, and sorghum. The corn and jalapeño contributed to a dynamic texture.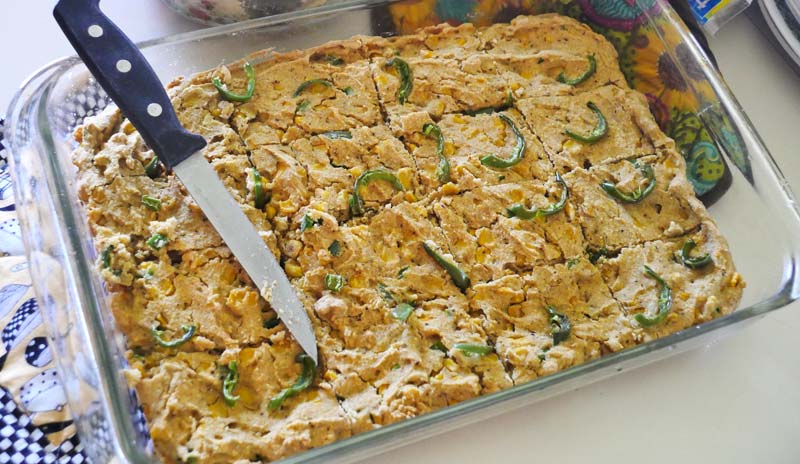 Agatha: Ethiopian Lentil Stew and Couscous
The enjoyment in eating this dish was equally matched by the enjoyment of listing to Agatha speak about how much fun she had making it. To make the Berbere spice mixture that flavored the stew, she toasted the spices on the stove before grinding them together. The mixture included cumin, whole cloves, whole allspice, fenugreek, and dried red chili. She also made her own flavored oil to go into the stew along with tomato, tomato paste, peas, and lentils. She served the lentil stew with couscous.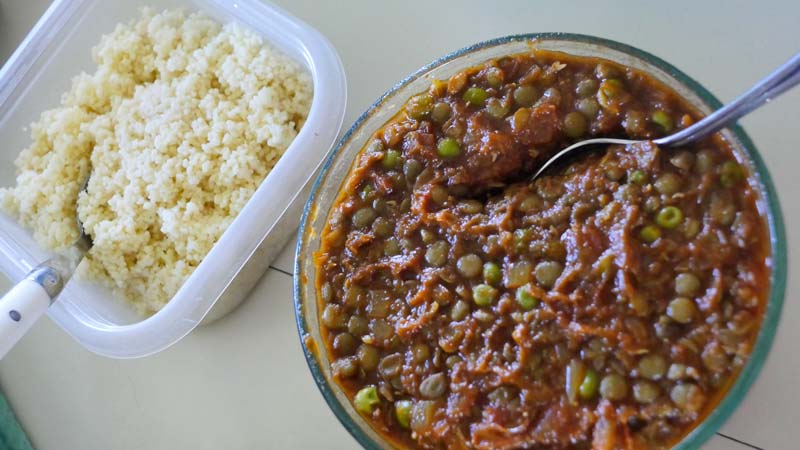 John: Potato Rajas Tacos
John's tacos were full of colorful variety while retaining that enjoyable simplicity of a good taco. He put potato, green and red bell pepper, poblano pepper, and onion into the filling, serving it up with tortillas and avocado.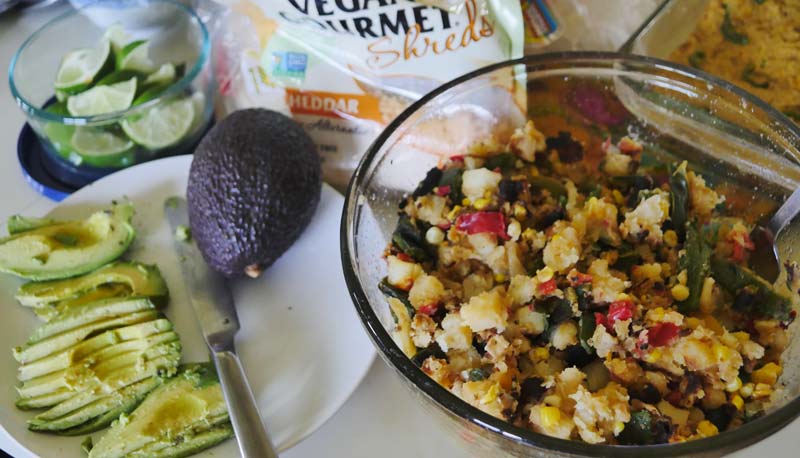 Lauren: Chocolate Babka (one gluten-free), Baba Ganoush
Lauren made her first attempt at baking babka, yeast cake with origins in Central and Eastern Europe. She made one chocolate babka with all-purpose flour from a non-vegan recipe that she veganized by using almond milk and Earth Balance margarine. She baked it in a bundt pan where, unfortunately, most of the chocolate topping remained when the babka was removed after baking. Also, going by the suggested baking time, the cake seemed a bit over done. It was fun and interesting to make though, so Lauren plans to try again.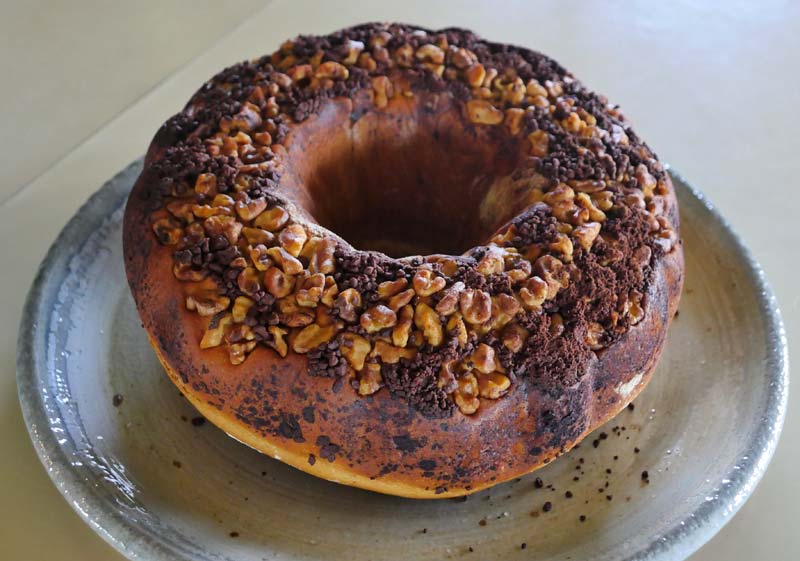 She made a second gluten-free babka. This recipe was also veganized, using Earth Balance margarine and flax "egg."
For something mildly healthier to eat than babka, Lauren also made baba ganoush using this recipe containing roasted eggplant, tahini, olive oil, lemon juice, garlic, cumin, and salt. She served it with sliced cucumber.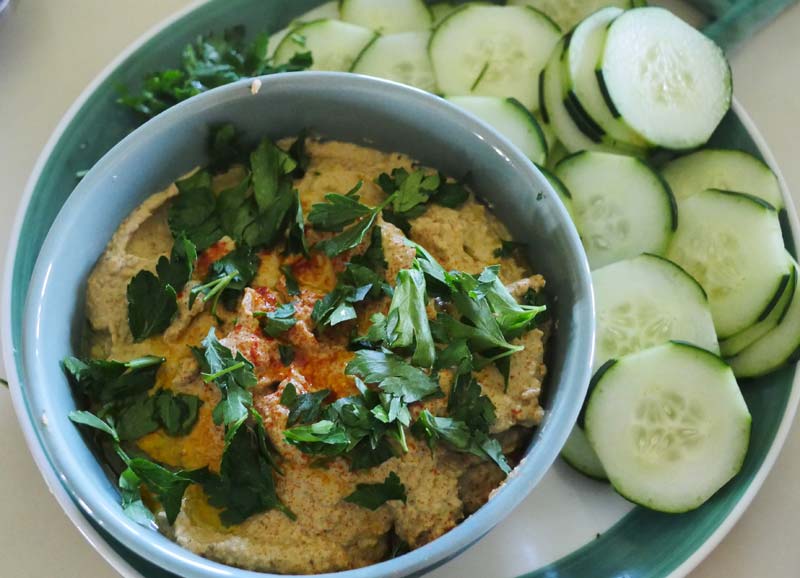 Taylor: Benne Wafers
Taylor veganized a recipe for Benne Wafers, a cookie popular in Charleston, South Carolina. These thin cookies get their flavor from sesame seeds, "benne" being the word for sesame in the Bantu language of Africa, as well as brown sugar, vanilla, and lemon. She used Ener-G Egg Replacer and Earth Balance margarine to make the cookies vegan. Since Taylor thought the cookies were slightly burned, she also brought some raw cookie dough, encouraging people to try the latter for its sweeter, less toasty flavor. The thin slightly chewy texture of the cookies reminded me of a sesame candy you might find in an Asian market.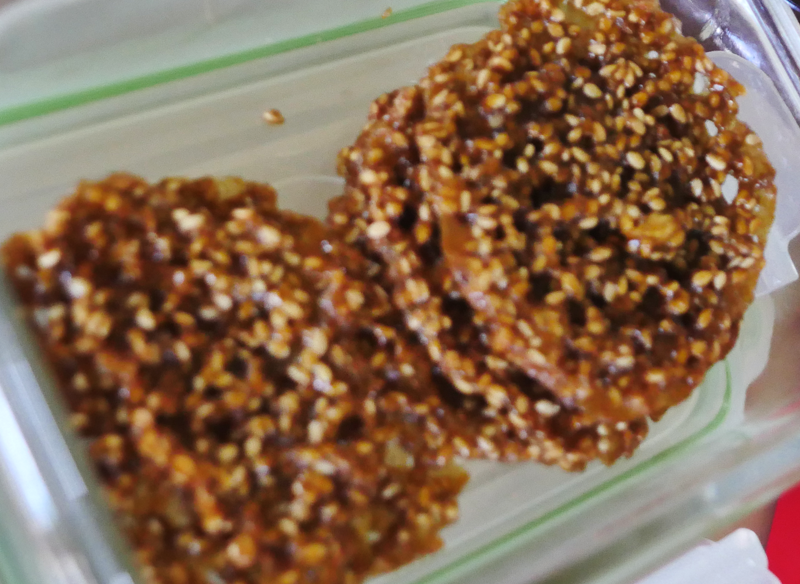 Sarah: Qabili Palau
Impressively, Sarah made Qabili Palau, the national dish of Afghanistan, to fit Vegan Bake Club's regional favorites theme. She put in rice, carrots, raisins, almonds, pistachios, cardamom, and cinnamon, as well as tofu instead of the traditional lamb.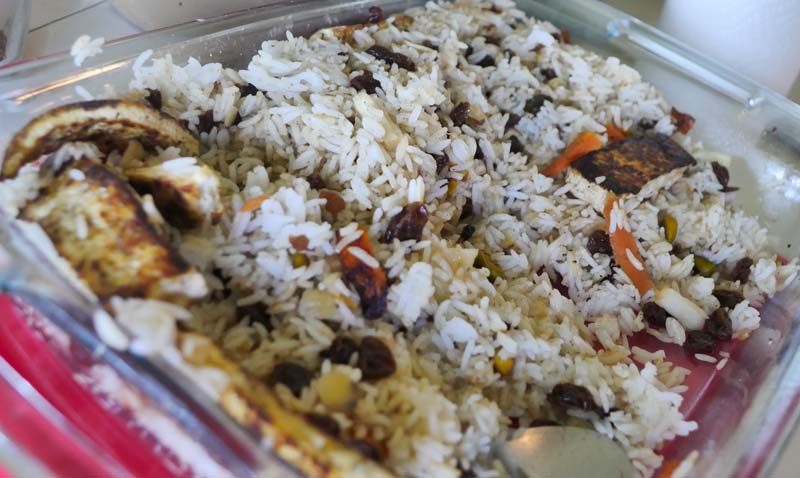 Ramon: Texas Everything Cookies (Cowboy Cookies)
Presumably these cookies are known as Texas Everything Cookies because they have everything you could want in a cookie baked right in. Coconut, dates, chocolate chips, toasted walnuts, oats, and even cornflakes went into the making of these treats. Ramon used a ground flax water mixture to help bind all of these sweet treasures together.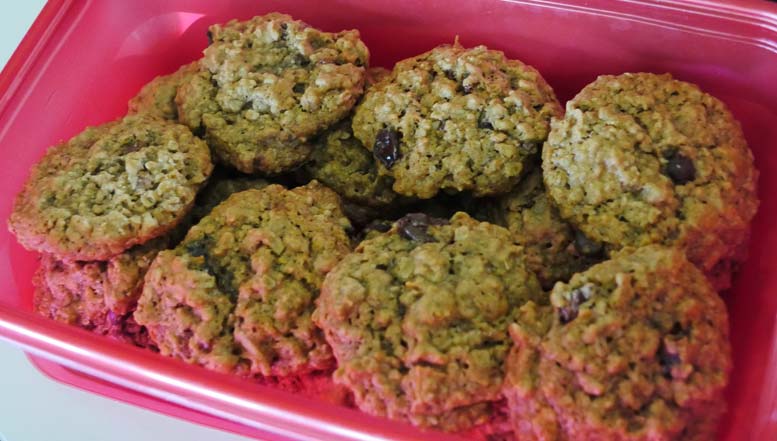 Billy: Tabbouleh
In making his healthy tabbouleh, Billy replaced the traditional bulgur with quinoa to make it gluten-free, combining it with the fresh flavors of cucumber, tomato, parsley, mint, and lemon juice. If you notice a lack of red tomato color in the image below, it is because Billy got a bit heavy handed with the food processor.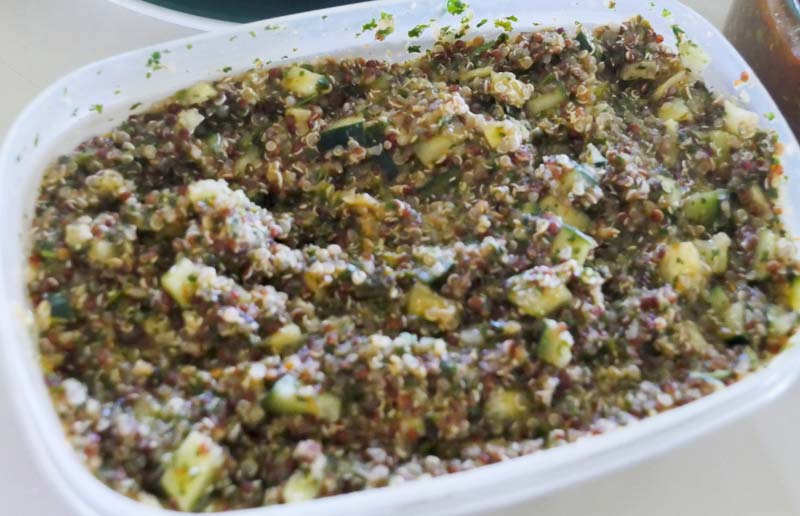 Slynn and dogs!