May 20, 2023 – Chinese Mexican Fusion
Saturday, May 20, 2023
VBC Meeting #123: Chinese Mexican Fusion
Host of the Month: Drew
Location: Denton, TX
Drew originally set the May theme as Chinese Mexican fusion in honor of Chexi's first birthday, as his name was inspired by a love of Chinese and Mexican foods. However, it was later expanded to Asian Mexican fusion to make it easier to find existing recipes.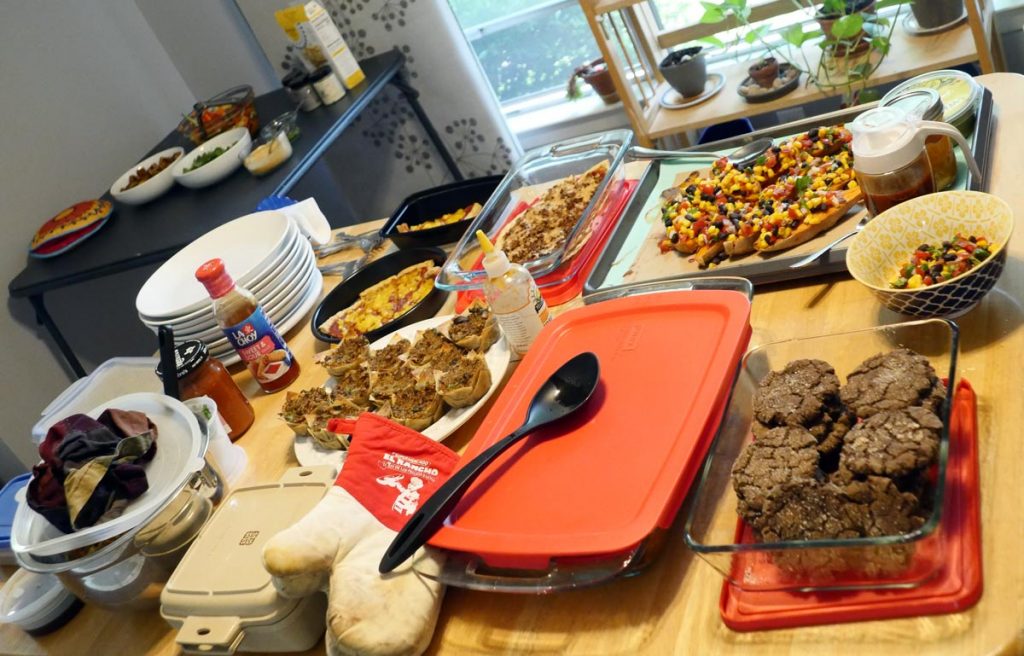 This is what we made: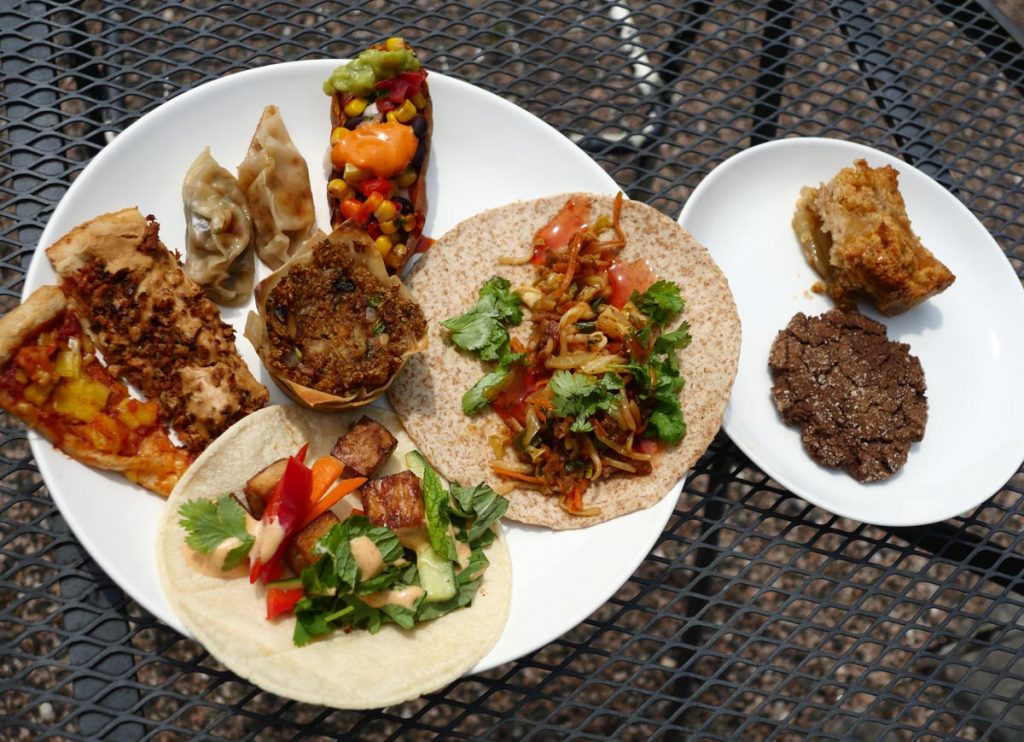 Lauren and Billy: Mexican Potstickers; Spring Roll Tacos
Lauren and Billy worked together to make some foods you might eat at a Mexican-inspired Dim Sum restaurant. They made two types of potstickers with wrappers they bought at Winco. The first filling was made of taco-meat style textured vegetable protein and vegan cheddar shreds seasoned with vegetable bouillon, tomato paste, soy sauce, smoked paprika, chili powder, cumin, onion powder, garlic powder, cinnamon, and black pepper. The second filling was black beans, zucchini (grown by Billy), corn, and cilantro seasoned with chili powder, onion powder, garlic powder, cumin, black pepper, and salt.
Billy made a dumpling sauce of soy sauce, lime juice, sesame oil, and sugar.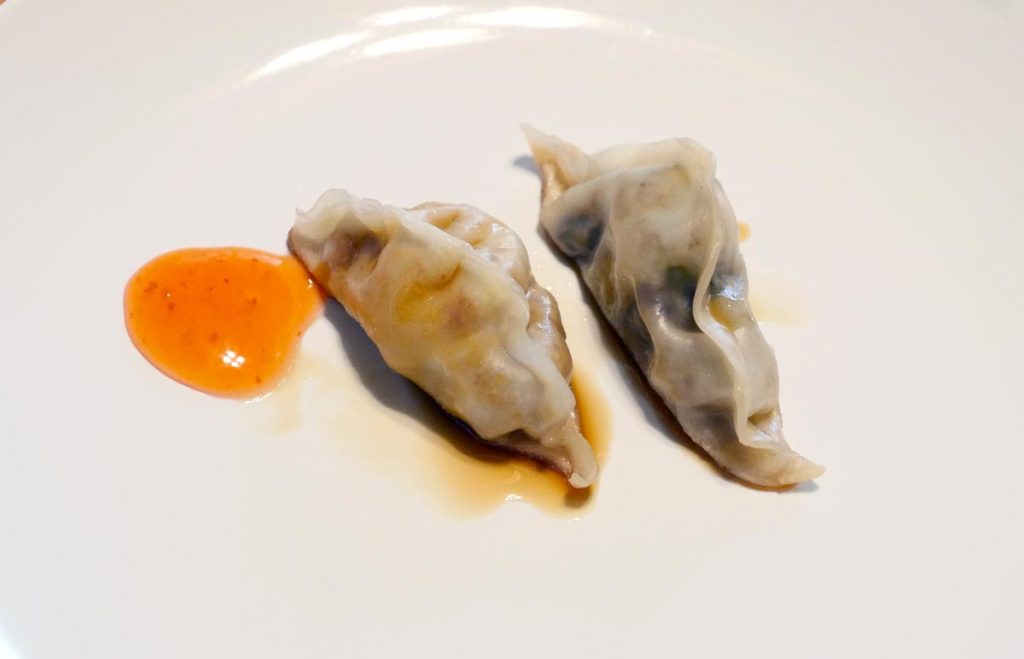 For the spring roll tacos, Billy pre-made soy curls, flavoring them with soy sauce, vegetarian oyster sauce, hoisin sauce, and black pepper. Lauren stir-fried these curls with cabbage, carrot, mung bean sprouts, and green onion seasoned with more vegetarian oyster sauce, white pepper, garlic powder, ginger, and fresh basil, and cilantro. They served this on store-bought whole wheat flour tortillas with mango habanero salsa and La Choy Sweet and Sour sauce.
Minji: Sweet Potato Taco Boat
Minji prepared baked sweet potato halves filled with a bean salsa consisting of black beans, cherry tomatoes, red onion, corn, lime juice, and cilantro. She provided three different sauces because she thought the first one, made with gochujang (고추장 – Korean pepper paste), rice vinegar, maple syrup, and water to thin, was too spicy. She made the second one with vegan mayo and gochujang, but since she wasn't sure if it tasted good, she bought guacamole as a third option.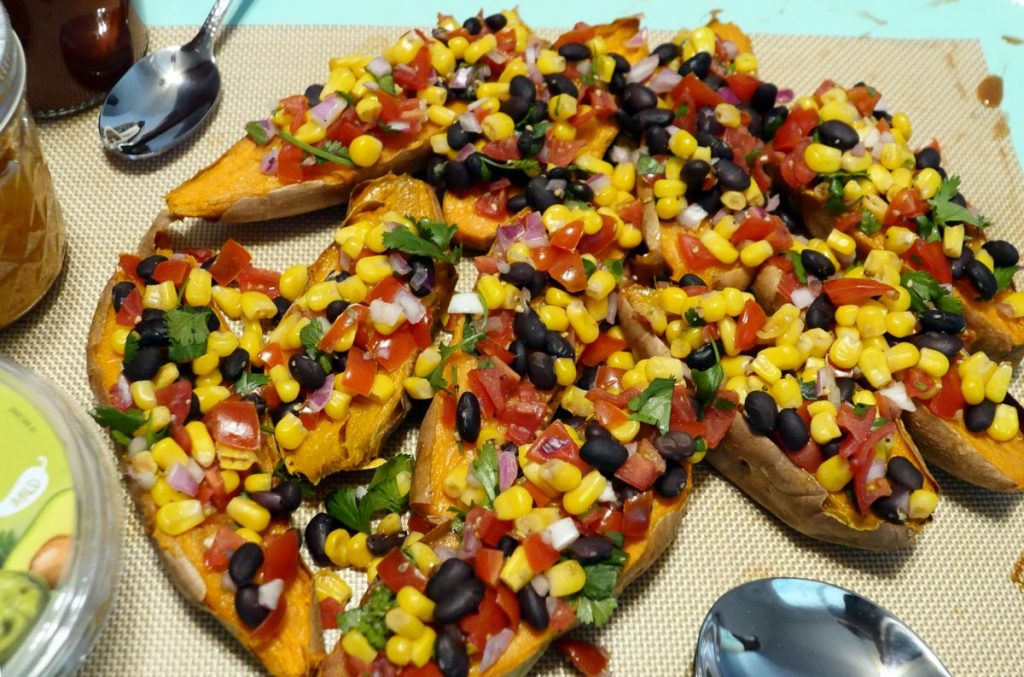 Minji also brought a few jars of variously flavored vegan cream cheeses.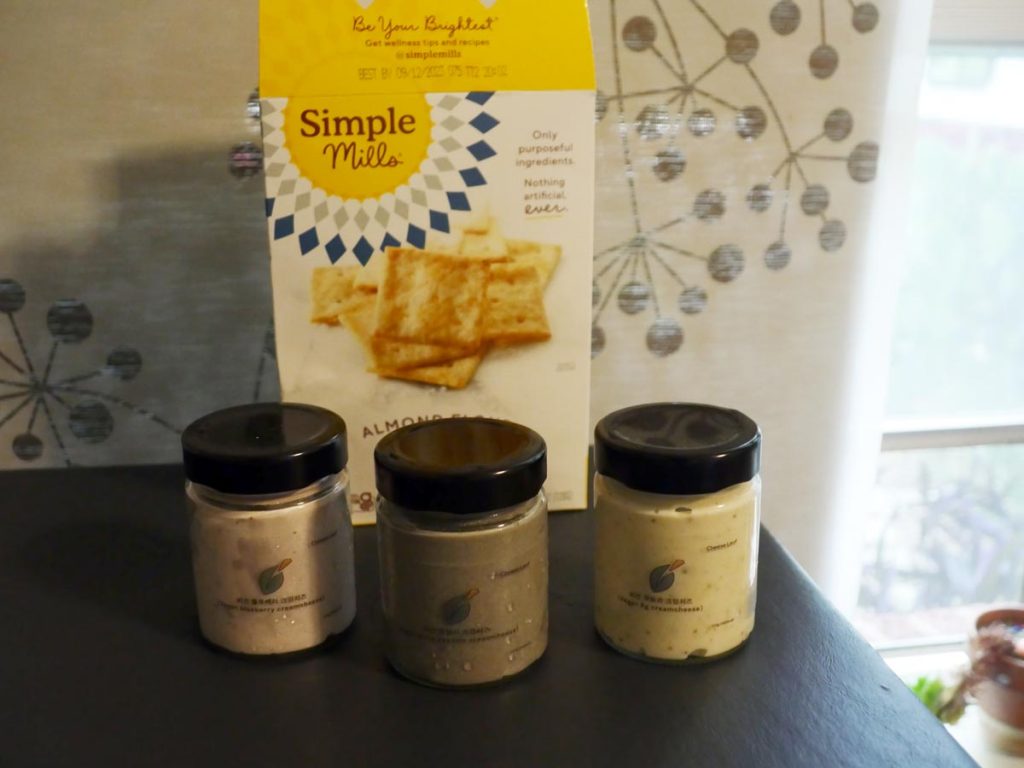 Mehgann: Banh Mi Tacos with Smoked Tofu
Mehgann prepared a spread for building your own tofu banh mi tacos.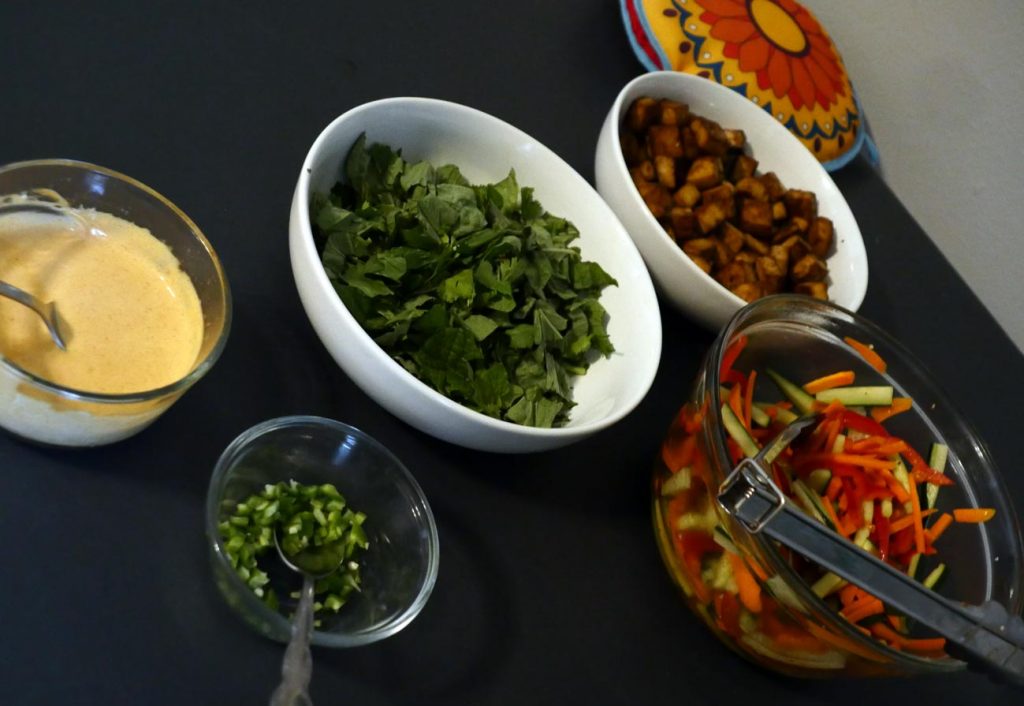 The tofu was flavored with a marinade of soy sauce, rice vinegar, maple syrup, sesame oil, liquid smoke, and garlic then baked and served alongside julienne cut carrot, cucumber, and red bell pepper, vegan sriracha mayo, fresh herbs, jalapeño, and tortillas.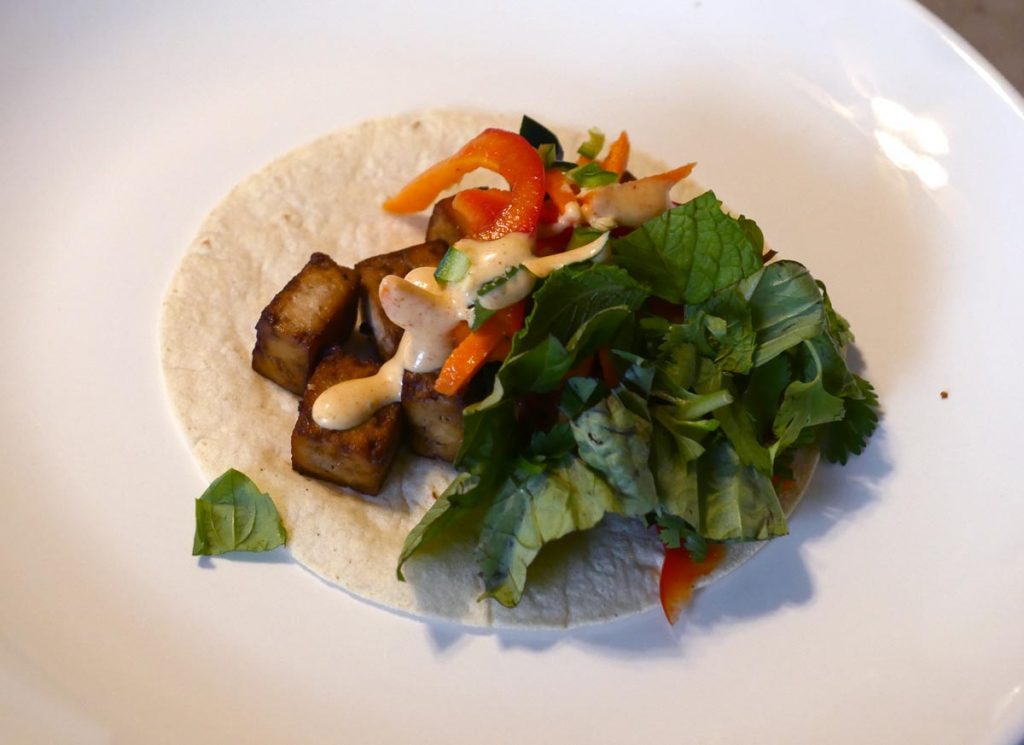 Drew: Wonton Taco Cups
Drew filled vegan wonton wrappers he picked up at Kroger with quinoa cooked with veggie stock, sautéed onion, Gardein crumbles, mushrooms, cumin, coriander, chili powder, salt, pepper, and cilantro. Using a muffin pan sprayed with oil, he put one wonton wrapper in each cup, filled it partially, then layered on another wrapper, and topped each off with more filling.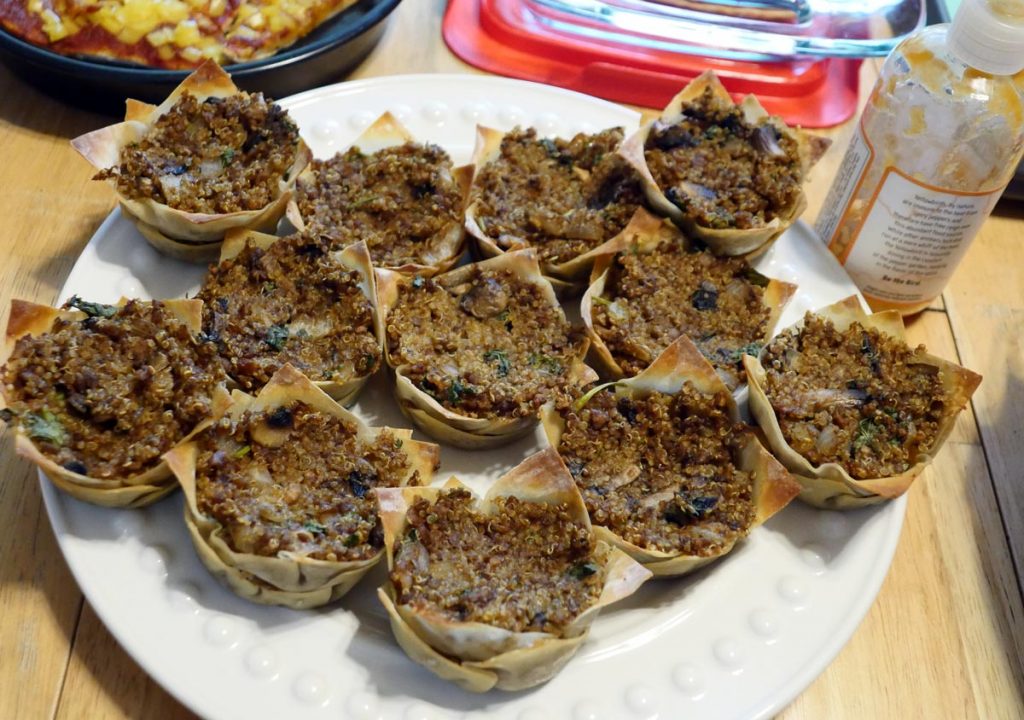 Kori: Pizza; Apple Dump Cake
Kori built a split topping pizza on a Walmart-bought cauliflower rustic crust. She spread the crust with a tomato basil pasta sauce and sprinkled on nutritional yeast. On one side she added chopped Chao vegan cheese slices.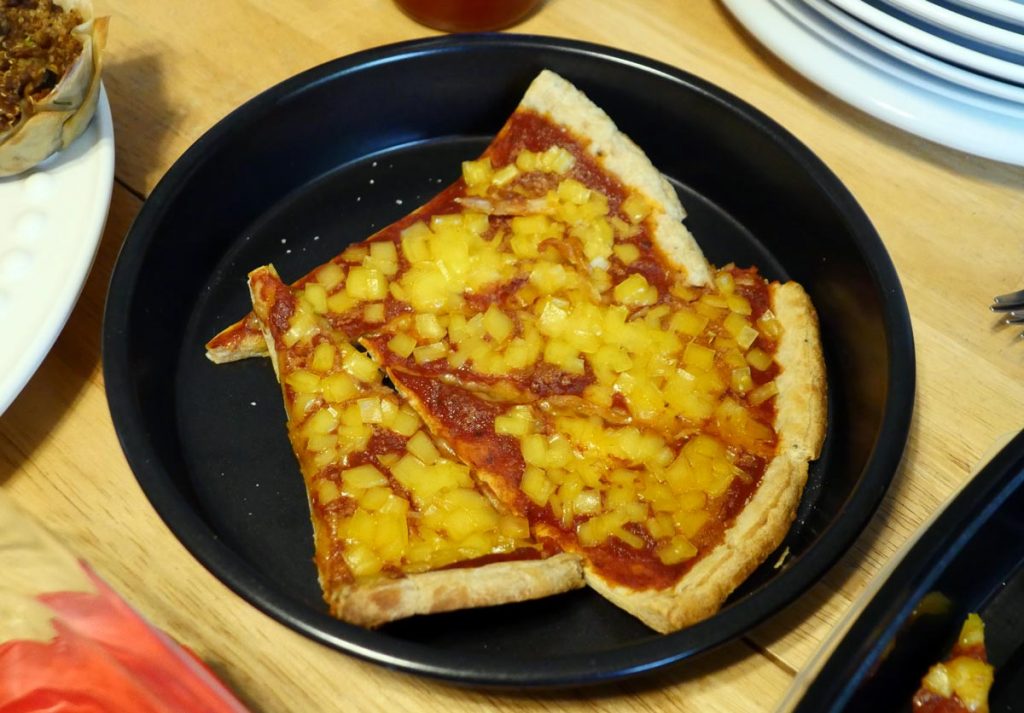 On the other side she topped the crust with rehydrated textured vegetable protein that she had sautéed with white onion, garlic powder, basil, oregano, and fennel seeds. After baking, she drizzled the tvp half with powdered peanut butter that she had mixed with water.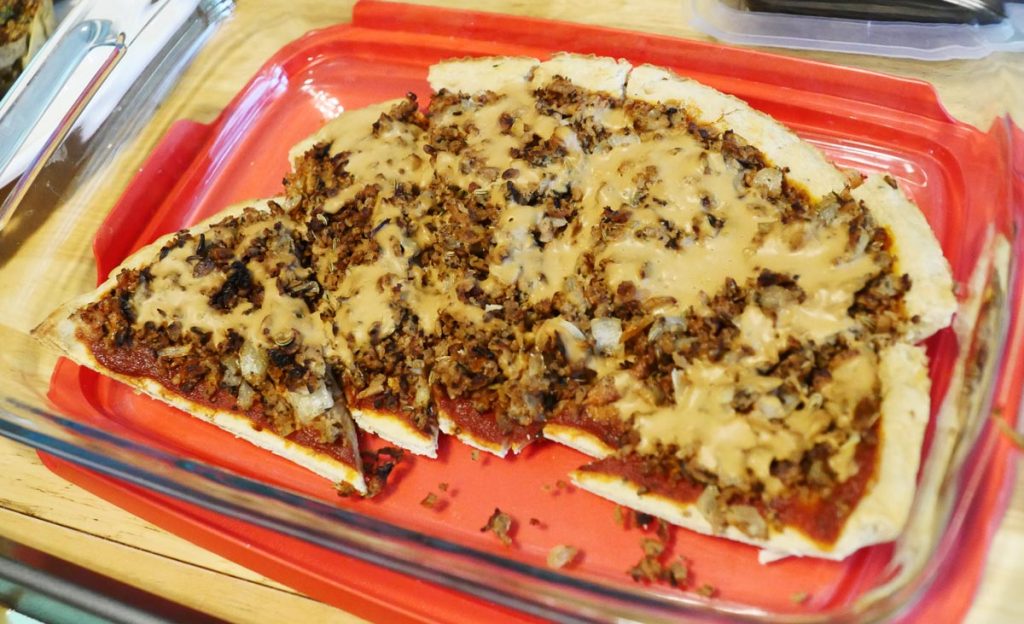 She also made an apple dump cake by pouring two cans of apple pie filling in the bottom of a cake pan and adding yellow cake mix and cinnamon. She melted Earth Balance vegan butter to pour over that then baked it for a while, took it out and stirred it, and baked it further. In the end, she baked the cake for 45 minutes at 350°F and 425°F for 15 minutes.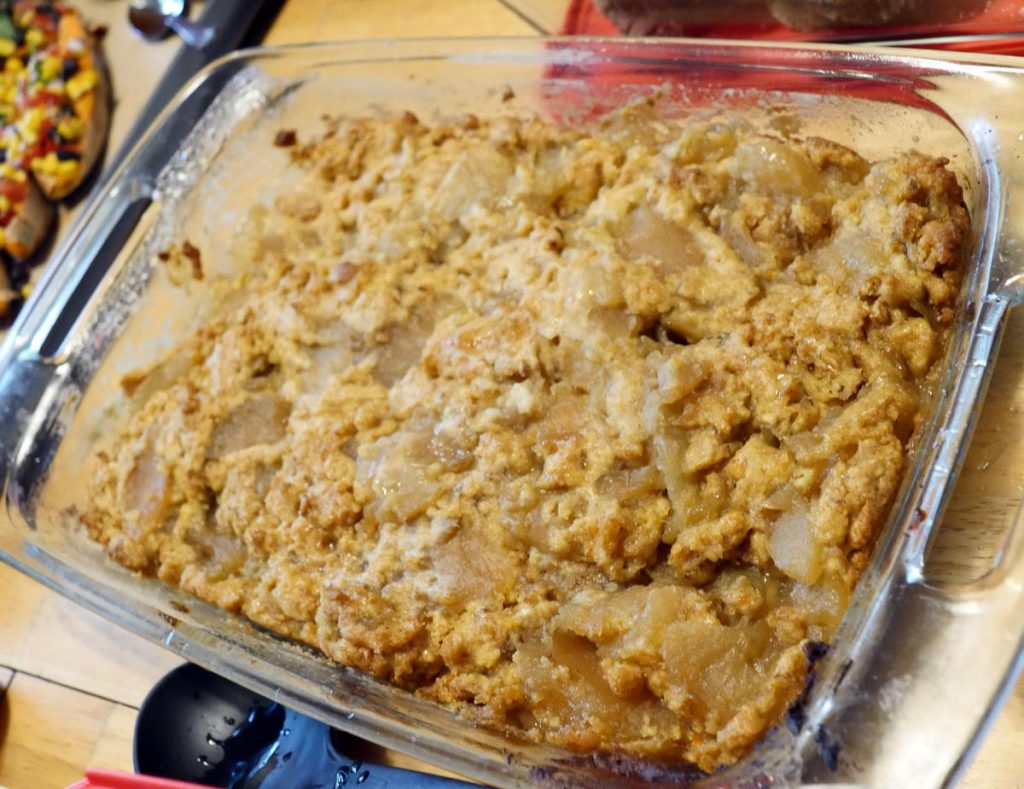 Slynn: Mexican Chocolate Snickerdoodles with Chinese Five Spice Powder
Slynn made Mexican hot chocolate inspired snickerdoodles that included flavors from cocoa powder, melted chocolate, maple syrup, cinnamon, and five spice powder. Before baking, she rolled the cookie dough balls in sugar blended with cinnamon and five spice powder.
On Chexi's actual birthday, Lauren made him a vegan coconut cake topped with coconut whipped cream coconut shreds, strawberry, and kiwi. While she didn't make a separate smash cake, he didn't end up smashing his piece anyway, so it would have been a waste of energy.