May 15, 2022 – Pacific Islands
Sunday, May 15, 2022
VBC Meeting #111: Pacific Islands
Host of the Month: Lauren and Billy
Location: Ponder, Texas
Since May was Asian American and Pacific Islander Heritage month, we went with a theme of Foods of the Pacific Islands, as always with the reminder that people can make anything they want whether related to the theme strongly, loosely, or not at all, as long as it is vegan. While a lot of us have some sense of Asian foods, since there are many restaurants in the region with a variety of levels of authenticity of cuisine representing different countries in Asia, some of us were not so sure what to make for a Pacific Islands theme. Luckily we live in the time of the Internet…at least for research purposes…and for posting what we make for Vegan Bake Club…not so luckily for things like cyberbullying and identity theft and fake news, but that's not really in scope of this post.
This is what we made: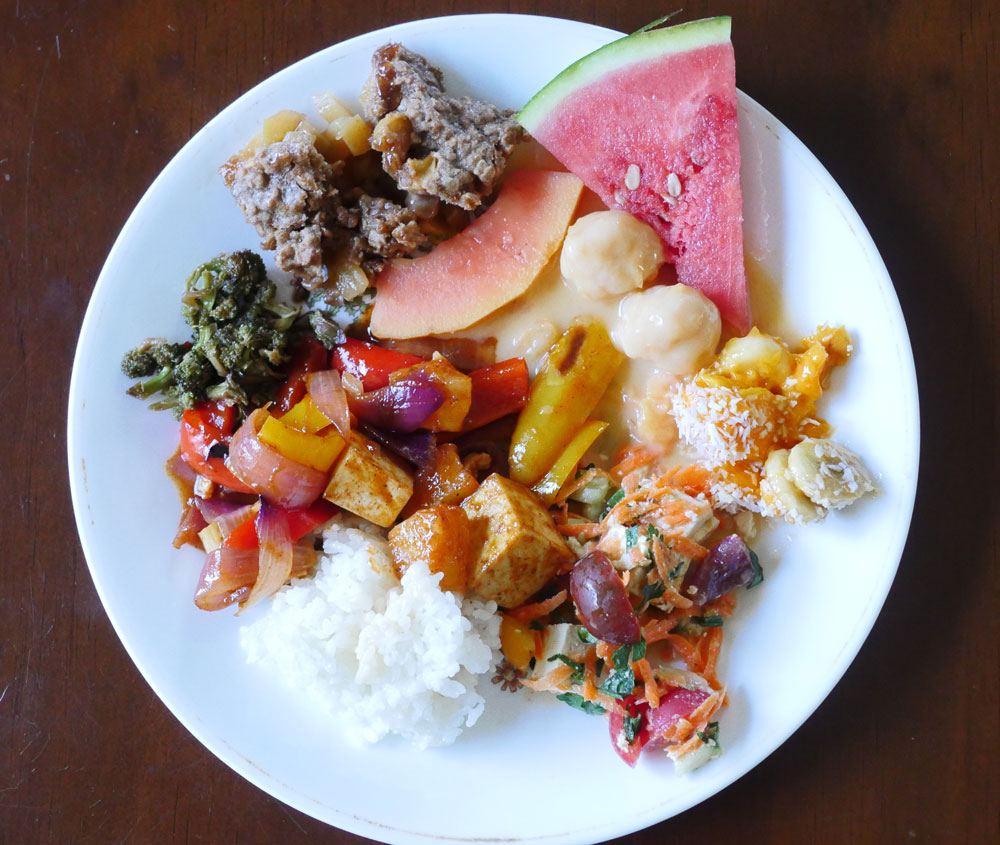 Shannon: Haupia (Hawaiian Coconut Pudding)
Joining us remotely from South Carolina, Shannon made haupia, a coconut pudding that is popular as a Hawaiian dessert, that only requires a few ingredients to prepare. She heated coconut milk with coconut sugar (the recipe uses white sugar) on the stove until it started to boil. Then she added a slurry of water and cornstarch to thicken it before chilling it for eating. Shannon commented that the coconut sugar tinged the pudding light brown instead of the classic white, but it still tasted good!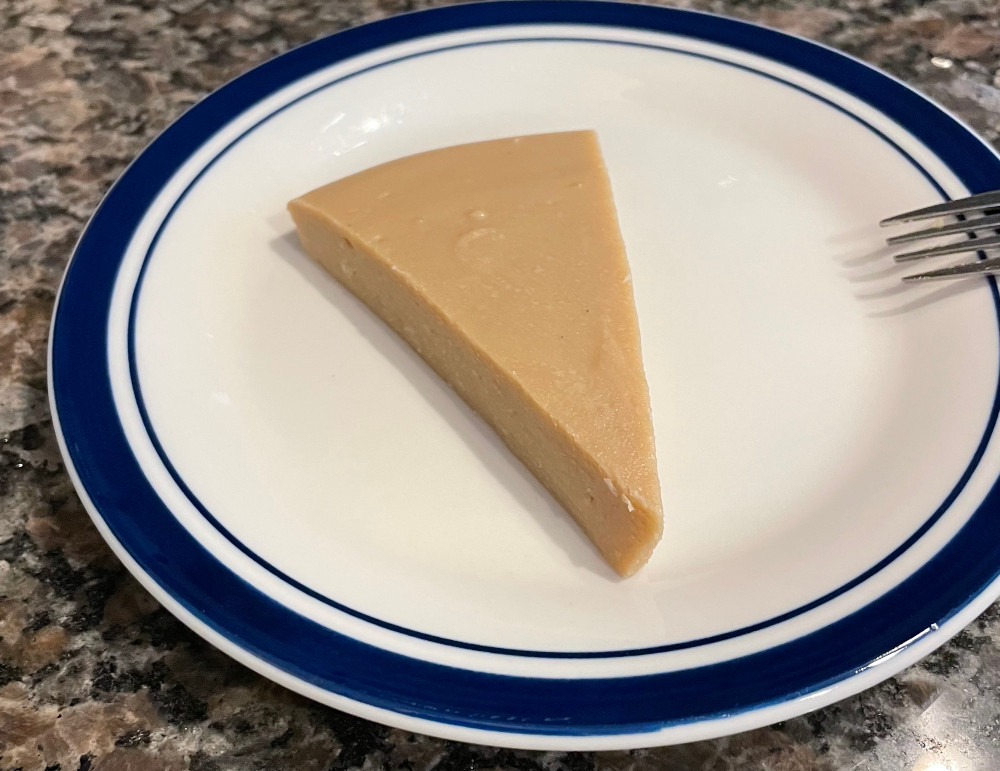 Billy: Tropical Fruit Salad
With mangoes brought over by Lauren's mom sitting around not getting any fresher, Billy made a fruit salad with that mango, plus banana slices, and coconut shreds for a taste of the tropics.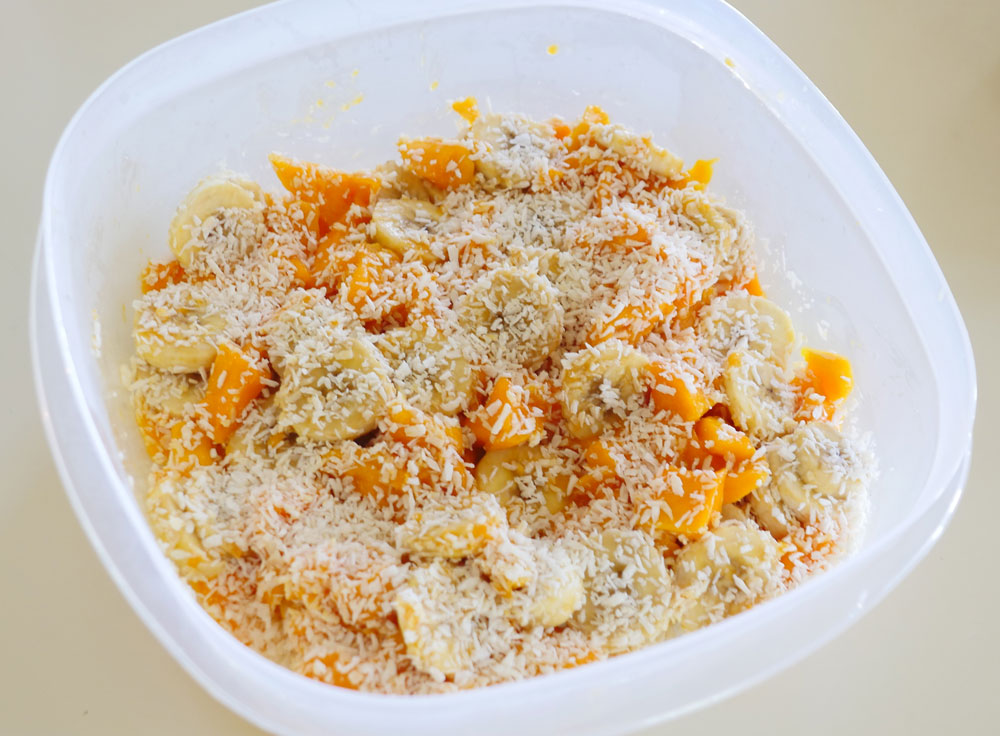 Drew: BBQ Hawaiian Tofu Bowl
Drew made a barbecue flavored tofu dish featuring peppers, onions, and pineapple. He cut tofu into chunks and baked it at 425°F. He separately baked onion and bell pepper slices that he tossed in olive oil and seasoned with salt and pepper. While baking, he sautéed canned pineapple that he then combined with the tofu, veggies, and store-bought barbecue sauce for a fancy tasting low effort meal. The recipe served this with quinoa and spinach, but Drew decided to skip these and serve the dish with rice.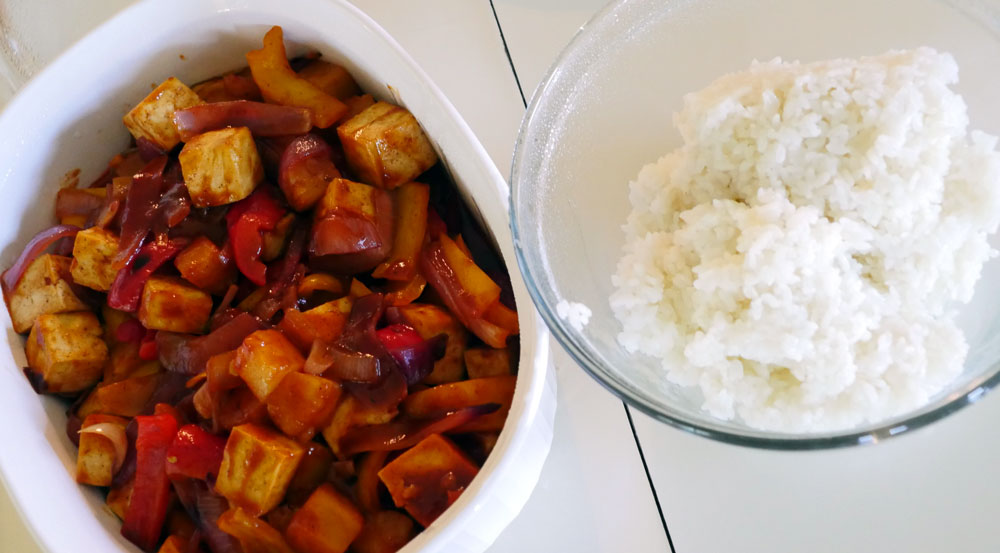 Slynn: Kopai Esi
Doing some research on food of the Pacific Islands, Slynn found a recipe for kopai esi, papaya dumplings cooked in coconut milk, on a Samoan recipe blog. She cut papaya, boiled it, mashed it, and combined it with flour to make a dough that was then rolled into balls to form dumplings. She boiled the dumplings in the same liquid from boiling the papaya, then added coconut milk and additional flour to thicken the cooking liquid for the final product.
Slynn shared that though the recipe says to garnish with papaya seeds, after trying one, she couldn't taste anything else for a long while due to a strong pepper/licorice taste, so she left those off for us. She also discovered you can dry and crush the seeds for seasoning. Also, apparently, the seeds are very nutritious.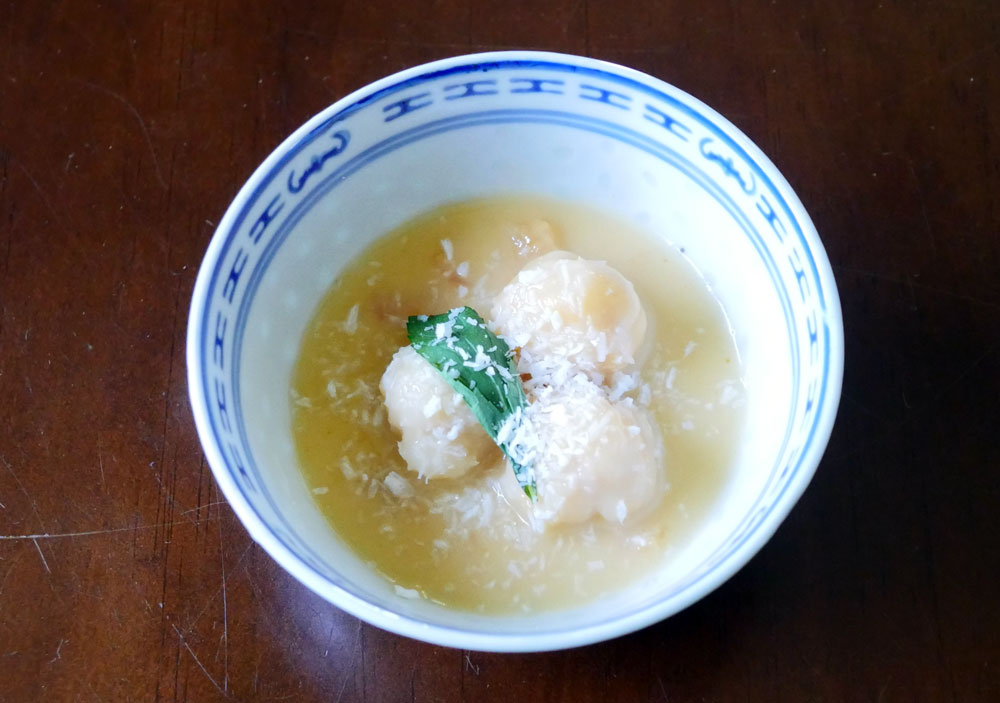 Lauren: Poisson Cru
Lauren made a veganized version of the Tahitian dish poisson cru. As this name translates from French to "raw fish", she took a liberty with the vegan version by featuring tofu in place of the raw tuna or halibut named in the recipe. She combined the tofu with lime juice, coconut milk, carrot shreds, cucumber, green onions, mini yellow tomatoes, mint from Billy's garden, and salt.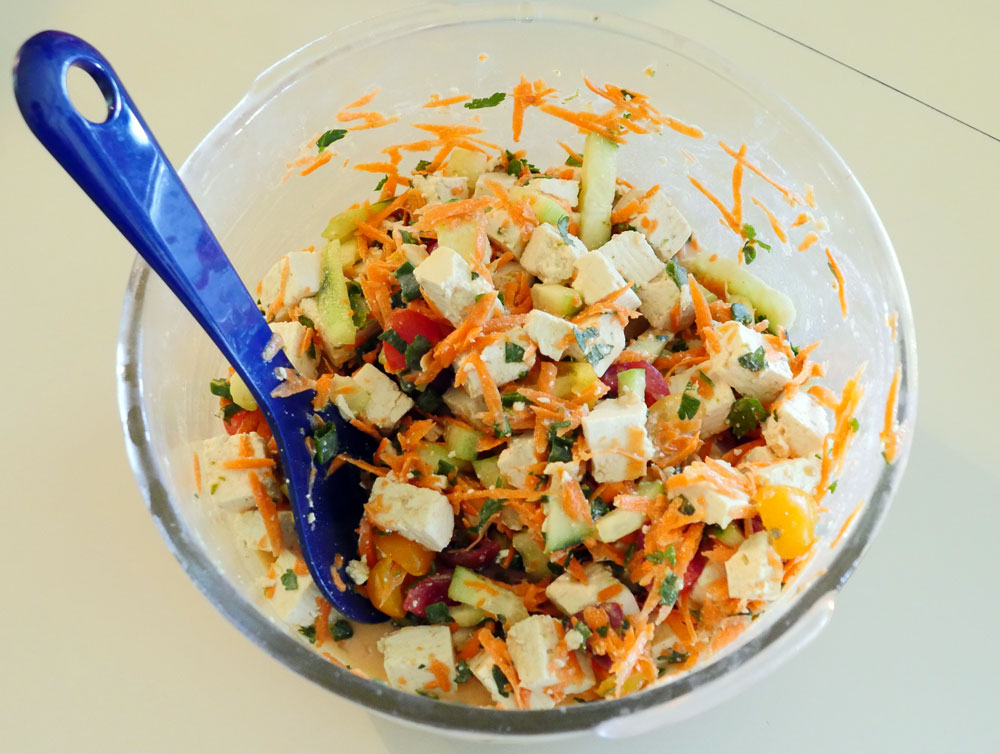 Kori: Apple Crumble; Roasted Broccoli
It turns out Lauren and Billy aren't the only vegan people in Ponder! For her first Vegan Bake Club meeting, attended along with her four year old twins Skyler and Dallas, Kori made two things. For her apple crumble, she chopped up Golden Delicious and Fuji apples that she mixed with lemon juice, cinnamon, brown and white sugars, corn starch, and salt. In a separate bowl she made the crumbly part of the apple crumble, combining oats, whole wheat flour, vegan butter, and brown sugar. After putting the components together, she baked the dessert for fifty five minutes at 350°F.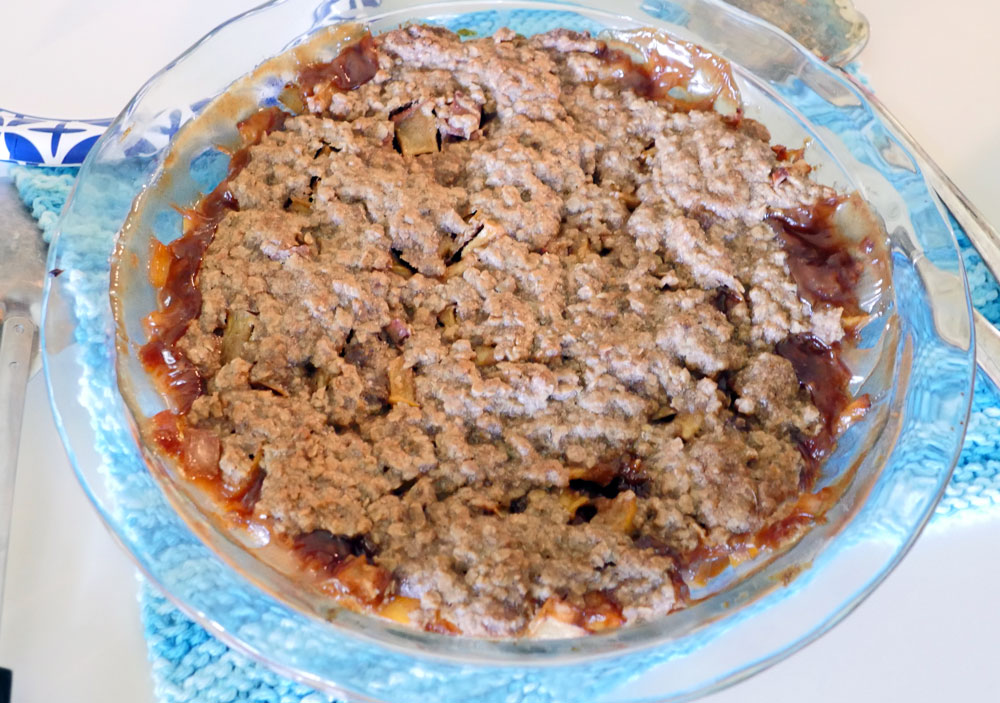 For a savory side dish, Kori marinated broccoli overnight in sesame oil, Bragg Liquid Aminos, brown sugar, and crushed red pepper flakes. She roasted the vegetable in the oven at 400°F for twenty minutes.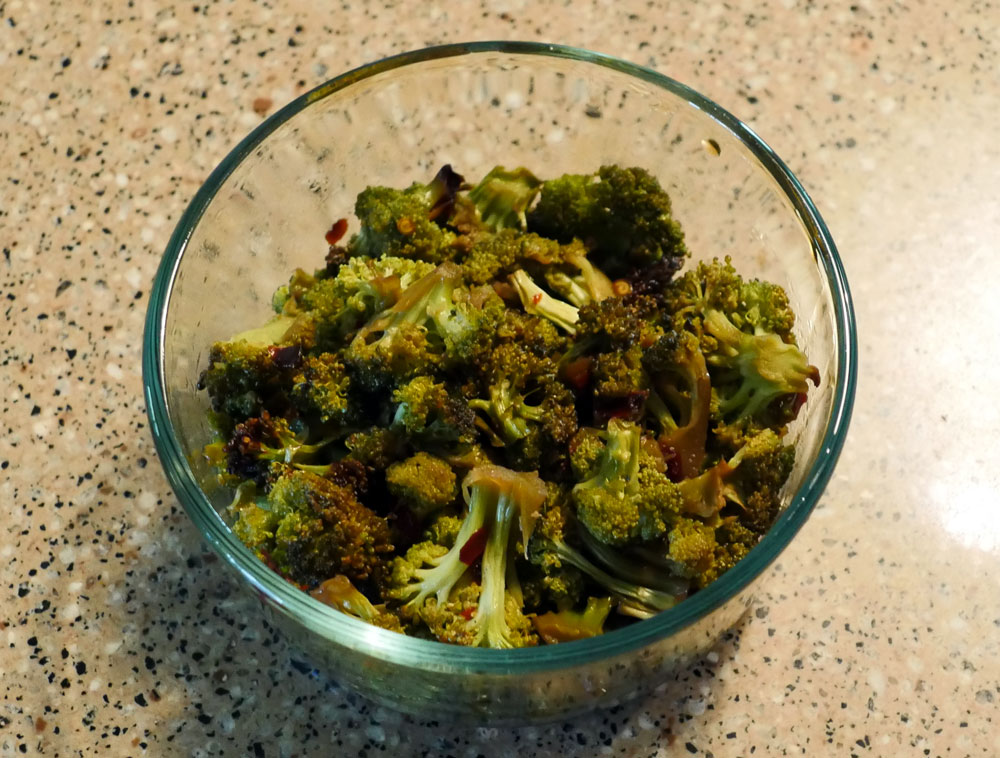 Caroline: Good Company