May 12, 2018 – Picnic Brunch
Saturday, May 12, 2018
VBC Meeting #63: Picnic Brunch
Host of the Month: McKenna Park
Location: Denton, TX
Before reaching the uncomfortable high temperatures that a Texas summer promises, we opted to get together for a vegan picnic brunch at Denton's lightly used McKenna Park.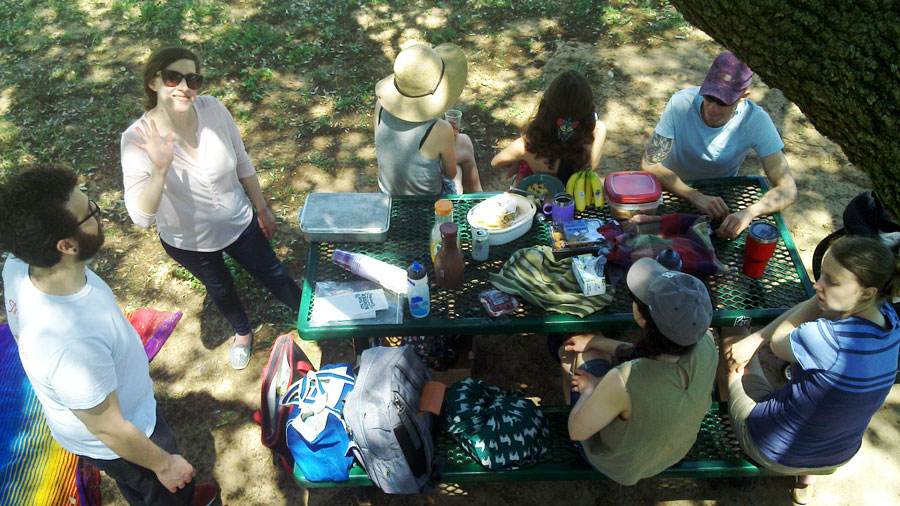 This is what we made: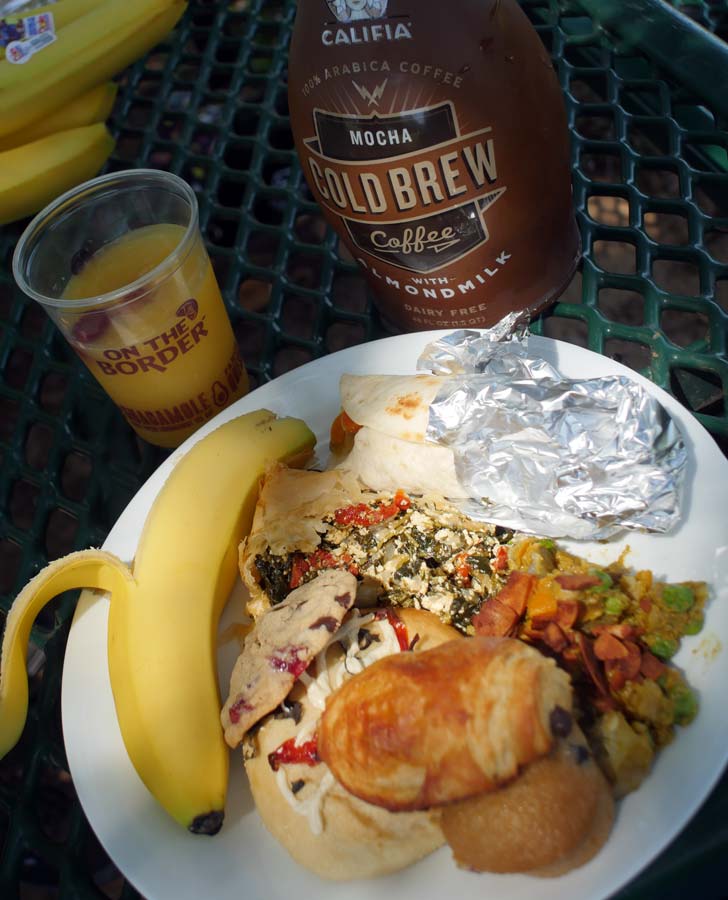 Shannon: Cherry Chocolate Chip Cookies
Shannon decided to make chocolate chip cookies with chopped maraschino cherries because they were something she could make in advance which prevented her from having to get up early. Since she was babysitting the night before our brunch, she made these cookies, led by a recipe she had seen on Facebook, with her nephew and two nieces "helping" (i.e. watching). The cookies turned out soft and chewy like a vegan version of the microwaved Chewy Chips Ahoy! of childhood.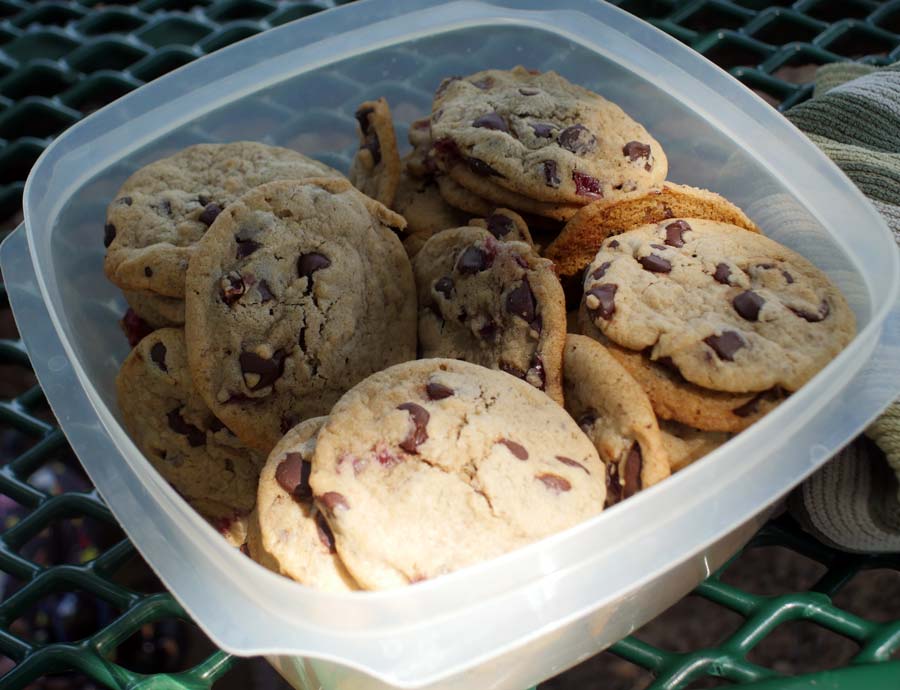 Lauren: Vegan Pain Au Chocolat
Wanting to make something different than the pancakes, cinnamon rolls, and vegan sausage rolls of her normal weekend brunches, Lauren decided to attempt vegan pain au chocolat. She veganized a recipe on the King Arthur Flour website by using flax milk, Earth Balance Soy-Free Buttery Sticks, and a replacement egg wash of flax milk, approximately a teaspoon of maple syrup to help browning, and about a 1/2 tablespoon of golden flax meal for thickening. For the chocolate, she piled lines of Kroger brand Dark Chocolate Chunks (sold in the baking aisle) on her dough before rolling up the little breads.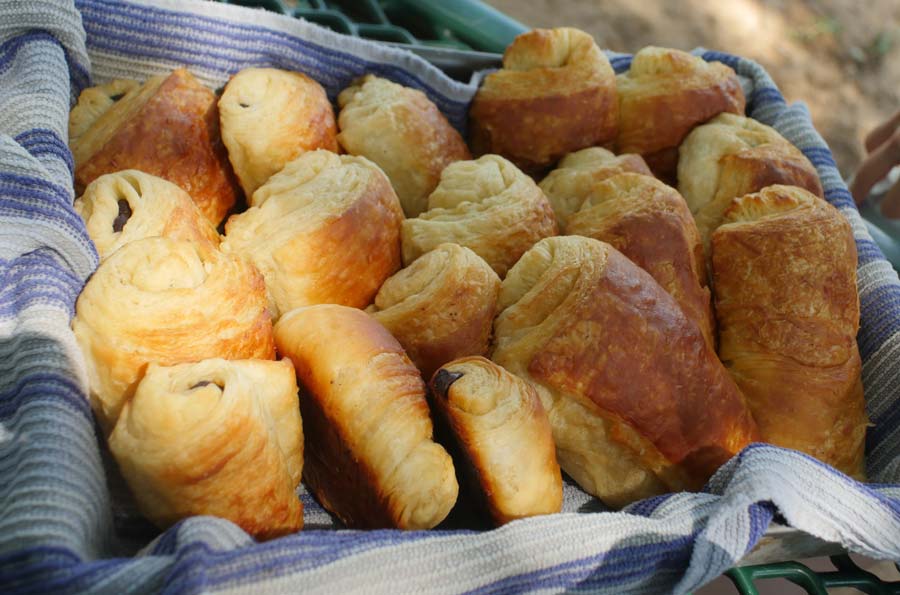 Billy: Tomato Basil Bagels
Knowing what he likes, Billy again made his much practiced bagel recipe. He topped the bready rings with basil and tomatoes from his garden after first drying the tomatoes somewhat in the food dehydrator. He also added a sprinkling of Daiya Mozzarella Shreds. Before adding the toppings, he brushed his bagels with leftover vegan "egg wash" that Lauren had prepared for the pain au chocolat.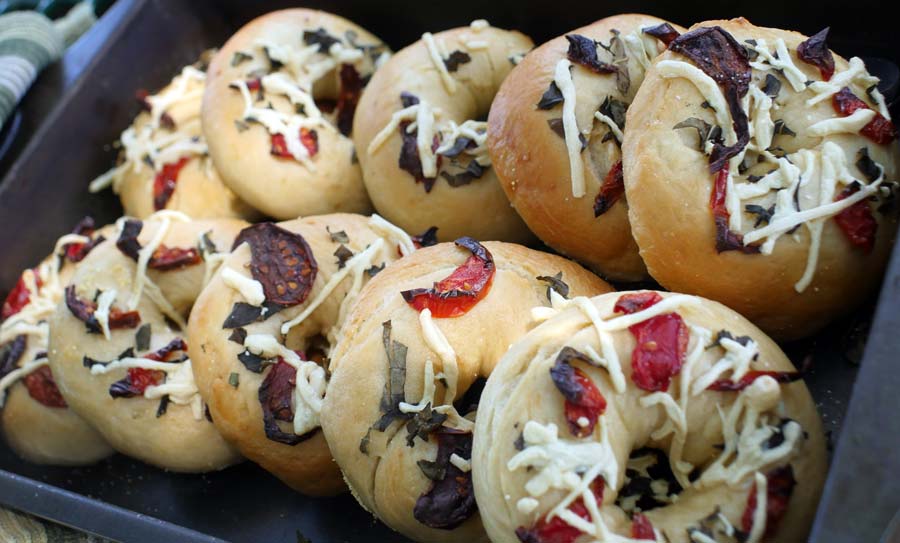 Drew: Tofu Scramble and Potato Taquitos
For the filling of his vegan taquitos, Drew cooked tofu, green bell peppers, onions, carrot, and garlic. He separately prepared small cut potatoes that he cooked with a small amount of water and a lid to soften them before pan frying them for crispness. He mixed the potatoes in with the tofu mixture and served the scramble on flour tortillas wrapped in foil.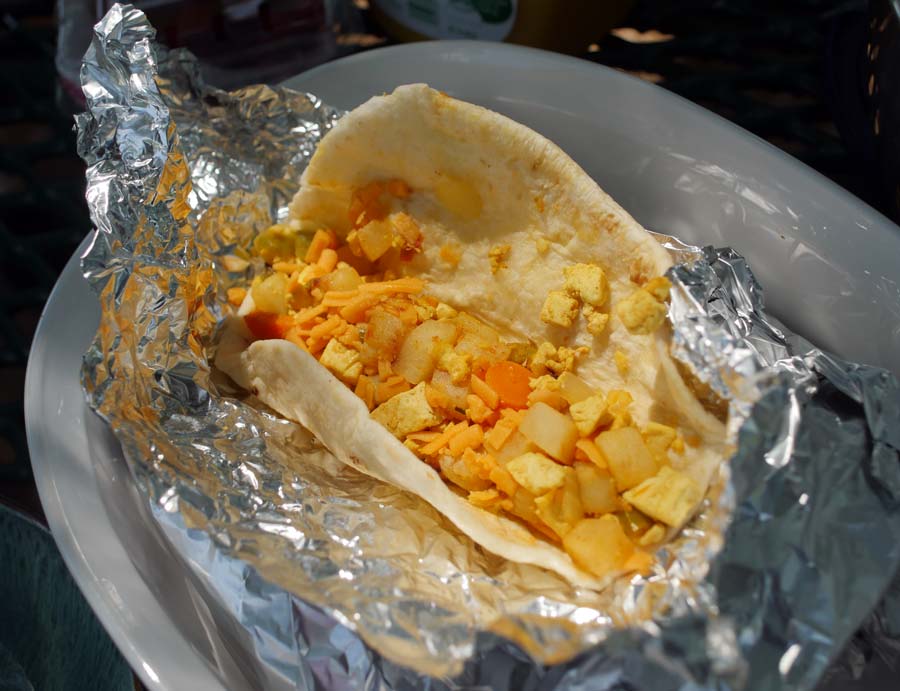 Hope: Abe's Wild Blueberry Smash Vegan Muffins; Califia Mocha Cold Brew Coffee with Almondmilk; Fresh Bananas
Hope had a final exam and a job interview the day before this Vegan Bake Club meetup, so rather than worry about making something for us, she did the smart thing and picked us up some delicious vegan treats that Denton's fine shops have to offer.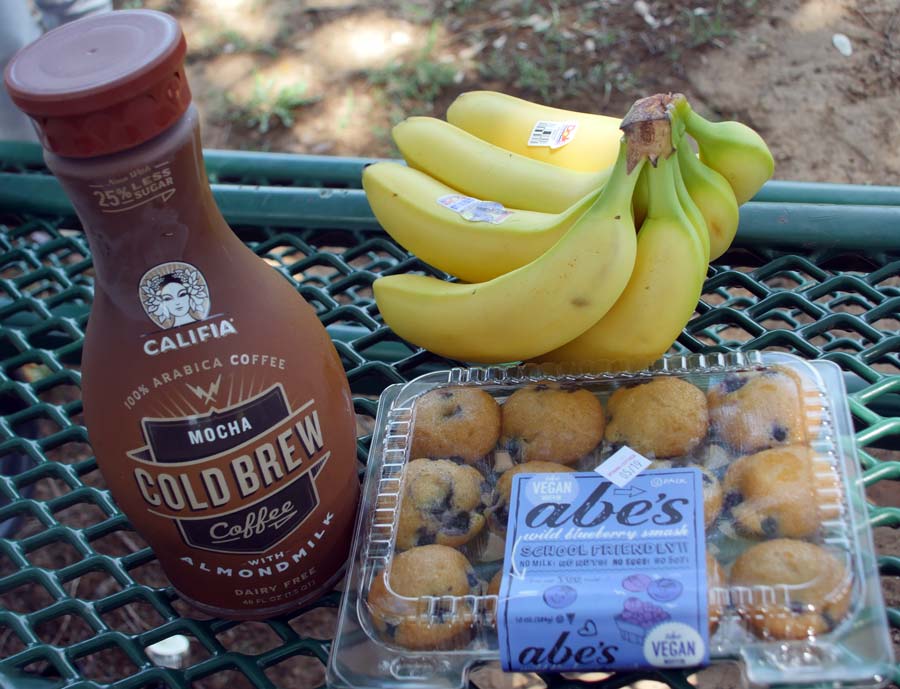 Caroline: Raspberry Mimosas
Caroline prepared us that classic brunch drink, the mimosa. She prepared the mimosas with orange juice and fizzy beverage with a fresh raspberry garnish.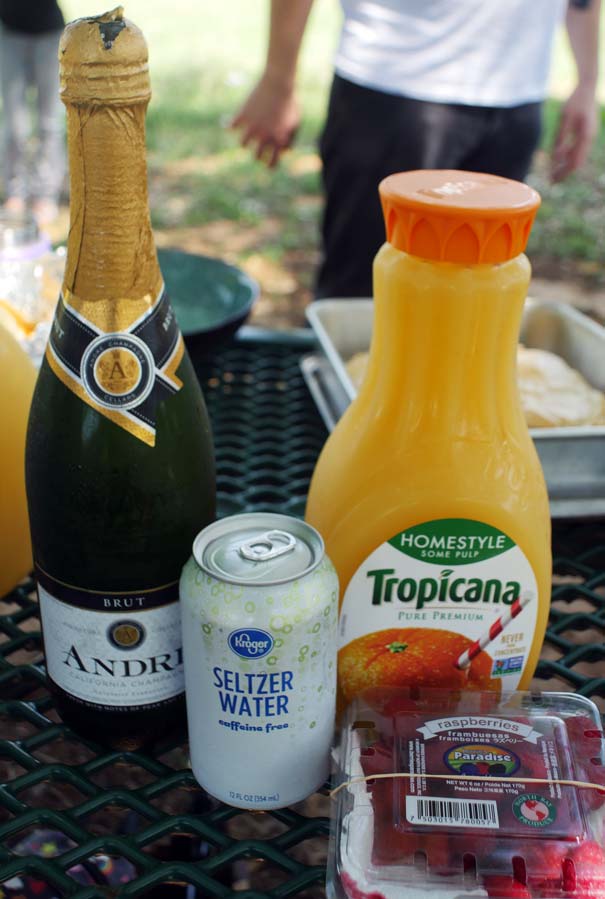 Ramon: Samosa Potato Salad with Coconut Bacon
For his potato salad, Ramon roasted chickpeas, sweet potatoes, and russet potatoes. He seasoned these with curry powder, salt, and pepper and made a curry paste sauce with coconut yogurt, maple syrup, lemon juice, and avocado. To finish off the samosa experience, he defrosted some frozen peas to mix in. For a texturally varied finishing touch, he made some coconut bacon by baking coconut pieces for twenty five minutes after tossing them in a blend of liquid smoke, maple syrup, liquid amino acid, and smoked paprika.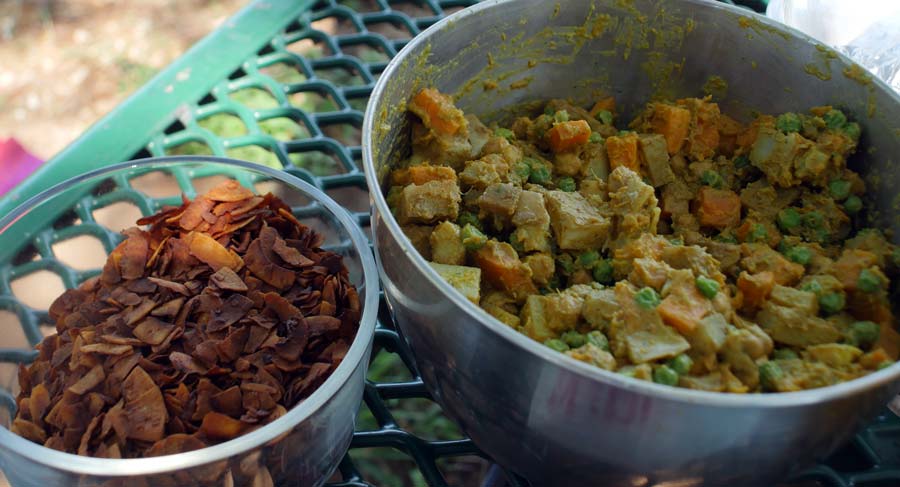 Slynn: Spinach and Sun-Dried Tomato Pie
Slynn made a pie from a Vegetarian Times recipe wrapped in phyllo dough filled with tofu, spinach, sun dried tomatoes, and onion. The recipe called for making use of reserved sun-dried tomato oil for cooking the onions and brushing onto the sheets of phyllo dough.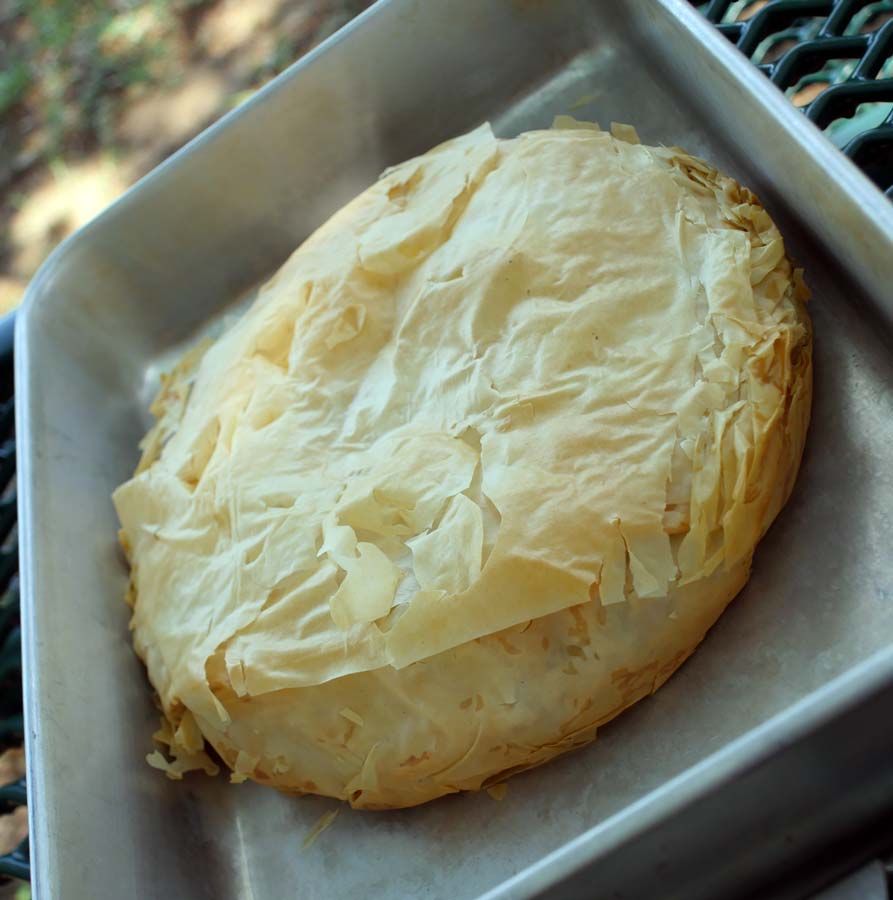 Neva: Uhh, Cuteness
Since Neva is maybe eight weeks old, we don't really expect her to cook us up much more than the pleasure of her company and the enjoyment of seeing a tiny person wearing a Gilligan-style hat.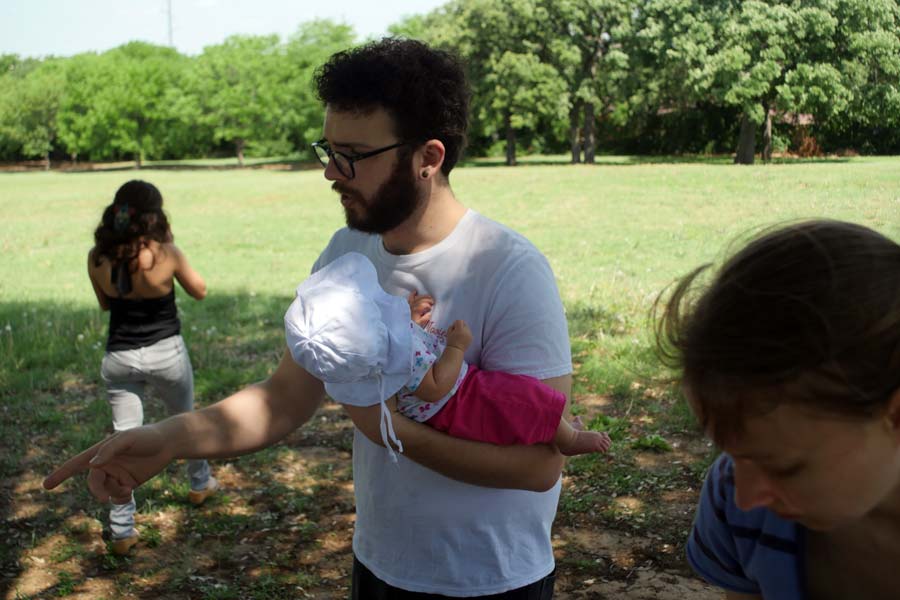 Macy: A Stick
Macy brought us a stick. Then again. And again. I've never seen her enjoy a Vegan Bake Club meeting more than this one that offered her the breezy outdoors and plenty of playing fetch.