Many Days, March 2021
VBC Meeting #97: Defrosted
Host of the Month: The Internet
Location: The Internet
For March, Slynn and Ramon came up with our theme. From Slynn:
VBC is entering its 9th year. Our first meeting was about 85% dessert, which we quickly decided was a bad idea, even for people that love dessert. We have Lauren and Billy to thank for documenting all of our meetings!
I'm proposing "defrosted" for this month's theme. It is almost Spring after a very cold time in February. Your dish could feature frozen food (thawed and cooked to a food safe temp!), food you made to warm up during our very cold time, or baked goods with frosting on the side – or not at all?
This is what we made (in the words of those who made it):
Haley: Not Cookies
I will resist my urge to make cookies from which I have licked all the frosting. You're welcome.
Lauren: Tofu Veggie Udon
My defrosting was of udon noodles and corn which I put into making the Isa Does It Omaha Yakisoba with Red Cabbage & Corn recipe. The recipe says "fresh" corn and "refrigerated section" udon noodles, but we had these things in the freezer! This recipe has a nice picture of noodles with red cabbage, mushrooms, scallions, and big chunks of zucchini. Strangely, the recipe doesn't call for zucchini; it calls for broccoli! The zucchini looked very nice in the dish though, so that is what we ate. The noodle dish was flavored with fresh garlic and ginger, soy sauce, a little veggie broth, and, in place of the sriracha and mirin the recipe listed, red wine, vinegar, and garlic chili paste. Oh yeah, I added tofu for the extra filling and protein qualities. I would make this again! And again…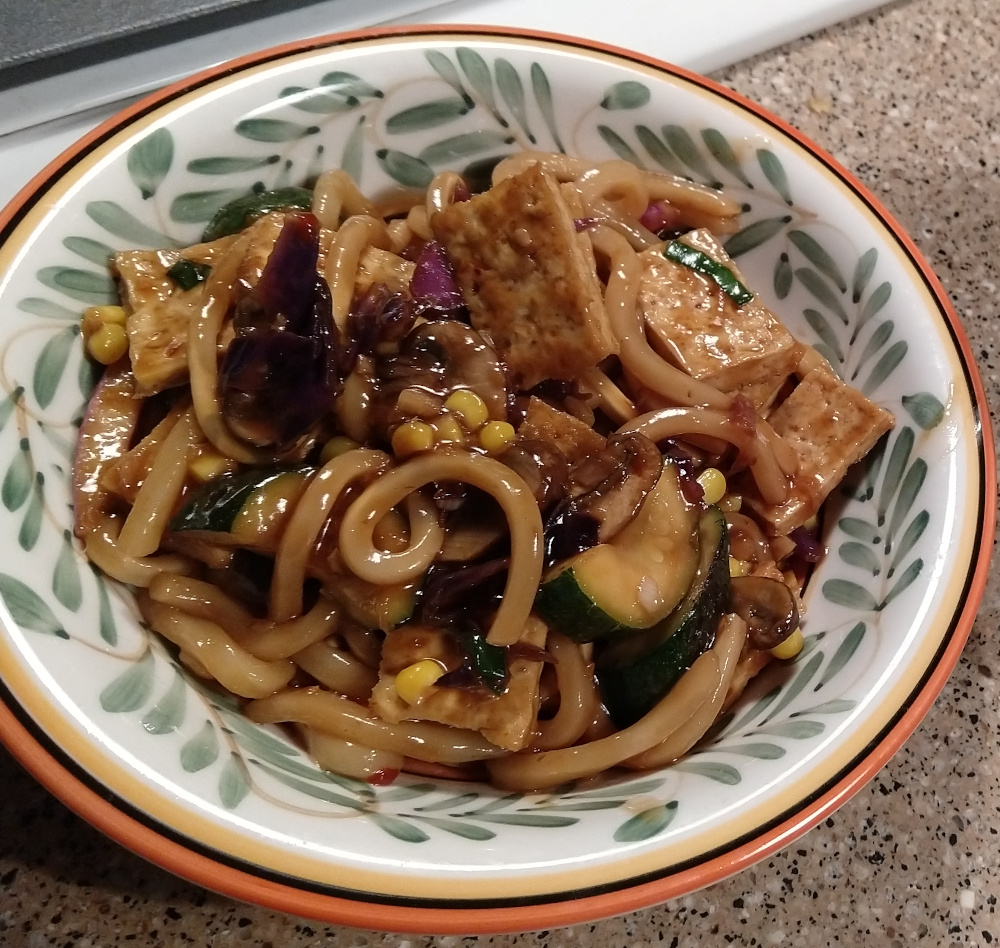 John: Orange Cake Muffins
I'm staying with a friend right now, so I kept it simple and made some orange muffins for breakfast based on our frequently appearing Orange Cake. I slightly reduced the sugar, added a little almond meal, more oj, and to about half of them, blueberries, to make them a little more muffin-y.
They're still reminiscent of the cake, though I found myself really wishing for the way I first had it pre-vbc, with coconut cream frosting and strawberries on top.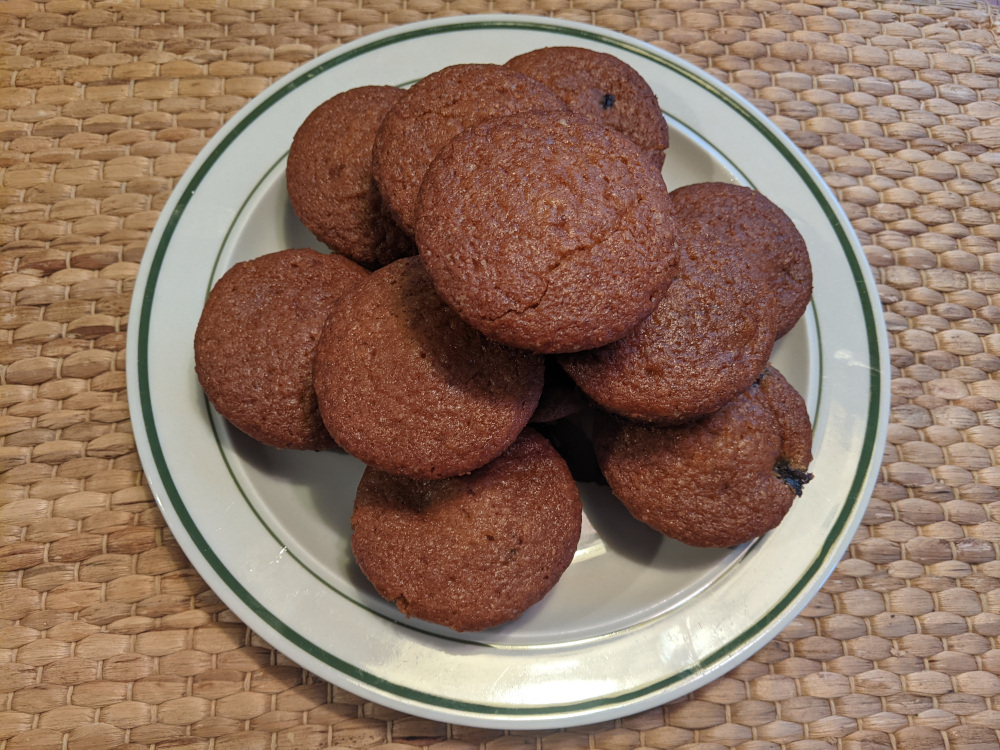 Drew: Creamed Spinach
For the defrosted theme, I looked in my freezer and then went from there. I had some frozen spinach so decided to make creamed spinach following the Detoxinista recipe. I love creamed spinach, and I don't recall if I have had it veganized. I didn't have enough spinach, so while buying more at the store I walked by the frozen vegan chicken strips and caved. Finally, I had some frozen peas, so I decided to do that as well. So, my "dish" was really just the creamed spinach, but I made the entire meal from frozen food (you can see the chickn and peas making a secret appearance in the pic) to be lazy. I mean stay on theme.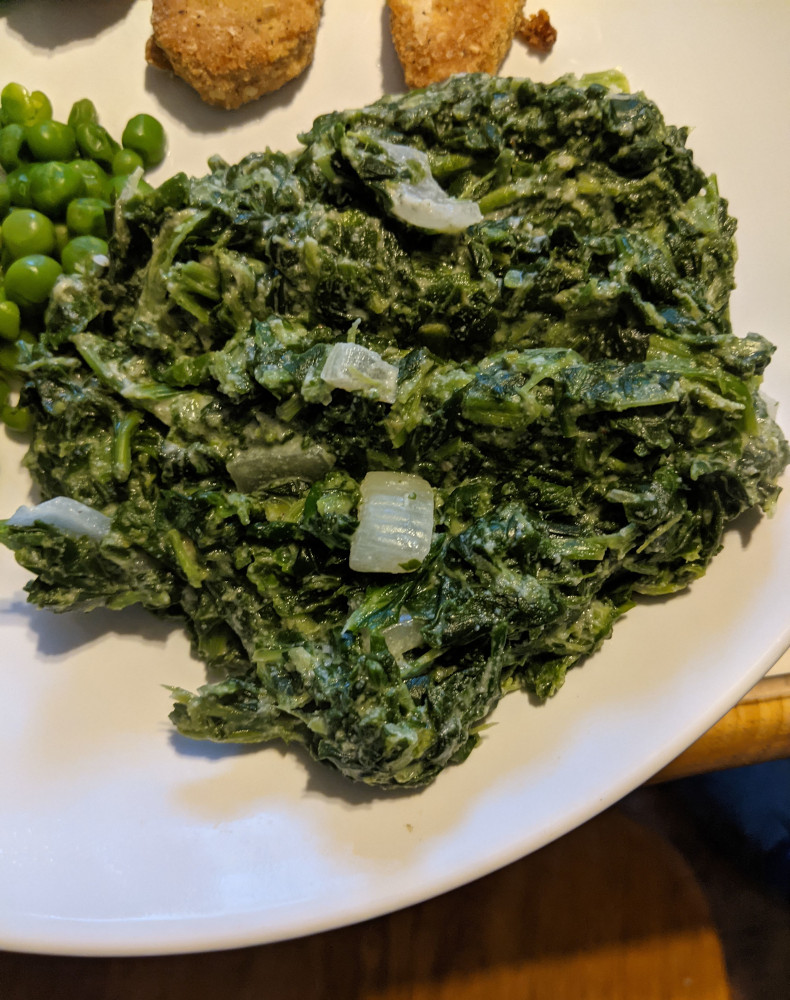 Caroline: Coconut Cake
For "Defrosted" I made a spring cake! My sister came up with that since it's too early for Easter. It's actually a repeat of my ill-fated attempt at Coconut Cake for last July's VBC "Break the Rules." This time I made sure to use the exact ingredients and follow the directions exactly as they appear in the recipe.
The topping is powdered sugar and coconut shreds. However, I did buy vegan cool whip so people could have a frosting option (ahem, 4yo nephew) if they wanted to. Don't worry, my piece of cake was true to theme though, no frosting!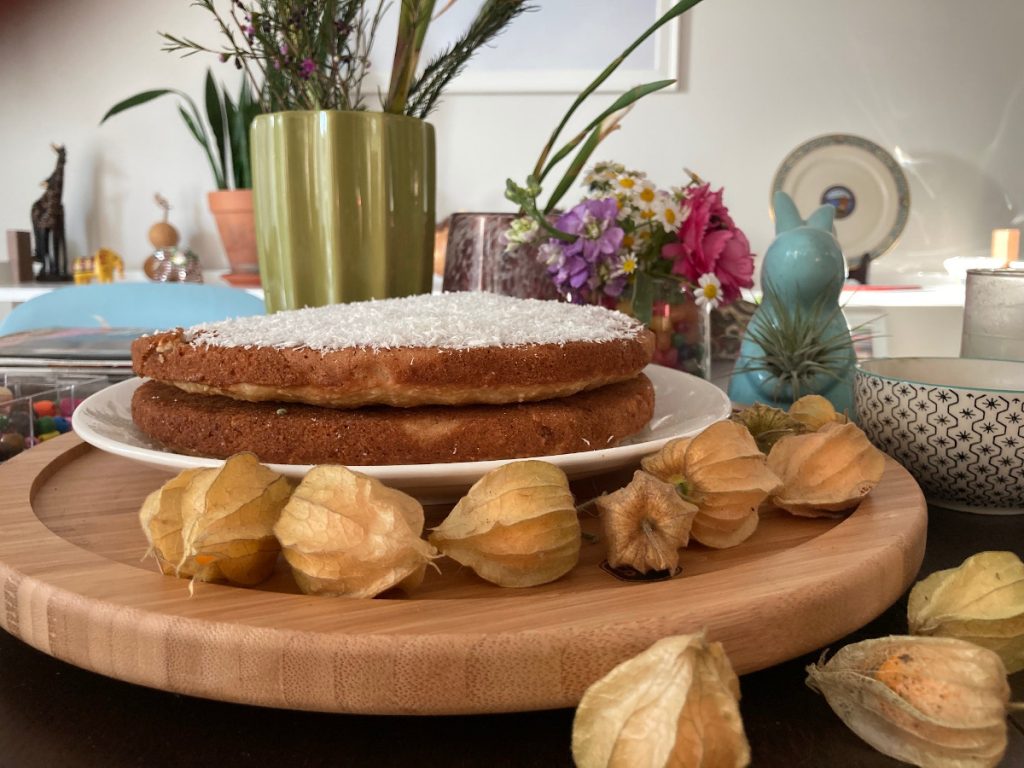 Except it was a little dry. I think I overbaked it because the pans I used were probably too big so the batter spread a little thinner than even the lowest baking time could account for. So, I did end up using some cool whip. Despite being overbaked, the taste is good, way better than last time. It seems like it will be good with coffee so that will be my breakfast tomorrow! And now I know for the third attempt to bake it for less time if I use the same pans.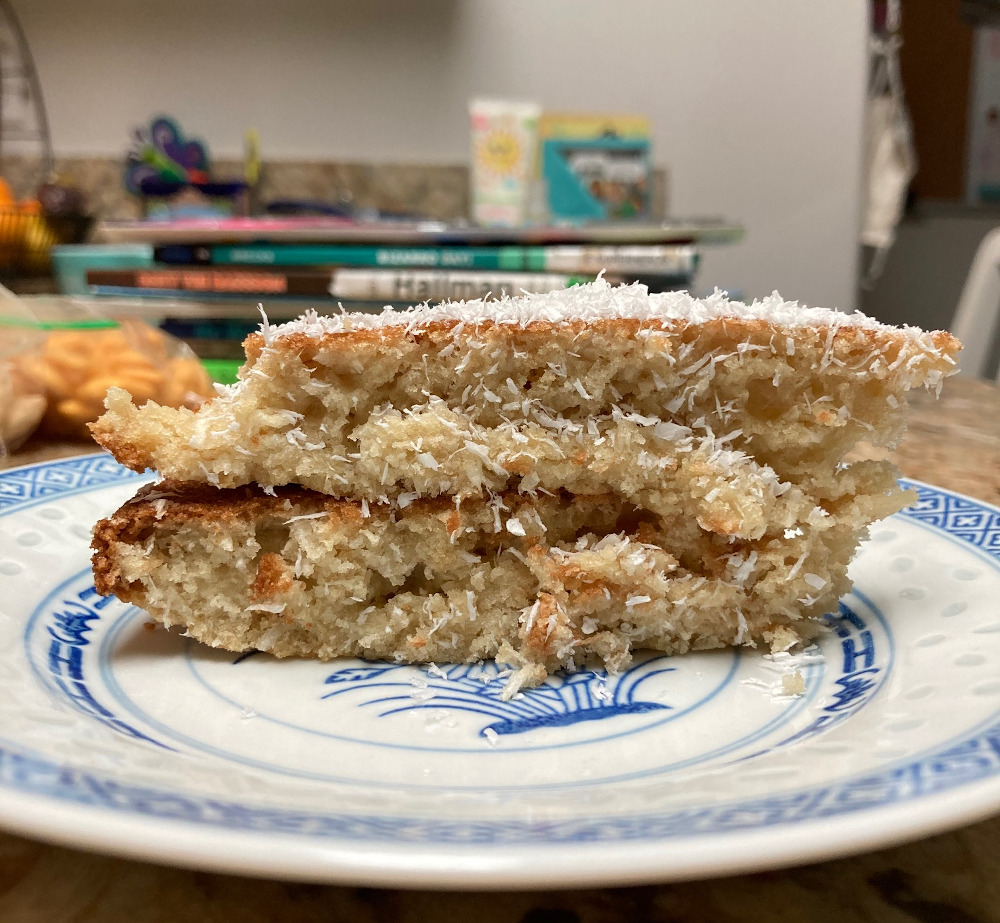 Billy: Banana Blossom "Egg Drop" Soup
For defrosted I made banana blossom egg drop soup consisting of frozen banana blossom (used for "fish" and chips), tofu, cabbage, green onion, black salt, nutritional yeast, pepper and soy sauce- thickened with corn starch and topped with cilantro.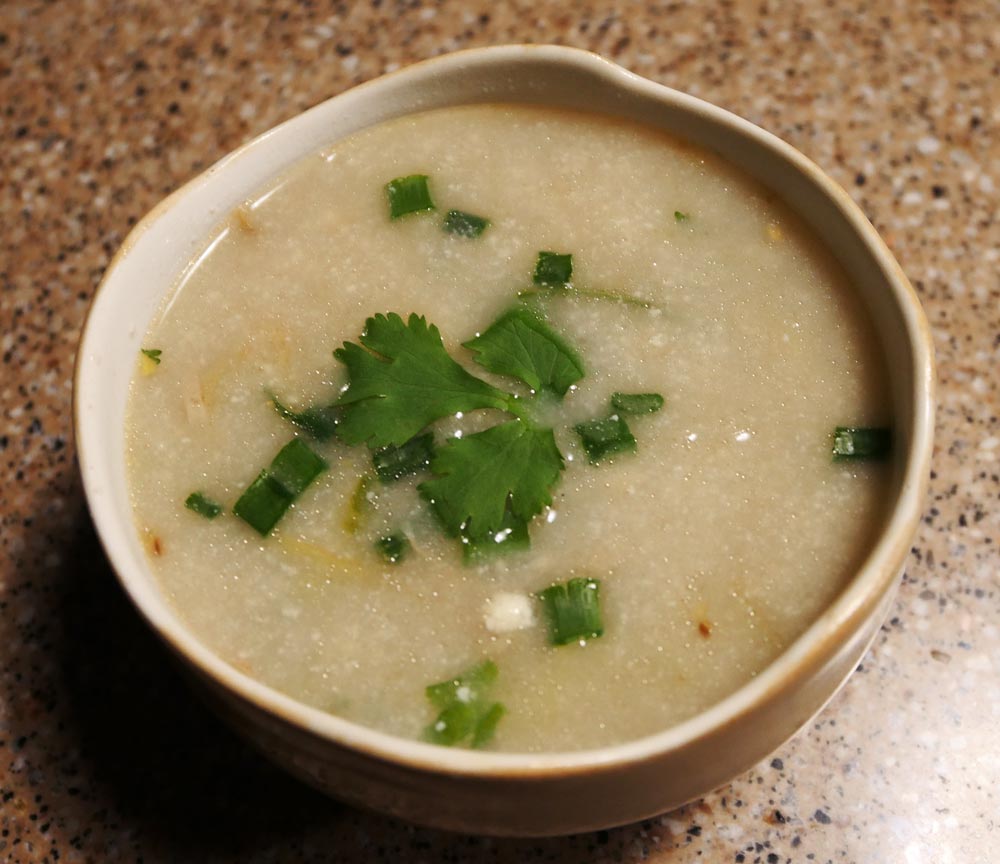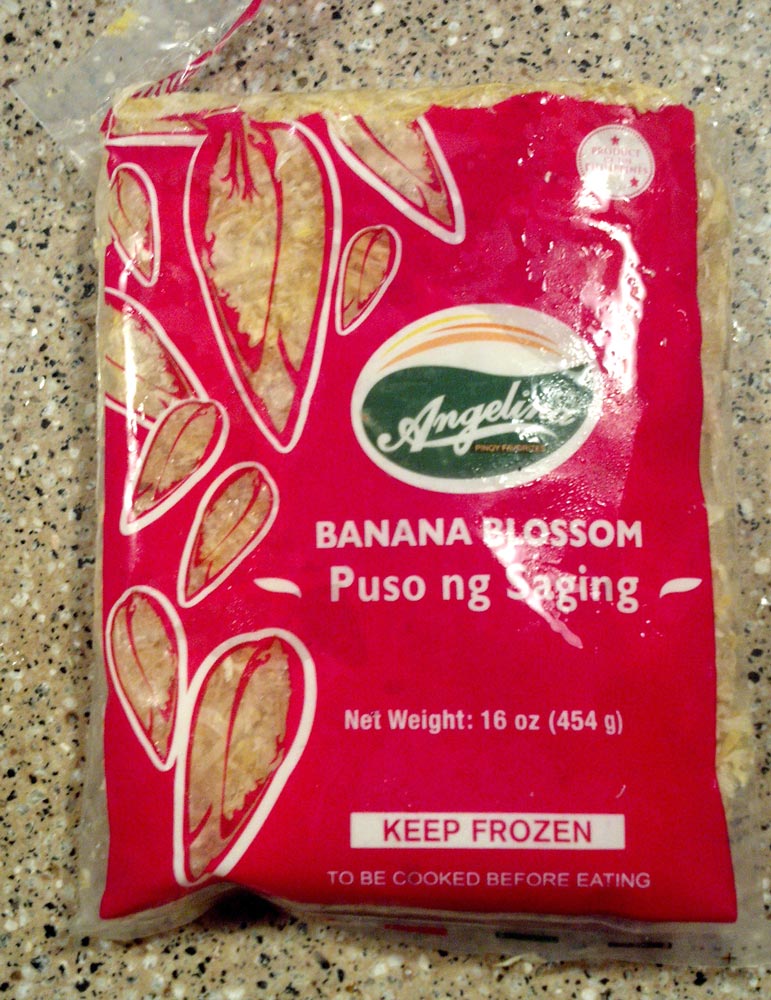 Ramon: Ice Box Pie
For this month's theme I decided to make an ice box pie, an idea I've had for awhile inspired by these cheap, bite sized cookies we buy from Sprouts.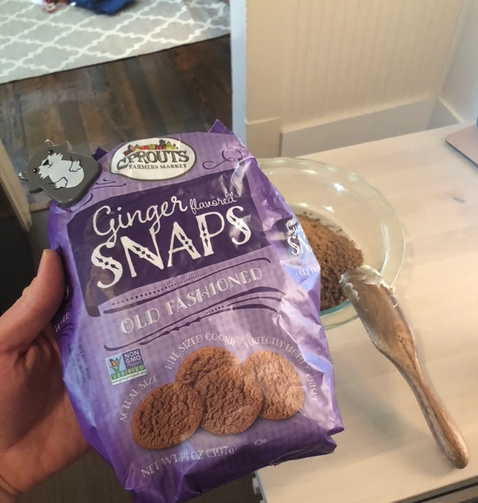 Low and behold, the Internet provided a recipe for the idea I had concocted in my head: https://lovingitvegan.com/vegan-lemon-pie/.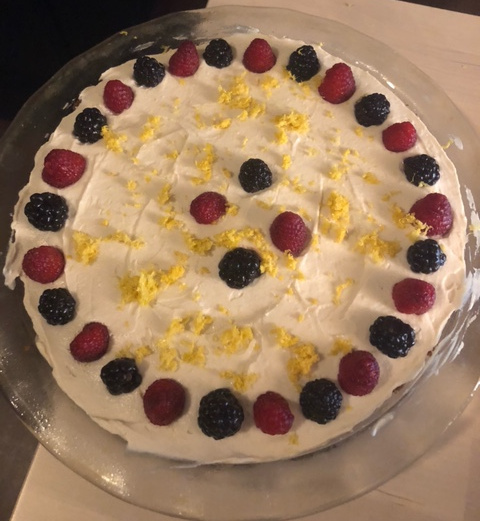 The crust was super easy and set in the freezer (theme: ☑️).
I made the vegan condensed milk and whipped cream linked on the recipe. We have some old, like before I knew Slynn old, soy milk powder which I used in the condensed milk. Turned out very good. I replaced the lemon extract in the filling for vanilla as Slynn said lemon extract is terrible. I only used about 4 tablespoons of powdered sugar for the whip and am not sure it truly got that aerated. It was super thick and didn't fold easily into the lemon filling so I whisked it which proved to be a great decision. The filling was super smooth and creamy! I topped with berries because they looked pretty.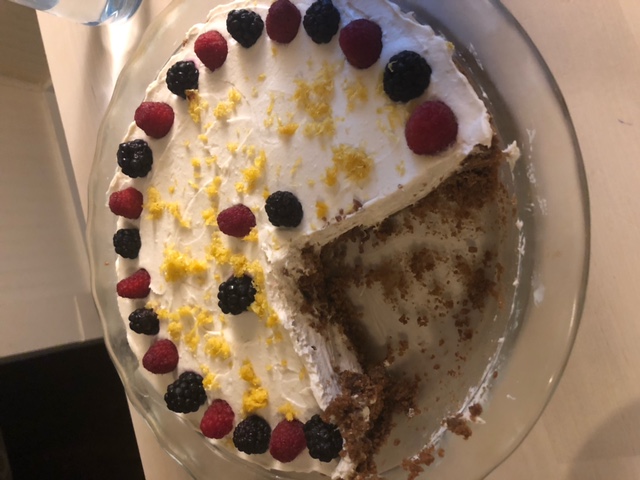 The pie sat in the freezer to set for an hour and then in the fridge over night. The crust may be crumby but has held together well and tastes fantastic together with a cup of coffee, a favorite combination of mine.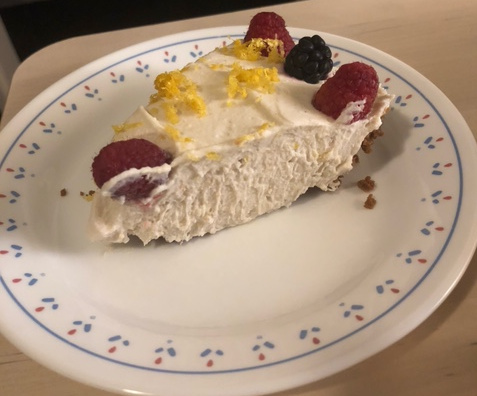 Slynn and Ramon: Neva's Birthday Cake
I'm submitting the frosting that I made for Neva's 3rd birthday cake (Ramon made the cake, which is a banana spice flavor), which was a cashew buttercream. The ingredients are cashews (soaked in water overnight), coconut oil, maple syrup, coconut cream, vanilla extract, and lemon juice. The frosting involves an interesting method of blending, freezing, defrosting, whipping, and then frosting the cake itself! It was delicious.