March 19, 2023 – 10th Anniversary
Sunday, March 19, 2023
VBC Meeting #121: 10th Anniversary
Host of the Month: Billy and Lauren
Location: Ponder, TX
While we didn't have any elaborate 10th anniversary extravaganza decorations or activities to celebrate, we humbly celebrated ten years of Vegan Bake Club get-togethers by being together and stuffing our faces with delicious vegan food. How else should we have honored ten years of this tradition, really? Plus, there were cupcakes.
This is what we made: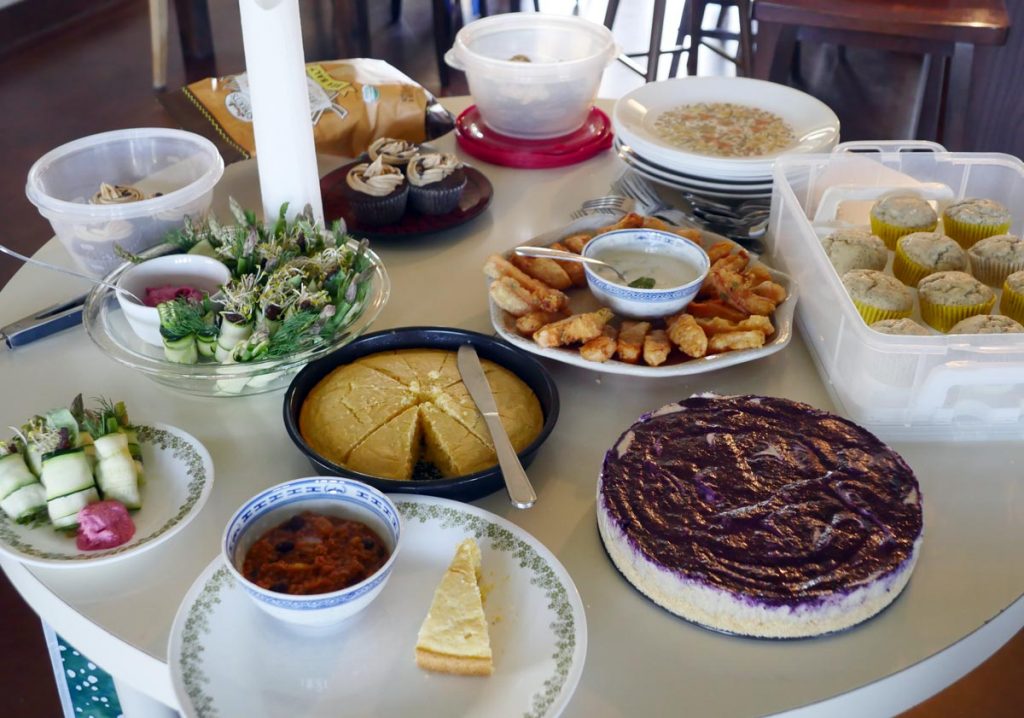 And how we served it up.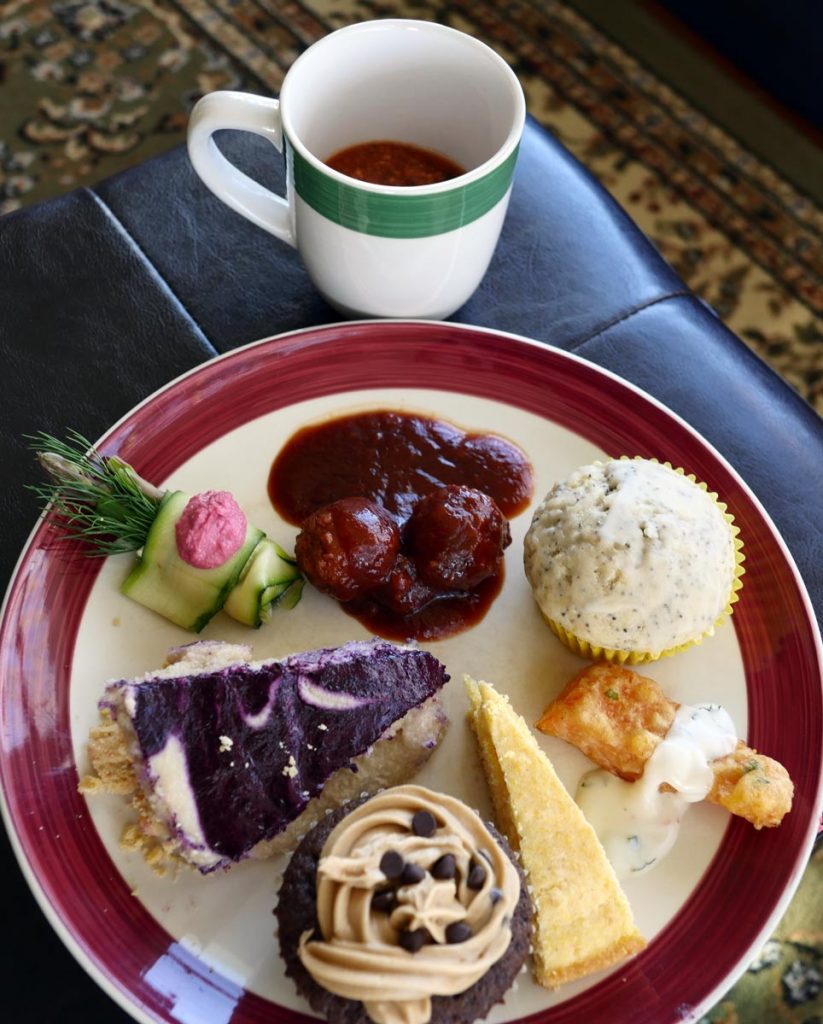 Ric: Chocolate Chip Cookie Dough Frosted Chocolate Cupcakes
For his second Vegan Bake Club meeting treat, Ric baked a vegan chocolate cupcake made with flour, sugar, coconut oil, almond milk, apple cider vinegar, cocoa powder, vanilla, and baking soda. Following instructions from a YouTube video, he made the chocolate chip cookie dough frosting with softened Miyoko's vegan butter, brown sugar, vanilla, almond milk, a little flour, and powdered sugar. Once frosted, he topped the cupcakes with mini chocolate chips. He learned from a test batch that waiting for the cakes to cool before piping on the frosting keeps it from melting, but even when it melts, it still tastes good.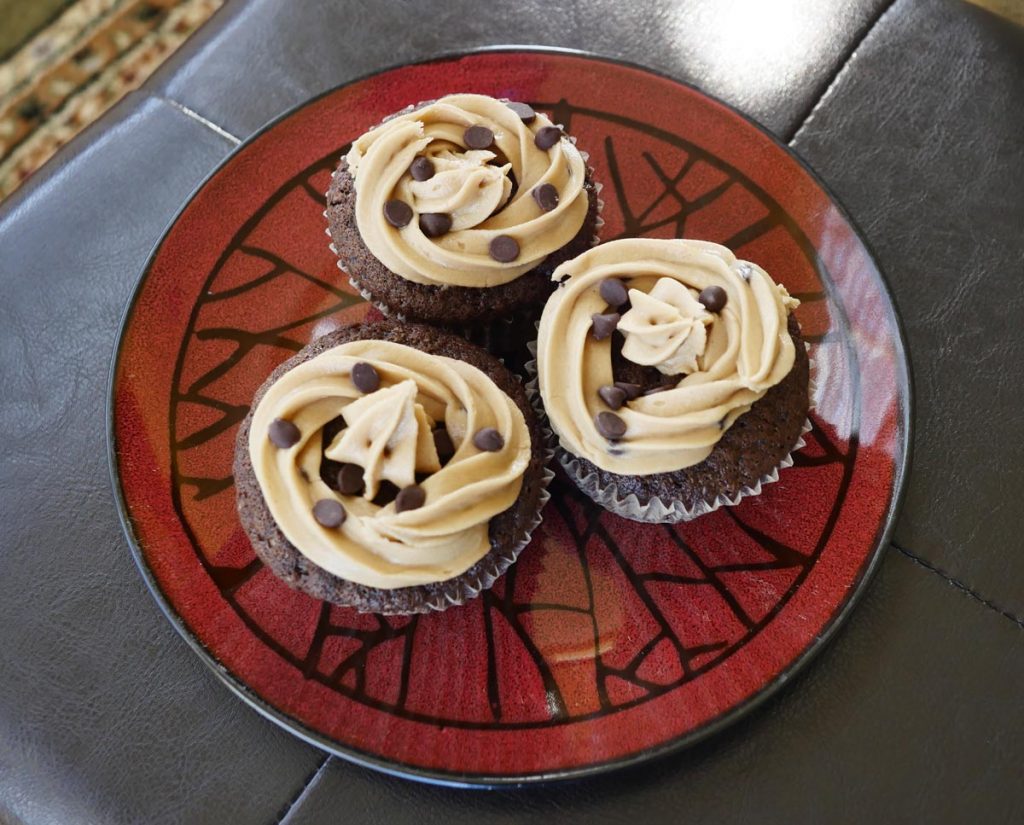 Minji: Fresh Veggie Rolls Two Ways
Minji used a potato peeler to make thin slices of zucchini as the rolling vehicle for her two types of rolls. In the first type, she wrapped asparagus, scallions, dill, and Miyoko's cashew cream cheese. For her second type of roll she made a sunflower pate from soaked sunflower seeds blended with tahini, lemon juice, apple cider vinegar, salt, and pepper. This went with fresh basil leaves, sun-dried tomato, and broccoli sprouts.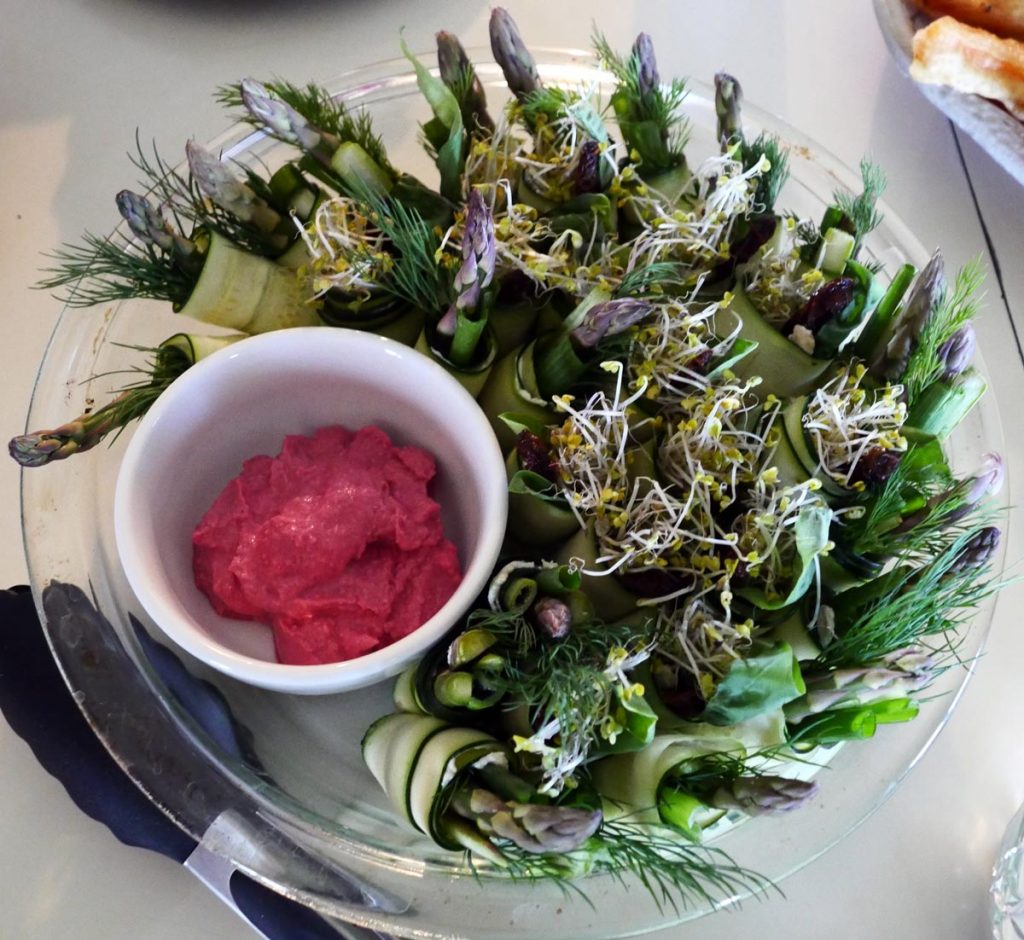 For a bright pop of color, and because she had room to fill on her serving platter, she served the rolls with a store-bought beet hummus.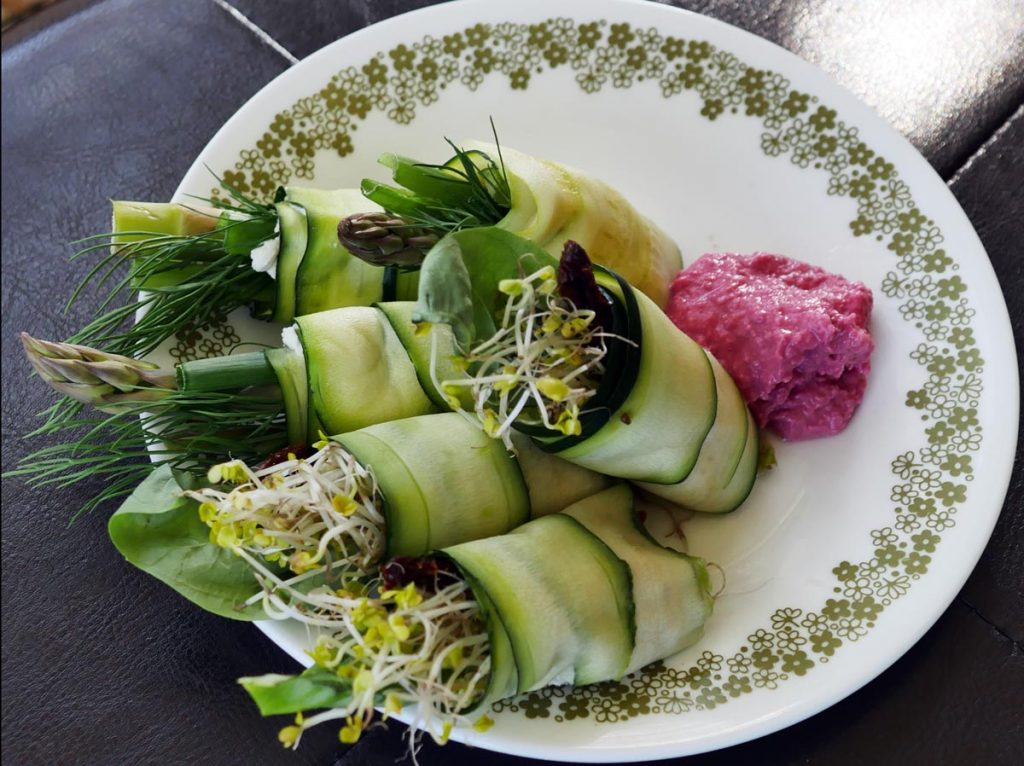 Kori: Potluck Chili
For her one pot vegan chili, Kori made a tvp-based recipe. She sautéed olive oil and minced garlic until soft then added tomato paste, tomato purée, vegetable broth, nutritional yeast, oregano, cumin, paprika, cayenne pepper, salt, and garam masala. After mixing that together she added rinsed canned black beans and uncooked textured vegetable protein. After finishing cooking the chili, she refrigerated it overnight and reheated it in her Instant Pot on the day. To go with it, she baked cornbread made with Jiffy corn bread mix blended with soy milk and Ener-G Egg Replacer powder combined with water.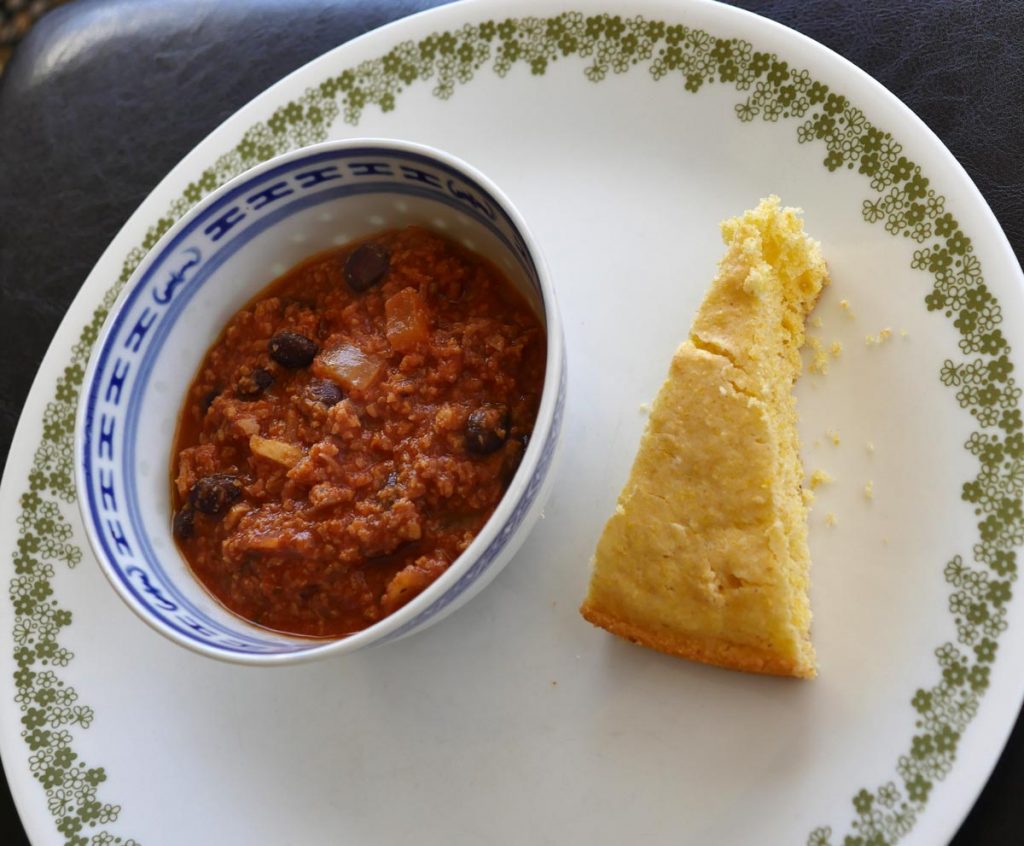 Ramon: Ten Layer Taco Dip + 1
In regard to ten years of VBC, Ramon built a ten layer taco dip (+1 for some). He made a tofu taco meat from a recipe where he only changed using barley malt syrup instead of molasses and leaving out the Gravy Master seasoning due to what he had on hand. He also opened a bunch of cans of things.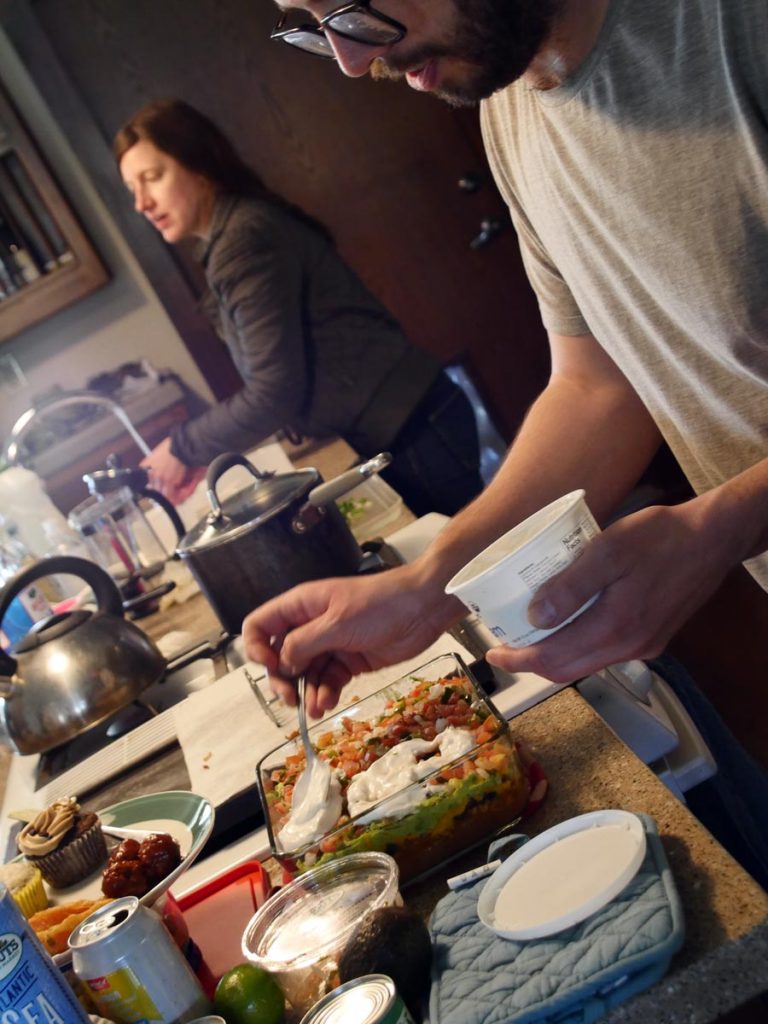 In order from bottom to top, he layered (1) Goya refried beans, (2) his vegan taco "meat", (3) black beans he had seasoned with salt, pepper and cumin, (4) Follow Your Heart Cheddar shreds (after which adding he put the dish into the oven for melting), (5) guacamole (made with avocados, salt, Garlic Gold Toasted Garlic Nuggets, and lime juice), (6) store bought pico de gallo, (7) vegan sour cream, (8) frozen corn to which he added Trader Joe's chile lime seasoning, Country Crock vegan butter, and green onion, (9) a next layer that combined onion, cilantro, and lime juice, and (10) a top layer of green chiles. The optional +1 layer was black olives. He served the stacked dip with Manager's Special Sprouts brand corn chips.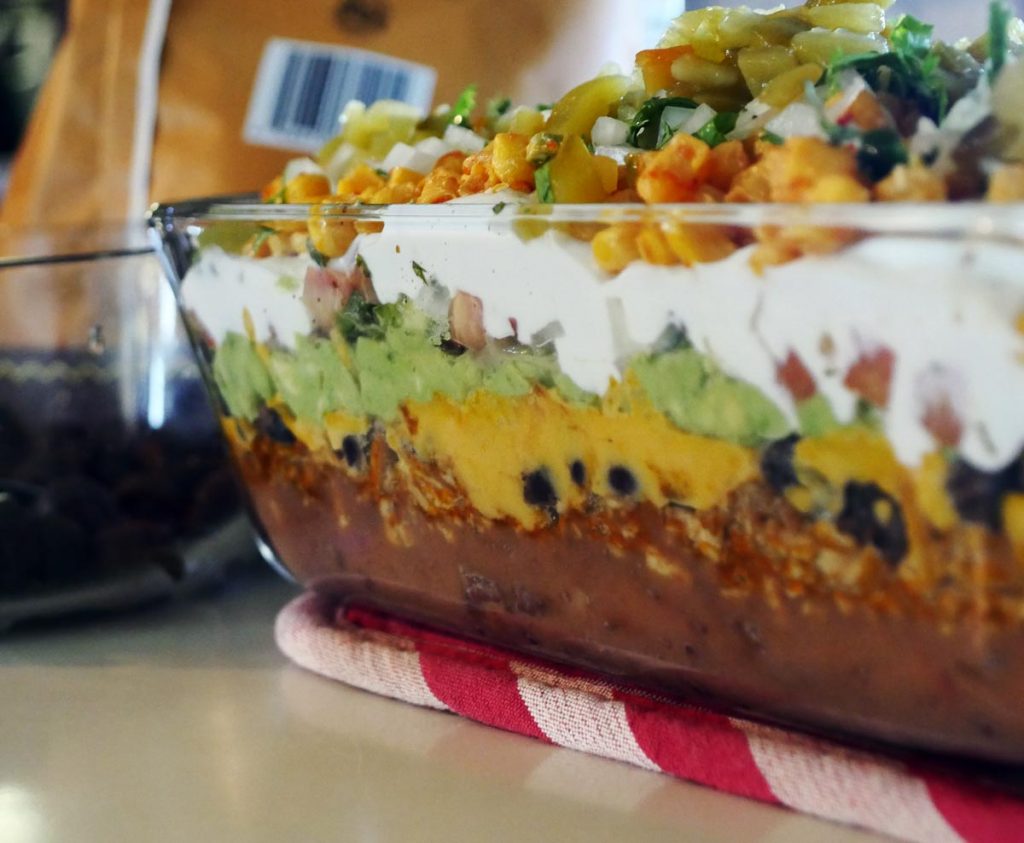 Slynn: Lemon Poppyseed Muffins
In honor of the first ever Vegan Bake Club meeting ten years prior, Slynn made the same Vegan Brunch inspired lemon poppy seed batter she had made then, but this time she prepared it in muffin form instead of as a loaf.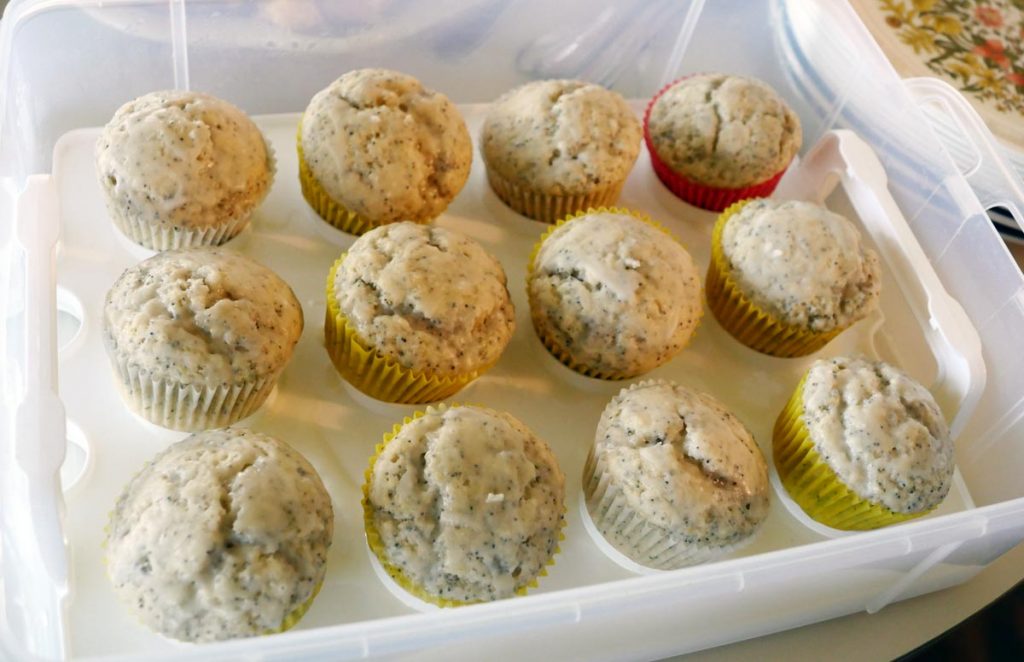 Billy: Pumpkin Tempura
For his tempura, Billy used a small portion of a very large leftover autumn decoration pumpkin given to him by his neighbor for the sheep to eat. The sheep weren't into it, so he cut it up and battered it with a mixture of all-purpose flour, potato starch (instead of rice flour that he didn't have), baking powder, and lemon fizzy water. After frying the pieces, he salted them and served them with a sauce of soy yogurt, vegan mayo, lemon juice, and fresh mint.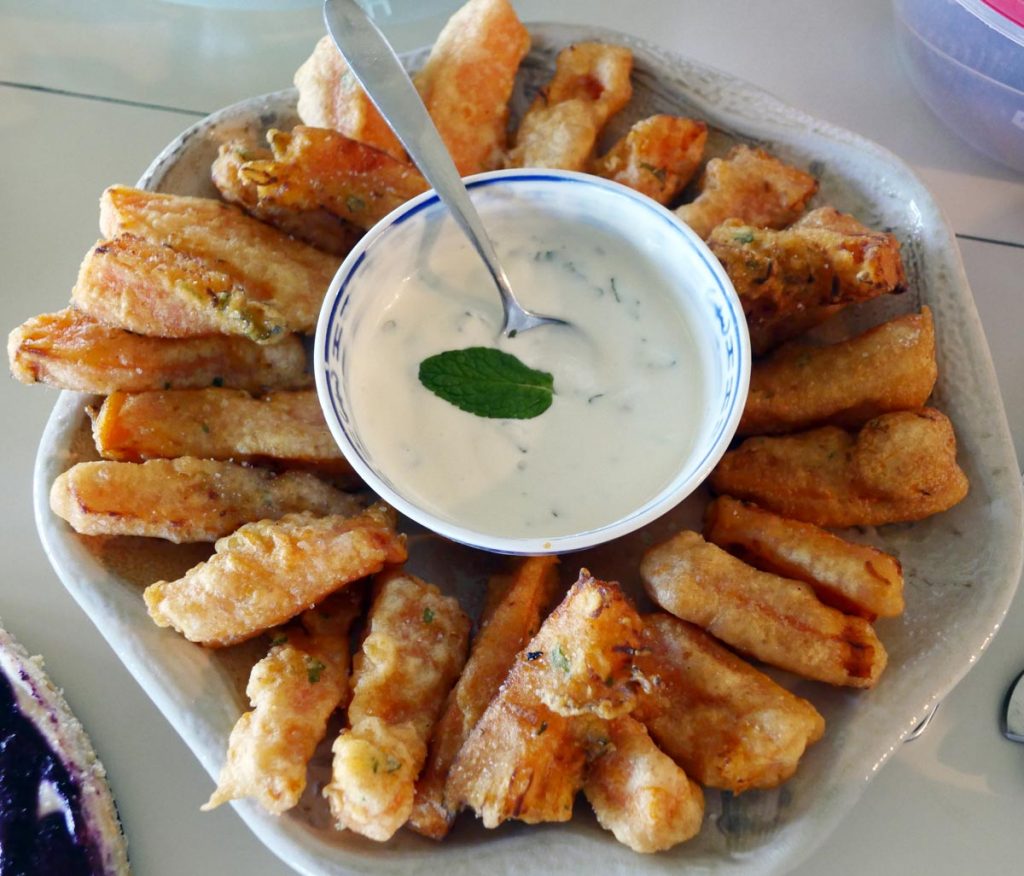 Mehgann: Barbecue Meatballs
Mehgann put the ingredients for barbecue sauce in a slow cooker that included ketchup, molasses, brown sugar, apple cider vinegar, soy sauce, vegan Worcestershire sauce, chipotles, and red pepper flakes. Then she added Target brand Good & Gather Meatless Beef-Style Meatballs (Italian Recipe) to the cooker for a long saucy bath.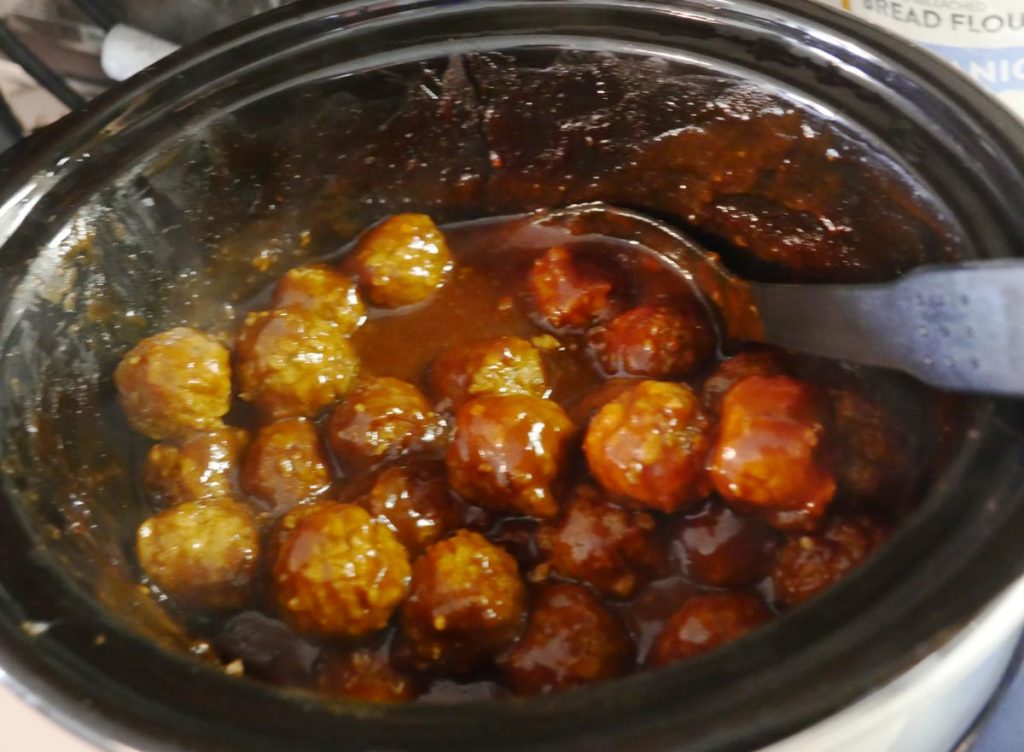 Drew: Hisself
The day of this meeting, Drew drove up from Houston after a quick trip, so we were lucky we even got him there!
Lauren: Lemon Blueberry [Swirl] Cashewcake
For the ten ingredient cheesecake-like lemon blueberry cashewcake, Lauren started with a blueberry component on the stove made with frozen blueberries, sugar, lemon juice (and zest), and corn starch. While this cooked to thicken, for the base, she ground up some Lemonades Girl Scout cookies in the food processor then mixed in some melted vegan butter and lemon juice to get a wet sand textured mixture that she pressed into the base of an oiled 9″ spring form pan. For the cashew filling part she blended soaked raw cashews, coconut oil, lemon juice, lemon zest, sugar, salt, and vanilla in the food processor then poured it into the pan over the crust. She dolloped the blueberry sauce on this and tried to swirl it in, but it mostly sat on top. Still tasted good.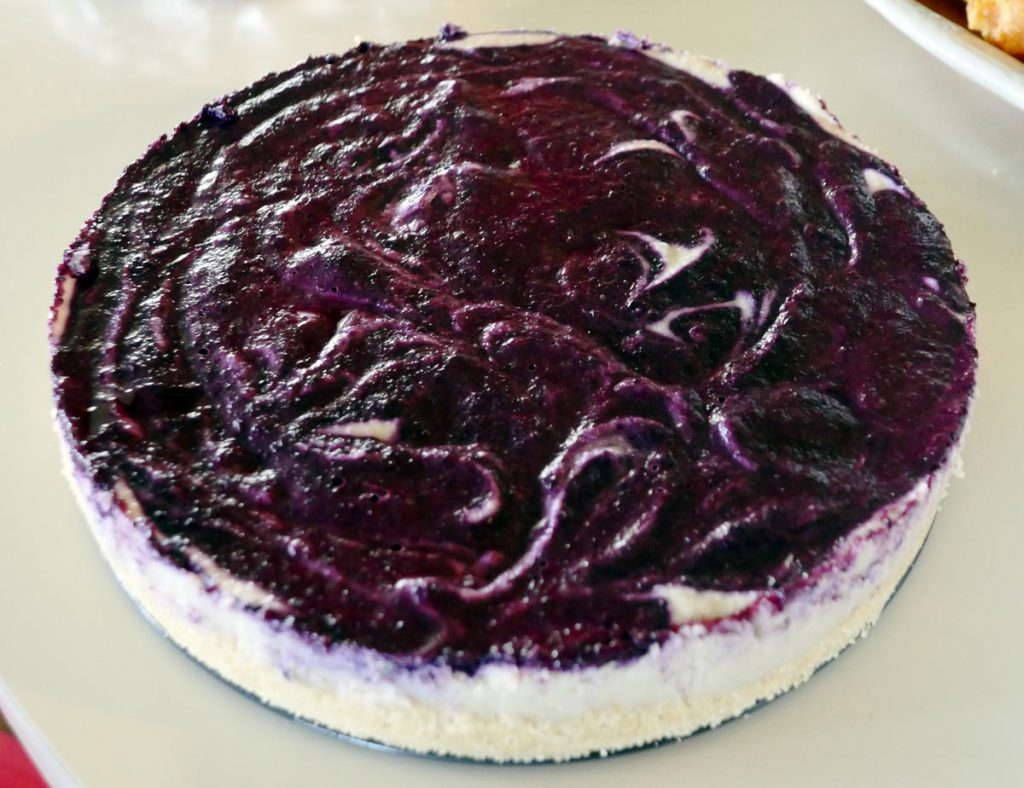 Online Bakers: Orange Cake Variations
In a separate anniversary event, we had a vegan bake-along, making variations on the simple orange cake recipe that has been favored by VBC people over the years.