March 18th, 2018 – Farm Fresh
Sunday, March 18, 2018
VBC Meeting #61: Farm Fresh
Host of the Month: Billy and Lauren
Location: Ponder, TX
With Spring just a couple of days away, we got together to eat fresh foods on a little farm of sorts for a Farm Fresh theme. Though wool production is not vegan, the gathering did follow the annual shearing of the farm's four Shetland sheep and two llamas–but hopefully the animals will enjoy the benefits of a shorter fleece as they head into another Texas summer enough to overlook the haircuts.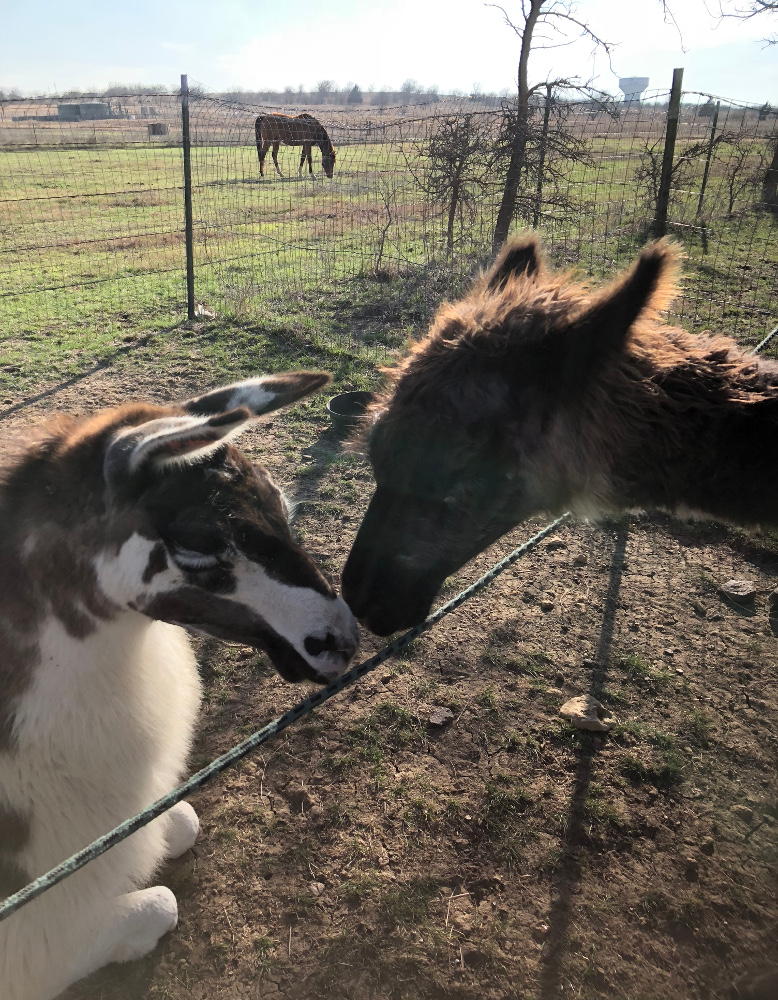 This is what we made: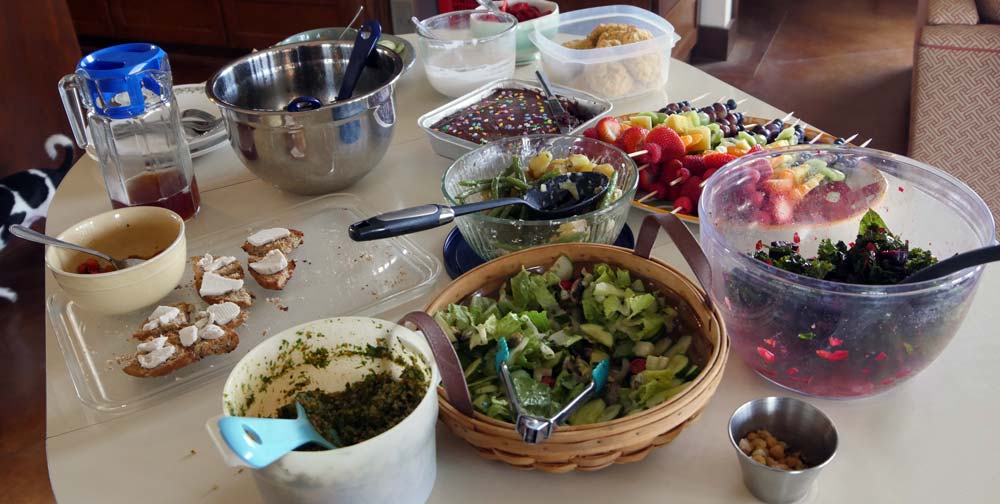 Caroline: Caprese Bruschetta
Caroline made a caprese type salad with chopped tomatoes, toasted garlic, basil, salt, pepper, olive oil, and white rice vinegar. She wasn't able to get her hands on a French bread sort of baked good, so she toasted some Silver Hills Sprouted Bakery Herb's Garlic Sprouted Bagels made with sprouted organic whole grains. She topped the bread with slices of Miyoko's Vegan Mozz (cultured Italian style) that is created using filtered water, organic coconut oil, organic cashews, organic tapioca, agar, sea salt, and cultures.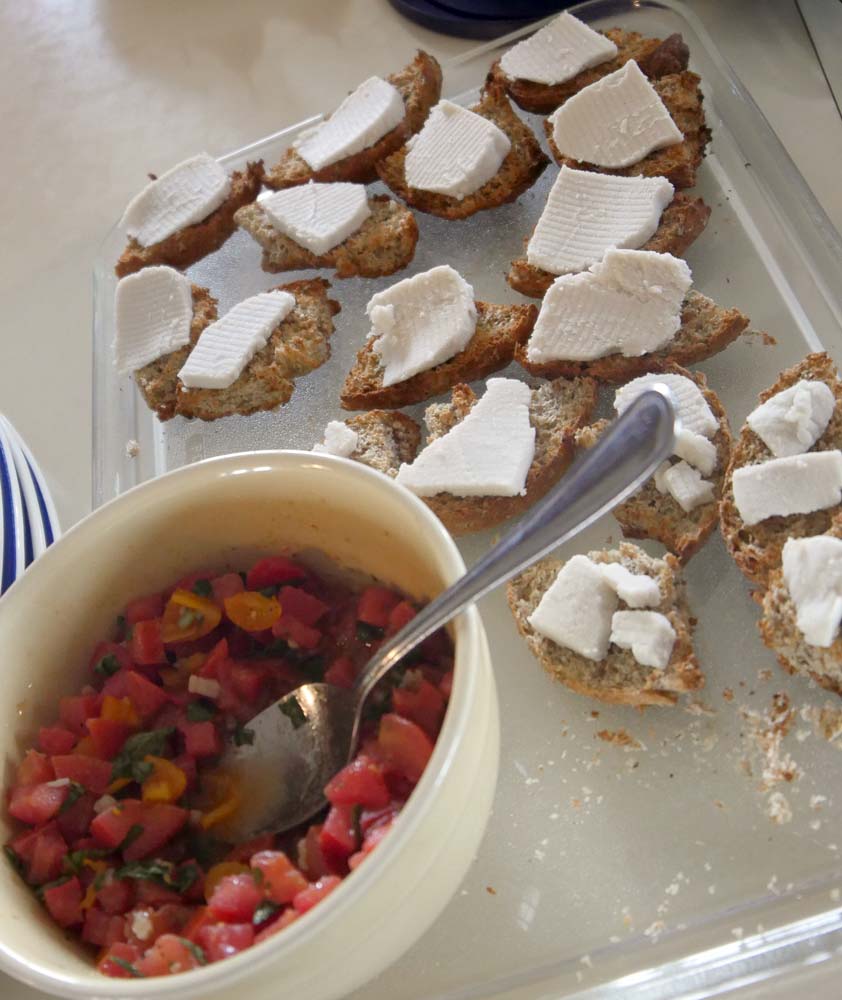 Hope: Rainbow Fruit Skewers
Hope filled up bamboo skewers with raspberries, strawberries, orange, pineapple, kiwi, green grapes, red grapes, and blueberries for a pile of magical fruity treats.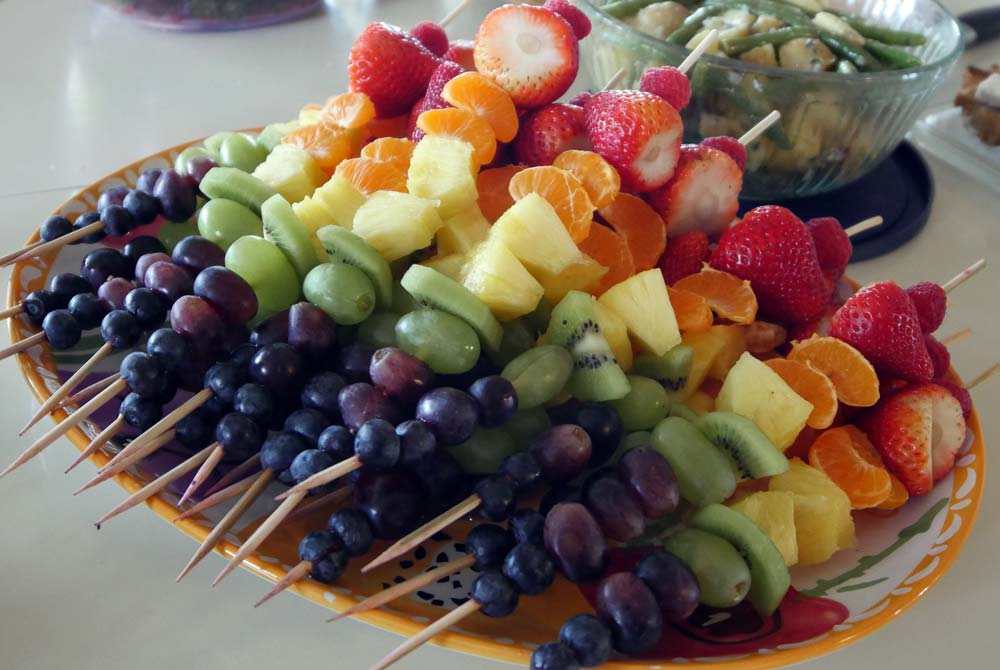 John: Sheep Hugs
John did not bring food to this event. Instead, he brought warm embraces for the sheep and llamas while they were sheared.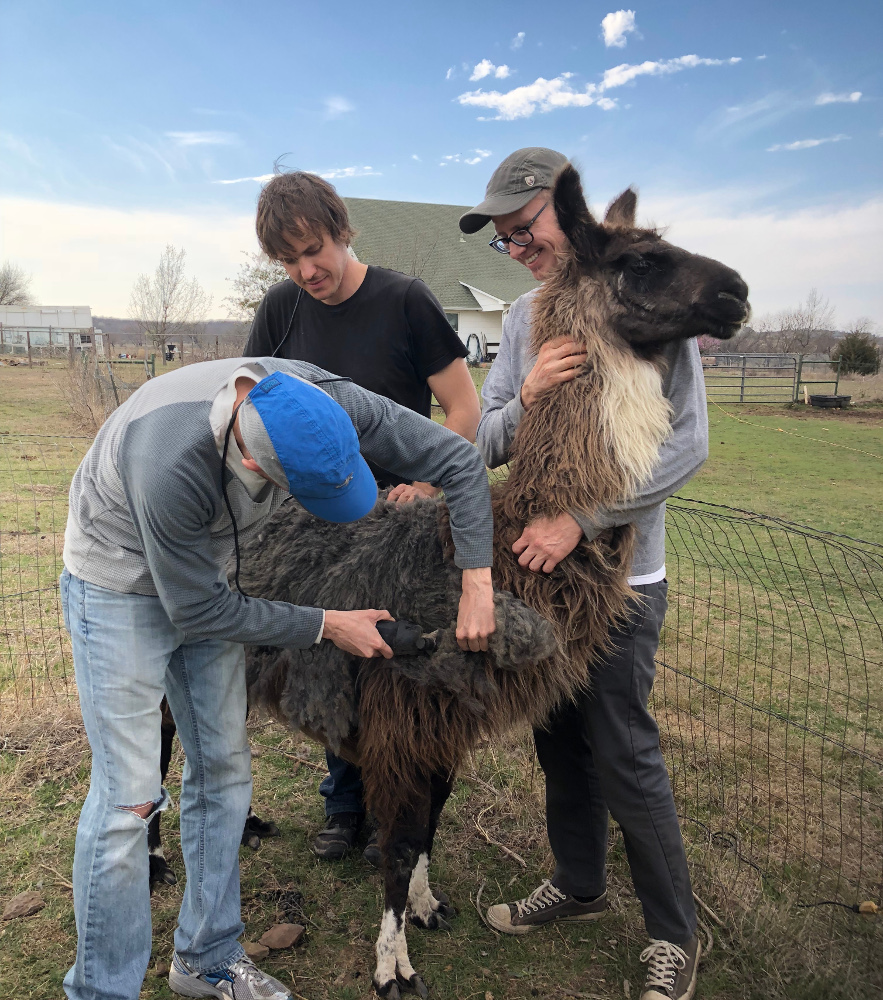 Thelma: Happy Sprinkles Cake
Though Thelma did not attend this Vegan Bake Club meeting. She sent along one of her chocolate cakes with seasonal sprinkles.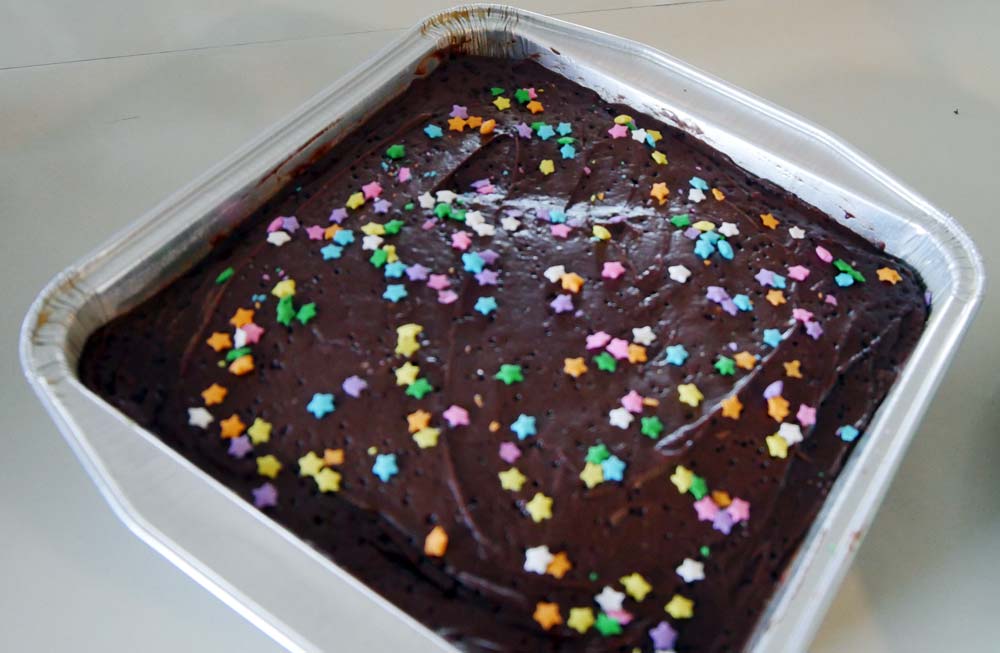 Drew: Kale and Beet Salad
Drew made a salad from two bunches of kale, roasted beets, slivered almonds, and lemon vinaigrette (John was confused because he heard Drew say "women's vinaigrette"). To prepare the beets, he cleaned them thoroughly (leaving the skin on), cut them into large chunks, seasoned them with olive oil, rosemary, garlic powder, salt, and pepper, then roasted them at 400° for forty-five minutes, turning them about three times during the cooking period. He made the lemon dressing with olive oil, lemon juice, agave nectar, rosemary, garlic powder, salt, and pepper.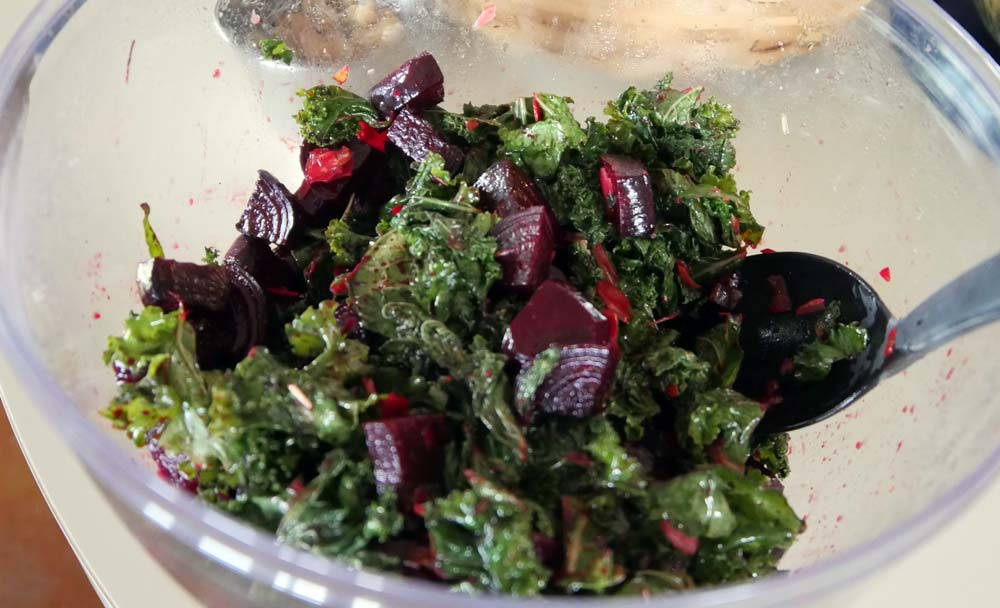 Lilly: Ginger Lemon Salad; Peach Ginger Tea
Lilly added an English cucumber provided by Caroline to a salad of romaine lettuce, spinach, celery, and mushrooms. She chose to use only the "crunchy baby parts" of the celery, by which it was later clarified by John that she meant the inner stalks. She made her dressing with minced ginger from a jar, lemon juice, ginger powder, olive oil, garlic powder, and salt. She provided boiled chickpeas tossed with olive oil on the side for protein.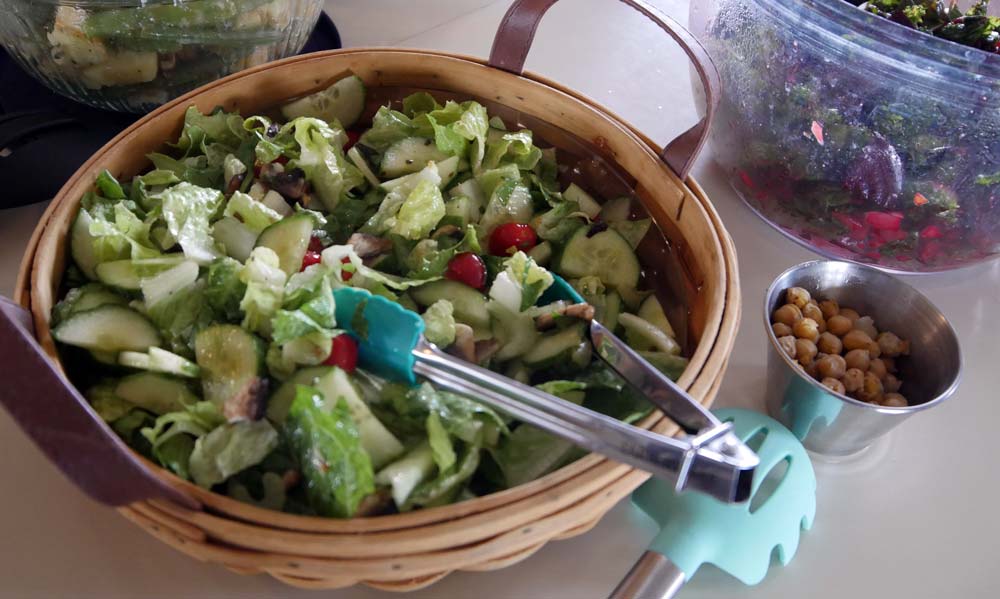 For the tea, she served well-steeped Ahmad Peach and Passion Fruit Black Tea sweetened with a bit of ginger syrup.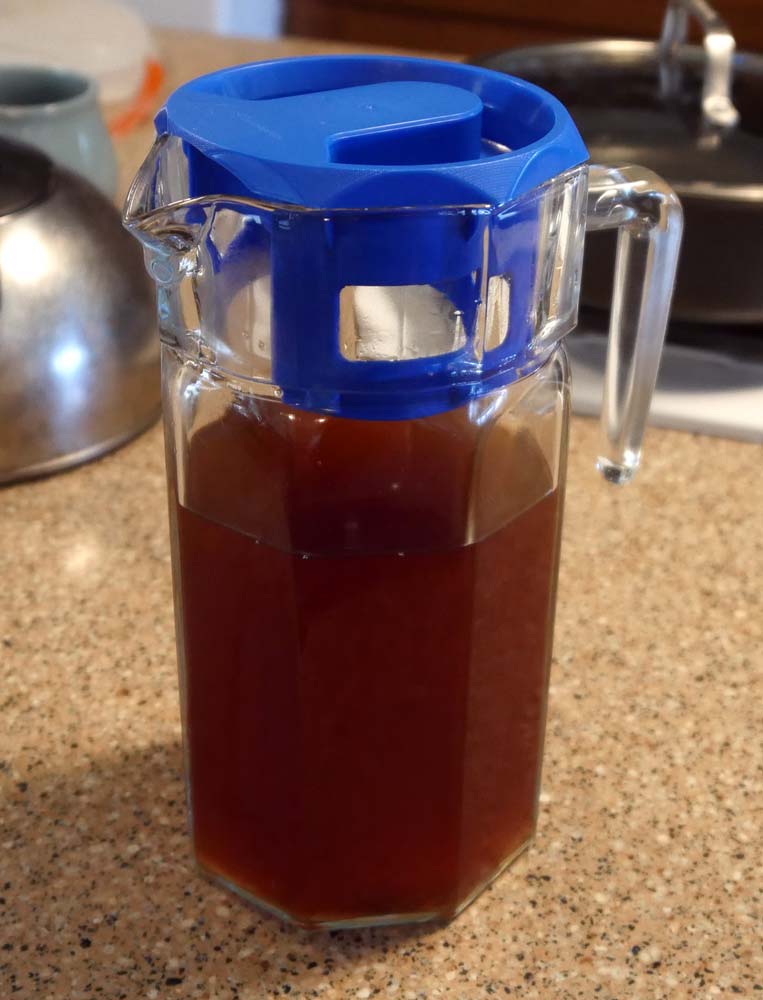 Also, llama love.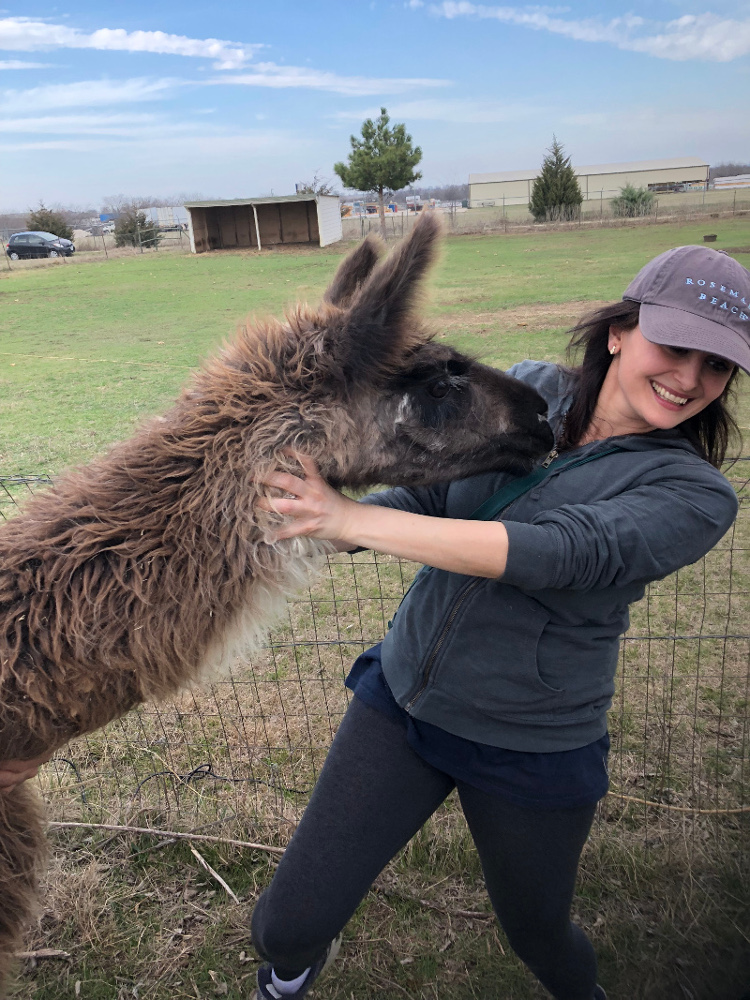 Billy: Farm Fresh Tabbouleh
Billy cooked bulgur and combined it with cucumber, plus from his garden: tomatoes, flat leaf parsley, curly leaf parsley, mint, and Thai basil. He seasoned this grain and herb salad with olive oil, lemon juice, cumin, black pepper, salt, and chili powder.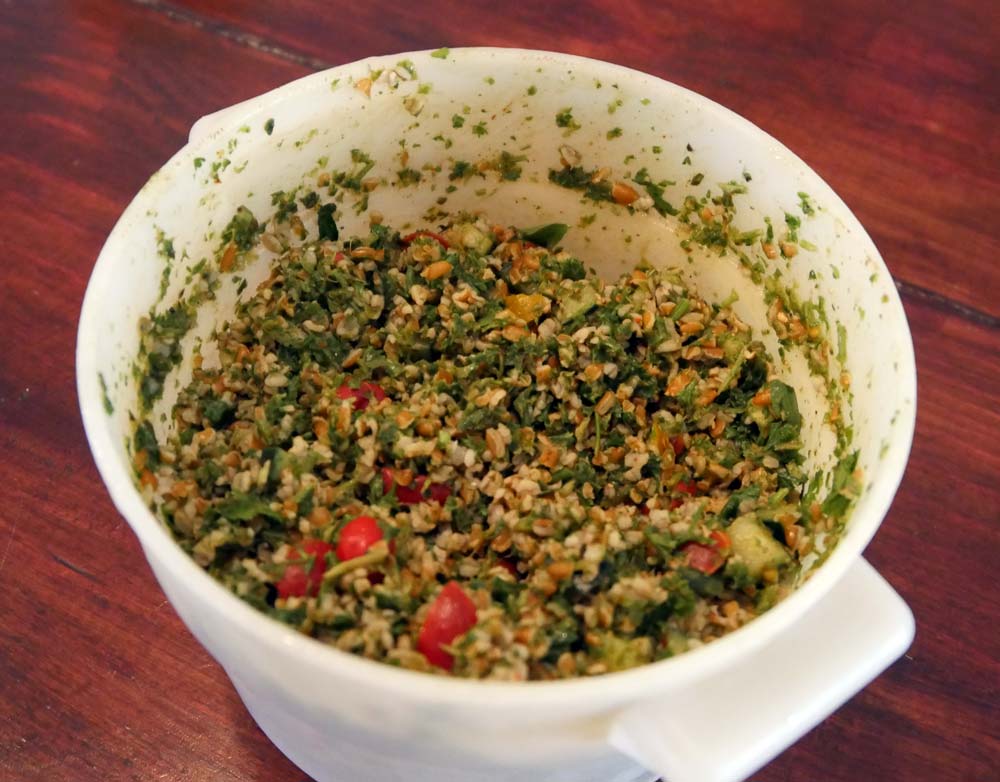 Shannon: French Potato and Green Bean Salad
Shannon initially wanted to make strawberry rhubarb pie for this Vegan Bake Club meeting, but when she couldn't find rhubarb, she abandoned the pie for a potato and green bean salad inspired by the third host family she lived with while studying abroad in France. She found a recipe that had her blanch green beans and boil potatoes until just tender. She then made a dressing with olive oil, Dijon mustard, lemon juice, shallots, and thyme. She thought this dressing tasted gross but thought it would probably taste okay once it was on the cooked vegetable salad. However, after dressing the veggies, she still thought it was gross. Thus, she rinsed the dressing off and redressed the potatoes and green beans with some Paul Newman's salad dressing and some additional salt. The salad did retain some of the shallots and thyme from the original dressing for extra flavor.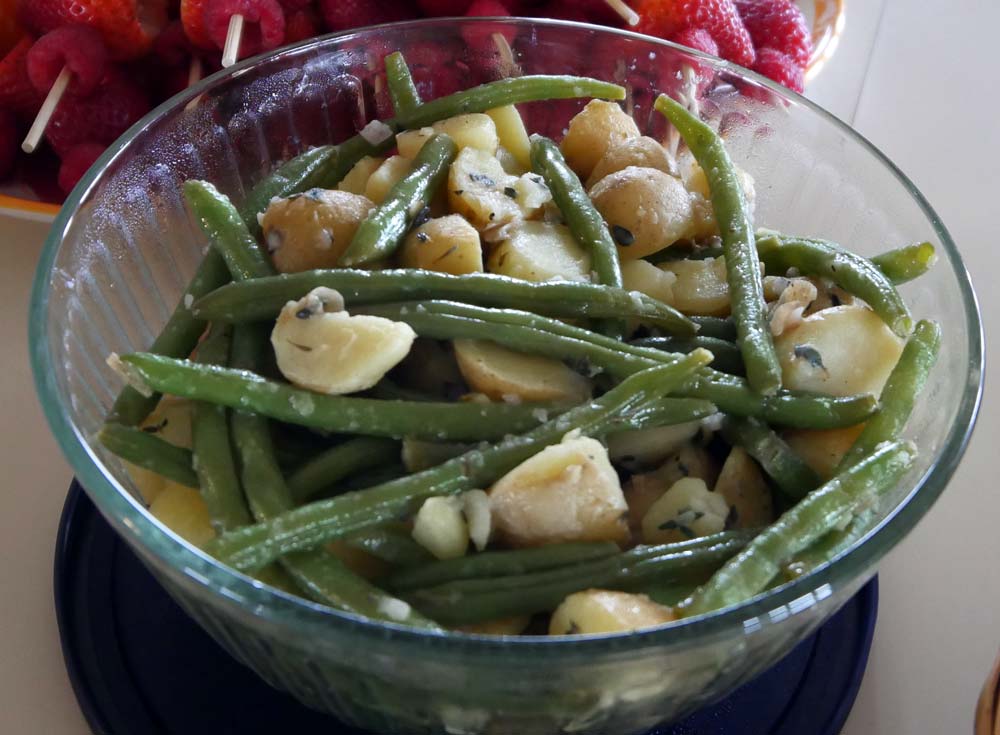 Lauren: Quadruple A Salad; Hummus with Smoked Paprika; Fire Strawberry Shortcakes
Lauren made a Quadruple A Salad, so named because it featured Billy's arugula plus stir-fried asparagus, slivered almonds, dried apricots, and cooked red onion. She dressed the salad with Kroger's Four Leaf Balsamic Vinaigrette.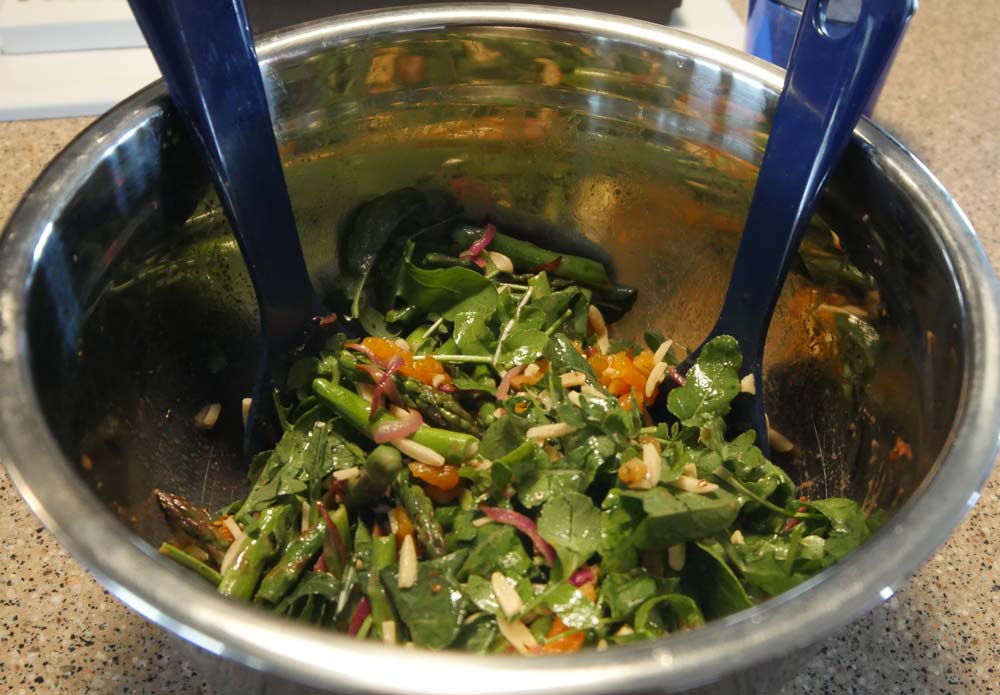 She used the Hummus with Smoked Paprika recipe from Vegan For Everybody from America's Test Kitchen, which is an easy to make recipe, blending chickpeas, tahini, olive oil, lemon juice, fresh garlic, smoked paprika, and salt in a food processor. She prepared some of Jacques Pépin's Tibetan Bread to offer along with some sliced cucumber for dipping into the hummus.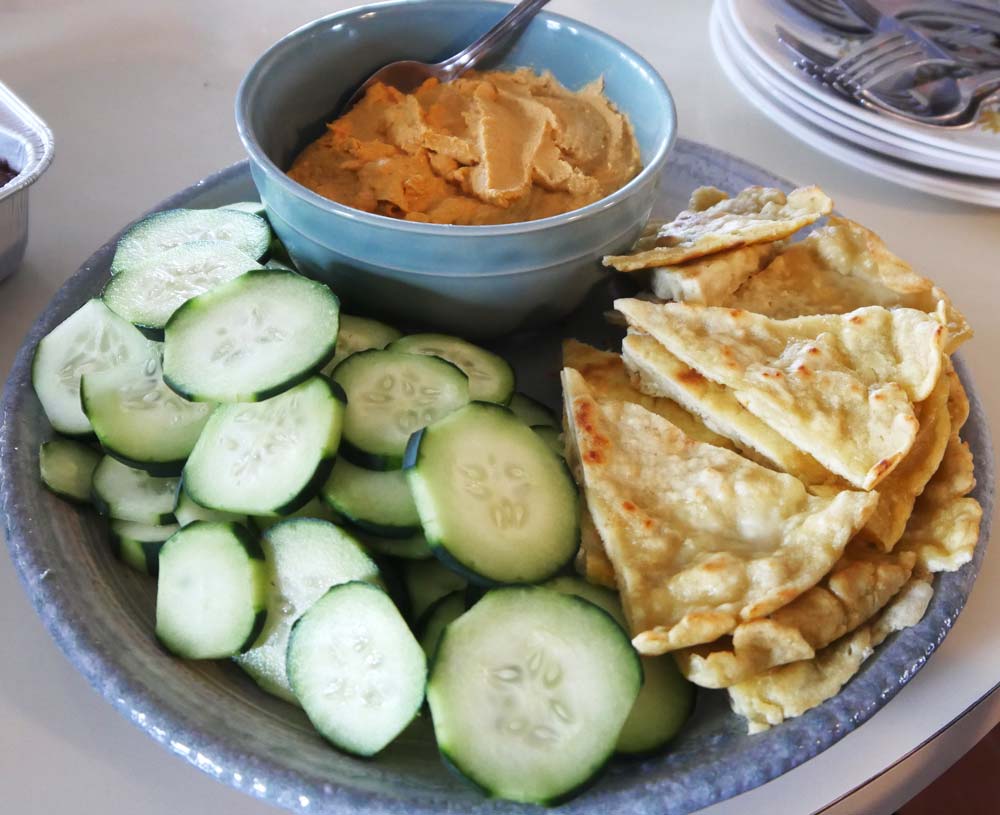 For dessert, Lauren made the shortcakes part from the Strawberry Shortcakes with Coconut Whipped Cream recipe of the Vegan For Everybody cookbook. Unfortunately, the clumps of coconut oil formed when mixing the melted coconut oil, vegan milk, and lemon juice, as instructed by the recipe, melted into rivulets of oil that ran off the baking sheet into the bottom of the oven to start a conflagration (the recipe did say to use a baking sheet with raised edges, and perhaps fire prevention was the reason). The result was a shortcake biscuit with a mild smoky flavor, though they were eaten by the attendees just the same. The biscuits were topped with sugar-sweetened strawberries, and a coconut whipped cream prepared using the Minimalist Baker's recipe, since Lauren has made this concoction of coconut cream, powdered sugar, and vanilla multiple times with success. No reason to risk starting a coconut whipped cream fire (or chancing a whipped cream of soupy consistency) by using a new untried recipe!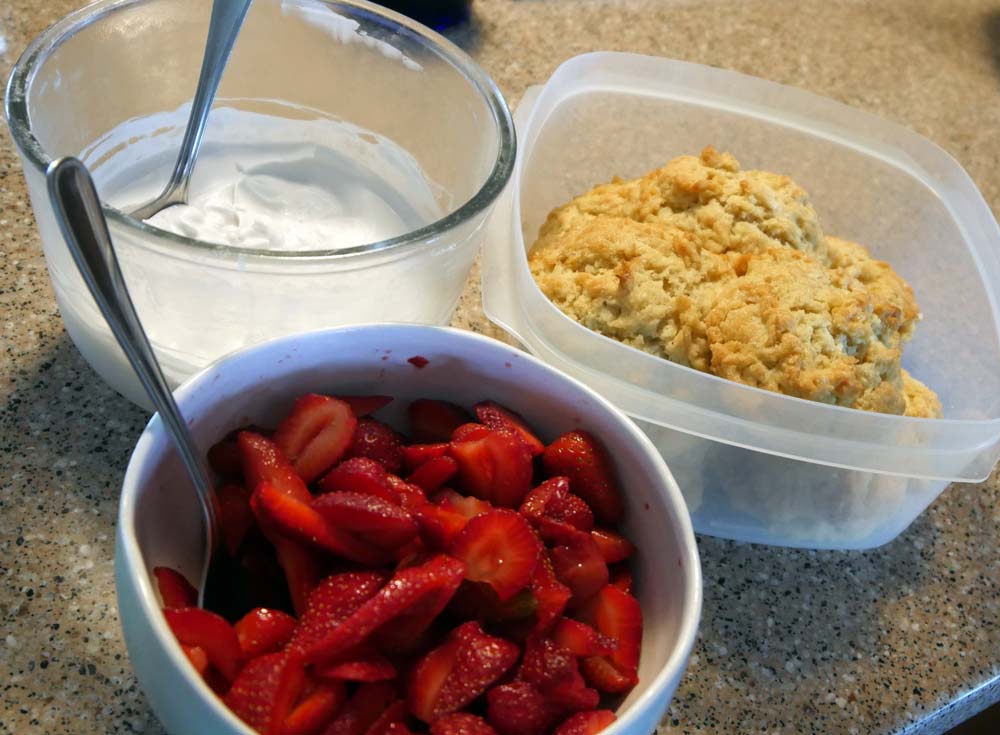 Here it all is served up: