March 17, 2022 – Ukrainian Food
Thursday, March 17, 2022
VBC Meeting #109: Ukrainian Food
Host of the Month: Drew
Location: Denton, Texas
Before Shannon joined Vegan Bake Club, she spent some time serving in the Peace Corps in Ukraine. Thus, with it being the last meeting she would attend in-person before moving out of state, Drew thought it would be fitting for us to have a Ukrainian foods theme this month. Of course, with Russia having recently invaded Ukraine, it was a country much on our minds anyway, so we decided to learn something about the food.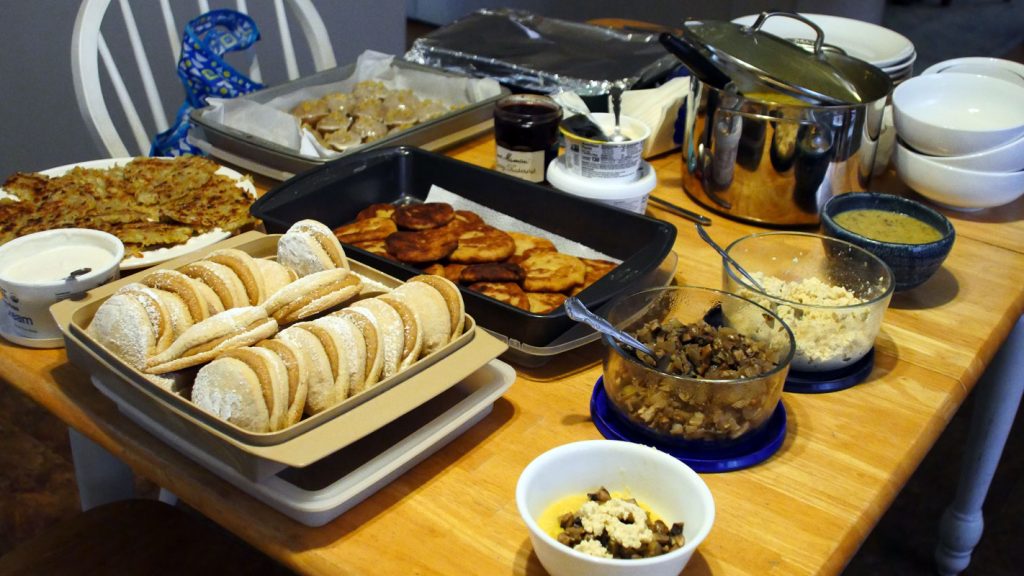 This is what we made: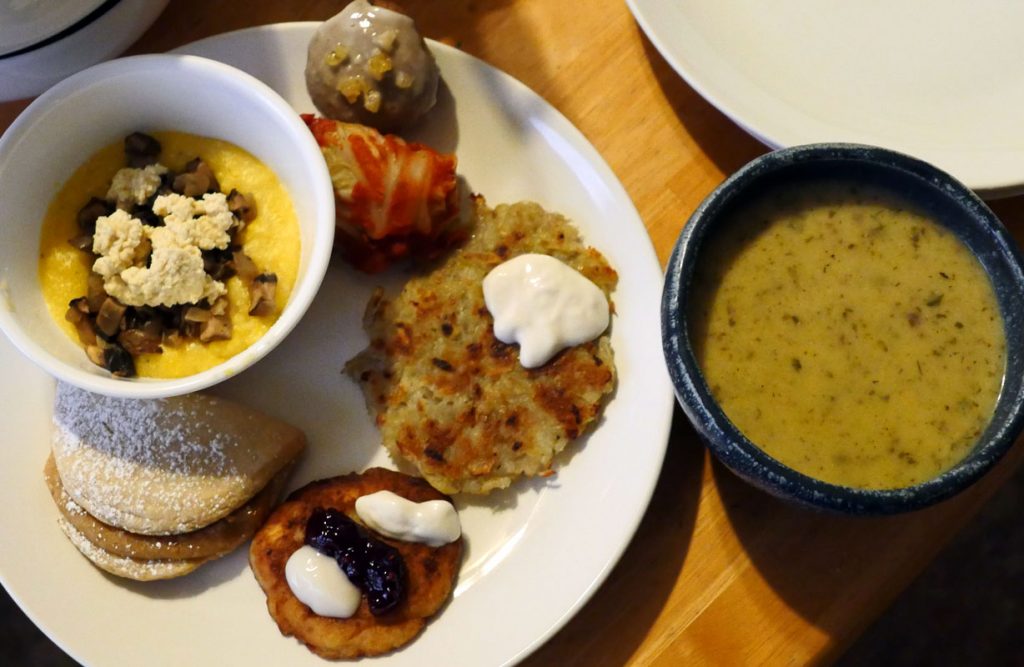 Shannon: Syrniki
To make her syrniki, also known as cottage cheese pancakes, Shannon blended cashew milk yogurt and tofu as a substitute for the cottage cheese that would normally be used. For the batter of the pancakey treats, she mixed in agave, vanilla, salt, and flour. Then she added "lots of extra flour" until she got the batter to a consistency that would hold together. She pan fried the syrniki in coconut oil and served them with raspberry jam, vegan cashew sour cream, and coconut yogurt.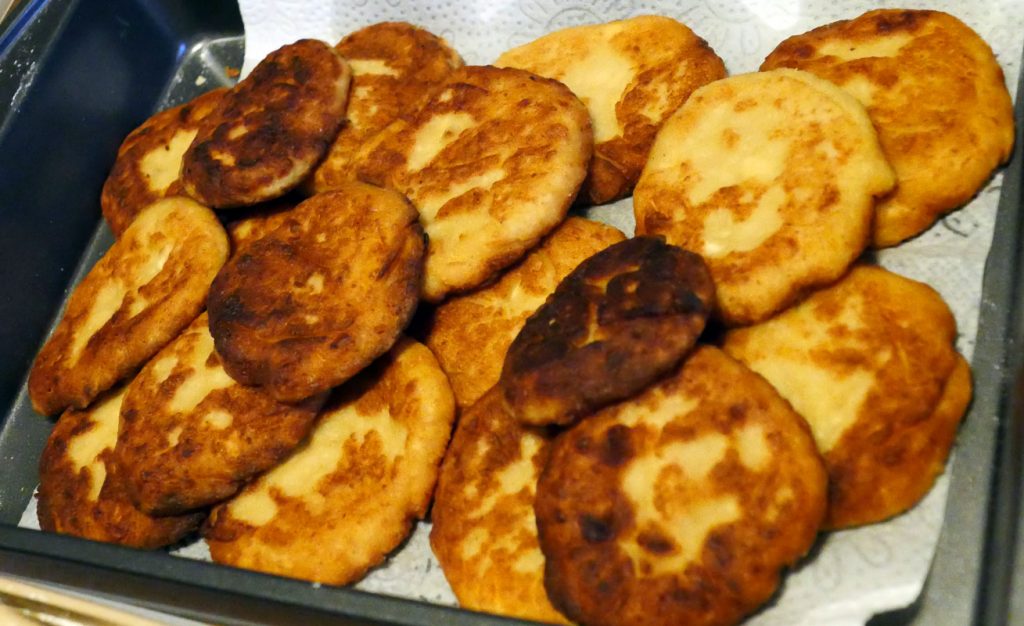 Lauren: Holubtsi (Ukrainian Cabbage Rolls)
Due to reading of the popularity of holubtsi in Ukraine, Lauren decided to make a version of these cabbage rolls filled with brown rice and, in place of what would usually be meat, a mixture of textured vegetable protein and textured chickpea protein that she hydrated and seasoned with veggie broth, smoked paprika, cumin, thyme, garlic powder, onion powder, and black pepper. She combined the rice and fake meat with dill, olive oil, salt, and pepper which she wrapped up in napa cabbage leaves that had first been made pliable by boiling them in water for a few minutes. She placed the rolls into a 9×13 inch pan, and topped them with a tomato sauce made from crushed tomatoes, boiled cabbage leaf water, garlic powder, onion powder, salt, pepper, and sugar. She baked the rolls at 350°F for approximately one hour.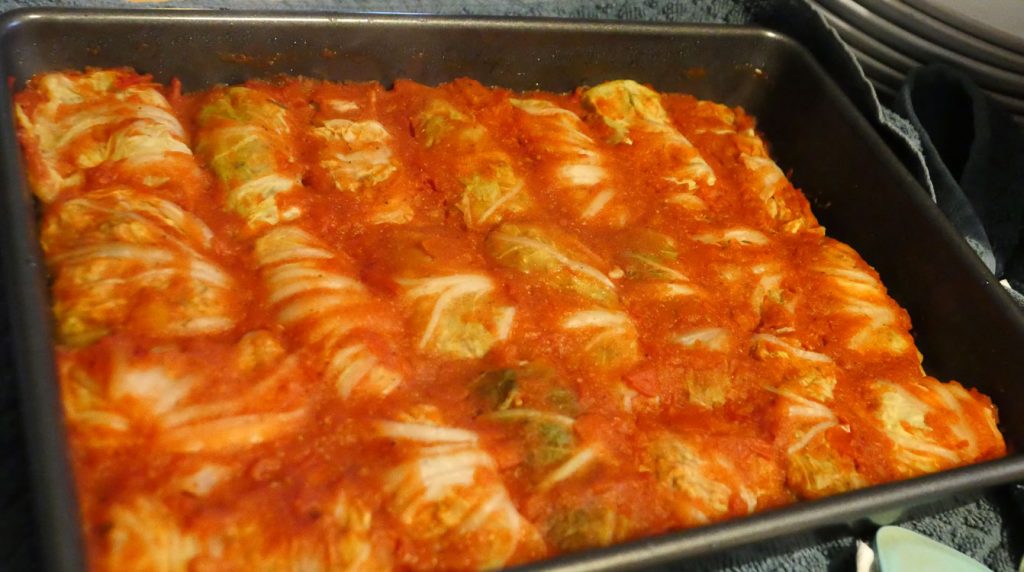 Billy: Green Borscht (Sorrel Soup)
Since Billy had previously made a beet-based borscht for Vegan Bake Club, this time he went with a borscht of the green variety (though the finished product wasn't actually that green). Since the green borscht usually features sorrel for its green namesake, and he didn't know where to find sorrel in the North Texas area, he made the soup with yu choy, napa cabbage ends (leftover from Lauren's cabbage roll trimmings), potato (too much according to Billy), onion, water, garlic powder, dill, lemon juice, Just Egg, salt, pepper, cayenne pepper, olive oil, and veggie bouillon. He cooked the chopped vegetables in a stock pot before adding the water, bouillon, seasoning, and Just Egg to bring it to a boil. He cooked the vegetables to softness then used an immersion blender to take some of the solids down for a thickening of the broth.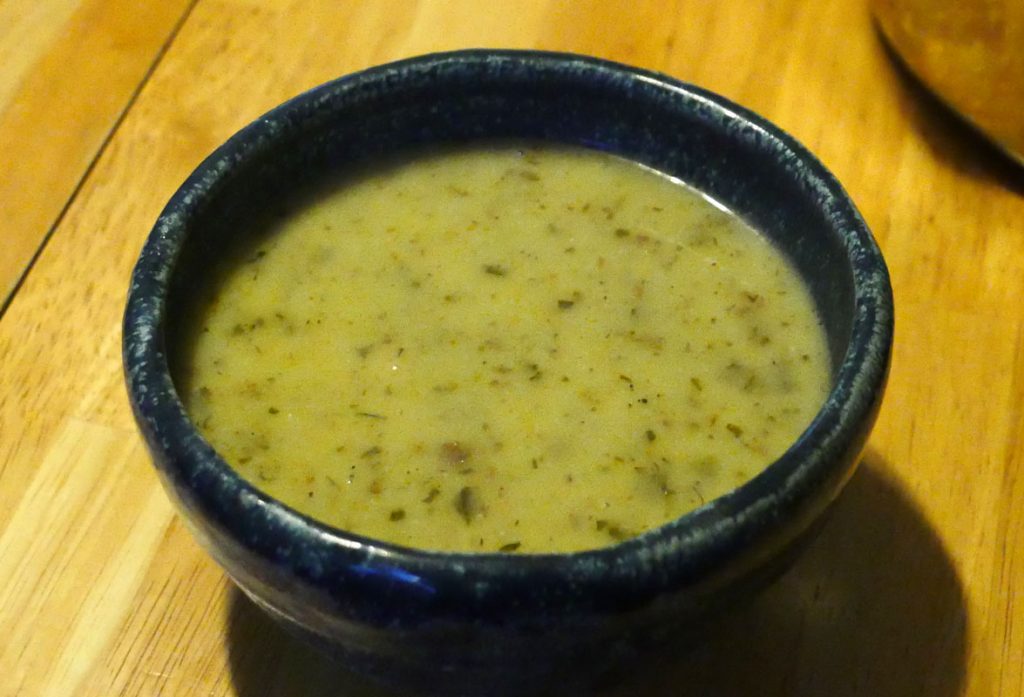 Staci: Sochniki
For her second ever Vegan Bake Club meeting, Staci went all out to make us sochniki. To make these vegan-ricotta filled sweet shortbread pastries, she veganized the dough of this sochniki recipe by using Miyoko's butter, Kroger's vegan sour cream alternative, and egg replacer powder (she didn't mix it with water first), in addition to sugar, flour, baking powder, and vanilla. She so generously stuffed the dough rounds with her veganzied cashew ricotta filling, made of cashews, water, lemon, and salt, that she reportedly ran out of it.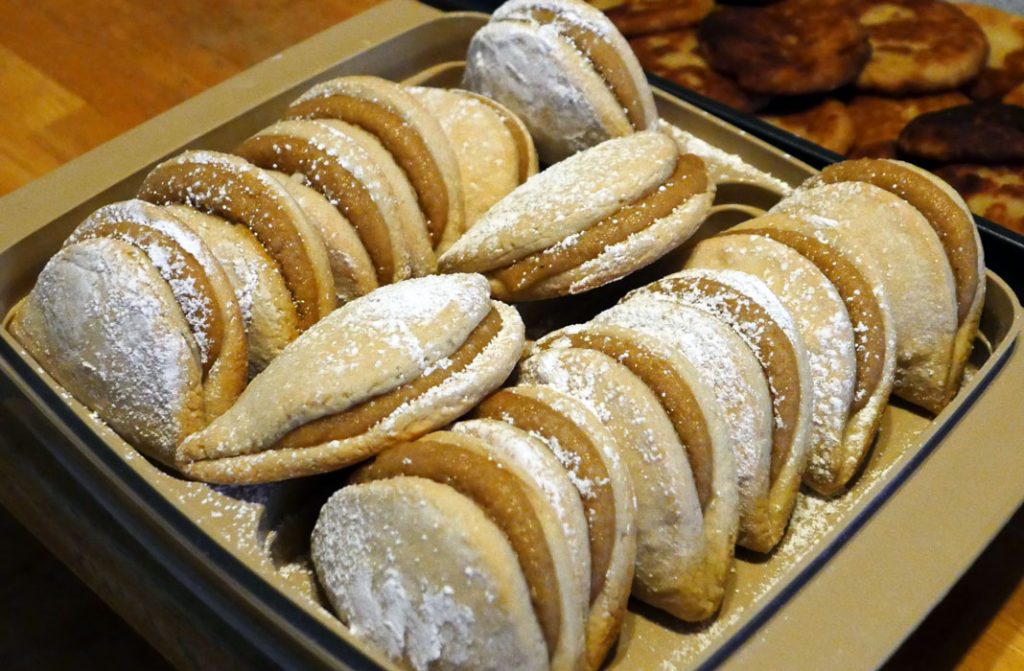 Slynn: Banosh
To make her vegan banosh, Slynn made a corn meal porridge with corn meal, coconut milk, and coconut oil. For toppings she made a crumbled tofu flavored with nutritional yeast, lemon juice, and salt, plus another topping featuring chopped mushrooms, onion, and garlic.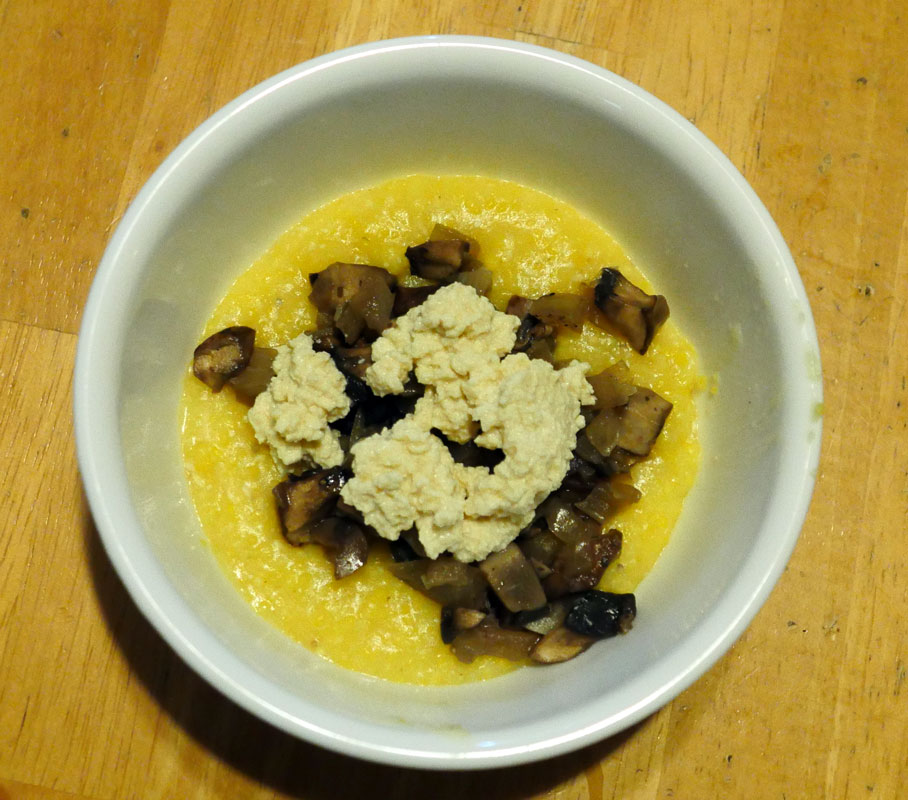 Drew: Deruny (Ukrainian Potato Pancakes)
Drew veganized a deruny recipe that originally called for egg and real sour cream. The recipe said to grate the potatoes and onion on the small size of the grater, but the vegetables were turning to liquid, so he grated half of the potatoes and onion on the large size part of the grater. To create the pancake consistency, he mixed the veg with flour, salt, and pepper. He forgot to put the vegan sour cream into the batter itself, so he served it on the side.