March 10, 2019 – Australian
Sunday, March 10, 2019
VBC Meeting #73: Australian Foods
Host of the Month: Caroline and Drew
Location: Denton, TX
With her DNA test results in, Caroline and Drew's dog Macy was found to be, among other things, of Australian Shepherd ancestry. Thus, to celebrate, we went Australian themed for the March meeting!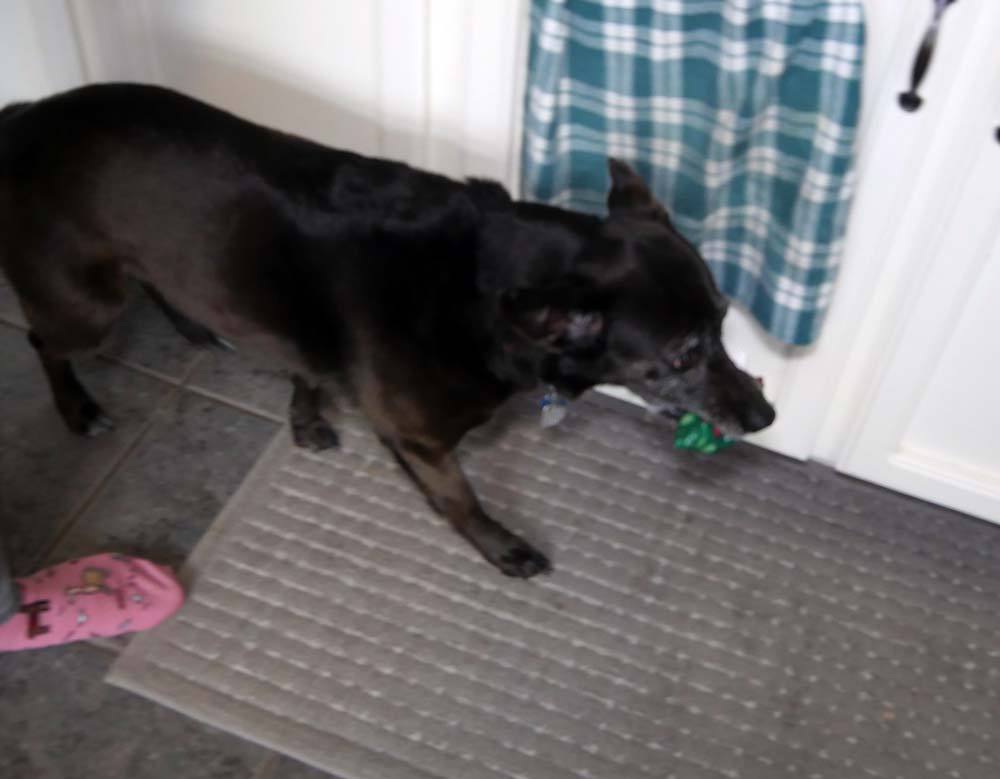 This is what we made: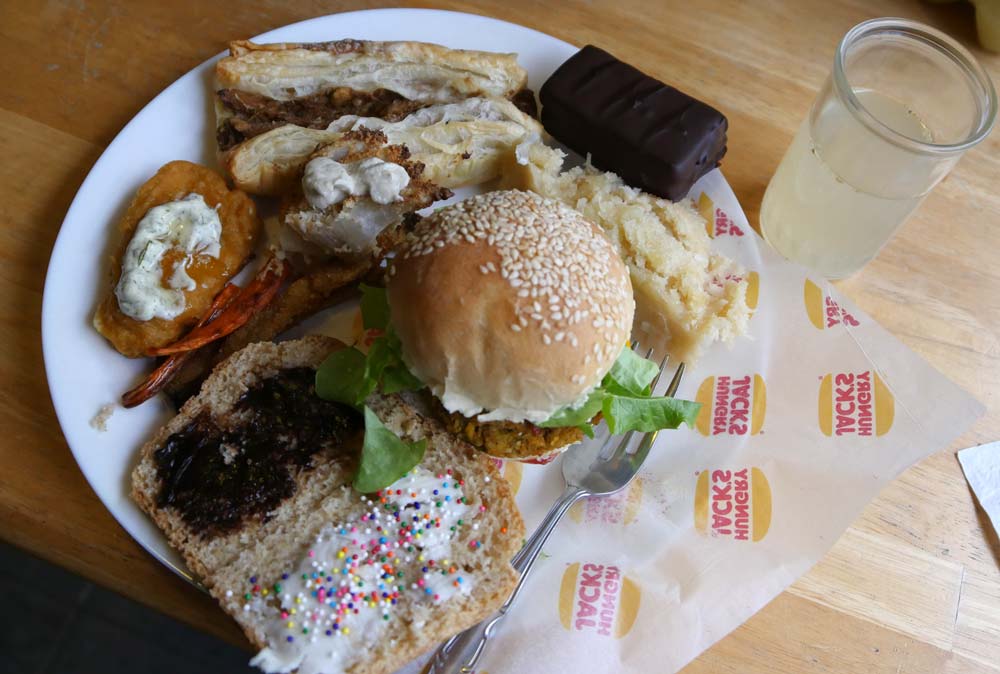 Shannon: Piña Colada Cake
Though not inspired to do it by the Australian theme, Shannon made us a cake in her slow cooker because she had gotten all the ingredients for last month's creamy theme and didn't use them. To prepare the batter she mixed the dry ingredients, including flour, brown sugar, coconut flakes, baking soda, baking powder, and salt, into the wet ingredients that included coconut cream, crushed pineapple and its juice, coconut extract, rum, and apple cider vinegar. She cooked this in her slow cooker on high for two hours. The recipe instructed her to place a towel over the top inside of the cooker to prevent moisture dropping back onto the cake. Since this would have prevented locking the lid, Shannon opted not to do this, which caused a very moist topped cake. To remedy, the cake went into the broiler for a couple minutes. The cake was finished with a glaze made of confectioners' sugar and pineapple juice. She wrote "G'Day Mate" on the finished dessert with green sparkle gel to make up for the otherwise non-Aussie theme.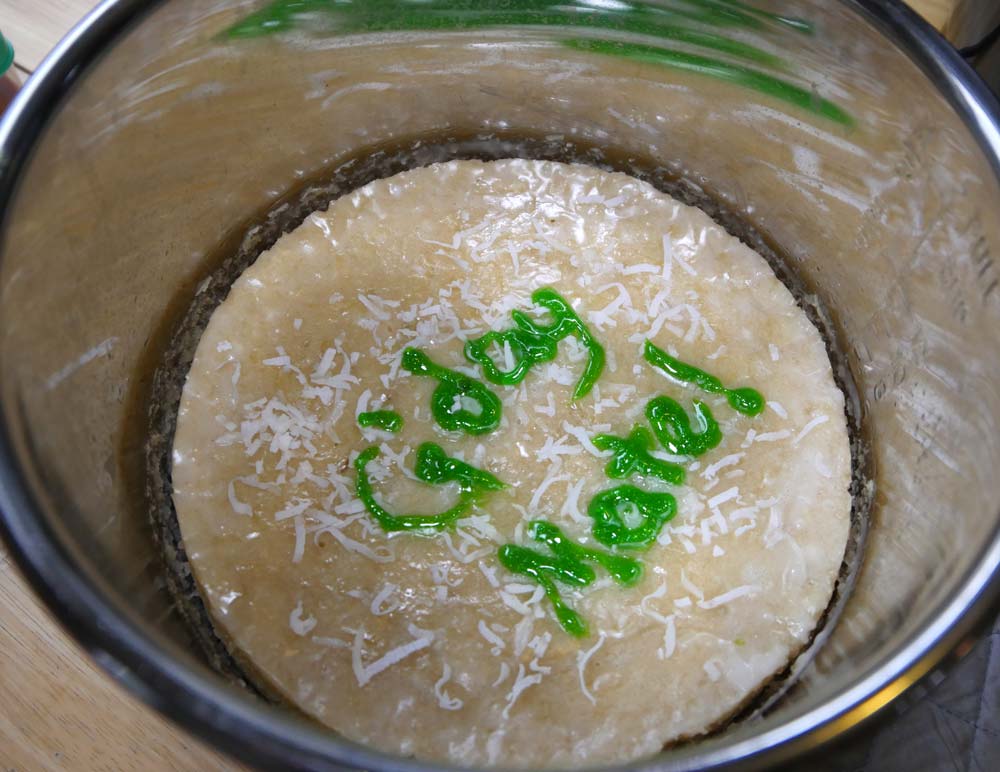 Caroline: Bloomin' Onion
Caroline borrowed a co-workers air fryer to make this Outback Steakhouse rooted appetizer. She cut up a few yellow sweet onions in the fancy bloomin' style then battered them in a combination of flour, water, unsweetened almond milk, garlic powder, onion powder, cumin, and hot sauce. She made a cashew cream dipping sauce with soaked raw cashews, water, nutritional yeast, lemon juice, and salt. Caroline said if she made these again, she would use bigger onions and brush on some oil for a more authentic experience.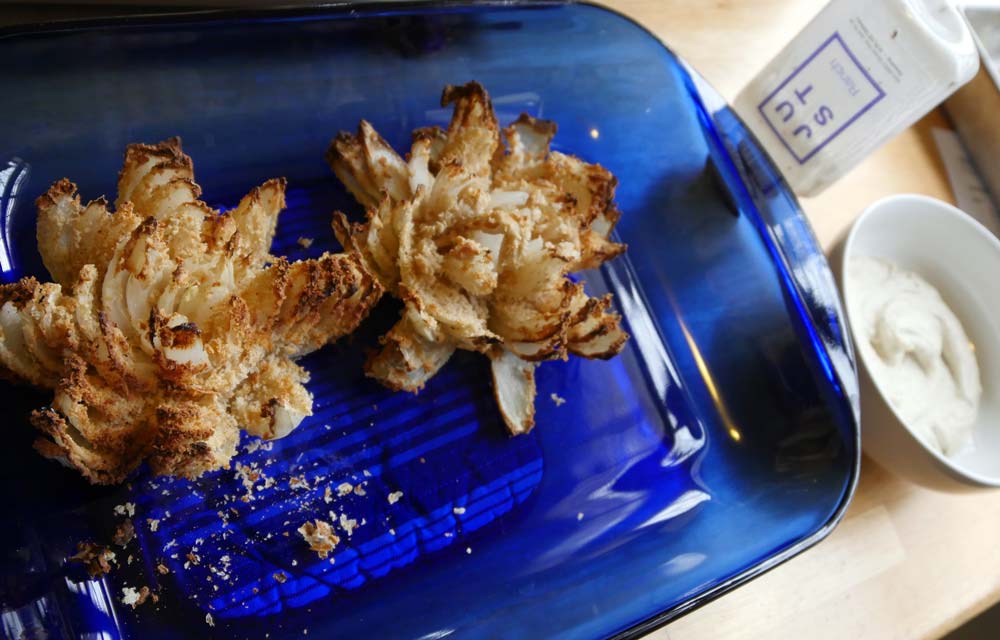 Slynn: Fairy Bread; Vegemite
Slynn made the recipe for a yeast bread loaf from The 100 Best Vegan Baking Recipes but used a blend of all-purpose and white wheat flours. She served it with Miyoko's European Style Cultured Vegan Butter and sprinkles to create the Australian favorite fairy bread. She also brought a small jar of Vegemite that she ordered online for the ultimate Australian classic savory bread spread.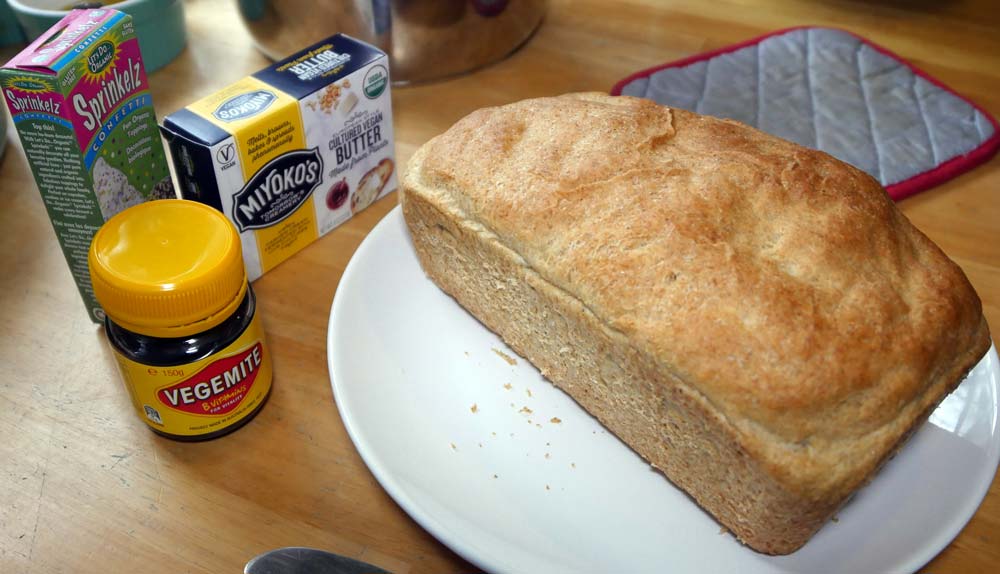 Drew: Vegan Sausage Rolls
To make his sausage rolls, Drew followed a recipe from veganaustralia.org.au. He made the sausage from extra-firm tofu that he had pressed the water out of to get it really dry, plus cashews, onions, garlic, marjoram (they were out of sage), basil, onion powder, paprika, and soy sauce blended in the food processor. He cut pieces of a store purchased puff pastry, filled each with a length of sausage, rolled them up, and sealed the seams with a fork before baking.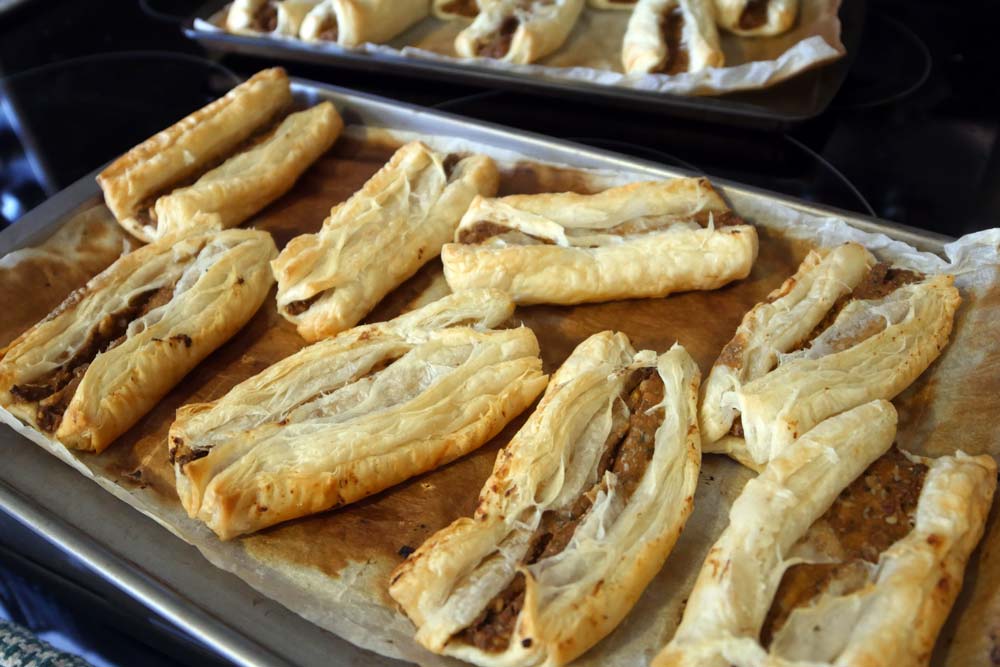 Lilly: Gardein Golden Fishless Filets with Carrot and Eggplant "Chips" and Two Dips
For a fish 'n' chips sort of experience, Lilly served us Gardein Golden Fishless Filets alongside fresh carrots that she cut into strips, coated with olive oil and salt, and baked in the oven for ten minutes on each side. She also served us slices of store-bought breaded eggplant (found in the freezer section). To bathe these delights, she made both a tartar sauce of Just Mayo, chopped kosher dill pickles, dried dill, fresh dill, and olive oil and a lemon thyme butter sauce with Earth Balance margarine, lemon juice, and fresh lemon thyme.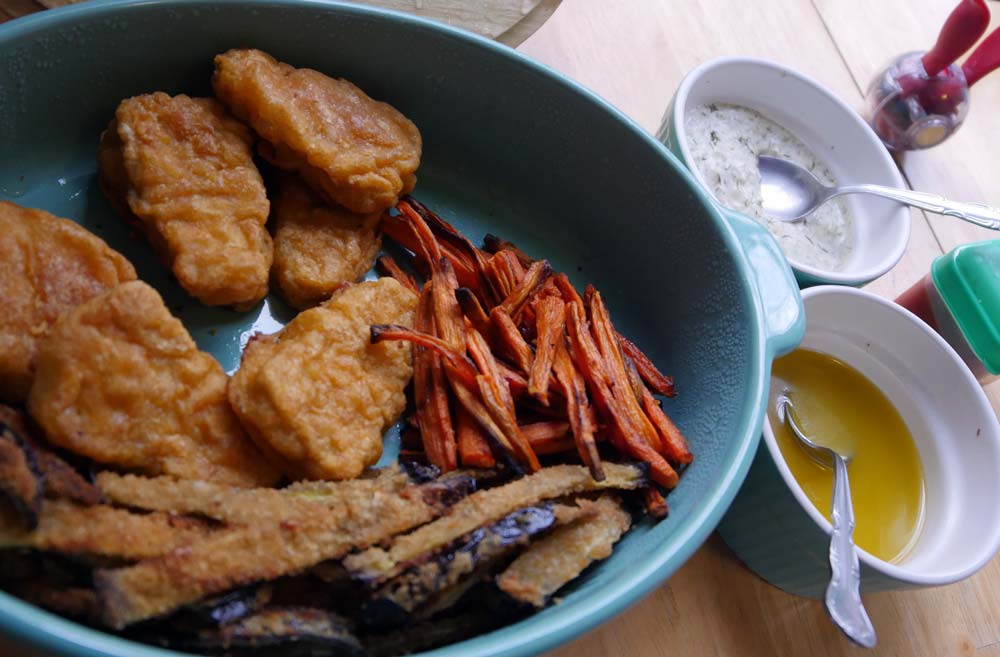 Lauren: Hungry Jacks-Style Vegan Cheeseburger; Tim Tams

For the Tim Tams, Lauren veganized a Tim Tam recipe by using a flax egg in the cookie element. Due to lack of vegan access, she left the malted drink powder out of the chocolate frosting filling and substituted extra cocoa powder. The coating was a combination of melted mint dark chocolate, 88% dark chocolate, semi-sweet dark chocolate chunks, and coconut oil. She rolled out, cut, and baked the chocolate cookies, sandwiched them together with chocolate frosting made with Earth Balance Soy-free Butter, powdered sugar, cocoa powder, and vanilla. As a final step the cookies were dipped into the melted chocolate and refrigerated to set.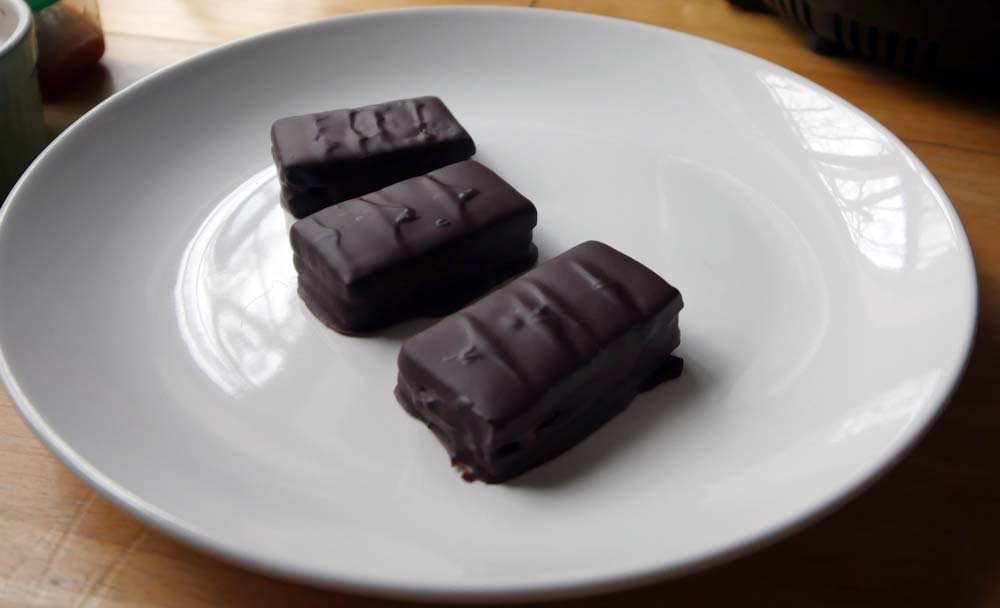 To make a Hungry Jacks-Style Vegan Cheeseburger patty, Lauren cooked lentils on the stove (spilled about 1/3 into the sink while draining) and microwaved bulgur (boiled over in the microwave). She puréed these with cooked onion, 1/4 cup canned pumpkin, 1/2 cup raw cashews, 1/4 cup frozen corn (thawed), a small potato, nutritional yeast, garlic powder, salt, black pepper, cumin, and ground thyme. She then added cooked diced green bell pepper and Panko bread crumbs.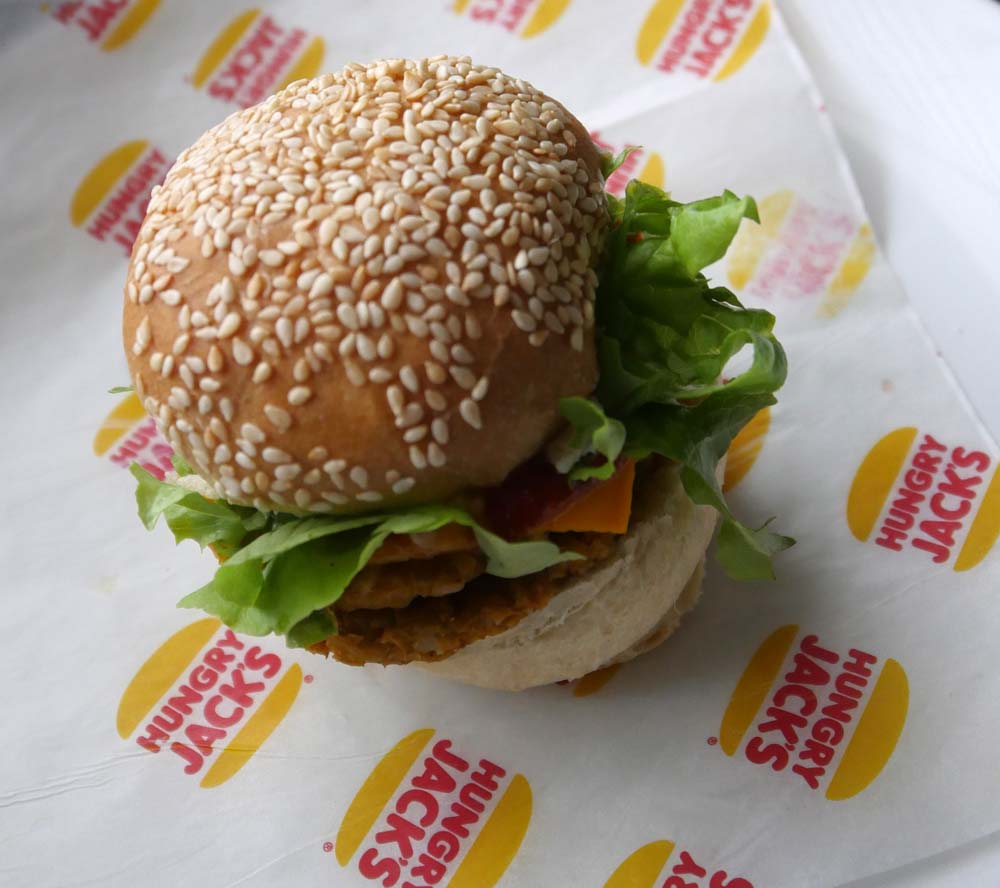 She made bun dough using the Garlic Rolls (sans garlic) recipe from The 100 Best Vegan Baking Recipes. She formed the buns' roll shapes and dipped each into flax milk then sesame seeds before a final rise and bake.
She styled the burgers using Daiya Cheddar Shreds, Billy's shredded lettuce, ketchup, and Just Mayo.
Billy: Ginger Beer
To mock his favorite Australian ginger beer, Billy concocted a simple syrup with several tablespoons of puréed fresh ginger, one cup of sugar, a 1/2 cup of water, and lemon peel. He added this to a bottle of Shasta club soda then added some lemon juice. He made up a Hungry Jack's Ginger Beer label for the bottle to go along with the burgers.