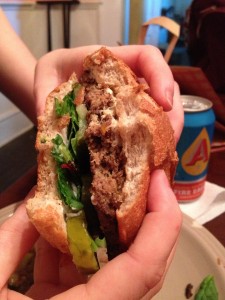 For my inaugural contribution to the Vegan Bake Club I felt like trying to bake something I've never baked before. These plump little burgers are herby and hearty, and hold together really well in a sandwich. There are few things that disappoint me more than using a fork to eat a sandwich, so I am particularly proud to say that these lentil fellows will never put you through that.
Ingredients:
1/2 cup green lentils
1/2 cup walnuts
1/2 cup vital wheat gluten flour, divided
1/4 cup nutritional yeast
1/2 tsp onion powder
1/2 tsp garlic powder
1/2 tsp ground cumin
1 tsp powdered sage
1/2 tsp thyme
other savory herbs
2 celery stalks, diced finely
1 cup veggie broth
2 tbsp soy sauce
2 tsp Bragg's liquid aminos
1/2 tsp liquid smoke
2 tbsp olive oil (4 tbsp olive oil if you dare)
Procedure:
Preheat the oven to 375 degrees F, and spray a baking pan with canola oil–also sometimes known in this kitchen as "canoley oil". Inhale deeply as you spray, and enjoy the smell.
Grab two mixing bowls, one dry and one wet.
Wipe out your roommate's coffee grinder and pour 1/2 cup green lentils. Pulse the little pulses (HAHAHAHA) until powdery. You will still have chunks of naked lentil, do not be alarmed. Pour the ground lentils into the dry mixing bowl.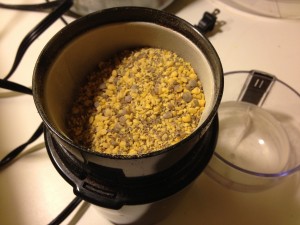 Grind the walnuts next. It may sound like you are ruining your roommate's coffee grinder. Don't worry, it happened to me too, but he was out of town. Pour the walnut powder into the dry mixing bowl. Be sure to wipe away the evidence.
To the dry mixing bowl, add 1/2 cup of the vital wheat gluten, and the rest of the dry ingredients (except the additional 1/2 cup of vital wheat gluten). Be adventurous with herbs.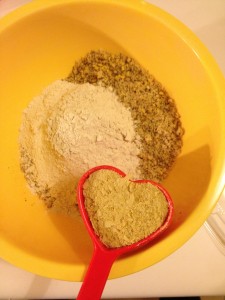 Mix the dry ingredients with a fork.
In the wet bowl, mix the chopped celery and all the wet ingredients. Stir well with a fork.
Add the contents of the dry bowl to the wet bowl and mix with a fork until you reach a porridge consistency. Stir this very well for a minute or two.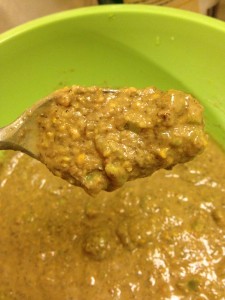 At this point, add a 1/4 cup of the remaining vital wheat gluten and mix with a fork until the porridge becomes blobby and a bit stringy. Stir for an additional minute or so, kneading the blobby dough with your fork (or hands, if you like).
Our goal in adding gluten in different stages is to allow parts of the dough to become more stringy than others, but not so much that it becomes a loaf of seitan. All while hopefully avoiding the mushy structural weakness of a typical lentil burger.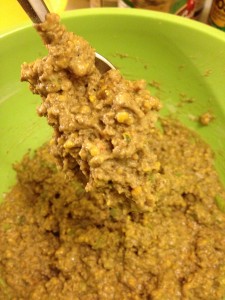 Add the remaining 1/4 cup of the wheat gluten and stir well with the fork. At this point the mixture should be firm and clumpy and able to be formed without sticking to your hands at all.
Kiss the fork goodbye and roll up your sleeves because it's patty time bay bay.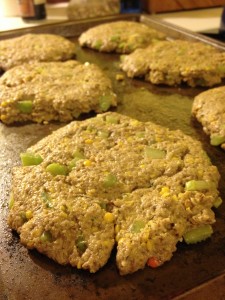 Oil your hands a little and form six burgers and place them on the oiled baking pan.
Cover tightly with foil and place in the oven for 20 minutes.
After 20 minutes, check the burgers and flip them. They should already be browning on top and bottom.
Let the flipped burgers cook for another 15 minutes or so, then remove from the oven and dust with sea salt and cracked pepper. Serve on buns or sourdough (and please let me know how they are).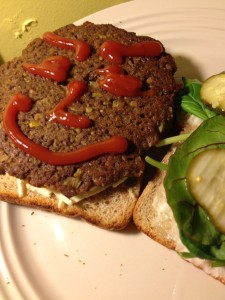 Variations:
Pan-fry the burgers with chopped onions
Grill the burgers (half oven time to 20 minutes and keep moist with veg broth or BBQ sauce)
Make a patty melt with Daiya and black olives
Make some curry-ranch dressing <3 <3
Shout outs to: bread and butter pickles, Rainy, Hops & Grain Pale Dog, Vegan Dad's stirring fork