Saturday, June 27, 2015
VBC Meeting #28: Picnic
Host of the Month: John
Location: Denton, TX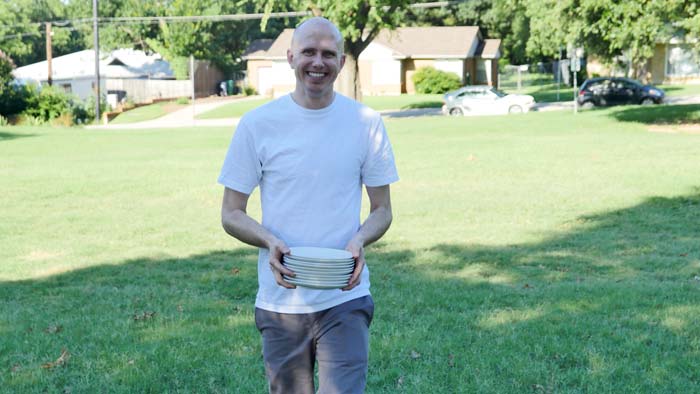 John brought boxes of dishes and silverware (mostly not disposable as we try to be environmentally conscious) out for a shady picnic at McKenna Park in Denton. This is not the most popular park in Denton, unless perhaps you are into LARPing, but we like the quiet. Also, it is on one of the rare hills of North Texas. If only they hadn't painted over the big green with white polka dot water tank with a perfectly fine but boring City of Denton logo.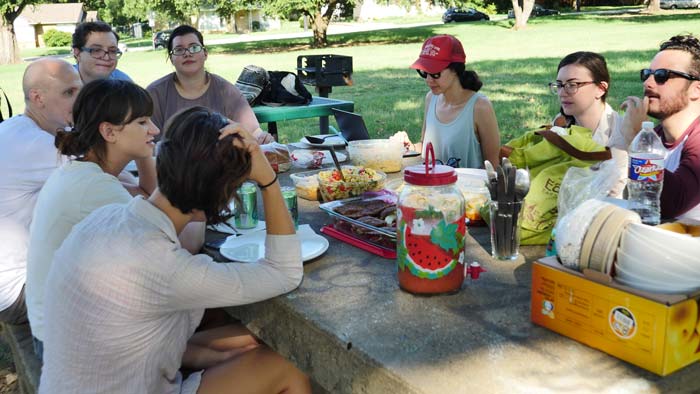 This is what we made: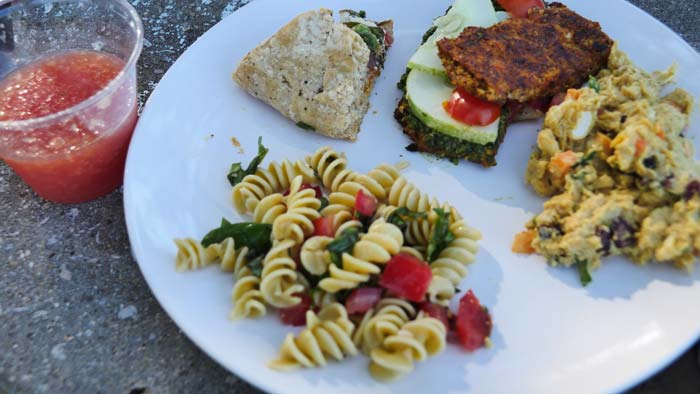 Lauren: Curry chickpea salad
Lauren mostly followed this curried chickpea salad recipe, though the quantities changed quite a bit to reach the desired taste. Ingredients included chickpeas, toasted cashews, a bunch of tahini, lemon juice, curry powder, garlic, maple syrup, salt, pepper, and green onion and carrot from Billy's garden. She used cranberries instead of raisins or dates.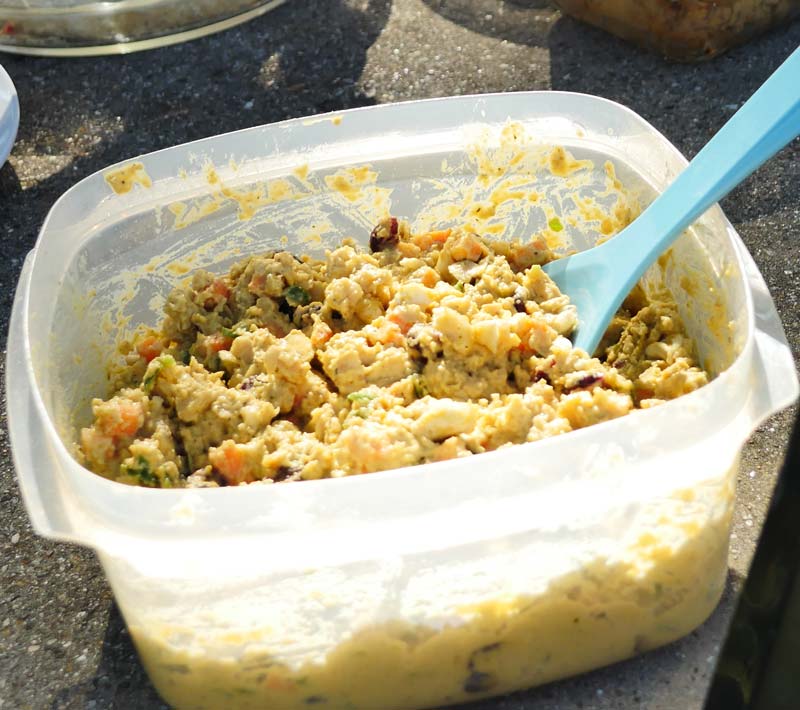 Taylor: Tomato Cucumber Corn Bread Sandwich
To prepare this sandwich, Taylor made a gluten-free bread that included a cup of canned corn, a cup of ground flax seeds, a cup of ground sunflower seeds, two tomatoes, and a few other ingredients. Because the recipe is meant to be raw, she dehydrated the bread in the oven at 170°, but because time was short, she ended up finishing it off by baking it at 450°. The bread held together nicely with a firm bready texture and a flavor that nicely complemented the kale olive tapenade spread upon it. Taylor piled the sandwiches with zucchini and tomatoes from Sarah's family's garden.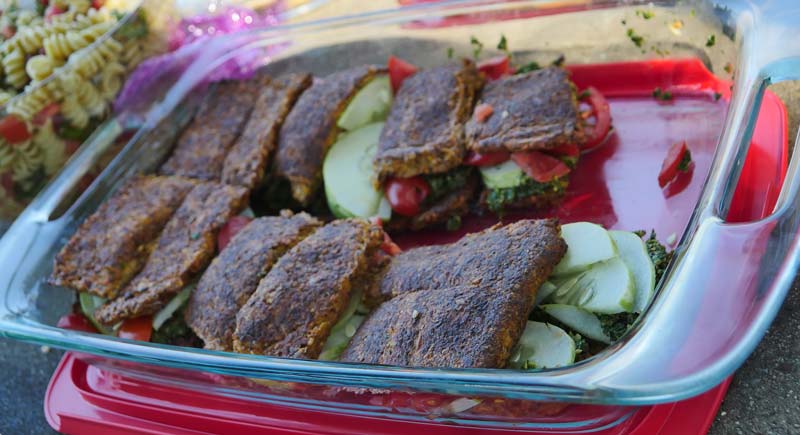 Sarah: Zucchini Lemon Cake
For this cake, Sarah used zucchini from her parents' garden and lots of lemon zest. Soaked chia seeds were used as a binder. She iced it with a frosting leftover from a previous project containing powdered sugar, vegan margarine, vegan cream cheese, and lemon. The picture of the full cake in the loaf pan looks kind of like an albino meatloaf. No, no, awesome lemony zucchini vegan cake.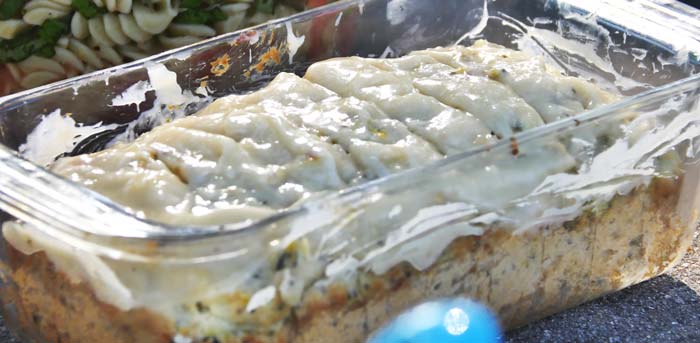 This was a delicious slice of cake with pretty bits of zucchini and lemon peel.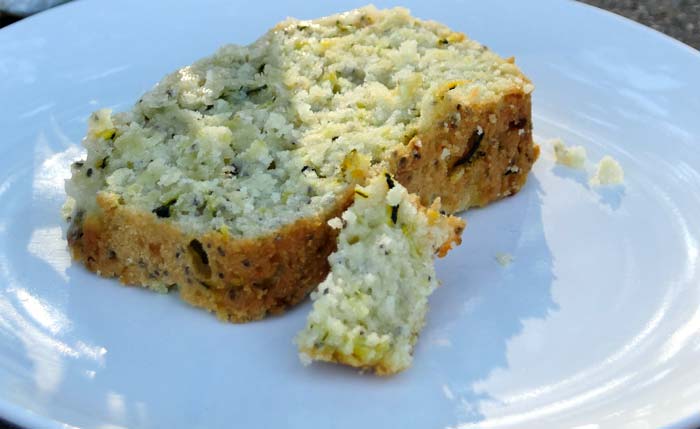 Taylor and Sarah also brought a watermelon rosé drink, which as you might have guessed, contained watermelon and rosé wine, but also cantaloupe. It had a kind of melony sangria flavor.
Victor and Brenda: Chocolate Mousse
If you've long been vegan and into making desserts, you may have made a chocolate tofu pie sort of thing at some point. This incredibly good chocolate mousse that Victor and Brenda made was very much like the rich chocolate filling of such a pie. They made it with silken tofu, melted Divine Dark Chocolate, cinnamon, lemon zest, and vanilla.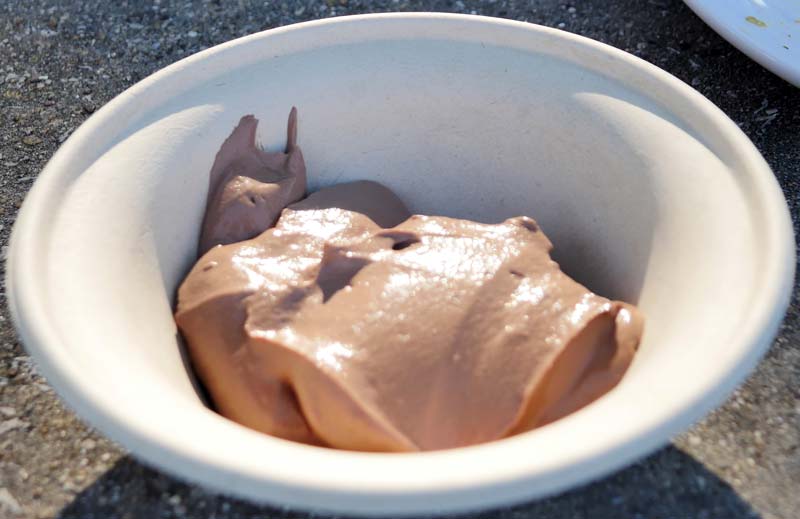 Michelle and Ryan: Summer Picnic Galette
Michelle made us a vegetable galette because how can you call something a picnic without a galette? Actually, you would just say /ˈpɪk.nɪk/, but it's nice to have a galette. She made a peppered crust with a blend of all-purpose and whole wheat flours, olive oil, water, apple cider vinegar, salt, and freshly ground pepper. She covered the crust with breadcrumbs before filling it with tomatoes, shallot, spinach, peas, fresh thyme, and homemade tofu ricotta. She made the ricotta from soaked cashews, tofu, nutritional yeast, lemon juice, fresh garlic, salt, and pepper. Apparently in Austin, where Michelle now resides, they call nutritional yeast "nooch." That's funny talk.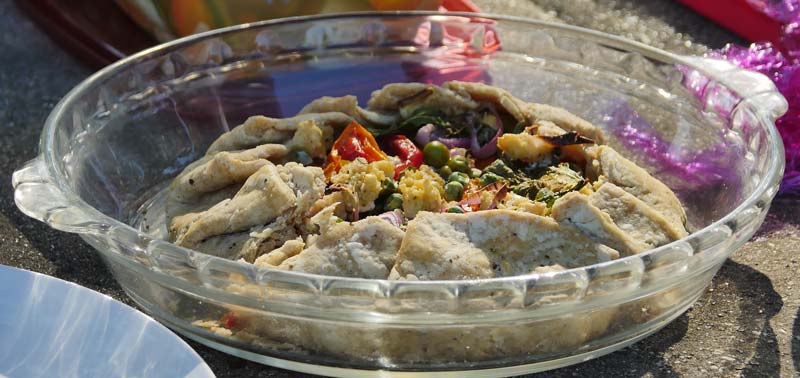 Here is Michelle's hand written recipe. The "SPiN" written in chocolate mousse, stands for spinach.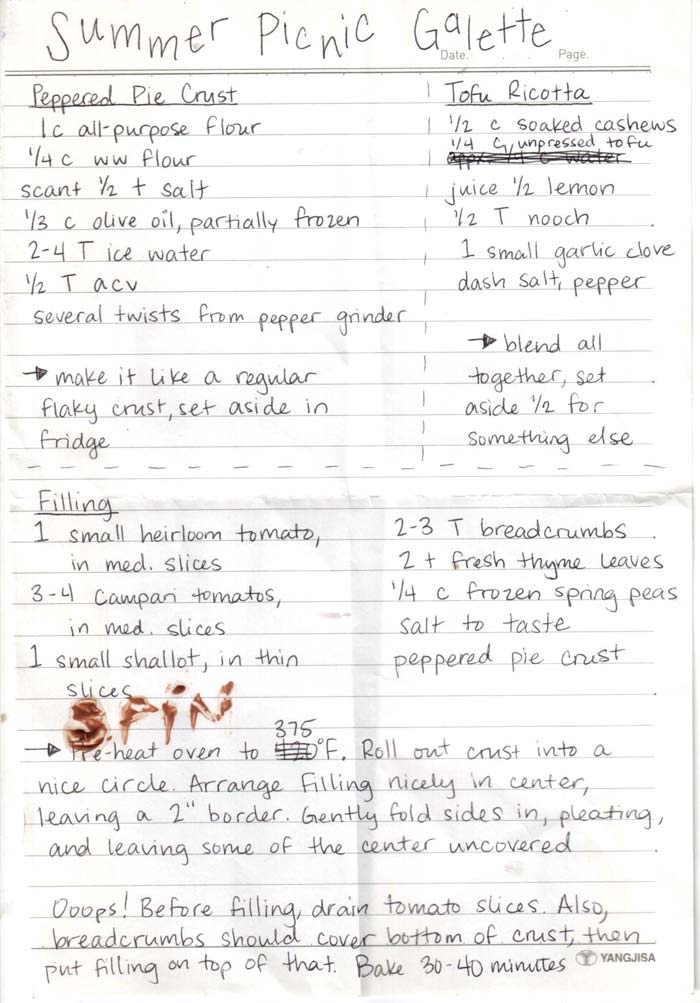 John: Summer Spiral Pasta Salad
John made a pasta salad with fusilli, tomatoes from Billy's garden, fresh basil, lemon, olive oil, and black pepper. This was one of those wonderful never-ending bowls of pasta. We ate scoop after scoop without seeing it disappear.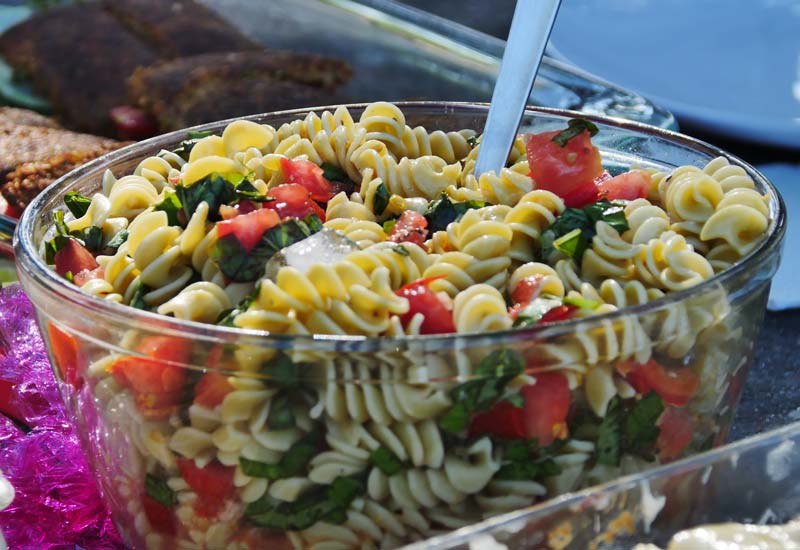 Billy: Cucumber Salad with Turnip and Carrot
Billy's dish was inspired by his garden and his desire to go skating before the Vegan Bake Club picnic. He grew the cucumbers, turnips, and carrots that he put into this salad. He soaked them in a dressing of vinegar, water, sugar, salt, and pepper before disappearing to skate with friends.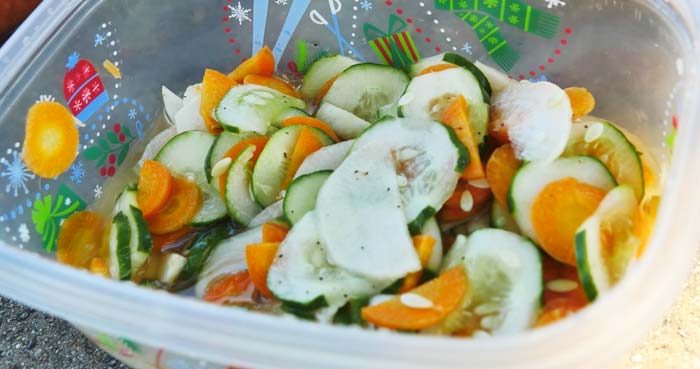 Before Michelle and Ryan went back to Austin, we made some brunch together and washed some horses (horses not pictured).