June 18, 2022 – Refreshing
Saturday, June 18, 2022
VBC Meeting #112: Refreshing
Host of the Month: Lauren and Billy
Location: Ponder, Texas
For June, which seems to be a hotter than usual June, where in Texas we have already been having days above 100°F and knowing the heat will continue for many weeks onward, "Refreshing" sounded like a good theme. "Refreshing" is also one of those ambiguous themes that allows more flexibility (or is a cop out?) versus something more targeted like May's Pacific Islands theme. Suggestions for food following the theme this month included: something that you deem as a way to refresh yourself physically or emotionally, something that it is "refreshingly different", or as usual, just make whatever you want that is vegan.
This is what we made: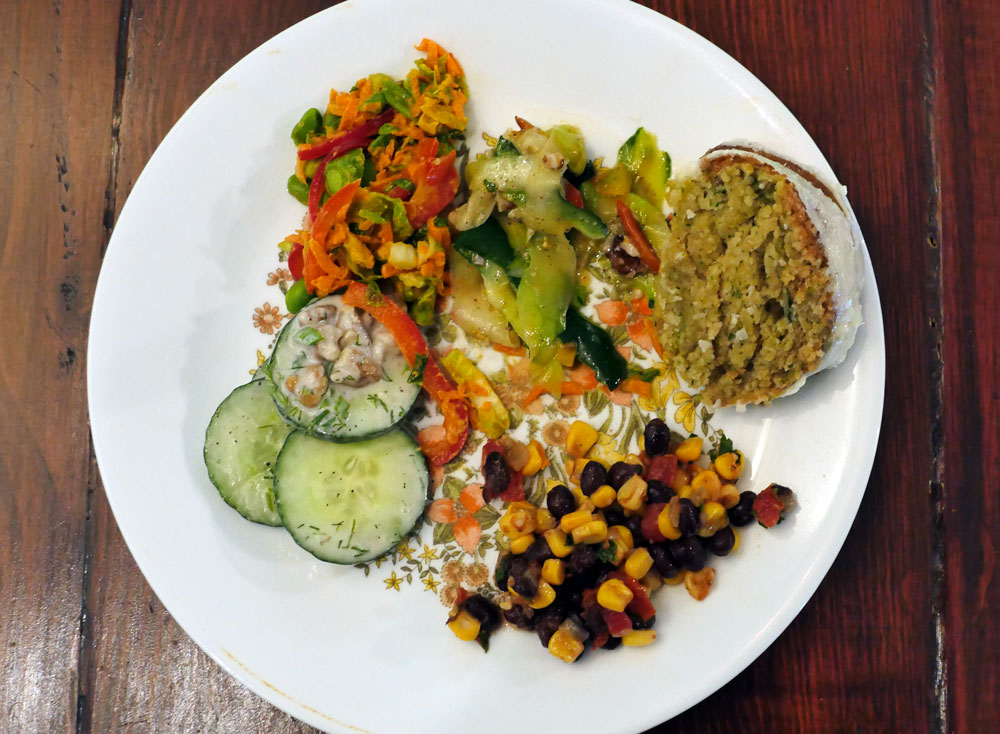 Tara: Vegan Polish Cucumber Salad
We hadn't seen Tara for a while but were happy she was able to drop in for some refreshing foods. She doesn't do much cooking generally, but for this event, where not cooking lent well to the theme, she prepared a Vegan Polish Cucumber Salad a.k.a. Mizeria. She used one and a half English cucumbers, 1/2 a cup or so of a mix of fresh and dry dill (she ran out of fresh), 1/2 a cup of chopped spring (green) onion, three cloves worth of minced garlic, one cup of vegan sour cream (Forager brand), 1 teaspoon salt, 1/2 teaspoon pepper, 1 tablespoon sugar, 1/4 cup of lemon juice (1 lemon in her case), and walnuts (they were in the recipe's picture though not in the text, but Tara likes the walnuts). She sliced the cucumber, added it to the dressing, then refrigerated the resulting salad for approximately fifteen minutes before making the trek from Dallas to Ponder with Josh and Frank.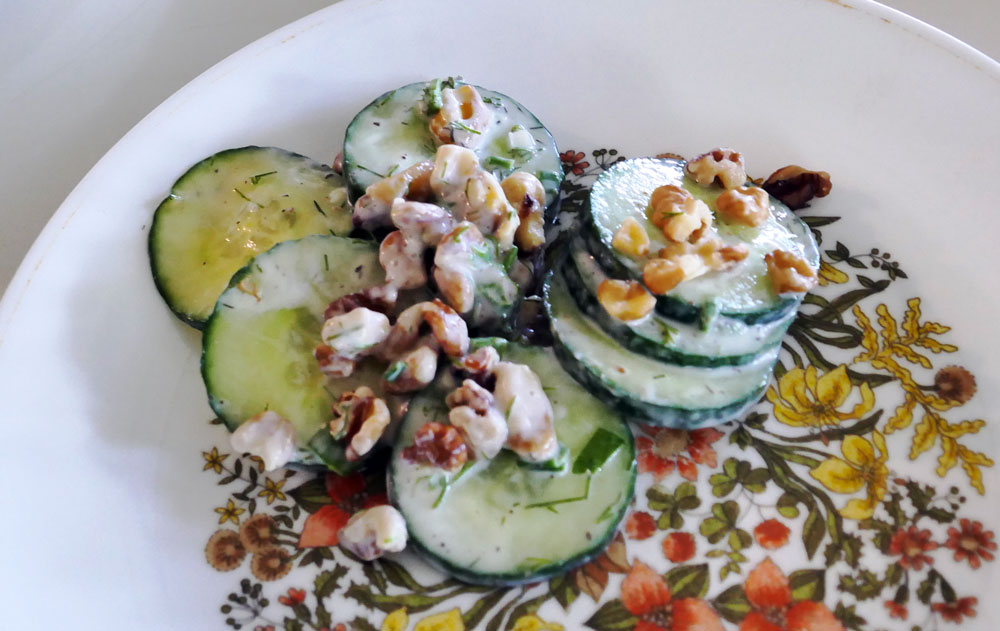 Kori, Dallas, and Skyler: Black Bean and Corn Salad
Kori and kin brought over a black bean and corn salad that Kori put together from two cans of black beans, three cans of corn, and a large yellow onion. To prepare it, she sautéed the corn and onion, then put the vegetables into a bowl to which she added the black beans. She also added two tomatoes and some tomato juice, cilantro, 1/4 cup of Stevia granules, two tablespoons of olive oil, two tablespoons of white vinegar, one tablespoon of lime juice, plus 1/2 a teaspoon each of cumin, salt, and pepper. She allowed this to sit in the refrigerator overnight for the flavors to meld. Tara, who has that thing where cilantro tastes gross, missed out on this tasty salad, but she and Josh, who reportedly liked the salad as it was, were planning to make it without cilantro at some point in the future.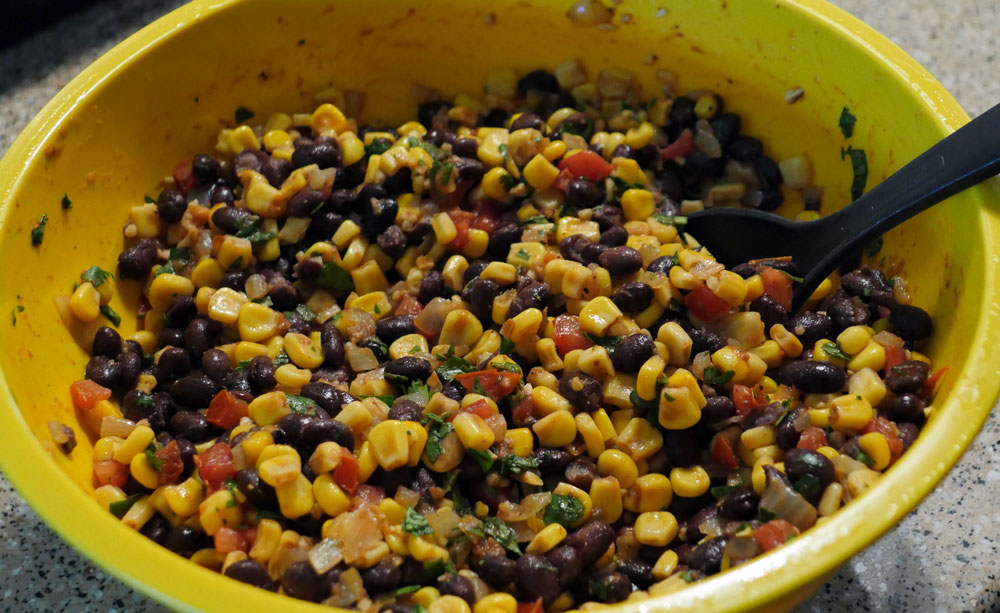 Slynn: Zucchini Bread Ice Cream
Having received some zucchini from Billy's garden and being a big fan of that refreshing summertime dessert known as ice cream, Slynn made the creative mashup of Zucchini Bread Ice Cream. To make the cream, she combined unsweetened vanilla almond milk, quick oats, coconut sugar, vanilla, coconut cream, mini chocolate chips, chopped walnuts, and shredded zucchini. All children in attendance who tasted the ice cream approved of this less common flavor of frozen treat, so perhaps ice cream is an ideal vehicle to get reluctant kids to eat veggies! Slynn has an ice cream maker, but in case you don't, the recipe includes instructions to make the ice cream without one by freezing the mixture in a shallow dish and stirring it approximately every thirty minutes for three hours until it firms.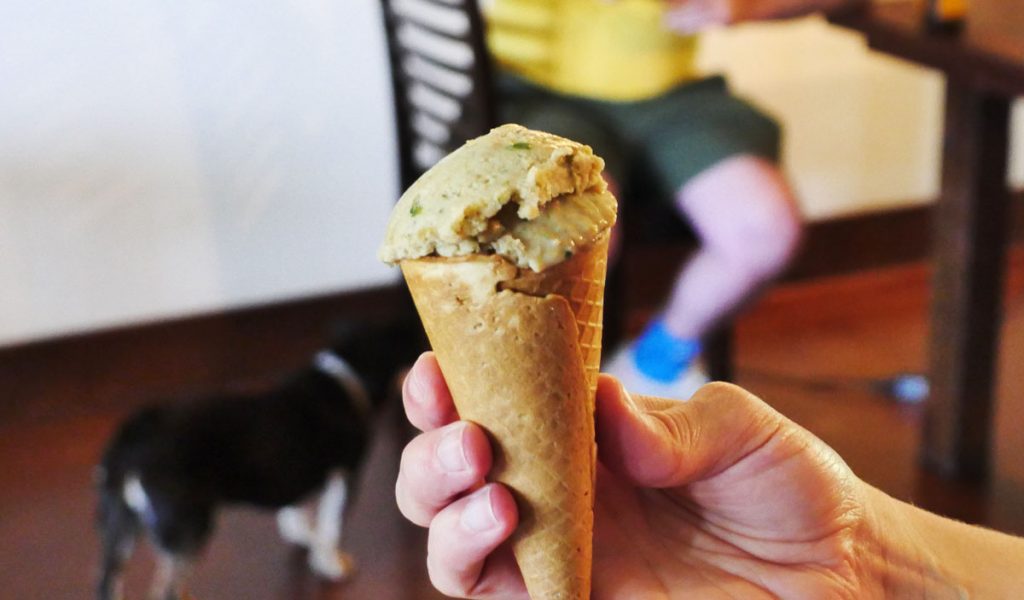 Annette: Summer Veg Salad
Back for a visit after a hiatus from Vegan Bake Club gatherings, Annette created a summer veg salad with an Asian slant. Into the salad she put a few cups of napa cabbage, several shredded carrots, half a julienned red pepper, edamame, green onion, snap peas, and cilantro. She dressed it with a mixture of peanut butter, soy sauce, sesame oil, rice vinegar, and hot sauce, and served peanuts on the side for an optional topping. Annette recommends making the salad a few hours before eating it, so a bit of salt can draw out the water in the veggies, which makes the cabbage a bit easier to eat and adds moisture to the thick dressing.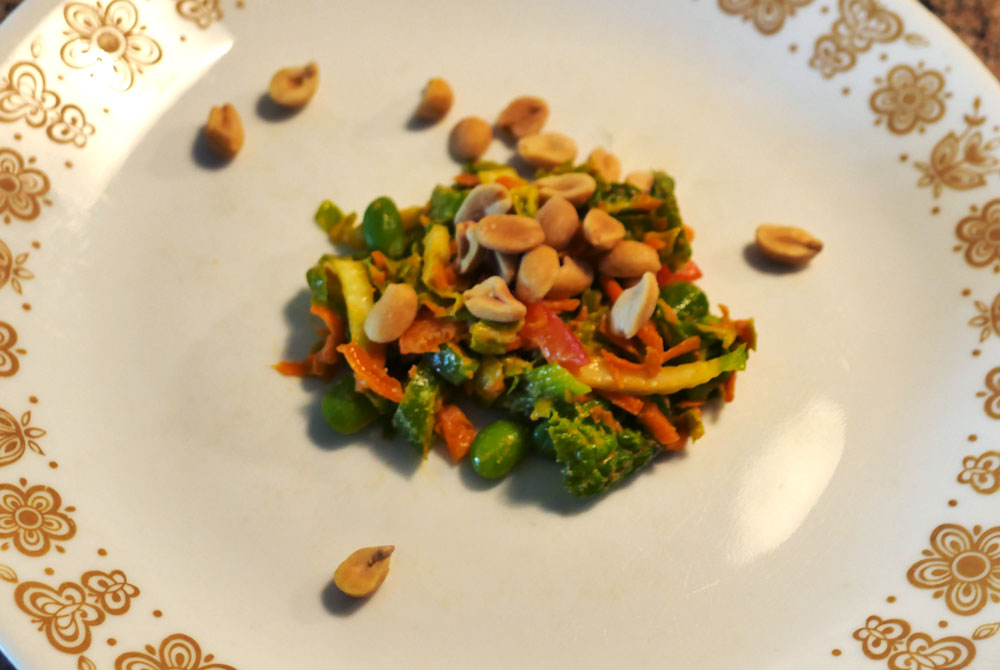 Lauren: Lime Zucchini Cake
Originally planning to make a dessert that only called for four ingredients, but then realizing she only had one of those ingredients at the time, Lauren decided to make a zucchini and lime cake. While a baked good isn't the first thing that comes to mind with the "refreshing" theme, the lime in the cake and the idea of using fresh zucchini from Billy's garden made it seem refreshing. It was also refreshing in that Billy has produced so much zucchini this summer that there is an overwhelming amount to deal with, so any recipe that can use some of this up and prevent it all from rotting is refreshing.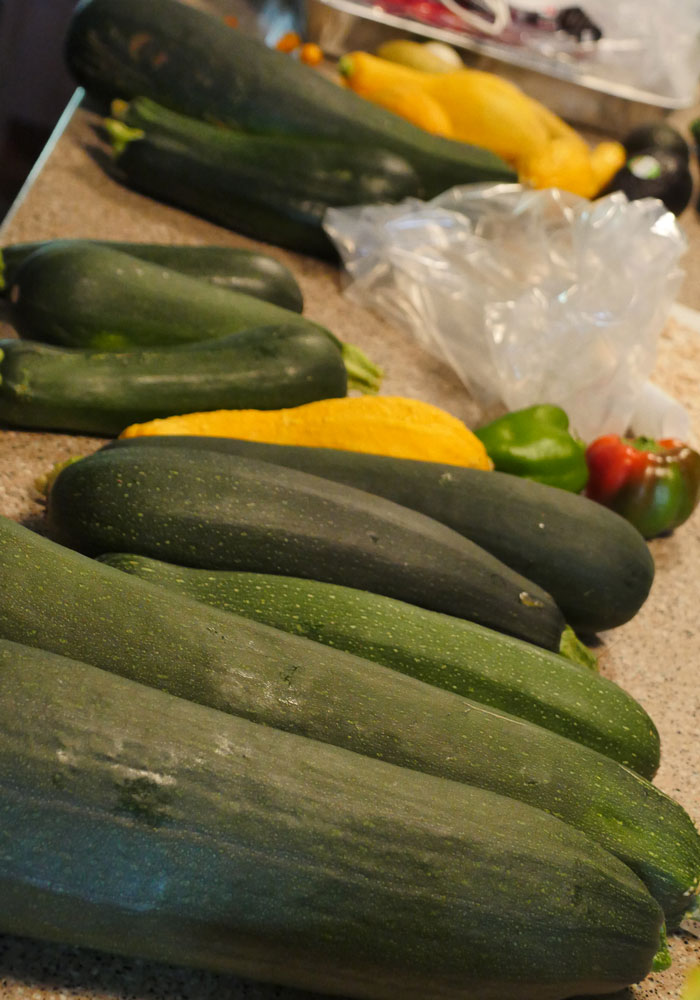 For the cake, Lauren used Isa Chandra Moskowitz'a Isa Does it Chocolate-Zucchini Bundt Cake recipe as a basis, with replacements to go from a chocolate to lime flavored cake by replacing the cocoa powder with unsweetened coconut shreds and instead of the vegan milk, using a 1/4 cup of lime juice and 1/2 a cup of the water squeezed out of the shredded zucchini (it had a green tinge that maybe brought a hint of color to the cake). She also added approximately one tablespoon of lime zest. She made an icing with powdered sugar, approximately one teaspoon of lime zest, the juice of one small lime, and one tablespoon of melted margarine.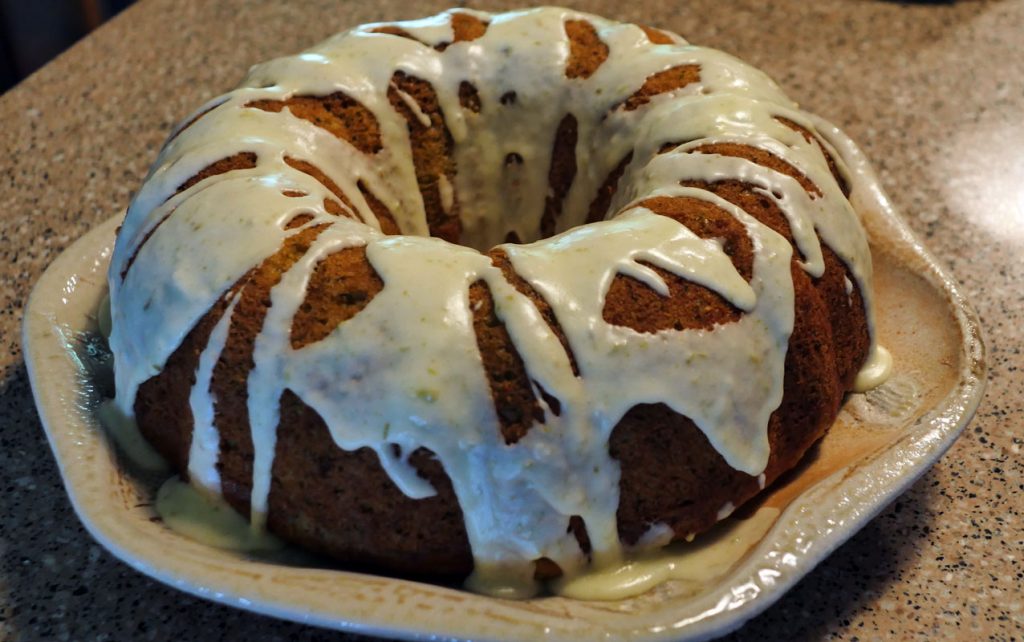 Billy: Zucchini salad
Running short on time, Billy made a salad featuring shreds of his home grown vegetables including zucchini (again, refreshing to whittle away the stash), red bell pepper, and yellow tomatoes that he combined with walnut pieces, lemon zest, fresh lemon and lime juice, olive oil, salt, and pepper.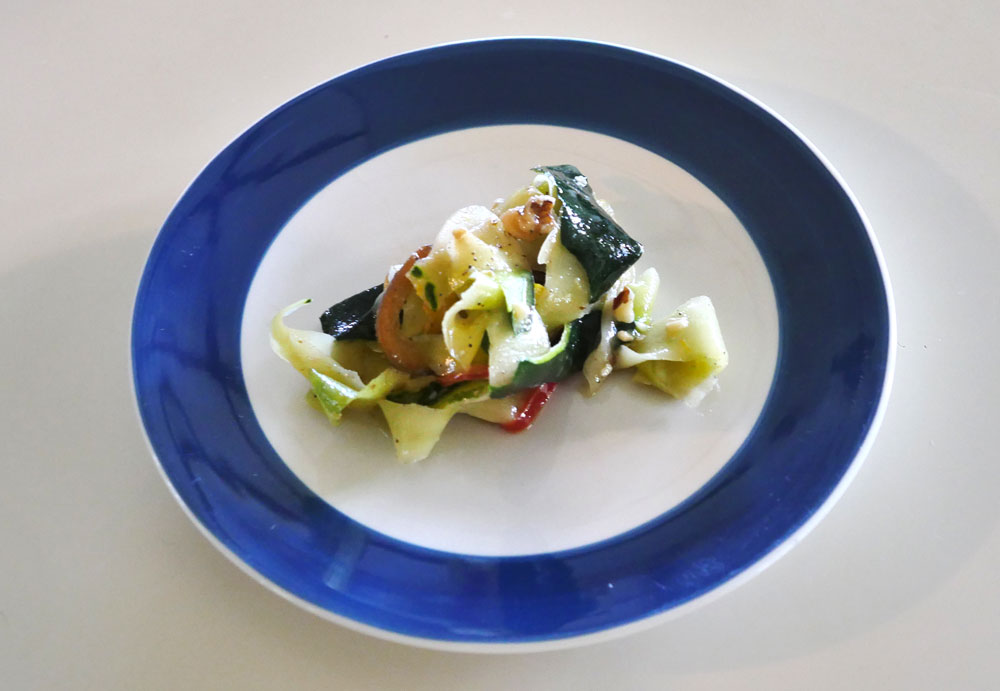 Shannon: Okonomiyaki with BBQ Sauce and Sesame Asparagus
For her entry from South Carolina, Shannon made okonomiyaki. In her words: "I've been getting prepped meals from Purple Carrot, and I switched to meal kits to "refresh" myself and get me cooking again. This was the first meal kit from them I did." The recipe involves all-purpose flour, scallions, garlic, carrot, green cabbage, fresh ginger, asparagus, sesame seeds, vegan mayo, BBQ sauce, Sriracha, oil, salt, and pepper. Any way to get Shannon cooking again sounds great, plus the dish includes tuxedo sesame seeds, which, from what I could gather, aren't as formal as they sound but are a blend of black and white sesame seeds.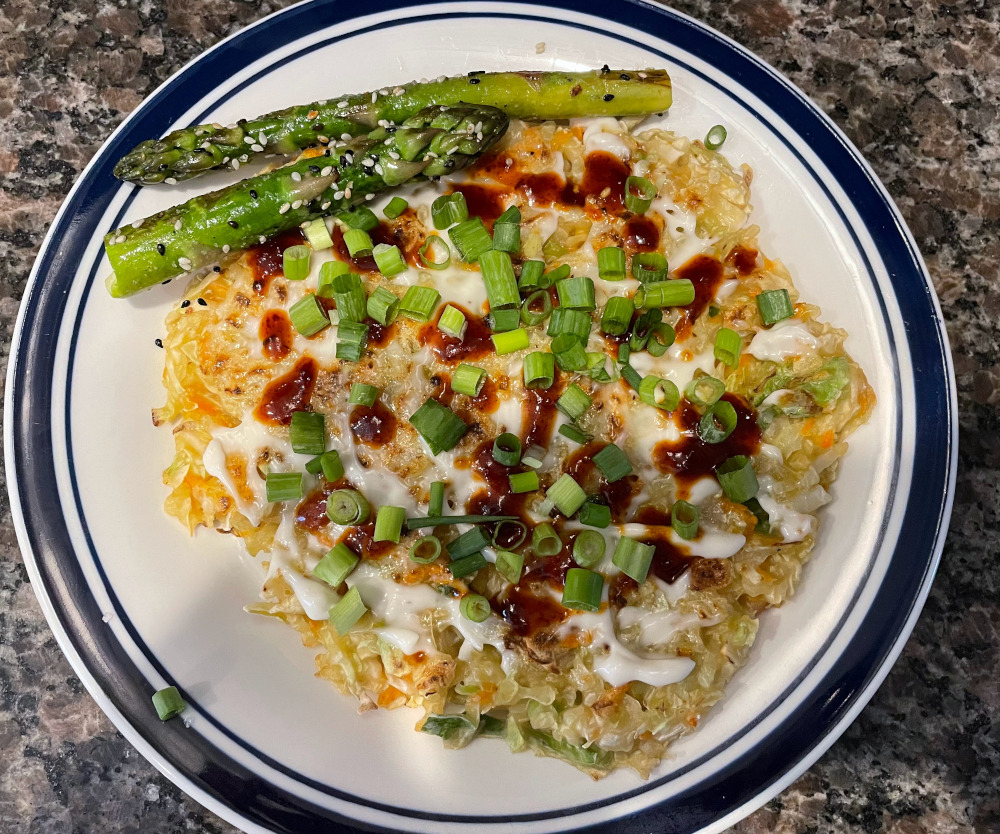 John: Loaf Butt Sandwich
Joining us remotely from Portland, John mostly attended to say "hi" to people he hasn't seen for a while. He hung around long enough that though he didn't initially prepare something to eat for the meeting, he eventually made a sandwich featuring hummus, mixed salad greens, and the butt end of a loaf of bread.