Saturday, June 17th, 2017
VBC Meeting #52: BBQ
Host of the Month: Lauren and Billy
Location: Ponder, TX
This month we did foods with a tie to BBQ. There were more sides to accompany BBQ than actual BBQ, but nothing wrong with that. We like our potato salads!
This is what we made: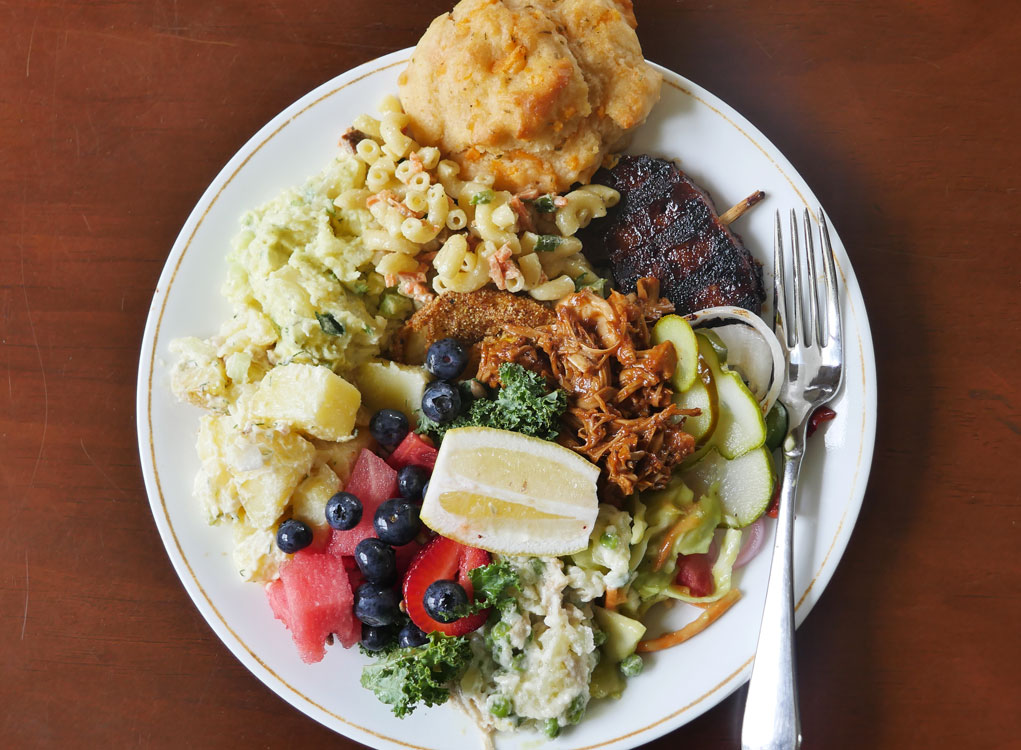 Darin: Kale and Berry Salad
Darin got his salad recipe from a vegan girl's YouTube channel that he follows. He used kale, maple syrup, lemon juice, strawberries, blueberries, and sunflower seeds with a flavorful garnish of lemon wedges.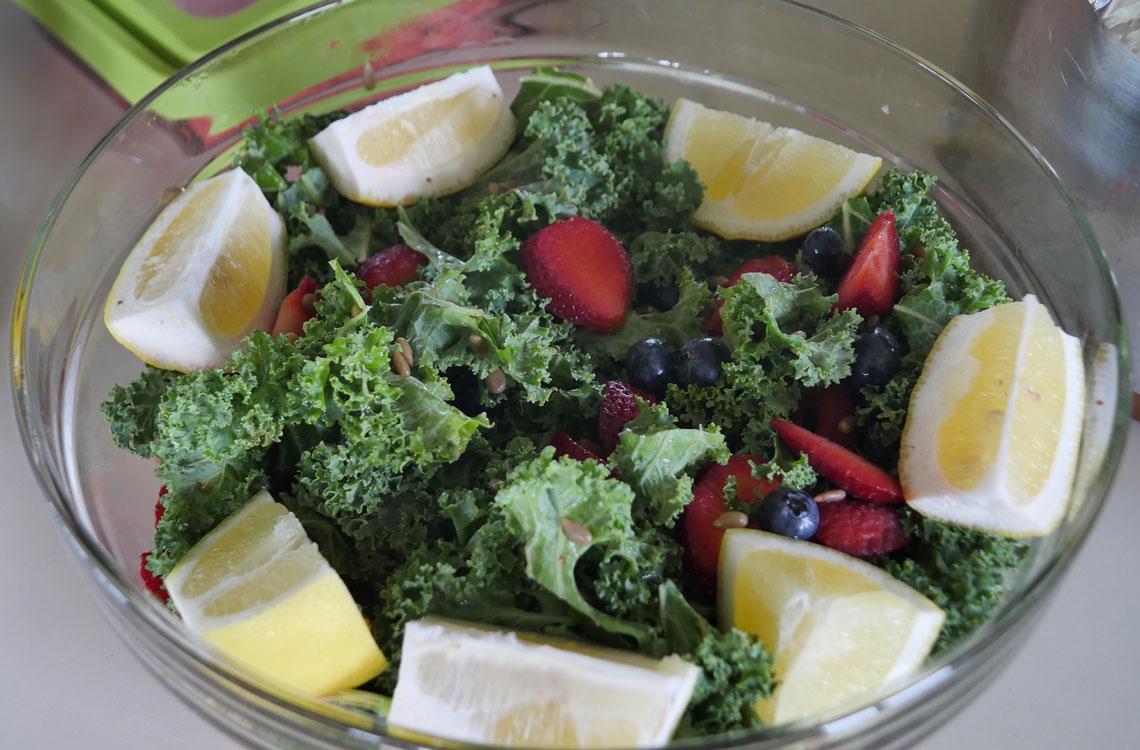 Drew: Watermelon
Drew wasn't feeling very well Saturday morning, so he opted to bring us watermelon. The interesting thing about his watermelon was that he found an Alita brand watermelon at Kroger, Alita being an old friend's family's business named for that friend's mom's maiden name. Drew, despite his ill state, did not lose any finger parts while cutting the fruit into bite-sized cubes.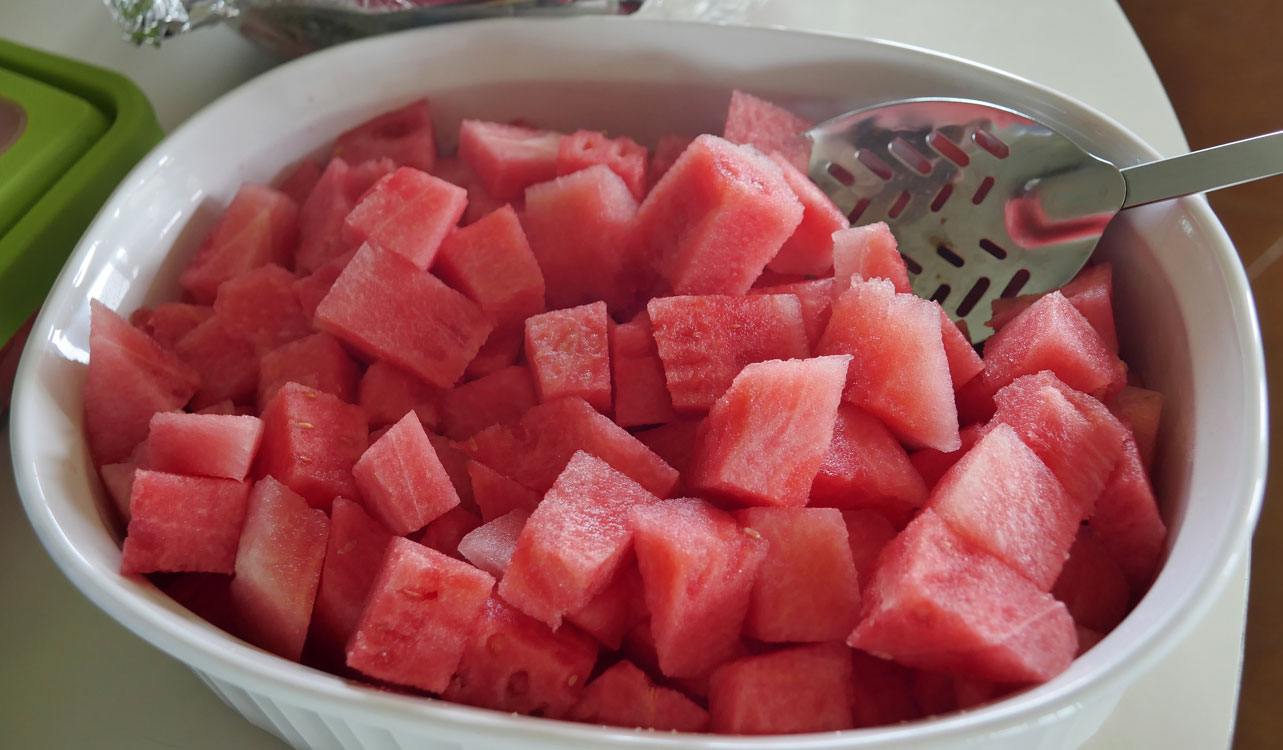 Lauren: Macaroni Salad; Deep Fried Yellow Squash
Lauren made the Brooklyn Deli Macaroni Salad from The Veganomicon. Despite many of the recipes in that cookbook being too much work and too many ingredients for her liking, the macaroni salad was an easy one to make. Following the recipe, she used Just Mayo, white vinegar, sugar, salt, and pepper for seasoning. Instead of the veggies mentioned though, she used what she had on hand: green and red bell peppers from Billy's garden, shredded carrot, and green onion.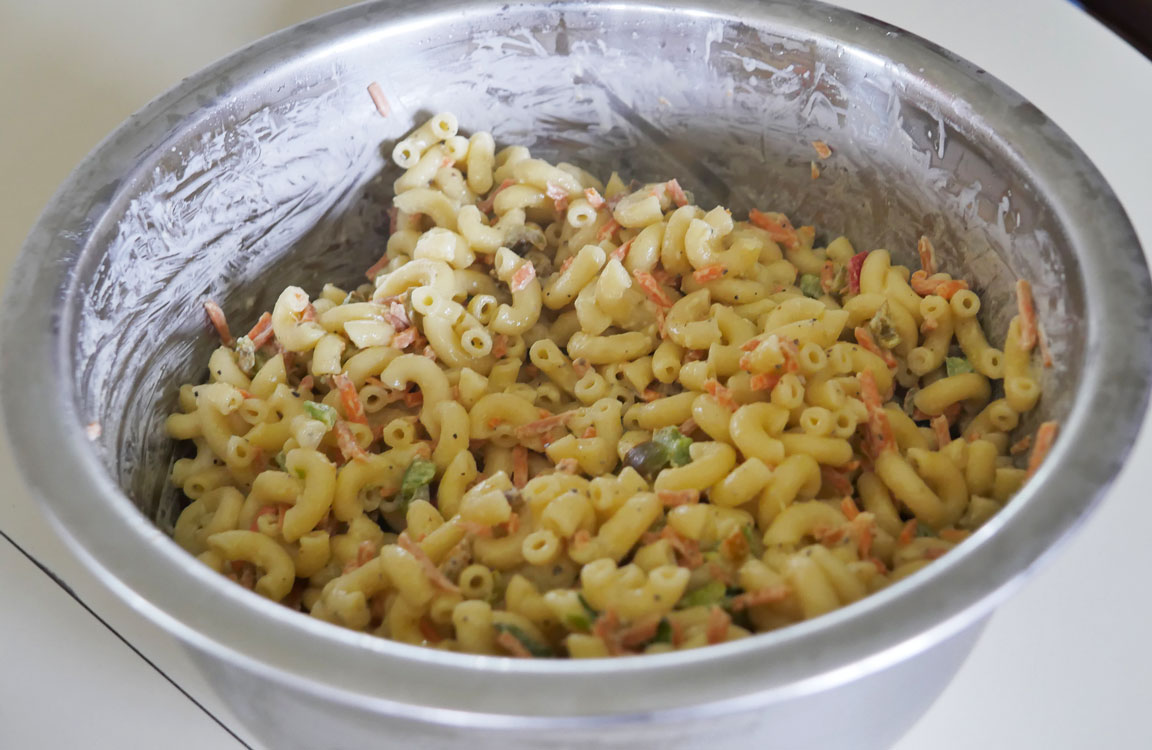 Due to copious amounts of yellow squash from the garden, Lauren also attempted to make fried yellow squash, loosely following Paula Deen's recipe. She used chili powder instead of Cajun seasoning (a lot of chili powder because she accidentally spilled it into the bowl) and a ground flaxseed soymilk mixture to replace the buttermilk and eggs favored by Paula.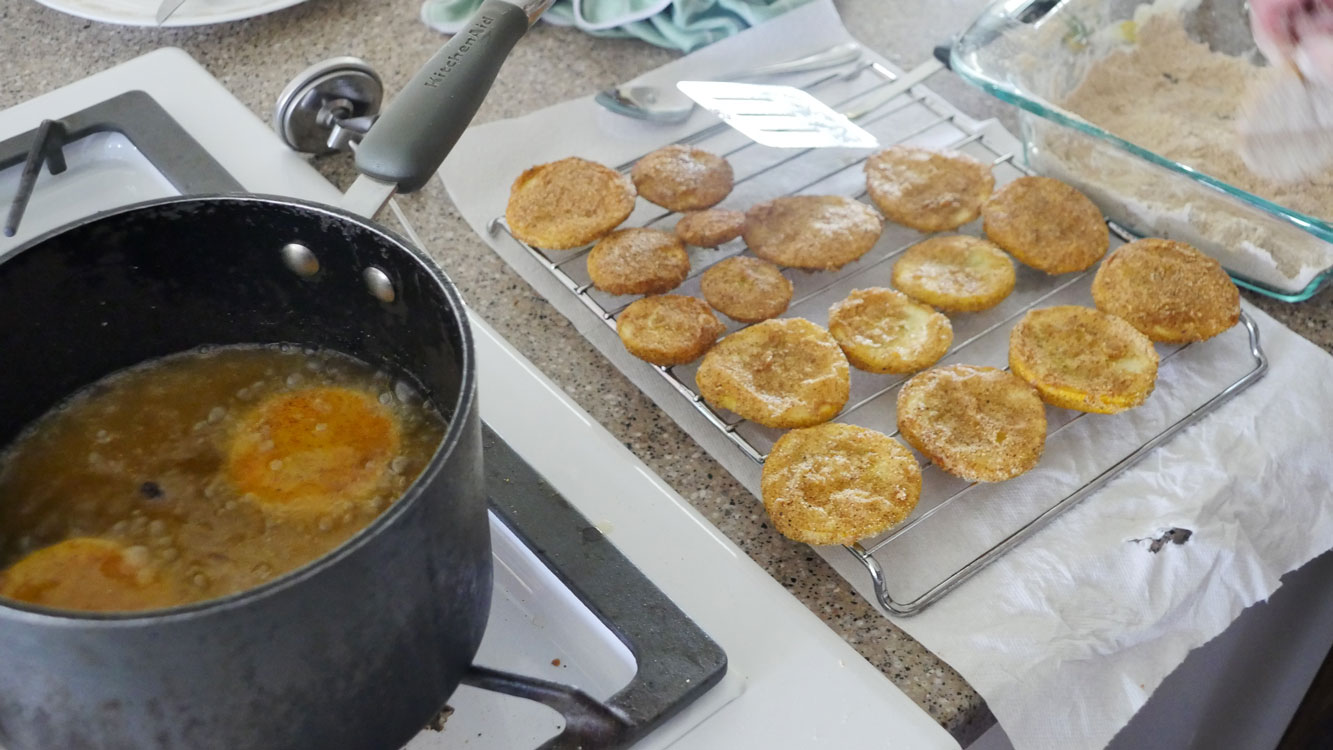 Lilly: Salad Olivier
Lilly made us a potato salad recipe that she often ate with her family as a child. She made the dish with russet potatoes, both the horseradish and regular Vegenaise varieties, frozen peas, Beyond Meat Chicken Strips, and chopped cornichons, a pickle made from tiny cucumbers (she used Zarrin Pickled Cucumbers brand). She garnished the salad with a carrot flower design in honor of her grandmother. Lilly explained that the Olivier in the name comes from the olive oil used both in the salad and drizzled on top.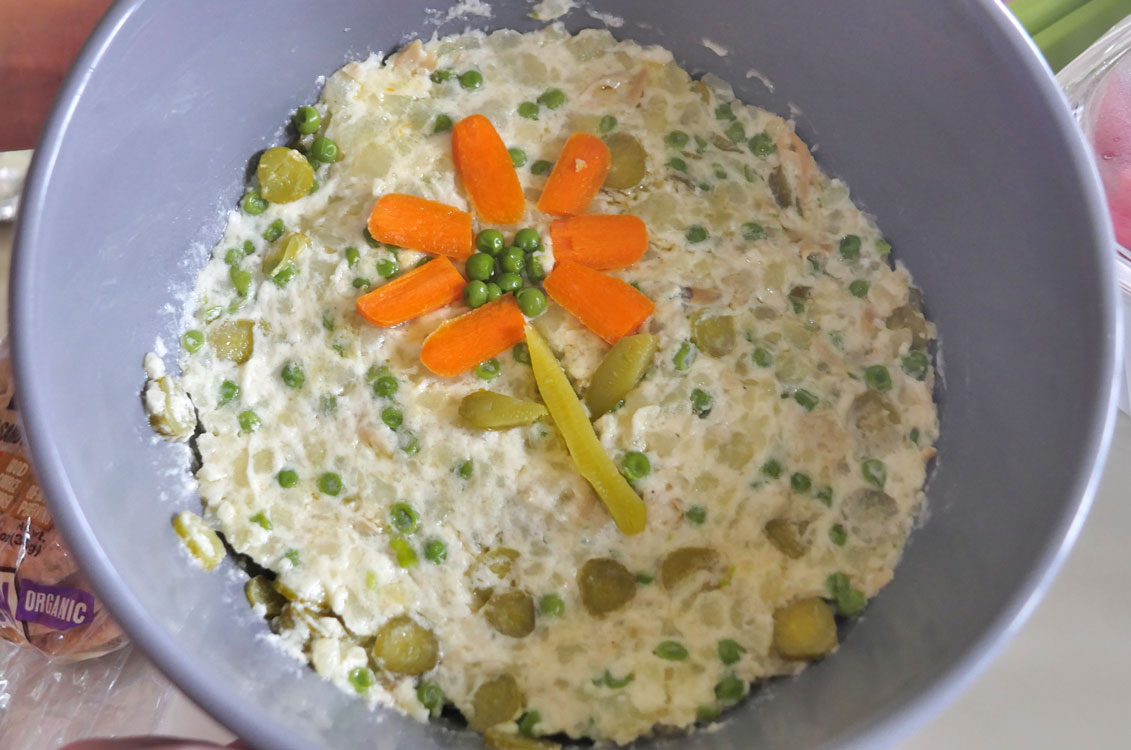 Slynn was heard saying, "I love this salad," due to its inclusion of tiny peas and tiny pickles.
Johnny: Kettato Salad
Johnny had not previously made potato salad. On his first venture, his mom tutored him on making a mustard potato salad that contained russet potatoes, mustard, celery, green onion, dill pickle, and dill.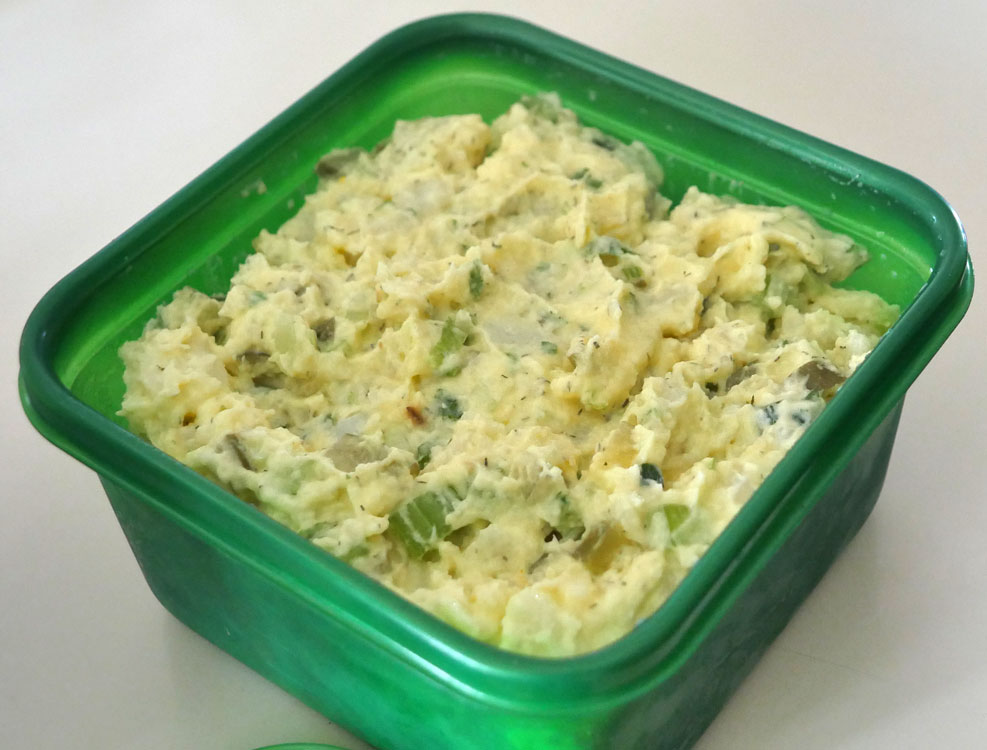 Shannon: Cheddar Bay Biscuits; Icebox Cake
Shannon made us the Bisquick package's Cheddar Bay Biscuit recipe, combining the baking mix with soymilk, vegan butter, and salt plus Follow Your Heart Cheddar shreds, melted butter, bay seasoning, and parsley.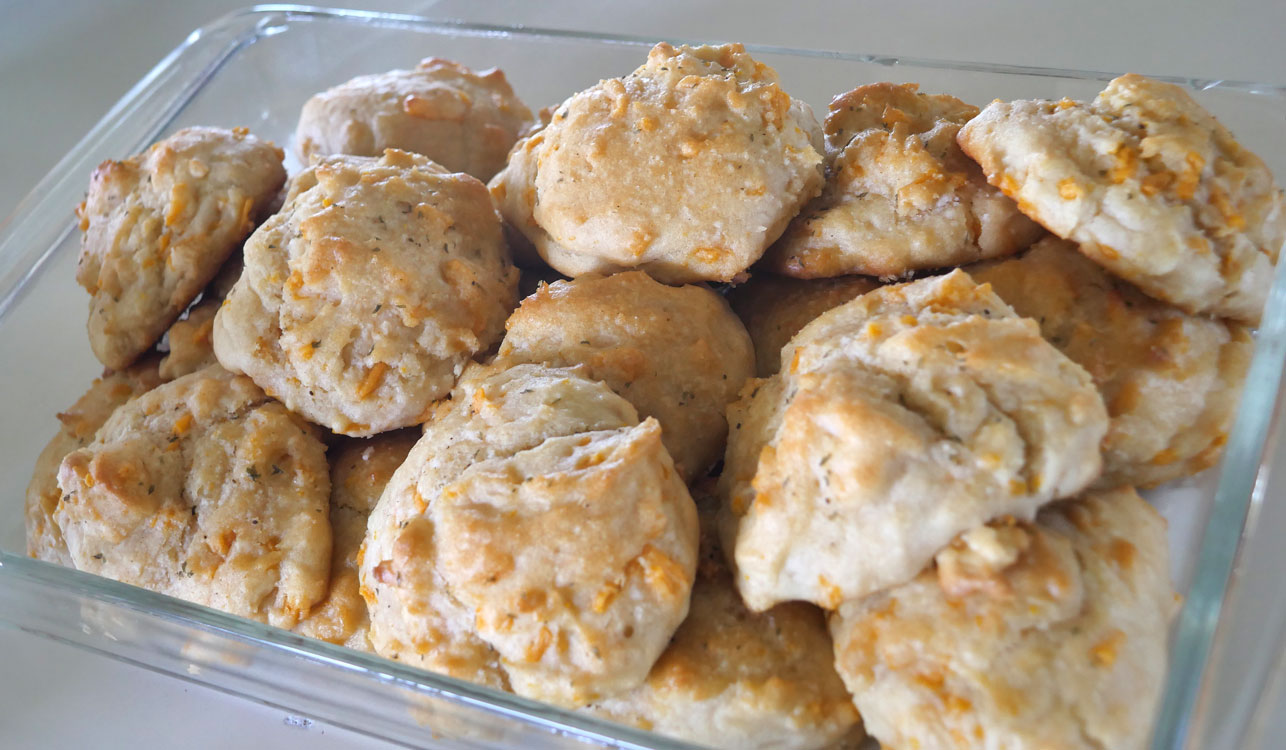 She also impressed us all by putting together an icebox cake, a dessert popular in the United States during the 1920s and 1930s, using Nabisco's Famous Chocolate Wafers. She layered the wafers beautifully with coconut whipped cream and topped the cake with shredded chocolate.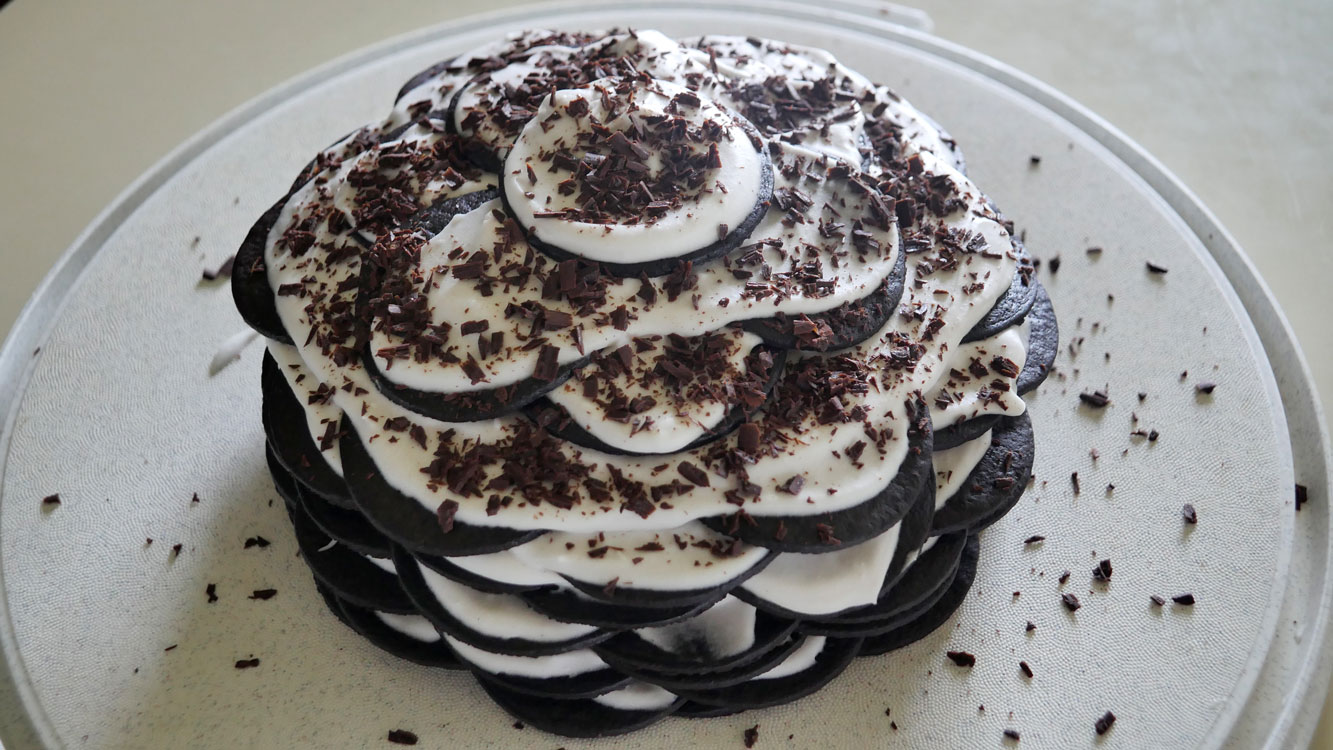 Shannon had a couple of tips for us on making this cake:
Find the chocolate wafers in the baking aisle of your grocery store, not the cookie aisle.
Sprouts brand coconut cream is a good option to produce a good thick whipped cream.
Caroline: Dill Potato Salad
Caroline used a potato salad recipe found via PETA with a fresh dill flavor highlight. The salad also contained gold Yukon potatoes, Just Mayo, Dijon mustard, red onion, and celery.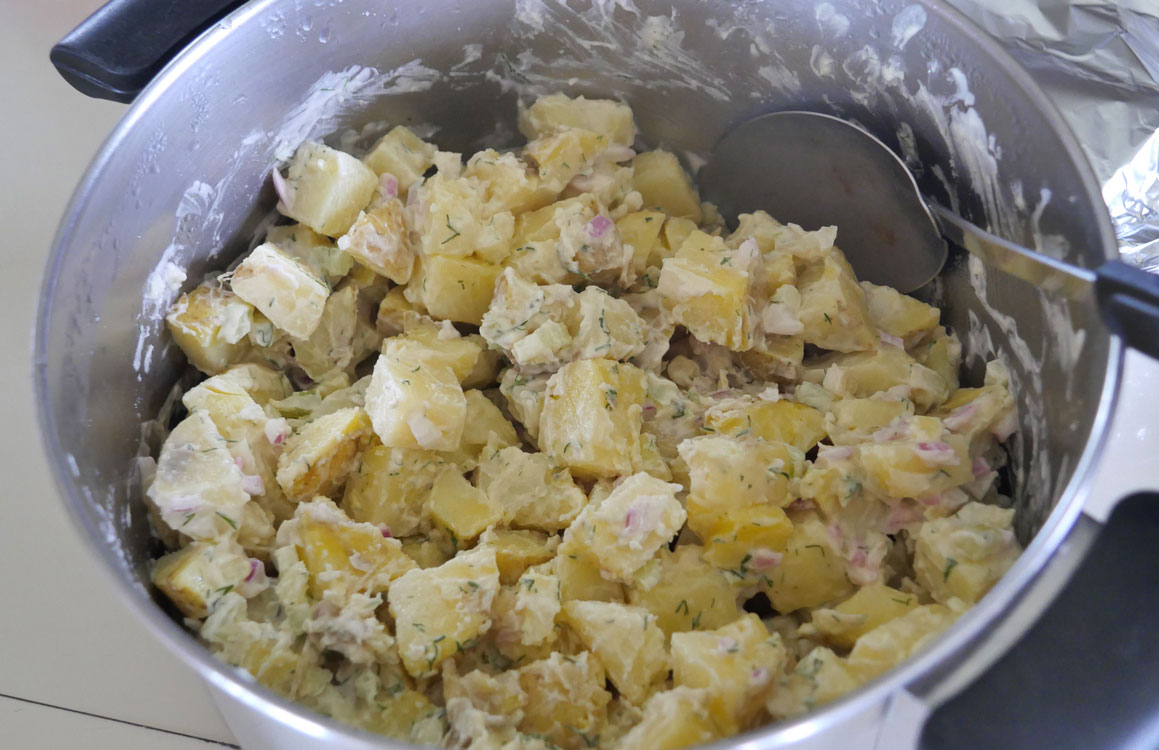 Billy: BBQ "Ribs" with Grilled and Pickled Vegetables
To make his BBQ "ribs," Billy made use of a batch of the heralded vegan bacon recipe that he slathered with barbecue sauce and slow cooked on the grill. To accompany it, he also grilled home grown bell peppers and onion.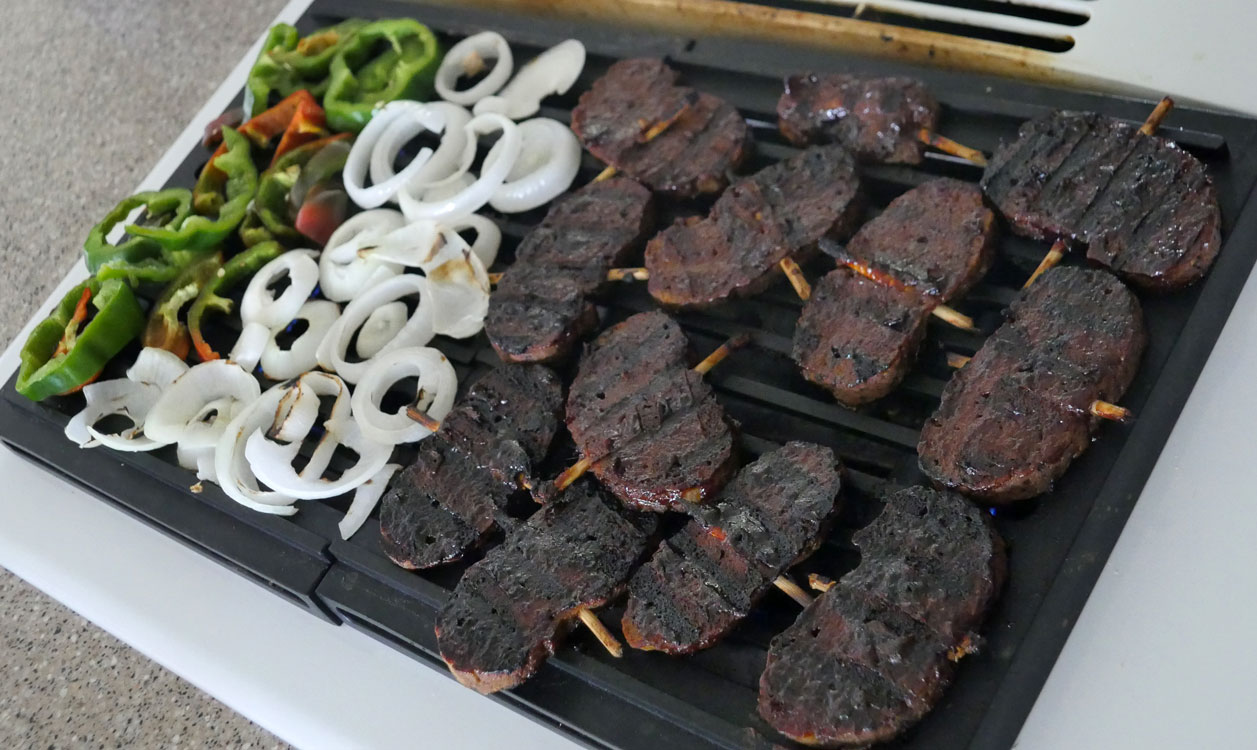 As a final addition, he served homegrown/homemade pickled onions and cucumbers too.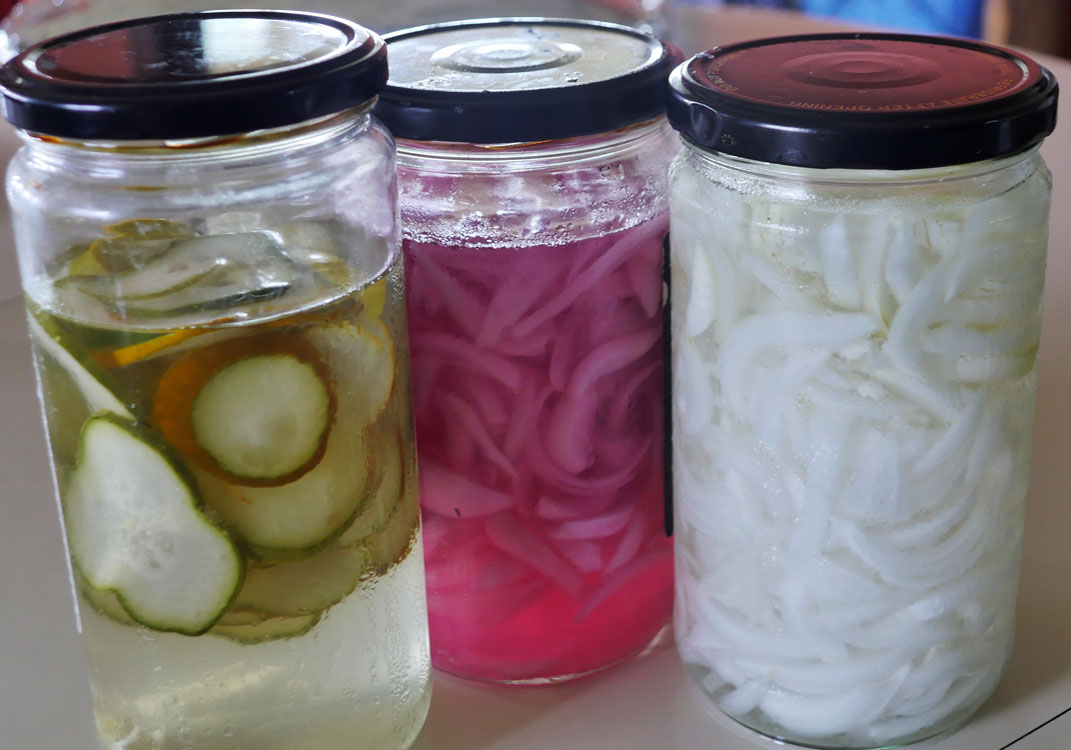 Slynn: BBQ Jackfruit with Avocado Slaw
Very much on theme, Slynn made the Minimalist Baker's BBQ jackfruit with avocado slaw. To make the BBQ, she used three cans of jackfruit from Natural Grocers cooked on the stove with barbecue sauce and an additional blend of BBQ spices.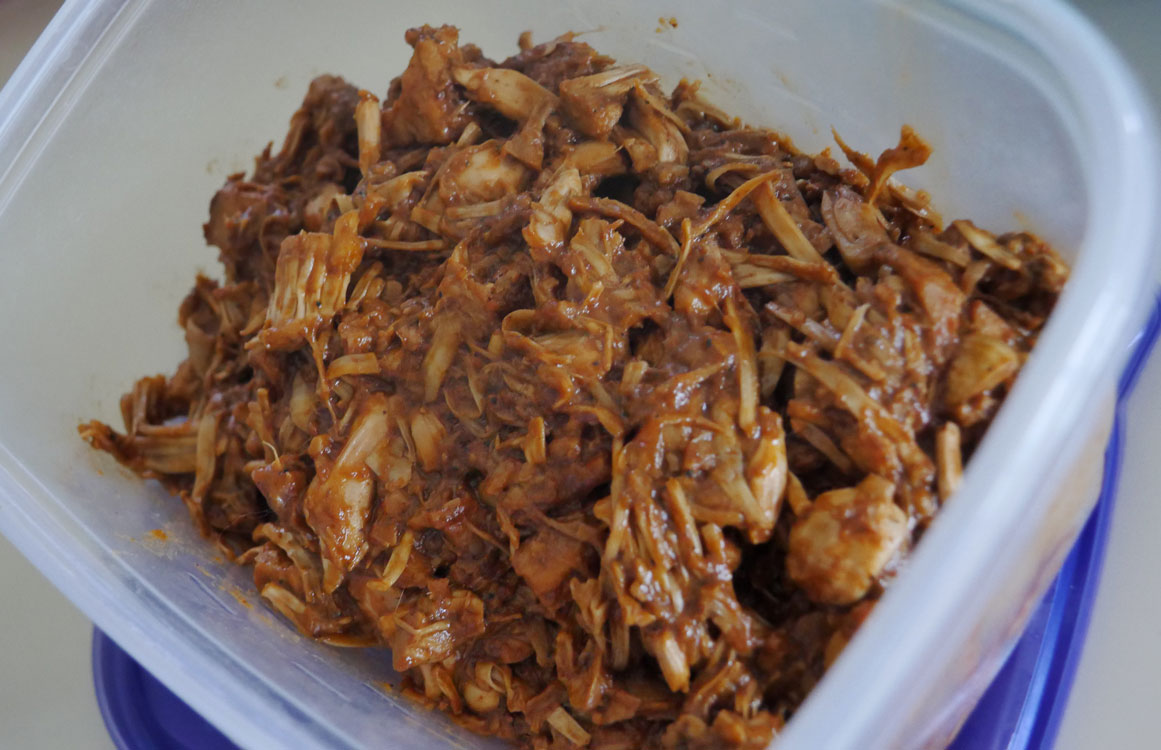 The slaw was a fresh complement to the BBQ, made with a shredded cabbage/carrot blend, avocado, lime juice, agave, salt, and pepper.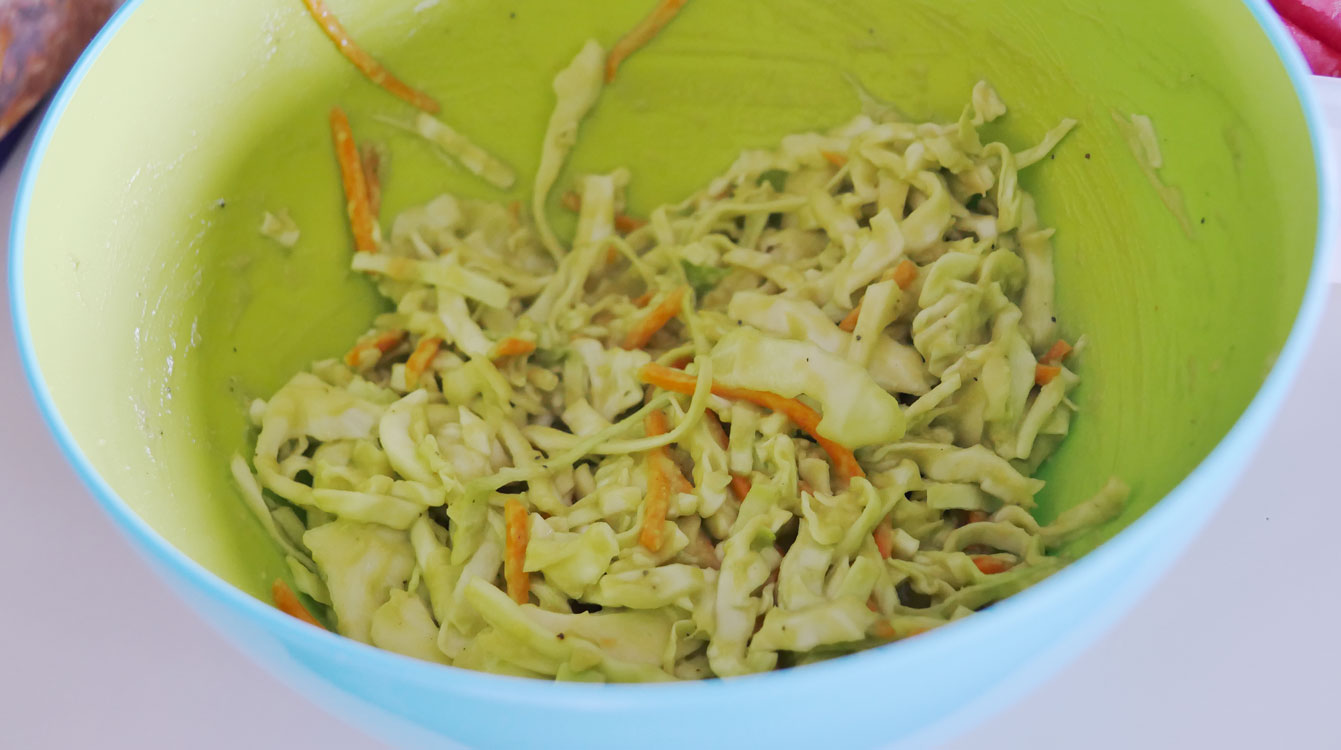 In conclusion: