June 11, 2023 – Rolls, Wraps, and Stacks
Sunday, June 11, 2023
VBC Meeting #124: Rolls, Wraps, and Stacks
Hosts of the month: Lauren and Billy
Location: Ponder, TX
For June, Minji came up with the theme of Rolls, Wraps, and Stacks. Unlike most months, this time everyone integrated the theme into what they brought to the table.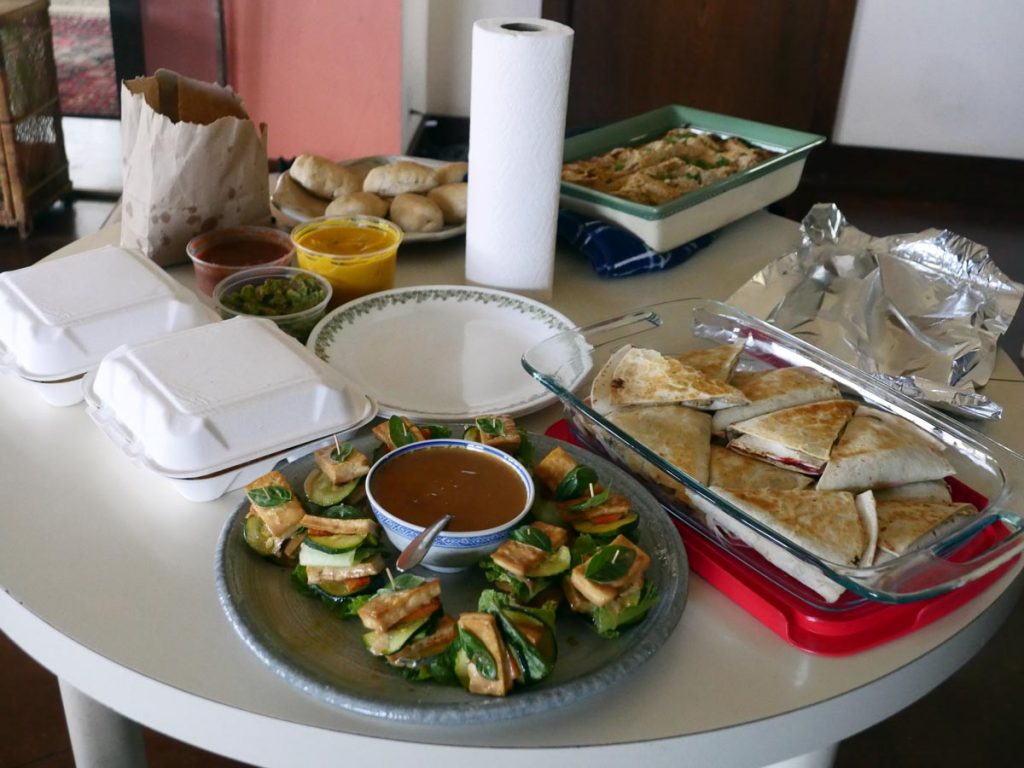 This is what we made: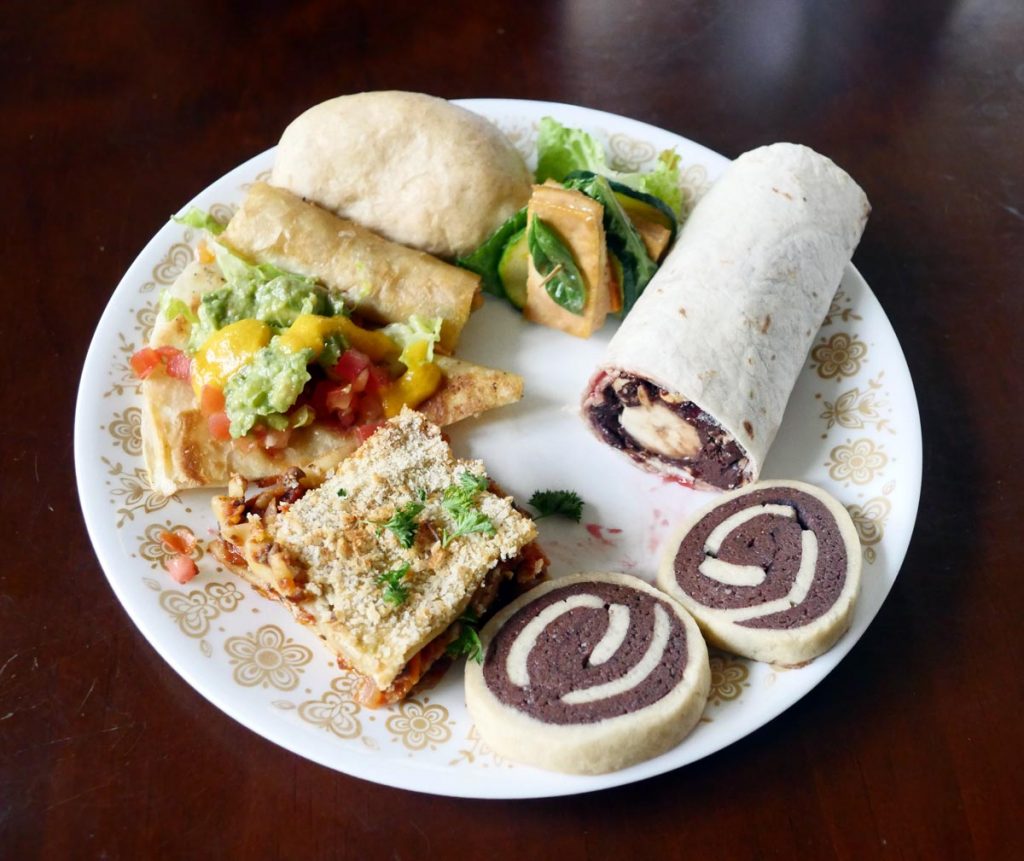 Lauren: Tofu Satay Stack
Lauren cooked tofu slices on the griddle then tossed them in a Thai Peanut Sauce she made with peanut butter, soy sauce, lime juice, rice vinegar, maple syrup, sesame oil, powdered garlic and ginger, onion powder, black pepper, and water.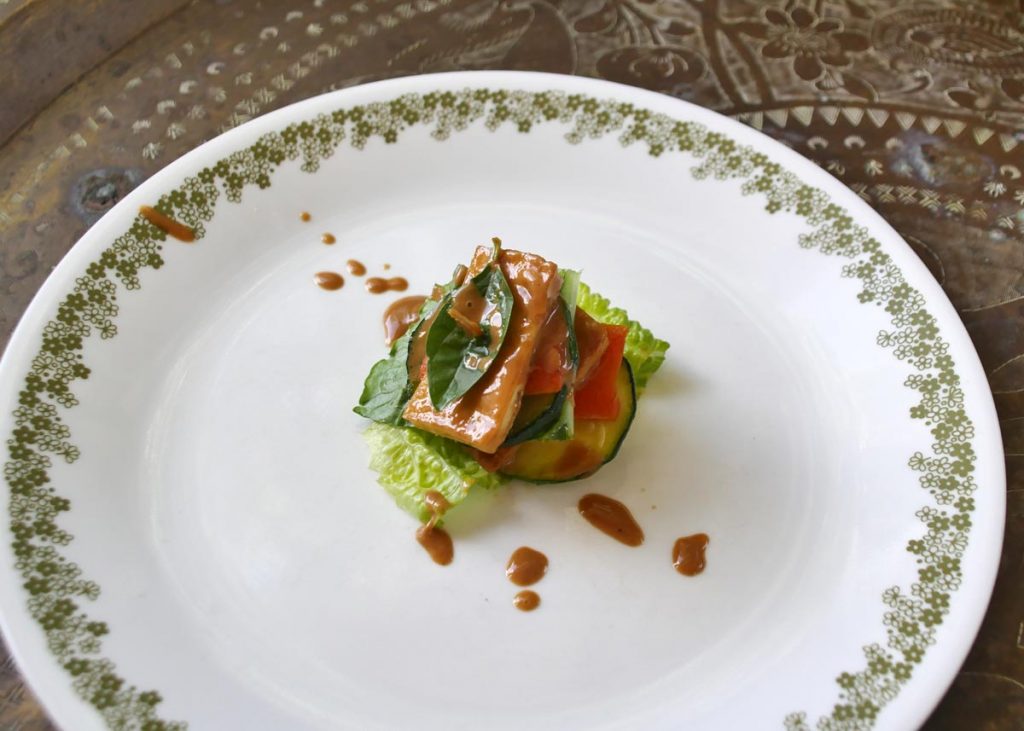 She stacked the tofu on toothpicks intermixed with stir-fried/steamed zucchini (homegrown by Billy), and carrot slices, romaine lettuce, and Billy's fresh basil leaves.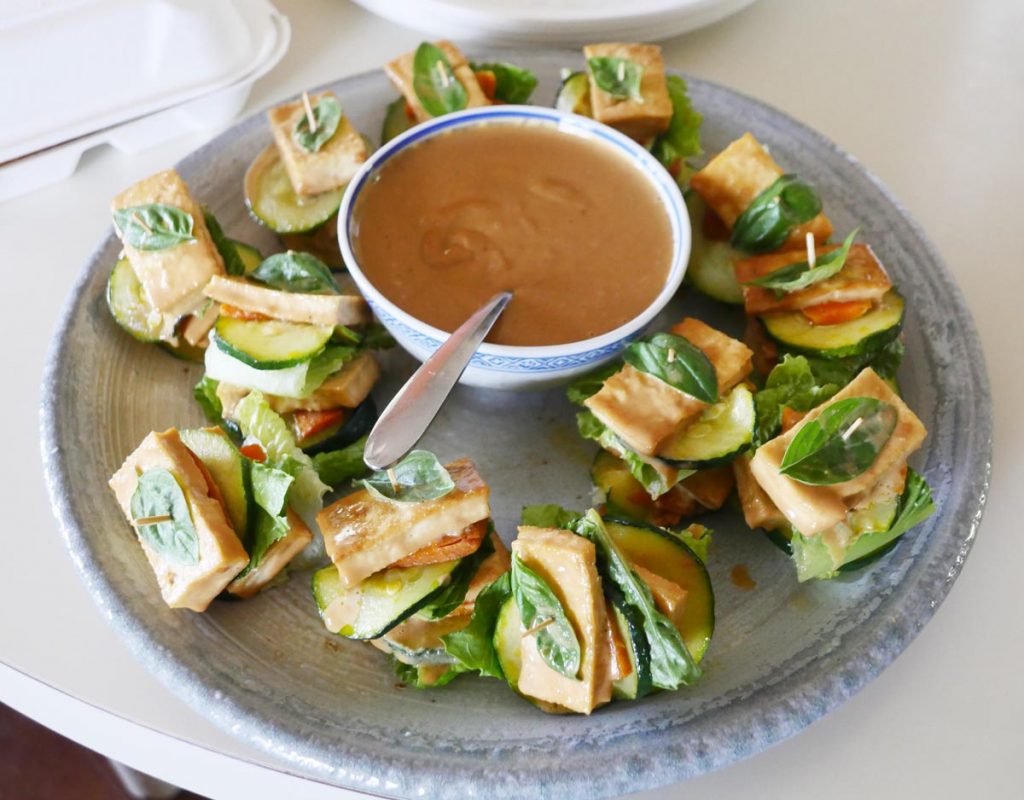 Mehgann and Drew: Pepitas' The Sampler
Mehgann and Drew had a busy week, so they picked up savory vegan treats from Pepitas including "chicken flautas", veggie quesadillas, soy al pastor quesadillas, queso, guacamole, salsa, and chips.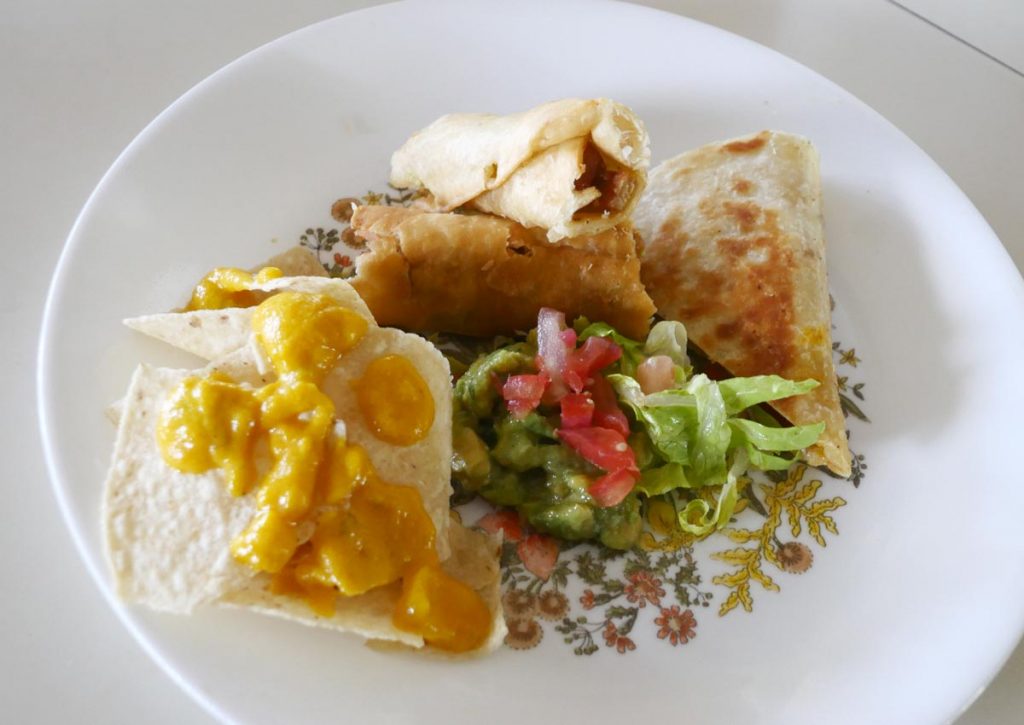 Kori: Sweet Tortilla Wraps
Kori made sweet tortilla wraps on large flour tortillas with toppings added in quarters. In each quadrant she put one of: peanut butter she had ground at Winco, vegan chocolate chunks, sliced banana, and sliced strawberries. She made one slit on each tortilla from middle to end which allowed folding the peanut butter quadrant onto strawberries, then that onto chocolate chips, then further onto the banana zone. She pan-fried the folded treats in coconut oil for about 4-5 minutes three at a time.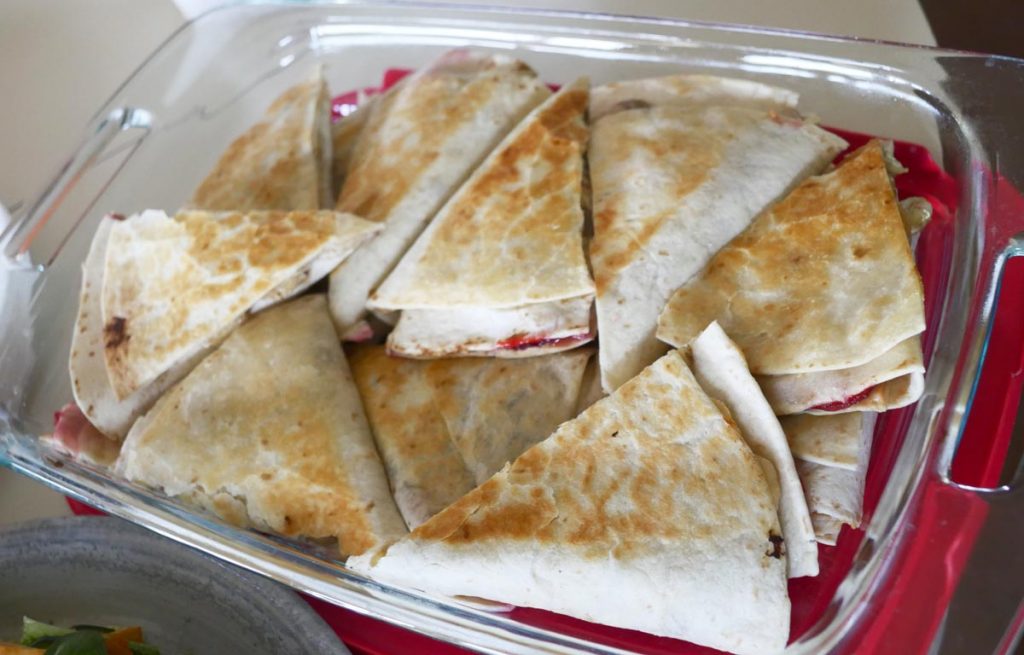 Slynn and Neva: Vanilla Chocolate Pinwheels
For their vanilla and chocolate pinwheels, Slynn veganized a non-vegan pinwheel cookie recipe with Earth Balance sticks and egg replacer. She and Neva made a vanilla dough and a chocolate dough which they chilled. They then rolled each dough out separately, layered them, and rolled them into a log. After slicing the dough into cookie shaped pieces, they baked them to achieve a neat spiral design.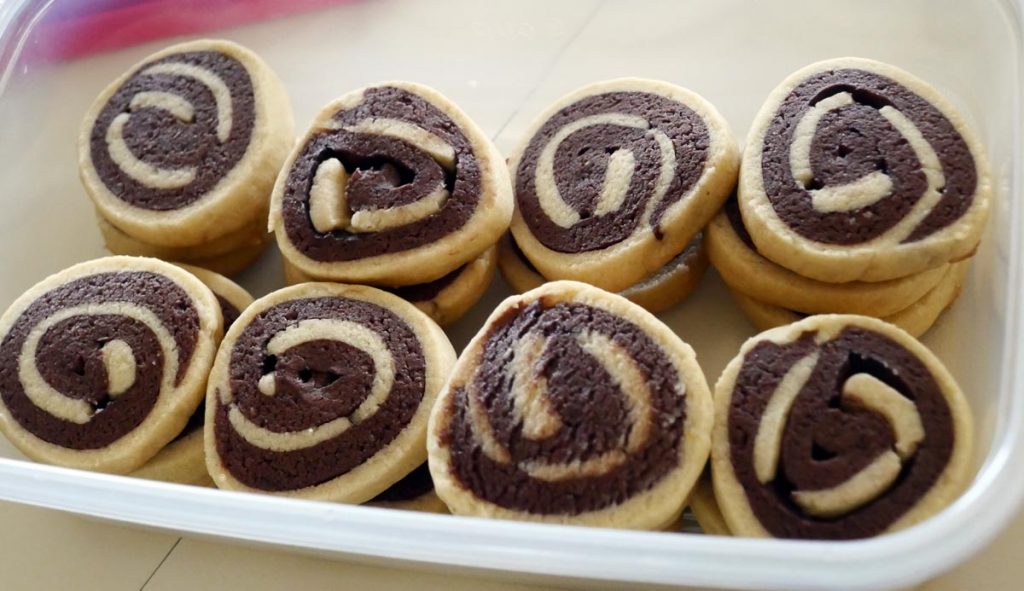 Ric: Banana Split Rollups
Ric started the banana split rollups by dipping bananas in melted vegan chocolate chips and rolling them in roughly chopped salted peanuts. Once coated, he put the bananas in the refrigerator to harden the chocolate. He warmed up tortillas, put strawberry jam on each, then wrapped them around the chocolate covered bananas.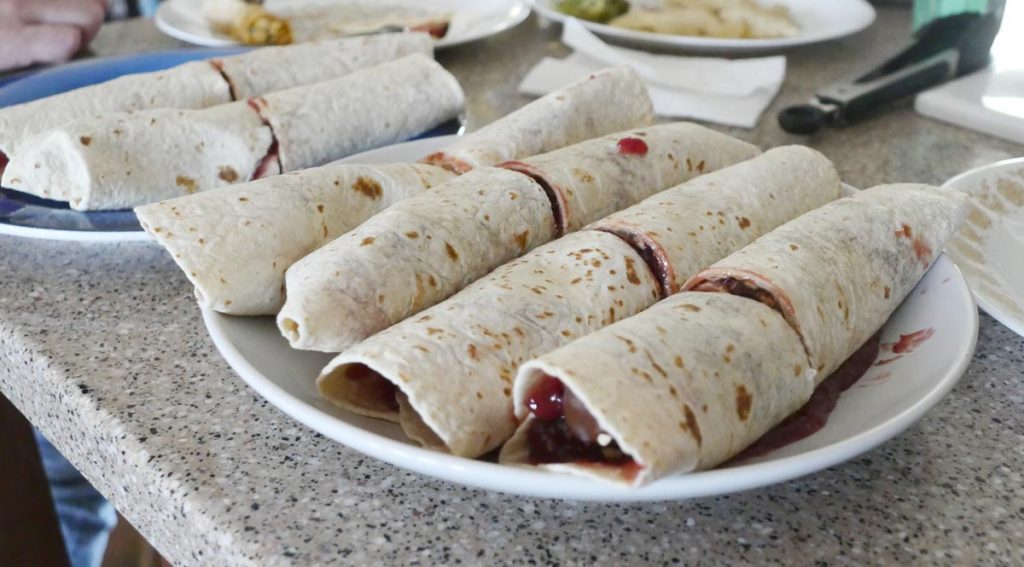 Minji: Lasagna
Minji made the red sauce of her lasagna with onion, carrot, garlic, tomato paste, sage, thyme, crushed tomatoes, balsamic vinegar, and miso paste. Separately, she fried thyme, white mushrooms, and blue king oyster mushrooms in oil until crisp then added green lentils and veggie stock. She made a bechamel sauce with silken tofu, oat milk, cashews, nutritional yeast, red miso paste, Dijon mustard, salt, and pepper. She layered the tomato sauce, lasagna noodles, and bechamel, then did that again. She sprinkled the top with parsley and breadcrumbs.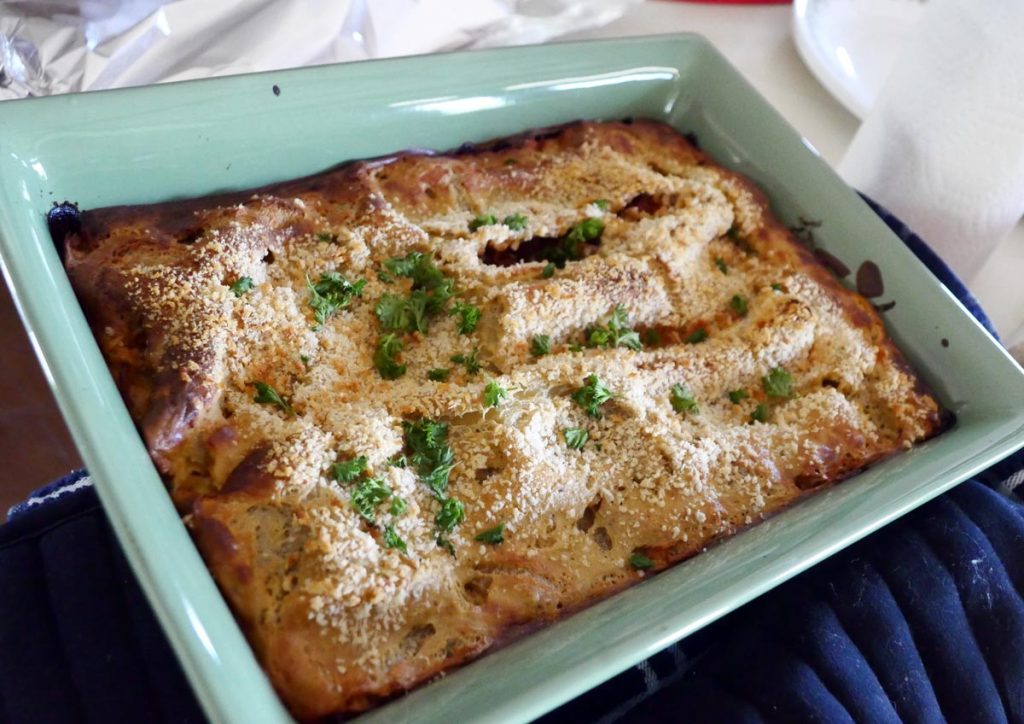 Billy: Vegan Sausage Rolls
Billy made sausage rolls with a double batch of dough based on the Garlic Rolls recipe from Kris Holechek's The 100 Best Vegan Baking Recipes, but leaving out the garlic and using a blend of 3 cups all-purpose flour, 2 cups bread flour, and 1 cup whole wheat flour.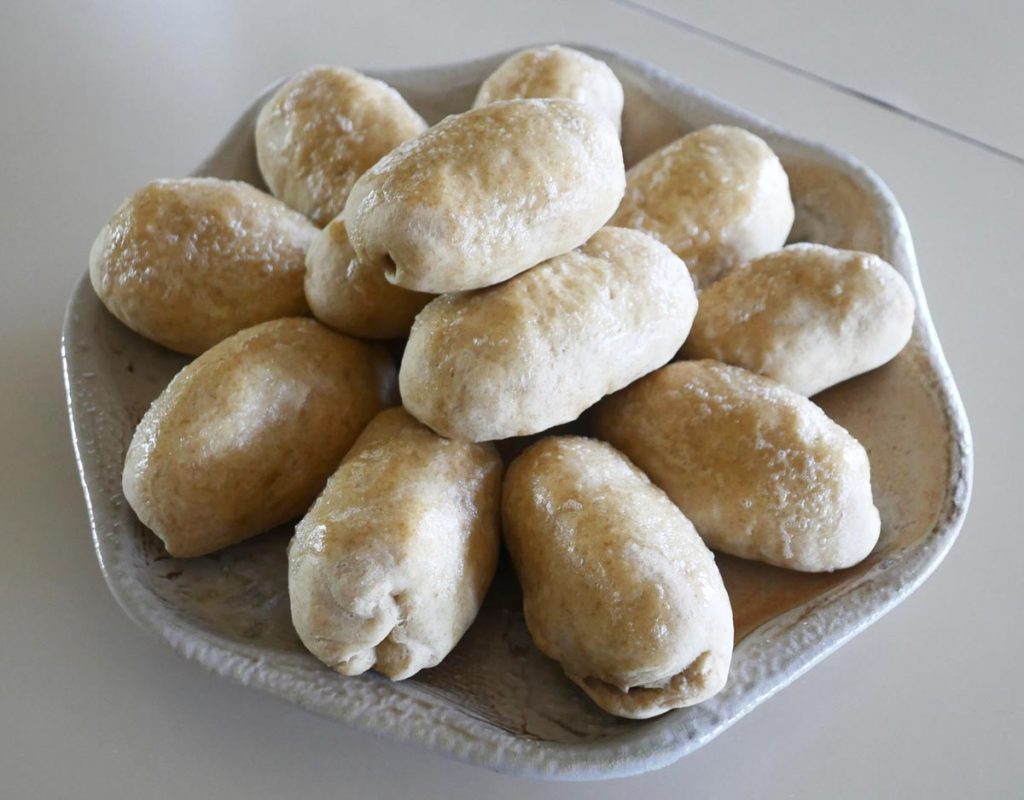 After allowing the yeast-based dough to rise, he wrapped it around Gimme lean sausage links that he had formed and pre-cooked in a pan and vegan cheddar-style shreds. For extra flavor, he rubbed the rolls with a stick of vegan butter when they came out of the oven.