July 25, 2021 – Garden Fresh
Sunday, July 25, 2021
VBC Meeting #101: Garden Fresh
Host of the Month: Drew
Location: Denton and the Internet
For July, the theme was Garden Fresh, inviting those with a green thumb to use something they grew as an ingredient! For those who always kill their garden plants, they could steal something from a neighbor's garden, get some stuff from a farmer's market (or the grocery store produce section, scouring the labels for the most locally grown produce to use), and whip up something tasty. But really, as always, as long as it was vegan, it worked for us!
This is what we made (in the words of those who made it):
Lauren: Garden Thai Curry
For the July Vegan Bake Club meeting I made Garden Thai Curry! Since I rely on Billy for my home grown goods, I made use of a variety of his produce here: butternut squash, Swiss chard, onion, and basil.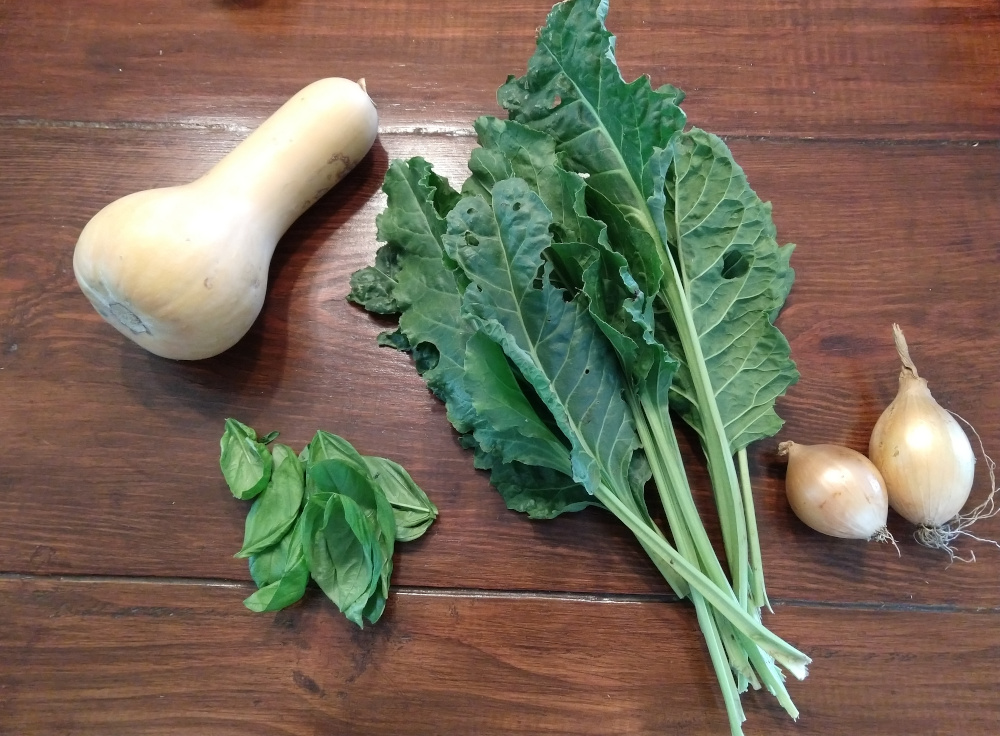 This went into the curry with cubes of tofu, coconut milk, Thai Kitchen Red Curry Paste, vegetarian oyster sauce, brown sugar (lil bit), fresh ginger, and lime juice. Thank you for sharing your veggies, Billy! (and fruits because I just read yesterday that butternut squash is actually a fruit). Also, Freddy ate an entire juvenile one off of the vine yesterday morning. Oh my!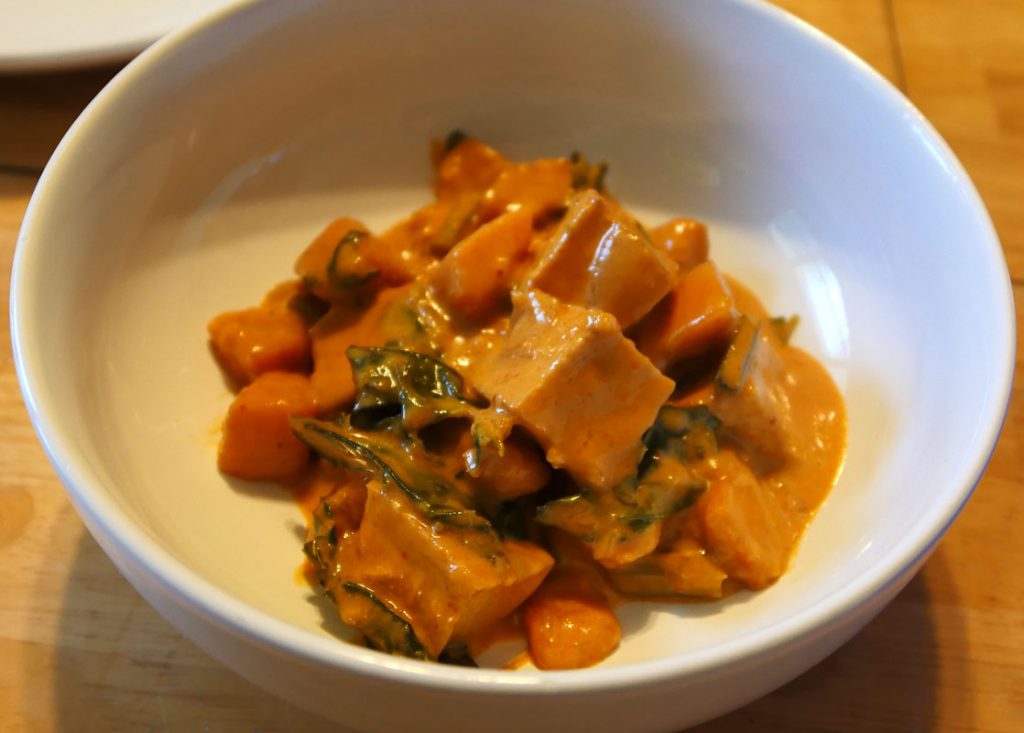 Billy: Gaspacho
I made gaspacho by food processing homegrown tomato, cucumber, onion, jalapeño, basil, homemade wine (from homegrown grapes), lemon juice (not home made or grown), pepper and salt.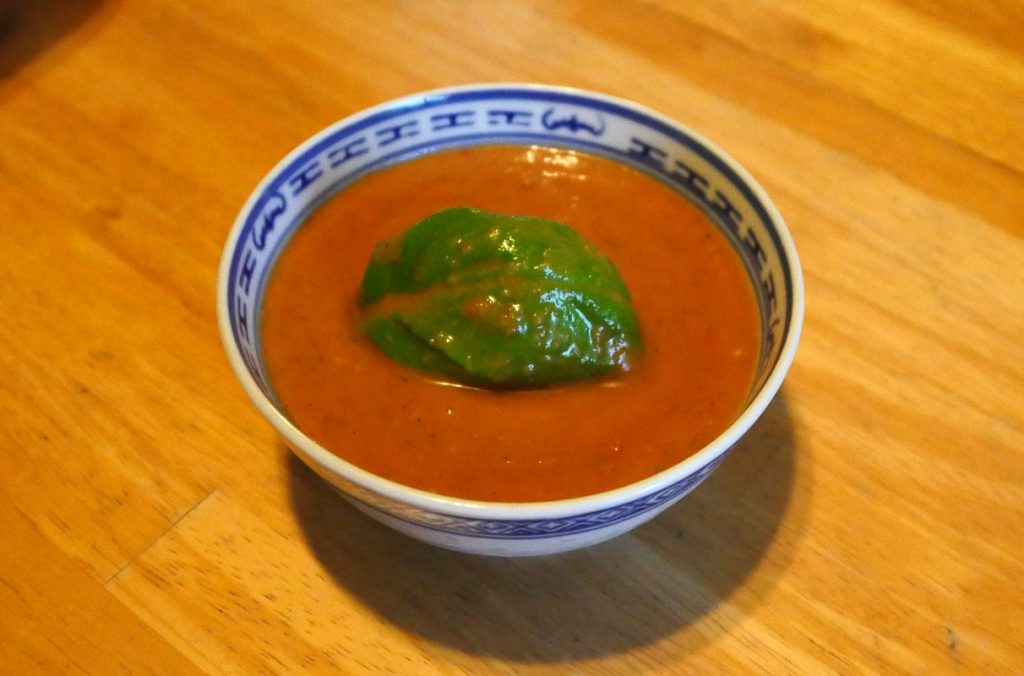 Drew: Quinoa Butternut Squash Salad
I made a quinoa butternut squash salad. The butternut squash grew out of my dad's compost pile, and the onions were grown by Billy! I mostly followed this recipe, but used spinach instead of kale and added fresh blueberries. The dressing was just orange juice and cinnamon which left a bit to be desired, so for the leftovers I made a vinaigrette, and it was much better.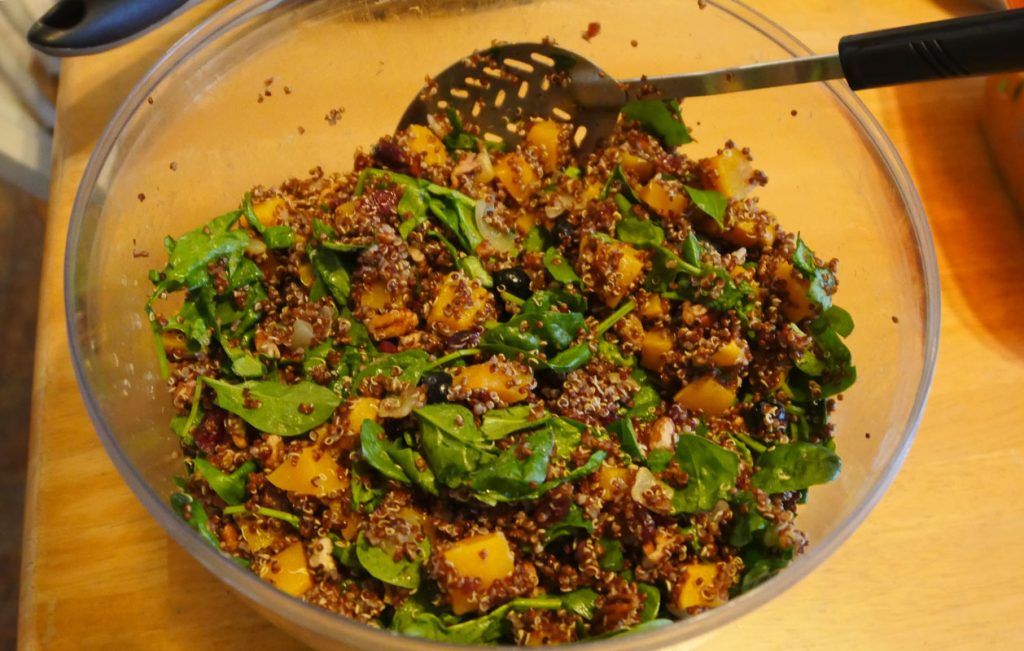 Slynn: Gazpacho
I made this Giada de Laurentis Cherry Tomato and Chile Gazpacho with cherry tomato, jalapeño, and cucumber from our garden.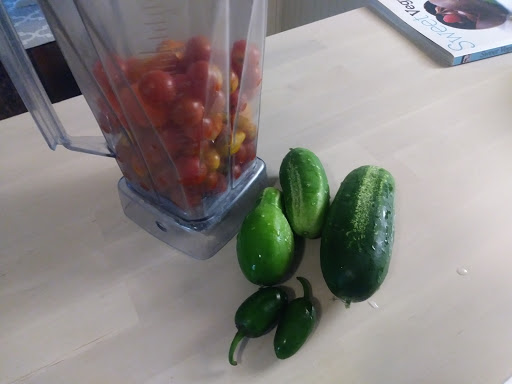 No polenta crouton, but that would have been good!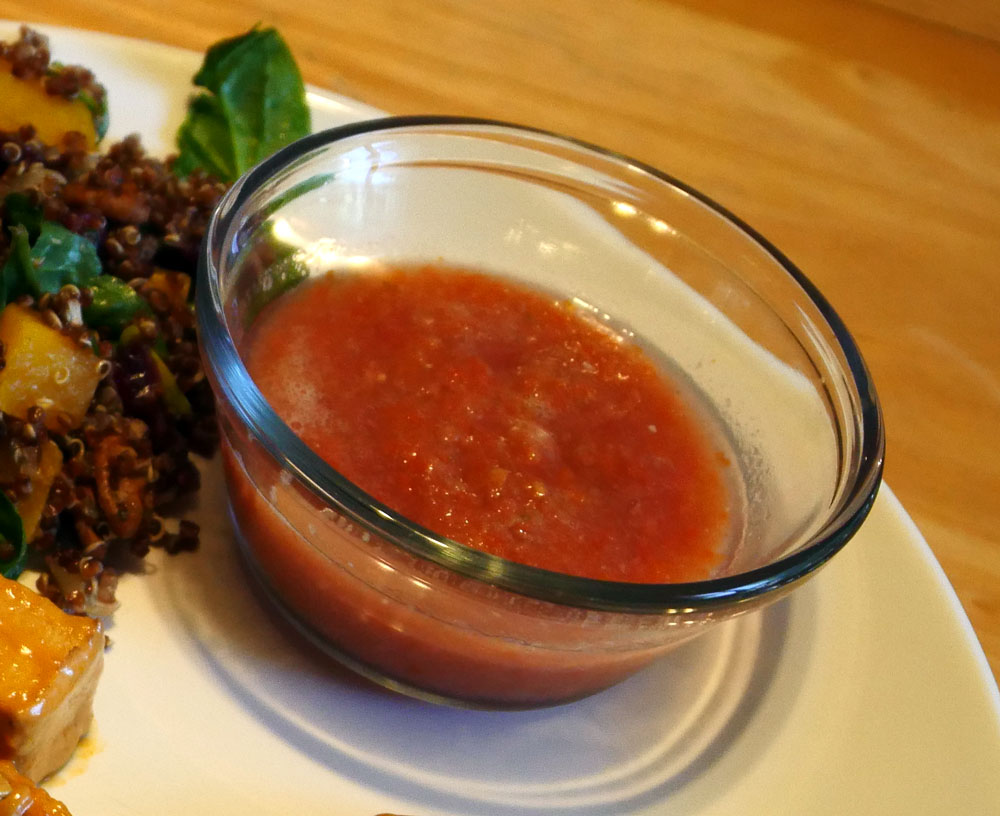 Neva and Slynn: Peach Biscuits
Neva and I made these peach biscuits featuring peaches we picked at Gemini Rose and Peach Farm here in Denton. The recipe is from my 2nd favorite vegan baking book, Sweet Vegan, by Emily Maniquest.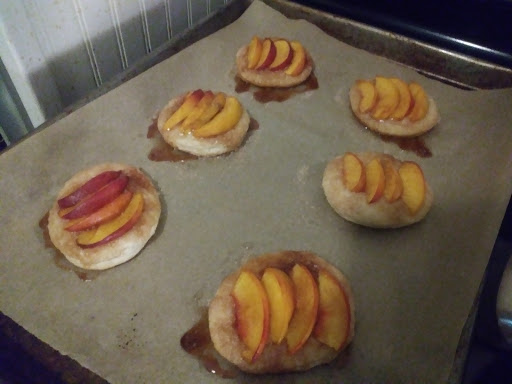 They had a cinnamon sugar sprinkle, peach slices, and apricot preserves on top of biscuit dough.