July 24, 2016 – Cool Foods
Sunday, July 24th, 2016
VBC Meeting #41: Cool Foods
Host of the Month: John
Location: Denton, TX
This is what we made: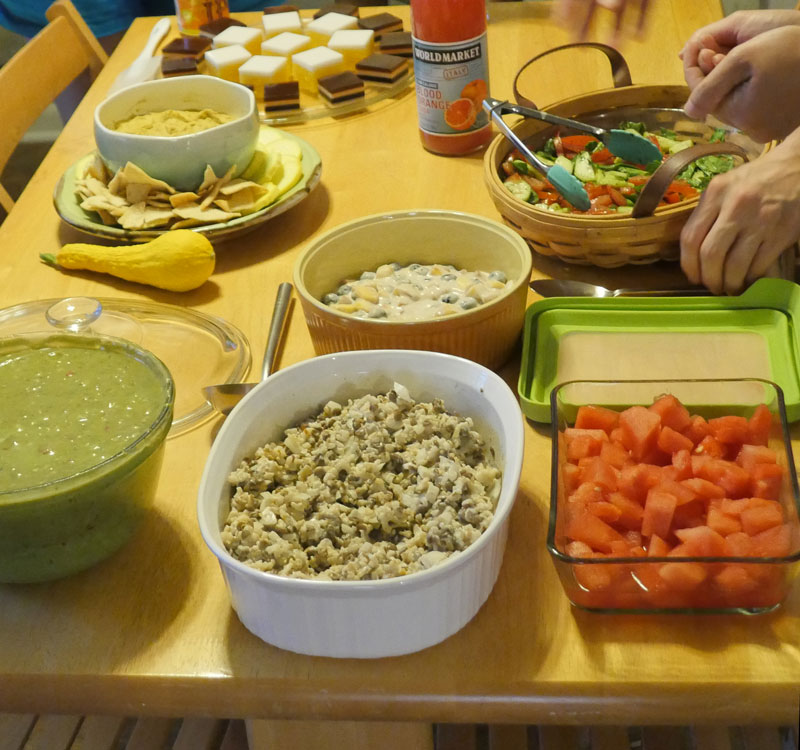 Caroline: Lentil Salad; Vodka Watermelon
Caroline put together lentils, onions, rice, Vegenaise, apple cider vinegar, lemon, and herbs for a salad recipe that came from an Our Hen House podcast.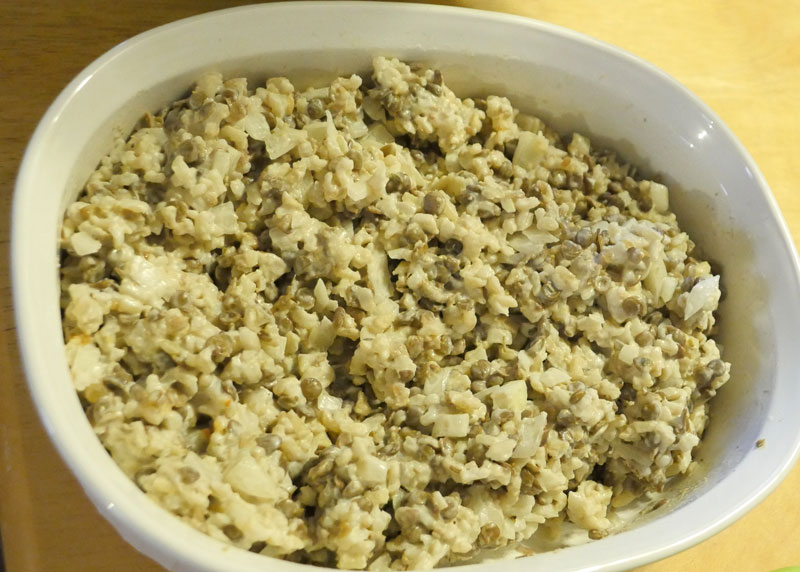 She and Drew also chopped up a watermelon and poured the last of a bottle of vodka over it.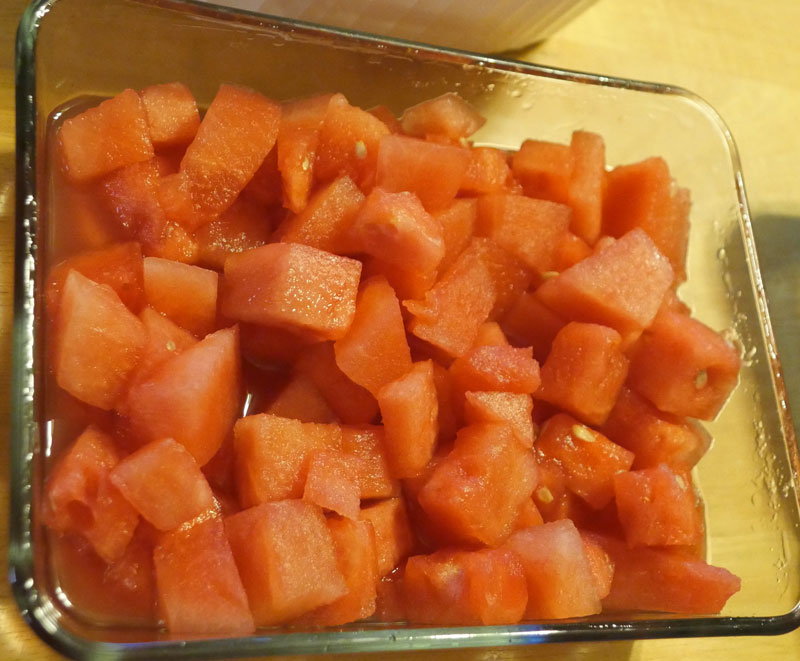 Drew: Avocado Radish Basil Soup
Drew pureed avocado, radish, and basil in a blender with water, salt, and pepper for a simple refreshing soup.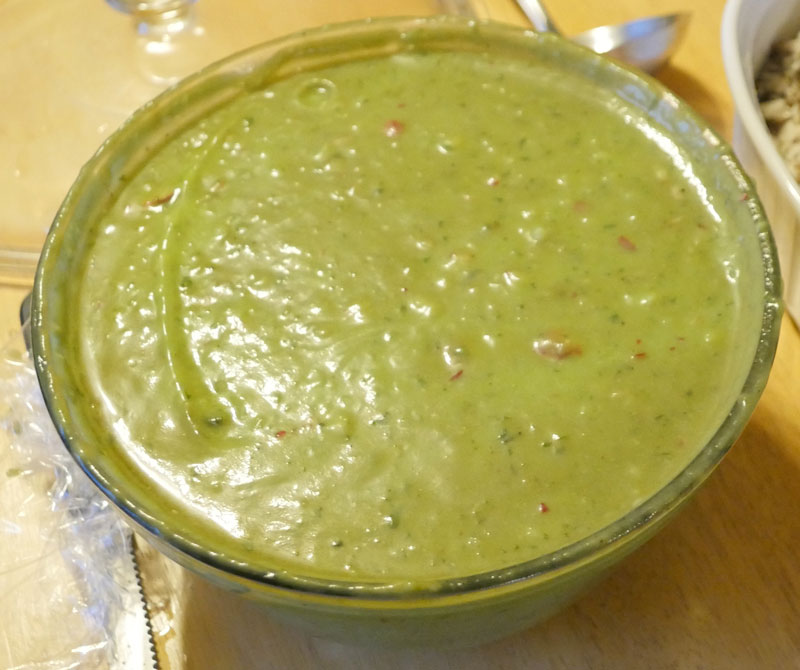 Lilly: Lemon Mint Salad
Lilly dressed cucumber, tomatoes, and spinach in a concoction of lemon, dried mint, olive oil, and salt.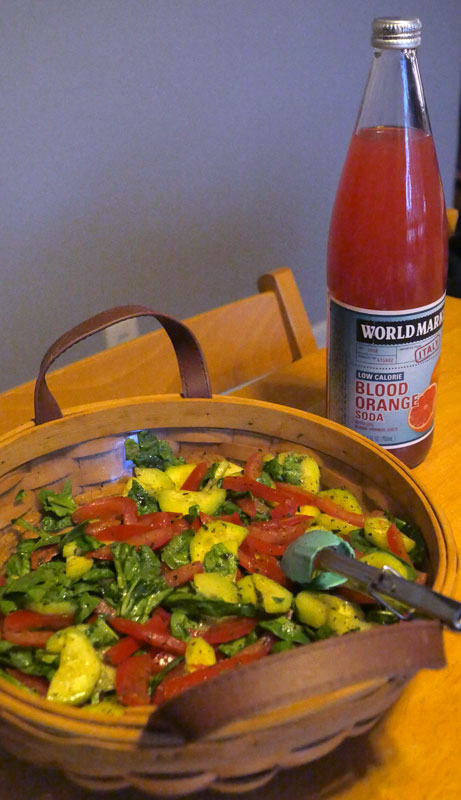 John: Mango Coconut Jelly Squares; Coffee Coconut Jelly Squares
John used the Thai Hot Kitchen's mango coconut jelly recipe for the mango coconut flavor. He blended up some frozen mango, orange juice, and lime juice and put in some chopped mango to add a complementary texture to the agar agar jelly smoothness. He put a layer of coconut milk agar on top. He was going to make some jellies with coconut water and some with pandan extract (pandan leaves are often used as a flavoring in Southeast-Asian cuisine) but didn't like the taste, so he went with coffee coconut for his second flavor. He made super strong coffee, added the sugar and agar agar, and carefully evenly layered it with a coconut milk, sugar, agar agar blend.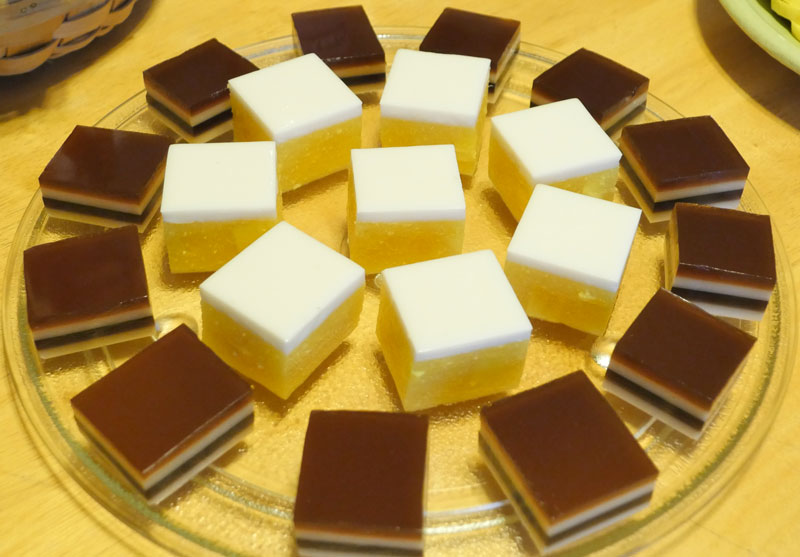 Slynn: Mint Chocolate Chip Ice Cream; Ambrosia; Golden Milk Ice Cream
In an adaptation of a Veganomicon recipe, Slynn made mint chocolate chip ice cream with coconut cream, almond milk, tofu, sugar, peppermint and vanilla extracts, and Enjoy Life brand chocolate chips. We didn't get a great picture, but here you can see it melting on a plate with a piece of chocolate silk pie.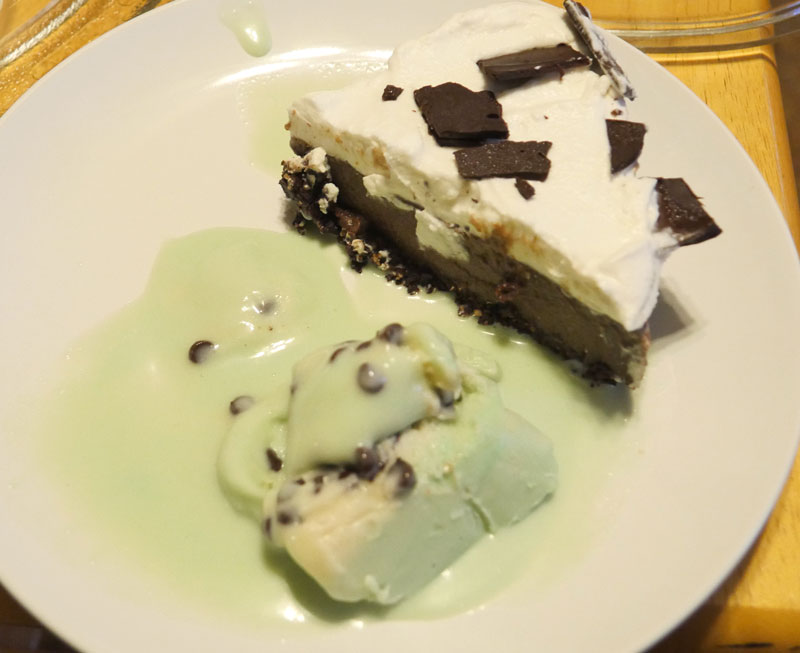 She also made ambrosia by blending the leftover coconut cream with cinnamon and sugar then combining it with blueberries and peaches. She made this in case we persecuted her for making ice cream that was too runny. Of course we would never!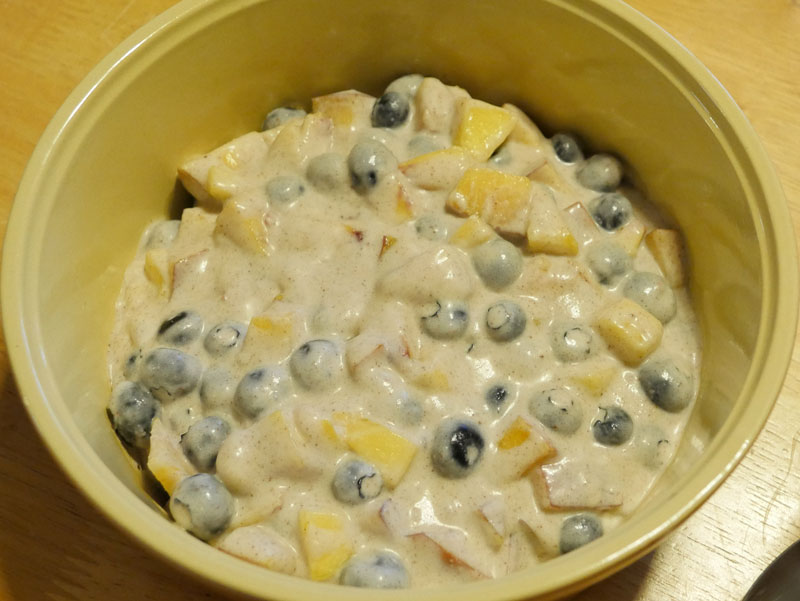 She also brought some Minimalist Baker's Golden Milk Ice Cream that she had made for a previous occasion. Ingredients included coconut milk, turmeric, cardamom, ginger, and cinnamon in a flavor inspired by the tastes of India.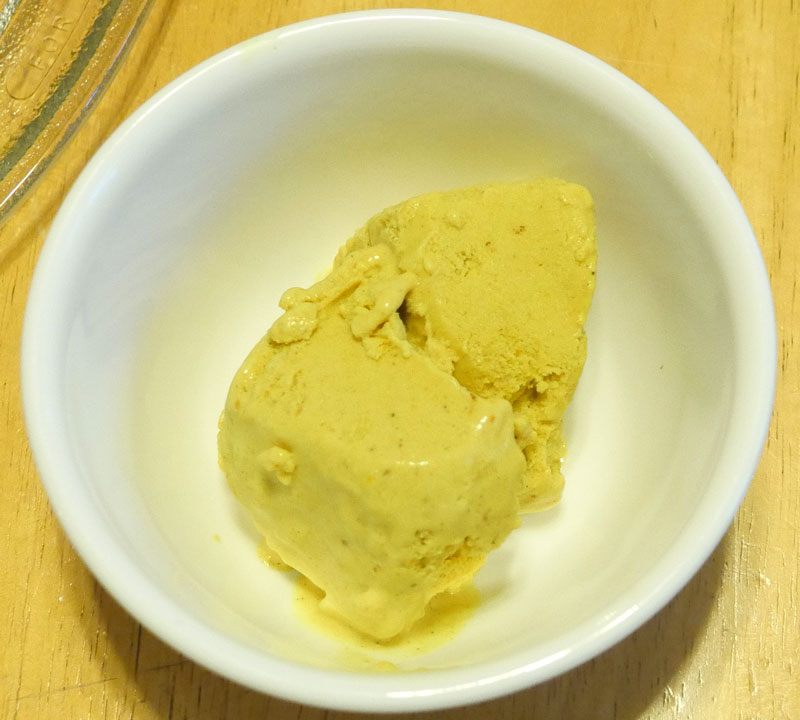 Billy: Roasted Jalapeño Hummus
For his hummus, Billy roasted some of his home-grown mild jalapeño peppers then ground them down in a food processor with chickpeas, olive oil, approximately one tablespoon of peanut butter, smoked paprika, liquid smoke, garlic powder, and salt. He also grew the yellow squash he served with the dip, but he did not grow the pita chips.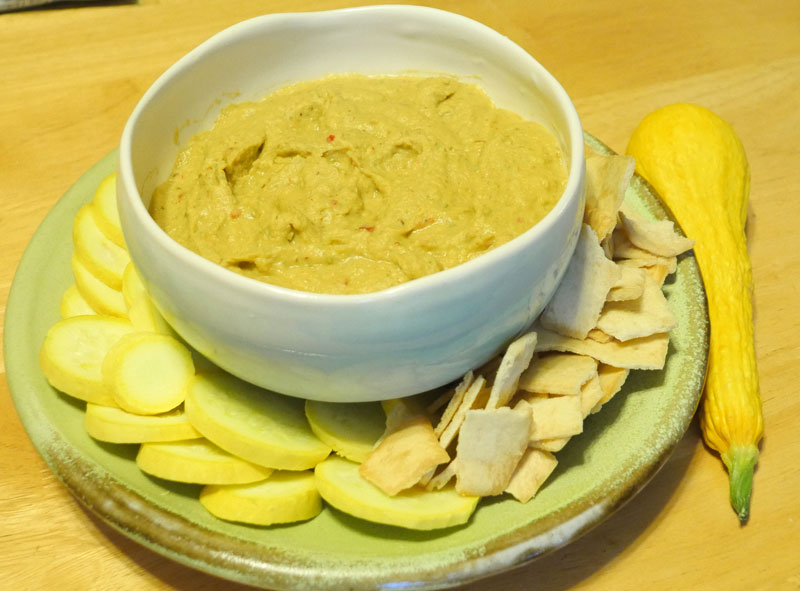 Lauren: Chocolate Silk Pudding Pie
For the filling of the chocolate silk pie, Lauren used the chocolate pudding recipe from the Silk website with cocoa powder, sugar, almond milk, corn starch, margarine, and vanilla, but added agar agar power to help it set for pie formation. She poured the filling into a crust made with dates, pecans, and cocoa powder. She made coconut whipped cream with coconut cream, powdered sugar, and vanilla for the top layer and decorated it with shards of dark chocolate.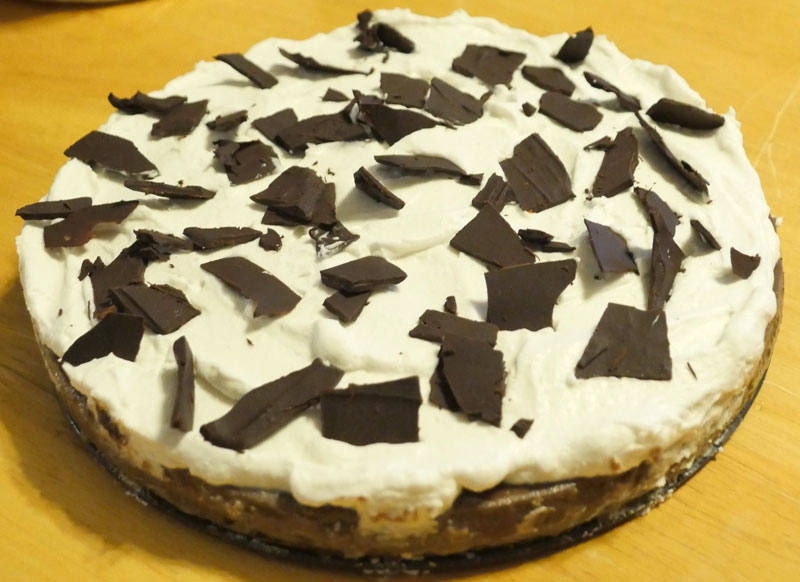 Here you can see some, but not all, of the dishes served at the meeting.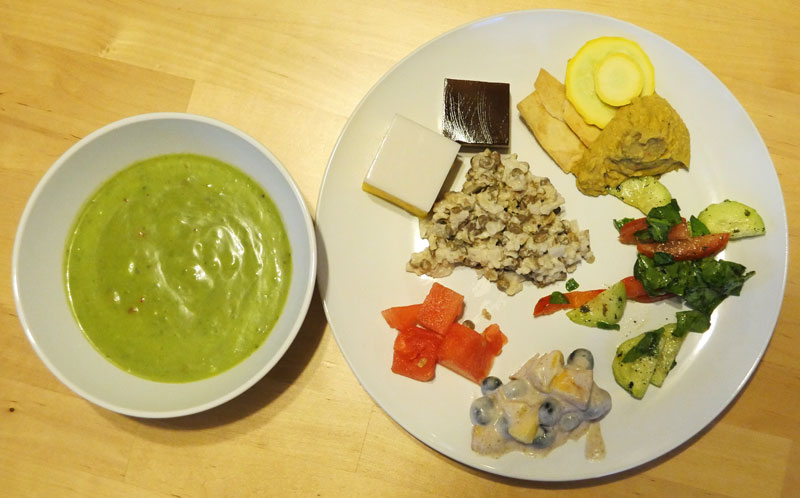 We also watched this Lady Sisters video that Lilly came across while doing some dance move research.