July 22nd, 2017 – 'merica
Saturday, July 22nd, 2017
VBC Meeting #53: 'merica
Host of the Month: Caroline and Drew
Location: Denton, TX
When we were planning the July Vegan Bake Club meeting, it was before the Fourth of July holiday. Someone suggested 'merica! for a theme, and it stuck even though we didn't get together until weeks after Independence Day. It wasn't a big deal though because we celebrated the Americas beyond just the United States.
This is what we made: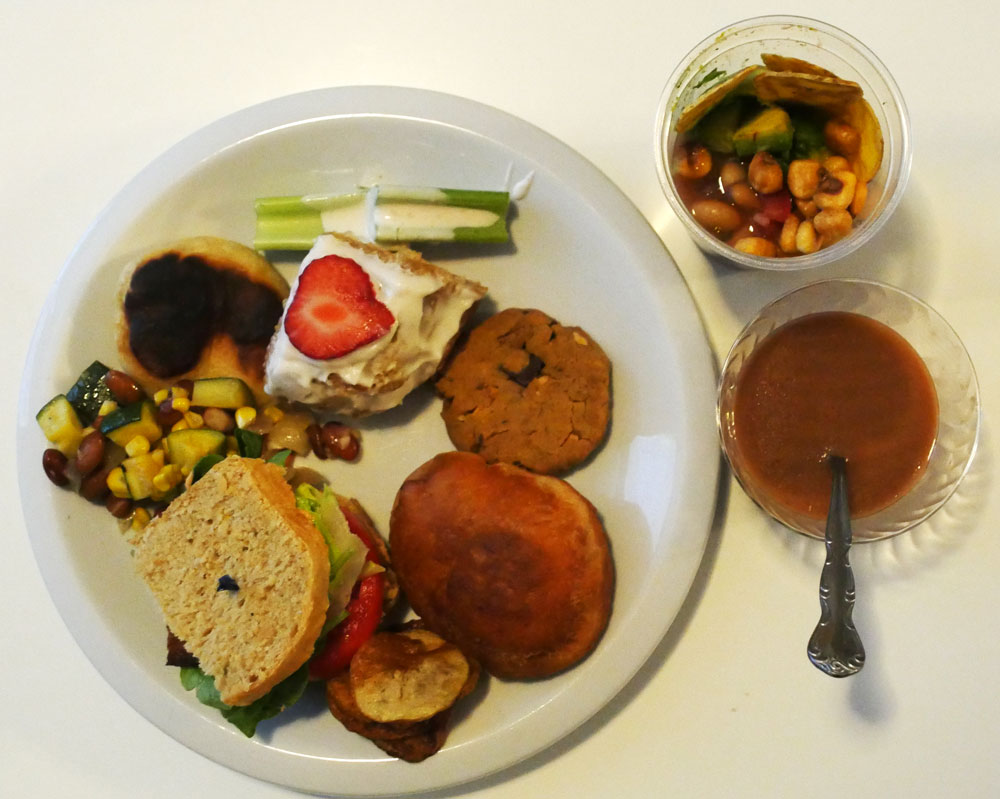 Caroline: Three Sisters Stew
For this Vegan Bake Club theme, Caroline interpreted 'merican food to mean a Native American themed dish with beans, corn, and squash, ingredients known as the three sisters. She seasoned these ingredients, common to many Native American dishes, with onion, garlic, salt, and pepper to make the three sisters stew.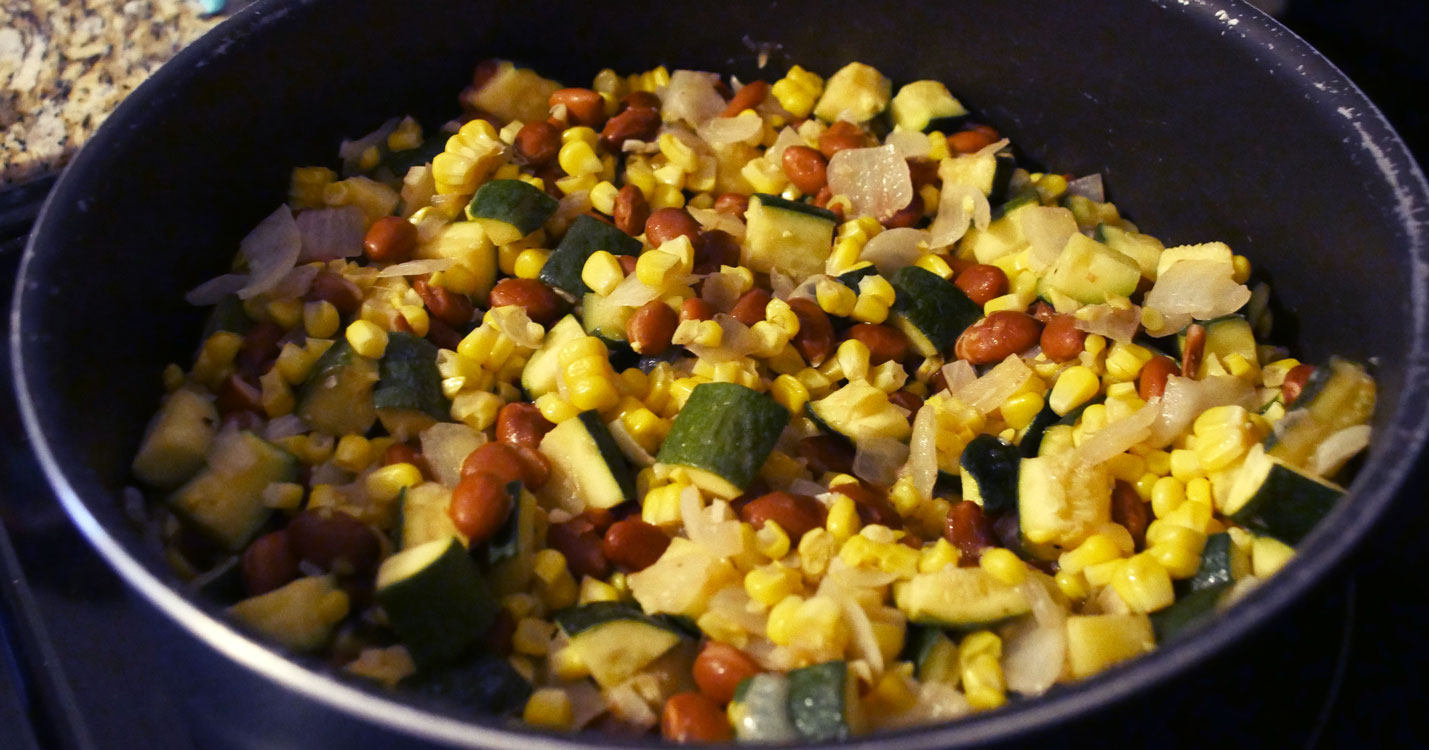 She accompanied it with a Navajo-style fry bread made with flour, water, baking powder, and salt that she cooked in a frying pan.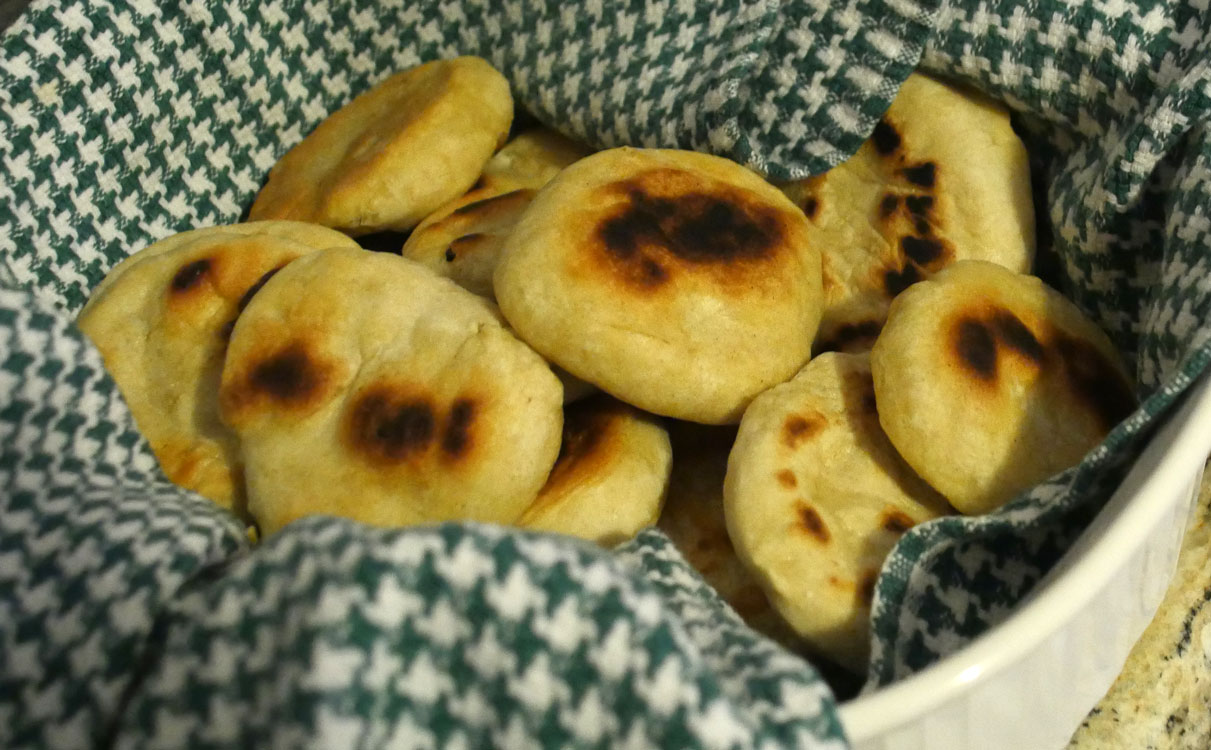 Shannon: Caribbean Bakes; Cocoa Tea
For this meeting, Shannon revisited her time serving in the Peace Corps in the Caribbean islands. She made Caribbean bakes in the style of the island of Saint Vincent, though she ate the bakes both on that island, where she served, and on Saint Lucia, where she trained. She prepared the dough of flour, yeast, water, shortening, a little sugar, baking soda, and salt, let it rise for thirty minutes, then divided it into small balls. She flattened the balls, then fried them in a quarter inch of oil on each side.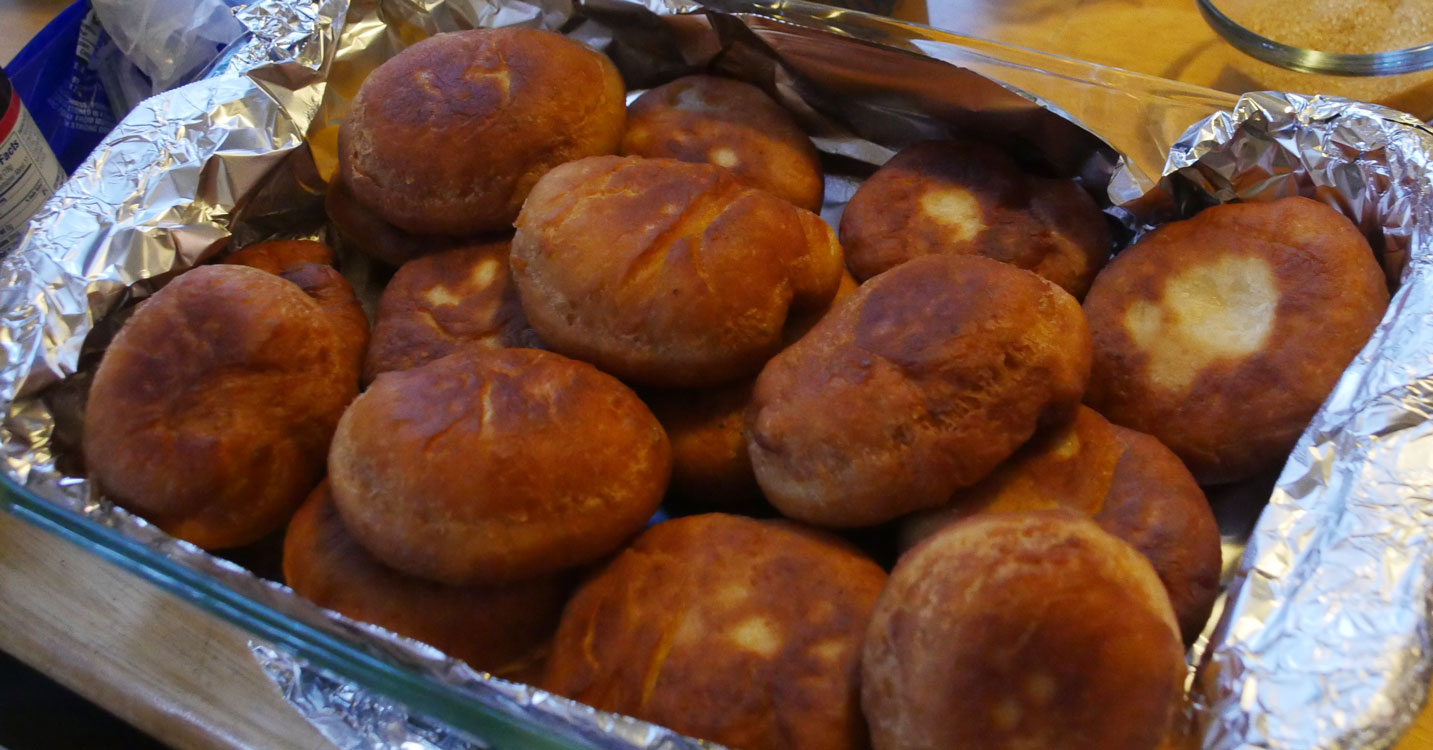 For the cocoa tea, Shannon put together several recipes in her attempt to recreate the flavors she remembers having each morning in Saint Lucia. She brought to a boil then simmered a blend of water, cinnamon sticks (she likes bulk bin Sprouts cinnamon sticks because they look natural, not like the artificial ones in the jar you often see at the regular grocery store), a bay leaf, freshly grated nutmeg, and whole cloves. In the islands they would next add a cocoa stick, but since Shannon didn't have access to such a thing, she used a grated dark chocolate bar, then continued cooking the tea for another ten minutes before adding coconut milk (canned), almond milk, and sugar. To make the tea extra thick, she did what she had learned on St. Lucia, mixing corn starch and water into a paste before adding it to the cooking tea. After removing the drink from the stove, she added vanilla extract, then strained out the big stuff. Overall she cooked the tea for about thirty to forty minutes.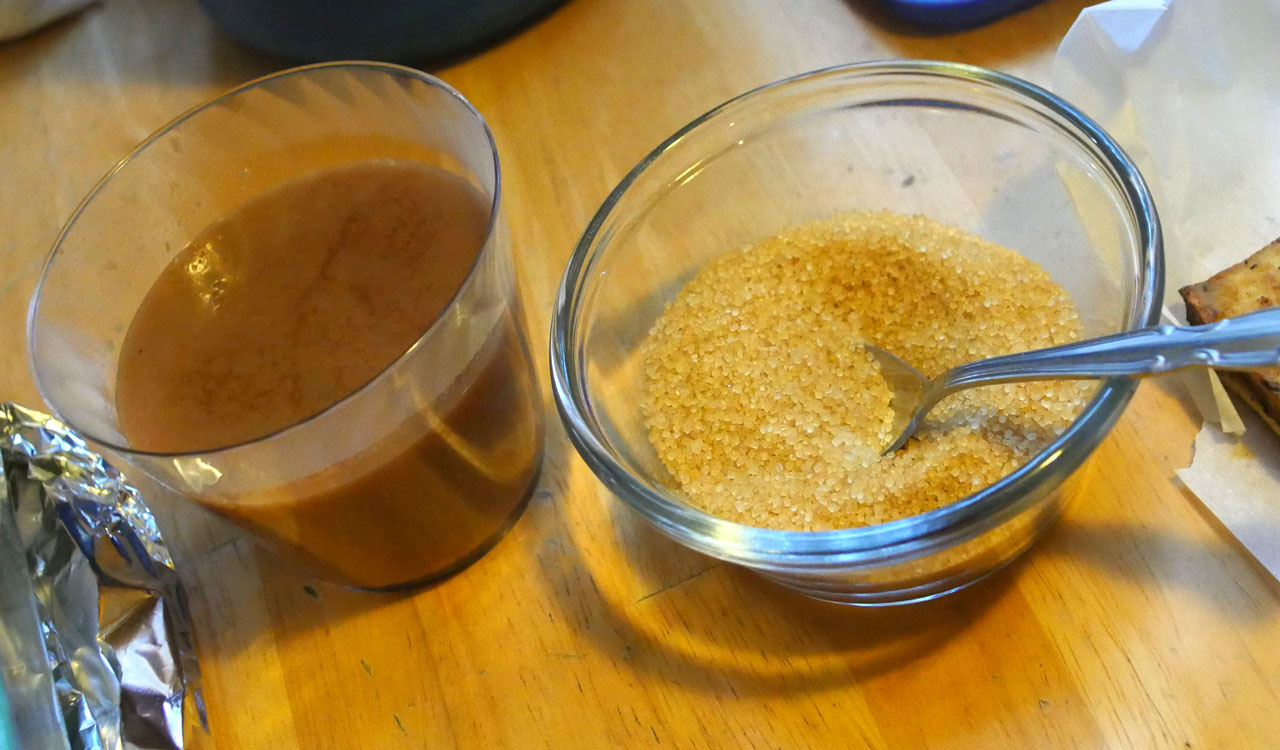 Drew: Ceviche de Chocho
Drew didn't actually use chocho beans for his ceviche de chocho, a dish he used to eat while living and working in Ecuador. Due to the difficulty of finding chocho beans around Denton, he used Peruvian beans, since Peru is geographically close to Ecuador. He combined the beans with the juice of one orange, the juice of six limes, a little tomato sauce, cilantro, tomato, and red onion that had soaked in warm salt water for ten minutes before being rinsed in cold water. The beans marinated in this concoction for a couple of hours. For the VBC meal, he portioned servings of the ceviche into cups, topping it off with Corn Nuts, plantain chips, and avocado. He got his plantain chips at La Azteca because they sell the kind with the correct cut of chip. Another thing Drew and Caroline taught us this day, when buying a bag of toasted corn on a bus in Ecuador, use the word "funda" not "bolsa," as the latter is taken to refer to part of a man's anatomy.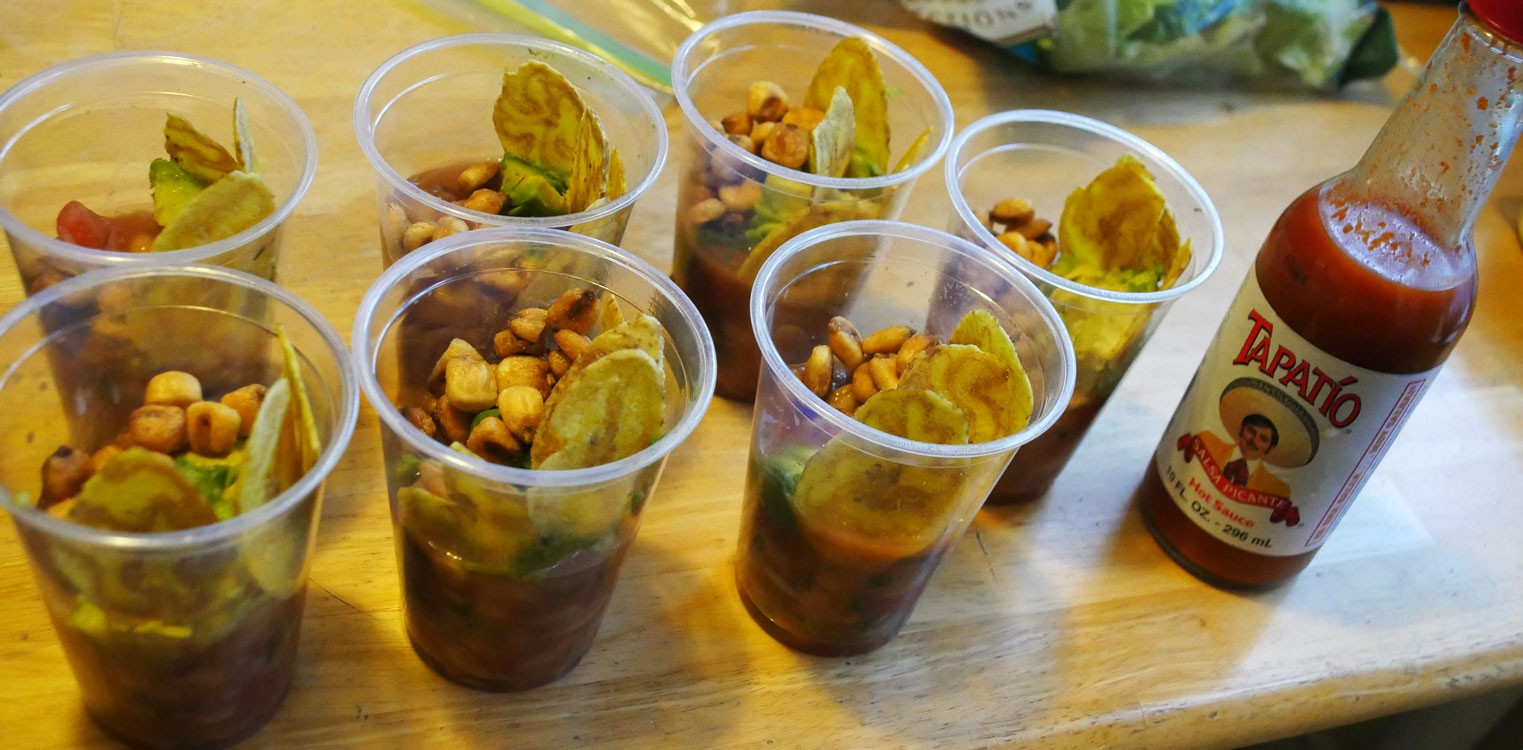 Slynn: American Peach Cake
Slynn used the popular (with VBC people) orange cake recipe but used Simply Peach juice instead of orange juice. She topped it with coconut whipped cream and patriotically placed strawberries and blueberries. She forgot to double the recipe, so she first had one very thin layer of rectangle cake, leading her to make a second thin rectangle. She then sandwiched the layers together with her mom's homemade strawberry jam in the middle.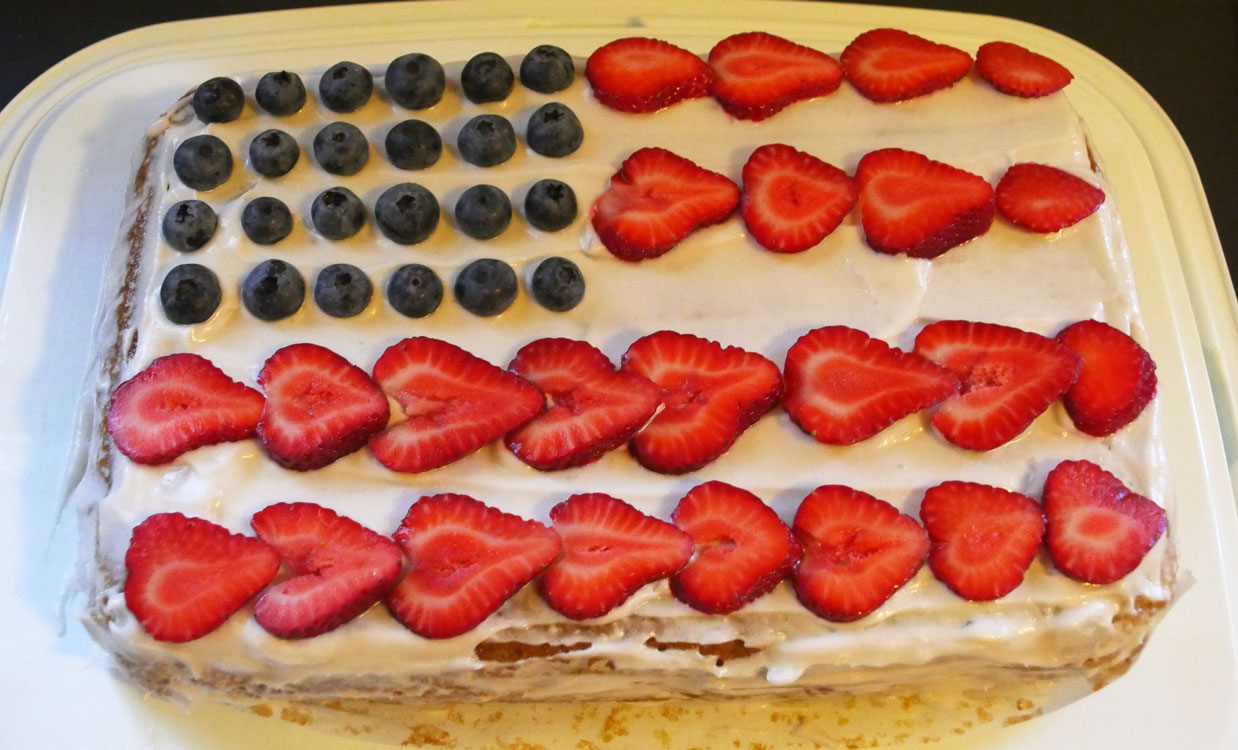 Billy: I Like Ranch Chips
Billy made potato chips by thinly slicing russet potatoes with hand and knife then deep frying them in hot oil. When they came out, he dried the crispy chips on paper towels and gave them a sprinkling of salt.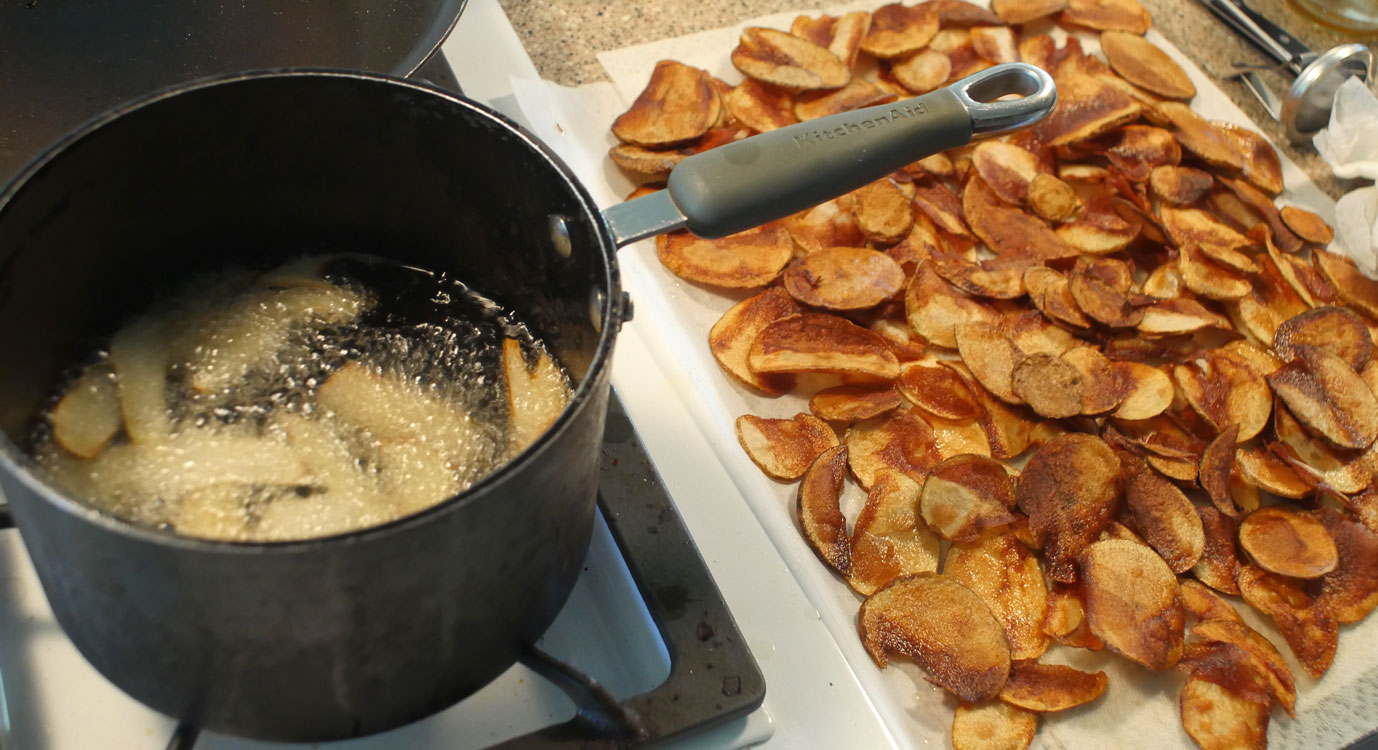 To go with the chips, he made ranch dressing with Tofutti Better Than Sour Cream, almond milk, soy yogurt, fresh dill and green onion from his garden, black pepper, paprika, and salt. Ranch and chips, for some of us, always bring to mind this scene from Bunheads as it references the movie Hope Floats starring Tommy Lee Jones. He also served celery for a greener, fresher ranch dressing accoutrement.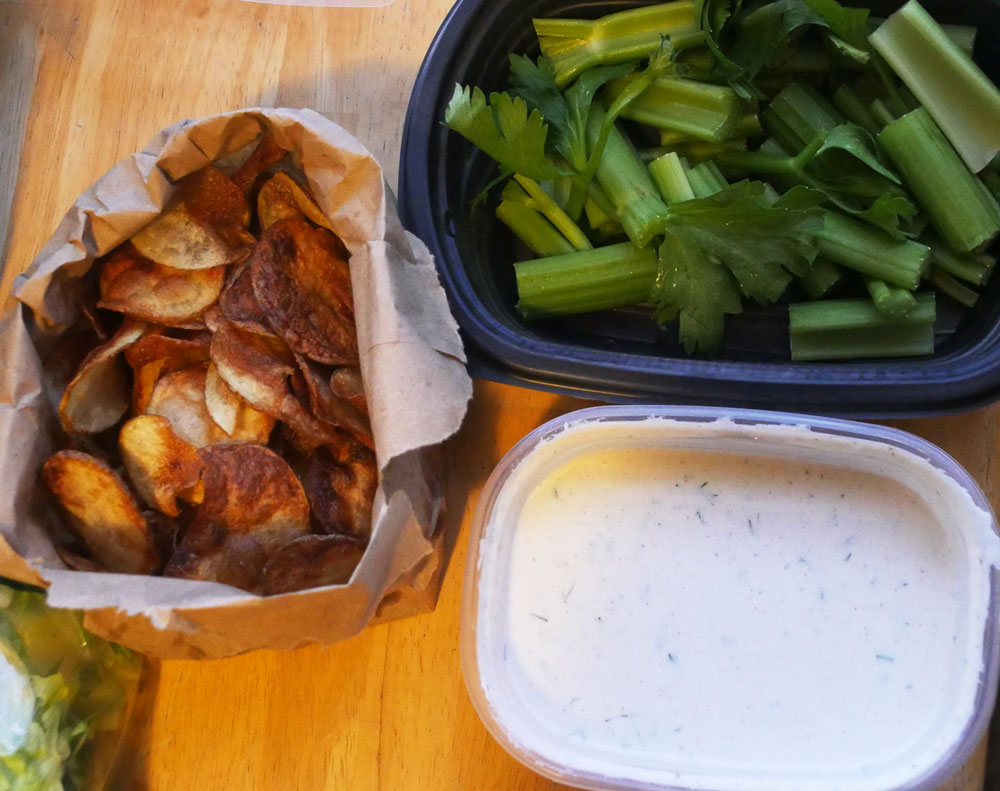 John: Peanut Butter Chocolate Chip Cookies
John made these peanut butter chocolate chip cookies after just getting back from Waco shortly before the meeting. Being in a hurry, he only sort of measured out ingredients and thought the sweetness of the cookies suffered for putting in less than the prescribed amount of sugar. No one agreed with him. His cookies had flour, sugar, brown sugar, lots of peanut butter, coconut oil, dark chocolate chunks, and other normal cookie ingredients. Interesting note, John once dated the great granddaughter of the woman who claims to have invented chocolate chip cookies!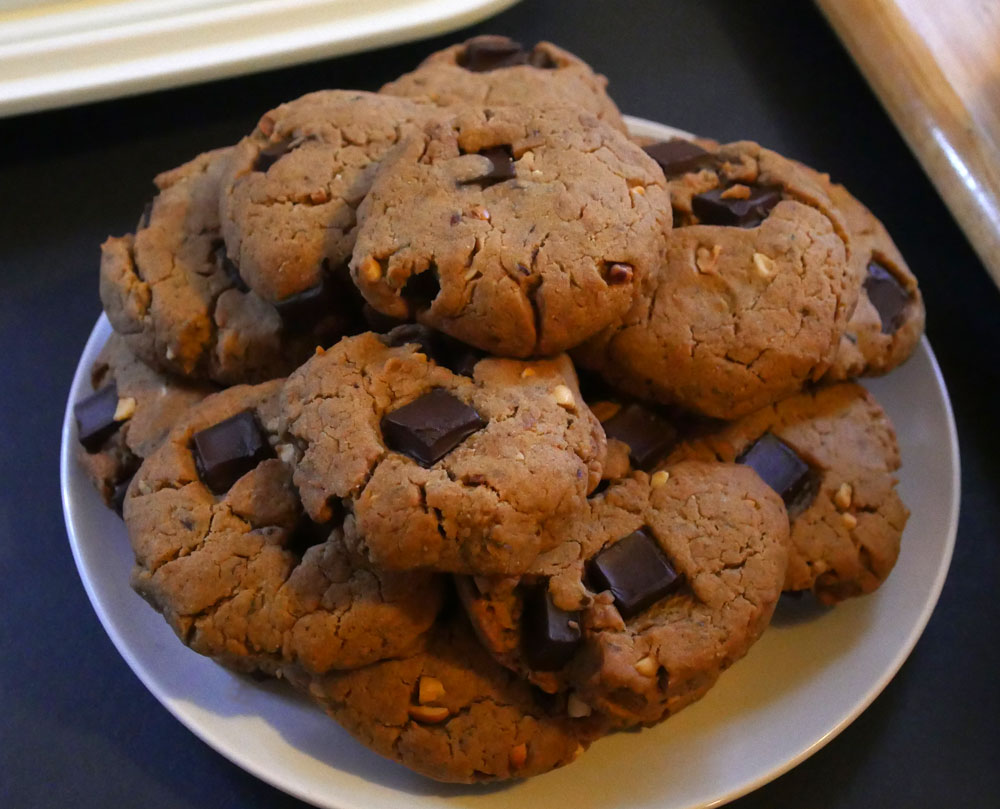 Lauren: Club Sandwich
Lauren decided to make a vegan club sandwich after having seen a segment of an episode of Diners, Drive-ins & Dives where Guy Fieri visits the Memphis Taproom in Philadelphia and tries their vegan club sandwich. Lauren already had some homemade seitan bacon, using that instead of the coconut bacon from the restaurant's version. She made the Basic Wheaty Bread recipe from The 100 Best Vegan Baking Recipes for the pillars of the sandwiches. She cooked tofu slices on the griddle to remove some of the water and brown each side, marinated them in olive oil, lemon juice, garlic powder, salt, and pepper, plus green onion, fresh parsley, and Thai basil from Billy's garden. Before constructing the sandwiches, she grilled the tofu like the Memphis Taproom. She built the sandwiches with the tofu, veggie bacon, and romaine lettuce, plus arugula and tomato from Billy's garden, all stacked between the bread slathered with a tomato mayo made with Just Mayo, tomato paste, Dijon mustard, lemon juice, and garlic powder.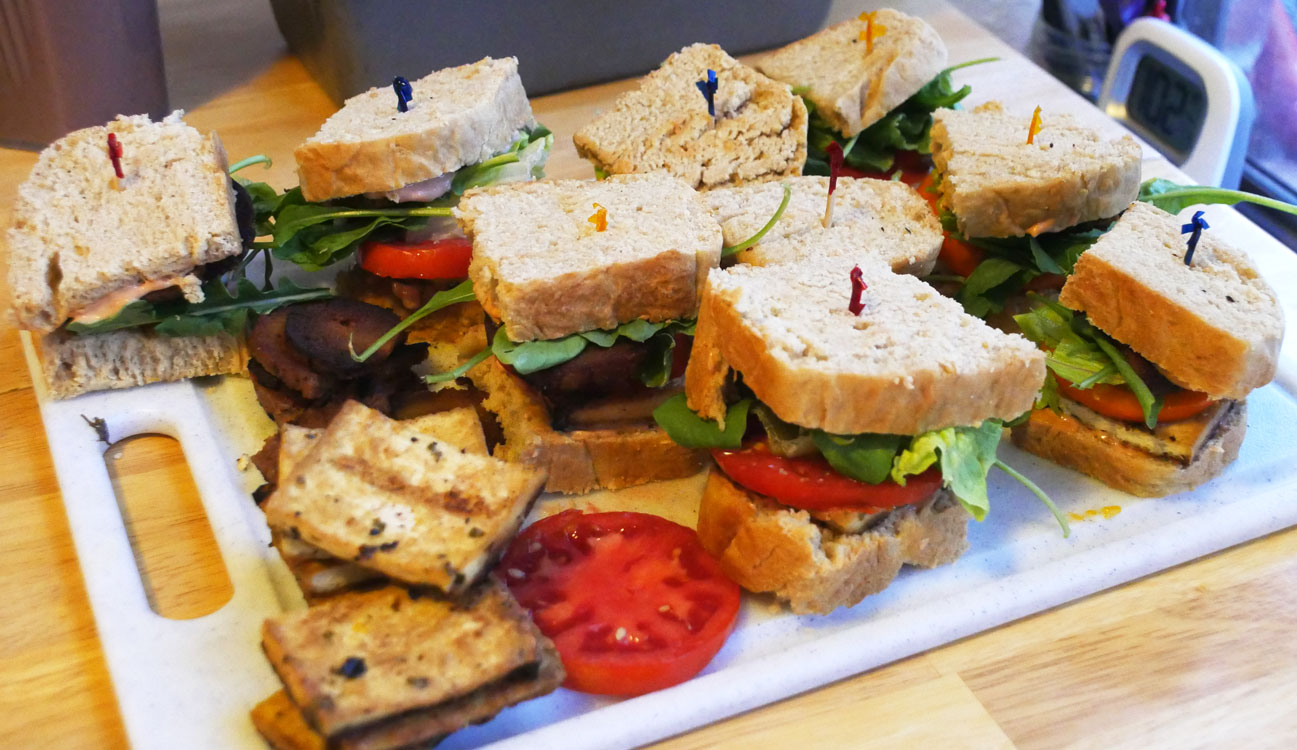 For an activity, we got to hang out with Macy, since she is 'merican, while listening to a patriotic pop/rock playlist arranged by Drew and Caroline. Macy mostly ignored us.