Saturday, July 18, 2015
VBC Meeting #29: Fruit
Host of the Month: Slynn
Location: Denton, TX
Slynn and the lovely Hemi hosted the Fruit themed twenty-ninth Vegan Bake Club Meeting. There was a lot of fruit, a lot of alcohol, and a lot of Hemi petting.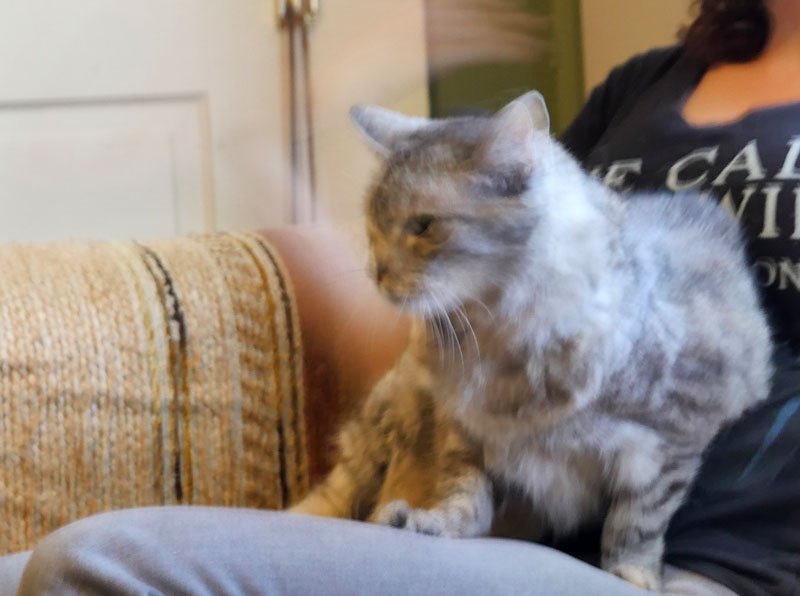 This is what we made: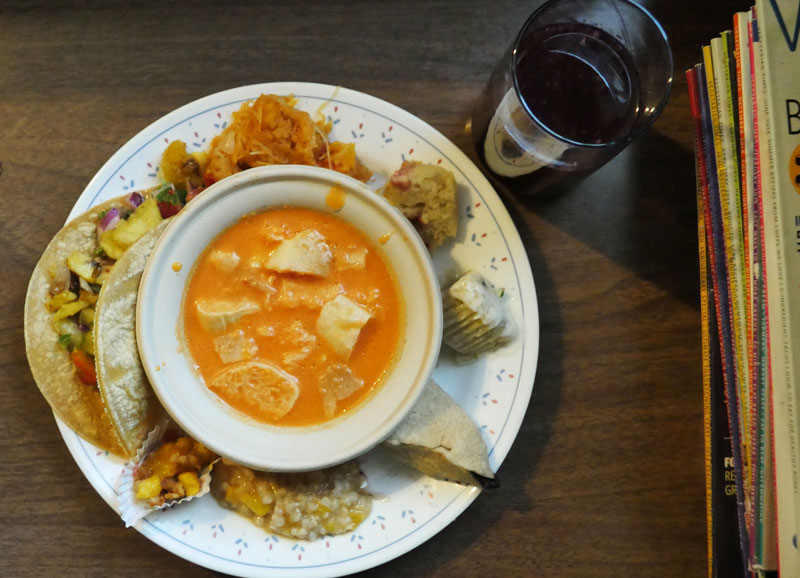 John: Four Kinds of Popsicles
John made four kinds of popsicles for this meeting. Does he make so many popsicles because he has so many popsicle molds, or does he have so many molds because he likes to make popsicles so much? It doesn't matter; we just like having popsicles. He made us a peach, nectarine, strawberry popsicle. He also made two versions of Creamsicle type pops with coconut cream, powdered sugar, orange juice, strawberries and vanilla. The main differences in the versions were the amount of sugar and vanilla added and the amount of blending done. For his final frozen sweet, John made Orange Julius inspired popsicles with orange juice, banana, vanilla, and coconut milk.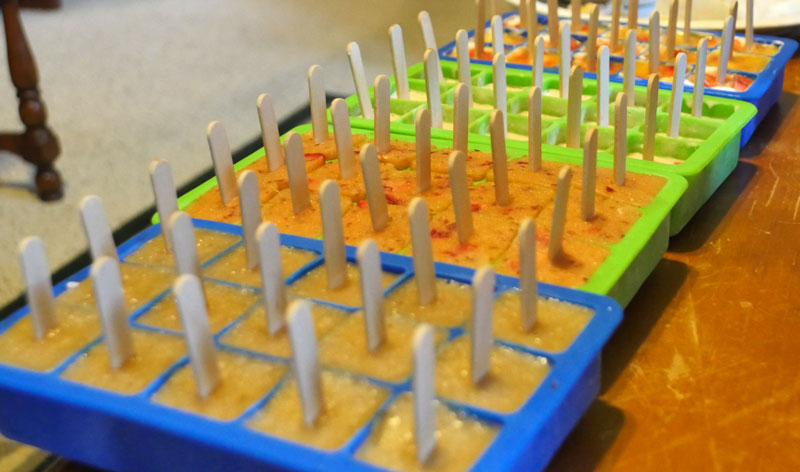 Christie: Plantain Tacos with Mango Peach Pico de Gallo and Avocado Tomato Salsa
For her dish, Christie actually made three foods. Inspired by this plantain taco recipe, she cooked plantains with shallots, diced jalapeño, and garlic. She put together a fruity pico de gallo with fresh mango, peach, cilantro, and red onion. To top off the tacos she made an avocado tomato salsa and served it all up with some corn tortillas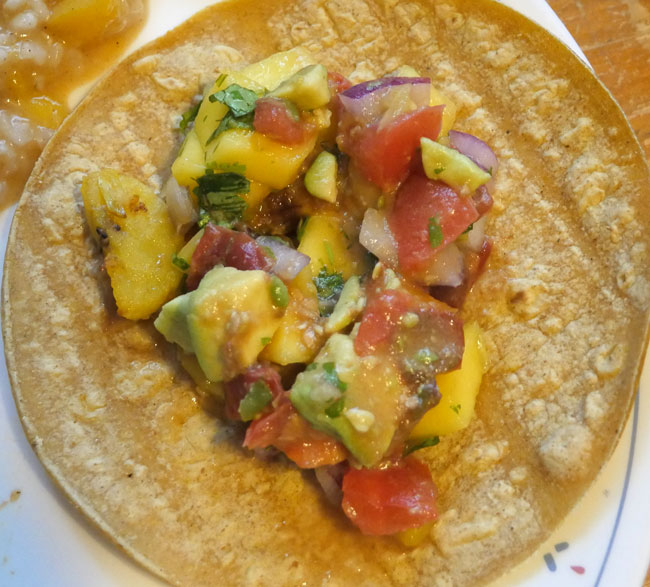 Lilly: Peach Ginger Rice Pudding; Peach Bread Pudding with Gluten-Free Bread
The morning of this Vegan Bake Club meeting, Lilly, Billy, and Lauren headed to the Denton Community Market to check out the fresh fruit selection. Lilly picked up some peaches that she turned into a peach ginger compote. She put this into a peach rice pudding made with organic brown rice (cooked in her rice cooker), almond milk, ginger syrup, shredded ginger, and cinnamon.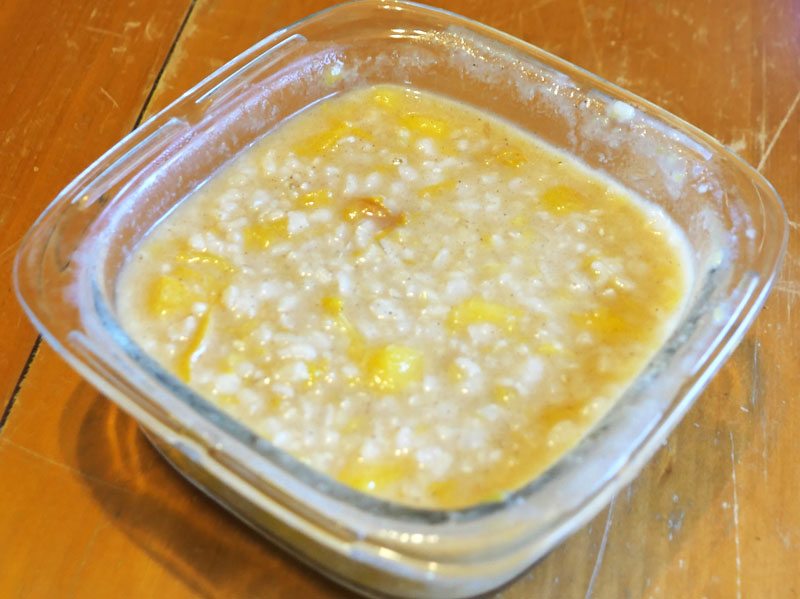 She also made a ginger peach bread pudding by combining more of her compote with ginger syrup and Earth Balance margarine then tossing it with toasted crumbled gluten-free bread.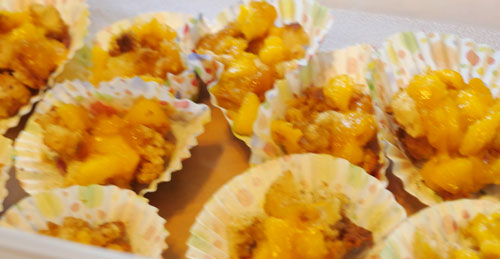 Billy: Tomato Squash Mush
Billy combined his home-grown spaghetti squash, butternut squash, tomato, and onion with olive oil, cinnamon, and salt. The taste was good enough that he didn't need to come up with a flashy name.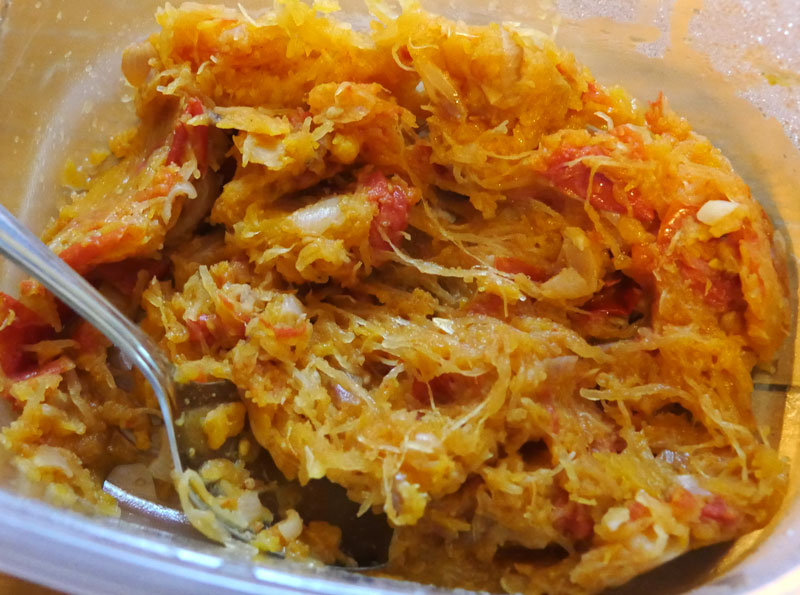 Brenda and Victor: Gazpacho; Sangria
Brenda and Victor made a dish featuring tomatoes for their fruit. To make their gazpacho, they blendered five big tomatoes, one onion, red and yellow bell peppers, water, olive oil, red wine vinegar, garlic, paprika, and salt. They strained the soup to remove the chunky pulp, creating a smooth consistency, but then added back some of the pulp to enhance the body. It resulted in a soup that was rich and creamy without having any cream in it. They served the cold soup with chunks of French bread and customary ice floating in it.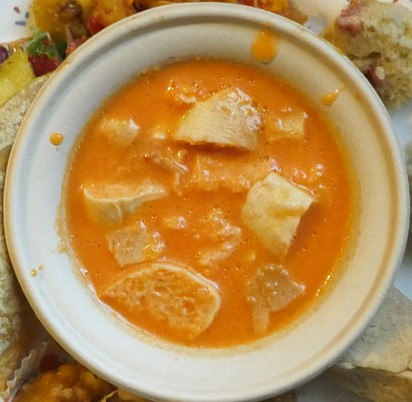 They also prepared a sangria using red wine from Spain, peach, apple, lemon, orange, sparkling water, sugar, and cinnamon.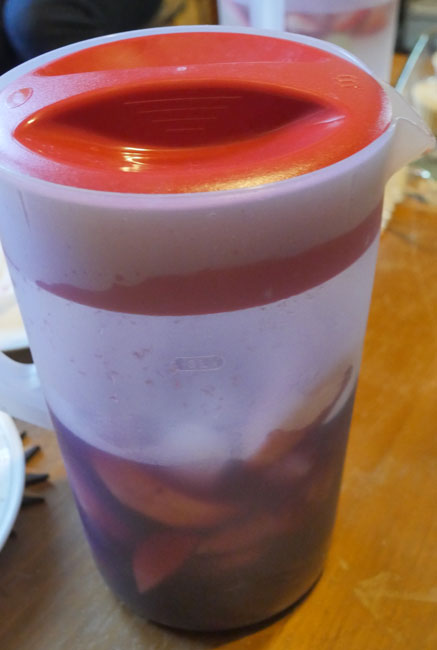 Slynn: Fruity Beverages, Margarita Cupcakes; Vegan Jel dessert
Slynn served refreshing water with cucumber and strawberry.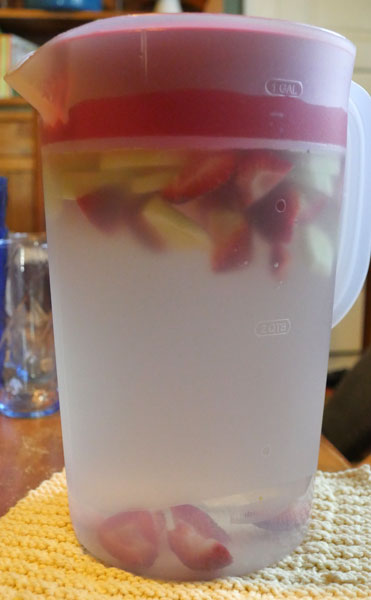 She served a more adult sort of beverage as well, made with white wine, triple sec, grapes, and cucumber. The picture shows it mostly mostly drunk already.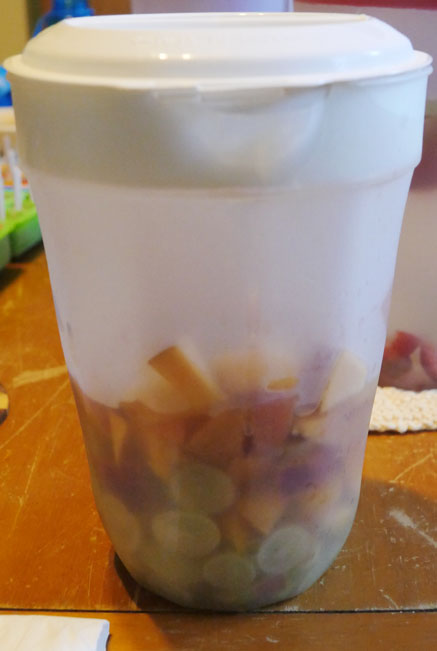 Running with the theme, Slynn additionally prepared some Bakol Jel dessert, adding chunks of strawberry and cucumber to liven it up.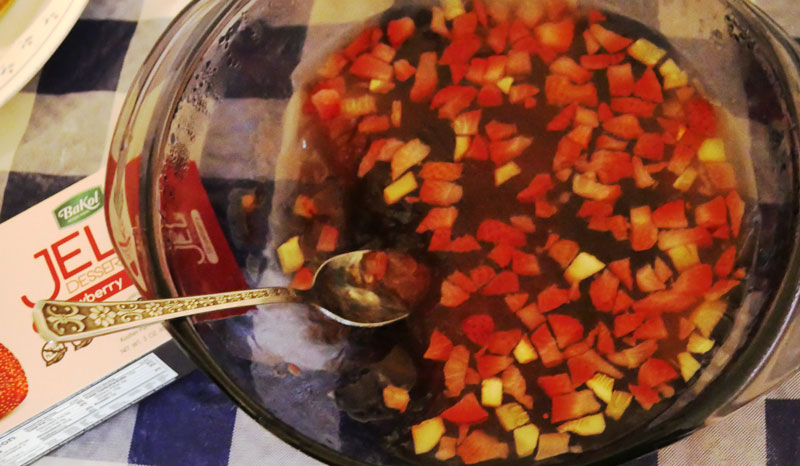 And for her main event, she baked margarita cupcakes with several flavor experiments inspired by Denton's Mulberry Street Cantina. Her cupcake recipe was based on the Mucho Margarita Cupcakes from the cookbook Vegan Cupcakes Take Over the World. Her flavors were lime, cucumber jalapeño, strawberry, and strawberry jalapeño. The cupcakes were ringed with turbinado sugar in place of salt.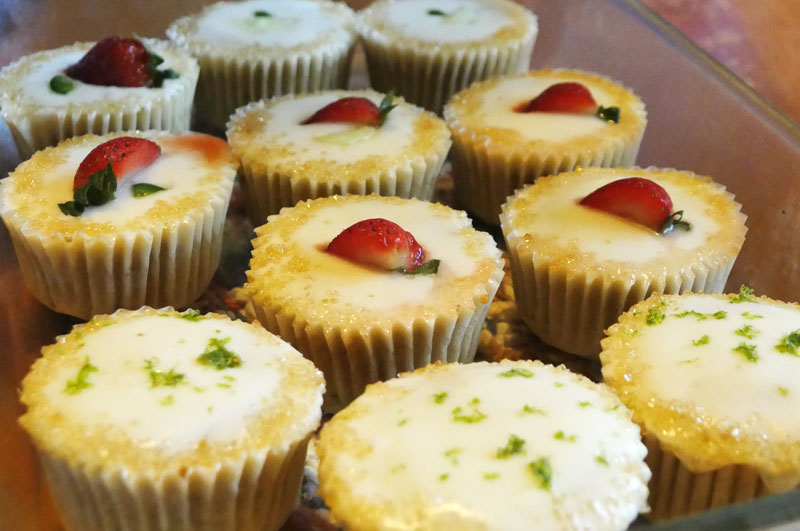 Lauren: Blueberry Empanadas
Lauren attempted to concoct some gluten-free blueberry empanadas. She made a gluten-free dough using Bob's Red Mill flour, filled it with a blueberry lemon compote, and baked it up.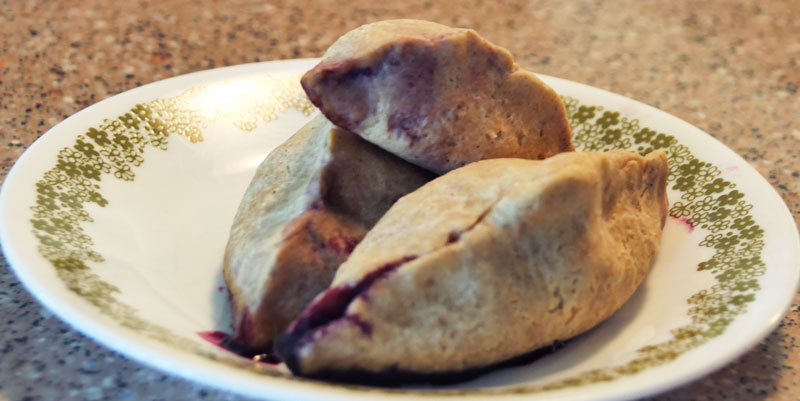 The next meeting with a "fusion" theme will be August 9.