July 17, 2023 – No Theme Weeknight
Monday, July 17, 2023
VBC Meeting #125: No Theme Weeknight
Host of the month: Minji
Location: Corinth, TX
For July, we got together at Minji's on a Monday. Since we decided the date without leaving a lot of time for planning, Minji announced a no theme free for all!
This is what we made: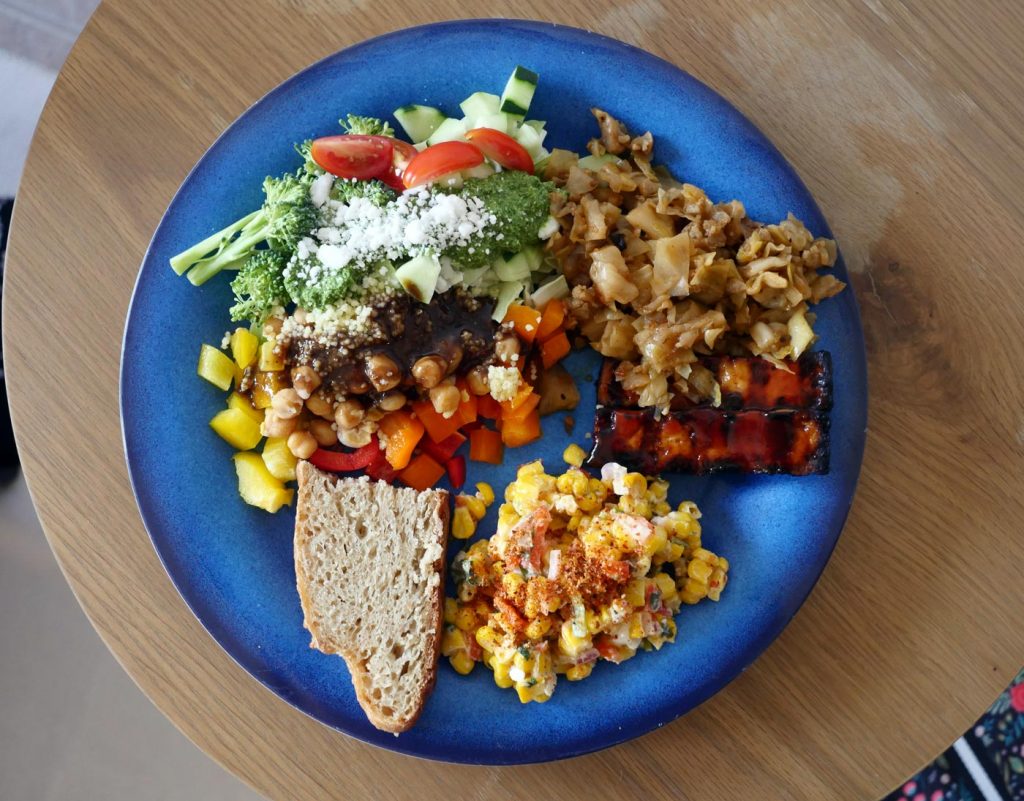 Slynn: Honee Wheat Bread
Slynn baked a honey wheat style bread using Simple Truth Vegan Honee from a no knead bread recipe that involved all-purpose flour, whole wheat flour, salt, yeast, water, and Honee combined in a bowl. After proofing in the bowl for three to four hours, she baked the loaf in a Dutch oven.
Lauren: Easiest Chocolate Pie
Lauren made a vegan chocolate pie, and it should have been very easy, but the chocolate coconut cream filling mixture split while heating it on the stove, where all of the oil unincorporated itself. The filling recipe should have just been coconut cream and melted chocolate chips, but Lauren decided to use melted dark chocolate bars too. Perhaps the choice of chocolates threw off the fat to other stuff ratio to mess it up. Though it became not the easiest chocolate pie, she mostly fixed the split filling by mixing a tablespoon of boiling corn syrup (microwaved just a few seconds until it bubbled) into about a tablespoon of the filling, then slowly mixing in more filling bit by bit and every now and then mixing in a little more hot corn syrup when the mixture started looking suspicious again. She poured the filling onto a crust made from food processed chocolate flavored Oreos held together with a tablespoon of coconut oil and let it set overnight in the refrigerator. She topped it with coconut whipped cream and crushed Oreos.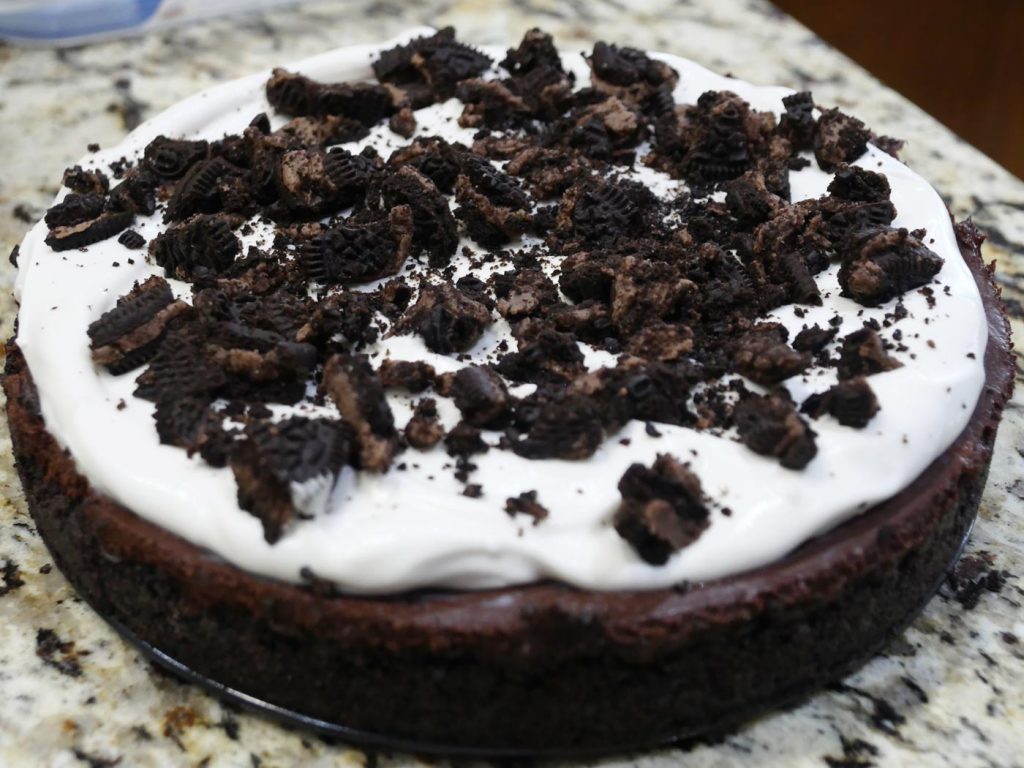 Drew: Cold Mexican Street Corn
Drew mostly followed the Vegan Mexican Street Corn Salad recipe from The Cheeky Chickpea, but he used frozen corn instead of corn on the cob. He mixed the corn with diced red bell pepper, red onion, vegan mayo, vegan feta cheese, cilantro, lime juice, white vinegar, chili powder, cumin, salt, and pepper. He served it with Tajín Chile Lime seasoning.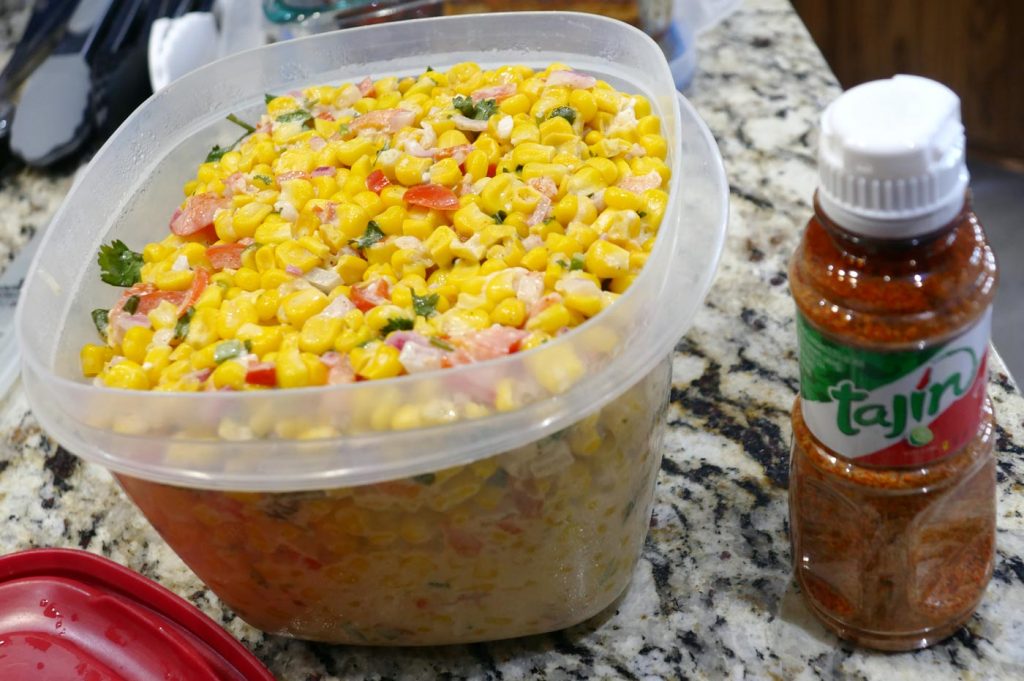 Kori: Cauliflower Tinga
Kori chopped a medium head of cabbage into small pieces that she sautéed. She stirred in three packets of Somos Cauliflower Tinga and let it sit over night. She reheated the cauliflower tinga in her Instant Pot for eating.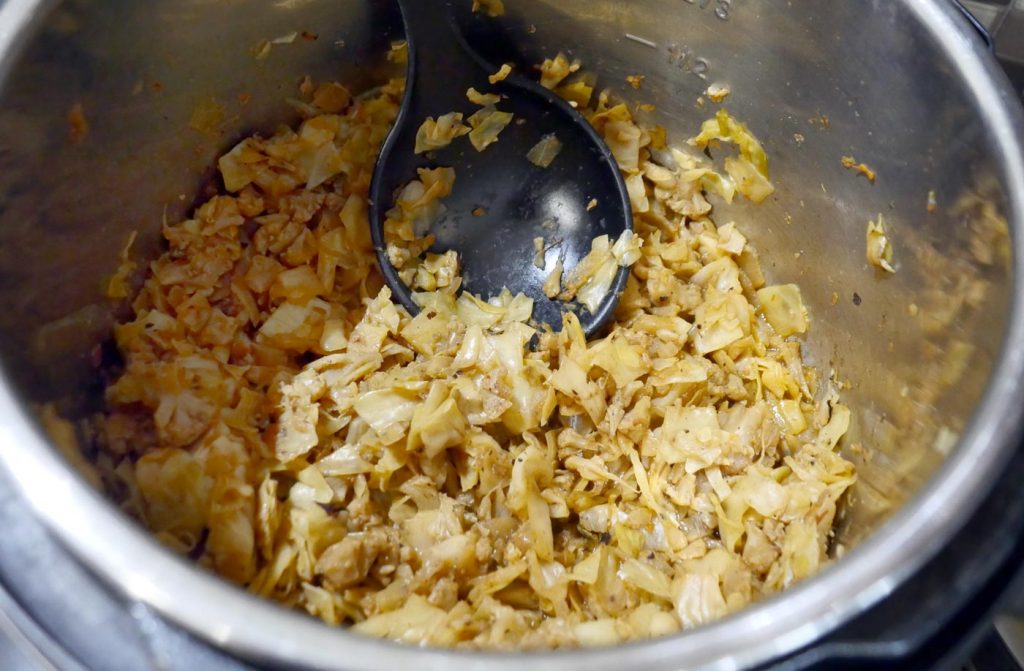 Billy: Barbecue Tofu
Billy marinated pieces of tofu in a mixture of Simple Truth Organic Bbq sauce, rice vinegar, lime juice, water, and soy sauce. He cooked the pieces on his stove's grill.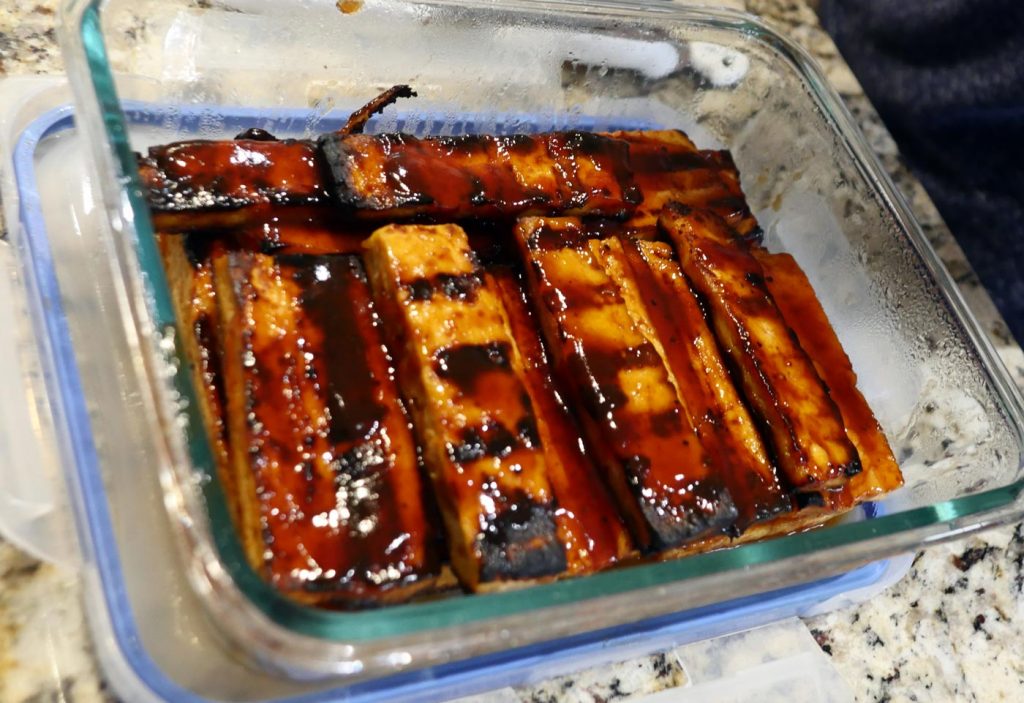 Ramon: Strawberry Orange Soup
Following a recipe from Mark Bitman of the New York Times for Strawberry Orange Soup, Ramon sliced strawberries and peaches (the peaches were not in the original recipe) and tossed them in lime juice, sugar, and chili powder. He separately whisked together coconut yogurt, orange juice, sugar, and chopped fresh mint until the mint was fragrant then strained out the mint. He put the fruit into a bowl, topped it with the yogurt mixture, then topped it with vegan whipped cream. Like Drew's street corn, he also suggested chile lime seasoning for a final flavor.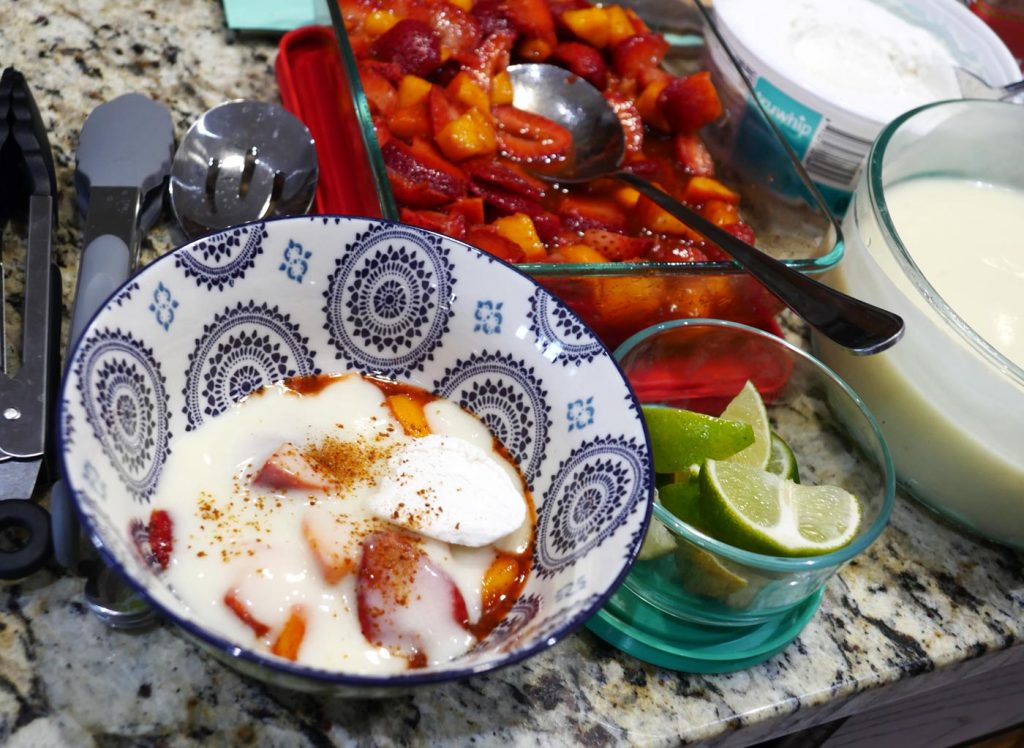 Minji: Salad bar
Minji set up a salad bar spread with chopped fresh broccoli, cucumber, cabbage, bell peppers, tomatoes, couscous, chickpeas, and vegan feta cheese. She made two dressings:
Balsamic Dressing with balsamic vinegar, Dijon mustard, maple syrup, nutritional yeast, dried oregano, basil, and water.
Green Goddess Dressing with parsley, spinach, spring onion, garlic, lemon juice, cashew, salt, pepper, nutritional yeast, water, and olive oil puréed in her blender.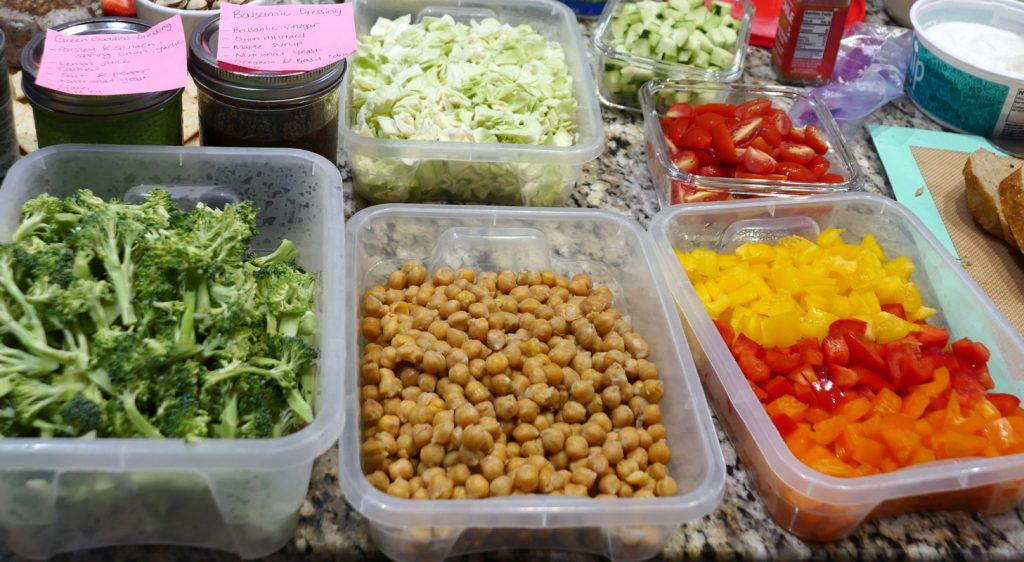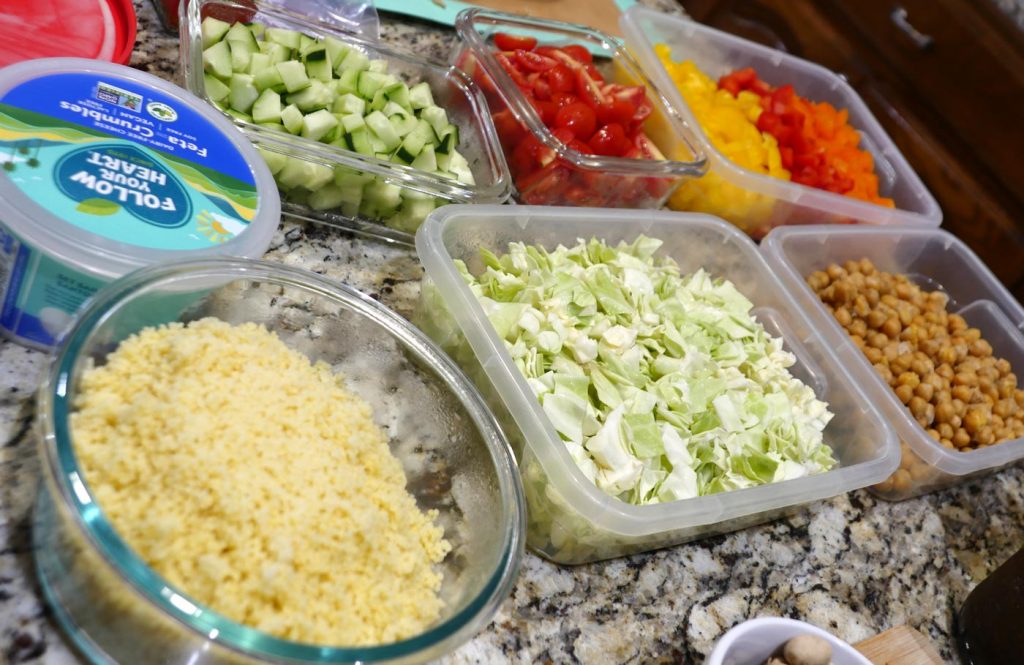 Like last time she hosted, Minji also provided a beautiful vegan cheese board with Rebel Cheese's Balsamic Walnut Fig Fromage, strawberries, pistachios, pepitas, and crackers.