July 13th, 2014 – Fast Food
Sunday, July 13th, 2014
VBC Meeting #17: Fast Food
Host of the Month: Lauren and Billy
Location: Ponder, TX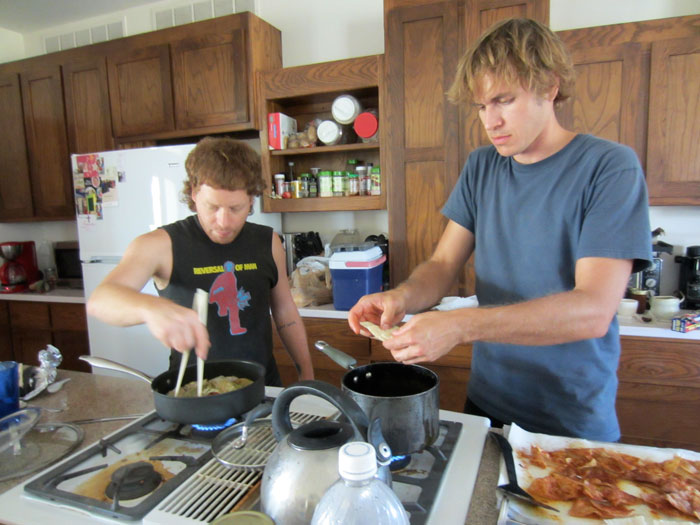 Lauren: Creamy Crisp Donuts
Glazed donuts, some with cherry filling. The donuts were of the yeast variety, dipped in a sweet "buttery" glaze. The cherry filling was made from a can of cherries cooked on the stove with sugar and thickened with corn starch.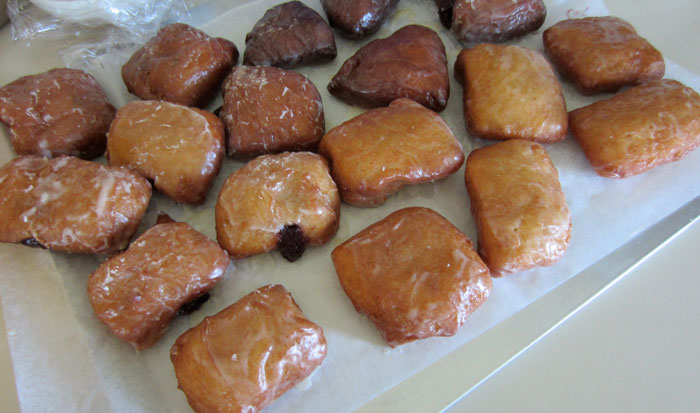 Ramon: Mini McRibs
These little "rib" sandwiches were served with grilled onions, pickles, and served on homemade sourdough buns.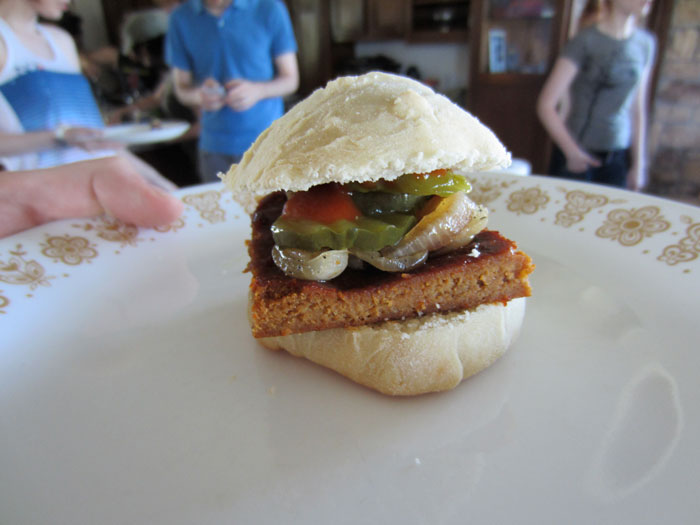 The "meat" of the sandwich had a wheat gluten base made barbecue flavored. Here is what it looked like before joining the rest of the fixings.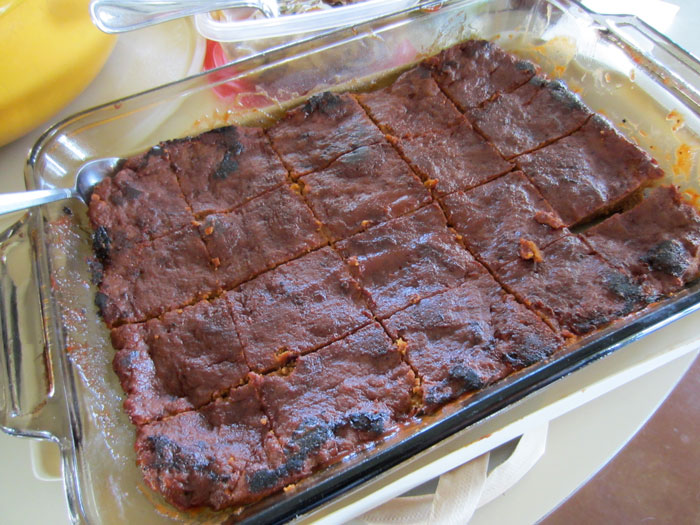 Slynn: Mac'n Cheese Bites
Ingredients included macaroni, tofu, Daiya shreds, and cornstarch (among other things).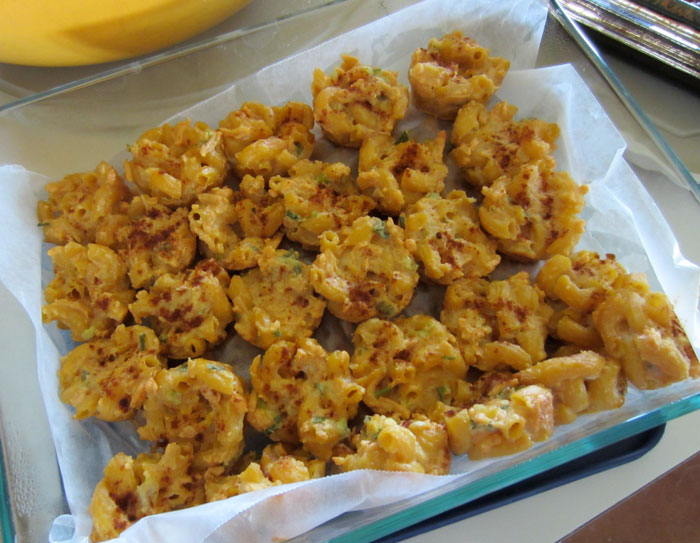 Lilly: Home Fries
Potatoes, oil, you get the picture.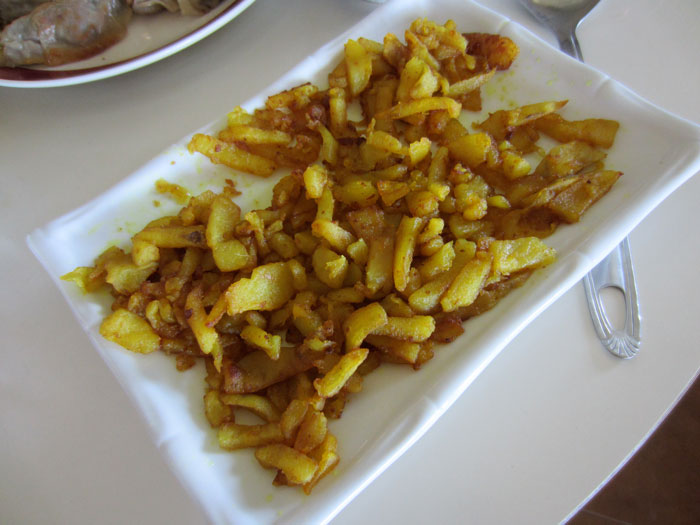 Taylor (female): Breakfast burritos
Taylor filled these burritos with tofu, black beans, bell peppers, mushrooms, onions, and cilantro. She kindly brought along homemade guacamole and Andy. The inside of the burritos, was much more colorful than the outside.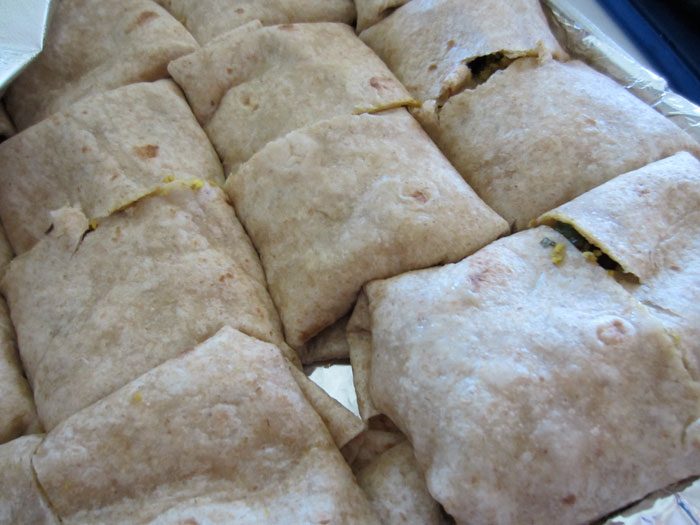 Vanessa and Bryan: Avocado Lime BonBons with Chili Choco Magic Shell
The interior ice cream contained avocado, lime, vodka, and simple syrup. The chocolate shell casing was made up of coconut oil, chocolate chips, chili powder, cayenne pepper, and olive oil. Put together and topped with lemon peel, we were treated to a light feeling decadent dessert.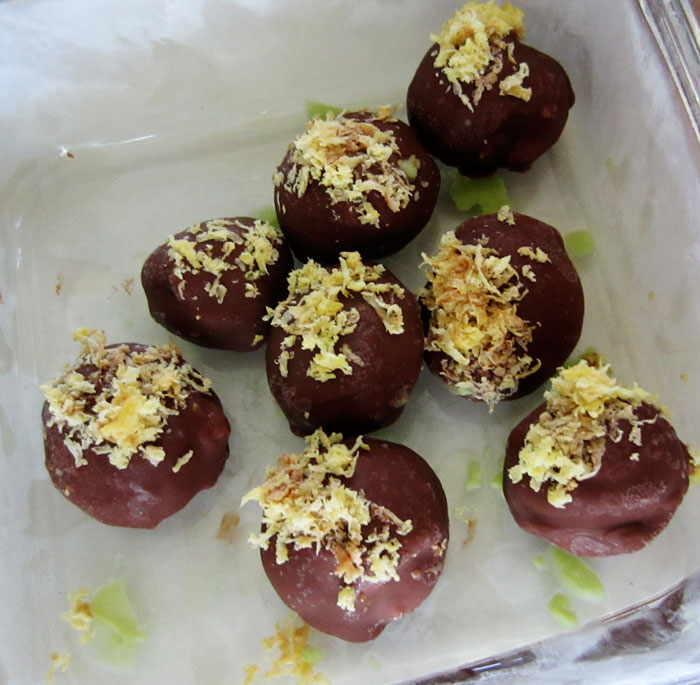 Haley: Kanten
Haley's two layer Kanten ingredients included coconut milk, agar agar, strawberry, and salt.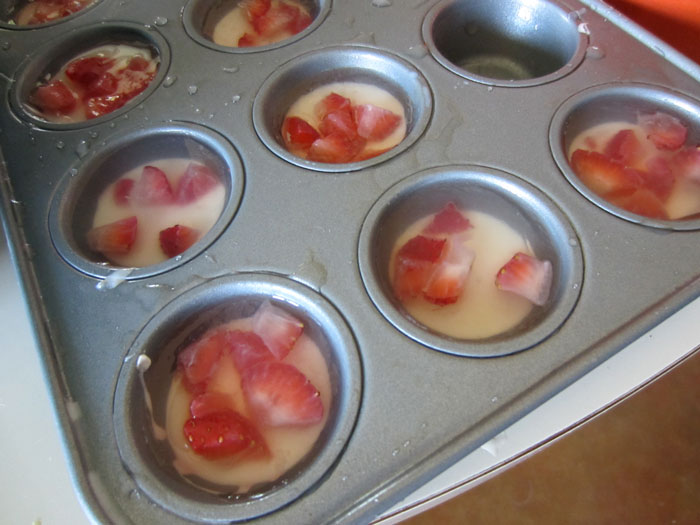 Taylor (male): Two types of Dumplings
One type of dumpling was filled with mustard greens, tofu, oyster mushrooms, and garlic. The other type was made with Field Roast, fennel, basil, and bok choy. Taylor cooked a lot of dumplings.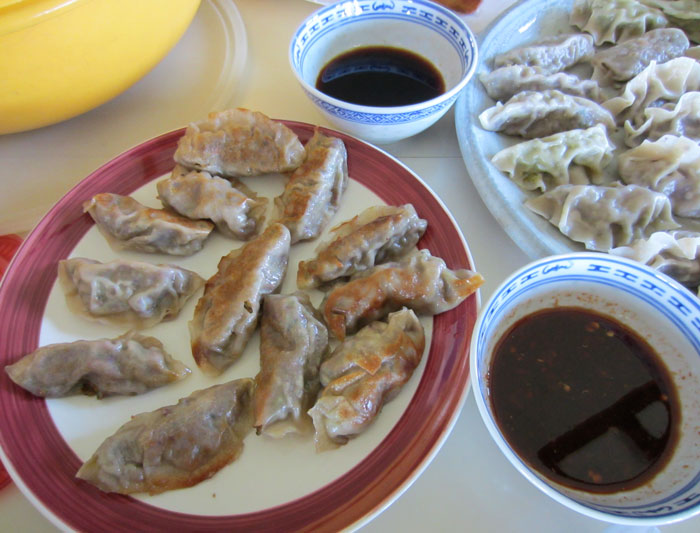 Megan: Peanut Butter Cups
Megan decided to dress up her cups with extra treats inside. Making several types, the fillings were peanut butter banana, peanut butter pretzel, and blueberry peach. She used Ghirardelli 70% chocolate on the outside.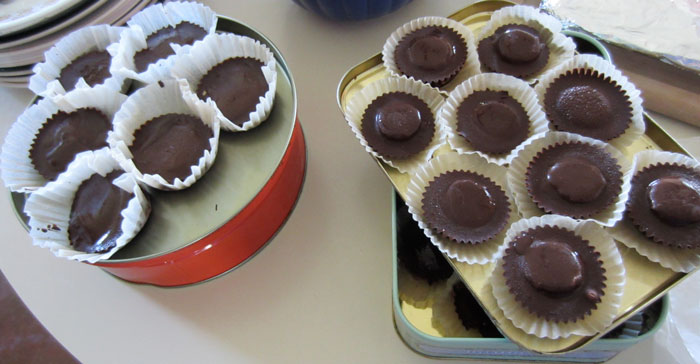 Billy: Chips and Salsa
Billy opted to mimic the chips and salsa of one of his favorite places in Denton, Mi Casita. Part of the reason was because he had a lot of tomatoes from his garden that needed eating.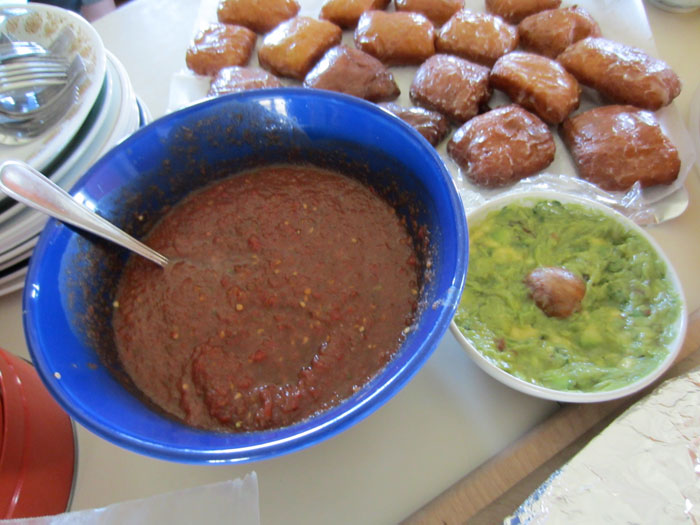 To accompany his garden fresh salsa, he cut corn tortillas into triangle pieces, deep fried them, and sprinkled them with a lot of paprika and salt. Pretty convincing.