Saturday, January 30, 2016
VBC Meeting #35: Chili
Host of the Month: Slynn and Ramon
Location: Denton, TX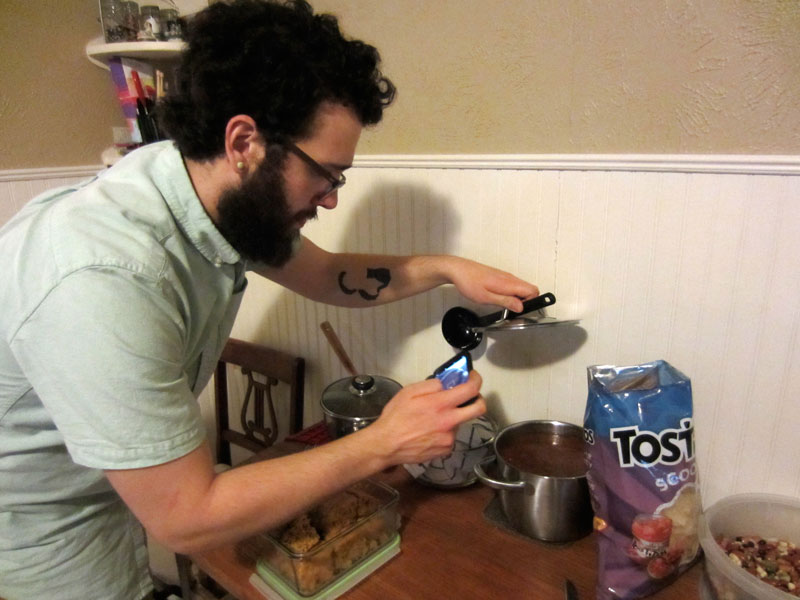 With the theme of chili for this meeting, we not only had several pots of chili to sample, we also had a variety of cornbreads to complement the meal.
Here is what we made (only partially seen on the table):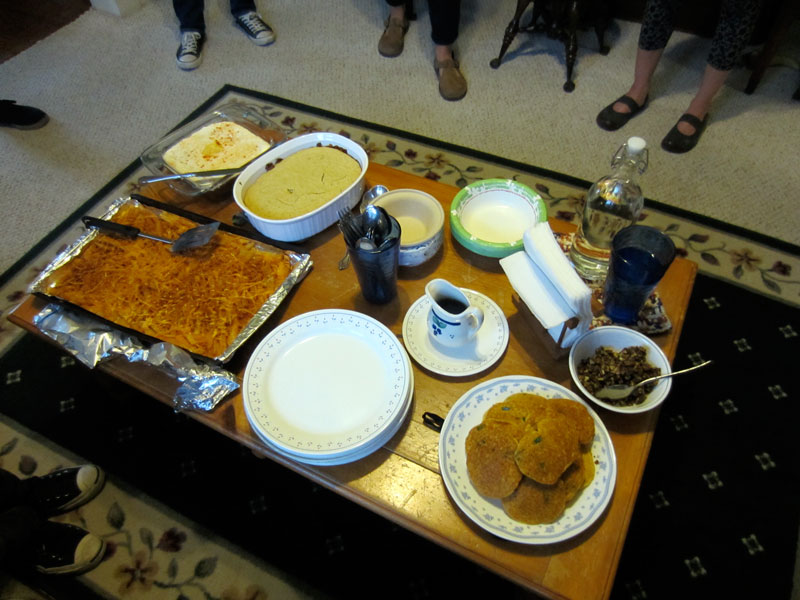 John: John's Chili and PPK Cornbread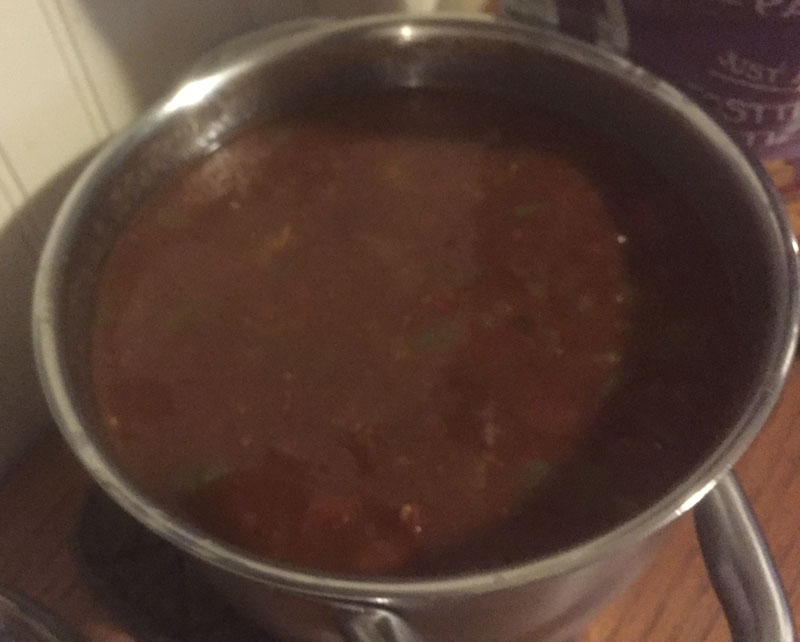 John threw together everything that he figured is in every veggie chili: kidney beans, pinto beans, black beans, celery, tomato, peppers, and more. You can't really see much of the variety that went into the pot from the picture, but it was there.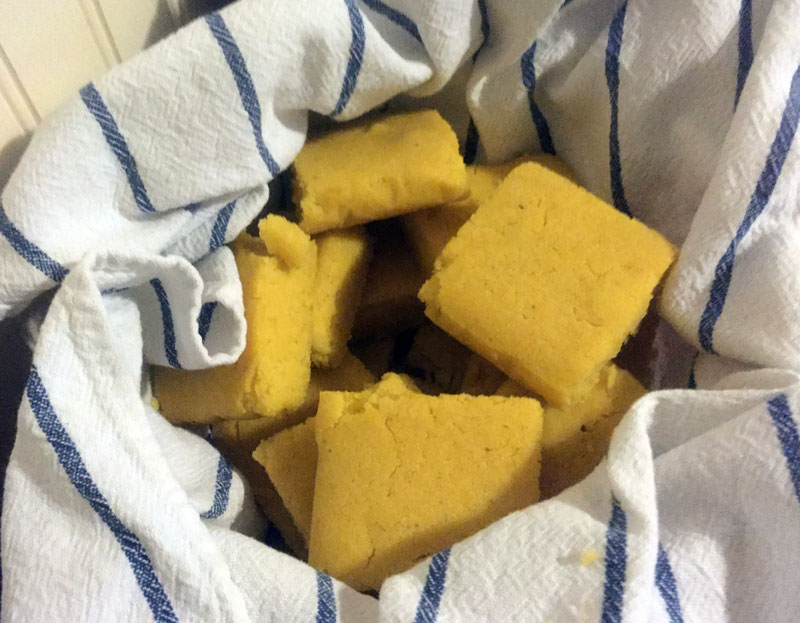 He also made cornbread using the Post Punk Kitchen recipe.
Drew and Caroline: Pumpkin Maple Baked Bean Cornbread Casserole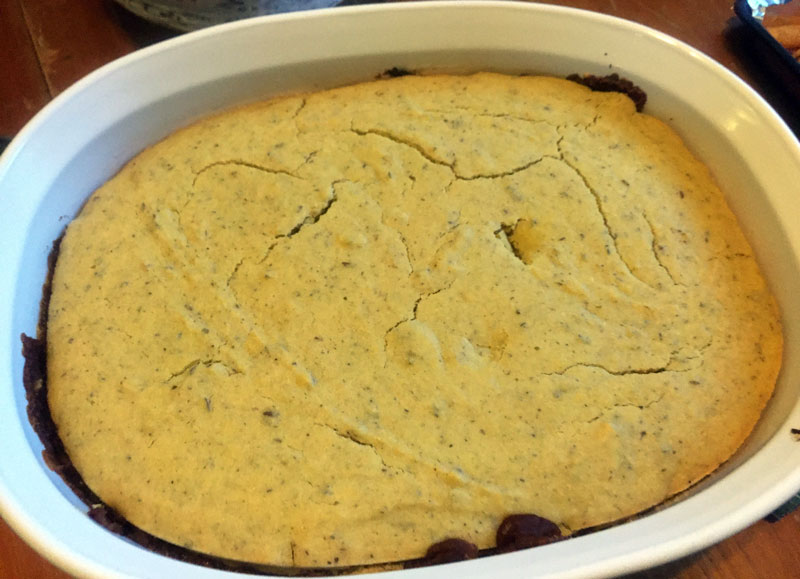 Drew and Caroline prepared this casserole using a recipe from Oh She Glows. It involved making a chili with navy beans, spicing it with things like chili powder, garlic, cumin, and cinnamon, then making it sweet with cranberries, pumpkin, and sweet onion. Once the chili was prepared on the stove, they dumped it into a casserole dish, and topped with cornbread batter for baking.
Ramon: Johnnycakes with Curried Pecans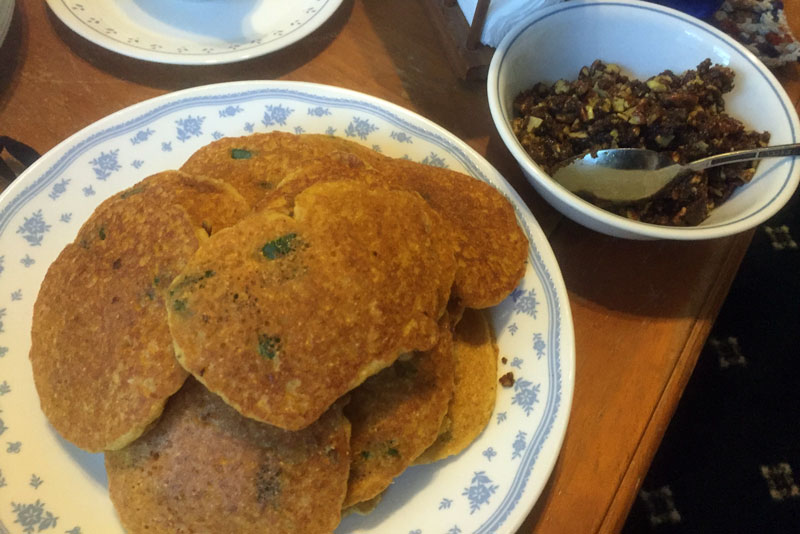 Ramon made these cornbread pancakes using the PPK Johnnycakes recipe, but added jalapeños and curried pecans to the batter. We topped the flat round cakes with syrup and more of his wonderful pecans.
Here is Ramon's Curried Pecan recipe:
Roast 2 cups of pecans in a pan.
In a sauce pan combine:

3 TBS vegan butter
1/4 cup brown sugar
2 TBS curry powder
1 tsp cumin
1/2 tsp cinnamon
1/2 tsp salt
pinch of cayenne

Combine the pecans and the sauce.
Eat.
Taylor: Maple Cranberry Chili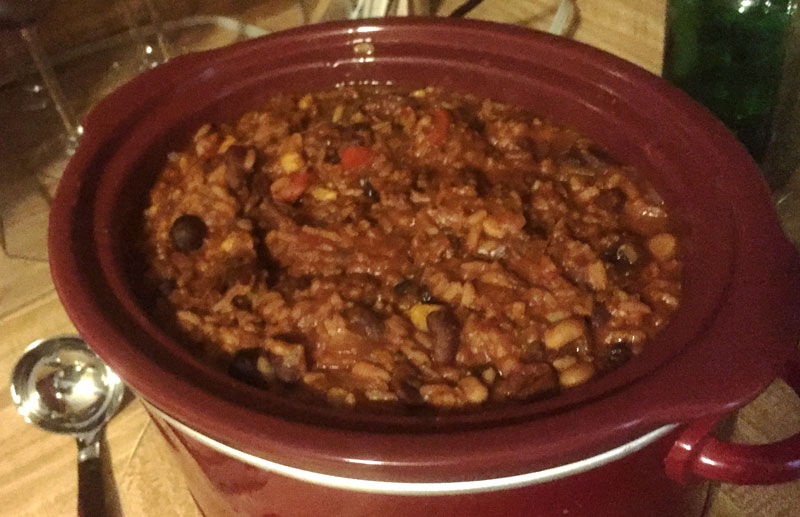 Taylor made a chili recipe from the book Venturesome Vegan Cooking that she got at Half Price Books. This chili had a nice sweet flavor courtesy of the unexpected cranberry, cherry, and maple syrup ingredients that were added to the more traditional flavors of beans, bell pepper, and smoked paprika. Also containing rice, the dish was like a cross between gumbo and chili.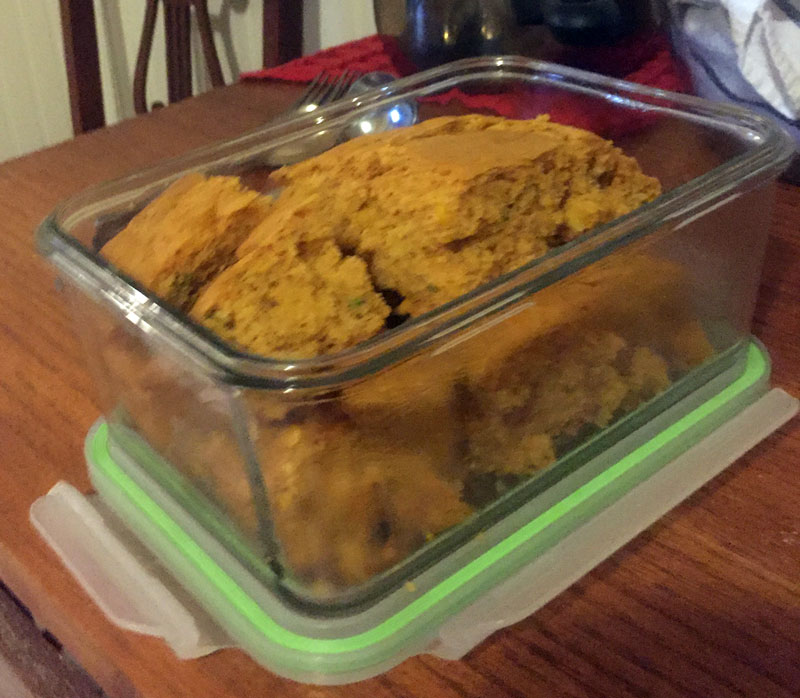 Using the same cookbook, Taylor also made a cornbread that contained corn, jalapeño, and chili powder.
Priya: Smoky Six Pepper Chili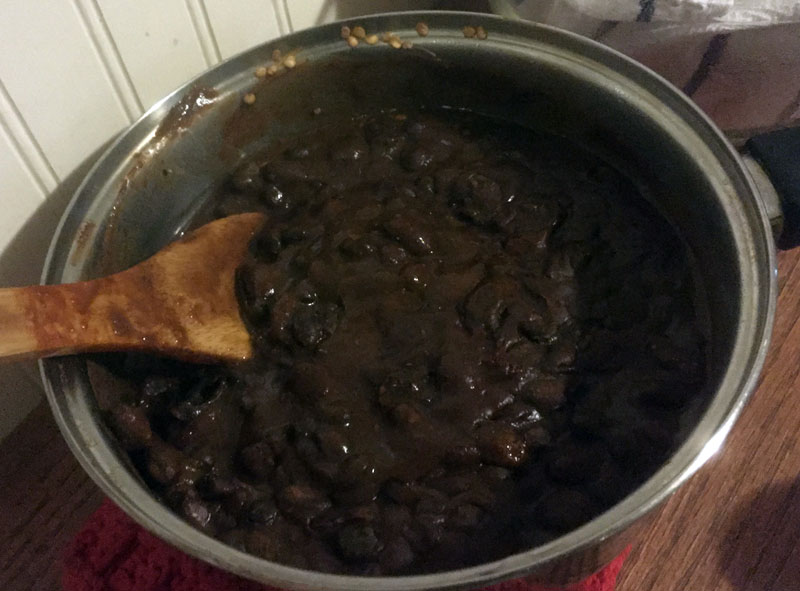 Priya designed her own chili with a strong smoky flavor and six different kinds of peppers. She re-hydrated dried peppers by boiling them for five minutes and simmering them for an hour with garlic and onion before blending the concoction to a liquid. She then tossed in black beans, kidney beans, tomatoes, cumin, and liquid smoke.
This was Priya's first meeting (see Priya on right).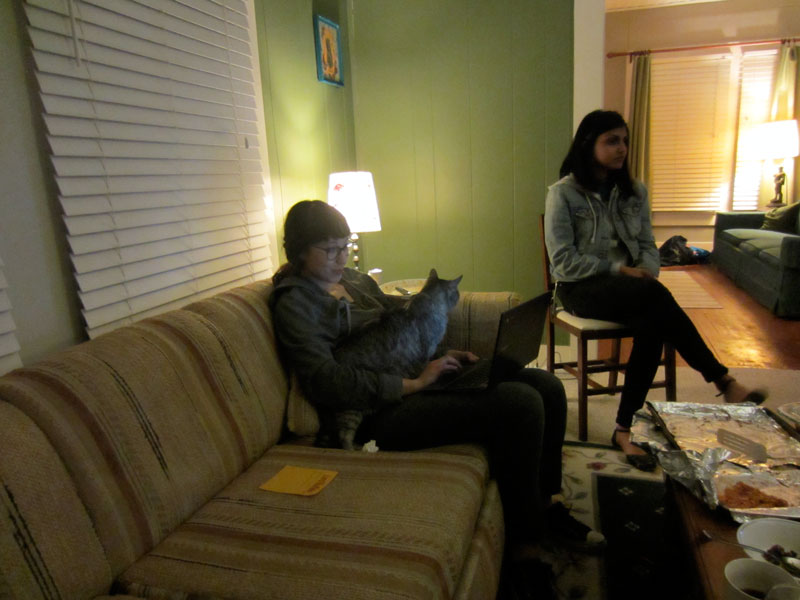 Shannon – Cowboy Caviar; Cornbread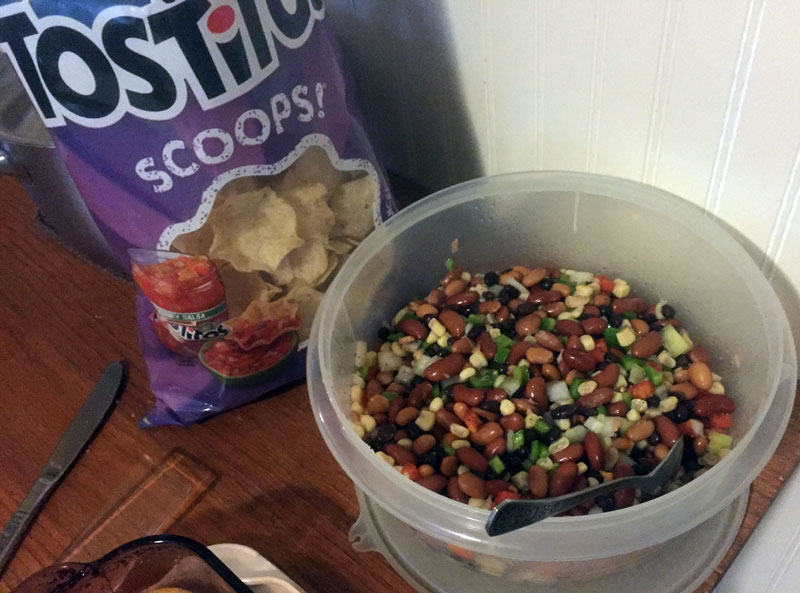 Shannon was first served cowboy caviar by a girl from Philadelphia while serving in the Peace Corps. Shannon made hers with black, kidney, and pinto beans, corn, Anaheim pepper, onion, garlic, oil, vinegar, sugar, salt, and pepper. She let the bean mixture marinate for a few hours to allow the flavors to permeate the dish.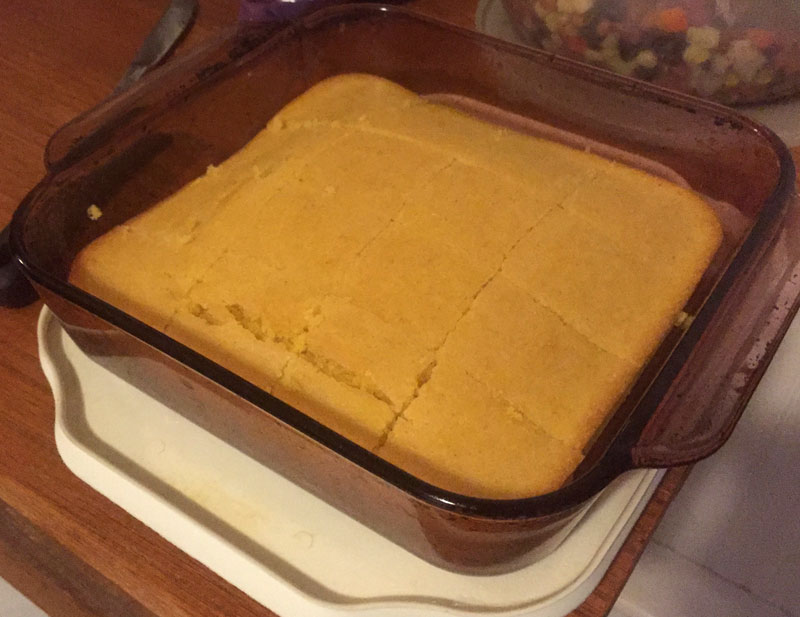 She also made a veganized version of the cornbread recipe from the package of Lamb's brand corn meal.
Billy: Chili Cheese Fries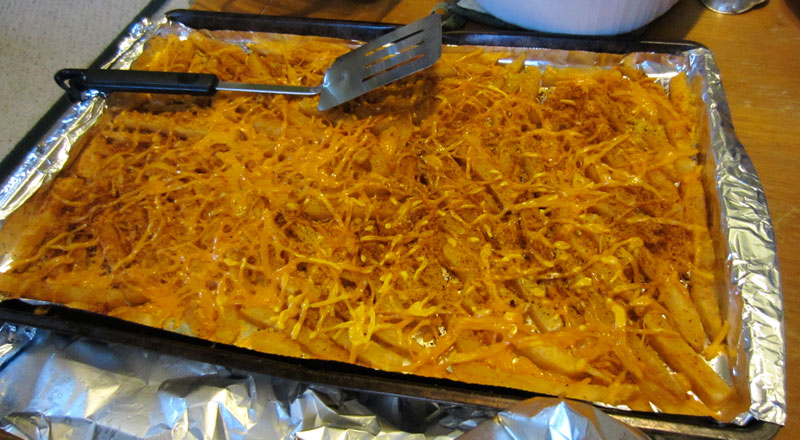 For a low effort dish, Billy oven-cooked some Kroger brand seasoned fries topped with Daiya Cheddar Shreds, nutritional yeast, and chili powder. They went well with every type of chili on hand.
Slynn: Lentil Sweet Potato Chili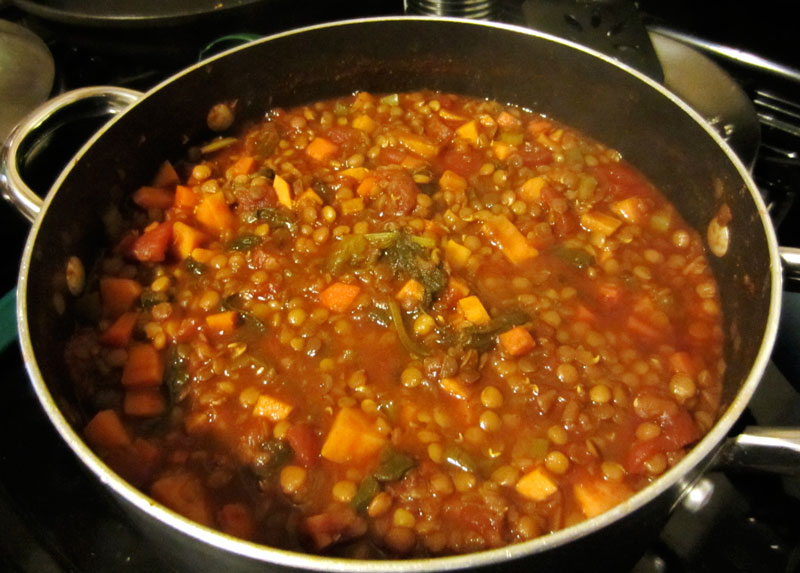 Slynn made a lentil-based chili with sweet potato, diced tomato, celery, bell pepper, and carrot for lots of veggie power. She seasoned the dish with cinnamon, chili powder, and cumin.
Lauren: Mango Chili Cake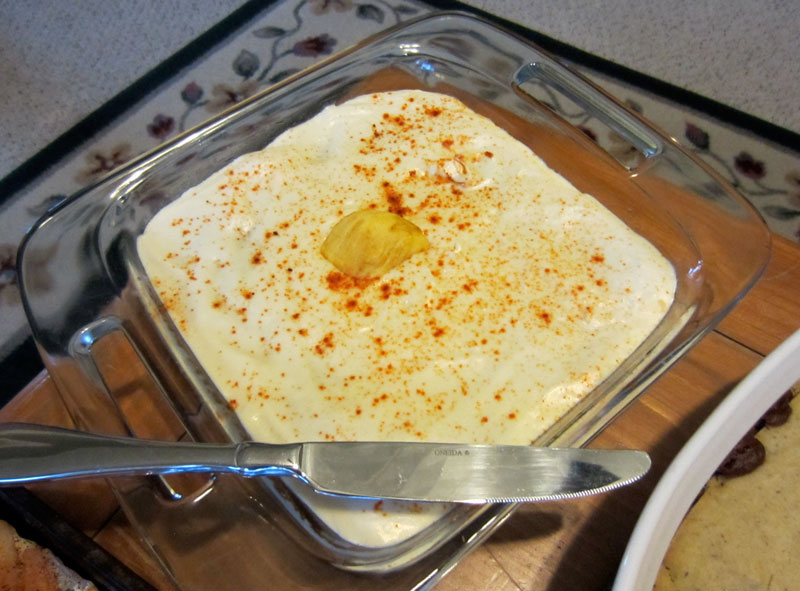 Lauren used the simple orange cake recipe that has been passed amongst her friends for years but changed it up by using Trader Joe's Mango Juice (courtesy of Ramon) instead of orange juice and adding 4 teaspoons of chili powder, 1 teaspoon of smoked paprika, and 1/4 teaspoon cayenne pepper. She topped the cake with vegan buttercream frosting (made with Earth Balance Buttery Stick) and sprinkled with smoked paprika.
Save