January 25, 2015 – Comfort Food
Sunday, January 25, 2015
VBC Meeting #23: Comfort Food
Host of the Month: John
Location: Denton, TX
For this Vegan Bake Club meeting, John picked the theme of Comfort Food to go with the colds and cold weather going around this time of year. As you can see, he had some epic things to explain to us (that probably weren't about comfort food).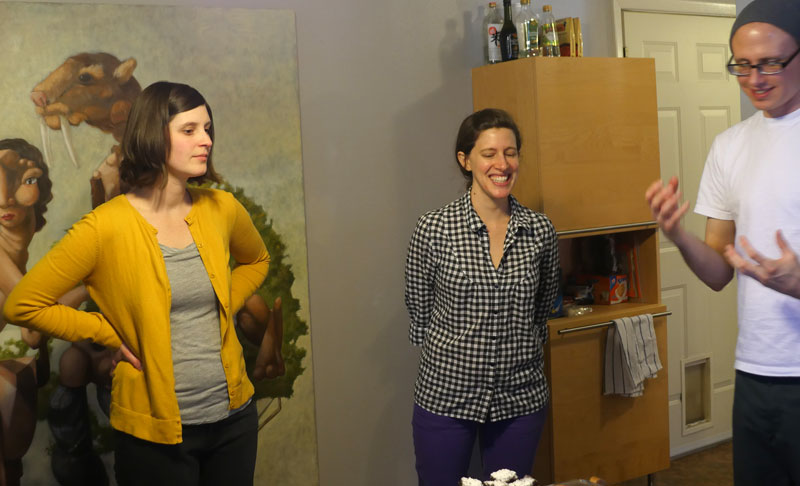 This is what we made:
Billy: Gumbo
Billy put things like rice, okra, potato, tomato, onion, celery, hominy, vegan sausage, vegan chicken, diced tomato, tomato paste, garden arugala, red bell peper, and spices including chili powder, garlic, nutritional yeast, salt, nutmeg, and cayenne pepper into his gumbo. He seemed to be making up the recipe as he went along, but it worked out pretty well.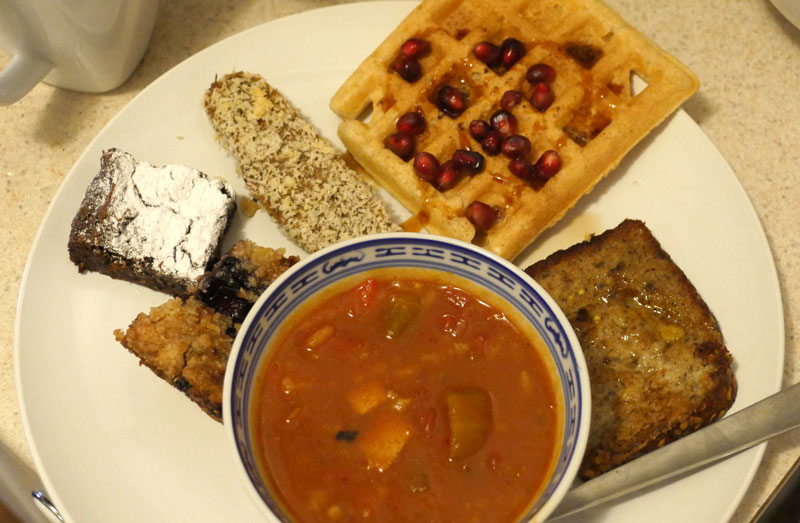 Taylor: Chocolate Cheesecake
Taylor used the recipe from Sweet Vegan by Emily Mainquist to make this richly decadent cheesecake that contained Tofutti Better Than Cream Cheese, Better Than Sour Cream, and Earth Balance Buttery Stick. The crust had ground coffee (making it taste fancy) and crushed Newman Os (making it taste awesome).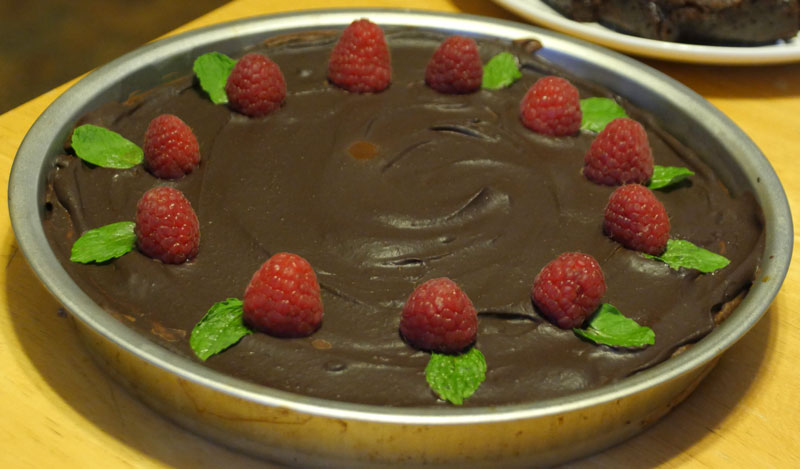 Brenda and Victor: Vegan French Toast
Brenda and Victor used the recipe for French toast from Quick and Easy Vegan Comfort Food. For the bread they bought a wheat bread containing flax and other seeds, but Brenda said she might have preferred white. Smothered with real maple syrup, it was delicious as it was.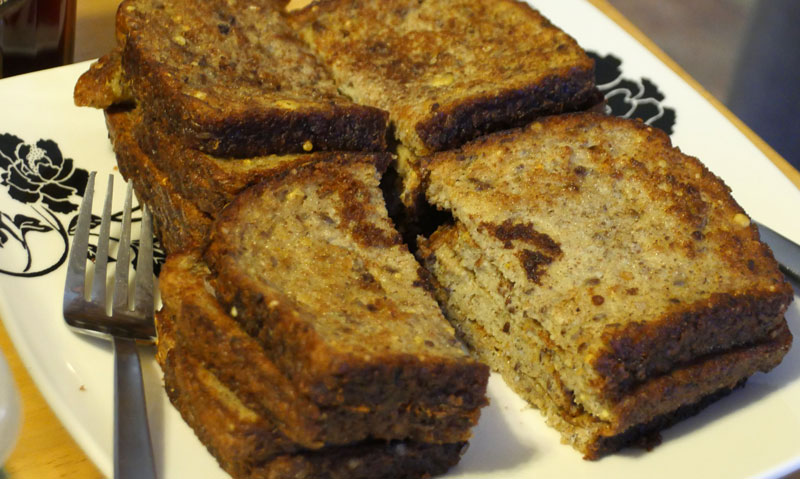 Kim: Jambalaya
Kim made the jambalaya of the Veganomicon with seitan, wild rice, celery, kidney beans, and other stuff.
Thanks to Brenda and Victor for getting us a photo of this one (other photos for the meeting by Billy).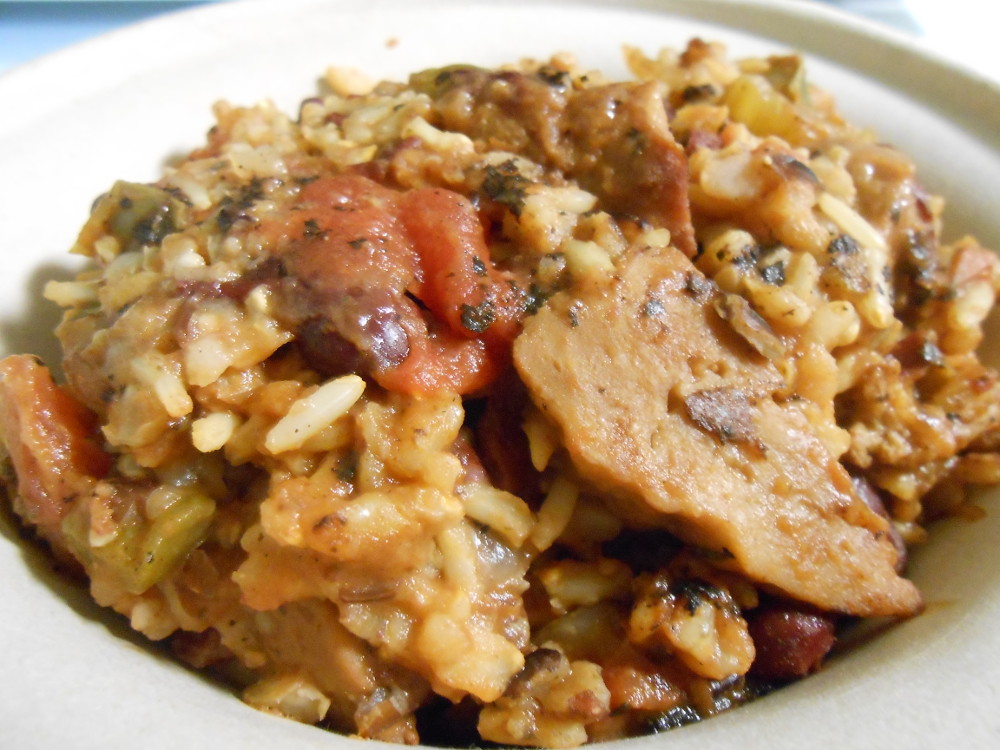 John: Cherry Almond Brownies; Orange Brownies; Four Can Soup
John adapted his brownies from this Ultimate Brownie recipe chosen for what he described as being the "best recipe to stick an orange in."
Here is the adaptation in his own words:
In both batches I substituted a little over a teaspoon of finely ground coffee for the instant espresso, and added a little extra vanilla.
For the Cherry Almond ones, I substituted 1/2 cup of Almond meal for 1/2 cup of the flour, and used a Chocolove brand Cherries and Almonds in Dark Chocolate bar (3.2 oz) along with some semi-sweet chips to make up the balance of the recommended 4 oz. I also substituted baking powder for baking soda.
On the orange ones, I cut up and blended a whole clementine orange with a splash of orange juice, then mixed it with the flax as a substitute for the flax egg water and the 1/4 cup of boiling water called for later in the recipe. Since I wasn't using any boiling water, I microwaved everything except the flour and baking soda mixture for a few minutes to get the chocolate chips nice and melty. I replaced 3/4 cup almond meal for 3/4 cup flour. After the recommended 25 minute baking time, they still looked very wet, so I cooked them an extra ten minutes or so until the edges weren't bubbling quite as much. I'd recommend measuring the orange mixture to get something closer to the right amount of liquid.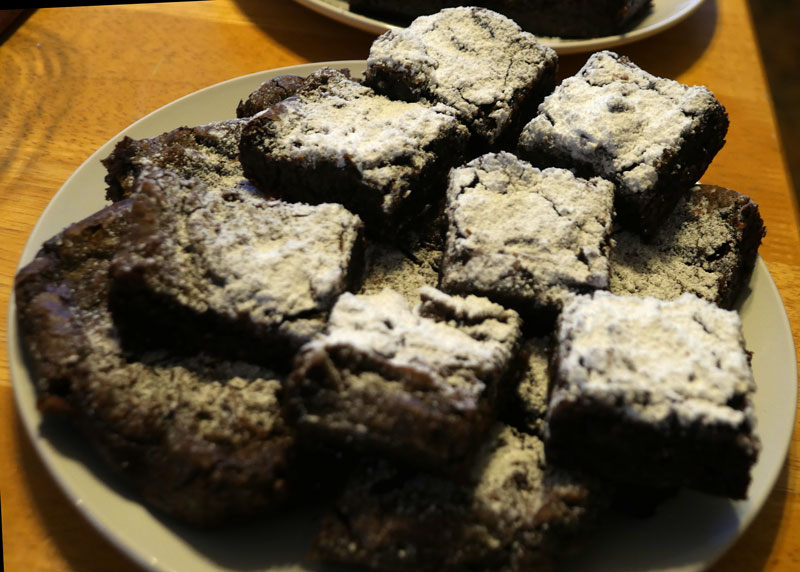 John also made his mom's Four Can Soup recipe containing black beans, diced tomatoes, stewed tomatoes, and corn plus cumin, onion powder, and chili powder for the seasoning. We didn't get a picture for this one, so just imagine looking at all the stuff just listed in a pot on the stove.
Lilly: Big Pot of Vegetable Barley Soup
Lilly designed this comforting yet healthy soup with pearl barley, chickpeas, chopped garlic and ginger, the lemon juice and pulp of a quarter lemon, lemon zest, carrots, one shallot clove, kale, red cabbage, one tablespoon of tomato paste, veggie bouillon, onion powder, and ginger powder. She served it with sangak bread acquired from a Persian specialty food store.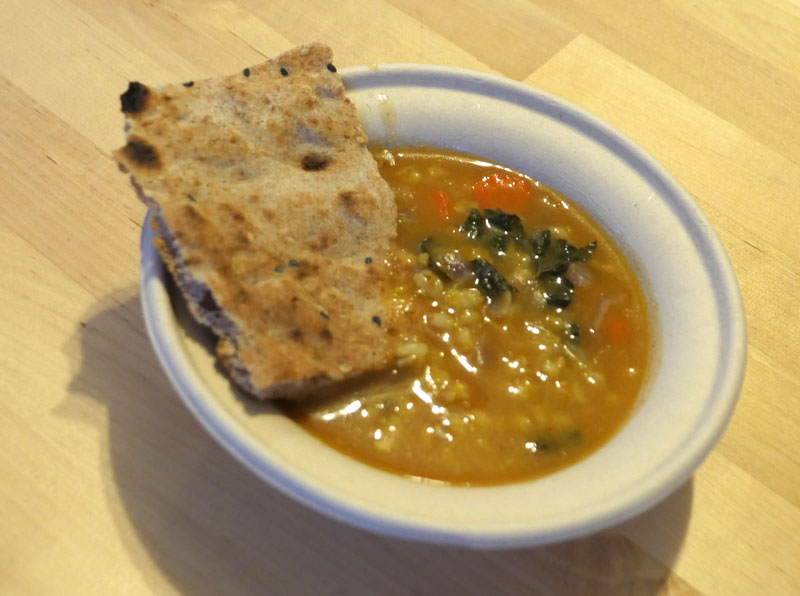 Lauren: Blueberry Cobbler Bars
Lauren adapted this recipe from a non-vegan cobbler bar recipe, replacing the eggs with a flax water blend and the butter with Earth Balance Buttery Stick. She also added the lemon zest and juice of one large lemon and some of Billy's homemade cashew cream cheese to the blueberry filling.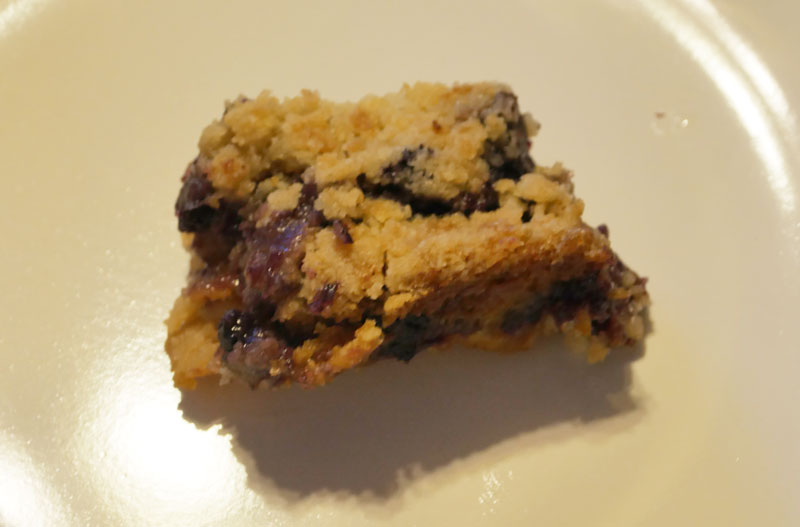 Slynn: Cornbread Waffles; Buttermilk Waffles; Chicken Style Seitan; Pomegranate Topping
The recipes for the buttermilk waffles, the pomegranate syrup, and the seitan came from this Post Punk Kitchen page. The pomegranate syrup has pomegranate molasses mixed into maple syrup at a 1:4 ratio. In the photo of a plate with Billy's gumbo above, you can see a waffle in action with the pomegranate and syrup.