Many Days, January 2021
VBC Meeting #95: Bread
Host of the Month: The Internet
Location: The Internet
After chatting with Shannon one day, we came to the realization we have never had a bread theme for VBC. This is shocking, since many of us (nudge nudge Shannon) really like to eat the breads. Shannon suggested perhaps it is because when we were meeting in person, all that bread would have been overwhelming. Now that we aren't actually consuming each other's foods other than with our minds, Bread Month is safe! This could be that moment when you finally make that loaf of bread you were wanting to. Or create a bread sculpture such as you may have seen on the Great British Bake Off. It could be a quick bread, a yeast bread, sweet, or savory. It could be a biscuit or a loaf or a bun. There could be mixins or fillings or toppings. But if this all sounds like way too much work, pick up a loaf of bread and use it for some vegan meal: a delicious sandwich, a sandwich that isn't that good but you don't have time or the care to do much about it, croutons for a salad, bread pudding, bread crumbs on top of whatever, etc. It could even be gluten-free. Just go to bread!
Shannon: Ukrainian Welcome Bread
So for bread VBC, I got brave and decided to try to make "real" bread (I am not good at this). I wanted to try to make Ukrainian welcome bread, a special kind of loaf that is used in the Eastern European bread and salt ceremony (see here for what it is supposed to look like: Bread and Salt – Modernyj Korovai . But I had trouble finding a good recipe for it. At some point in the past I had printed out a recipe from somewhere for Russian welcome bread, but it's method was weird. It didn't say to activate the yeast and instead it's sketchy instructions had you just dump everything in. Thinking that was odd, I combined the simpler, less sweet ingredients used for the Russian bread with the method of putting together the dough for a Ukrainian paska (some baking blog said a welcome bread was essentially a version of an Eastern paska, so it seemed like a sound idea. So I activated the yeast, then mixed it with some of the flour and milk (used oat milk), then let the batter rise and bubble. After this rise, I added Ener-G egg, melted butter (Earth Balance), salt, and sugar, and added more flour to form a dough. Let that rise. Formed the loaf, covered in an "egg wash" (used refined coconut oil) and baked at 350 for 30 minutes.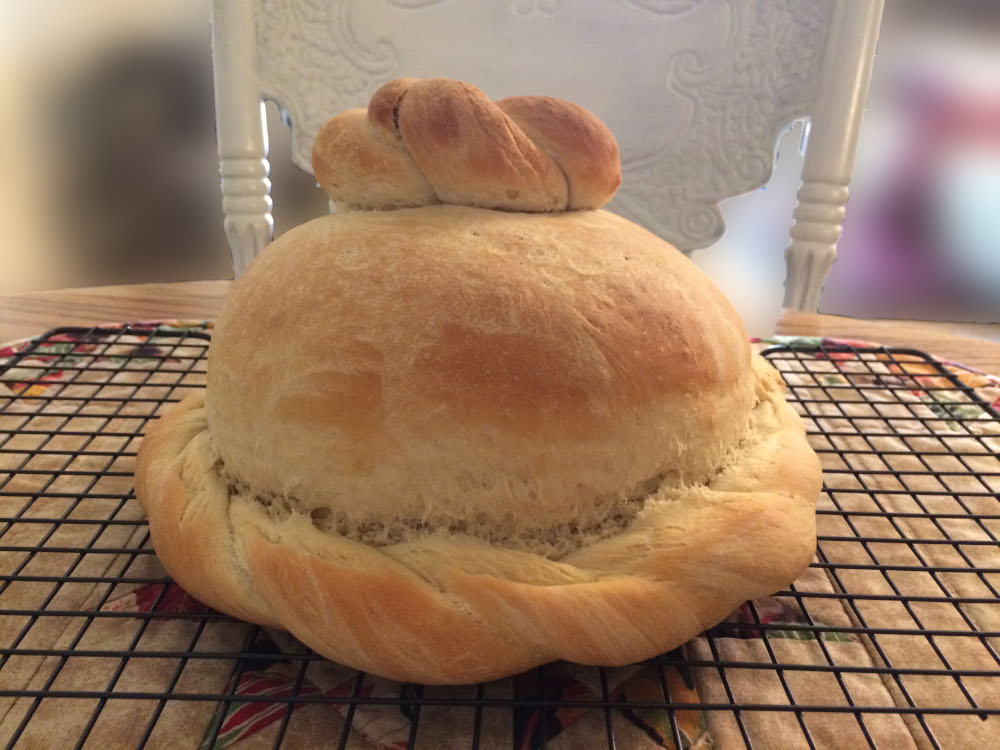 This did not make a welcome bread. It's puffier than welcome breads, so maybe I was just supposed to dump everything in. Or maybe I should have used a recipe for wedding korovai. I also halved the recipe to make a small one; maybe more dough would have made it look right? I also opted not to cover it in decorations as that seemed quite beyond my skill level. So not what I had intended, but at least a decent edible white bread (which is more than I have accomplished in the past). And not too big of a loss seeing as I don't have anyone to welcome right now anyway, haha!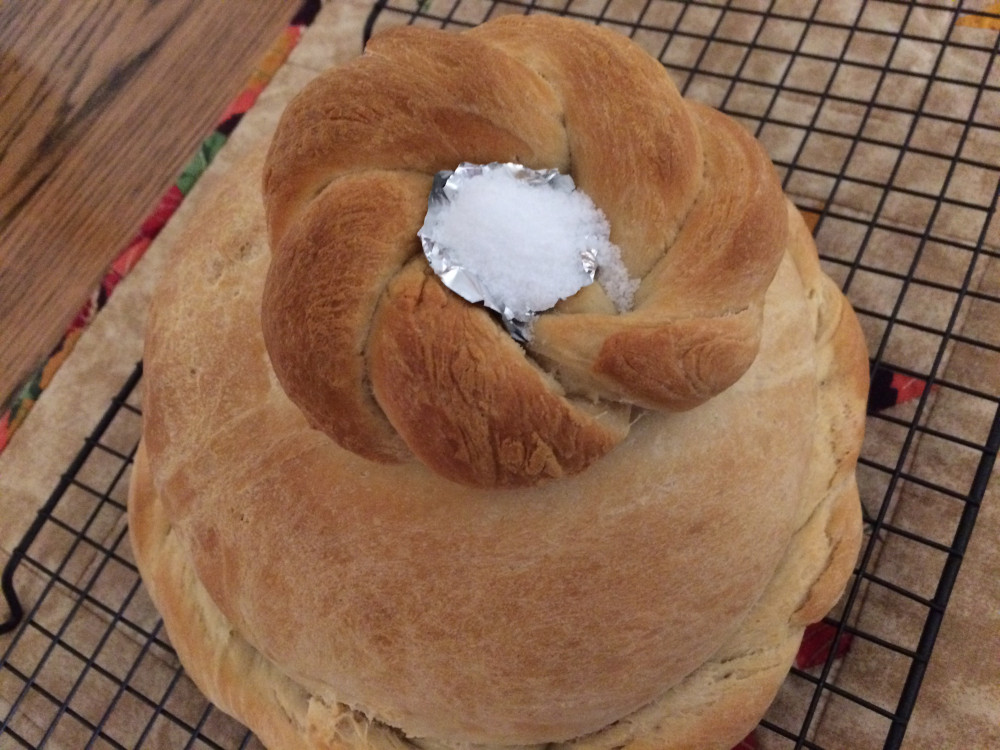 John: Orange Rolls
For my bread, I made some orange rolls based on a simple roll recipe, but swapping orange juice for water and marmalade for sugar, then adding a little vanilla, almond meal, almond extract, and on some, cardamom, to make them even more of a treat. They're not very sweet, but sweet enough ;). If you wanted sweeter rolls, I think this dough could be used to make some pretty tasty and sweet iced cinnamon buns.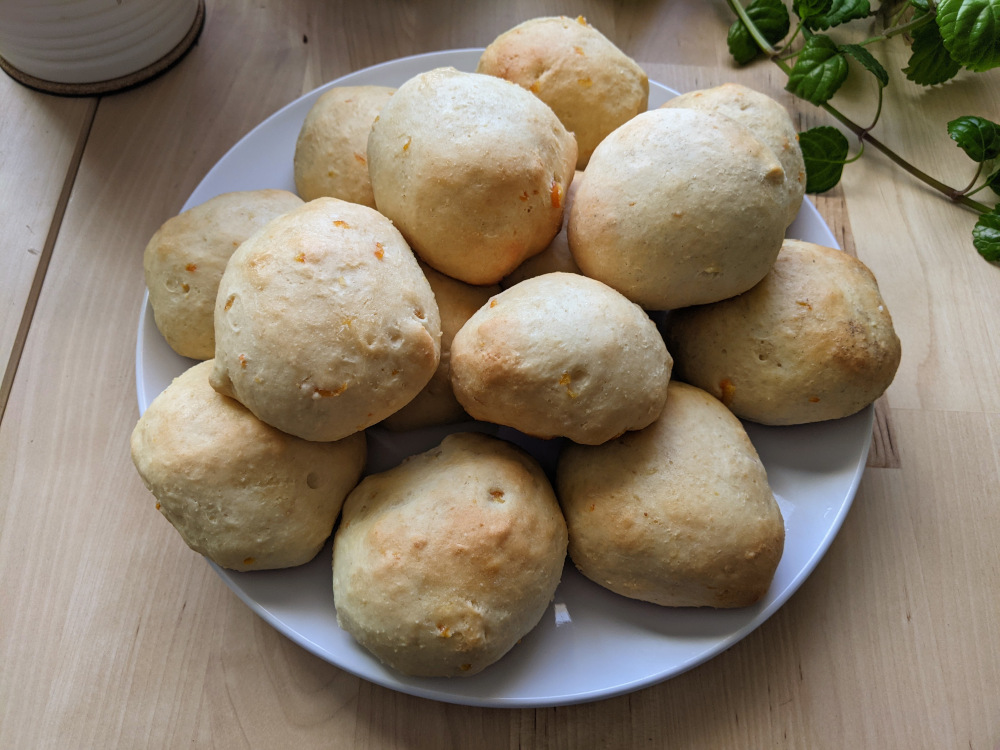 Orange Rolls
* 3/4 c Orange Juice
* 1/2 c Orange Marmalade
* 1 Packet Yeast
* 1/4 c Vegetable Oil
* 2 tsp Vanilla
* 1 tsp Almond Extract
* 1 Tbsp Egg Replacer
* 1/4 tsp Salt
* 1/2 c Almond Meal
* ~2 1/2-3 c Flour (I lost track of how much flour I used while making them :/ )
* Cardamom as desired
* Margarine for brushing on tops
Warm the Orange Juice and Marmalade in the microwave until it seems warm, but not hot. Add packet of yeast, mix, and let sit in a warm place until frothy. Mix Egg Replacer, Salt, Almond Meal, and 2 cups of flour in a separate bowl. Add wet ingredients to wet ingredients, then mix in dry ingredients. Knead in bowl and add 1/4 cup flour at a time until sticky dough starts to make a good ball. Cover bowl with a dish towel and put in a warm place to rise for an hour or so, then punch down, pull off pieces and form into two inch balls, and place on a cookie sheet. Add Cardamom to taste if you're feeling wild. Cover cookie sheet/dough balls with a cookie sheet and return to a warm place to rise for another hour. Bake at 350° F for around 20 minutes, until rolls begin to turn golden brown. If desired, brush each with a little margarine to shine them up, and enjoy!
Lauren: Chelsea Buns
For VBC Bread Month I had so many ideas I couldn't identify one and so ended up making Chelsea buns. I wanted cinnamon rolls the other day but wanted to try making something different. I looked up what made Chelsea buns Chelsea-ish, and it seemed to mainly be that they are cinnamon rolls that don't have to have cinnamon (but often do) but do need to have dried fruits in the filling and often have citrus zest. Also they don't have a thick frosting, but a thinner sort of sweetness brushed on or thin glaze. Thus I made the standard cinnamon roll dough I usually make, though I used a banana instead of apple sauce, since we had a couple about to get to don't-eat-this-anymore stage. I put chopped apricot, cranberry, and orange zest in the filing and brushed the baked rolls with apricot jam thinned with water.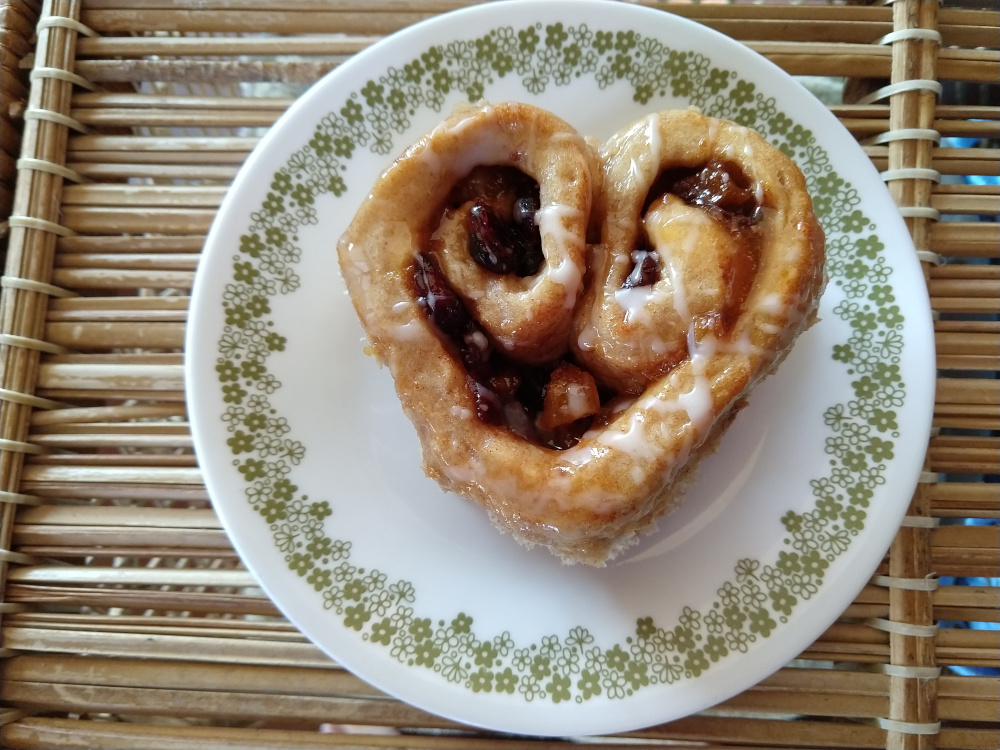 These are the things Paul Hollywood said to do to make Chelsea buns. These buns turned out super sweet because…surprise, when you add really sweet dried fruit to an already sweet bun, the sweetness compounds! Also, if you like cinnamon rolls, but don't like dried fruit that much, you will probably prefer just to have cinnamon rolls!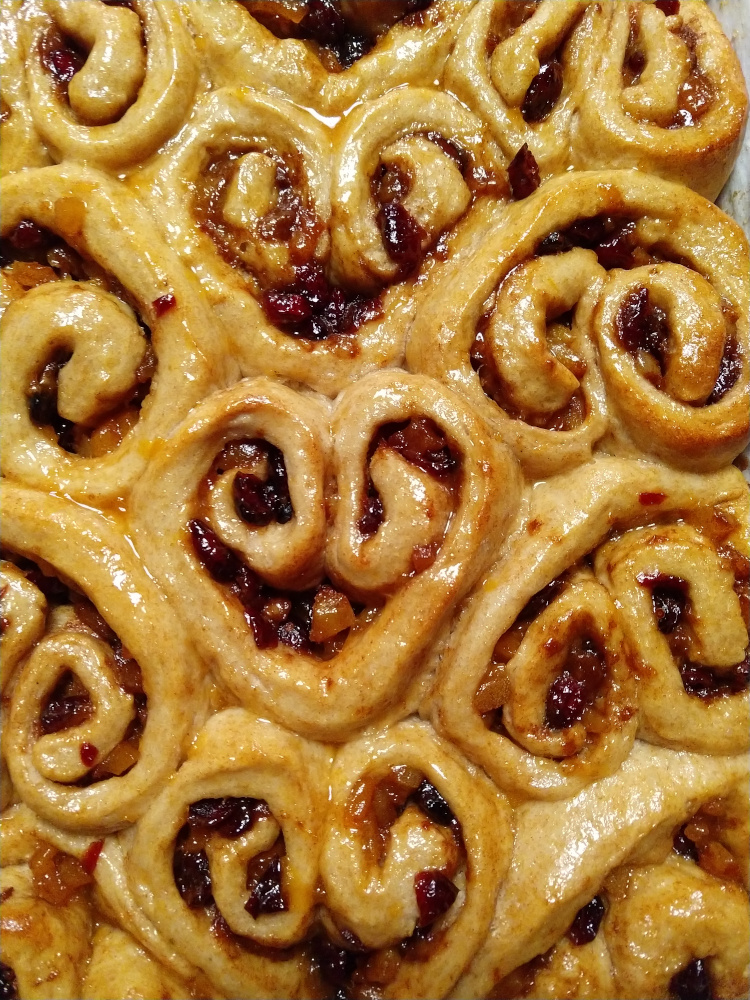 Haley: Party Poopin' Pizza Dough
I was a party pooper and did not bake bread. I made a pizza dough, but that's something I do all the time so it doesn't really count.
Caroline: Croutons; Bread Pudding
I made croutons!! No but for real, it was my first time making croutons bc sweet Little Nephew wanted some and the store only had cassava croutons (which were really good but didn't pass the 4-year-old test). So I bought some yummy bread and made croutons because I am the biggest pushover for Sweet Lil's whims! I was also intending to make bread pudding!! But I haven't done it yet…
For January's bread theme I made… dun dun DUUUUNNN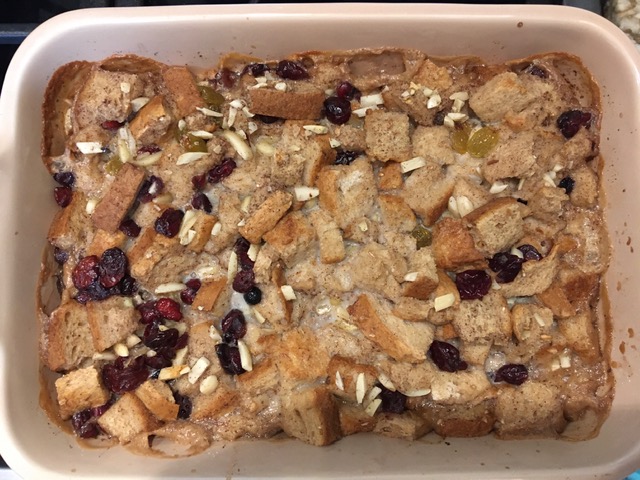 I kept the crust on my bread, and instead of just raisins I used a mix of dried berries including: cranberries, blueberries, raisins, and maybe there were some currants in there.
It was easy to make and deliciously hearty to eat!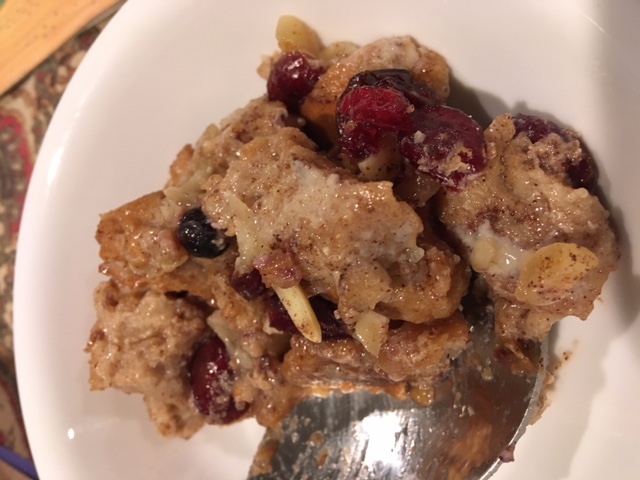 Billy: Calzones
For January I wanted to make some sort of cheesy bread and decided on calzones.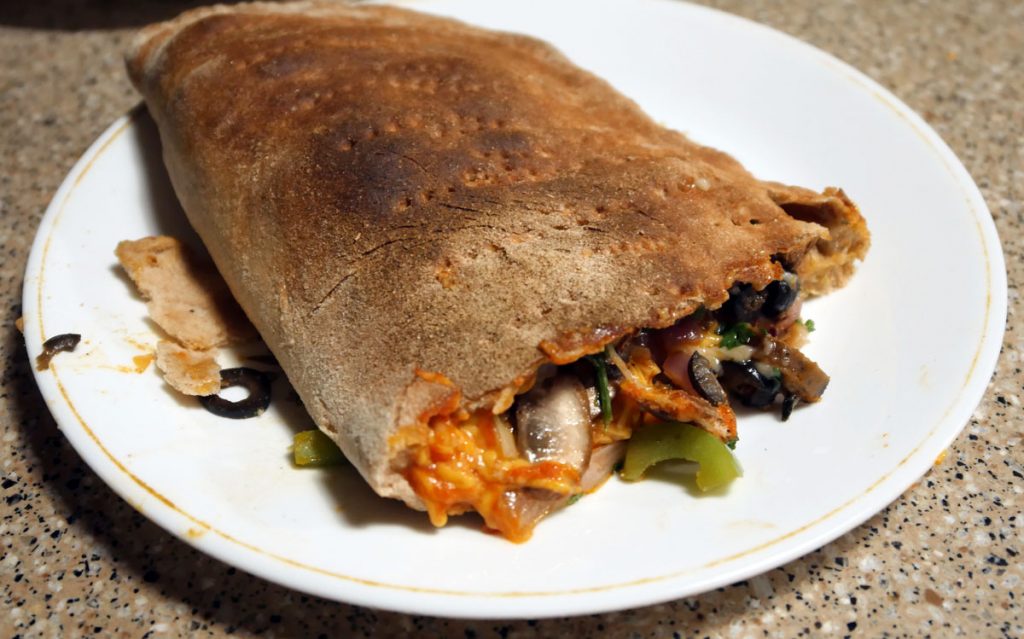 I used the Almost Like Papa John's Pizza dough recipe Lauren normally doubles with whole wheat flour and loosely followed this approach to make giant 10×14″ rolls, which were challenging to transfer onto a baking sheet. Filled them with stir-fried Tofurkey Italian sausage, bell pepper, onion, mushrooms, parsley and Daiya cheese.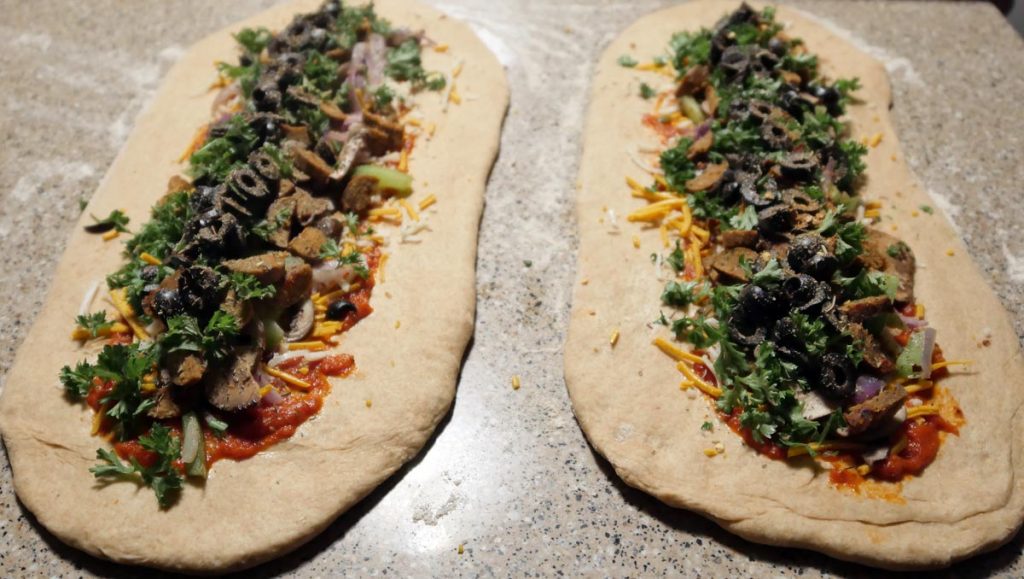 Slynn and Neva: Ezekial Bread; Blueberry Pear Pie; Cut out Cookies
I love bread pudding and haven't made it in so long! Yours looks super good, Caroline. Dried fruit is a good ingredient for that because it doesn't make it too soggy like fresh fruit.
I've gotten into a bad habit of baking things and not sending emails. I will try to do better. At the end of January I made this "Ezekiel Bread" from 100 Best Vegan Baking Recipes . [I've been making a lot of things from this book lately. This was my first vegan baking book and still my favorite.] We often buy this type of bread so it was interesting to make it for myself. In addition to wheat flour, this bread has chickpea flour, spelt flour, and cooked mashed red lentils for extra protein. My only complaint about this recipe is that the bread is pretty much stale by the next day, so you have to eat it pretty quickly.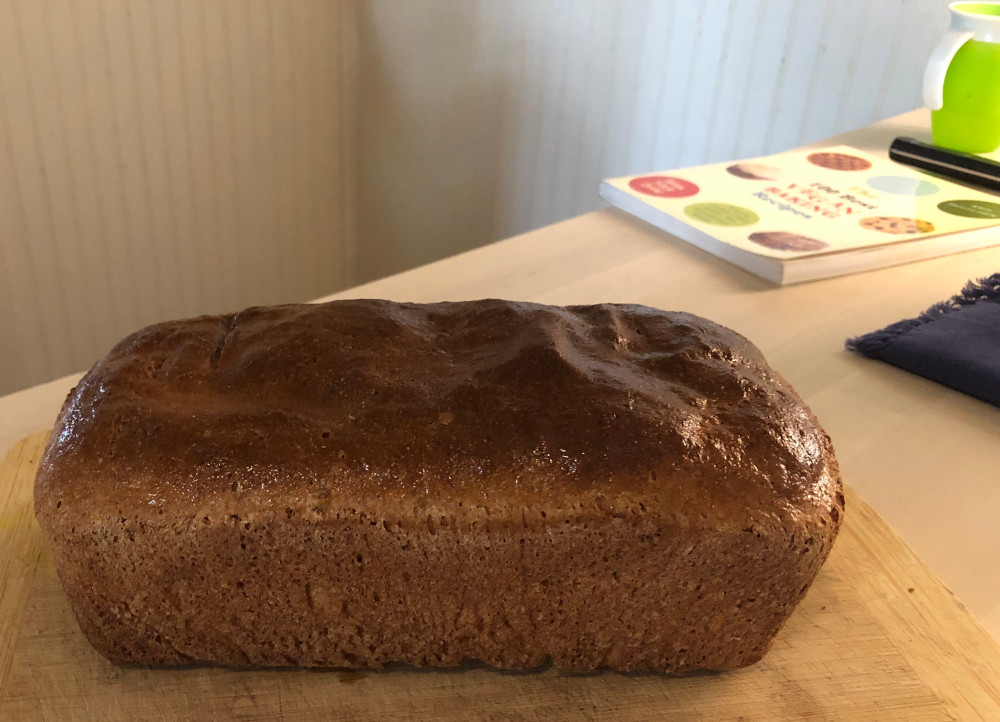 Neva and I did a bunch of not on theme baking because she loves to use the rolling pin – including a weird-shaped blueberry pear pie and cut-out cookies.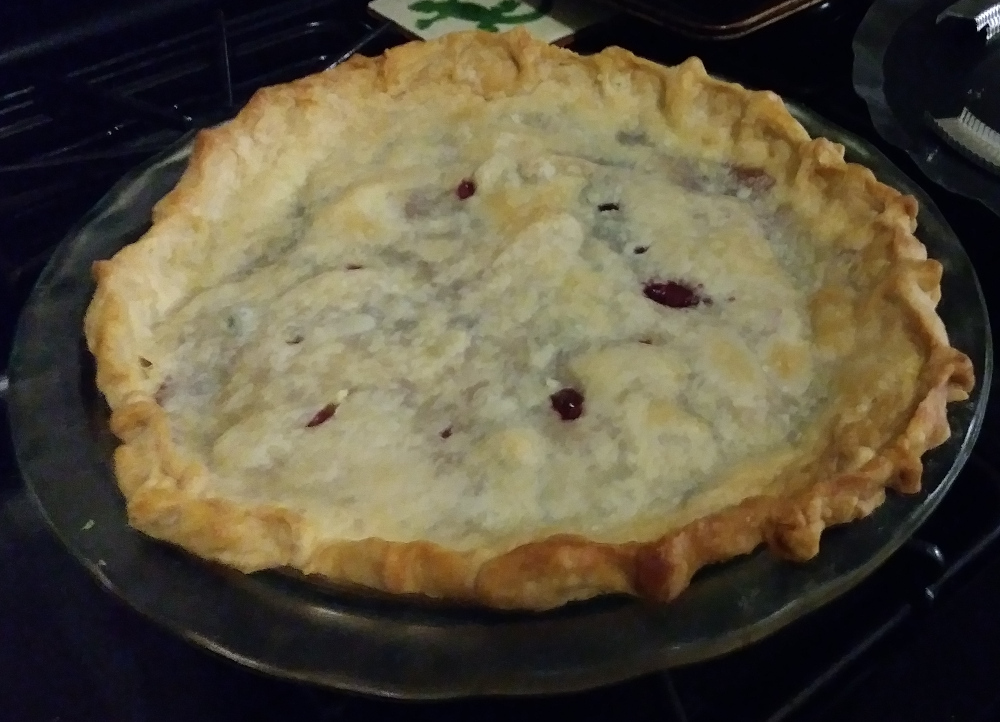 With the leftover pie dough, she rolled it out, sprinkled with cinnamon sugar, rolled it into a log shape, and baked. This is something my mom always did for me when I was a kid. The cookie recipe is nice because it doesn't make a ton, and you just dump all the ingredients in a bowl and mix with your hands. Very popular with 2-year olds. The "frosting" is Tofutti cream cheese and date syrup. The sprinkles were, I think, a gift from Lilly!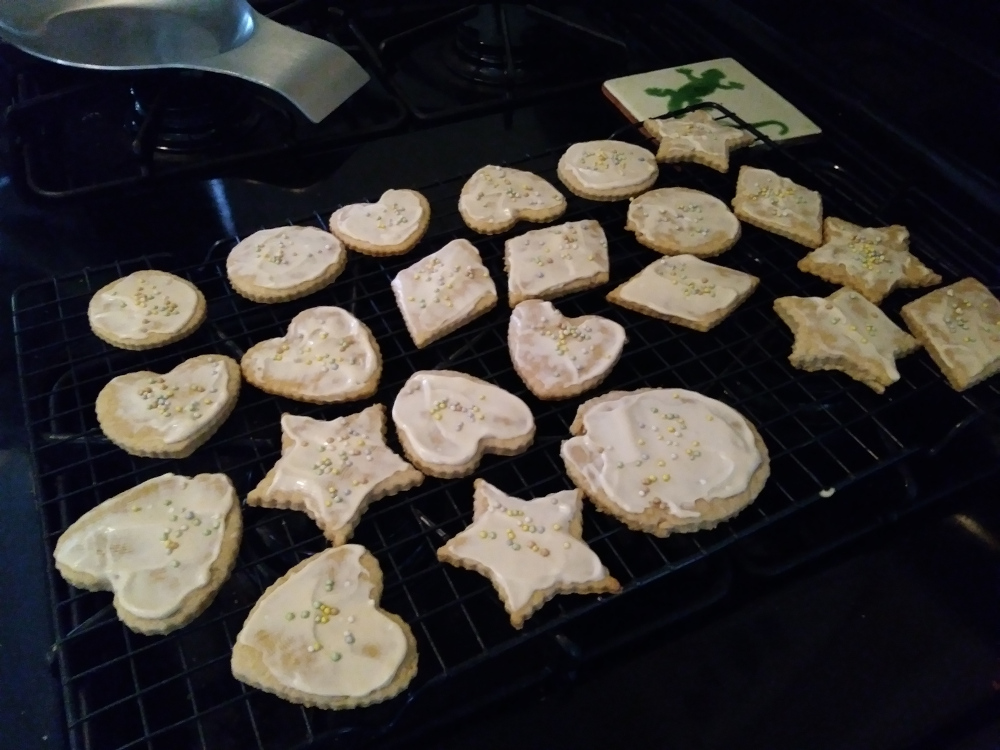 Ramon and Neva: Cranberry Orange Muffins; Donut Holes; Dutch Baby
Sarah just left the room for what she said would be 20min and turned into nearly an hour to send the last 2 emails. I also forgot to submit my VBC bread contributions. I'm going to try to beat her time.
Neva and I made these muffins, subbing flax eggs for the eggs. We didn't have enough orange juice so I filled it out with water and they tasted great.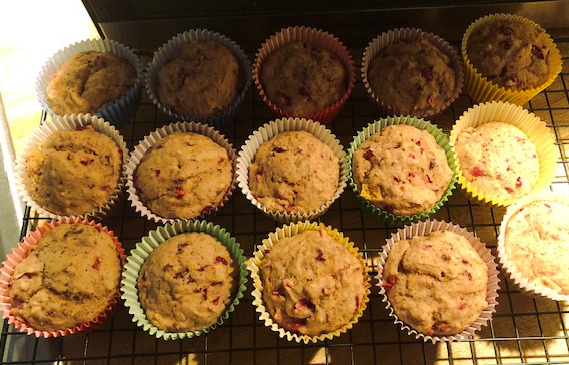 I was also gifted an air fryer attachment for our Instant Pot and made these donut holes one night.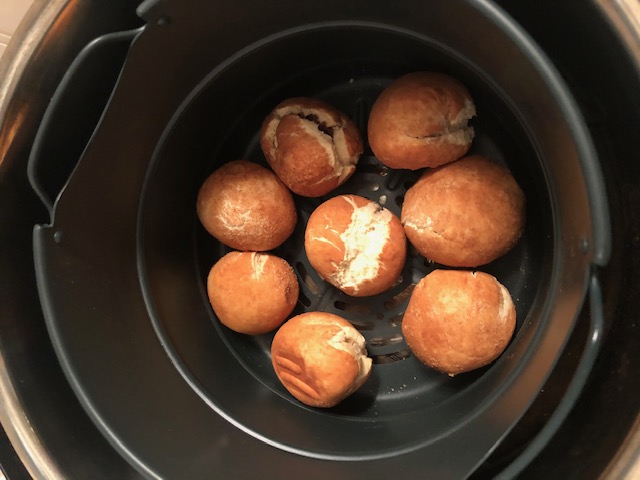 They were easy and very good. I might plan to buy a "flavor injector" and attempt other fillings soon.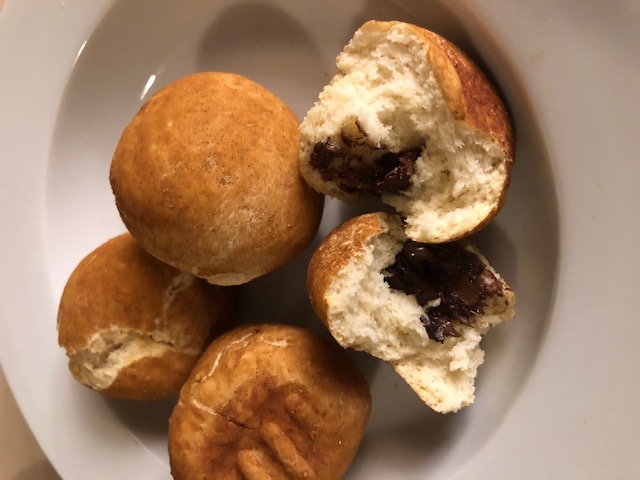 I also attempted to veganize a Dutch baby but having never had a "normal" Dutch baby (it's my understanding it's a kind of custardy egg pancake—breadish I guess) that was completely inedible. I didn't take a photo but suffice it to say don't just replace the eggs in a "normal" Dutch baby recipe with flax eggs.