Sunday, January 15, 2023
VBC Meeting #119: Hygge
Host of the Month: Slynn, Ramon, and Neva
Location: Denton, TX
To start off 2023, Slynn and Ramon chose a theme of hygge. Hygge, meaning something like a feeling of coziness in Danish and Norwegian, led us to make cozy/comfort food, some with a Scandinavian leaning.
This is what we made: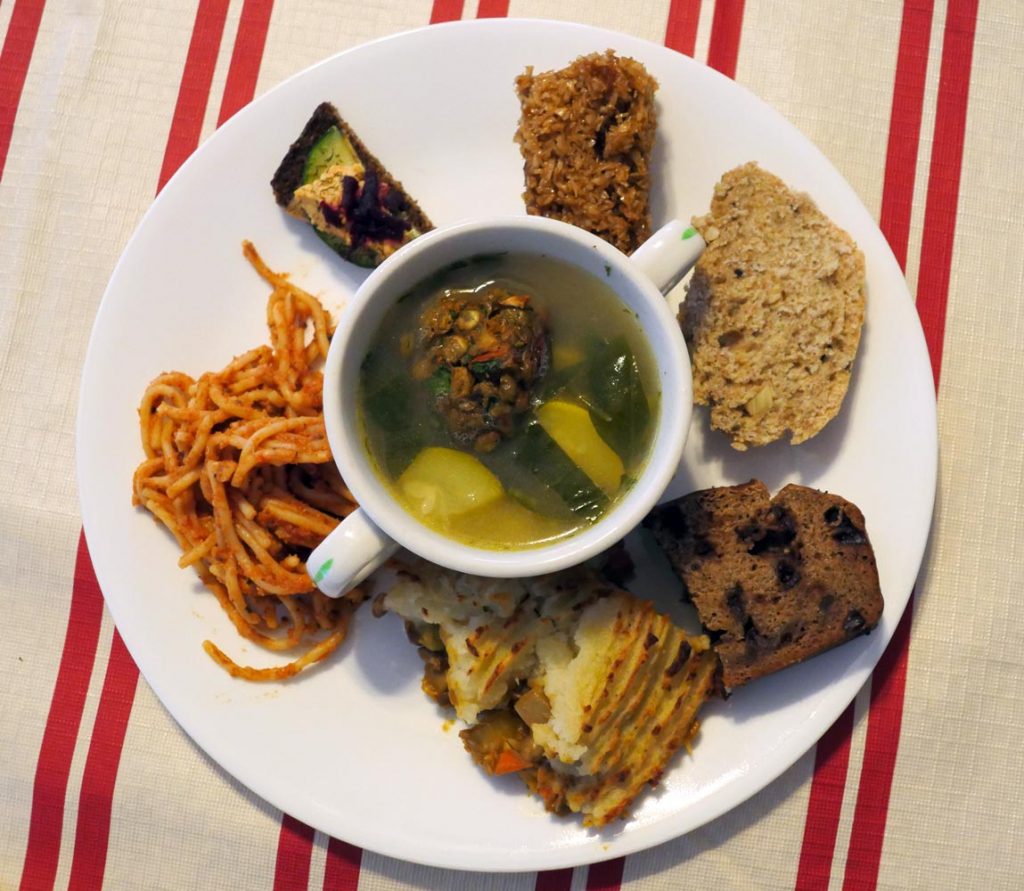 Lauren: Danish Dream Cake (Drømmekage)
Reportedly a Danish traditional treat, the pictures of this Drømmekage, a white cake with a coconut caramel topping, elicited what Lauren perceived to be feelings of hygge. The original batter recipe contains flour, sugar, butter, eggs, milk, baking powder, and vanilla sugar. She made 1 1/2 times the recipe for a 13×9″ pan with the additional alterations: used whole wheat flour for a little over half of the flour, used canola oil in the cake because of how expensive vegan butter is right now (Earth Balance is up to $2/stick) when it is mostly oil anyway, used powdered egg replacer for eggs, used a combination of coconut (canned) and flaxmilk for "milk", and in place of vanilla sugar, she used vanilla paste (because she didn't have the vanilla sugar), and added 1/2 a teaspoon each of cardamom and salt to add some flavor. For the topping she used vegan buttery sticks (Natural Grocers brand), coconut milk, brown sugar, and unsweetened shredded coconut.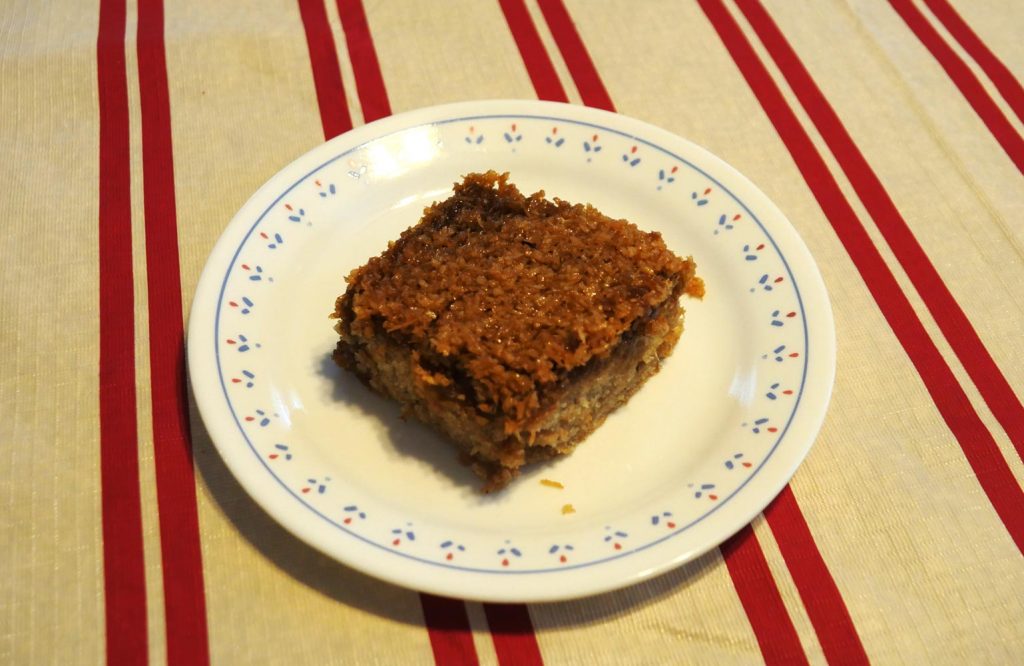 Billy: Smørrebrød
Though Smørrebrød translates to "Butter bread", Billy did not [vegan] butter his version of these open-faced sandwiches. He toasted store-bought pumpernickel rye bread cut in small triangles (for a mini-sized take on the original) topped each with Follow Your Heart Smoked Gouda, then further layered on: Hickory-Smoked vegan sandwich slices, thin cucumber slices, hummus, shredded beets, dill, and salt.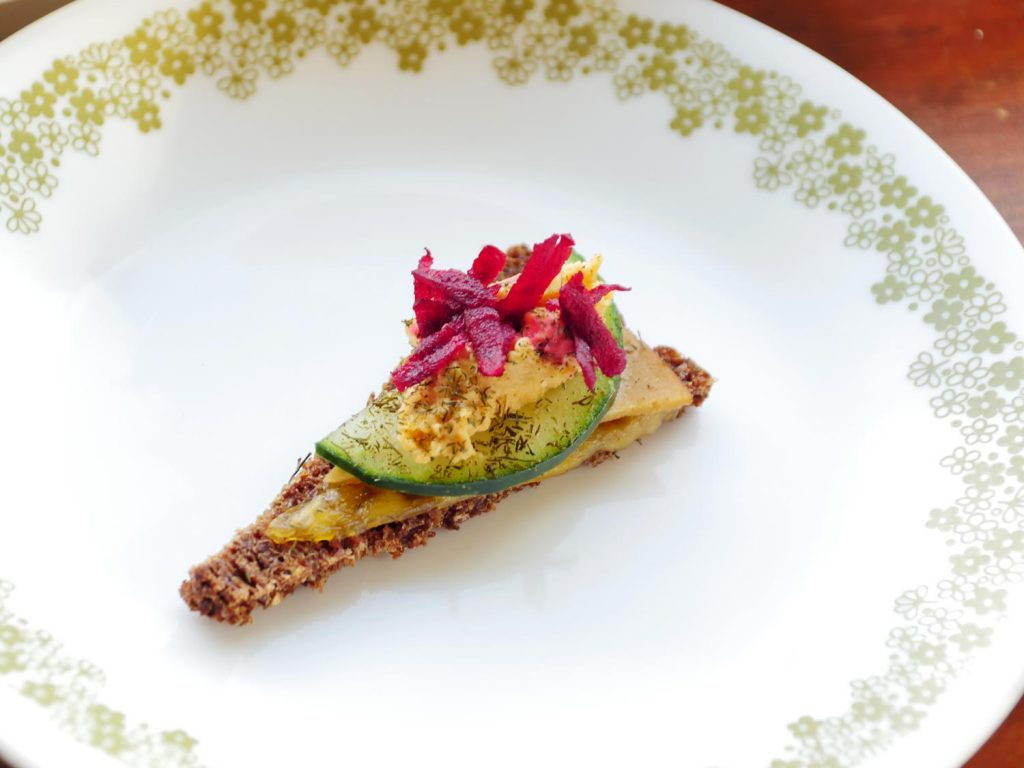 Minji: Shepherd's Pie
While Minji had eaten shepherd's pie a couple times in her life, she had never made it before. Knowing Kori's dislike of eating mushrooms, she thoughtfully sought a recipe without mushrooms, deciding to follow the Simple Veganista vegan shepherd's pie recipe, which she thought was pretty easy. She used lentils that she pre-cooked, onions, carrots, celery, vegetable broth, red wine, thyme, and rosemary. In the baking dish, she topped the filling with mashed potatoes, marked it with a heart, and baked it.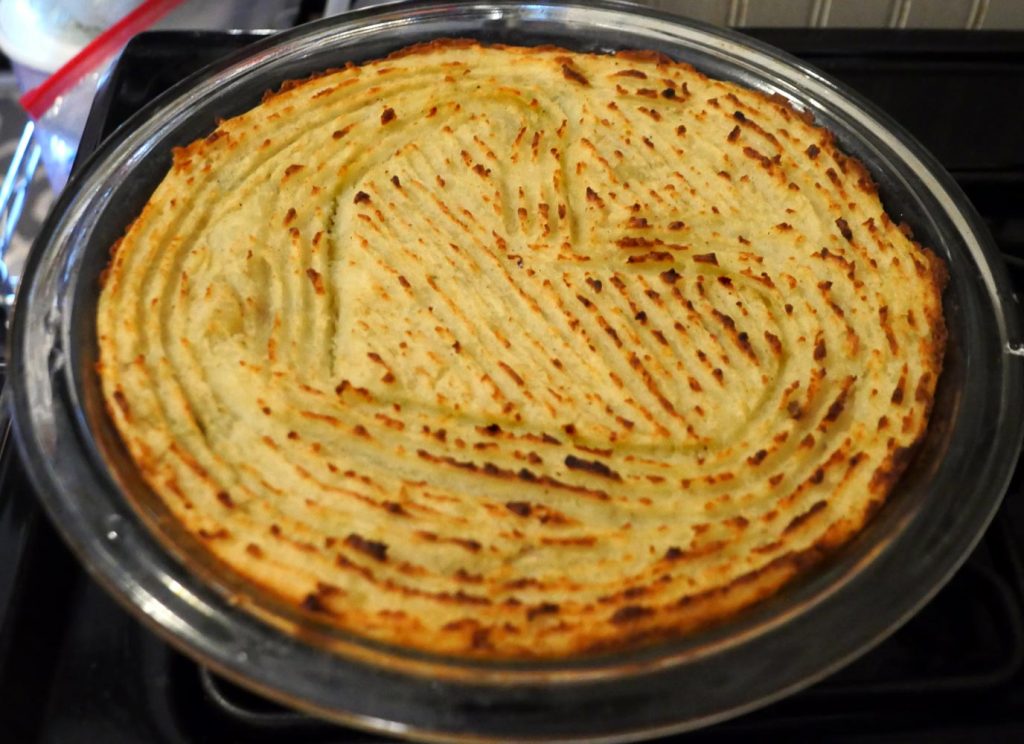 Kori: Spaghetti; Banana Bread
Kori though she might make vegan "meatballs" with her spaghetti but opted not to because the recipes she looked at mostly involved mushrooms, so she used chopped Dr. Praeger black bean quinoa burger patties for a protein contribution. She cooked the pasta for thirteen minutes and eight burgers on the stovetop. She diced the patties and combined them with the pasta (the patties kind of mashed up when combining), tomato sauce, nutritional yeast, and Italian seasoning.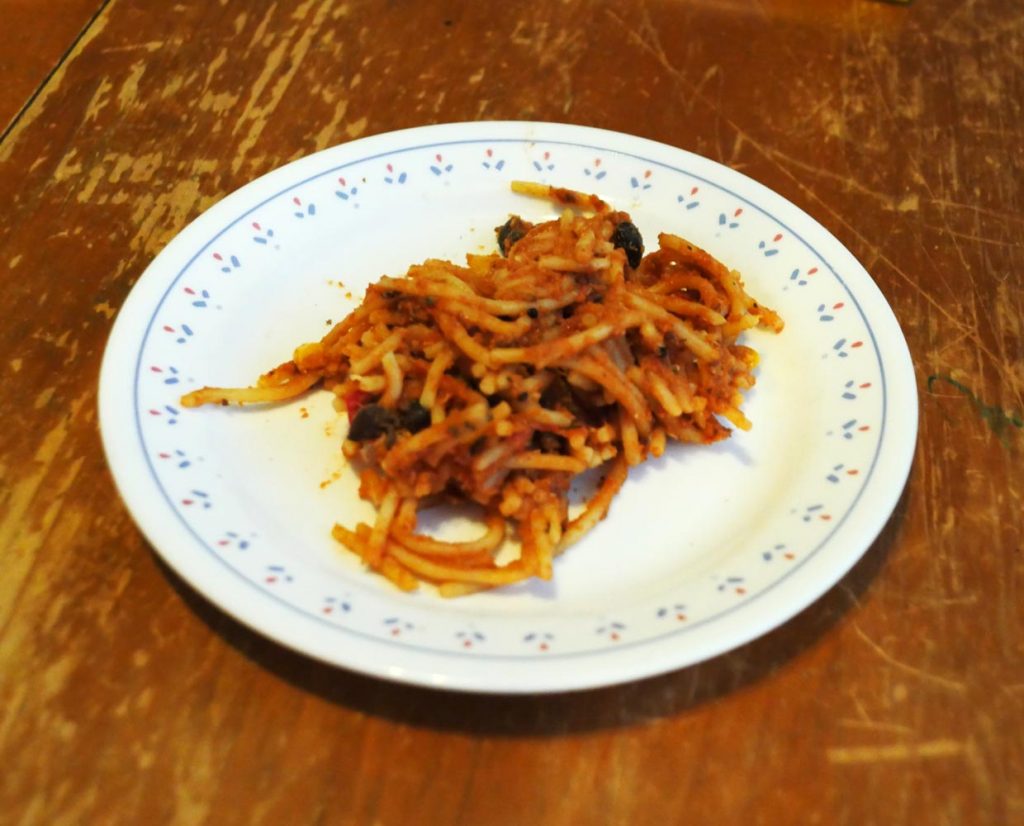 Kori's daughter Sklyer helped her make chocolate chip banana bread for an added treat. They mashed three bananas in their KitchenAid mixer and further mixed in apple sauce (they used an oil-free banana bread recipe), salt, vanilla extract, baking soda, cinnamon, brown sugar, white sugar, and all-purpose flour. Then they stirred in Enjoy Life Mini Chocolate Chips by hand. They baked the bread at 350°F for 50 minutes.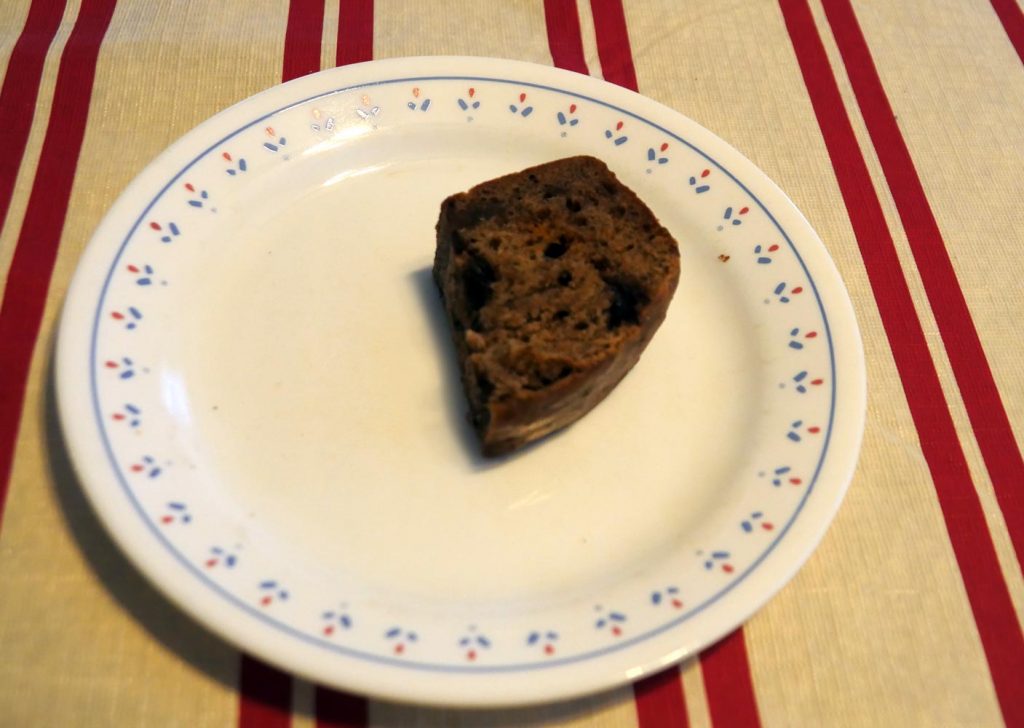 Ramon: Italian Wedding Soup with Lentilballs
For his Italian Wedding Soup and lentilballs, Ramon veganized a couple recipes offered by the New York Times. For the base of the soup, he repurposed a veggie broth flavored with vegan chicken-free bouillon paste that he had previously used for cooking seitan. He added orzo, spinach, lemon zest, herbs, salt, and pepper.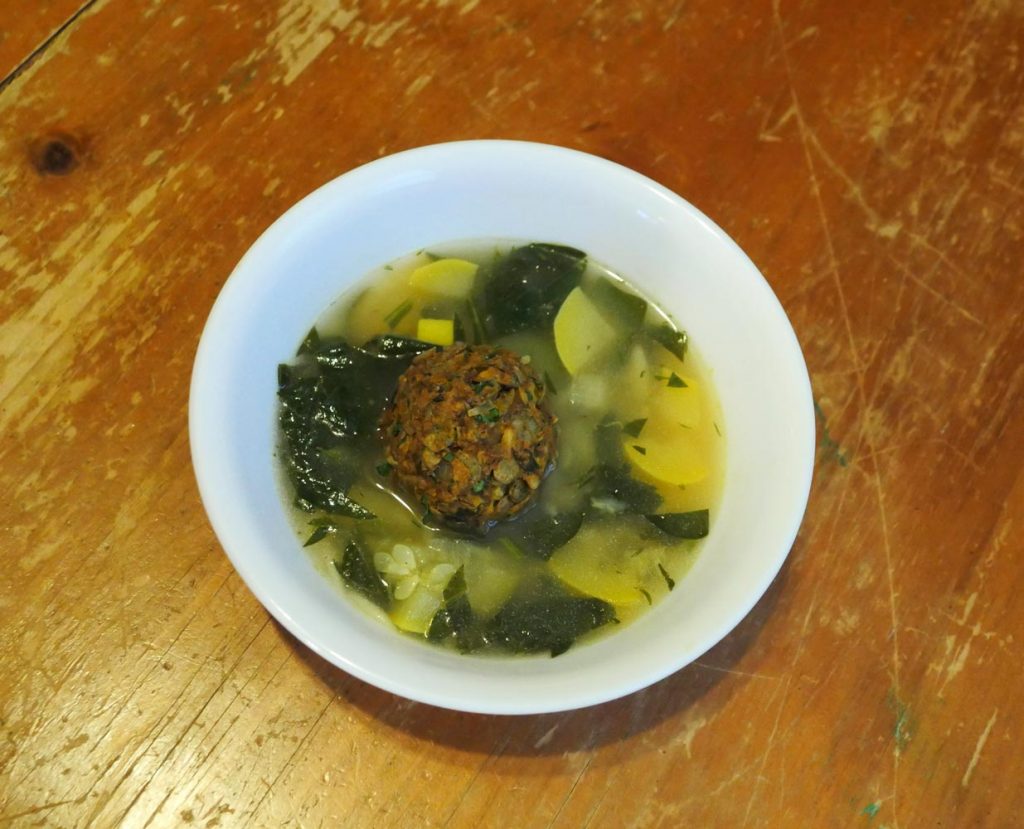 In place of meatballs, he veganized Manhattan's The Meatball Shop's vegetarian recipe for Veggie Balls. He used lentils, olive oil, onion, carrots, celery, garlic, thyme, salt, tomato paste, mushrooms, flax eggs, bread crumbs, Daiya Parmesan shreds, parsley, and walnuts.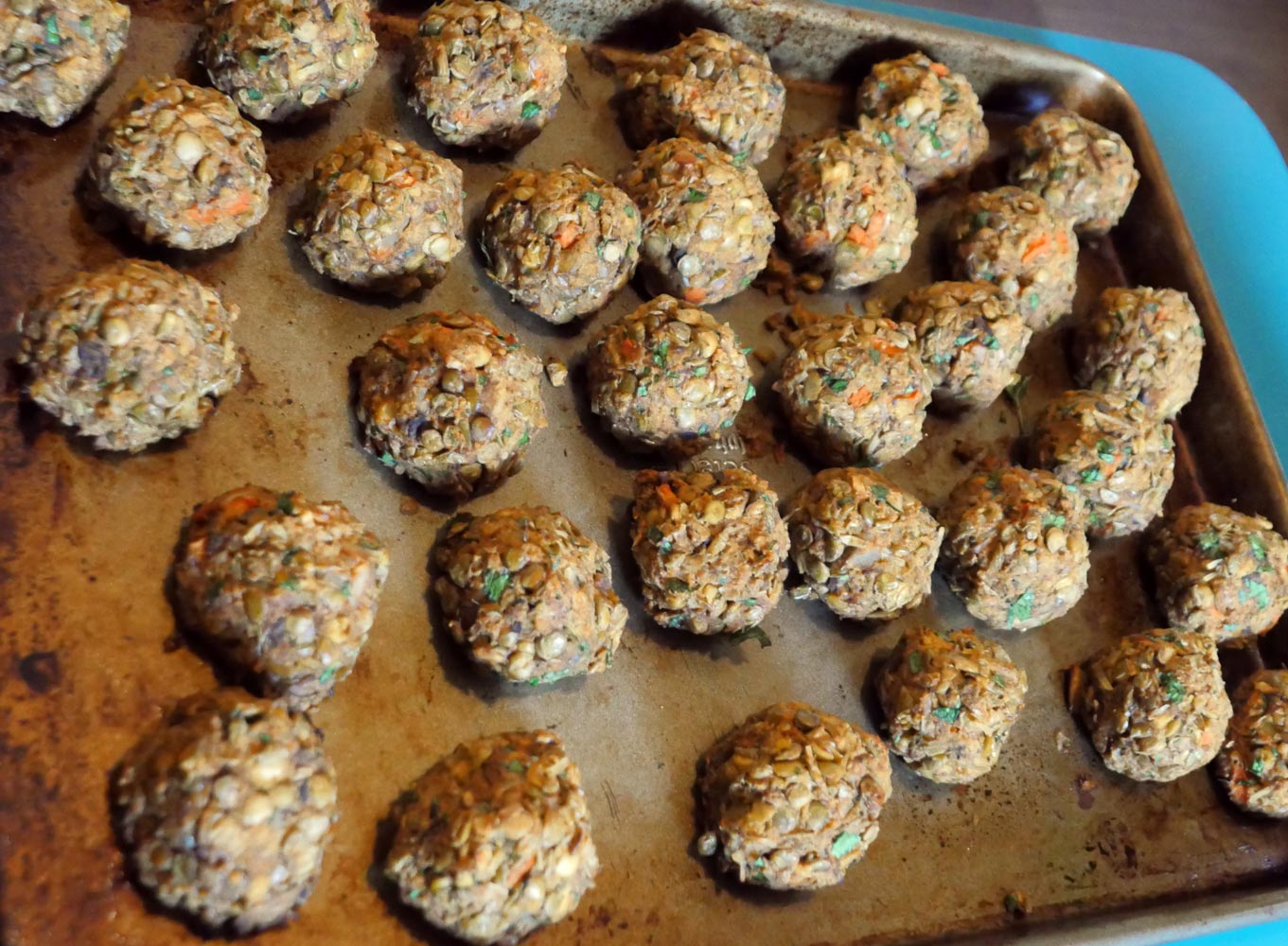 Slynn: Roasted Garlic Olive Loaf; Klary's Sukerbolen (Sugar Bread)
Slynn made two yeasty loafs from The 100 Best Vegan Baking Recipes. First, she made the roasted garlic olive loaf dough with all-purpose and whole-wheat flours, water, yeast, sugar, salt, olive oil, chopped garlic, and kalamata olives. After baking it, she brushed it with melted vegan butter.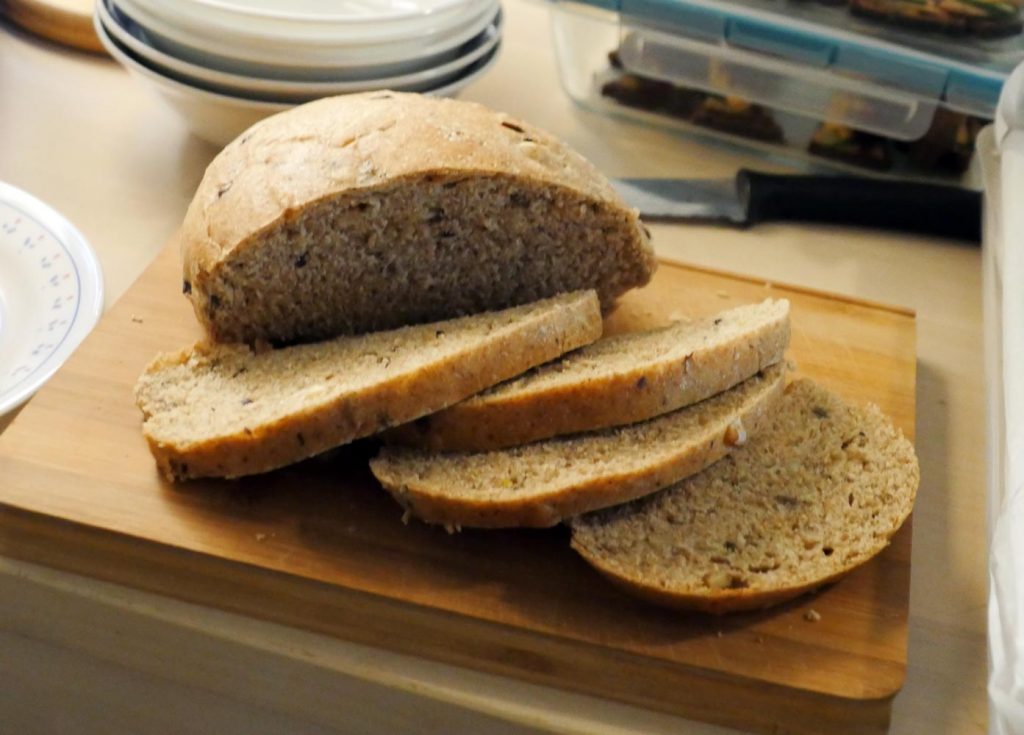 As if that was not enough, Slynn also made a sweet loaf from the same cookbook, Klary's Sukerbolen (Sugar Bread) recipe, for a traditional Dutch bread.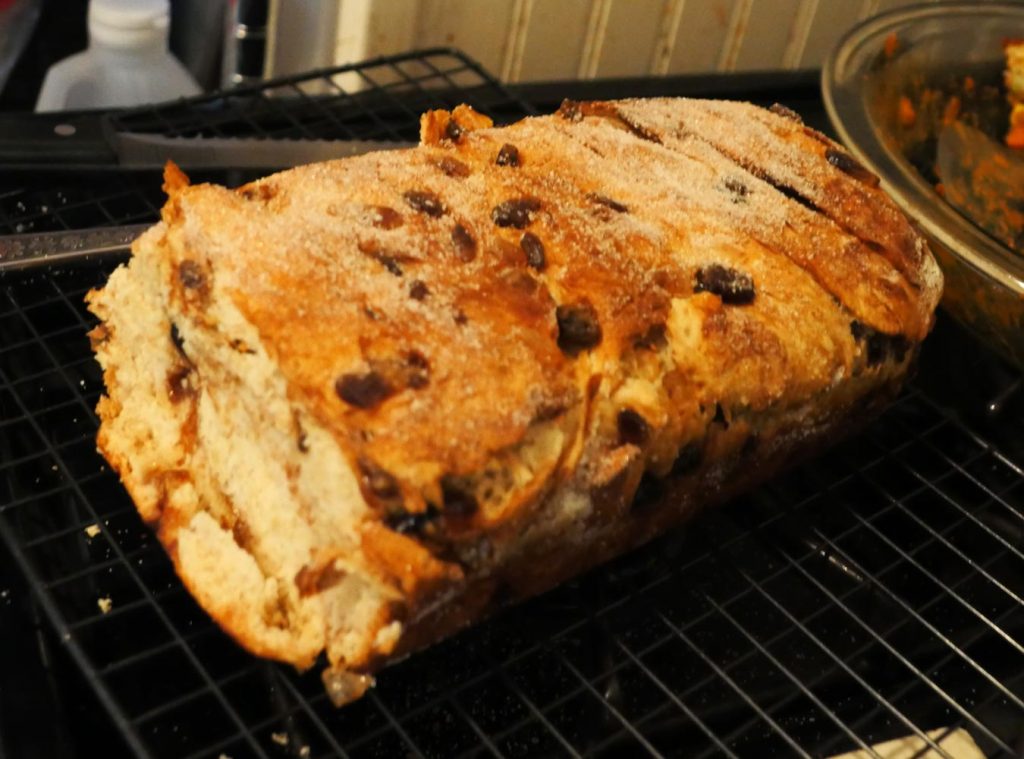 She made the dough with flour, yeast, salt, nutmeg, vegan milk, maple syrup, sugar, a flax egg (ground flaxseed mixed with water), and margarine. After an initial rise, she kneaded in cinnamon and rock sugar for crunch before forming a loaf. After a second rise, the bread baked for about 30 minutes.