January 12, 2019 – Sick Foods
Saturday, January 12, 2019
VBC Meeting #71: Sick Foods
Host of the Month: Drew and Caroline
Location: Denton, TX
Due to an abundance of sickness going around this time of year, this month we made foods intended to combat maladies, or at least distract from the symptoms and pain with tastiness for a little while.
This is what we made: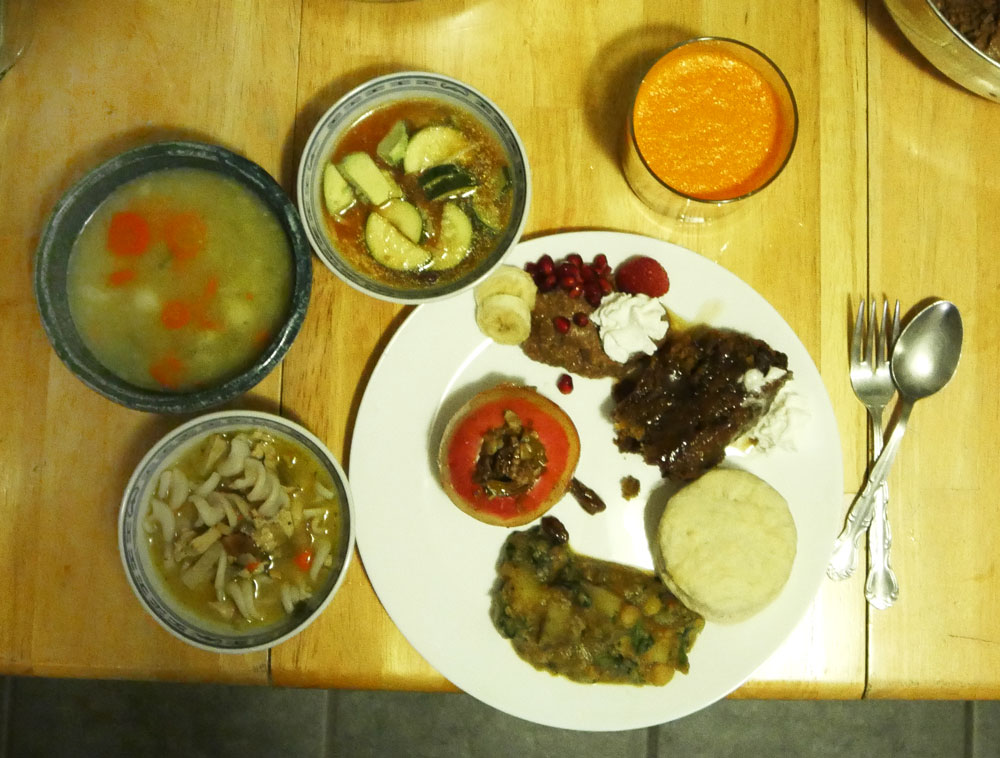 Shannon: Biscuits; Maple and Rum Glazed Slow-Baked Apples
For Shannon, biscuits equate to sick food from the days when she was suffering from gastritis caused by the drugs she was taking for a wisdom-tooth-extraction-induced dry socket, and all she could manage to eat were biscuits and croissants. She veganized a biscuit recipe from a random website by cutting very cold Miyoko's Cultured Butter into a mixture of flour, sugar, baking powder, and salt, then adding cashew milk to form a dough. After folding and patting the dough six times, she cut biscuits out, and baked them at 425° for 14 minutes.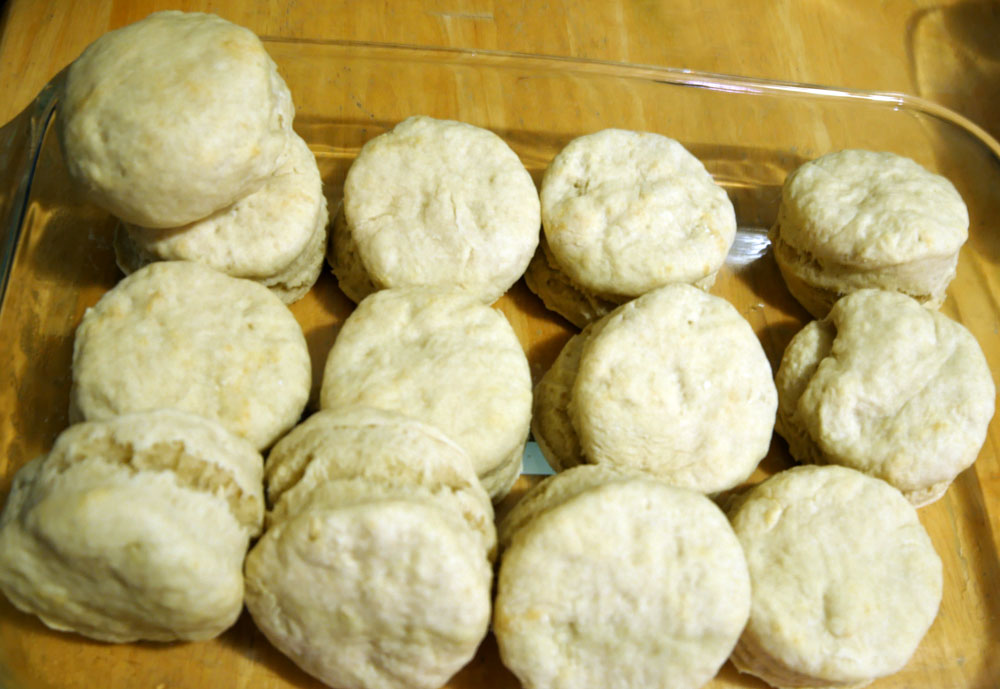 For the slow-baked apples, Shannon followed a recipe from Fresh from the Vegan Slow Cooker. She cored Pink Lady apples three quarters of the way down and peeled a quarter of the skin off before stuffing them with oats, brown sugar, golden raisins, pecans, cinnamon, and nutmeg. She placed them in her slow cooker and poured over a mixture of maple syrup, apple juice, rum, cinnamon, and nutmeg where they cooked on low for three and a half hours.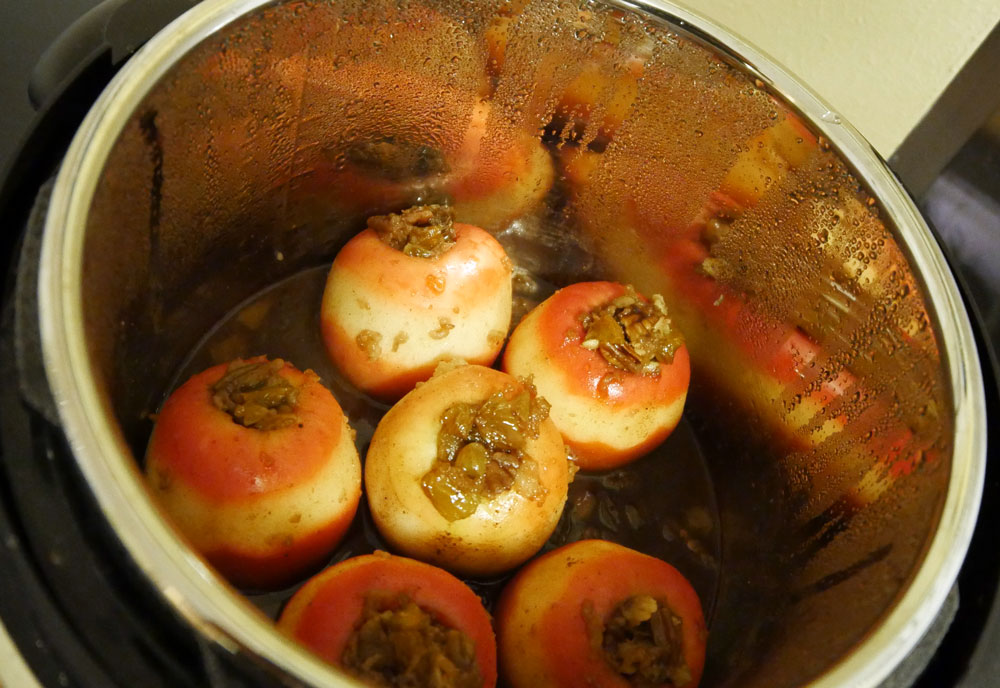 Here is what the apples looked like on the inside: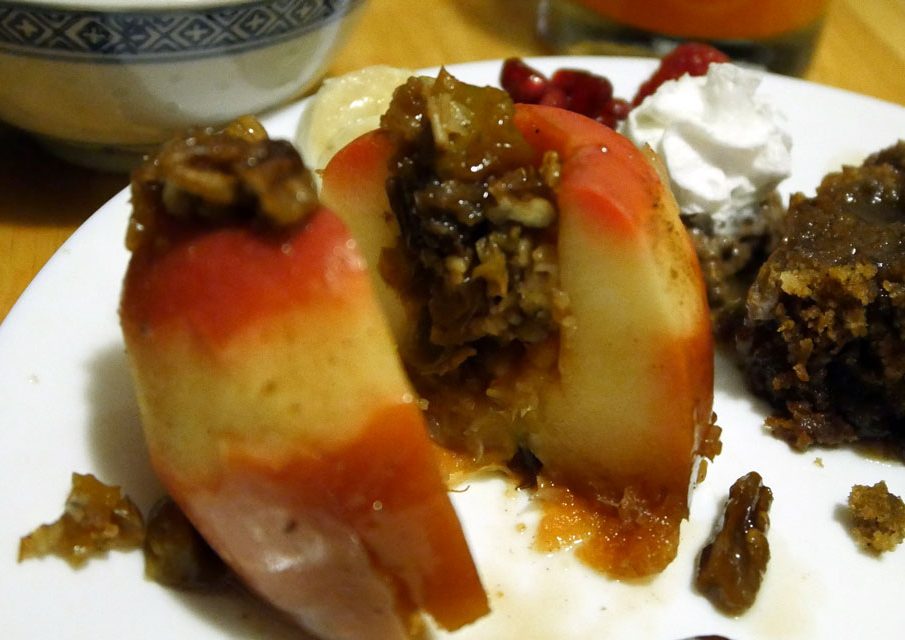 Lilly: Ginger Garlic Vegetable Barley Soup
Lilly made soup with a veggie broth flavored with garlic and ginger. She cooked carrots, thinly sliced leeks, one zucchini, edamame, and cauliflower in the broth in stages according to the cooking time of each vegetable. Once they had all been cooked fully, she added quick cooking barley and simmered the soup for a couple of hours.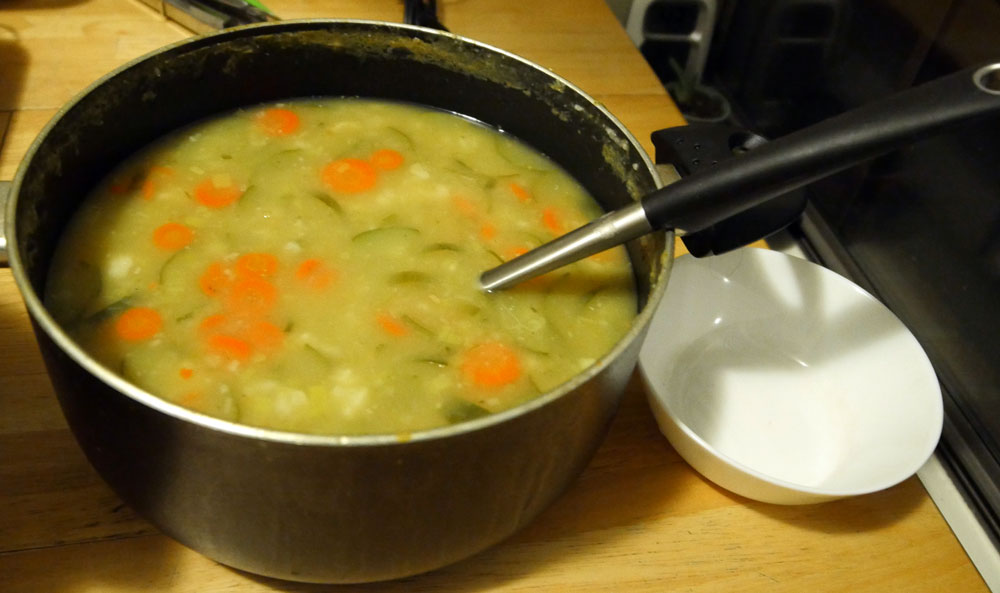 Slynn: Chocolate Super Food Pudding
Slynn made a pudding by whisking together coconut milk, cocoa powder, chia seeds, maple syrup, and cinnamon then refrigerating the mixture. She served the pudding with pomegranate seeds, sliced bananas, raspberries, and a spray can of almond-based Reddi Wip® Whipped Cream. She also informed us that not only do chia seeds have protein and omega-3s, they can absorb ten times their weight in water!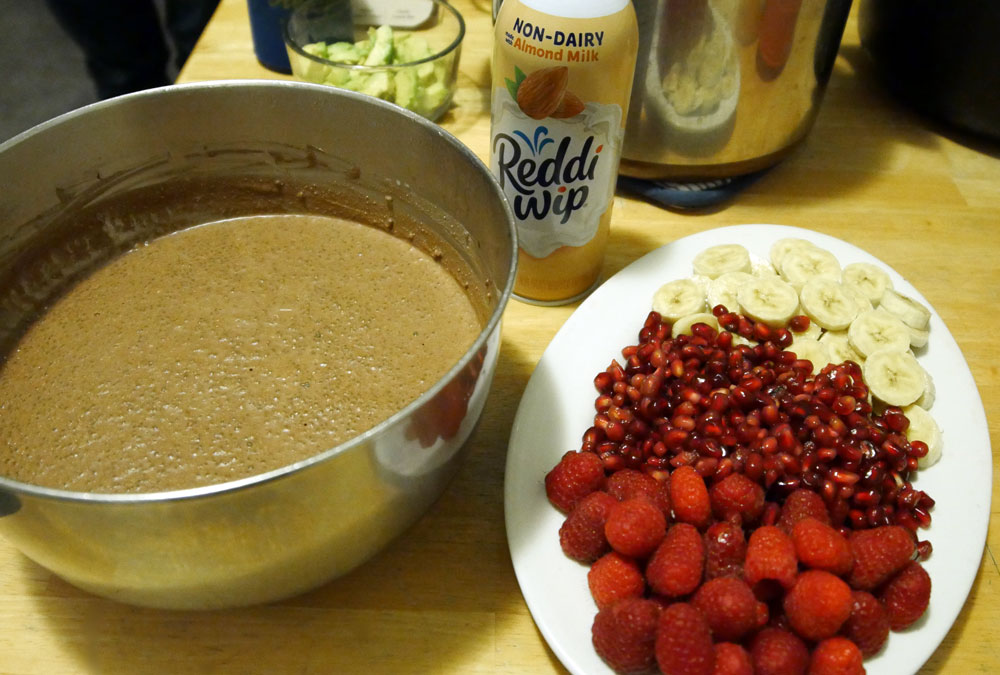 Caroline: Fideo Soup
Caroline did a remake from our previous School Food themed meeting of her Sopa de Fideo. She didn't have any lime, so she left it out of her tomato zucchini noodle soup this time.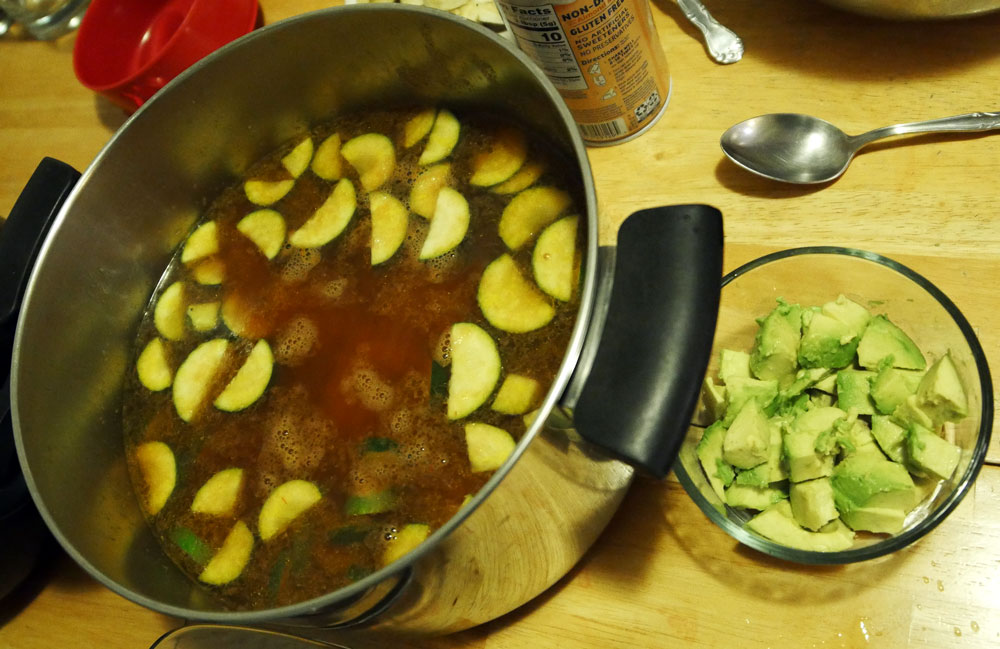 Drew: Turmeric Tonic
Drew made this turmeric tonic from fresh squeezed orange juice, orange zest, carrot juice, fresh turmeric, ginger paste, maple syrup, and vanilla extract processed together in a blender and served mixed with bubbly water.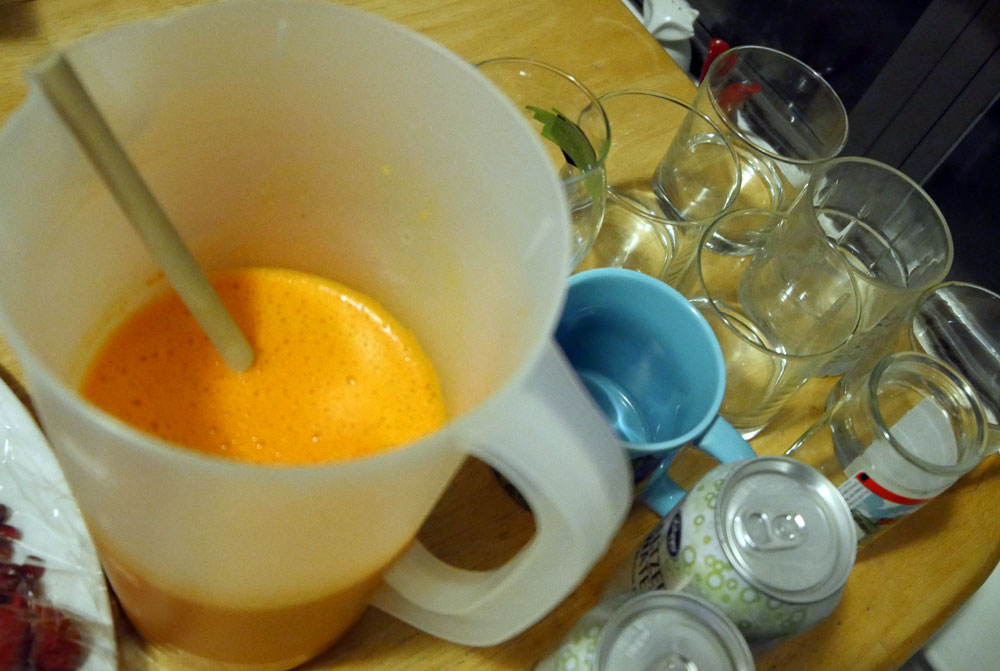 Dylan: Chick'n Noodle Soup
Dylan made a spiral noodle soup with vegetable broth, vegan Tofurkey Chick'n, poblano, jalapeño, carrots, onion, garlic, and cayenne pepper. He sautéed the vegetables and seared the chick'n before putting them into the soup for more developed flavors.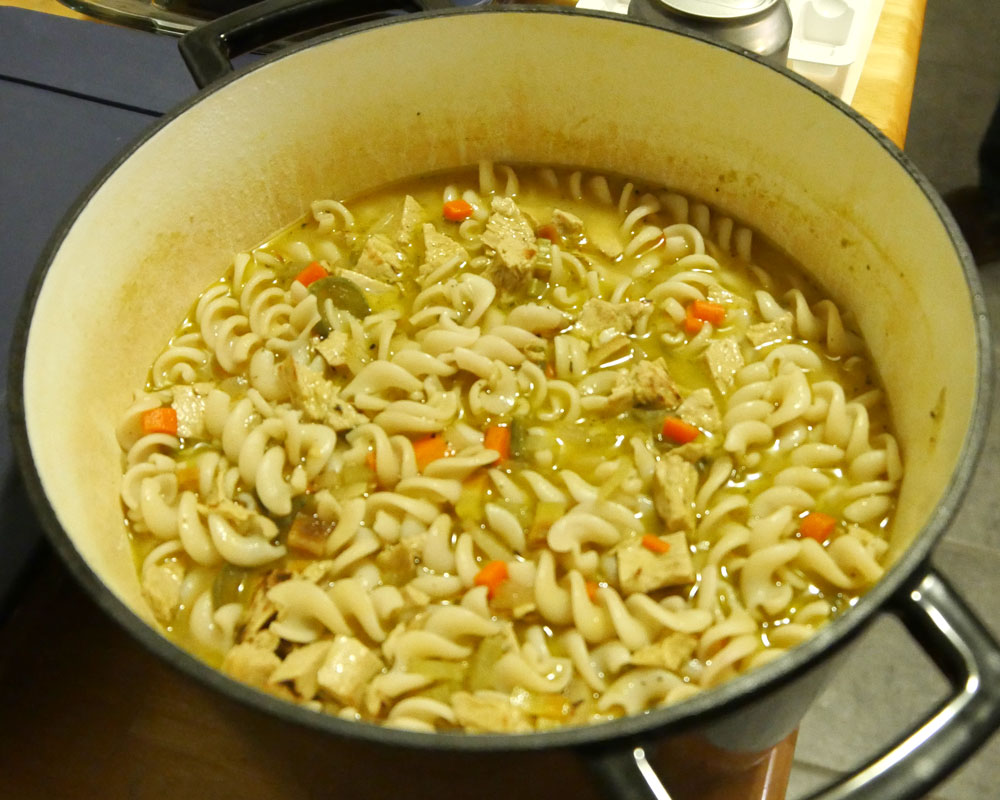 Billy: Chana Masala
For his sick food chana masala, Billy started with dried chickpeas that he softened on low overnight in his slow cooker. He cooked arugula from his garden with red onion in a stock pot, then added his overnight chickpeas, a can of chickpeas (for body since the others were so soft), cooked potato chunks, canned tomatoes, and chana seasoning mix.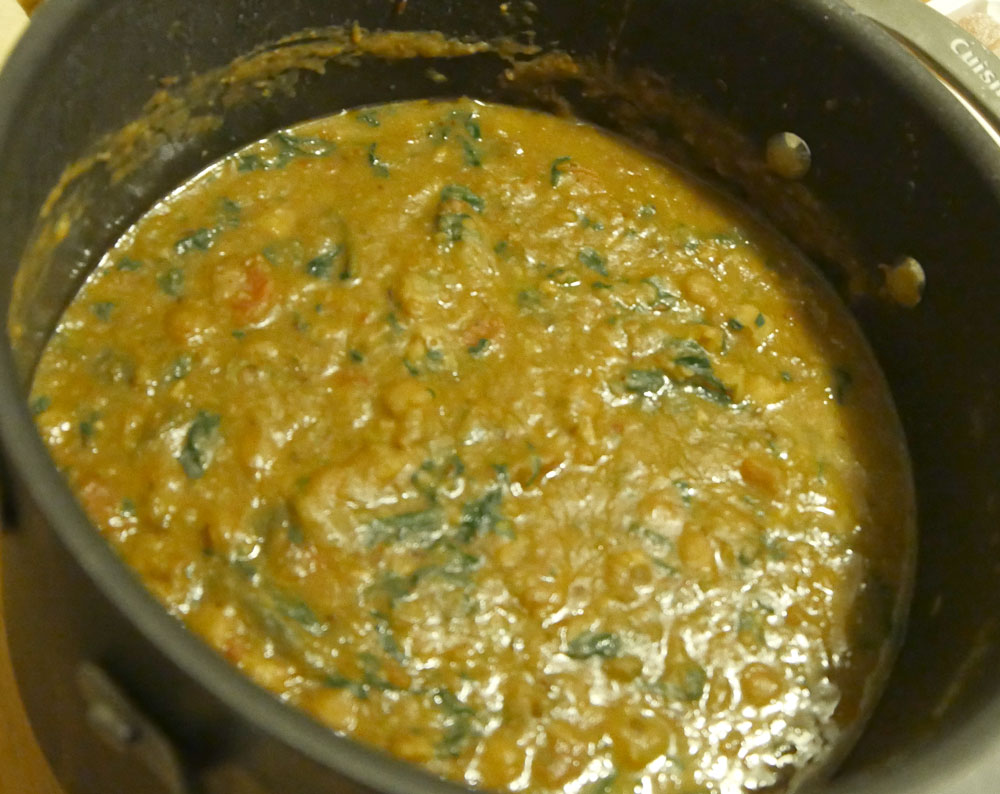 Lauren: Sticky Toffee Pudding
Lauren worked from Martha Stewart's Sticky Toffee Pudding recipe, veganizing it using Earth Balance Soy Free Buttery Sticks for the butter as well as apple sauce and a flaxseed/water blend for the eggs. These went into the pudding's sponge along with flour, brown sugar, chopped dates soaked in strong coffee plus baking soda, baking powder, and salt. For extra flavor she also added cinnamon, ground ginger, and nutmeg. For the vegan toffee sauce, she heated a stick of Soy Free Earth Balance, a cup of brown sugar, and 3/4 cup of coconut milk on high in a pot on the stove until it reached boiling. She then turned it down to medium to cook for four minutes until thickened, very bubbly, and starting to smoke. After the sponge baked, she poked holes in it and poured over half the sauce, the remainder offered on the side at serving time.