Grilled Potato and Pepper Salad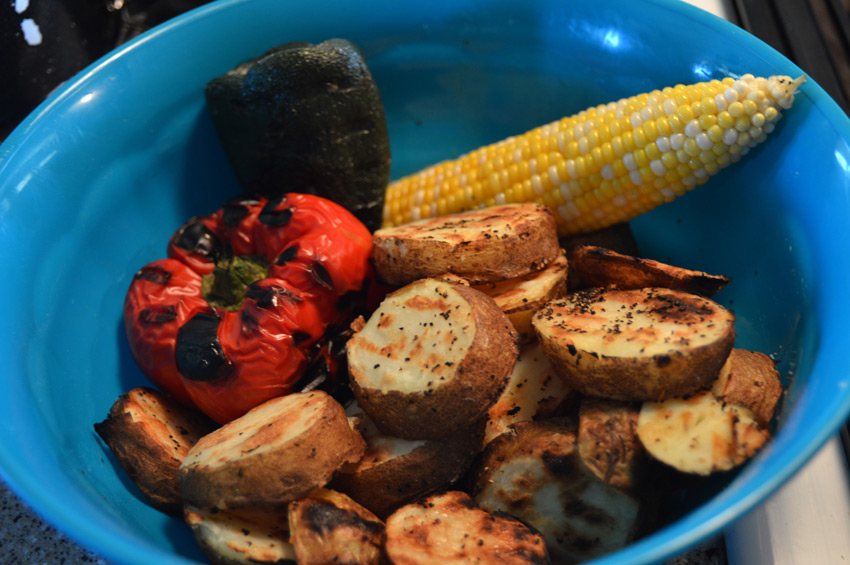 If you're in the mood for a potato salad but don't want that mayonnaise-y or mustard-y sort, this one could be the one. Sigh. This salad is delicious warm or cold and is arguably even better the next day. Grilled is my favorite way to eat poblano and red bell peppers. mmm.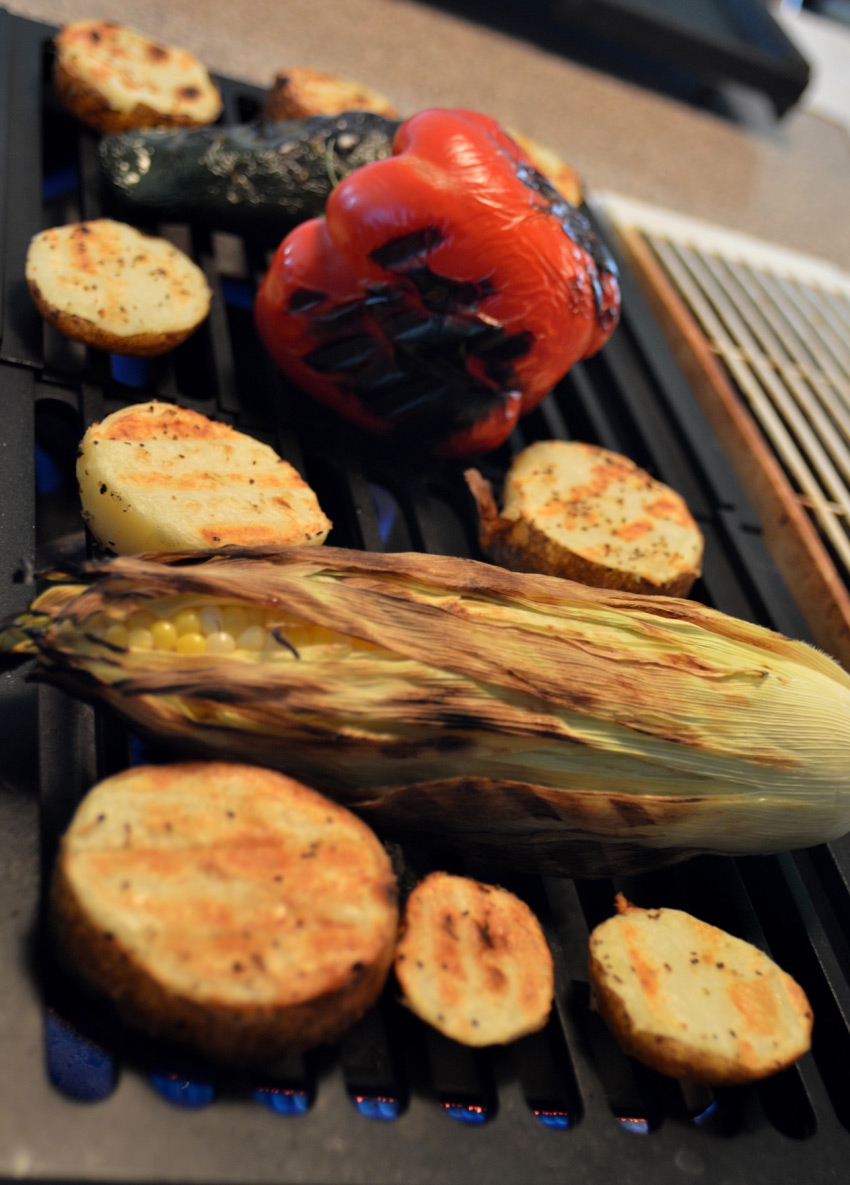 2.5 lbs russet potatoes (about 5 medium potatoes)
1 red bell pepper
1 poblano pepper
1 ear of corn (in husk, cleaned and silk removed)
1/4 cup + 1 TBS olive oil (divided)
6 TBS red wine vinegar
1 1/2 tsp salt (divided)
1 1/2 tsp coarse ground black pepper (divided)
1 tsp paprika
1 tsp garlic powder
1 tsp onion powder
Slice potatoes into approximately 3/4 inch thick pieces. Place in large pot, cover with water. With lid on, bring pot to a boil, reduce heat, and cook potatoes until tender but not so soft they will fall apart when tossed around (approximately 10-15 minutes). Meanwhile, heat grill (I used the indoor grill that is part of my stove), place unprocessed bell pepper and poblano pepper plus the ear of corn on the grill. Heat each side a few minutes, then rotate. When the potatoes are finished cooking, drain the water and let them cool a few minutes. Toss the potatoes with 1 TBS olive oil, 1 tsp salt, and 1/2 tsp black pepper. Place potato slices on grill, cook until grill marks appear, then flip and cook the other side. When all vegetables have finished grilling, remove from heat and let cool enough to handle. Cut potatoes into cubes, chop peppers, and use a sharp knife to cut the corn kernels from the ear.
In a small bowl whisk together 1/4 cup olive oil, vinegar, 1/2 tsp salt, 1 tsp black pepper, paprika, garlic and onion powder. In a large bowl, toss together vegetables and dressing.