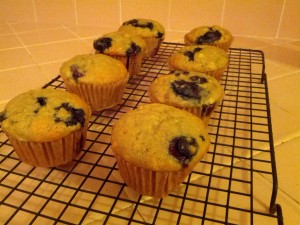 If you're like me, waking up early is at least a bit easier when you know there's a tender little muffin with your name written (in coconut spread) all over it.
With muffins, my style at this point is "a little of this, a little of that," and even though I've given precise measurements this recipe is very forgiving — so be bold!
Ingredients:
2 very ripe bananas, well mashed (you know you should own a potato masher by now, anyway)
1/2 c maple syrup (or 1/3 c agave, if you're a low-glycemic kinda gal/guy)
3 T canola oil (replace up to half of the oil with applesauce if you're tryna get ready for swimsuit season)
a splash orange extract
a splash vanilla extract
3/4 c unbleached all-purpose flour
1/4 c whole wheat pastry flour (or just all AP flour if you're not lookin' for that extra fiber)
scant 1 tsp baking soda
1/4 tsp salt
sprinkle cinnamon
about 1/2 orange zest
handful fresh or frozen blueberries
Method:
Preheat your oven to 350F. Spray liners or tin with oil. Mix your wets, mix your dries, then mix 'em all together. Once everything is just about incorporated, add the berries, and then stir the batter so that  it's all wet and lumpy. Don't over stir! Next, use a 1/3 measuring cup to fill tins about 3/4, but it's OK if they're a little more full than that. Bake for 25 minutes, and be sure to do a toothpick test at around the 22-23 minute mark. Pull out the muffins, and let them cool in the tin for a couple of minutes before transferring to a cooling rack. Muffins without liners might need a careful little butter-knife-and-shimmying action. Makes about 8 muffins.
It might be too hard to wait til 7am to taste one of these bad boys. Slice one open while it's still warm, smear on some of your favorite butter substitute, and indulge in some cheap wine while you catch up the news and avoid syntax homework. Bon appetit!