Gluten-Free Pancake Muffins with Maple Glaze and Bac'n Bits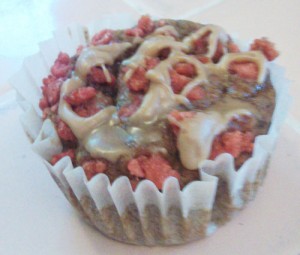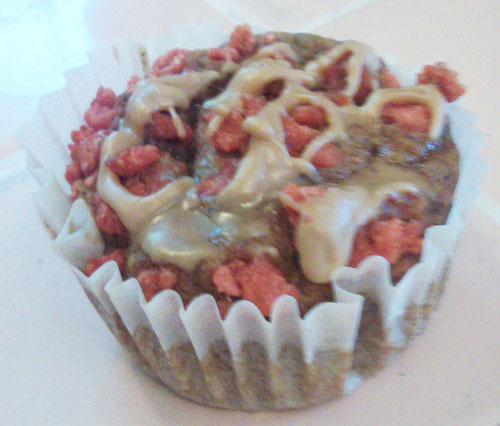 These pancake inspired muffins make a great brunch treat. If you wake up one weekend morning feeling too sleepy to bother with mixing up the glaze, try dousing them with maple syrup just before you eat them; they taste just as nice! They are best served warm, but don't worry, they reheat well in a toaster oven.
If you don't want to make these muffins gluten-free, you can swap out the flour with all-purpose and leave out the xantham gum.
Ingredients:
1 ¼ cup gluten-free flour
½ tsp xantham gum
3 TB maple sugar
2 tsp baking powder
½ tsp baking soda
½ tsp salt
1 tsp cinnamon
1/8 tsp mace or nutmeg
1 TB ground flax seed + 3 TB water
1 ¼ cup almond milk + 2 TB vinegar
3 TB canola oil
1 tsp maple extract
vegan bac'n bits (optional)
½ cup powdered sugar
2 TB maple syrup
½ tsp maple extract
dash salt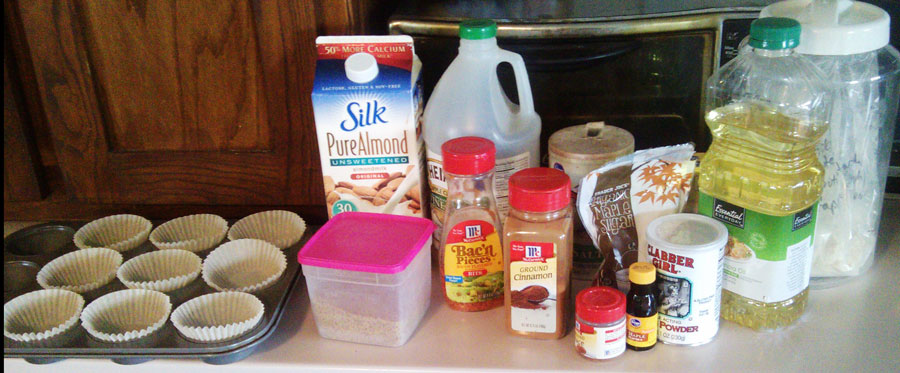 Preheat oven to 350 °. Prepare muffin pan with liners or spray with oil. In a wee bowl, mix flax and water, and let sit. In a small mixing bowl, stir together almond milk and vinegar, and let sit. In a large mixing bowl, blend flour, xantham gum, sugar, baking powder, soda, salt, cinnamon, and mace. To the small mixing bowl, add the flax mixture, oil, and maple extract, and stir to combine. While stirring the contents of the large bowl, slowly pour the liquid ingredients into the dry ingredients.
Pour batter into muffin cups, filling approximately 2/3 full.
If desired, top with bac'n bits. Place in oven and bake 16-18 minutes,
Meanwhile, prepare the maple glaze. In a small bowl, mix together powdered sugar, maple syrup, maple extract, and salt. When muffins have finished baking drizzle on glaze.
Makes 1 dozen muffins.