February 29, 2020 – Nutty
Saturday, February 29, 2020
VBC Meeting #84: Nutty
Host of the Month: Billy and Lauren
Location: Ponder, TX
In honor of Leap Day, that nutty day that comes only once every four years, we made nutty foods for our February 29th meeting.
This is what we made: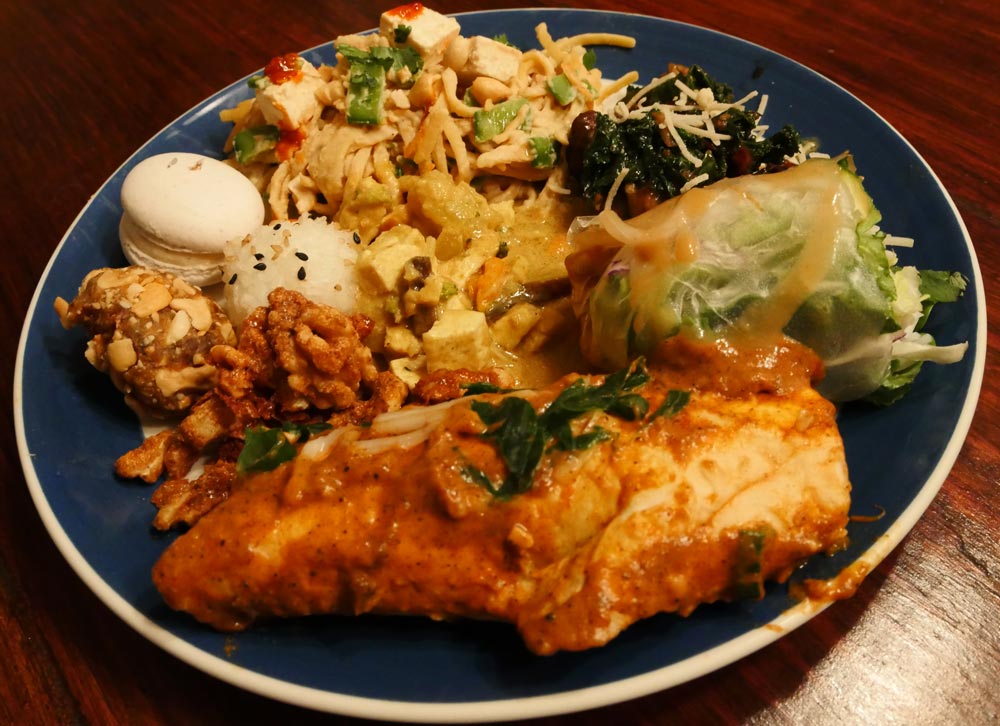 Billy: Butternut Black Bean Enchiladas
Billy filled flour tortillas with his homegrown butternut squash and Swiss chard that he had stir-fried with black beans and seasoned with cinnamon, chili powder, turmeric, lemon juice, cumin, black pepper, and salt. He also added a layer of cashew cauliflower cheese consisting of nutritional yeast, olive oil, lemon juice, and salt. He smothered the stuffed tortillas in a sauce made with vegetable broth, tomato paste, soy yogurt, canola oil, flour, lime juice, chili powder, garlic powder, cumin, oregano, and salt, sprinkled Daiya cheddar style shreds over them, then baked the dish covered at 400° for ten minutes and uncovered another approximately five minutes. Before serving, he topped the enchiladas with some sliced green onion.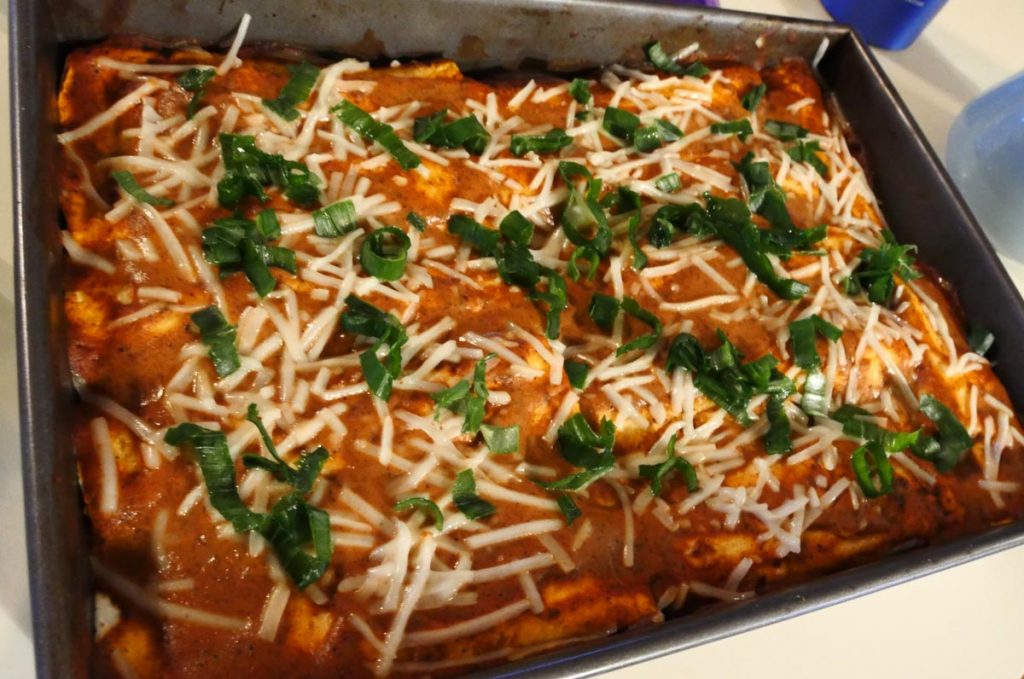 Slynn: Peanut Noodles
For her peanut noodles, Slynn prepared a peanut sauce with water, peanut butter, ginger, rice vinegar, liquid aminos, and maple syrup. She cooked chickpea linguini in boiling water, adding snow peas to the cooking pasta near the end to blanch them. To put the dish together, she combined the drained noodles and snow peas with the peanut sauce, tofu, carrots, and mung bean sprouts. This was adapted the "Lo Mein" recipe in the book One Pan, Two Plates: Vegetarian Suppers, a book Slynn received for her birthday last year.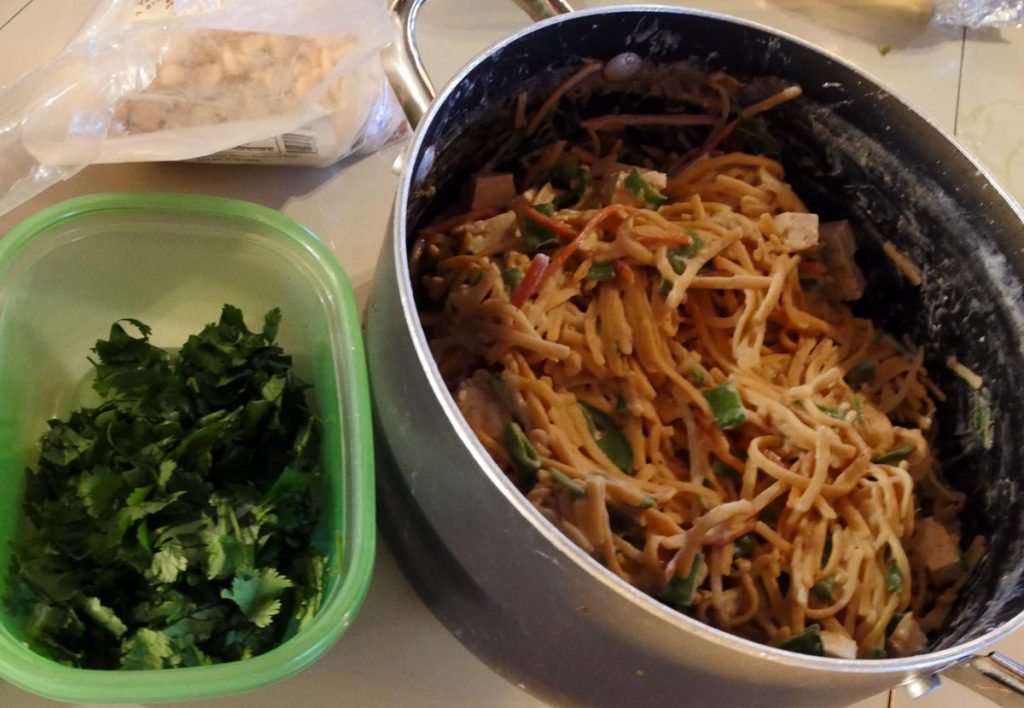 She served the peanut noodles with a side of peanuts, fresh cilantro, and chili garlic sauce.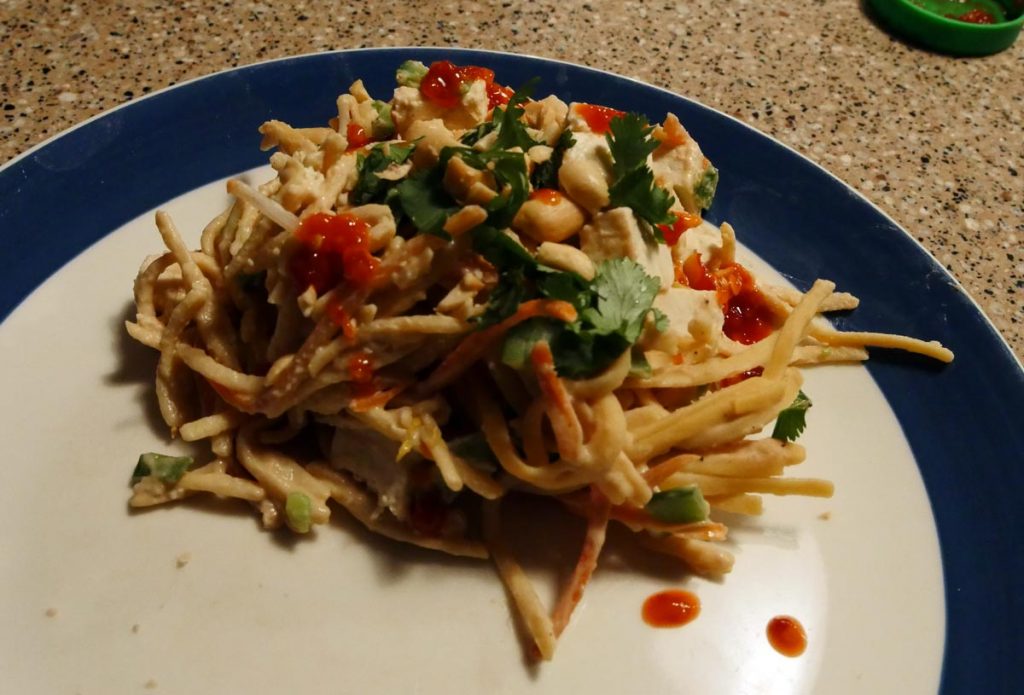 Caroline and Drew: Vegan PayDay; Viet Bites Spring Rolls
To produce a PayDay candy bar-like vegan sweet, Drew food processed dates, then formed the resulting paste into nugget shapes that he rolled in roasted salted cashews and peanuts. Caroline's contribution to the making of the vegan PayDays was choosing the music and offering dance moves to entertain Drew while he made the treats.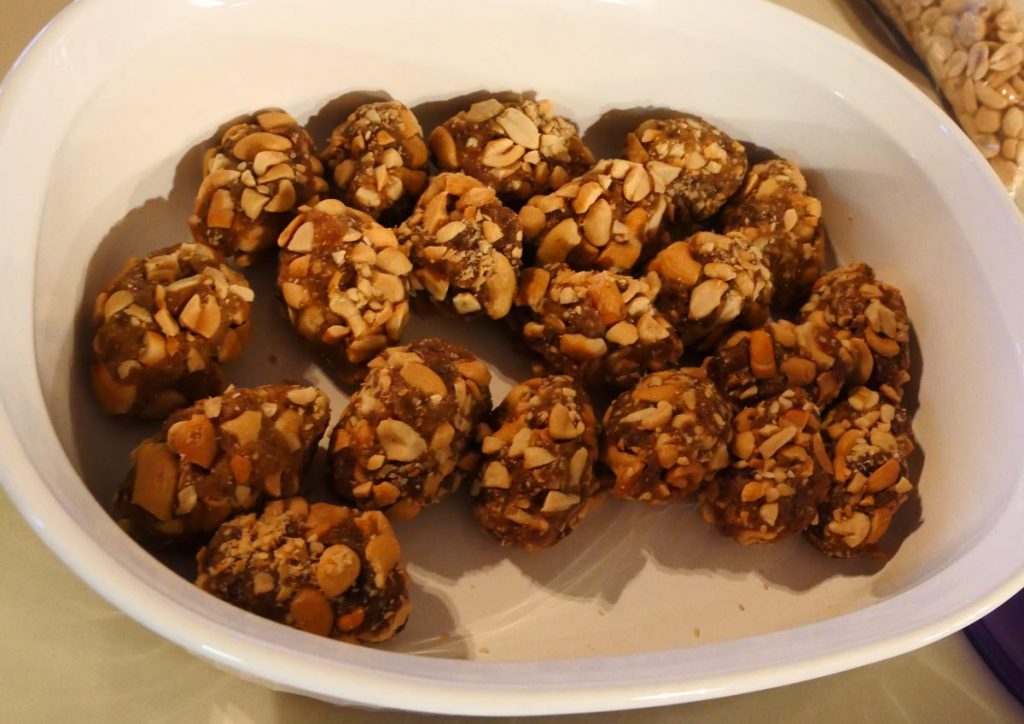 Wanting to show up to Vegan Bake Club with two items (not required!), but having a busy Saturday, they decided to pick up fresh spring rolls with peanut sauce from Viet Bites. The spring rolls were filled with vermicelli noodles, tofu, cilantro, and lettuce.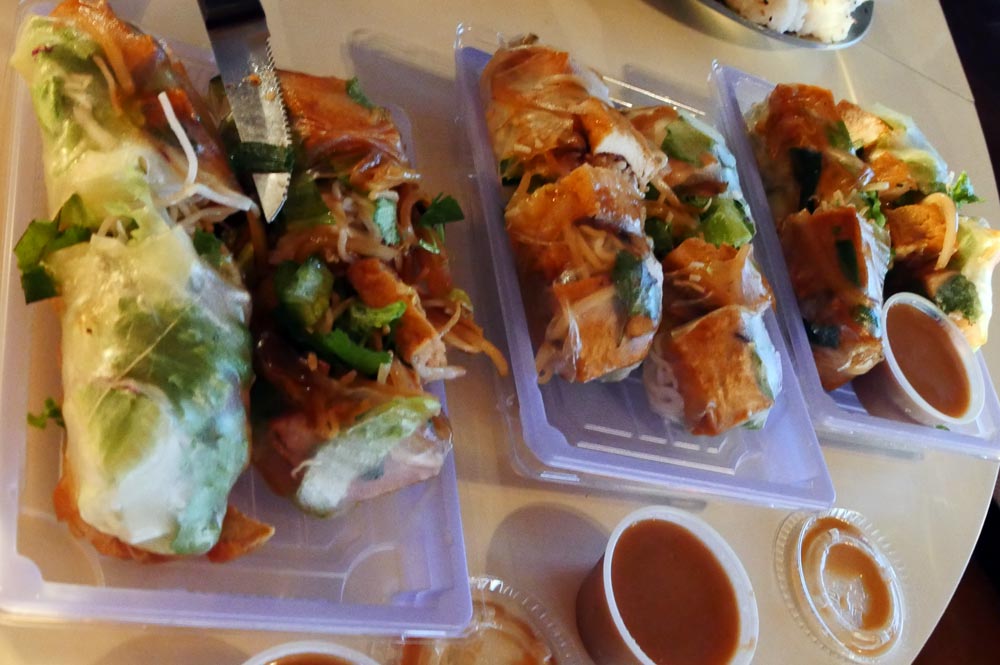 Marcia: Warm Eggplant Mushroom Kale Salad
Marcia brought us the Lively Table's Warm Eggplant Mushroom Kale Salad featuring lots of kale, cremini mushrooms, eggplant, and walnuts that she baked, stirring every five or so minutes. She tossed the warm veggies in a sauce of balsamic vinegar, agave (instead of the prescribed honey), fresh garlic, black pepper, thyme, and salt (her addition) that had been heated on the stove. Where the original recipe called for goat cheese, Marcia served Follow Your Heart Parmesan shreds on the side instead.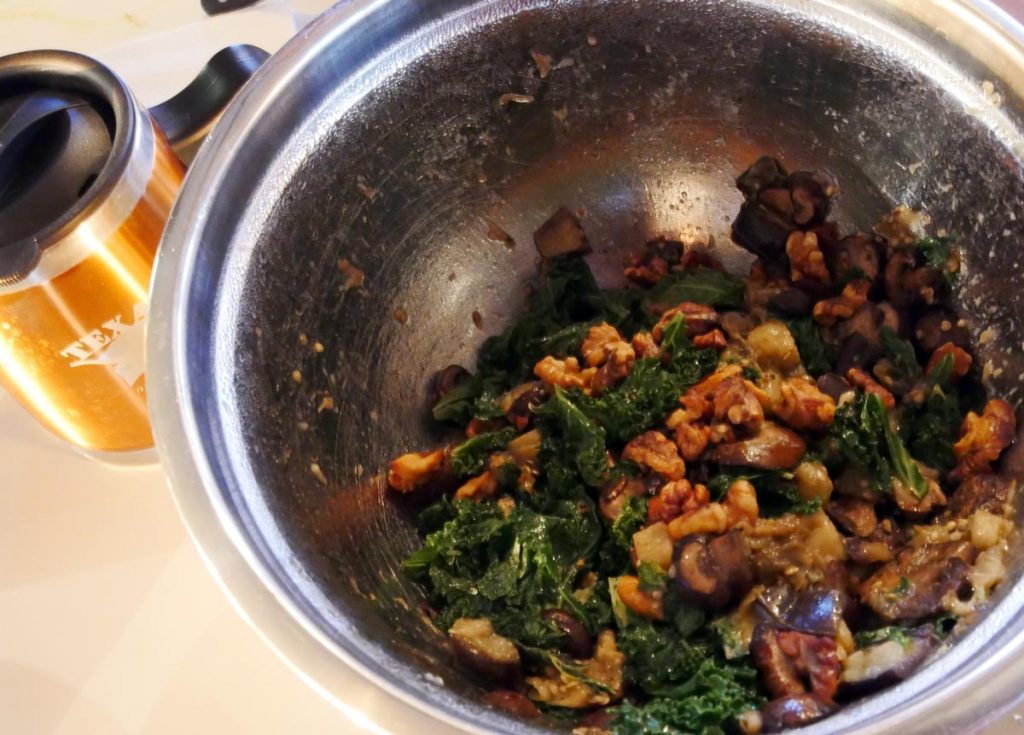 Tara: Teez Fiery Nuts
Tara brought us more of Teez Nuts based on The Viet Vegan's Spiced Maple Roasted Nuts, but with the additional level of spice she threw in, these were Teez Fiery Nuts. She started with a big sack of walnuts that she coated in maple syrup, ginger, cinnamon, and cayenne (a lot more than the recipe called for). She then baked them at 200° (the recipe said 350°, but last time Tara made Teez Nuts, they burned) for somewhere between forty minutes to an hour, stirring occasionally, then turned it up to 250° because it wasn't hot enough.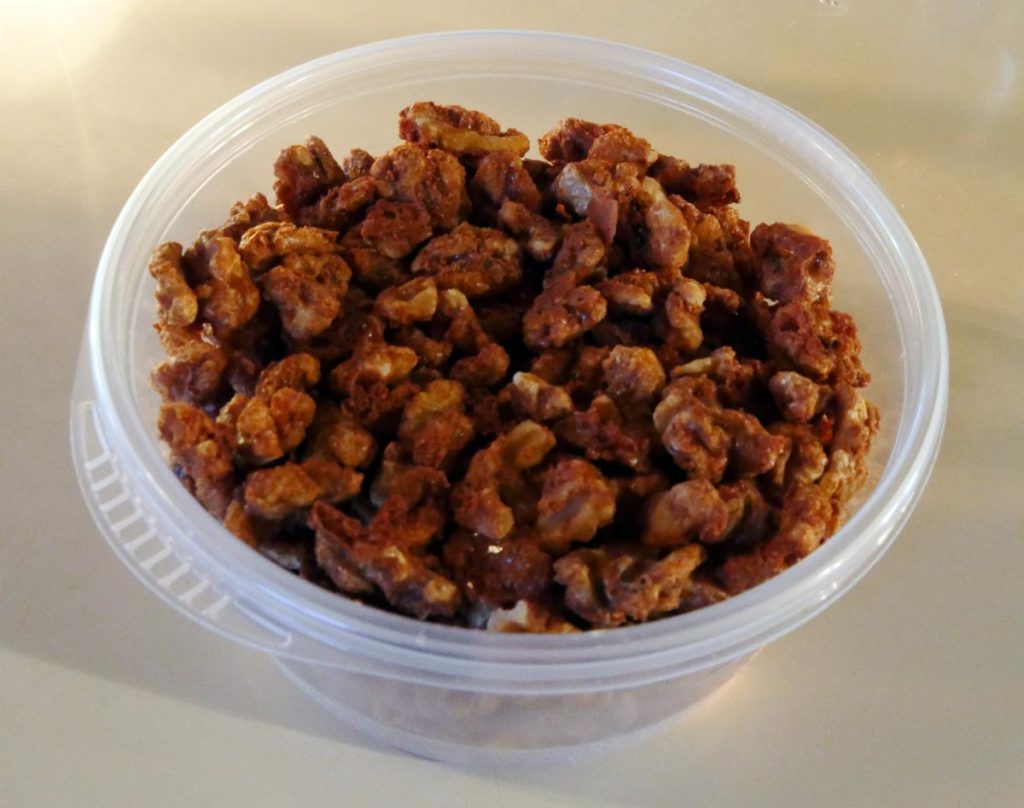 Lilly: Yellow Curry with Rice Rounds (Rice Rounds, Like a Record, Baby)
Lilly cut firm tofu into cubes and sautéed them in coconut oil. To build her curry sauce profile she combined turmeric, Spice World mild curry powder, Dorot Gardens Crushed Garlic, and Dorot Garden Crushed Ginger (Lilly explained that the Dorot Gardens pre-portioned garlic and ginger are a "game changer"), Earth Balance Natural Peanut Butter and Flaxseed (crunchy), and Earth Balance Coconut Peanut Butter (creamy) mixed with water, and salt. She cooked a frozen California blend of veggies, that apparently includes a mix of cauliflower, shredded carrot, and broccoli, plus frozen onions, and frozen shitake mushrooms that she obtained at Natural Grocers. She cooked everything except the tofu together in a pan for about an hour then added the tofu.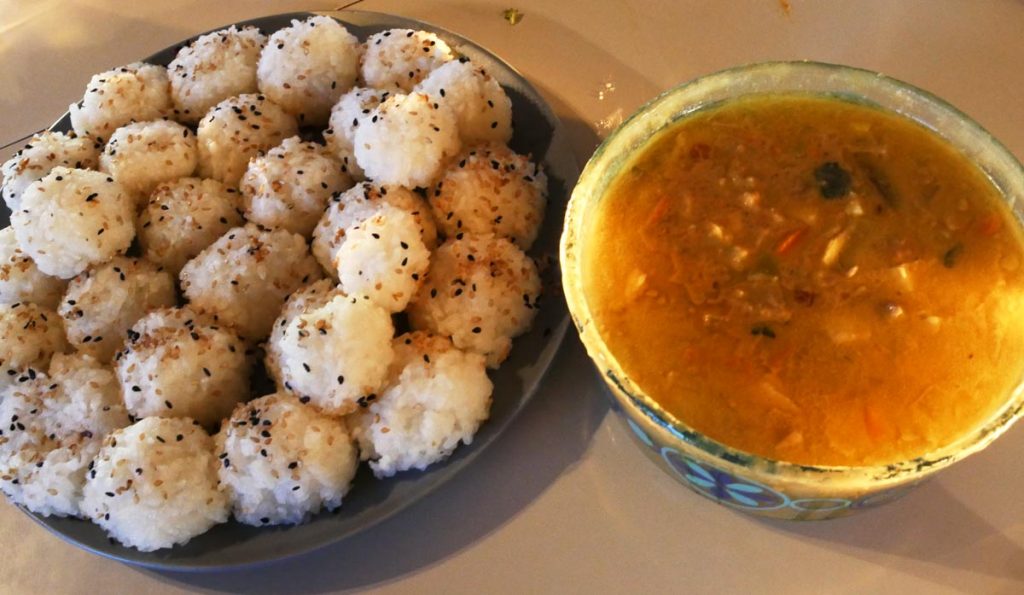 To go along with the curry, Lilly made rice rounds (she refused to call them balls) with sushi rice and a bit of salt, which she formed into rounds with her "delicate little hands" (envision her saying this in a Southern Bell accent because that is how it was). She sprinkled the rounds with sesame seeds and broiled them briefly on a sheet pan that had been greased with coconut oil.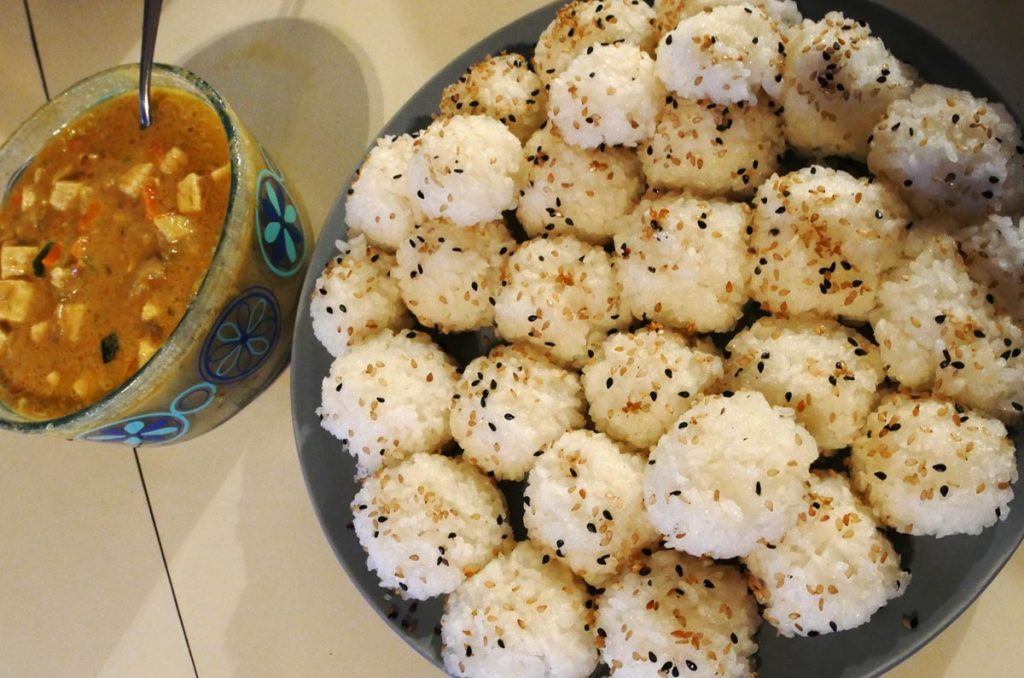 Lauren: Lavender Macarons
To make lavender macarons with a lavender vegan honey buttercream filling, Lauren followed the recipe for the shells from morselsandmoonshine.com that includes ingredients of aquafaba, powdered sugar, sugar, and almond flour but added cream or tartar to help stabilize the vegan meringue. Instead of using the recipe's vanilla, she used 1/4 teaspoon almond extract. She gave the shells a slight purplish tint using blueberry juice extracted from microwaved blueberries. For the lavenderness, she food processed the powdered sugar that went into the shells and the buttercream filling with 1 tablespoon of dried lavender before separating the quantities for the different uses. She baked the shells at 250° instead of 205° since baking at 205° in the past didn't seem to be warm enough, but as the shells cracked on top this time, it could have been too warm (or maybe it was air bubbles or that they went in to the oven too wet or that they weren't mixed quite enough). To fill the macarons, she made a vegan honey buttercream with the lavenderized powdered sugar, Earth Balance Buttery Stick, and vegan honey given to her by her older sister.