February 27, 2016 – Appetizers
Saturday, February 27, 2016
VBC Meeting #36: Appetizers
Host of the Month: Billy and Lauren
Location: Ponder, TX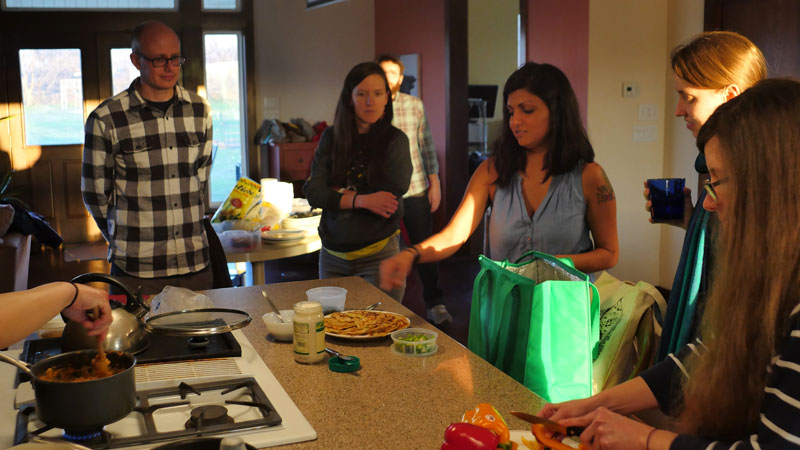 This meeting was about appetizers and us eating them.
Here is what we made: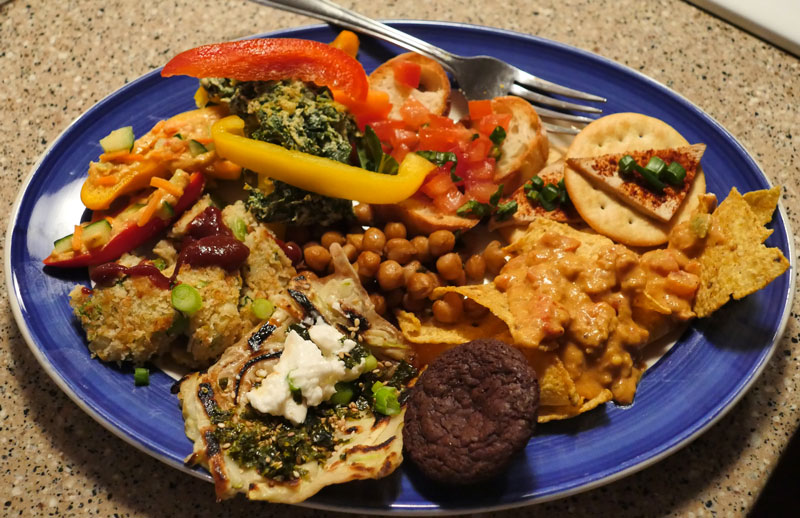 Billy: Tofu "Salmon" Triangles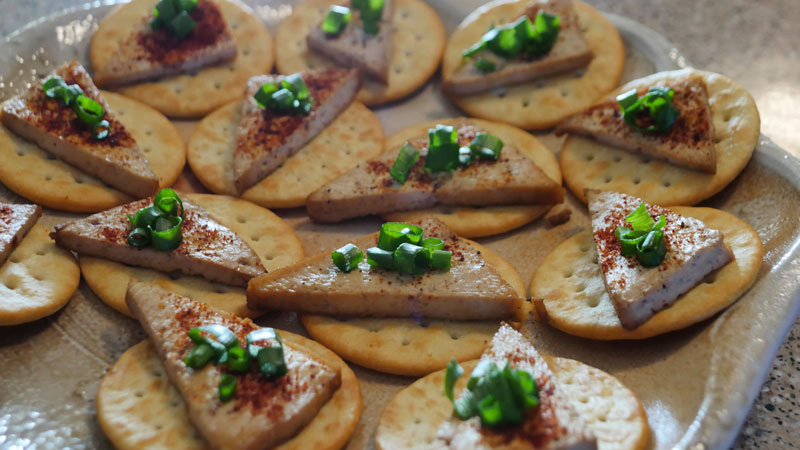 Billy acquired a very large number of discounted 50 cent 19 ounce tofu packages at an Asian market some days before the Vegan Bake Club appetizer meeting. Having been experimenting with flavoring and dehydrating these acquisitions, he decided to make an hors d'oeuvre of a triangle of tofu seasoned how one might season salmon, marinated in a blend of olive oil, lemon juice, rice vinegar, chili powder, salt, and pepper. He placed the tofu pieces into his dehydrator for somewhere around a couple hours before chilling them and plating them on entertainment crackers.
Drew and Caroline: Roasted Rosemary Chickpeas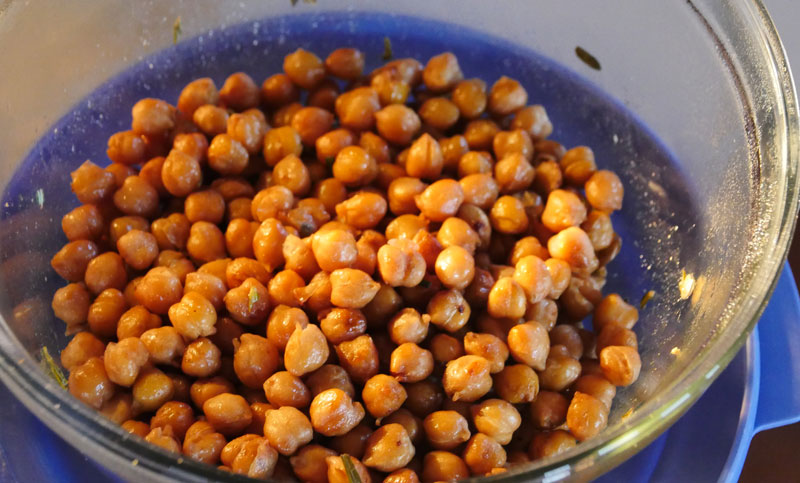 Drew and Caroline seasoned chickpeas with agave nectar, lemon juice, tamari, olive oil, rosemary, and salt. They roasted them up and offered them to us as a simple but flavorful appetizer.
Tara: Hummus Boats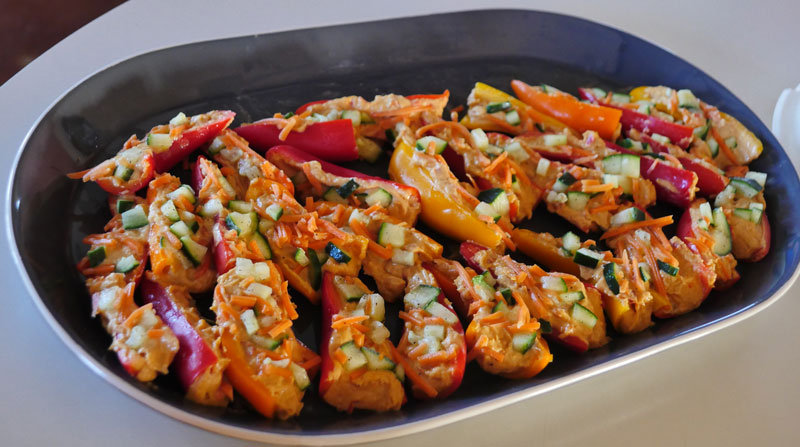 Though Tara is somewhat afraid of cooking, we finally managed to get her to her first VBC meeting. She even put together some colorful mini bell peppers filled with red pepper hummus, carrot shreds, and cucumbers tossed in lemon juice, salt, and pepper.
Tara also brought Frank.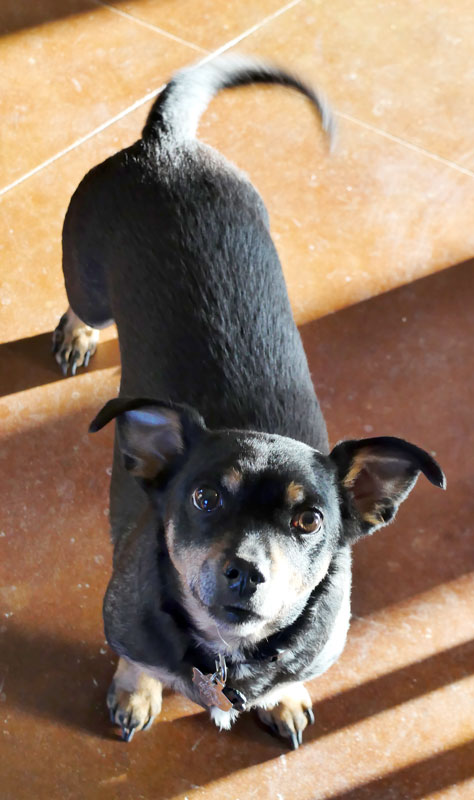 Priya: Okonomiyaki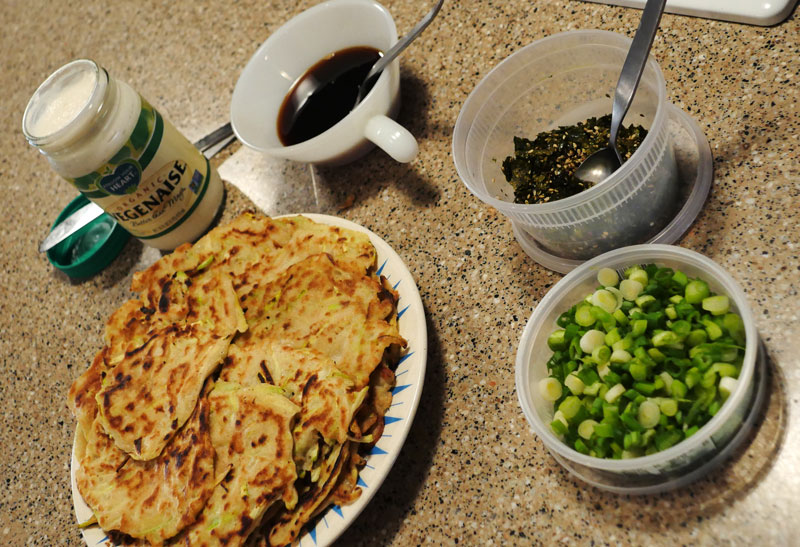 Priya made these pancakes with flour, zucchini, water, and salt. For toppings she brought wasabi roasted seaweed with sesame seed, green onion, vegan mayo, and teriyaki sauce. She emphasized how much prettier her okonomiyaki would have looked with the mayo being squirted out of a squeeze bottle in a squiggly manner (as is the custom), but they looked appetizing enough and were delicious just as they were.
Lauren: Chile con Queso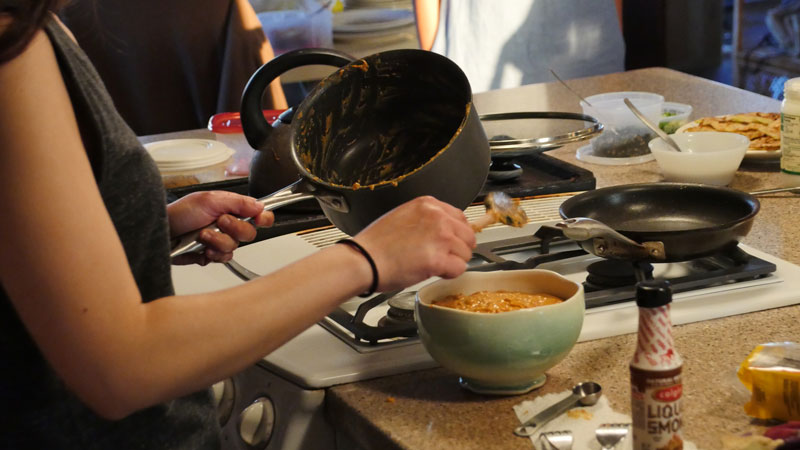 Lauren made a quick queso with garbanzo bean flour, nutritional yeast, almond milk, Earth Balance, Daiya Cheddar Shreds, Rotel tomatoes, salsa, paprika, garlic powder, and salt.
She hydrated and browned some TVP to throw in as well.
Shannon: Bruschetta; Brownies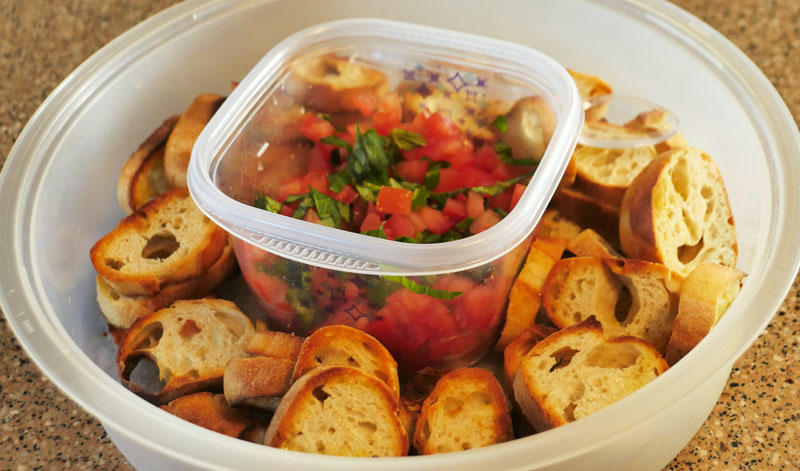 To prepare the bruschetta, Shannon toasted some baguette slices that she rubbed with garlic and drizzled with olive oil. She brought a mixture of chopped tomato, fresh basil, oil, and salt to top it off.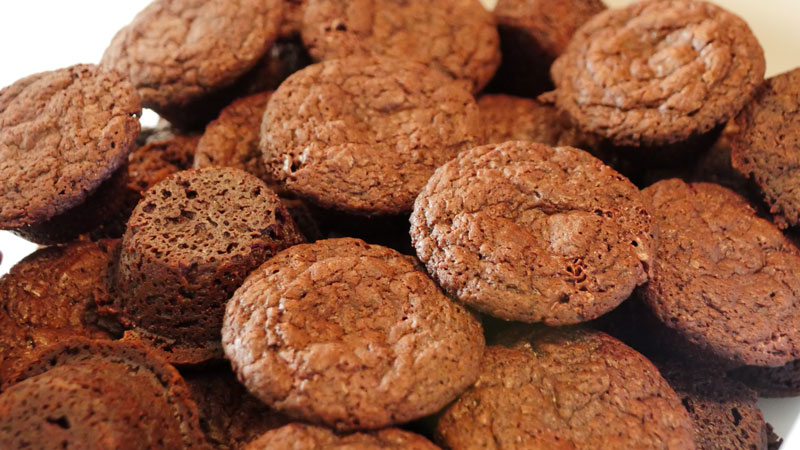 With an admirable worry that an appetizer themed meeting might lack in desserts, Shannon also made us some mini brownies using the Minimalist Baker Simple Vegan Brownies recipe. She added some chopped up Lindt chocolate bar for extra chocolatiness.
Ramon: Mock Crab Cakes with Balsamic Ketchup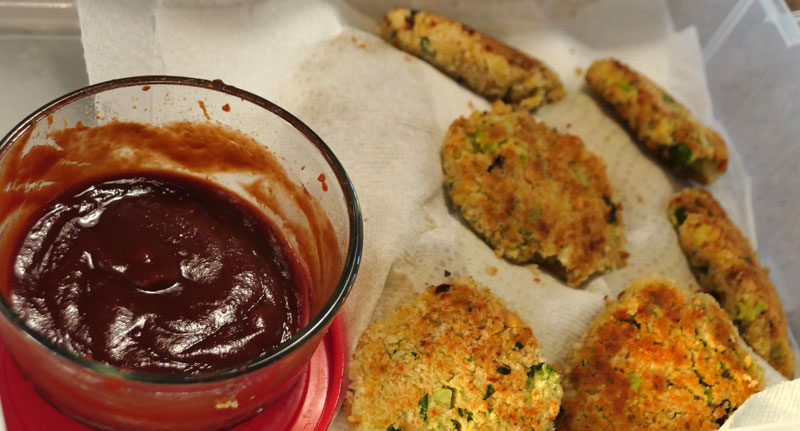 Ramon made the mock crab cakes from cauliflower and chickpeas boiled and mashed with nutritional yeast, fennel, parsley, mint, tahini, red pepper flakes, salt, and pepper. He rolled the batter into fritter shapes, then breaded them with Panko, and pan fried them.
For the ketchup (beloved by many), he combined ketchup with balsamic vinegar and sriracha sauce.
John: Bike Ride Salsa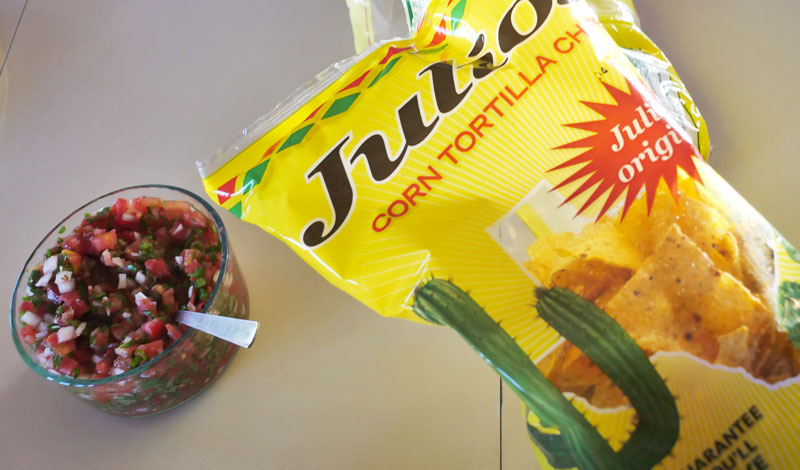 John rode 8 miles to VBC this month, so he decided to bring salsa for ease of transporting it. He made it with tomato, onion, jalapeño, cumin, cilantro, and pepper and served it with Julio's chips.
Slynn: Kale Spinach Dip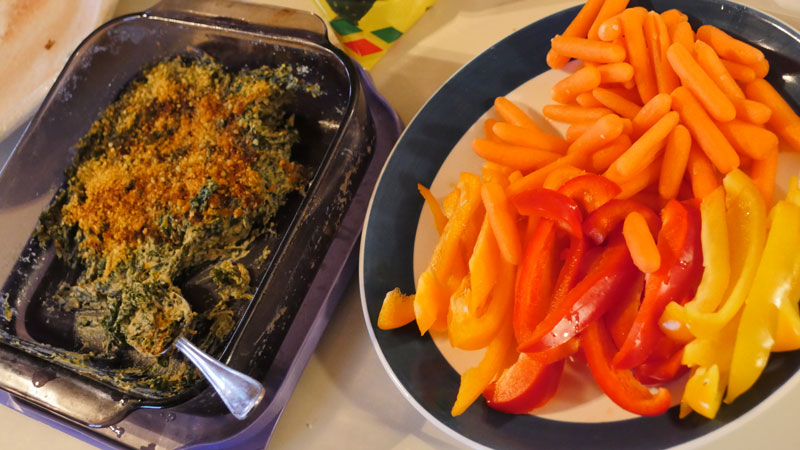 Like Shannon, Slynn also used a Minimalist Baker recipe to make this kale spinach dip. She made a cashew cream by soaking cashews over night and then blending them up with almond milk, garlic, and salt. To this she added kale, spinach, and lemon juice. The dip was topped with a cashew Parmesan made of raw cashew crumbles and nutritional yeast, sprinkled with paprika, then baked. She served the dip with sliced vegetables.
Recognizing that there wouldn't be many sweets at this meeting, we decided it would be a good chance to have a Girl Scout Thin Mints vs. knock-off brand mint cookie taste test.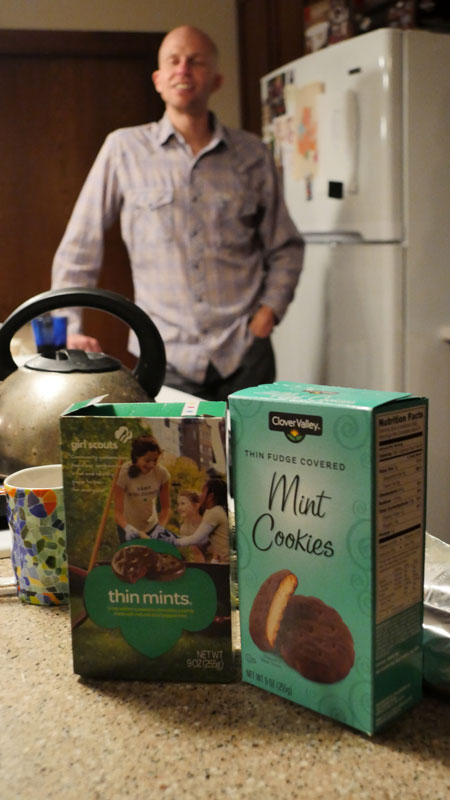 Here are the results of the blindfolded activity:
John and Priya were able to correctly identify the Thin Mints and preferred their flavor to the generic brand, but they both admitted to being able to differentiate the cookies by their textures.

Johnny, visiting from Houston, guessed the Thin Mint correctly, but that was only after unabashedly fondling the cookies to feel the differently-styled cookie edges. He preferred the knock-off mint cookies.
Tara, Ramon, and Caroline switched the cookies in attempted identification, but all three preferred the knock-off.

Billy incorrectly identified the first cookie as Girl Scout despite us actually feeding him the same generic cookie twice.
Shannon and Slynn correctly identified the Thin Mints, again admitting the cookie form was a give away, but both preferred the stronger mint flavor of the knock-off cookie.
Lauren and Drew did not take the cookie challenge.
Thanks to Tara for the cookie taste test media!