February 26, 2023 – From the Heart
Sunday, February 26, 2023
VBC Meeting #120: From the Heart
Host of the Month: Minji and Ric
Location: Corinth, TX
With a nod to February being the month of Valentine's Day, the theme for this Vegan Bake Club meeting was From the Heart. It was also our first meeting ever in Corinth, and an introduction to Onewheel's for many, thanks to Ric in his first VBC appearance. We also sampled the five vegan Girl Scout cookie flavors.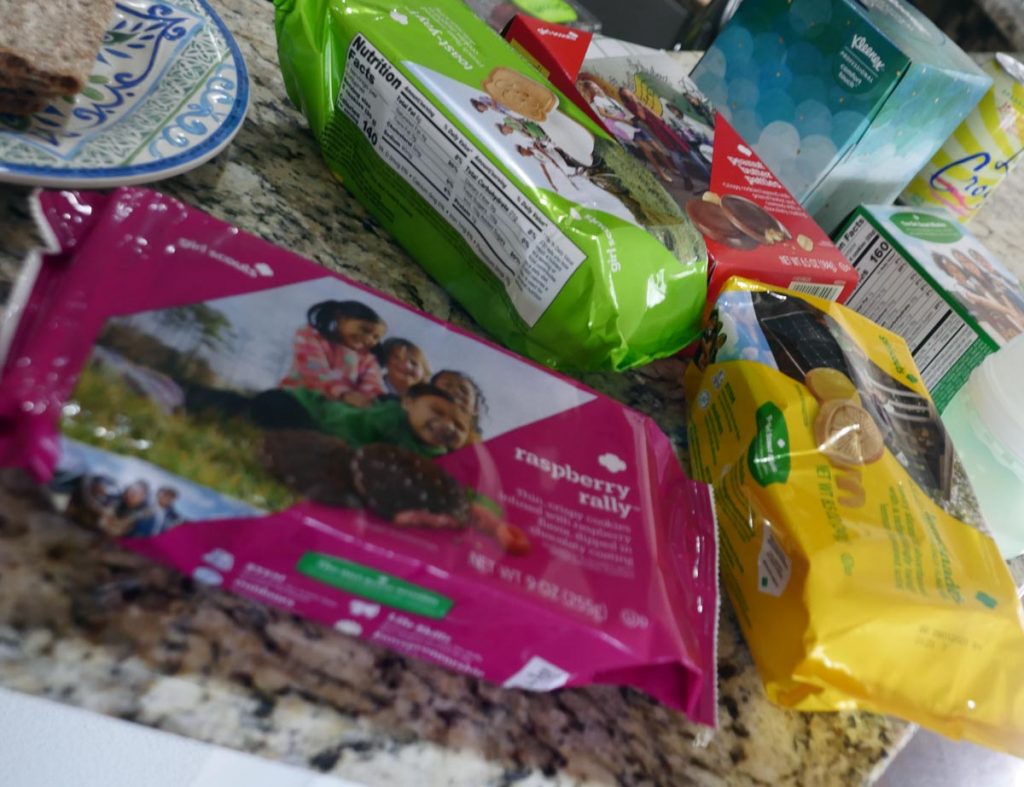 This is what we made: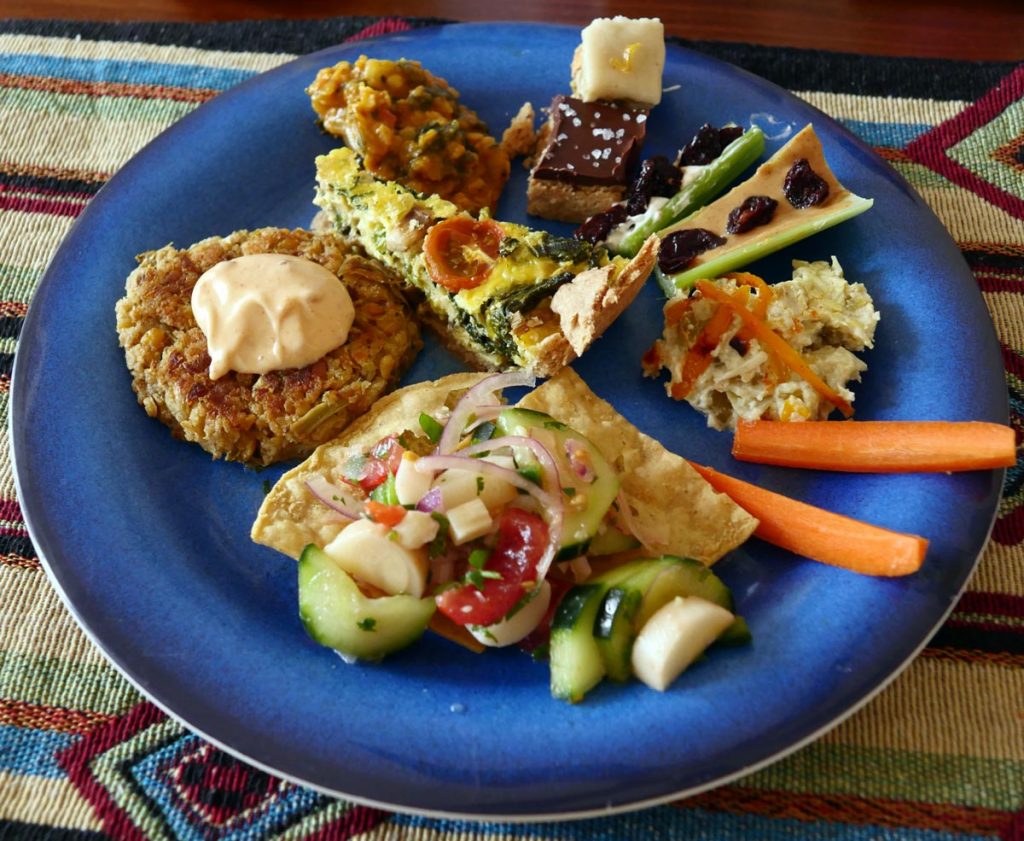 Mehgann and Drew: Marinated Artichoke Heart and Chickpea Crabcakes; Hearts of Palm Ceviche
Drew came up with the ideas of making marinated artichoke heart and chickpea "crabcakes" and the hearts of palm ceviche. Mehgann went to the store, made the foods, and did the dishes while Drew watched soccer. However, Drew stirred chipotle into vegan mayo to serve as the sauce for the "crabcakes". For the ceviche, hearts of palm stood in place of fish and was combined with red onion, cucumber, tomatoes, cilantro, olive oil, coriander, and salt.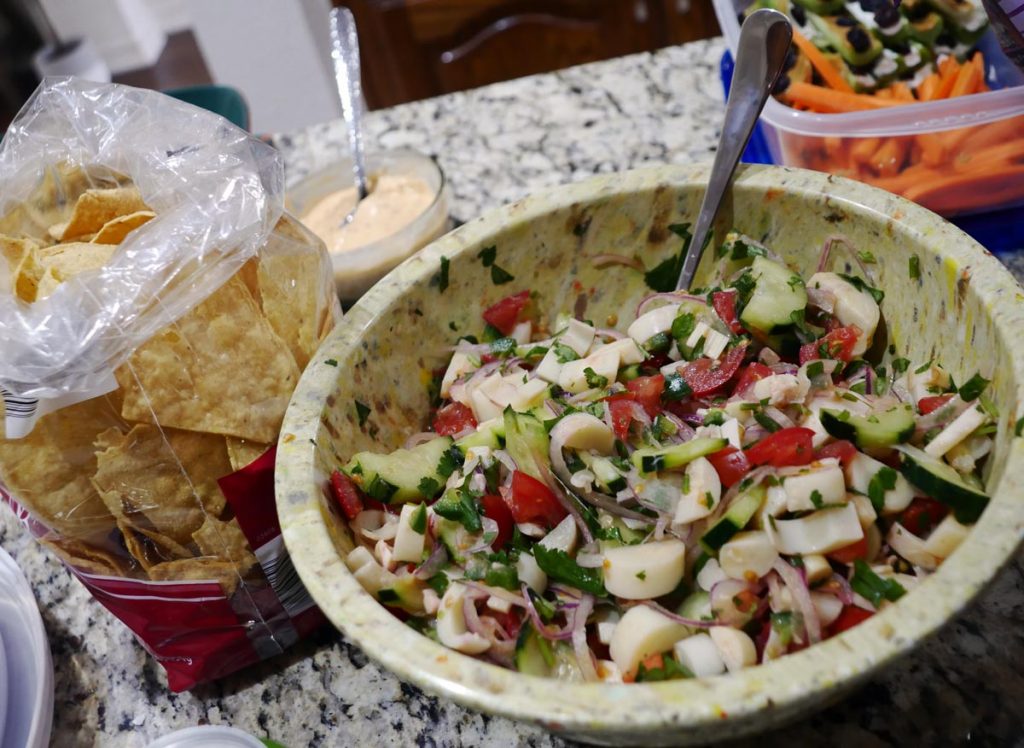 The hearts that went into the vegan "crabcakes" were of the artichoke variety and food processed with chickpeas before mixing with grated zucchini, panko breadcrumbs, vegan mayo, lemon juice, mustard, and spices. Mehgann formed the mixture into patties and baked them.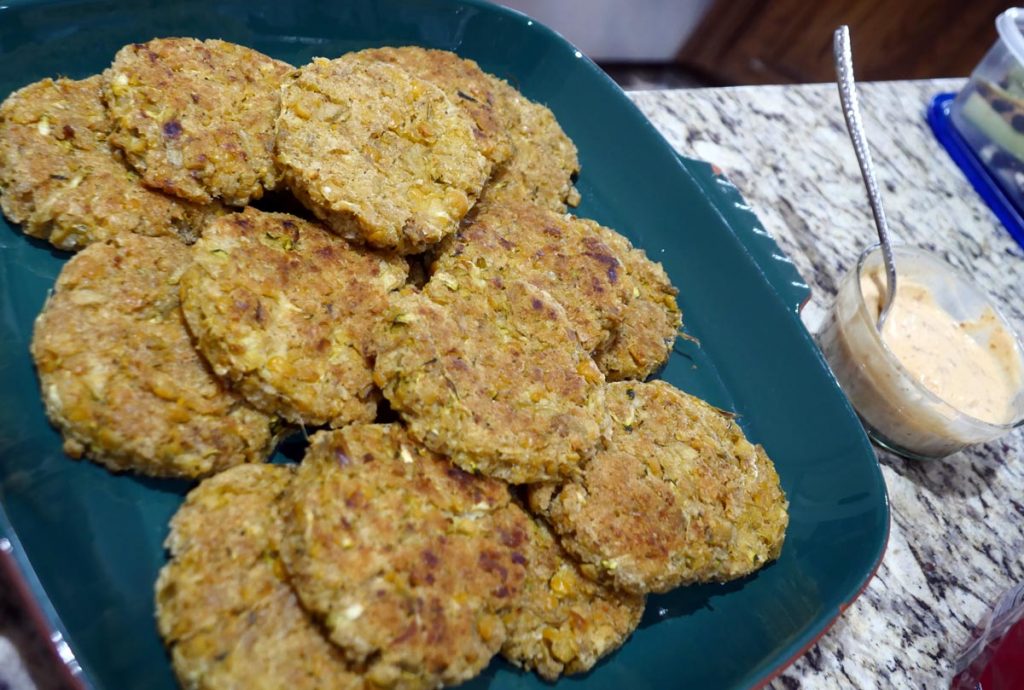 Lauren: Bjewia Pistachio
At the holidays, Lauren's sister Megan sent her some nut-based Tunisian style sweets from Layla's Delicacies that inspired her to try to make something similar. Working roughly from a recipe posted on the Layla's blog, she made a lemony simple syrup on the stove with 3/4 cup each of sugar and water in which she cooked pieces of lemon peel. She toasted 200 grams of hazelnuts in the oven then used a towel to help remove the hazelnut skins. She chopped these by hand and combined them with 300 grams of pistachio that she had chopped with the food processor. She combined the nuts and syrup and spread the mixture into an 8×8″ pan to cool. She topped them with a layer of almond paste made with 1 cup almond flour, 1 cup powdered sugar, almond extract, one vegan egg white (1 tsp powder, 1 TBSP water), and some brown rice syrup to make it more pliable. She cut the lemon peel that had flavored the syrup into thin strips to garnish cut pieces of this sweet.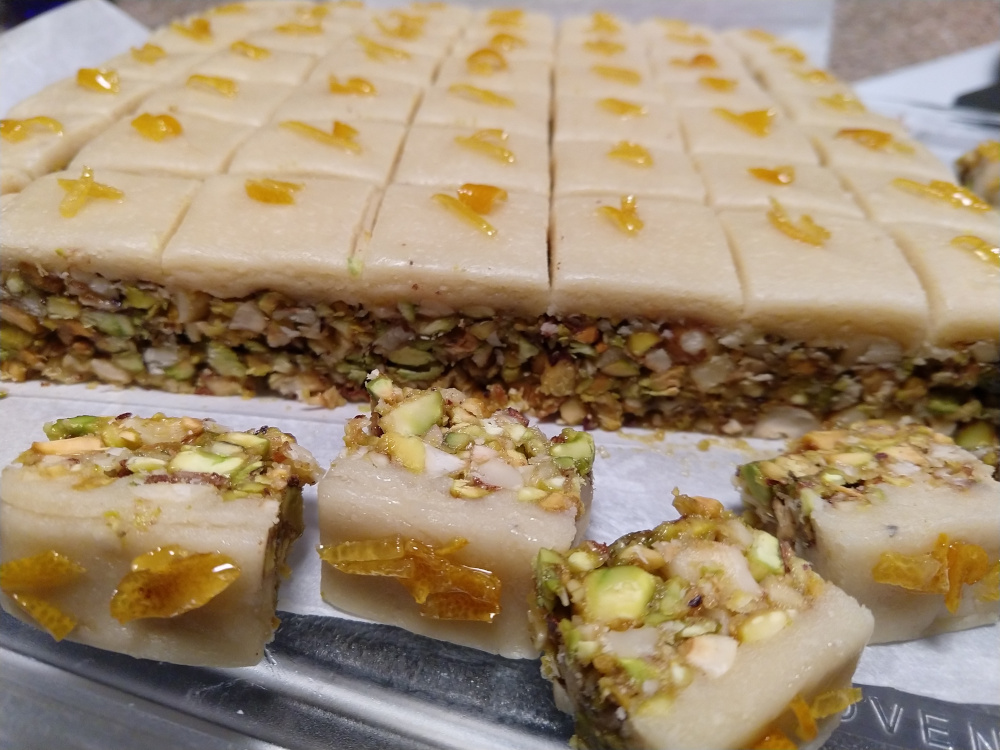 Slynn: Baked Green Chile Artichoke Dip
Slynn made a green chile artichoke dip from her 350 Best Vegan Recipes cookbook with artichoke hearts (canned in water), green chiles, vegan mayonnaise (the avocado oil variety), silken tofu, garlic, and chopped bell peppers that she combined and baked.
Neva: Ants on a Log
Wanting to contribute to the spread of foods, Neva made two forms of ants on a log. She filled pieces of celery hearts with peanut butter and dried cherries for one type and vegan cream cheese and raisins for the other.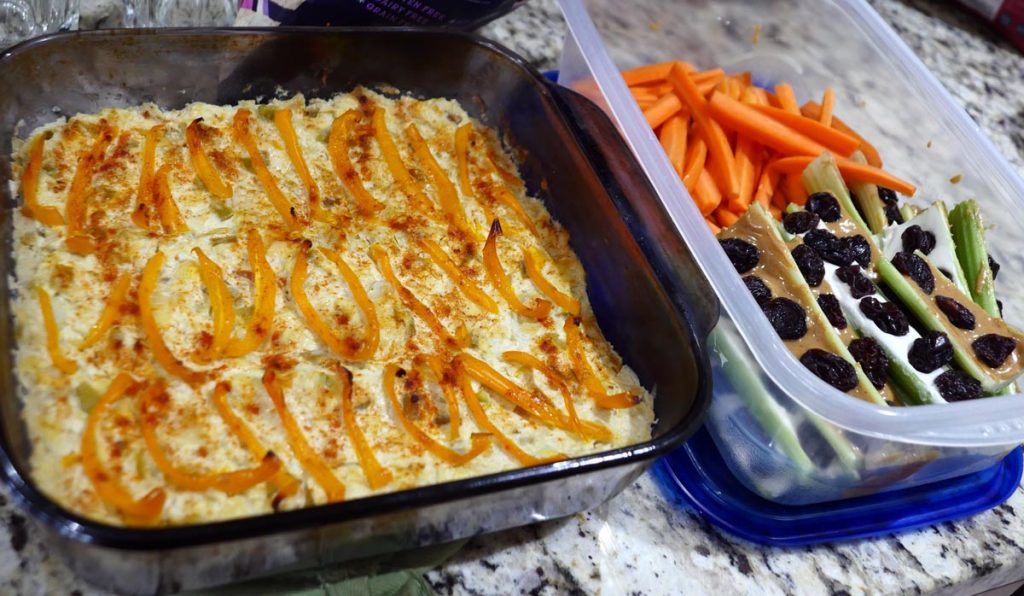 Ric: Peanut Butter Chocolate Bars
Ric mixed creamy peanut butter with maple syrup then mixed in coconut flour. He evenly spread the mixture out into a bread pan. Separately, he melted dark chocolate that he mixed with coconut oil. After pouring the chocolate over the peanut butter mixture, he topped it with coarse salt (he wanted flaky salt but couldn't find it at the store). He refrigerated the bars for approximately thirty minutes until hardened.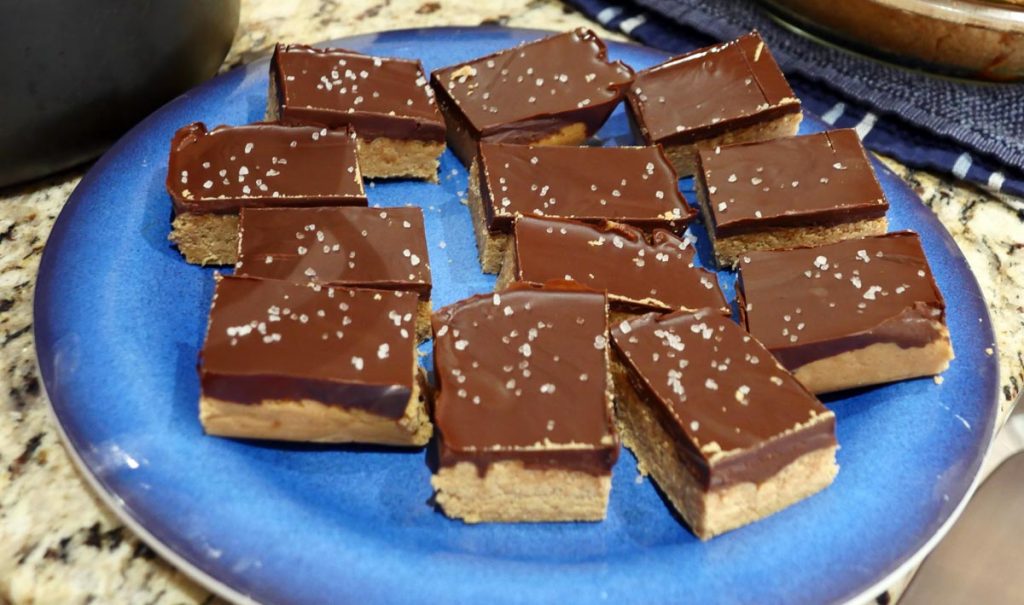 Minji: Hugs and Quiches
As a Valentine's Day related pun, Minji made "Hugs and Quiches". For the crust, she combined whole wheat flour, white flour, cold vegan butter, and water to make a ball that she put in the refrigerator. For the filling she pre-cooked leek, mushroom, spinach, and tomato then poured over a bottle of Just Egg and baked.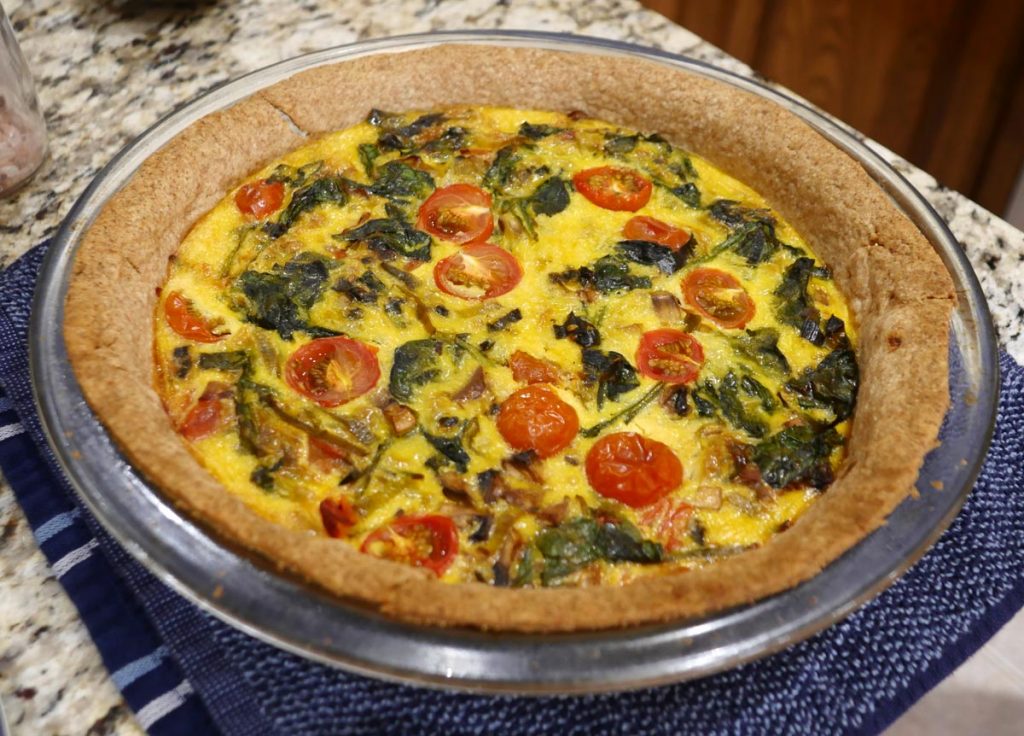 In addition to her quiche, she put together a beautiful vegan "cheese" board featuring Sun-Dried Tomato Rebel Cheese, fig salami, nuts, dried orange, and Beyond Meat Jerky.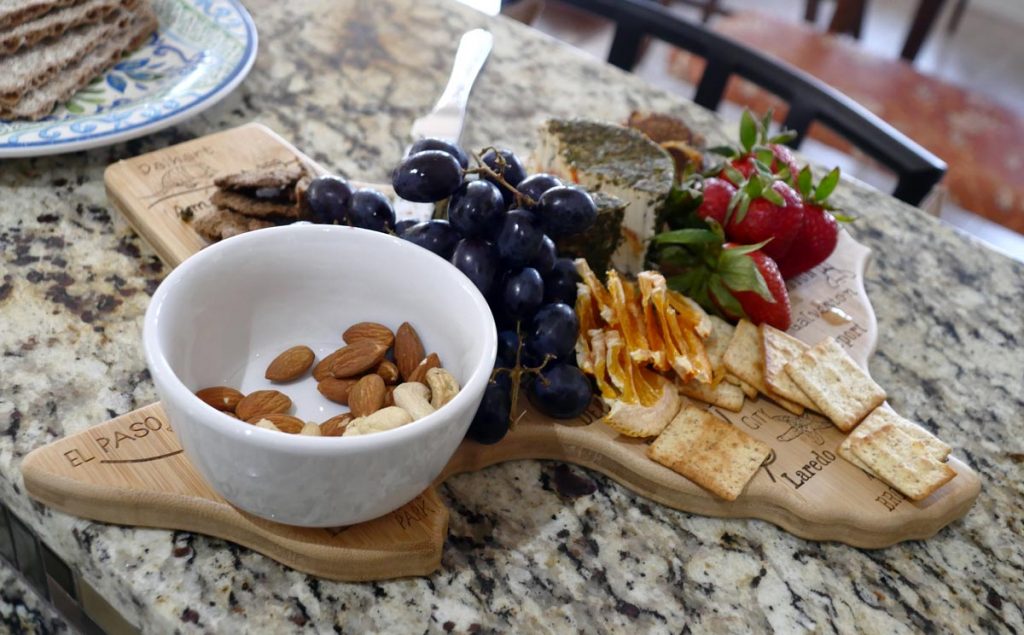 Billy: Dal Palak
Billy made dal palak with the joke that it fit the theme because it incites heart burn. He cooked red lentils (masoor dal), fresh garlic, one chopped onion, a can of crushed tomato, and 10 ounces of frozen spinach, seasoned with Shan Daal Masala mix. At the end he added about 1/4 cup soy yogurt and some fresh spinach.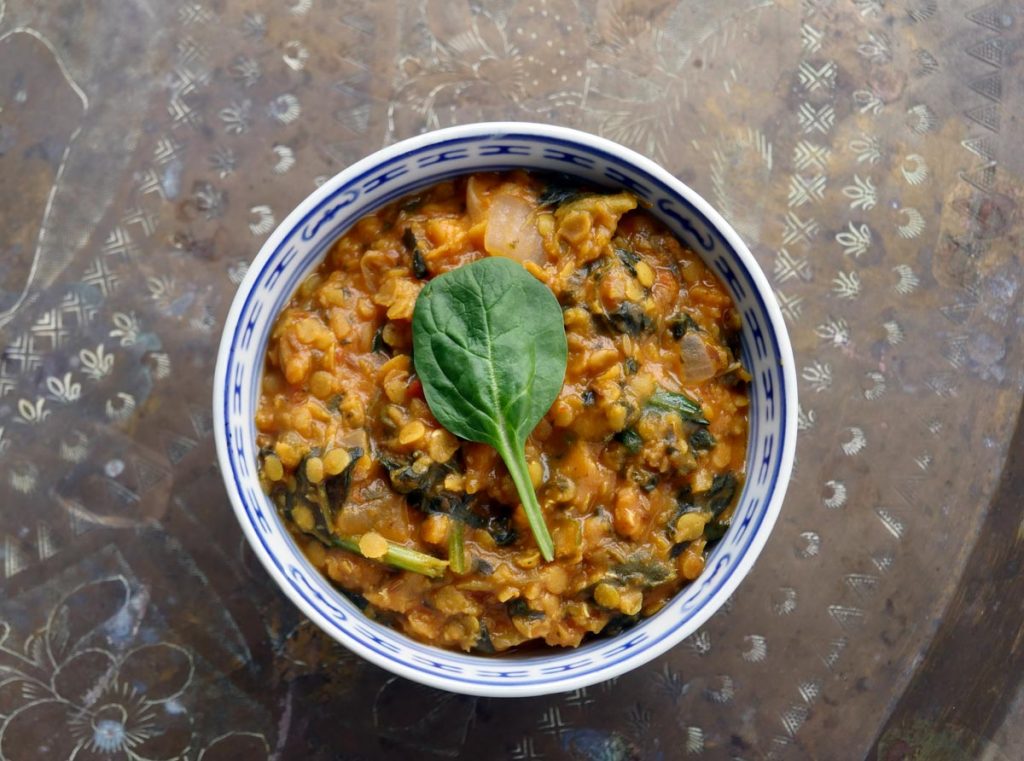 Kori: Heart-Shaped Funfetti Cake
Kori made us a birthday cake to kick off celebrating the upcoming VBC 10 Year Anniversary. To a Pillsbury Funfetti box cake mix she added water, oil, an extra teaspoon of baking powder, apple sauce, an extra cup of flour, and 5 teaspoons of Ener-G Egg Replacer. She baked it in a heart-shaped silicone cake pan and decorated it with the "accidentally vegan" Pillsbury Funfetti frosting.