February 26, 2022 – Winter Delights
Saturday, February 26, 2022
VBC Meeting #108: Winter Delights
Host of the Month: Billy and Lauren
Location: Ponder, Texas
Though in Texas, weather at the end of February could be a warm 70°F+ or below freezing, we took a risk and went with a theme of Winter Delights. It turned out to be cold after all, so it made the foods of the day extra welcome.
This is what we made: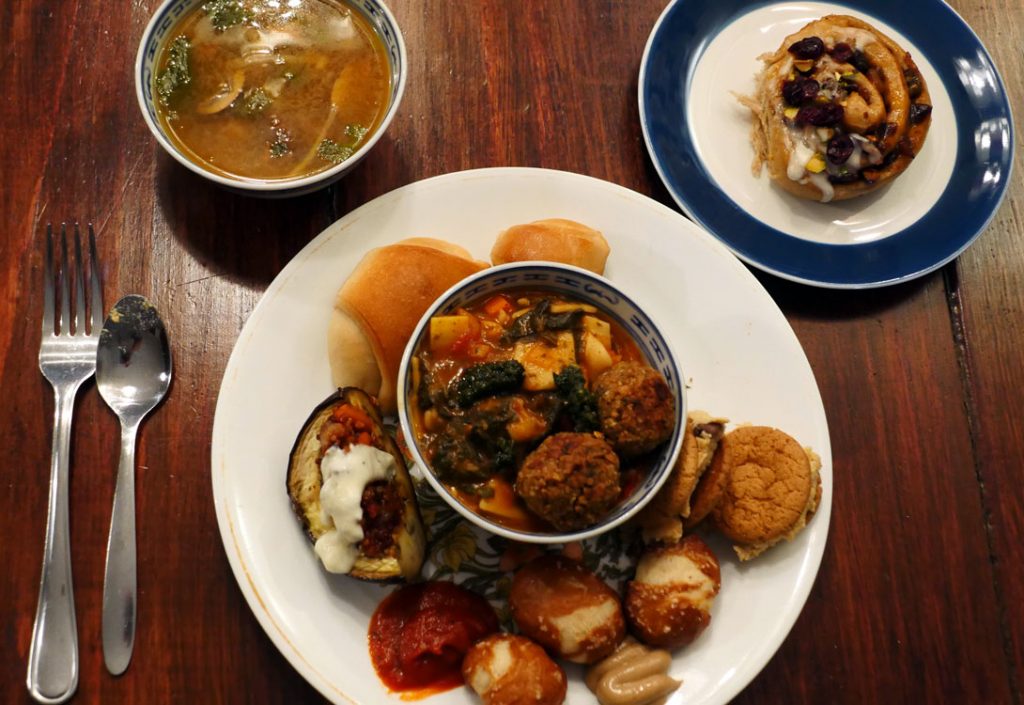 Shannon: Piroshki
The previous month, for our Japanese foods theme, Shannon had planned to attend with Hokkaido milk bread dough, but after making the dough she ended up not being able to go to the meeting. Thus, she froze her dough and, with great industriousness and international crossover, used it to make piroshki for this month! She made the piroshki by sautéing apples and sugar to remove excess water then added lemon juice and spices. She rolled out sections of her dough into circles, cut them into pizza slice shapes, placed filling on them, and rolled them up. She brushed the piroshki with a maple syrup and water glaze both before and after baking for a shiny finished baked good.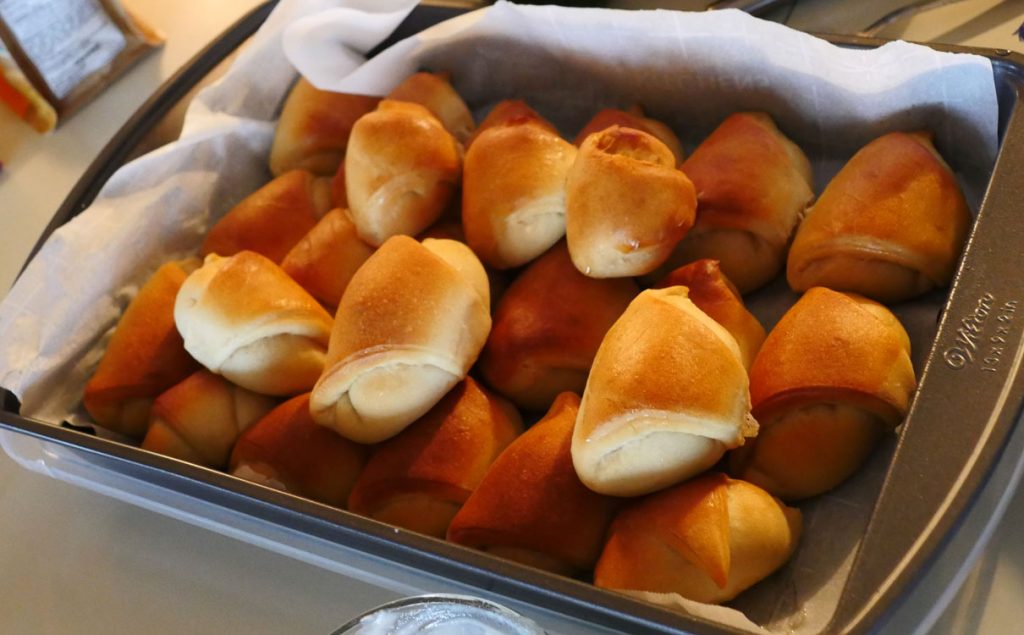 Slynn: Pretzel Bites; Chickpea Chocolate Chip Cookie Dough
Slynn pulled both of her recipes this month from Kate Friedman's 5-Ingredient Vegan Cooking. she made the dough for the Pretzel Bites with flour, yeast, maple syrup, olive oil, and salt. This was shaped into ropes and cut into pieces that then each spent about 30 seconds in an alkaline bath of water and baking soda. Once bathed, she sprinkled the bite-sized pieces of dough with coarse salt and baked them.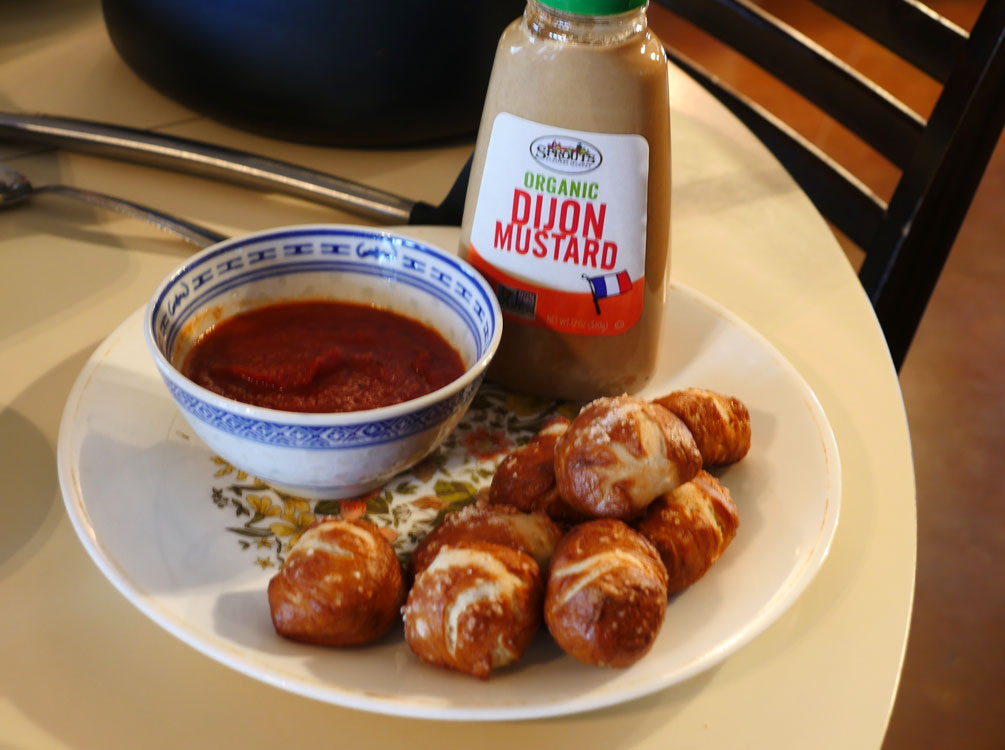 To make the Chickpea Chocolate Chip Cookie Dough, Slynn soaked dry chickpeas over night, drained and rinsed them, then simmered them for one hour. She then processed the chickpeas with peanut butter, maple syrup, and vanilla until the mixture reached cookie dough consistency. Once cool, she stirred in the chocolate chips.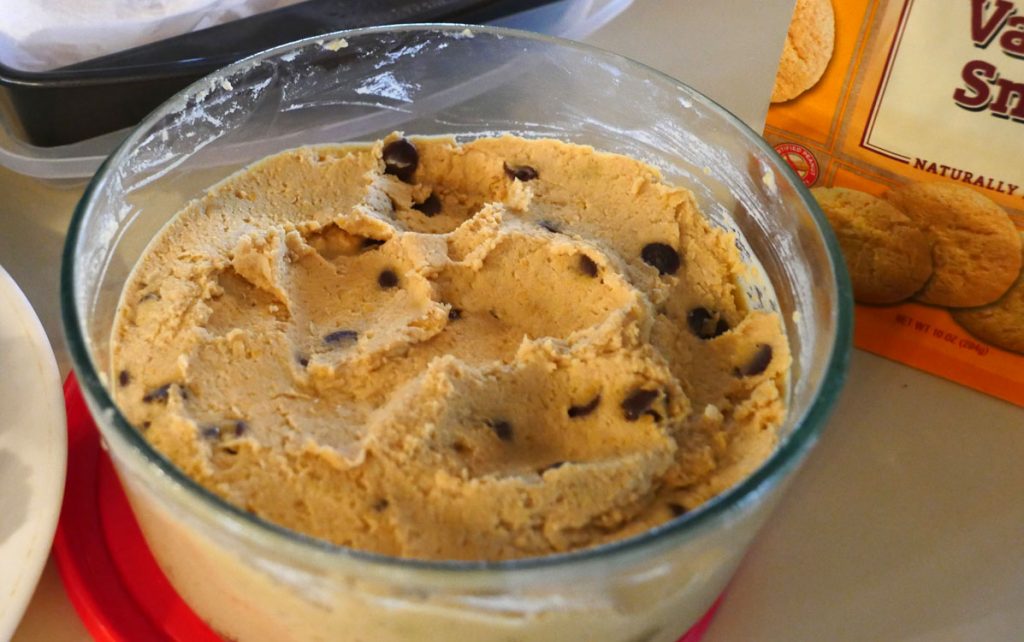 Ramon: Lasagna Soup; TVP "Meatballs"
For the lasagna soup, Ramon made Vegan Richa's Instant Pot recipe that included broken up pieces of lasagna noodles, onion, garlic, oil, veggies, spinach, tomato puree, diced tomato, onion powder, garlic powder, broth, salt, and pepper. He left out the lentils because when he made the soup previously, he found it was too thick when adding lentils and quinoa. He also unintentionally added some Zatar seasoning to the soup when he mistook it for Italian seasoning, but he was not unhappy with how it tasted…it all being Mediterraneanish after all.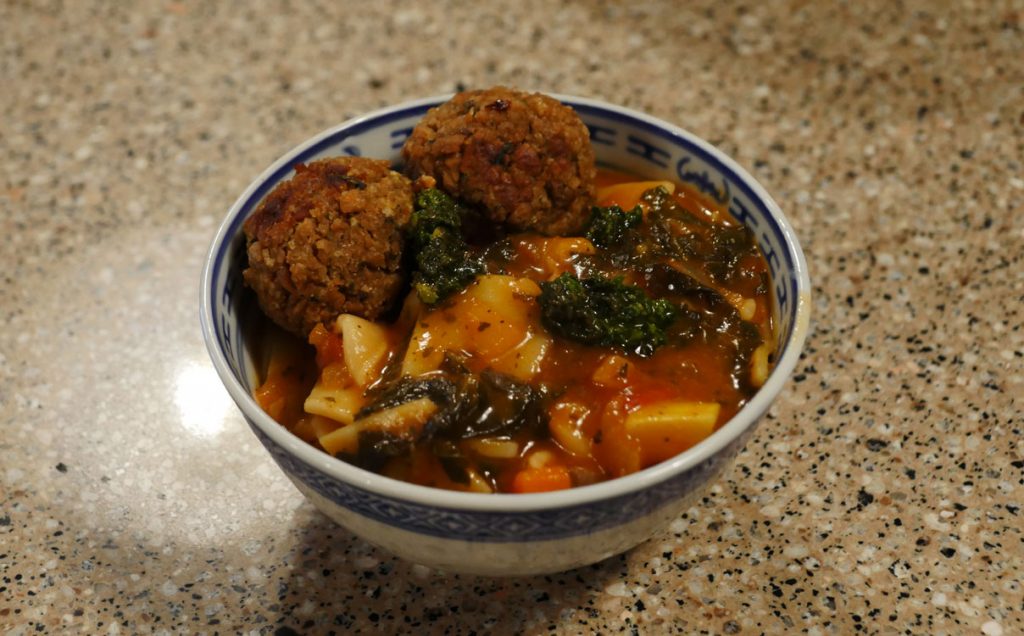 To eat with the soup, Ramon also made vegan meatballs from textured vegetable protein. He estimated measurements of the recipe's ingredients that included: rehydrated textured vegetable protein, onion powder, garlic powder, Italian seasoning, vegan Worcestershire sauce or soy sauce, nutritional yeast, flour, salt, and pepper, plus he added fennel!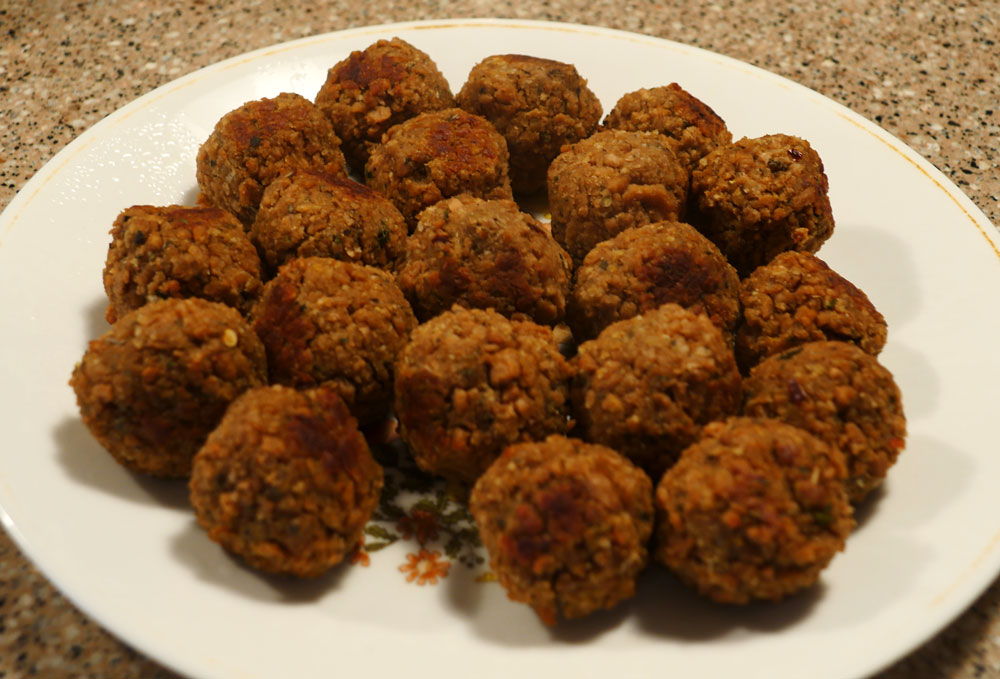 Drew: Quinoa Stuffed Aubergine
For the quinoa stuffed aubergine, Drew baked eggplants and scooped out their middles to make way for a filling of quinoa, chickpeas, crushed tomatoes, onion, carrot, cumin, smoked paprika, cayenne, cinnamon, liquid, salt and pepper. He ended up having to add extra liquid to get the quinoa to cook, but otherwise mostly followed the recipe.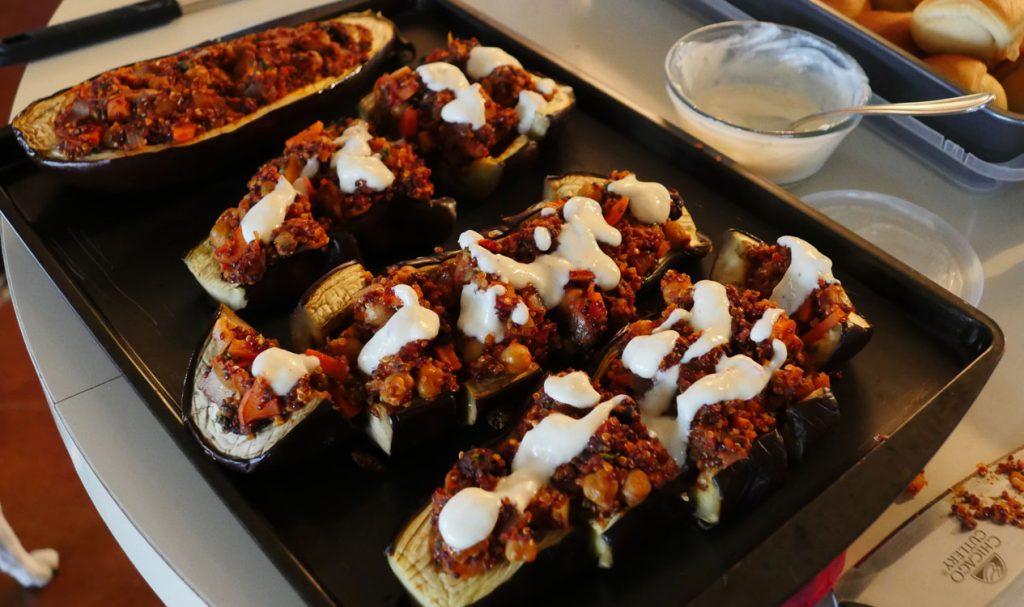 Billy: Hot and Sour Soup
Though Billy has made vegan hot and sour soup many times, he had not yet made it for Vegan Bake Club, so he decided to serve it for the Winter Delights theme. He put the soup together with water, baby bella mushrooms, brown clam shell mushrooms, tofu, shredded carrot, cilantro, soy sauce, bouillon, rice vinegar, lime juice, sriracha, and thickened it with corn starch. He couldn't find bamboo shoots in stock at any of the grocery stores he checked, so he replaced them in the soup with mung bean sprouts.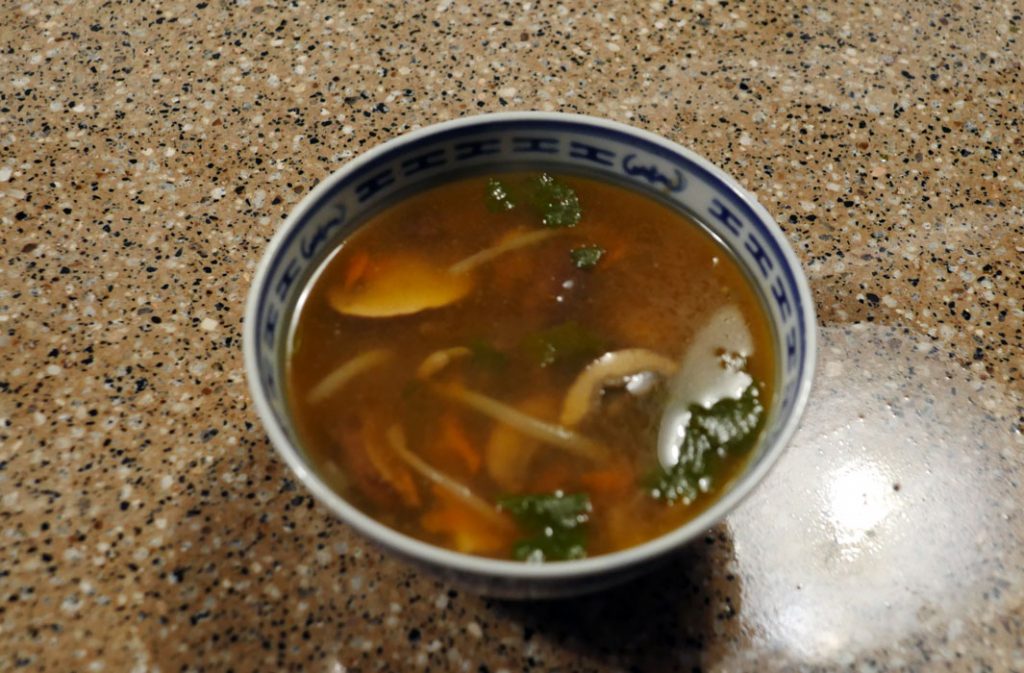 Lauren: Chelsea Bun Christmas Tree
Lauren made a Chelsea bun Christmas tree shaped based on Paul Hollywood's Chelsea Bun Christmas Tree that she had seen him make with Mary Berry on PBS more than once. She used the dough recipe she usually makes for cinnamon rolls. To fill it, she made a quick mincemeat-style filling with chopped dried apricots and dates, fresh chopped apple and orange, brown sugar, orange zest, orange juice, lemon juice, Billy's red wine, cinnamon, nutmeg, and allspice that she simmered for about 30 minutes and let it sit only overnight, not two to three weeks as others would do to let it develop flavors and life experience.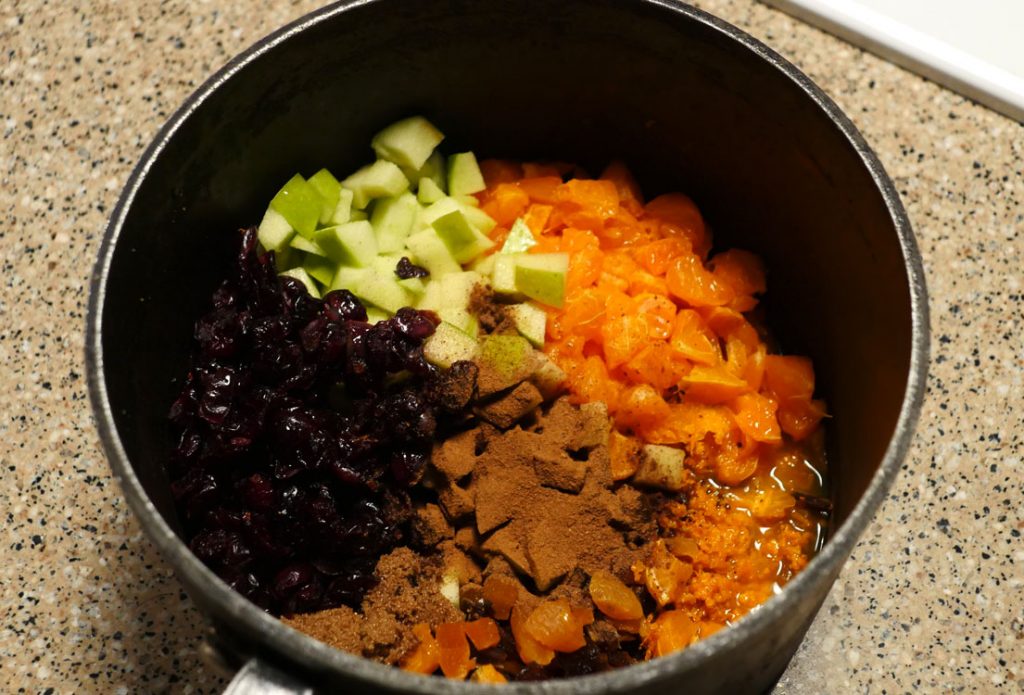 Before filling the dough, she mixed chopped pistachios and cinnamon into the mincemeat and first brushed the dough with oil. She sprinkled extra brown sugar and cinnamon over the dough and filling, rolled it up, cut it into pieces, constructed the tree, and baked it. She brushed the golden tree with apricot jam thinned with water and added icing highlights, chopped pistachios, and cranberries to top it off.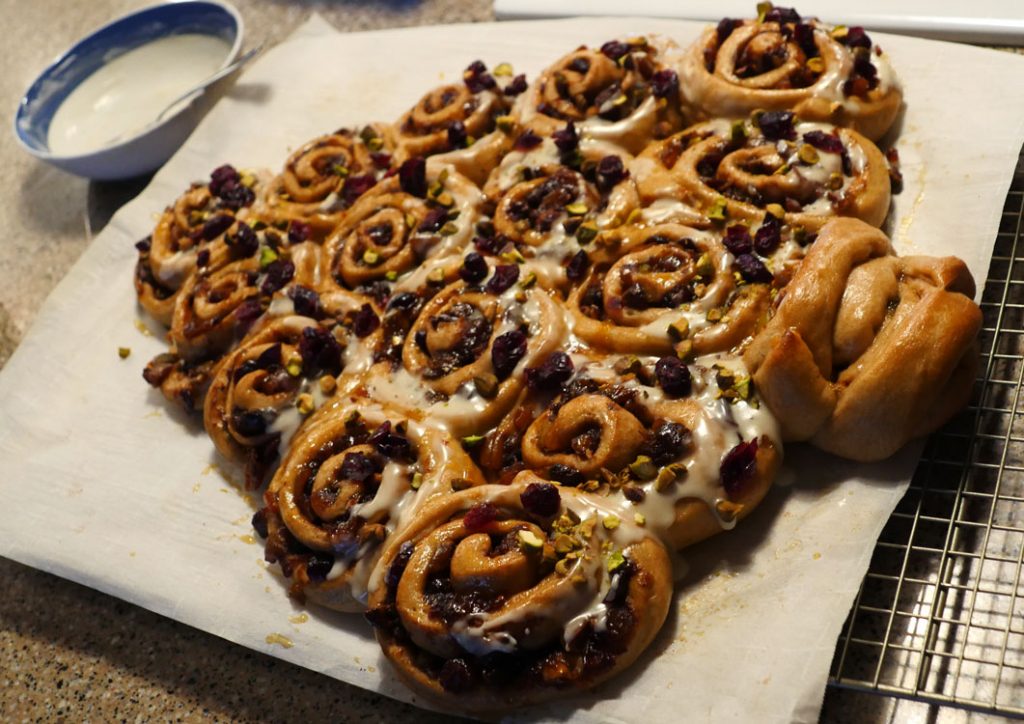 Caroline: Awesomeness
Caroline attended our winter time fun virtually from California!