February 24, 2019 – Creamy
Sunday, February 24, 2019
VBC Meeting #72: Creamy
Host of the Month: Billy and Lauren
Location: Ponder, TX
Why would you not want to eat dreamy creamy foods?
This is what we made: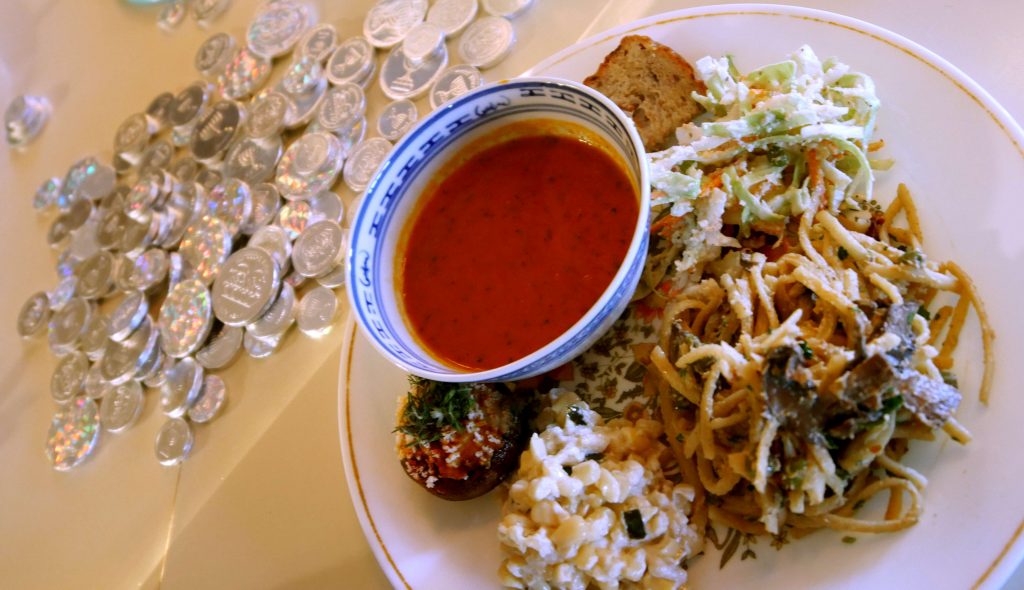 Shannon: Brother's Corn Casserole
Shannon has made us corn casserole before, but this time she made one in the style of her brother. To begin her veganized version of her brother's casserole, she melted a stick of vegan butter with Miyoko's Vegan Cream Cheese. She diced and sautéed a poblano pepper instead of the jalapeño the original recipe called for, but to sort of make up for a little of the loss of spiciness, she added half a teaspoon of jalapeño juice from a jar of pickled jalapeños (she and some others in VBC are not much for the heat). She combined the creamy mixture, pepper, and canned Green Giant White Shoepeg Corn and baked it in a casserole dish at 350°F.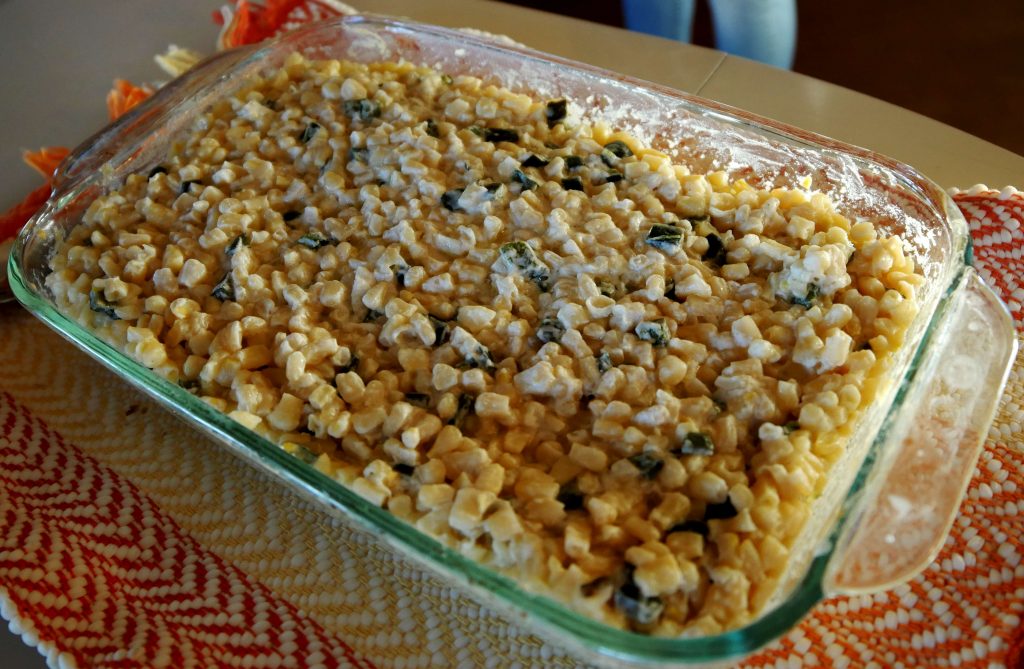 Lilly: Vegan-style La Madeleine-like Tomato Basil Soup
Lilly reverse architected La Madeleine's tomato basil soup with a vegan flare. She started the soup by cooking diced tomatoes in their water with fresh basil and a pinch of salt for thirty minutes. After blending this concoction in a food processor, she returned it to the pot and added Miyoko's European Style Cultured Vegan Butter plus a cup of Nutpod's Unsweetened Original Creamer. She served the soup with Dave's Killer Bread Good Seed slices.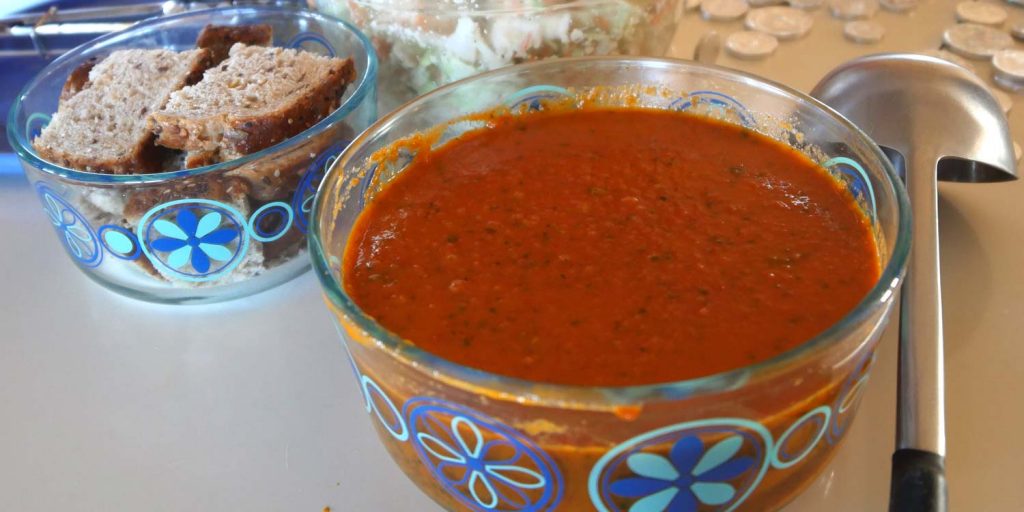 Billy: Cashew Cheese Stuffed Mushrooms
For the cashew cheese Billy processed together soaked cashews, rejuvelac, olive oil, coconut oil, pea protein, nutritional yeast, garlic, lemon juice, and salt. He filled cremini mushroom caps with the mixture and topped them with smoked paprika and bread crumbs before baking at 375°F. He topped the finished inverted caps with dill from his garden.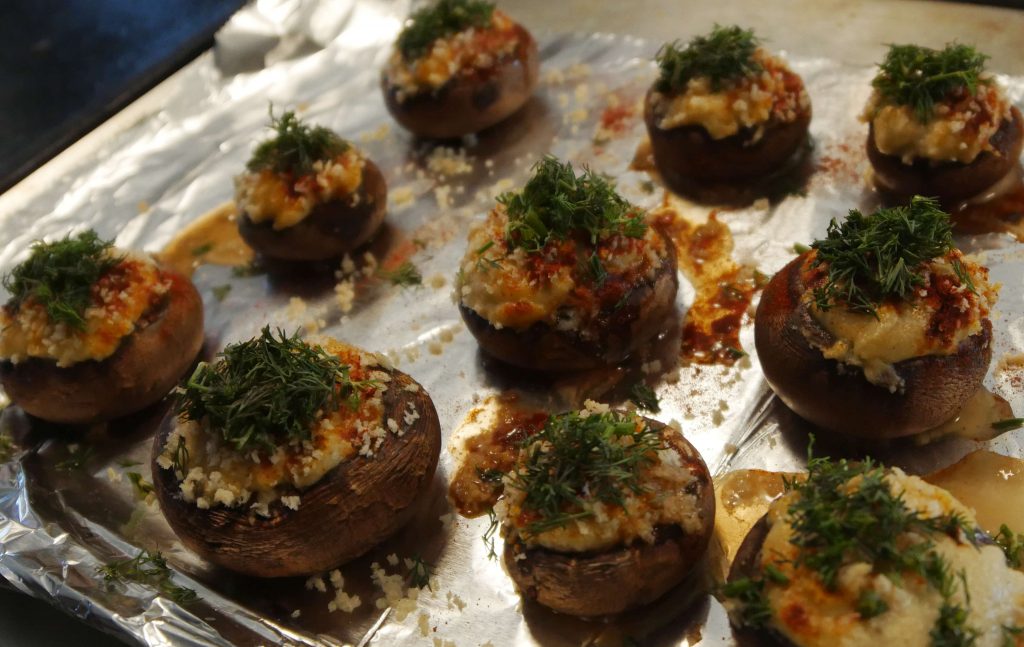 Caroline: Paskesz Coin Chocolates
In a tribute to the Wu-Tang Clan's song Cream, Caroline brought us a big sack full of kosher Paskesz Coin Chocolates, made of premium Belgian chocolate, that she obtained on the Internet about three weeks before the meeting.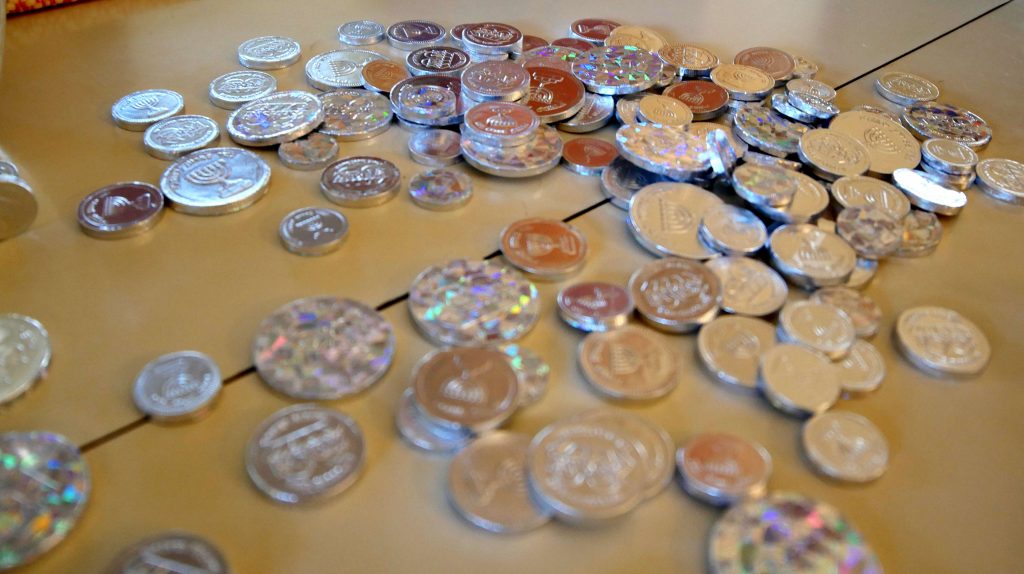 Drew: Creamy Coleslaw
For his creamy coleslaw, Drew used a proprietary coleslaw blend and a recipe from the Minimalist Baker. For the dressing he food processed a cup of soaked cashews with mustard, apple cider and white vinegars, maple syrup, celery seed, diced onion, water, salt, and pepper.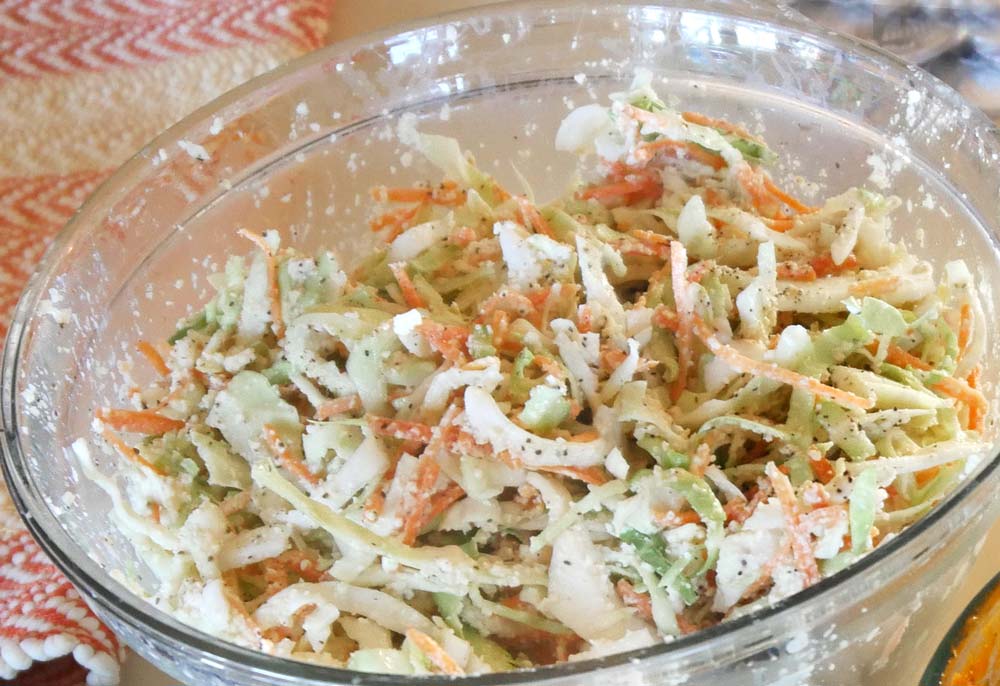 Lauren: Chocolate Caramel Roulade
Lauren made a first attempt at the sponge for her roulade with an experimental mixture of all-purpose flour, cocoa powder, puréed pumpkin, aquafaba meringue, flax eggs, sugar, coconut oil, baking powder, baking soda, and salt. When rolling up and unrolling the cake after baking, the sponge split fully along several lines, so she decided to make a second attempt at a cake. This time she mostly followed a vegan roll cake recipe using flour, baking powder, confectioners' sugar, Earth Balance Soy-Free Buttery Stick, flax milk, coconut milk, and vanilla and almond extracts. This time the pre-rolling went a little better with less breakage. However, after spreading the filling over the sponge and doing the final roll, the cake split in some places. The filling was made of pumpkin purée, cocoa powder, homemade caramel sauce, and homemade coconut whipped cream. She topped the broken cake roll with the last of the whipped cream and some almond slices.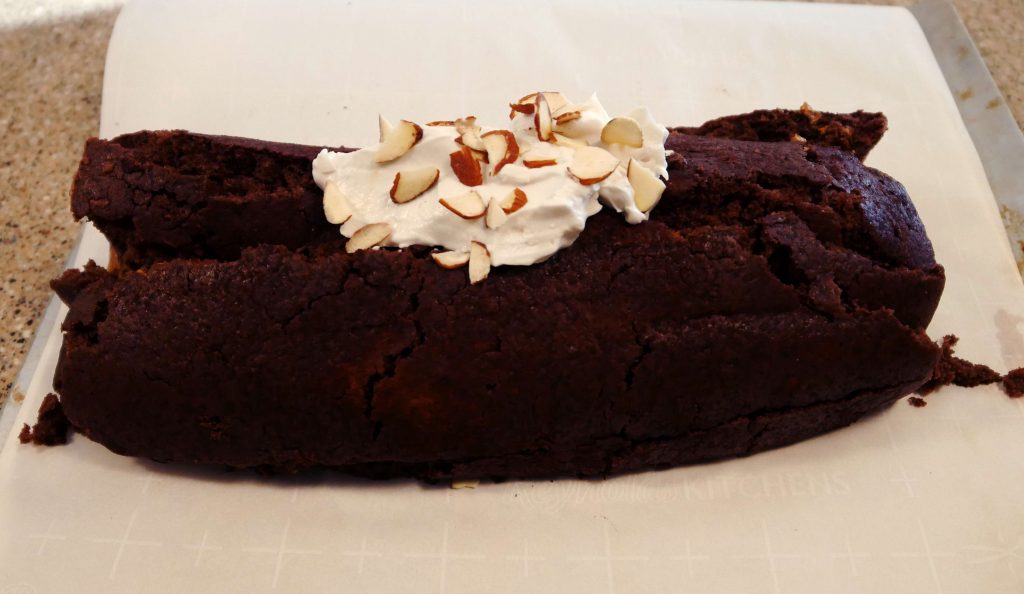 Slynn: Coconut Cream Pie
After a few years of wanting to make the Vegan Pie in the Sky coconut cream pie recipe, Slynn finally executed her goal. The pie featured a graham cracker crust filled with coconut milk, sugar, shredded coconut, coconut oil, oat milk, and vanilla.
Unfortunately, Billy seemed to not have an actual photo of Slynn's pie, so please enjoy the image that he created in its stead.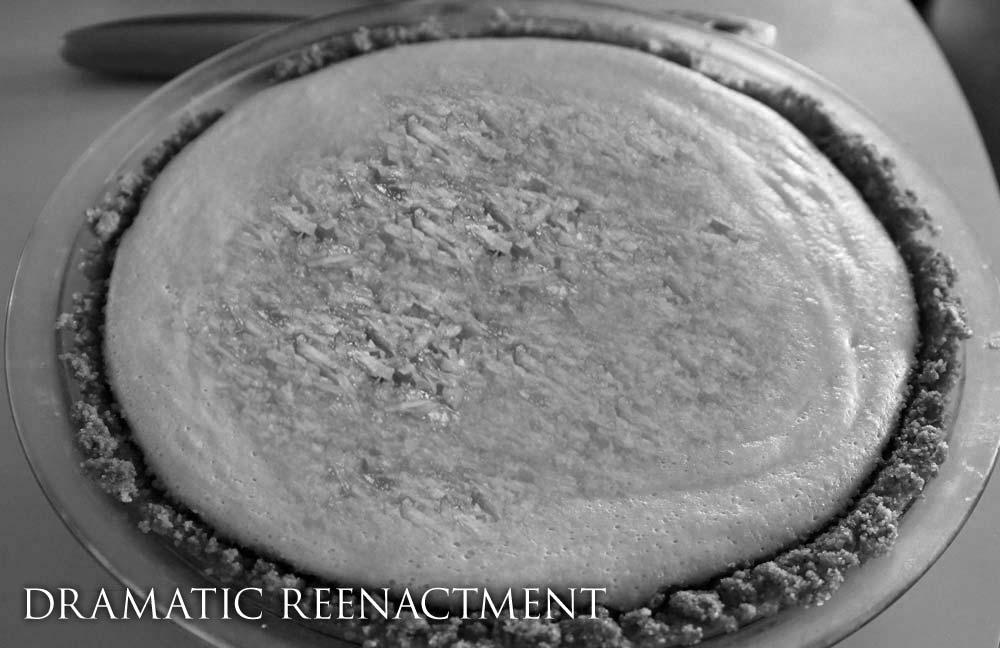 Ramon: Alfredo Linguini
Ramon's alfredo linguini preparation included cooking mushrooms with liquid amino acid and a coffee chili rub for a steaky taste. To this he added frozen peas, rehydrated sun-dried tomatoes, seasoning, and salt. For his alfredo sauce, he blended soaked cashews, nutritional yeast, lemon juice, a 1/2 cup of onion, and water from the rehydrating of the tomatoes. He tossed these things with a big pot of linguini for our main entrée of the evening.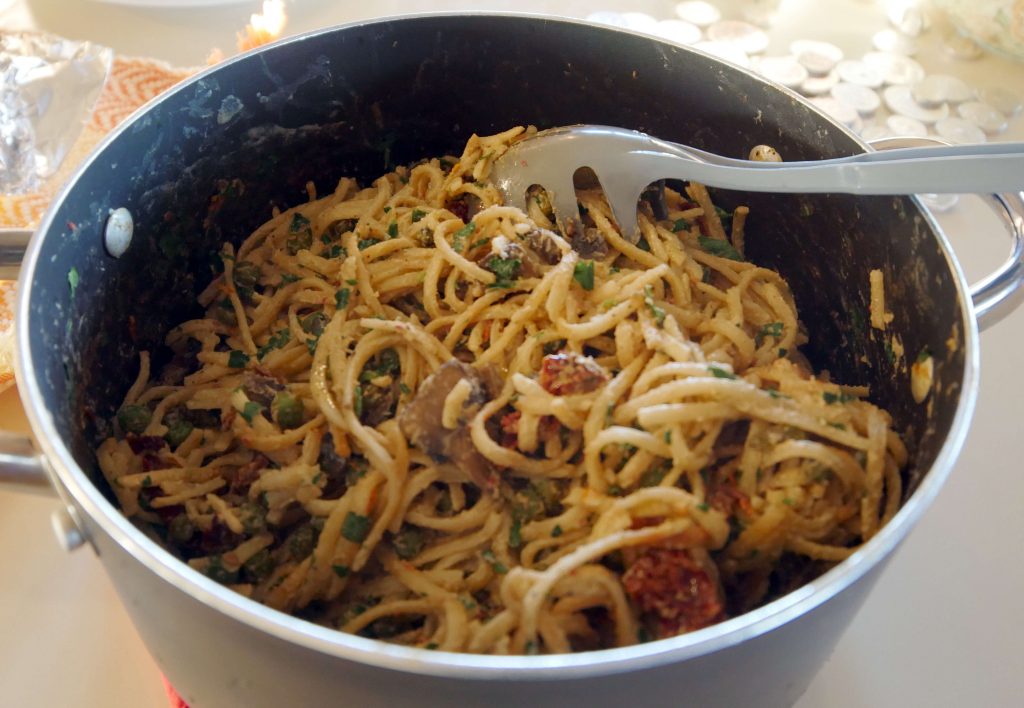 Neva: Plastic Beats
Neva delivered entertainment to us with her one-handed rhythmic plastic tub drumming.