February 2021 – French Food
Many Days, February 2021
VBC Meeting #96: French Food
Host of the Month: The Internet
Location: The Internet
For our February theme, Shannon picked French Food! Her reasoning: it's romantic-y for anyone wishing to go the extra mile for Valentine's day, and international for anyone wishing they could travel right about now.  And oh so refined!  Anything "French" will do.  A signature french dish (anyone brave enough to try to veganize escargot?), food in the shape of something french (a cookie eiffel tower?), or just have French in the name (French peas, French fries, French toast, etc.).  So many possibilities!
This is what we made (in the words of those who made it):
Slynn: Pear Chocolate Cream Galette; Heartish-shaped Biscuits
Today I made this "Pear Chocolate Cream Galette" from the 100 Best Vegan Baking Recipes. I'd been wanting to make this for a while, and it happens to have a French word in the title. I guess a galette is a baked dessert wrapped in a crust. There were a lot of steps in this recipe. There is a pie crust to make, a vanilla cream sauce, a melted chocolate layer, some sliced pears mixed with sugar and lemon juice. I hope those things taste good together!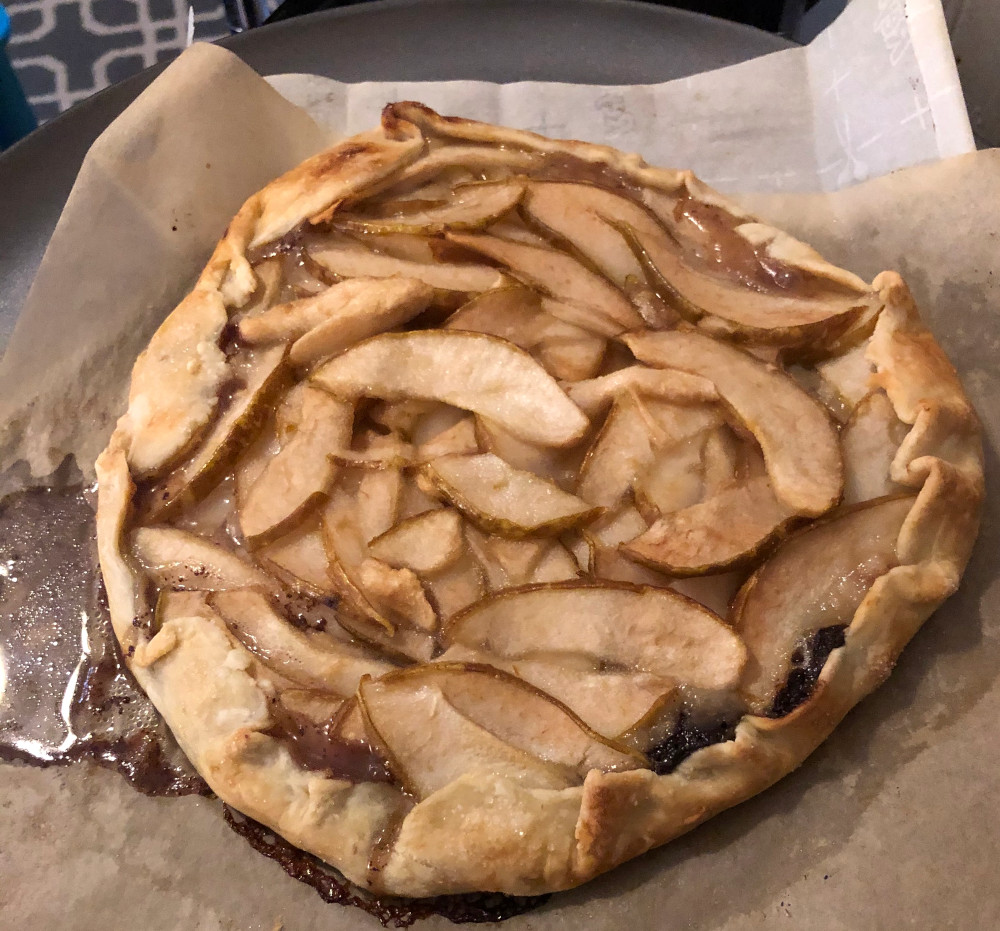 This weekend I also made some heartish-shaped biscuits from the same book, which aren't French at all, but were an excuse to turn the oven on and heat up the house. They are kind of cute? I also made some brownies from this same book on Friday, which are not French and I burned them so I didn't take a photo. I know Ramon loves me because he ate them anyway, and said they were good.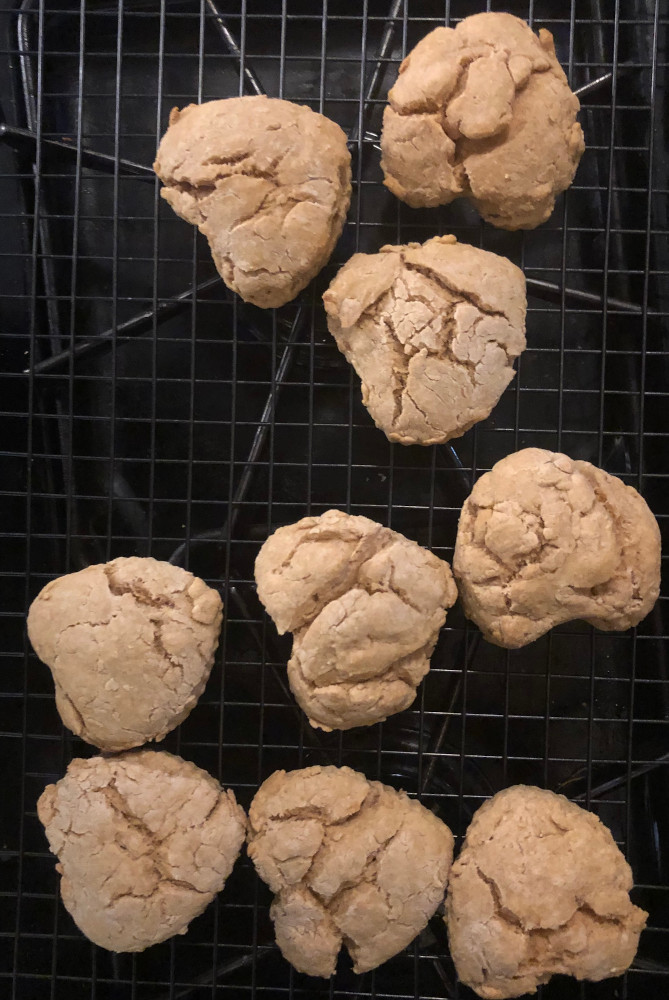 Lauren: Opera Cake
For February 2021 club de pâtisserie végétalien, I made an opera cake, which Shannon describes generally (she didn't taste this specific one) as a "a wonderfully tasty, pain in the butt cake". I agree fully with that sentiment after making and eating one!
The first day I started working on this cake was during rolling blackout time (note: February 2021 we had a winter storm in Texas that knocked out about 40% of power generation in the state, where temperatures stayed well below freezing for days, getting as cold as it ever has in the state), so it was purely a research day looking at non-vegan opera cake recipes, trying to put together vegan replacements for all the components: sponge, coffee syrup (already vegan), ganache, coffee buttercream, and chocolate glaze. At first I tried to come up with a vegan version of a sponge by looking at non-vegan ones. The opera cake uses a jaconde sponge, which usually has a lot of eggs. What I came up with did not turn out well at baking.
Upon making parts of the cake, I struggled a bit at all steps. I had to remake the failed sponge, using 1.5 times the recipe at https://projectveganbaking.com/vegan-diva-cake/, changing the flavorings a bit. I am happy that failing with my own sponge led me to this recipe because I think it would be good to try in petit fours or maybe even as a roll cake…things I have not been successful with in the past based on the sponges I've tried. It tasted pretty good and had a texture that suited.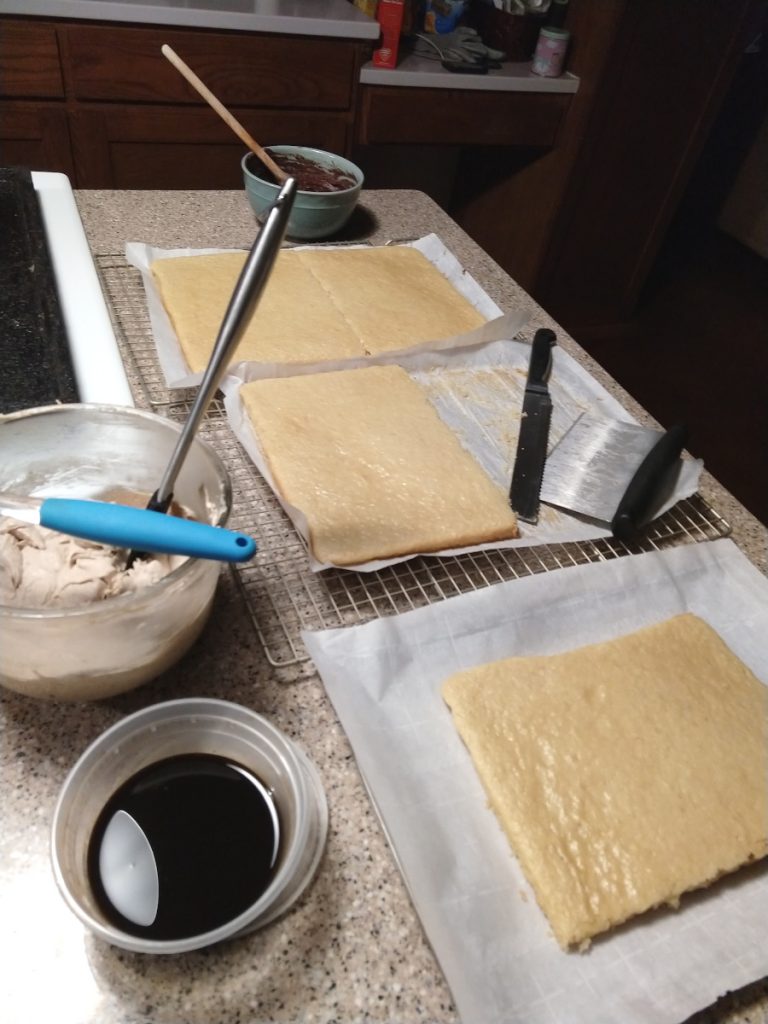 The one part of the cake that ended up being something I diverged from an existing recipe the most on was the coffee buttercream. Recipes I looked at commonly had egg in them and were made on the stove. I ended up making something with a stick of margarine, soaked cashews, powdered sugar, coffee, dates, and vanilla paste. It tasted really good, though I may have over-fiddled with it.
The other components only had a couple ingredients each. I made the glaze with just chocolate chips and canola oil, the ganache had just coconut cream and chopped dark chocolate, and the coffee syrup was coffee and sugar.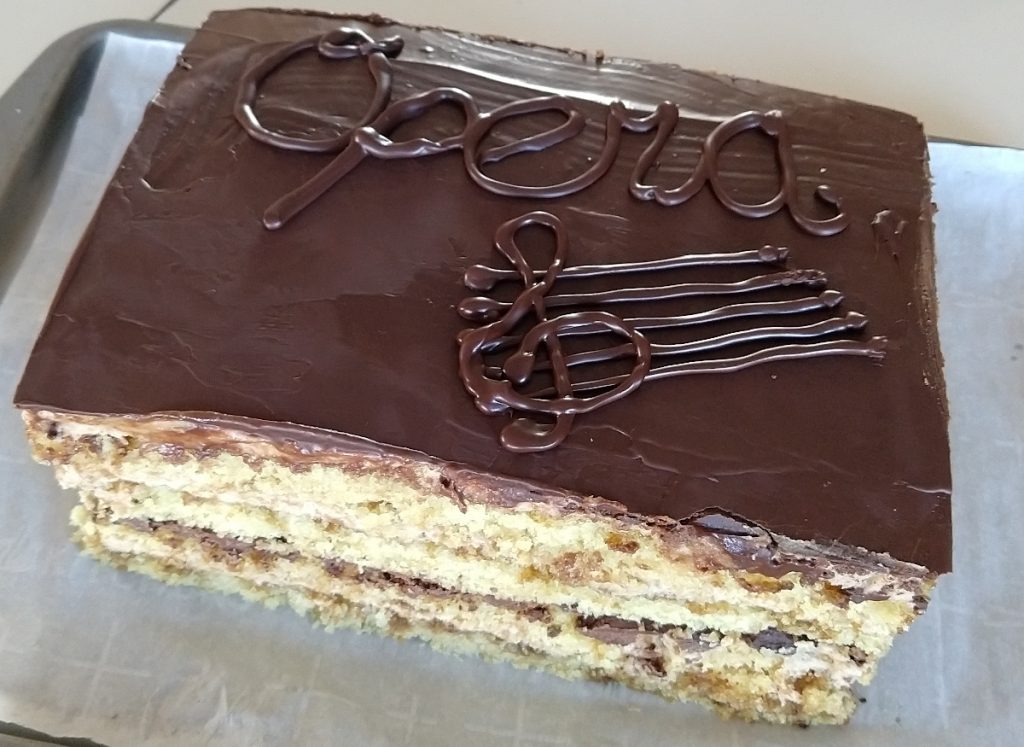 As I approached completion of the making of this cake, I thought "I am never making one of these again!" but after time away from the work of it and getting to eat it, here are the things I learned that I can apply to making it again in the future, so it will be less pain in the butt:
1. Not start with a crappy veganization recipe that I make up from online classic opera cake recipes using aquafaba and flax egg because it ends up with big holes and a gummy mess that must be scraped off the baking sheet and be made anew with a different recipe
2. Make a less hard ganache because it is hard to spread and makes slicing cleanly through layers impossible (at least with the knives I used!)–more cream or maybe maple syrup or a little oil could help
3. Stop adding more and more powdered sugar to the buttercream mixture because, even though it doesn't look like what a buttercream might in other uses, it will set up in the fridge
4. Not accidentally add double the amount of coffee for the coffee syrup
5. Not fiddle with the glaze when trying to apply it atop the cake; get it on fast because it is going to harden quickly after which point it will look weird when you try to spread it. so  you keep heating a knife to try and fix it by smoothing it out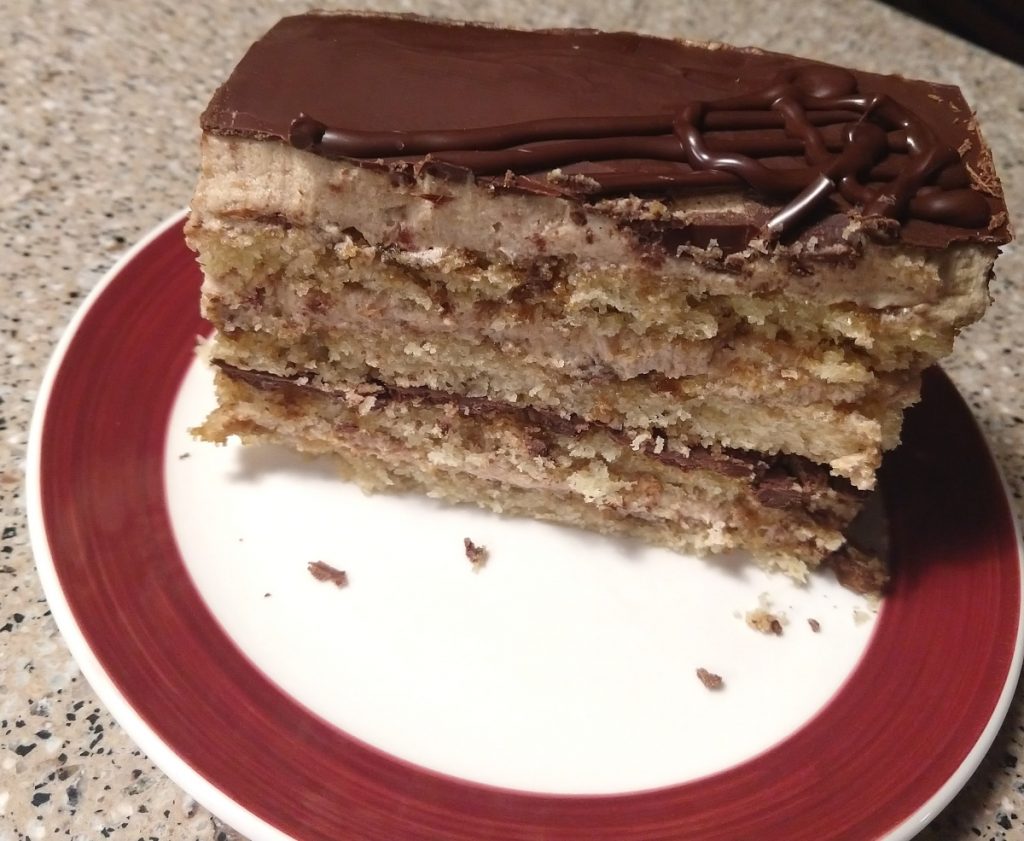 John: Financiers
French cooking seemed pretty hard to me, so I dug around for easier things and eventually ended up making Financiers.  They're supposed to look like a little gold bar, so while I used this recipe for my first batch, I skipped the blueberries and baked them in my mini loaf pan.  It made a very small batch, and used a lot of egg replacer that I managed to get pretty lumpy before incorporating.  I put almonds on top, in part to try and hide the lumps, and added a little almond extract as well because I love almondy flavors.  They turned out pretty pleasant, not very sweet, and a good complement to coffee.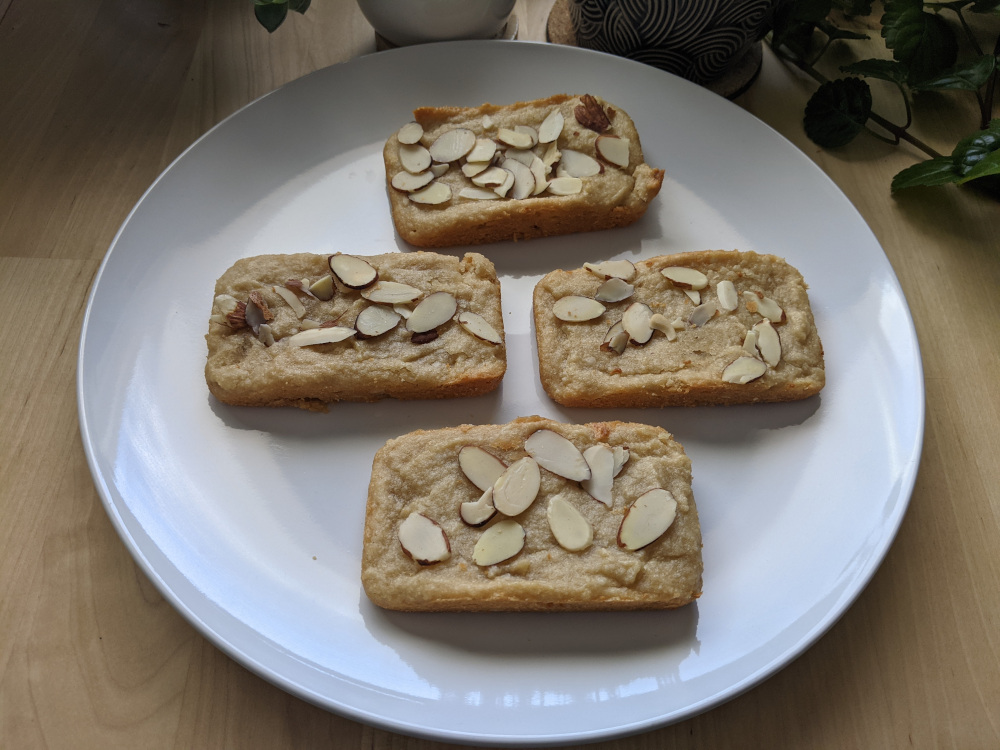 Feeling like I could do better and wanting some to share with a neighbor who brought me some non-vegan hamantaschen, I made a second batch with very rough measurements, potato starch instead of egg replacer (I'd run out on the first batch), and leaning even more towards almond flour away from wheat flour.  To mix it up, I added vanilla and a little salt to the batter, chocolate chips to some, and tried adding blueberries to some as suggested in the recipe I used.   Unfortunately, I think I didn't use as much sugar or earth balance as I should have and my second attempt turned out blander, but still pretty edible.  The ones with blueberries are good for sure, and a reminder that sometimes it's ok to just follow the recipe ;).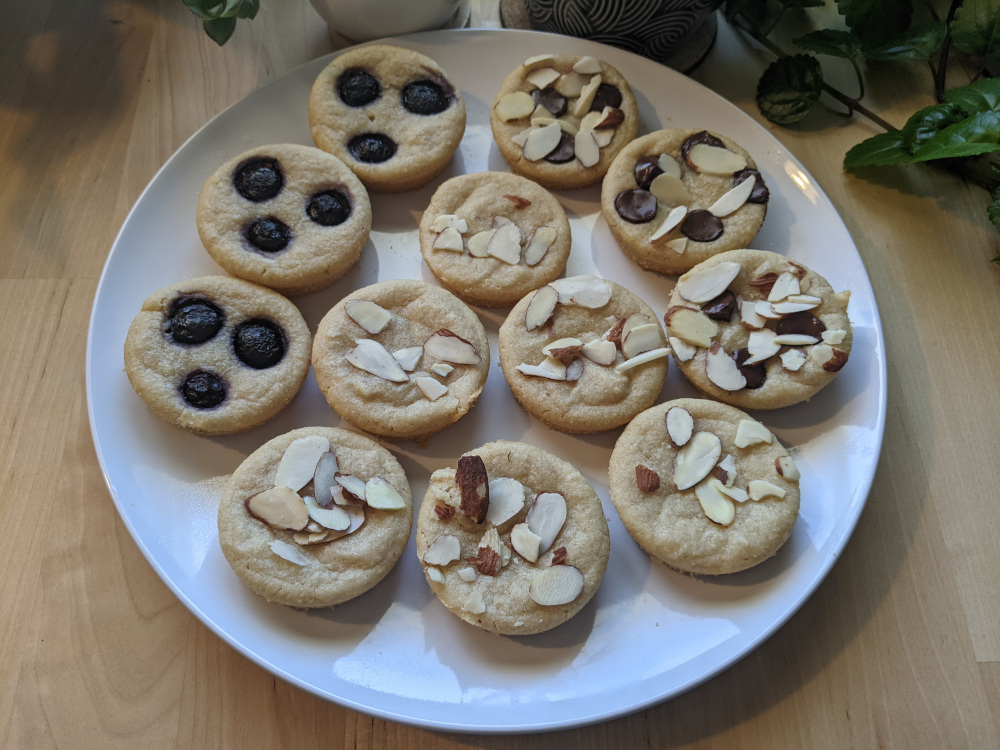 Caroline: French Toast
For this month's VBC I made French toast! I know, not very adventurous compared to opera cake and financiers, both of which I had never heard of before. I used a recipe from Minimalist Baker. Instead of agave nectar I used maple syrup, didn't have almond milk so used oat, and for the bread a loaf of Italian from a bakery in Chula Vista, CA.
I had to make the batter twice because I did not notice ahead of time that the recipe serving size was not enough for the amount of slices of bread I had. Since it's made with chia seeds, you have to let the batter activate in the fridge for 10-20 min. The first time I let it activate for about 20 minutes. The second time it was more like 10 min. Don't rush the dipping part–the recipe called for dipping each piece of bread for 20 sec on each side. But once that step is done, now you have to work kind of fast because once the chia seeds expand too much, they stick to the griddle.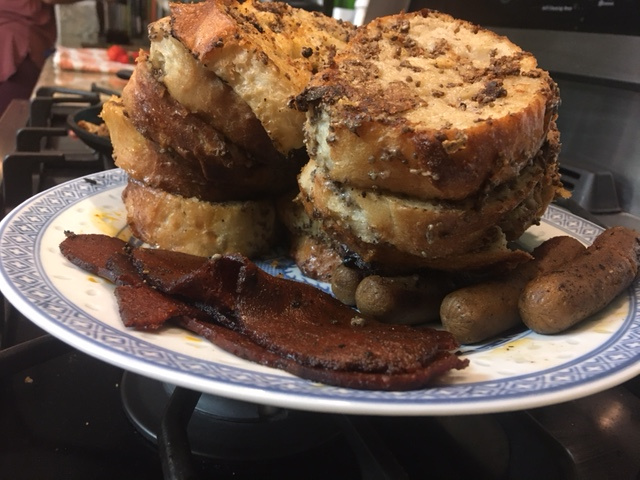 I also cooked up Sweet Earth breakfast sausages and Beyond Meat bacon in the same griddle/skillet(?)(I used a cast iron skillet, idk if that's the same as a griddle. Be Google for me, someone). The French toast slices were topped with coconut whipped cream (store bought, I think the brand So Delicious), sliced strawberries, and maple syrup. There's this place called Grocery Outlet here and a thing of maple syrup (12 oz maybe?) was like $6 compared to like $12.99 at every other grocery store I've ever bought it at before.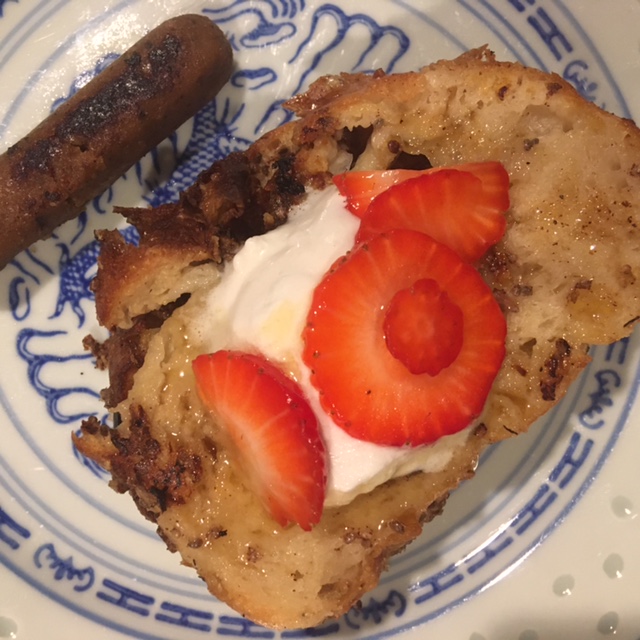 Drew: ERCOT Ratatouille
So, I struggle with getting themed items cooked and made on-time without a set date and in person meetings. It is always kind of in the back of my mind, but then the end of the month comes and I don't have the French things in stock. But, I still want to participate, so I am sharing what I am calling ERCOT Ratatouille. I don't really know what ratatouille is, but I am pretty sure it is French, and is a soup or stew thing. When I make homemade veggie soup, it is often just a mixture of whatever random stuff is in the fridge with some seasoning and not really planned out. So, what I made tonight was just using up stuff in the fridge/freezer – a little bit of leftover rice, cabbage, broccoli, arugula, tomatoes, mushrooms, onion, garlic and a chopped up Aldi veggie burger patty (the old school kind with chunks of carrot, peas, cashews, wheat stuff maybe?, etc.). I seasoned it with Trader Joe's Chickenless seasoning and it was quite tasty. Why ERCOT Ratatouille? Because I totally didn't make a soup or anything French and screwed up the theme but I can just use fancy names. Kinda like the Electric Reliability Council of Texas (ERCOT) has a real nice name, but it does not at all actually describe what they do. I promise next month I will do better and just set an arbitrary date in my calendar so I will actually plan and make something on theme, on time and without a dumb name!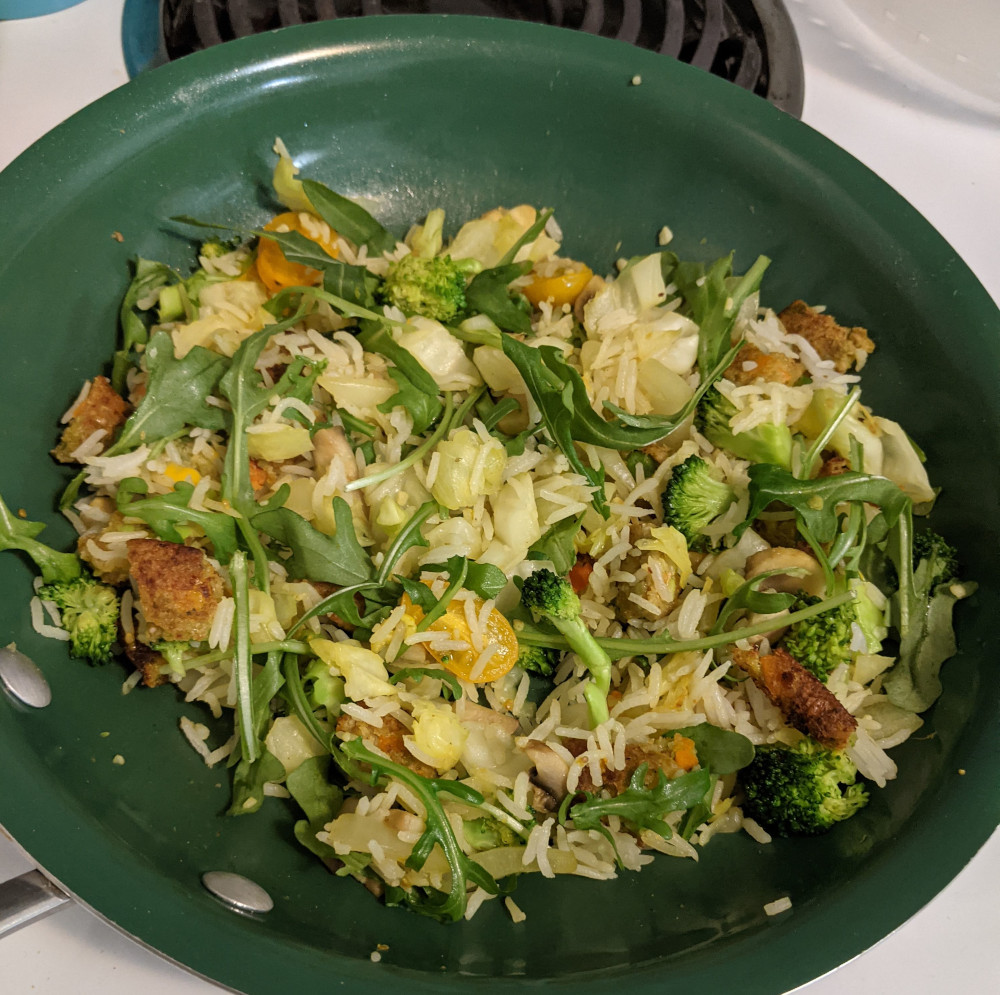 Shannon: Pots de Creme; Tarte aux Poireaux
I started out trying to do pots de creme au chocolat.  I started following this recipe, but then when I saw it wanted a whopping 1/4 c of maple syrup, I thought that was stupid.  It seemed dumb to add that much sugar when there was already sugar in the chocolate.  So I eliminated it.  I also eliminated the peppermint extract because I cannot recall ever having anything mint chocolate in France.  So basically, I just mixed coconut cream and chocolate together, which means I essentially just made this, or mousse.  Also French, but not what I intended.  It set up super firm and not creamy.  Maybe I should have mixed in the coconut water from the coconut cream can, or just used a can of coconut milk to make it.  IDK.  I might try it again when I am feeling not so lazy (which is rare).  But anyway, it tastes good, just not what I wanted.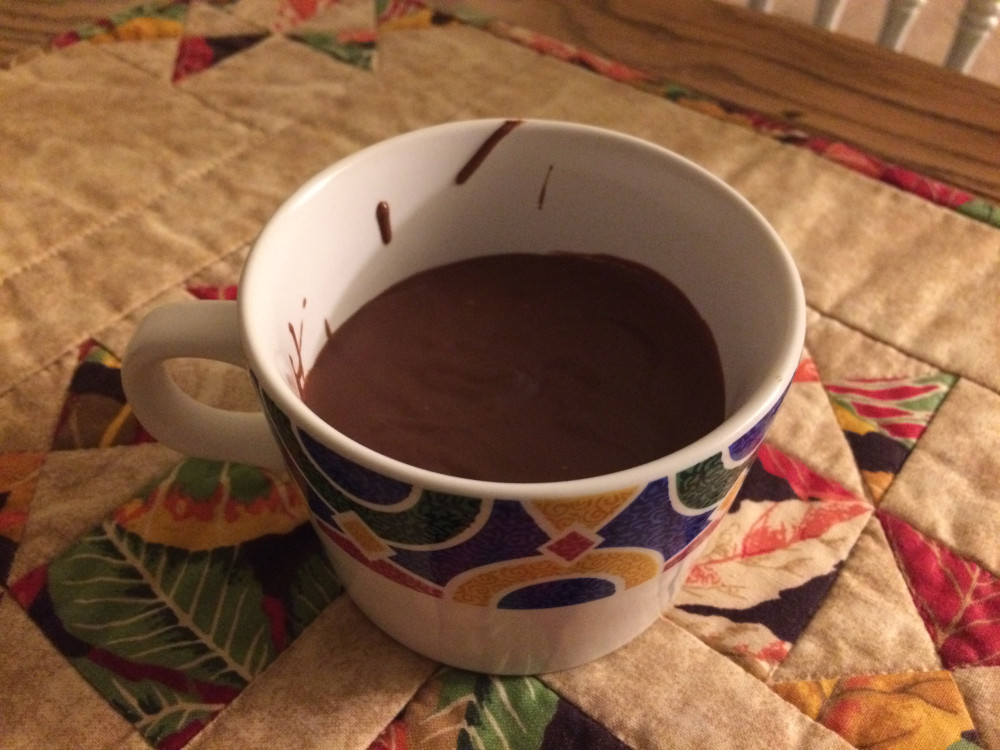 The second thing I attempted was a tarte aux poireaux, or a leek quiche.  The whole reason quiche is a staple for my family now is because I had a leek quiche this one time in France and when I came back I was craving it, so my mother learned how to make quiche for me.  I have never thought about trying to veganize my family's quiche because it has too many animal products in it (eggs, heavy cream, and buckets of cheese), but this recipe I found looked like the filling might be good.  I did use my family's pie crust recipe (see previous VBC posts for recipe).  I think I might have made it too wet though.  The bottom didn't bake at all (I'm currently attempting to reheat the quiche on the bottom rack of the oven to see if I can get any color on it; not sure it's working though).  Also, I found the filling a bit unimpressive.  It lacked flavor and richness.  Of course the recipe did keep saying to just season everything "to taste" instead of giving measurements, so perhaps that was my fault.  But I do feel like it is missing something to give it that taste of extreme fat to better resemble non-vegan quiche, but not sure what else plant-based one could add to do that.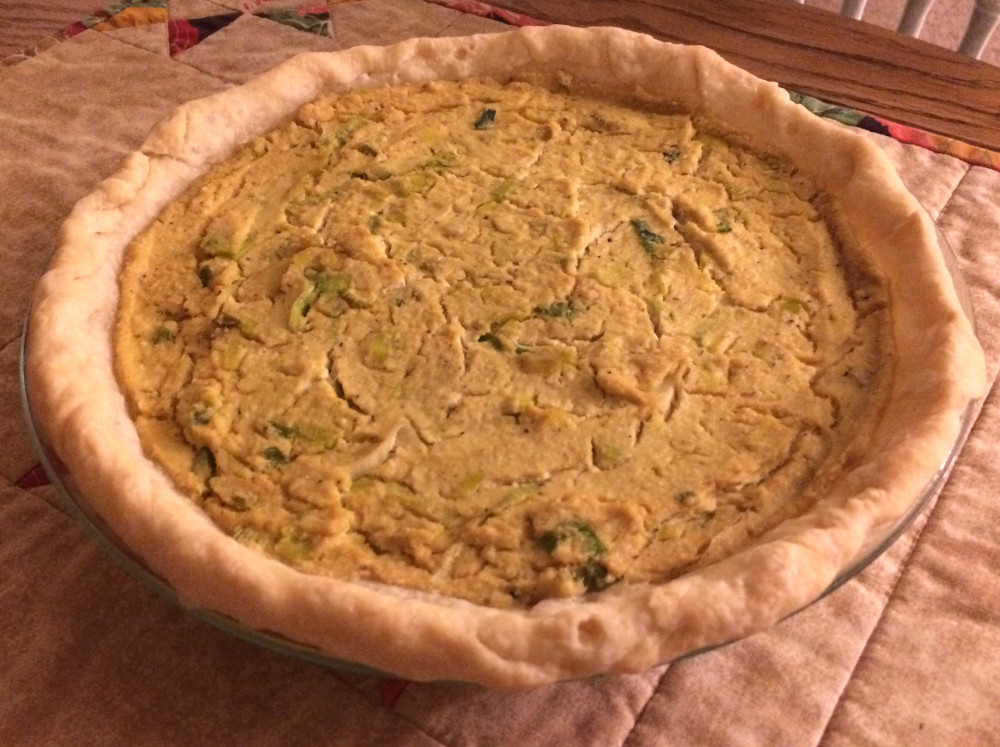 So I basically just made a tofu pie.  I also think maybe some sweet onion in it would have been good, and maybe some more spices to punch up the flavor.  But oh well.  I tried.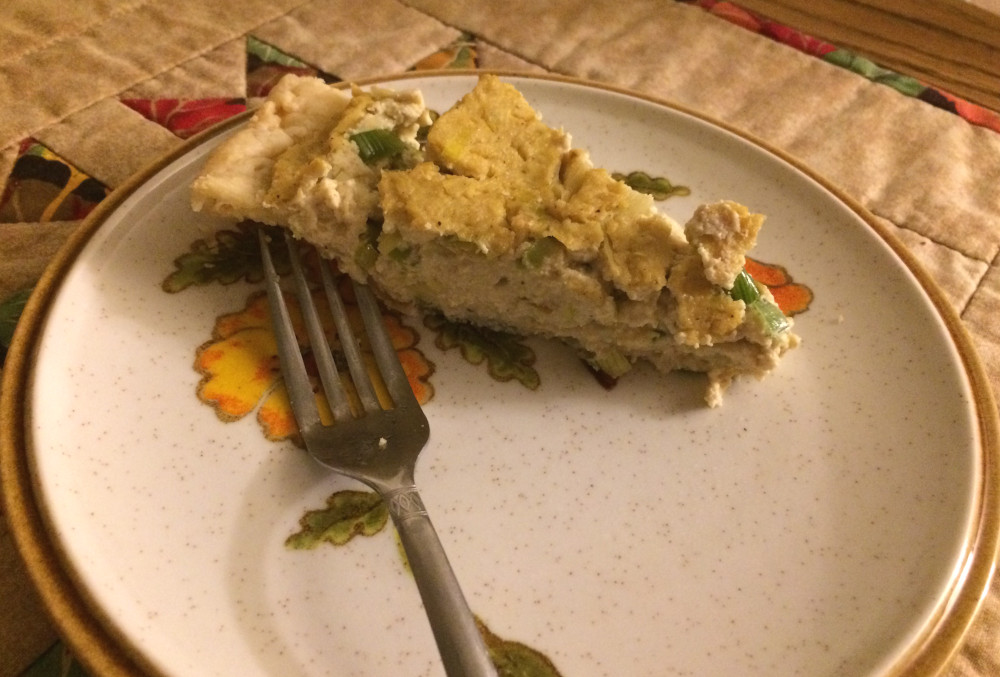 Perhaps in March I'll be better and start baking earlier so that when something doesn't work out, I have time to try again (instead of baking right up until midnight to make sure that the dish was technically made in February, lol).
Billy: Omelette
For French I made parsley/mushroom/tomato/sausage/avocado omelettes for dinner one night using a modified Lauren batter recipe (food processorized tofu, garlic, nut. yeast/"nooch", olive oil, onion powder, turmeric, black salt, white pepper, mustard powder, tapioca flour, potato starch, soymilk, Daiya).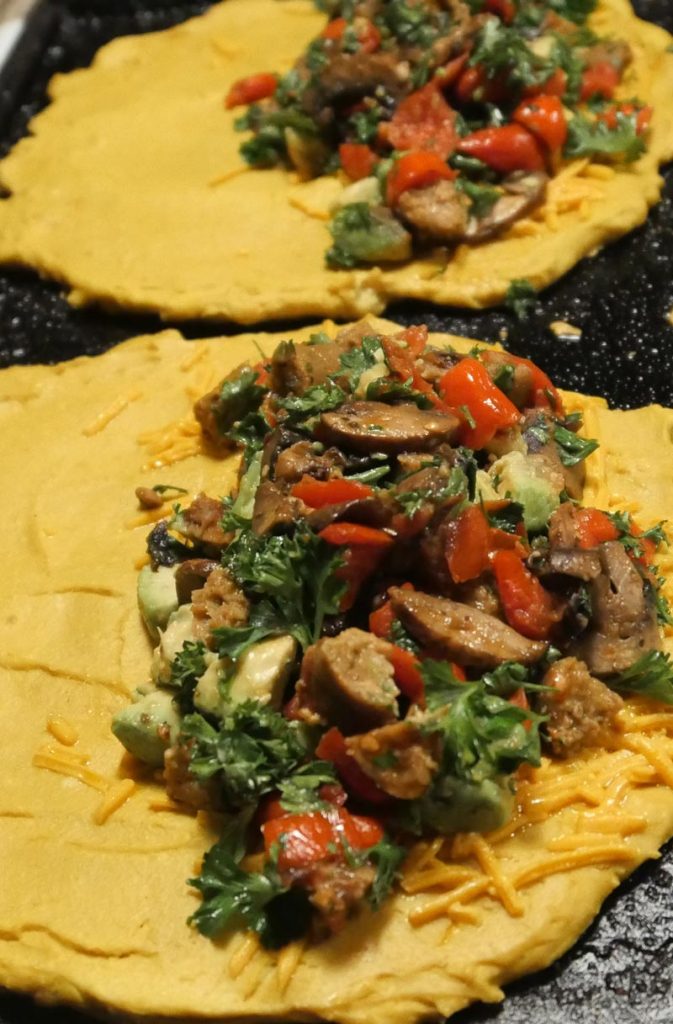 Shown here served with Lauren-made home fries.