In May 2014 I went to Paris for work stuff. Billy came along for part of the time to, among other things, check out the Rollerblade scene that is much bigger there than it is here these days. Since then, I have been intending to post a listing of the vegetarian/vegan restaurants where we ate. Overall, I'd say being a vegan in Paris is a lot like being a vegan in Texas, while you might have trouble finding choices at any random restaurant you walk into, there are actually a good number of vegetarian and vegan restaurants if you look. Here are some of the places we got to try:
Located near the Louvre, Saveurs Végét'Halles serves vegetarian and vegan food. If you want multiple courses with a fixed price, they offer a formule menu in addition to à la carte. Vegan items are marked for easy choosing. By the way, I got the impression this place likes it if you make a reservation.
Billy went with multiple courses. He went with hummus for a starter, hummus being one food he claims there is no variety out there he doesn't like. I think he had fruit crumble for dessert (they serve it there anyway). Here is Billy's entree, eating already in progress (this looked much better before he got his hands on it).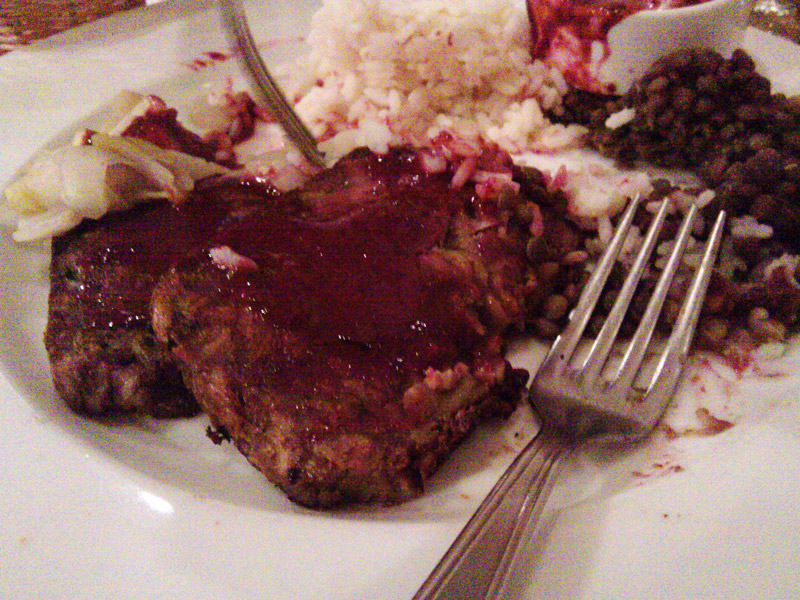 I went with the burger. I was really into eating burgers this week, and it seems that Paris vegetarian restaurants like to offer them. Paris veggie burgers are one thing I consistently liked more than American veggie burgers. Perhaps it helps that they tend to offer them with fries over there, while restaurants in North Texas like Spiral Diner and Seven Mile Cafe do not.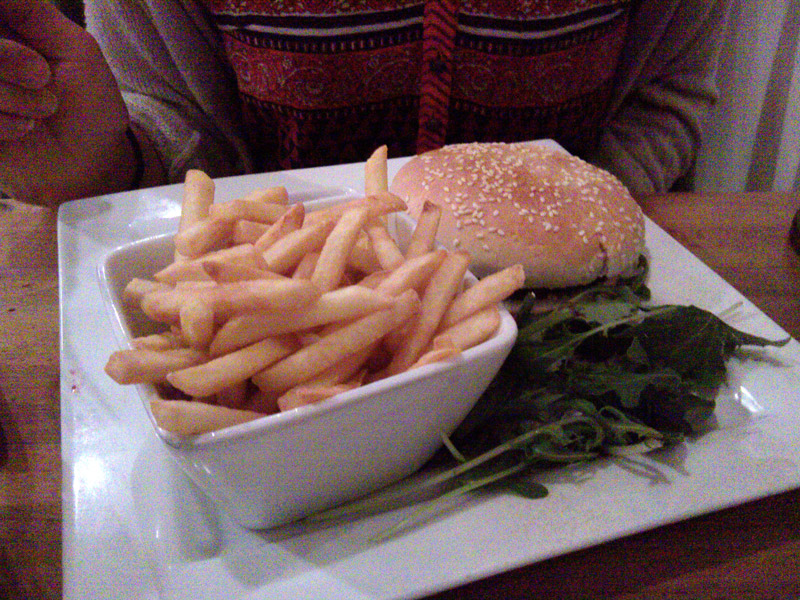 You can check out more photos, reviews, and hours on Yelp – Saveurs Végét'Halles.
M.O.B. looks kind of like an American fast food restaurant but less plastic. They serve a variety of vegan burgers and hot dogs. I went here for lunch one day with Mark, who I work with, since it is not so far from where we were at the Bibliothèque nationale de France. Here is the inside of M.O.B. at Les Docks (photo by Mark Phillips).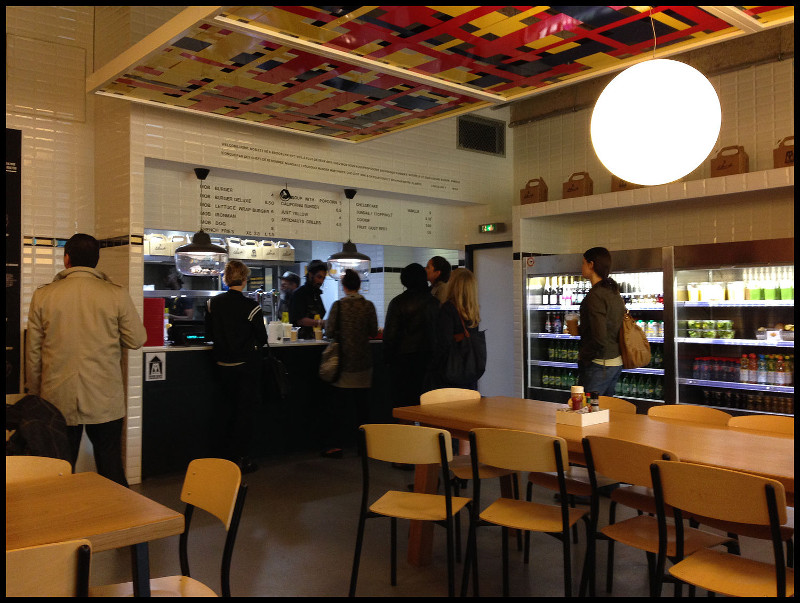 We both ate the M.O.B. Dog (photo by Mark Phillips) before I scarfed down some vegan soft serve while walking back to the library along the Seine.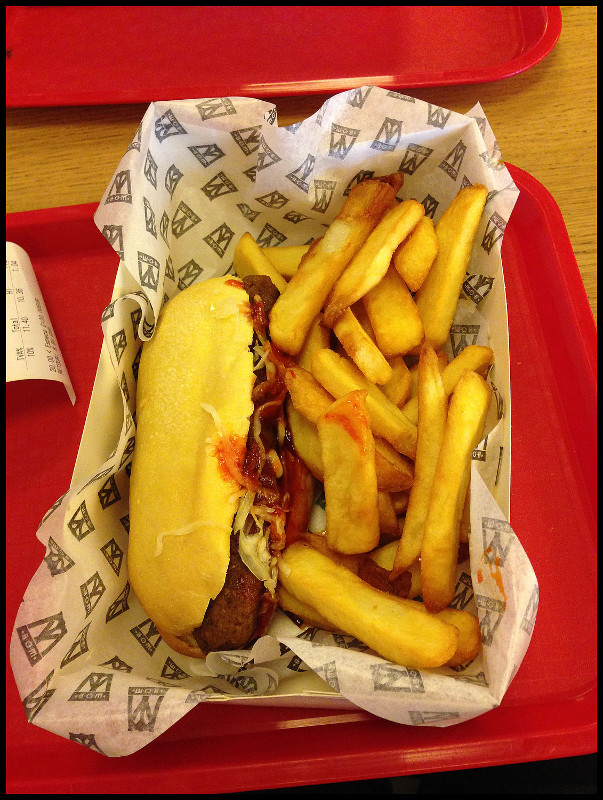 Billy had a burger at another M.O.B. location while skating around Paris. He said it was not a particularly memorable burger, but not bad. More at Yelp – M.O.B.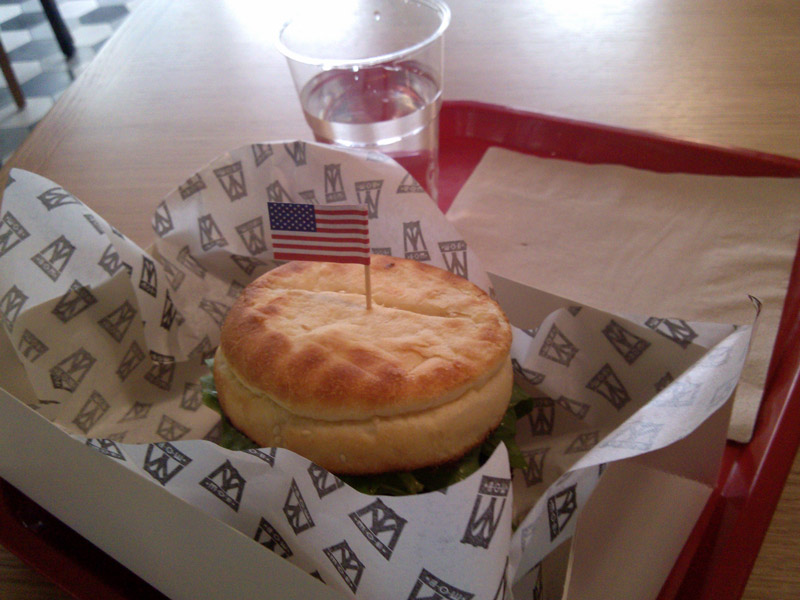 Billy and I sat outside for lunch at the vegetarian Le Grenier de Notre-Dame after visiting the nearby Sainte Chapelle and Notre Dame Cathedral. They specialize in macrobiotic fare, and the friendly young servers were able to help us with some vegan choices. See on Yelp – Le Grenier de Notre-Dame.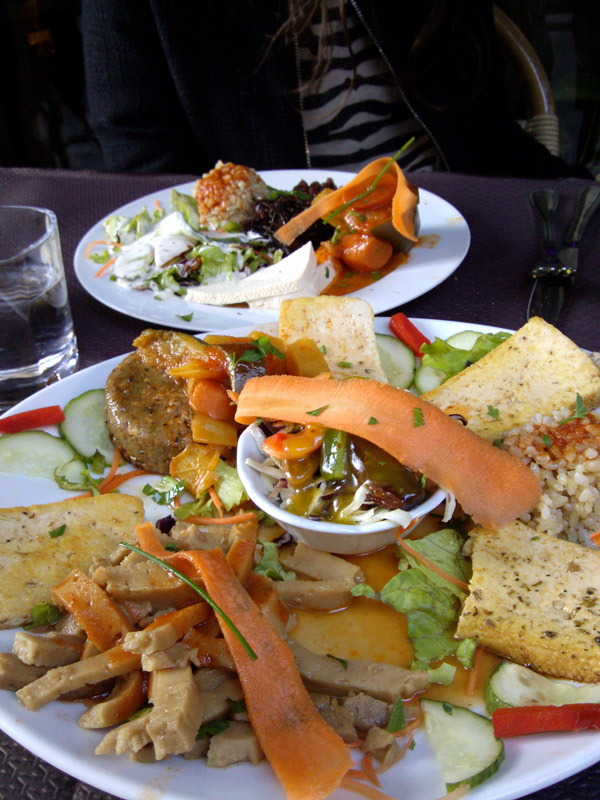 Billy went to this vegan grocery store located directly across the street from the M.O.B. where he had his burger (not sure if that M.O.B. is still there). He picked up some of the necessities here including vegan cheese, chocolate, and marshmallows. See it on Yelp – Un Monde Vegan.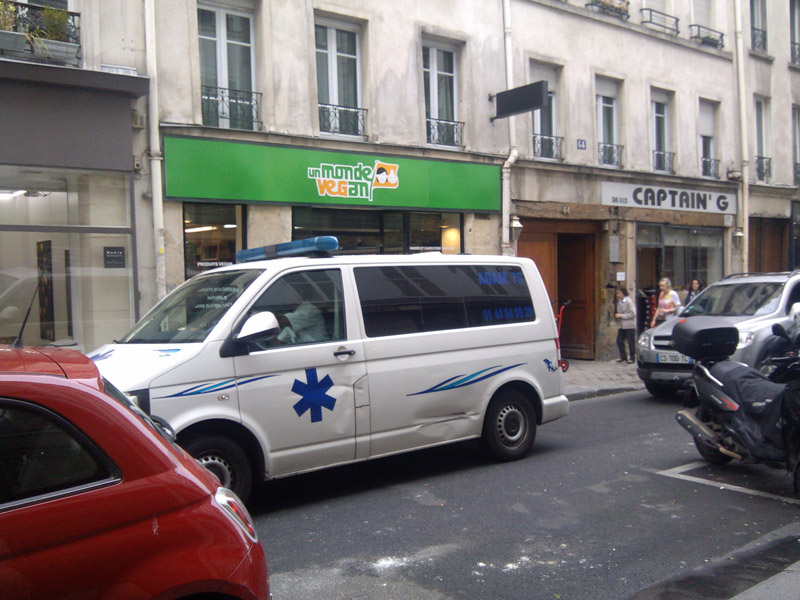 There are Loving Huts all over the world serving up vegan food, and they all have different menus. The one closest to where I live, located in Addison, TX, serves a predominantly Asian menu with a good fresh tasting weekday buffet. The second closest (just far enough in a direction I don't often go so that I have not been), in Arlington, has a menu heavy with pizza. At the one in Paris (close to the Picasso Museum if you want something to do nearby), we had another Paris burger and a mushroom crepe with cheesecake for dessert. View more on Yelp – Loving Hut.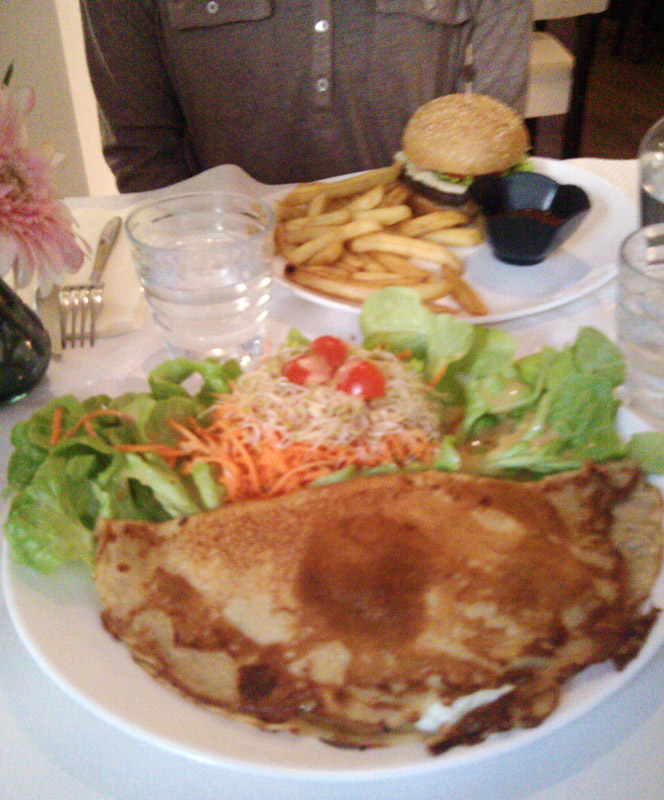 Loving Hut also had a small grocery section where we picked up some packaged (highly processed/not very good tasting) pain au chocolat, delicious vegan blue cheese, and possibly other stuff. On another day, we took these snacks to the Jardin du Luxembourg for a picnic after a visit to the Panthéon. The park was packed with people eating and doing various acts of recreation, including pony riding.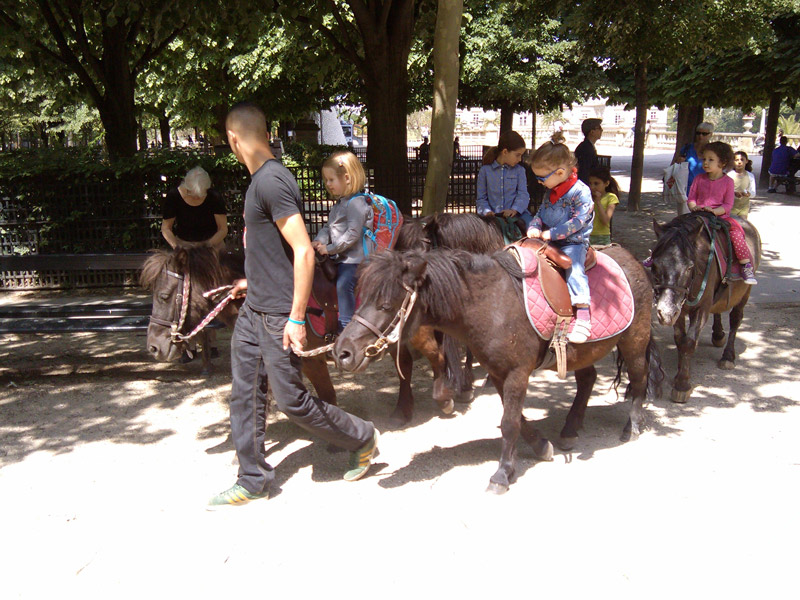 Not so far from the picnic spot, we also visited the vegan bakery Vegan Folie's (and at Yelp – Vegan Folie's ), located on rue Mouffetard, packed full with small stores and other less formal vendors. Vegan Folie's has cupcakes, cookies, brownies, and if you want something less sweet, they have a sandwich. At least, those are all the things I had there over a couple of visits. If you want more reasons to check this place out, the shop smells delicious, and the girl at the counter was incredibly friendly and curious about vegan culture in Texas.
VG was recommended to us by the girl at Vegan Folie's. When we looked it up, we were not surprised to find that it was a restaurant specializing in veggie burgers. We had a couple of different style burgers here. This place is sort of in the area of Sacré-Cœur where you can get a good view of the city from its steps then burn off all the fries walking around the Montmartre hill and meandering down to see the Moulin Rouge. Though after this visit to VG, we walked a couple miles to Avenue des Champs-Élysées, over to the Arc de Triomphe, and on to the Eiffel Tower. See also Yelp – VG.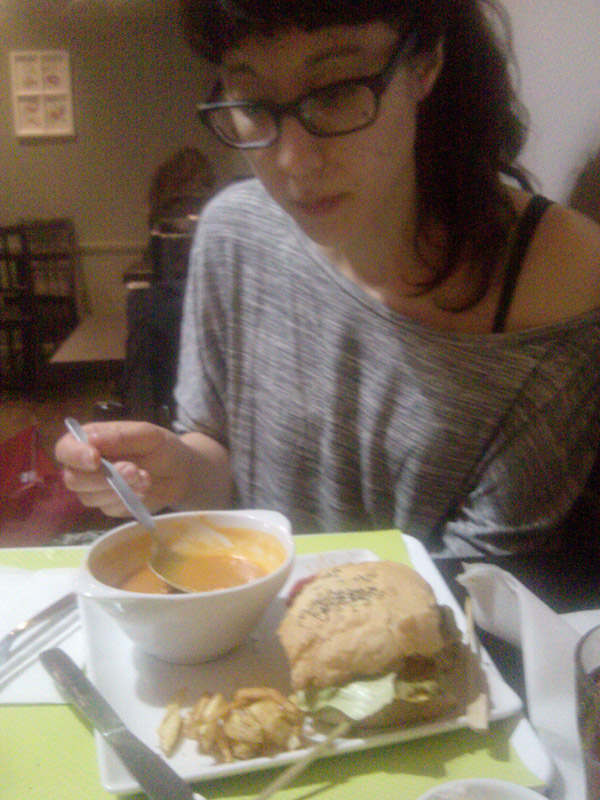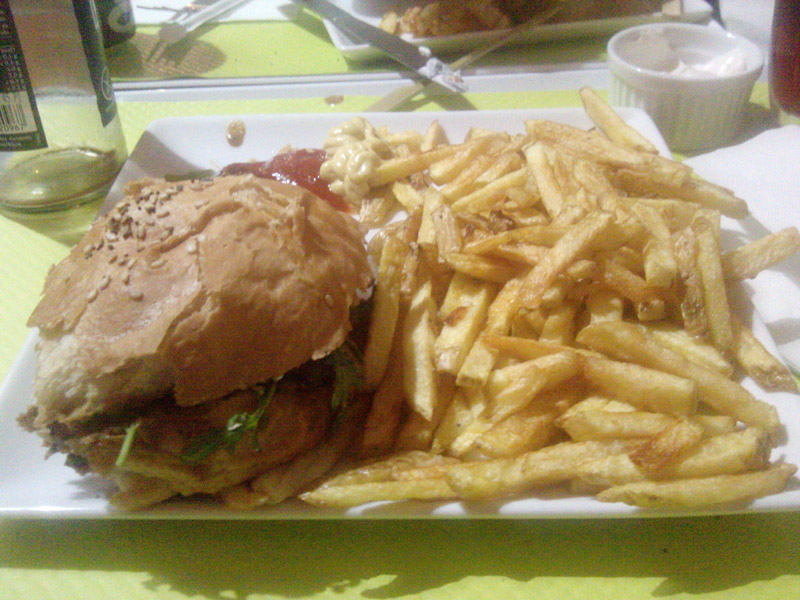 One day exploring on his own, Billy stopped in for a meal at the vegetarian Soya in the 11th arrondissement. He really enjoyed the food here. See Yelp – Soya for more.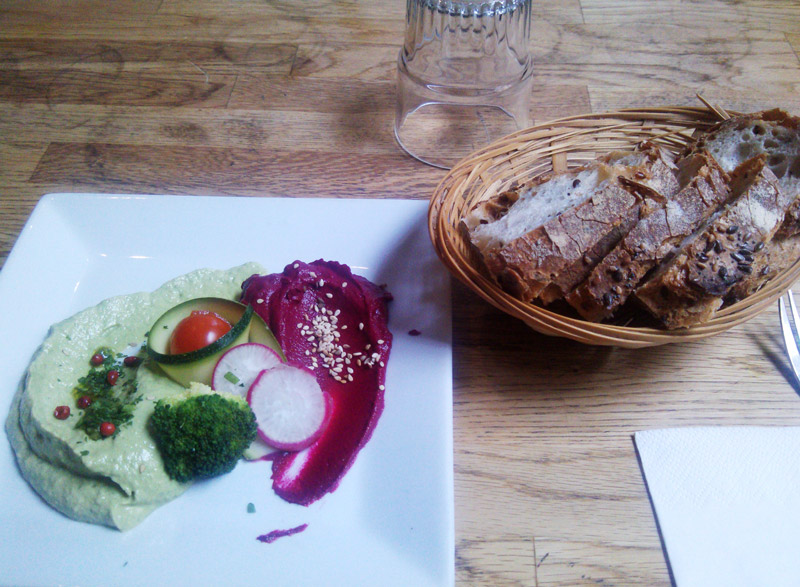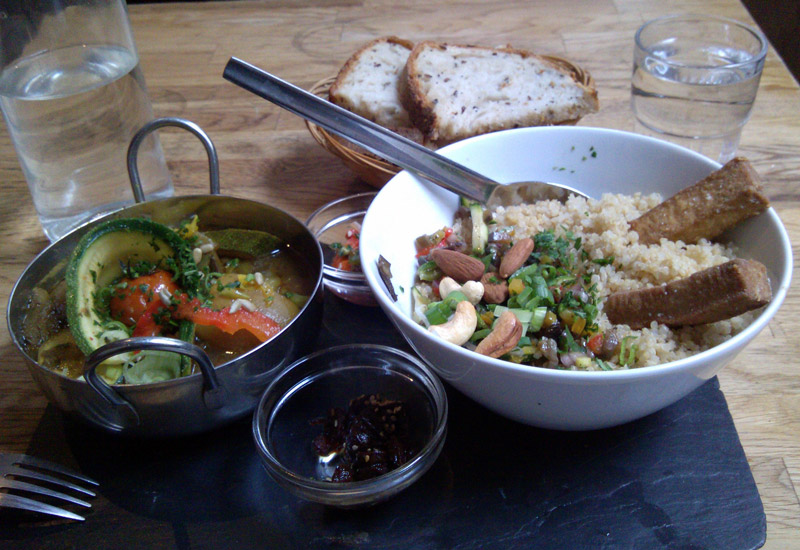 Le Puits de Légumes is a vegetarian and vegan macrobiotic food place that also serves fish. This place is tiny, but they didn't mind us showing up after an evening visit to the Rodin Museum wet from the pouring rain (yes we had umbrellas) and reservationless. I managed to ask about which entrees were vegan in French, but when the woman serving us replied with me clearly not understanding what she was saying, she very kindly brought out a girl from the kitchen who was excited to speak to us in English about what we should eat there. When we left after a filling meal, both the woman who served us and the girl from the kitchen gave us big smiles and friendly waves. Also see on Yelp – Le Puits de légumes.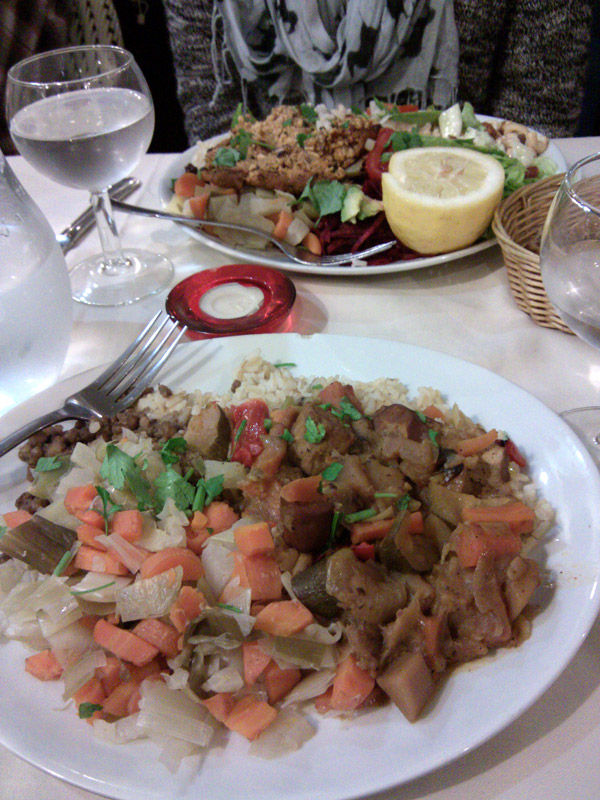 I'm not sure if we have pictures of the food here, but if want you a wide variety of Asian fusion dishes, Végébowl is a great choice. The restaurant is all vegetarian and mostly vegan. It took me too long to pick out and order way too many things here. Luckily it wasn't particularly busy. We may have gone here after the Centre Pompidou. See on Yelp – Végébowl
Maoz Paris is in the middle of a lot of places, close to Notre Dame Cathedral and Paris-Sorbonne University. I went here after a visit to the Musée d'Orsay. Maoz Vegetarian is an international chain, and while I also tried one in New York, it was this location that served me one of the best falafel sandwiches I ever remember eating. They offer a toppings bar for you to help yourself, and then you can take your pita on a short walk to sit on the edge of the Seine where you can eat while watching boats pass and listening to young drunk people. See more at Yelp – Maoz.