December 31, 2021 – Tex-Mex
Friday, December 31, 2021
VBC Meeting #106: Tex-Mex
Host of the Month: Billy and Lauren
Location: Ponder, Texas
Though living in Texas and eating a lot of Tex-Mex foods, Vegan Bake Club hadn't had a Tex-Mex theme to showcase some of our favorite vegan versions of the regional cuisine. We remedied that in December on the afternoon of New Year's Eve!
This is what we made: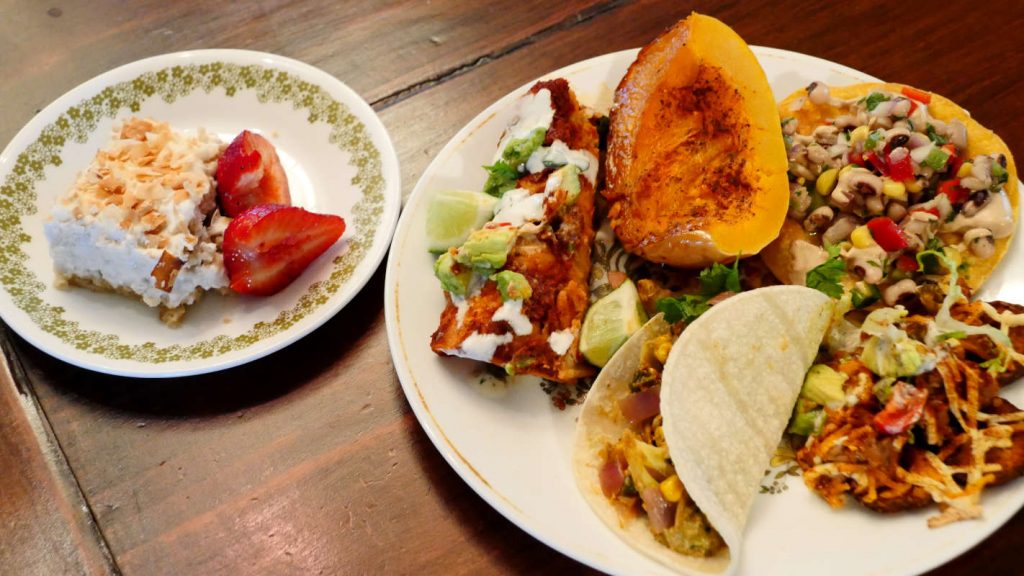 Drew: Cauliflower, Corn, Poblano Tacos with Cashew Chipotle Sauce
For these veggie tacos, Drew separately roasted poblano peppers, corn (he used frozen), and cauliflower that had been seasoned with cumin, paprika, garlic powder, and salt. Once roasted, he mixed the vegetables with sautéed onion and garlic, part of the chipotle cashew sauce the recipe includes, plus lime juice, cilantro, and salt. He served the taco filling with warm corn tortillas, the remaining cashew sauce, and cilantro on the side. He made the chipotle cashew sauce with blended raw cashews, canned chipotle peppers in adobo sauce, tomato paste, cilantro, garlic powder, salt, paprika, lime juice, and water.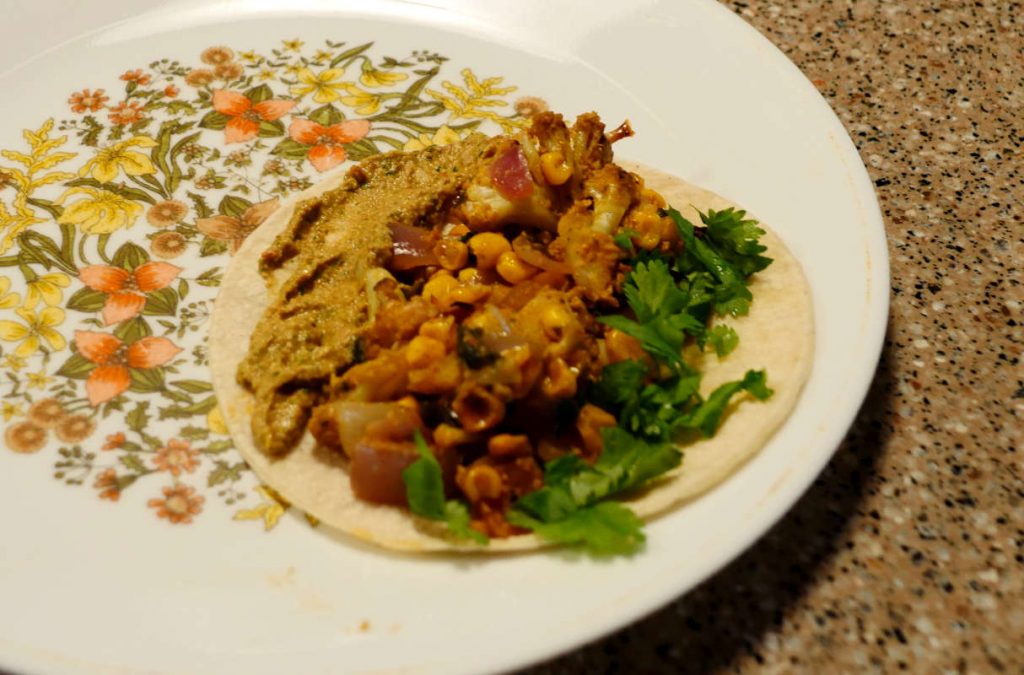 Ramon: Roasted Honeynut Squash; Black-Eyed Peas Tostadas with Vegan Chipotle Crema
For dish number one, Ramon roasted honeynut squash with olive oil, smoked paprika, cinnamon, salt, and pepper.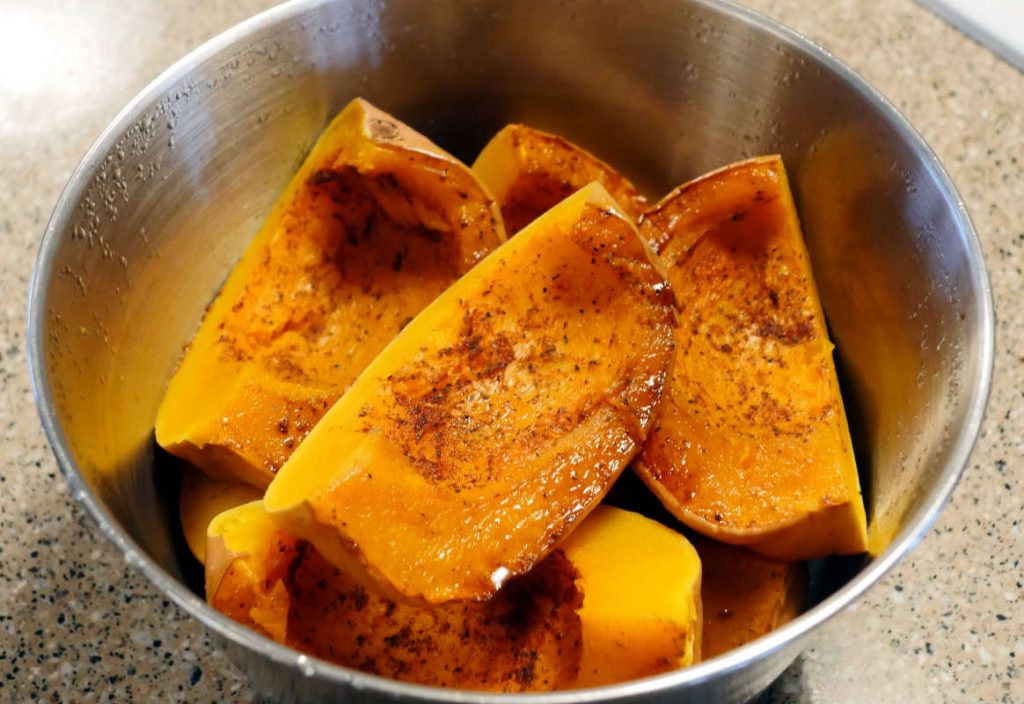 For dish number two, he made Black-Eyed Peas Tostadas with Vegan Chipotle Crema (Texas Caviar Tostadas). For the baked tostadas, he sprayed corn tortillas with oil and baked them for a few minutes on each side in a 400°F oven. To top it he made the Texas Caviar with black-eyed peas, green bell pepper, onion, jalapeño, lime juice, cumin, cilantro, and salt and Chiptle Crema by blending soaked cashews, water, lemon juice, chipotle seasoning, garlic powder, and salt. Note: by the power of VBC over-filled plate magic, we determined that lime juice is also brightly delicious on roasted honeynut squash!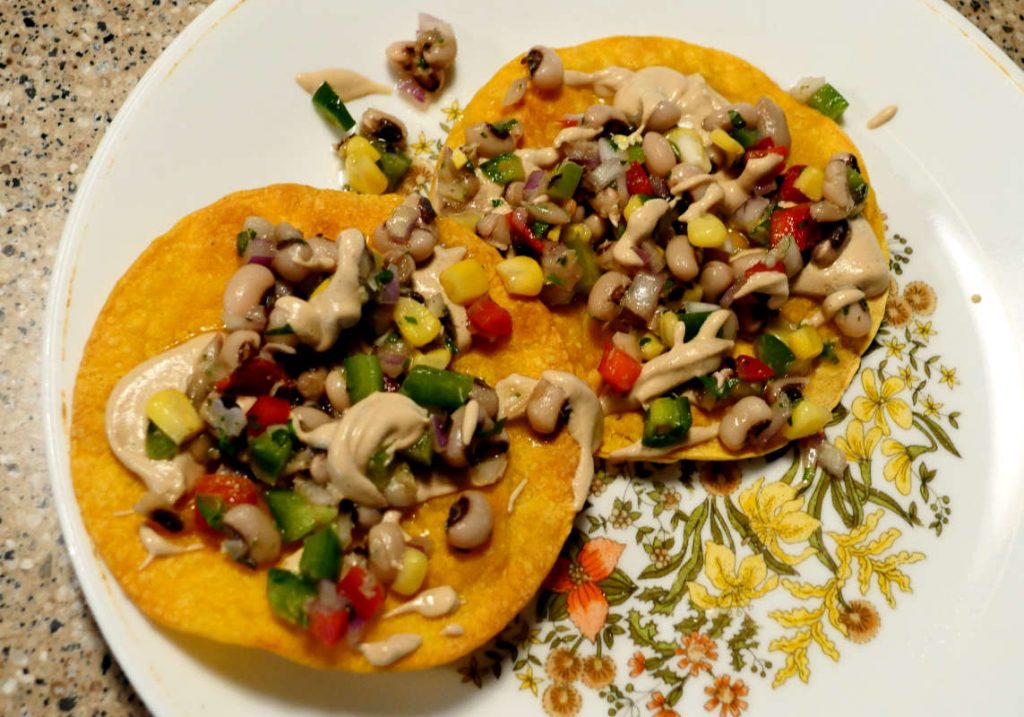 Slynn: Coconut Tres Leches Cake
After deciding to make a coconut tres leches cake for our Tex-Mex VBC get-together, Slynn looked at a bunch of recipes and picked the easiest looking one. The cake recipe called for three cans of full-fat coconut milk or cream, sweetened condensed coconut milk, all-purpose flour, granulated sugar, baking soda, salt, oil, vinegar, and vanilla extract. One and a half cups of the three cans of coconut milk went into the cake itself, while the rest and the condensed milk was reduced on the stove (Slynn did this but didn't see much reduction occur!) to be poured over the cake once it was baked and poked with copious bamboo skewer holes. She topped the cake with Truwhip vegan whipped topping and unsweetened toasted coconut flakes and served it with sliced strawberries for an extra treat.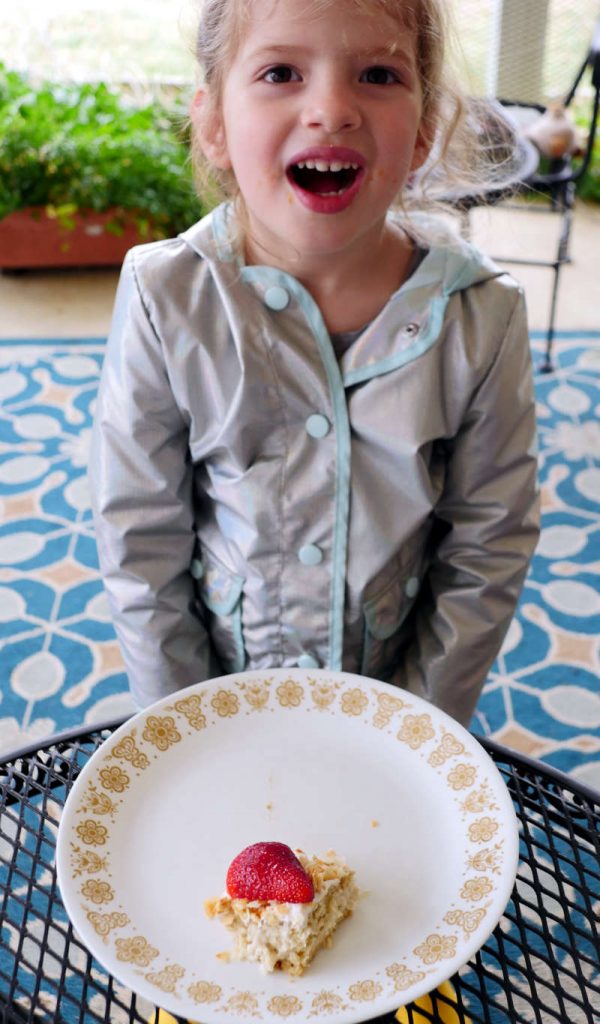 Billy: Potachos
Billy made a nacho-like dish for us, but instead of putting all the fixings onto tortilla chips, he put them on oven-baked slices of potatoes. To prepare the potatoes, he first boiled the potato slices for three minutes then put them into an ice bath. He then seasoned them with salt, chili powder, onion powder, smoked paprika, and olive oil before baking them at 435°F. After topping the potatoes with refritos, vegan cheese shreds, and jalapeño he baked them further to melt the shreds and heat the beans, he piled on romaine lettuce shreds, cilantro, avocado, tomatoes, and homemade vegan ranch dressing.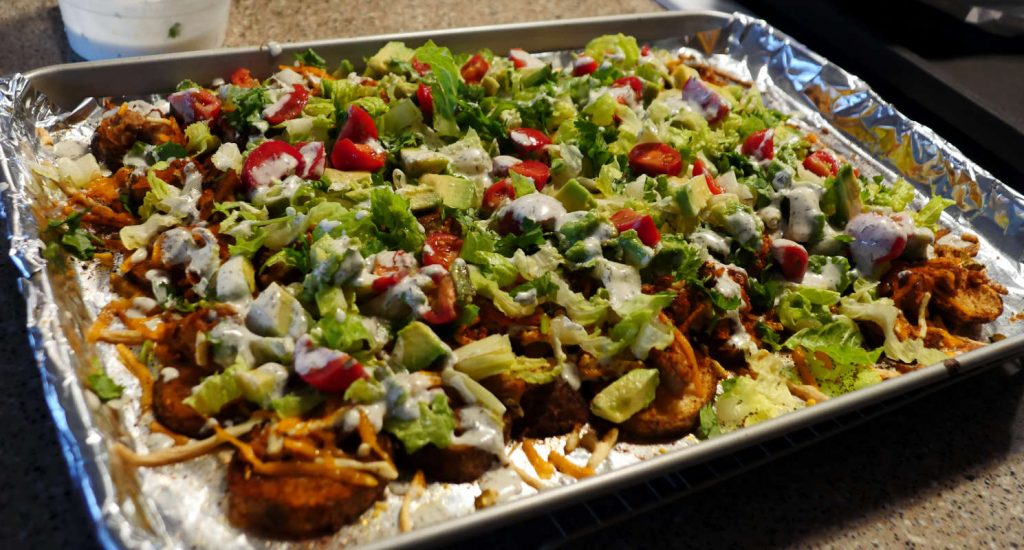 Lauren: Swiss Chard and Pinto Bean Enchiladas
For the enchiladas, Lauren followed the recipe from Vegan For Everybody. She brushed corn tortillas with roasted garlic infused olive oil, wrapped them in a damp towel and microwaved them for one minute to make them more pliable. For the sauce, since she didn't have the two 8 ounce cans of tomato sauce the recipe called for, she instead mixed one 6 ounce can of tomato paste with 12 ounces of water as a substitution. This was added to a saucepan with onions and garlic that had been sautéed in oil, more water, chili powder, cumin, smoked paprika, sugar, and salt. For the enchilada filling, she used Swiss chard grown by Billy, more onion and garlic, pinto beans, and a green and an orange bell pepper. Per the recipe, after assembling and baking the enchiladas, she topped them with cilantro sauce of vegan mayo, vegan sour cream, water, cilantro, and salt, plus avocado chunks, and more chopped cilantro. She served lime wedges on the side.