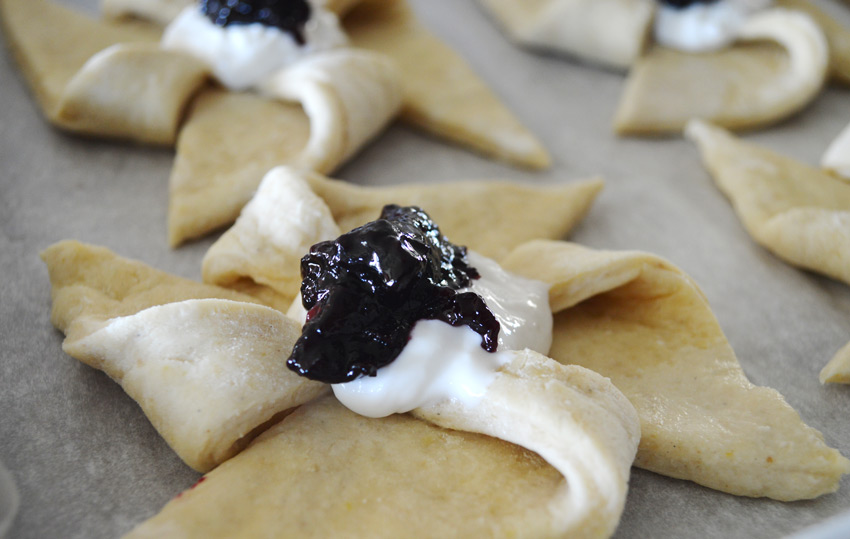 For the "International" themed Vegan Bake Club meeting I finally made the Danishes I'd been putting off. Pastries like this have a high fat content and traditionally would be made with butter, so veganizing the things had me a bit anxious. I went with Earth Balance Vegan Buttery Sticks®. The next time I make Danishes or croissants, I would like to try Earth Balance Shortening Sticks®, since the fat is denser and less likely to warm up enough to blend into the dough while working it. The Buttery Sticks did pretty well though!
For this venture I went with veganizing a non-vegan recipe, choosing Beatrice Ojakangas's Basic Danish Pastry for the dough. I chose this one because the recipe title has "(Quick Method)" next to it on the web page and because Julia Child's name was dropped. I suppose this recipe is "quick" in comparison to other Danish recipes because it doesn't involve a full fledged laminating dough process. I like quicker and easier when it comes to food–as it gets me to the eating faster, but one of these days, I do hope to carry out the whole rolling-out-of-a-block-of-vegan-butter event.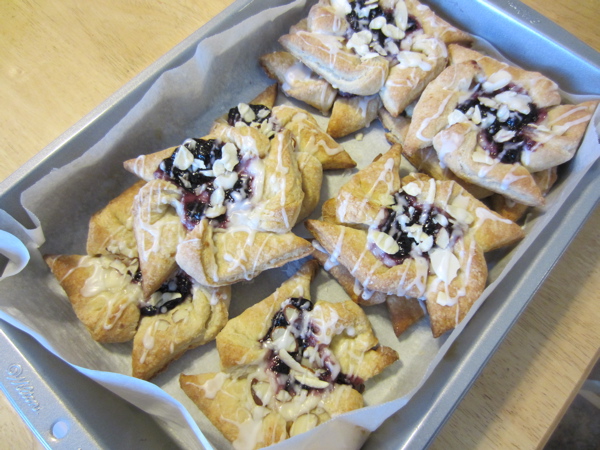 Here is my ingredient list after veganizing the recipe:
Danish Pastry Dough:
1/4 cup warm water
1 package active dry yeast (2 1/4 tsp yeast)
1 TBS ground flax seed
3 TBS water (room temperature)
1/2 cup almond milk (room temperature)
1/4 cup sugar
1/2 tsp salt
1/2 tsp cardamom
2 1/2 cups all-purpose flour
2 Earth Balance Vegan Buttery Sticks® (cold and cut into pieces)
Cream Cheese Filling:
3/4 cup vegan cream cheese
2 TBS sugar
1/2 tsp almond extract
1 TBS almond milk
Blueberry Jam:
In a large bowl, add yeast to 1/4 cup warm water, and let sit for a few minutes while the mixture begins to foam.
To flax in a small bowl, gradually incorporate 3 TBS of water. Allow to sit a few minutes while the mixture thickens.
When the yeast mixture is ready, whisk in flax mixture, almond milk, sugar, salt, and cardamom.
Put flour into a food processor fitted with metal blade. Drop in pieces of buttery stick. Pulse approximately ten times to cut the fat into the flour. You want the fat to remain in decent sized pieces.
Fold the flour mixture into the liquid mixture to moisten the dry ingredients. Be careful not to over mix. You want to retain visible pieces of buttery stick. Cover the bowl and allow it to sit in the refrigerator overnight.
When it is time to roll out the dough, it involves rolling out a large square, folding it into thirds to give you a long rectangle, rolling out again, folding thirds again into a square, and repeat about 3 times. You can reference Ojakangas's recipe for the details. It is important to note that you want to prevent the dough from getting too soft, so if it starts to warm up and soften, put it into the refrigerator for chilling between roll outs. After you have made your final square, cover the dough and chill it before moving on to forming pastries.
Once you have the dough. There are a lot of options for shaping and filling it. I made pinwheel shapes per the instructions given in Emeril Lagasse's Danish Dough recipe page on the Food Network website. I filled the pastries with cream cheese filling (just mix together the ingredients listed above in a small bowl) topped with blueberry jam.
Let the pastries rise on a parchment covered baking sheet for 30 minutes. Then bake at 350° for approximately 20 minutes.
After baking, I drizzled a glaze over the top and sprinkled with sliced almonds. I neglected to write down what I put in the glaze. Presumably it was mostly confectioner's sugar blended with enough almond milk to get it to the right consistency, and a bit of almond extract for flavor.
The result was a flaky pastry that tasted as rich and delicious as all the fat in it would lead you to believe it should be.