Here's an easy step-by-step guide for making broiled tofu. This post is dedicated to my Aunt Cathy, who has recently been interested in trying vegan recipes. I served my tofu for lunch in a sandwich, but I think it would really shine over a bed of wild rice with a side of "drunken" mushrooms and haricot vert. Note that this serves two, so double it for guests or leftovers.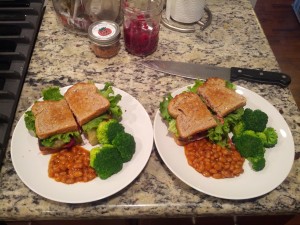 Nice lookin' lunch, huh?!
Ingredients:
– 8 oz. (or half a container) of extra firm tofu
– 1 1/2 T olive oil
– 1 t sesame oil
– 1 T soy sauce (or liquid aminos with a pinch of salt)
– 2 t vegan worcester sauce
– 1 t rice wine vinegar
– 1 t hot chili paste of your choice (I used sriracha)
– several dashes liquid smoke
– 1 clove garlic, crushed
Method: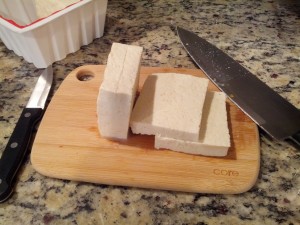 Drain the tofu. Slice the 1/2 block into four equal pieces.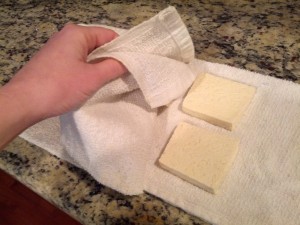 If you have a tofu press, GOOD FOR YOU. (jk)
If you don't have a tofu press, place one clean kitchen towel folded lengthwise on the countertop and set your tofu pieces on it. Place another clean kitchen towel, also folded, on top.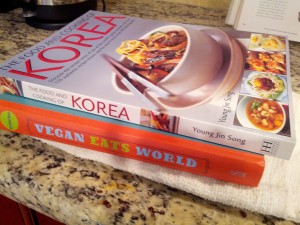 Show off your cool cookbooks by setting a couple of heavy ones on top of the tofu-towel stack. Leave for 10-15 minutes while you prepare the marinade. This is the luddite's tofu press (thanks, Isa!)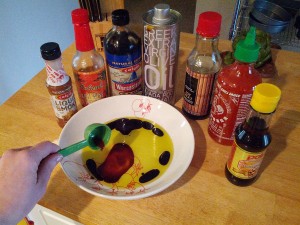 Marinade is code for delicious food miracle trick. If you don't already marinate tofu, mushrooms, etc, get ready for your life to change.
Add all of the remaining ingredients into a shallow bowl and mix well.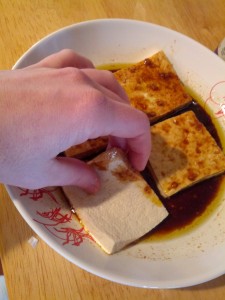 Cater your marinade to your tastebuds. You like spicy? Add some chili flakes. You want more of an Asian thing going on? Use a little ginger and sugar or miso. The world is your oyster mushroom.
Once the tofu is good and drained, coat both sides in the marinade and allow to soak for 15-20 minutes, flipping occasionally.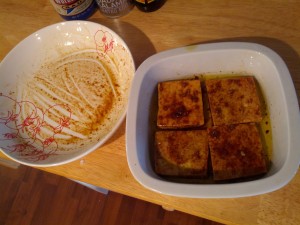 Transfer the tofu to a baking dish. Make sure you get all of the sauce into the dish. If you're smart, you'll just marinate right in the baking dish, but I didn't think about that until I started writing the previous sentence. Set your oven to broil.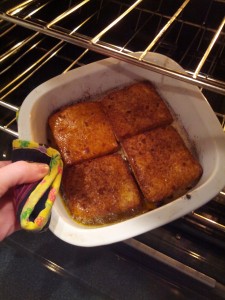 Broil the tofu for about 10 minutes. If you have a bottom-of-the-oven broiler, your times may be different because the dish is so close to the fire.
Carefully flip the tofu with a spatula, and give them another 10 minutes or so. When mine finally came out, they were a very deep golden brown with some blackening. Drool.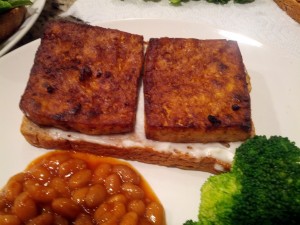 Pull the dish out of the oven, and use a spatula to place the tofu on some paper towel so that they drain a little. Sorry, this step is not pictured.
Add the broiled tofu to whatever dish it's rounding out.
I served my broiled tofu in a toasted whole wheat sandwich, over a layer of vegenaise, complete with garlicky dill pickles, fermented sour kraut, lettuce, and beet mustard. The sandwich was served alongside steamed broccoli and baked beans. Yum!