Sunday, August 22, 2021
VBC Meeting #102: Lazy
Host of the Month: Lauren and Billy
Location: Ponder
August's theme was lazy. We didn't try too hard but still ate some good food.
This is what we made (in the words of those who made it):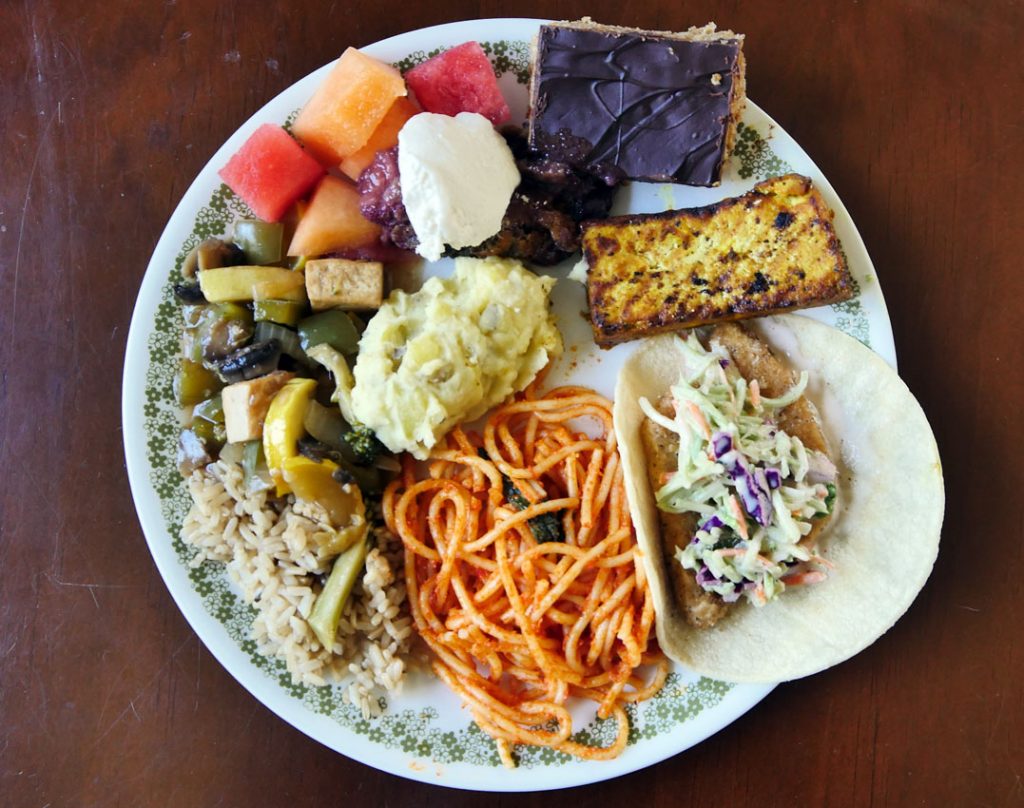 Lauren: Peanut Butter Oat Squares
For VBC this month, I no-baked up some peanut butter oat squares based on this recipe: https://cookiesandcups.com/3-ingredient-no-bake-peanut-butter-oat-squares/. The recipe uses creamy peanut butter, honey, and rolled oats. I used what I had and what was vegan instead, heating 1 cup of crunchy peanut butter and 1/2 a cup of maple syrup in a pan, then stirring in 3/4 cup rolled oats and 2 cups of quick oats (use what you've got!). This was pressed into an 8×8 inch pan and spread over with melted dark chocolate chunks for tastiness before going into the refrigerator to set. They were easy and quick to make…other than the stirring of the newly opened jar of natural peanut butter which added about eleven minutes. I recommend these bars!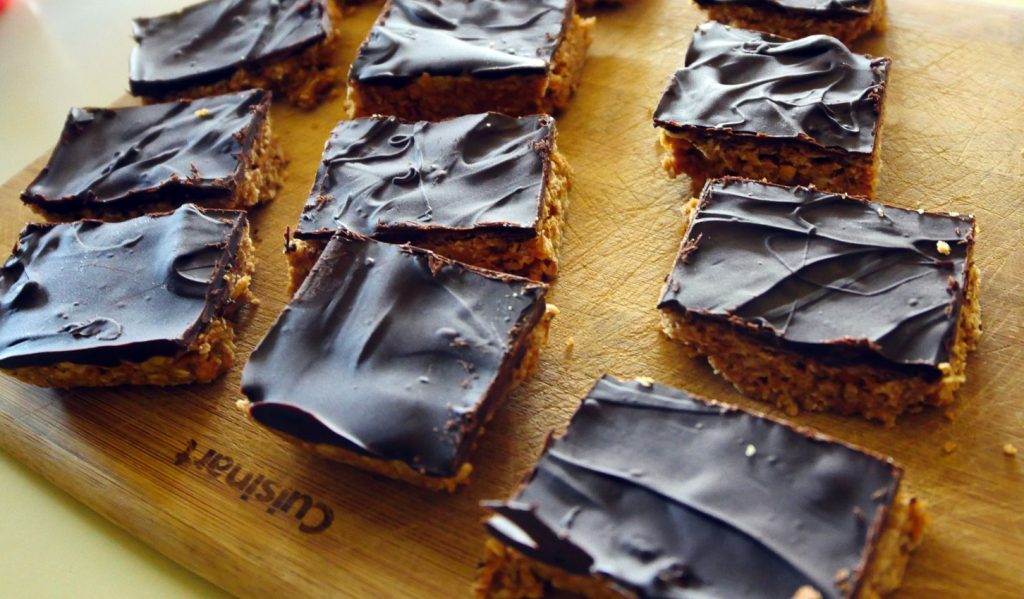 Drew: Random Stir Fry
I feel like I am always kind of lazy with my VBC food compared to most, so this month was right up my alley. I just made a stir fry with whatever random stuff I had around and some brown rice. I make this a lot when I don't know what to cook, so it feels like a lazy meal to me. I pan fried the tofu in sesame oil for a long time though to get a good texture, which is more than I do on other occasions… Then I sautéed mushrooms, onion, garlic, pepper, and broccoli, added back the tofu and added a simple sauce of tamari, veggie broth, cayenne, sriracha and cornstarch.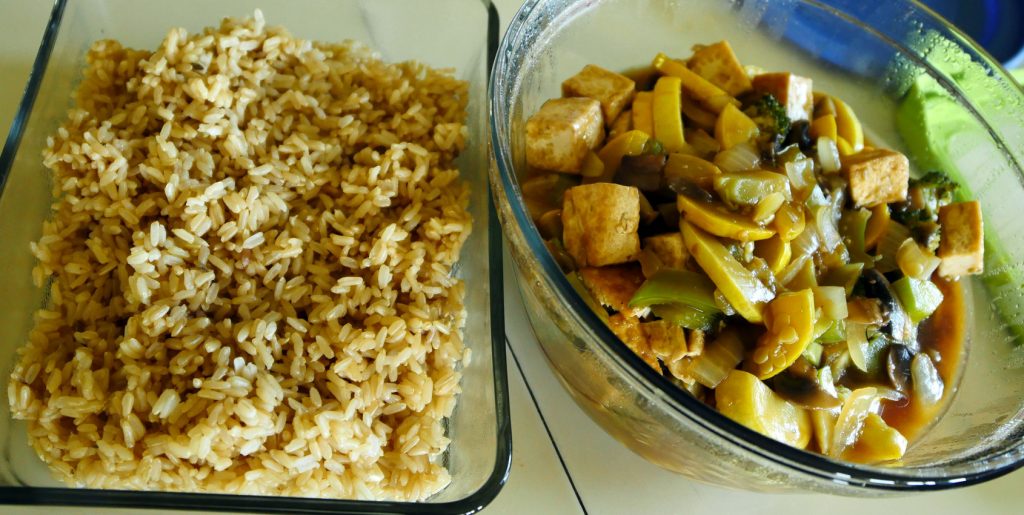 Slynn: 3-Ingredient Berry Cobbler
I wanted to make this 2-ingredient oreo mug cake because that seemed super lazy, but I couldn't figure out how to scale it up, and I didn't want to be so lazy as to not make food to share with others! Then I saw this other recipe, 3-ingredient berry cobbler, which seemed like it could feed more people. I added/changed a few ingredients, but I was real lazy about it!
Lemon seltzer instead of the lemon-lime beverage suggested
Sprinkled 1 TBS plus some sugar and grated lemon zest over the berries to replace sugar missing from soda and to emphasize lemon flavor
I used Simple Mills Vanilla gluten-free cake mix because it seemed like the almonds might go well in the cobbler, which to make as a cake requires several eggs. So I whisked some egg replacer into the mix before sprinkling over the berries as directed in the recipe. But since I was being lazy I didn't even measure it out–just dumped in what was left of the box! I finally finished the box of Ener-G Egg Replacer manufactured in 1978 that I bought in 2013! Now that Drug Emporium is gone I probably won't be able to buy any more. 
Served with Truwhip Vegan because I thought I would be lazy and not make it myself, but then I had to go around to a bunch of different stores to find frozen vegan whip, which required more effort probably than just making it myself!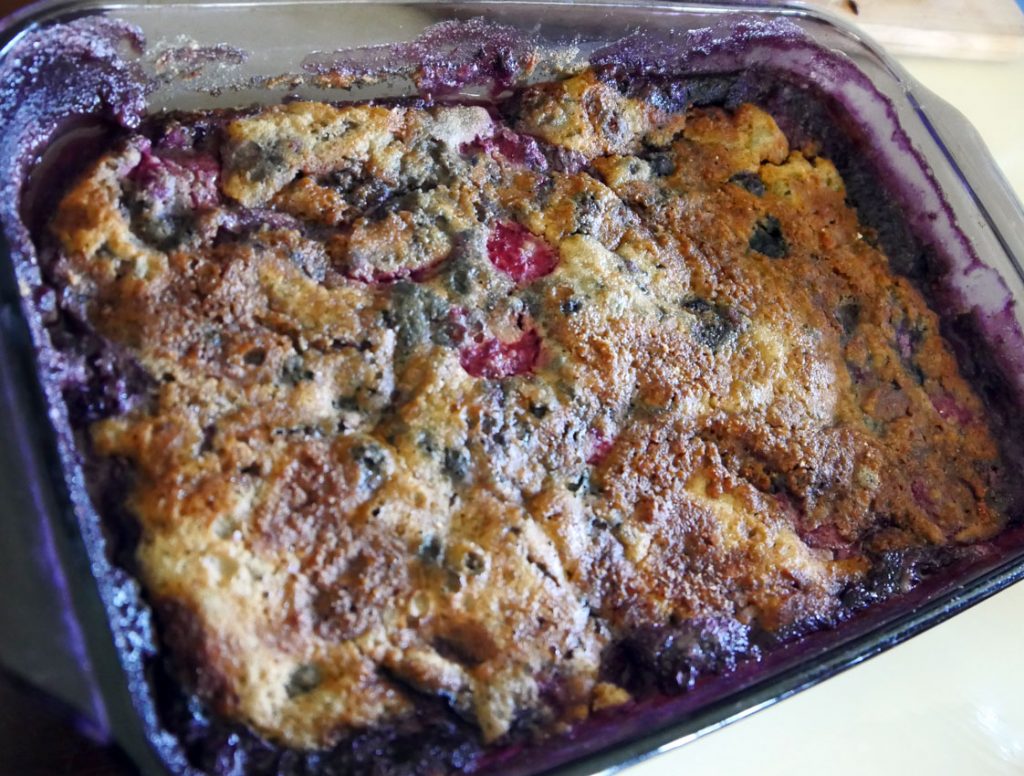 Billy: Strip Tacos
After agonizing over whether to serve popcorn, I decided to build tacos using Gardein chicken strips and bagged slaw on corn tortillas topped with lime juice+mayo sauce and a squirt of sriracha.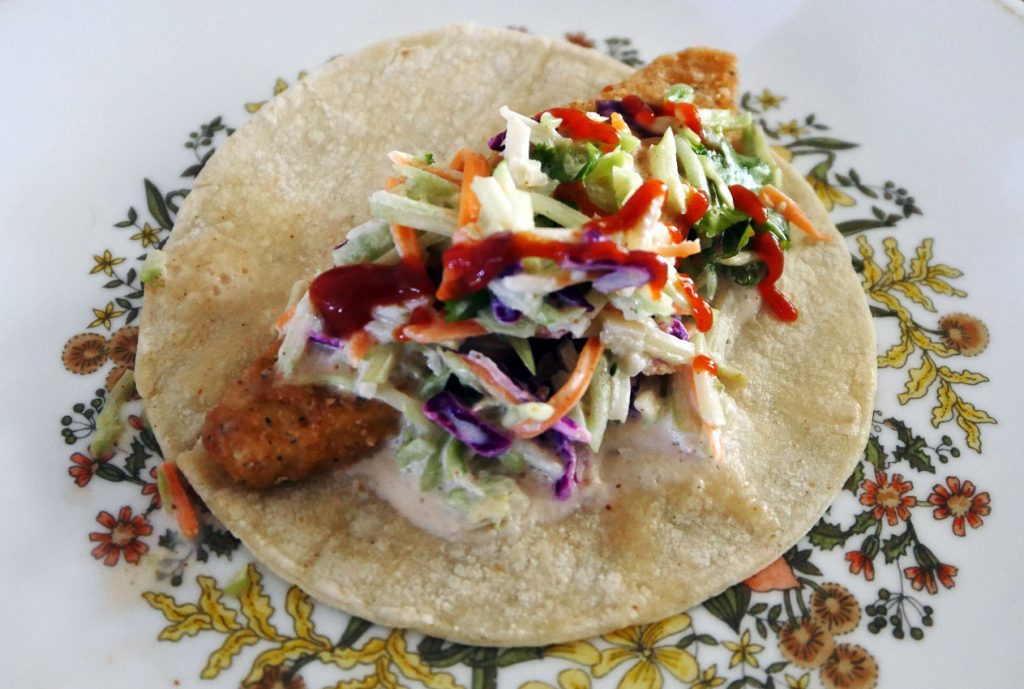 Annette: Watermelon
Chunks of watermelon!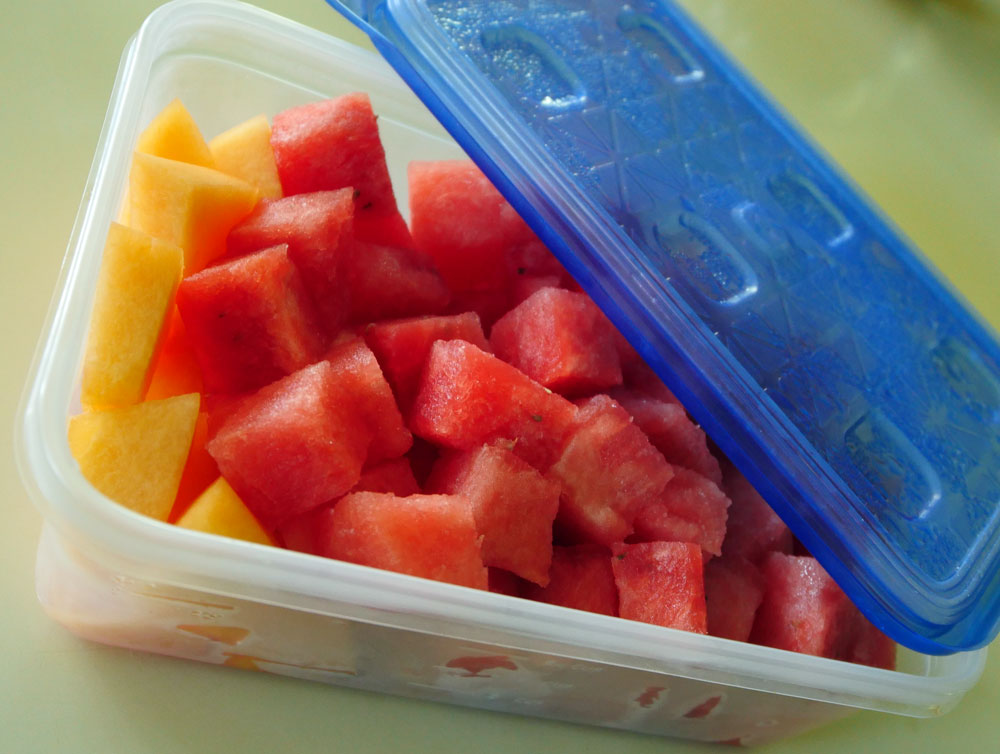 Shannon: Spaghetti
I made spaghetti.  I used nice spaghetti noodles that were organic and said they were from Italy (I'm sure they were just "from Italy").  And I used Rao's Marinara sauce.  I then threw in a touch of cashew cream and some basil leaves. Lazy food was fun!  All very tasty and I didn't have to work too hard.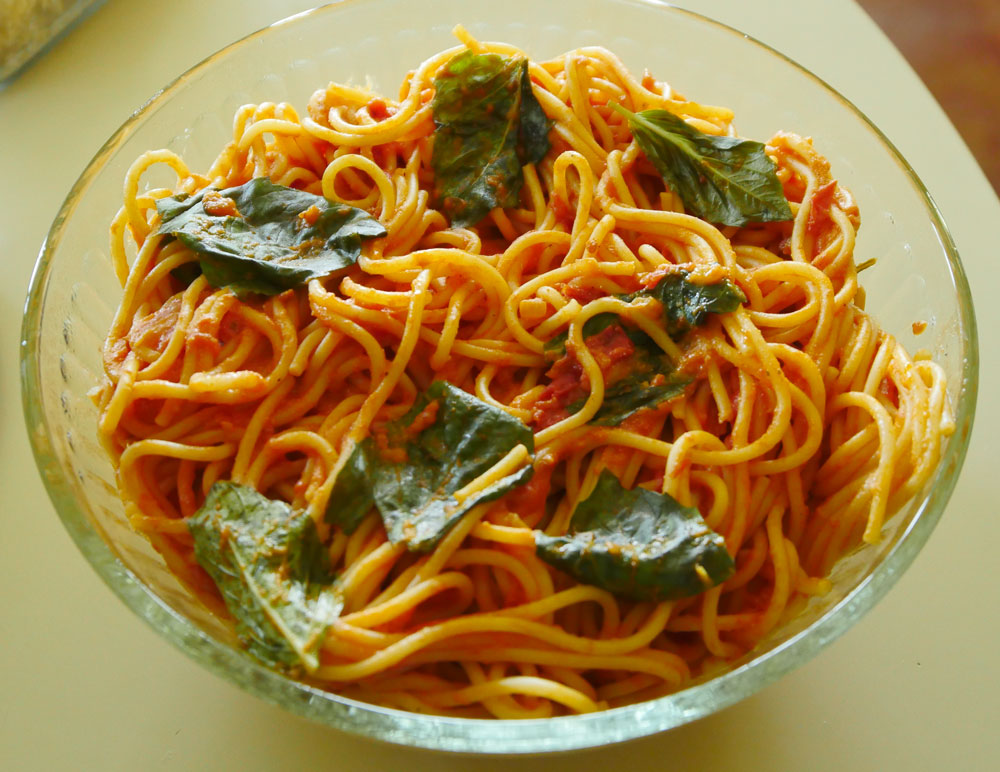 Ramon: Tofu Blocks; Mashed Potatoes
Seasoned pan-fried tofu and mashed potatoes.