Many Days, August 2020
VBC Meeting #90: Condiments
Host of the Month: The Internet
Location: The Internet
For August, the idea for Vegan Bake Club was to focus on condiments: make a condiment or use one in the dish you make.
This is what we made (in the words of those who made it):
Caroline: Vegan Macaroni Salad
For VBC August 2020, for which the theme was "Condiments," I made "Vegan Macaroni Salad." I got the recipe from @plantbasedpunkrock on Instagram. The condiment is vegan mayo.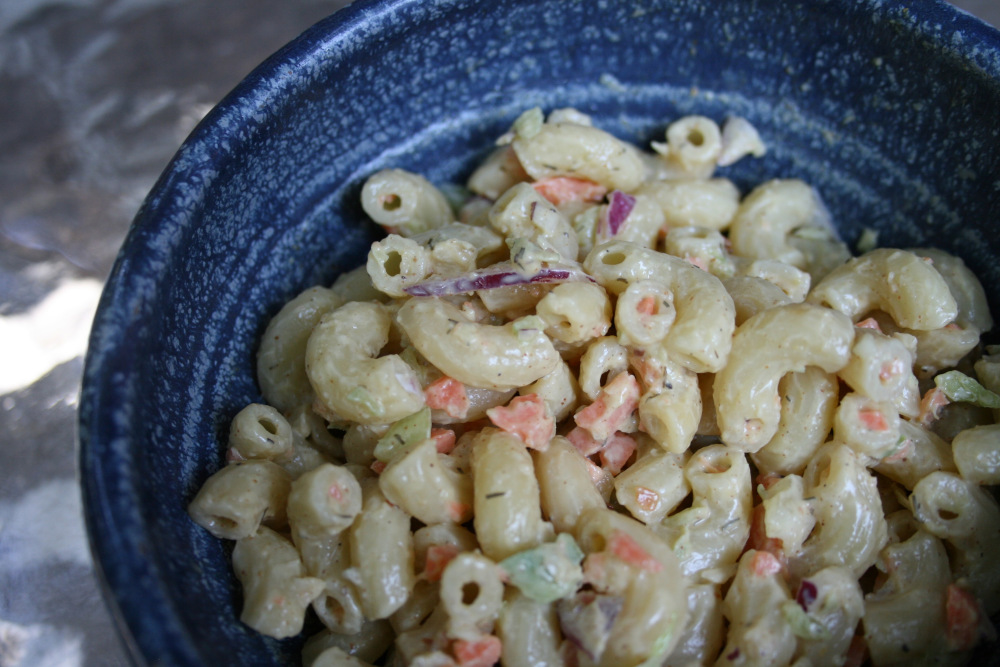 Ingredients
2 boxes Banza chickpea pasta*
1 cup vegan mayo**
1 carrot
2 celery sticks
Half red onion***
Half green pepper
Spices: paprika, black pepper, salt, red pepper flakes, onion powder, garlic powder, dill****
*She uses Banza chickpea cavattappi pasta, but I used 1 box of Barrilla elbows
**She uses Hellmann's Vegan Dressing and Sandwich Spread (which is what they call it now instead of vegan mayo), I used Follow Your Heart Vegenaise
***Maybe use less red onion…
****Go easy on the dill, too, maybe…
Instructions
Make the pasta according to the instructions on its packaging
While pasta is cooking, chop veggies into small pieces. I used a food processor to chop them. Add veggies to a large bowl
Once pasta is done, drain and run under cold water, mixing in between. (Don't burn the fuck out of your hands!) Then leave in fridge for 5-10 minutes to chill.
Add pasta to bowl and mix around with veggies
Add cup of vegan mayo to the bowl and mix everything
Add spices using measurements of your choice. She says she puts "A LOT" for taste. I don't know if I used a lot like that, but I was generous.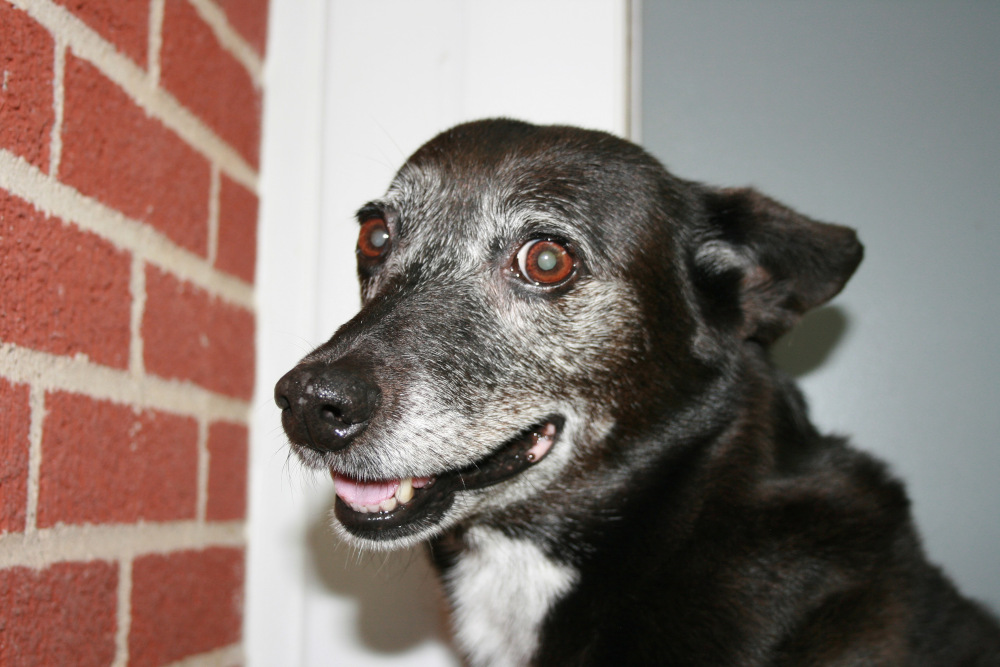 Macy says "Hi!"
And Drew did the dishes
Haley: Jam Bites
I used 2 condiments, jam and yogurt for probiotic jam bites. I made them because the red of the berries and white of the coconut/yogurt base looked cool.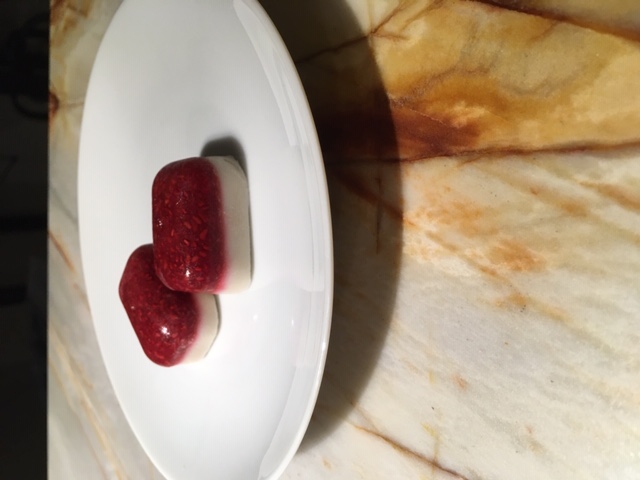 But like all the weird yogurt-y things I make for VBC, it's probably not yummy enough to make again. But, If you're looking for a healthy popsicle like thing, this works.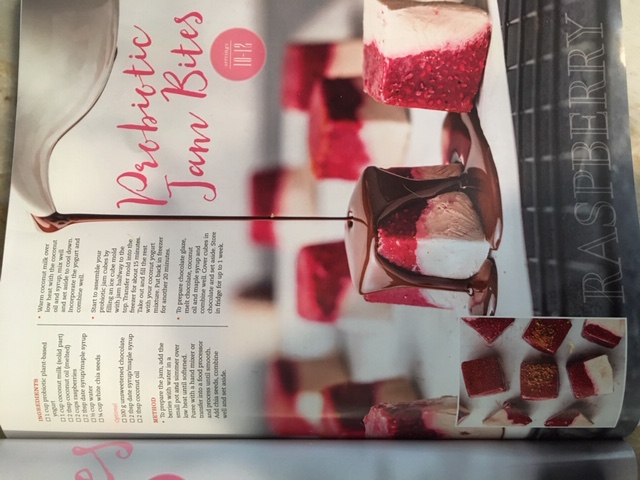 Shannon: Russian Eggplant Spread Potato Bowl
I had high hopes of making a pie. And then I had to do all the cooking for my mother's birthday (not at all vegan), and thus ran out of steam. So I made a potato bowl instead.
My "condiment" is my Russian Eggplant Spread. I don't really know if it's a condiment. I don't really know what it is, or how you are "supposed" to eat it. So I just make up things to do with it.
For my potato bowl, I pan-fried potato cubes, and then I sautéed onion, bell pepper, and spinach (I actually prefer arugula with the bowl, but I didn't have any). I also added black beans, avocado, and Field Roast breakfast sausage to it (I don't normally do the breakfast sausage, but I thought what the heck). And then I smothered it all in eggplant spread. And voila, potato goop!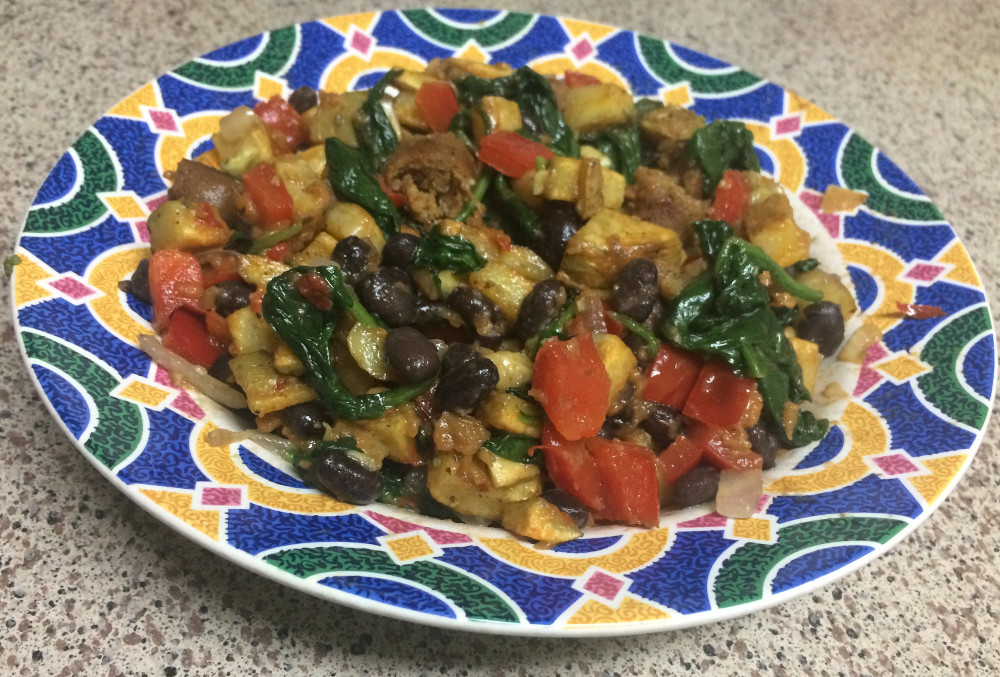 P.S., the eggplant spread also works well on avocado toast.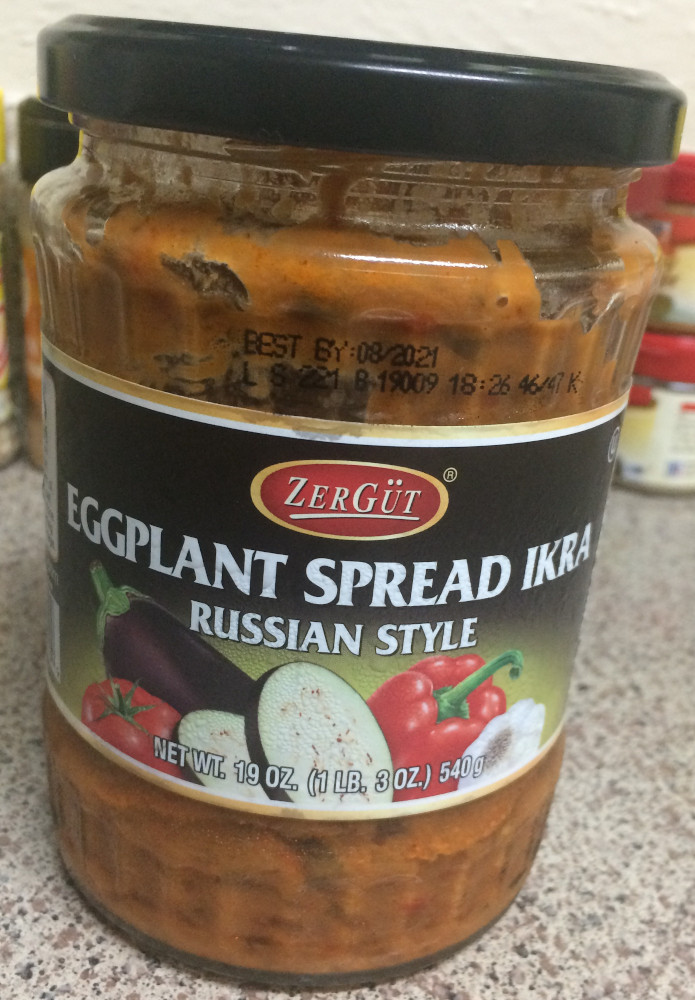 Lauren: Apricot Kolache
Like Haley, I used a fruit spread for my Vegan Bake Club "Condiment" themed food…Apricot Fruit Spread! I made some apricot and "cream cheese" kolaches. I used store bought jam but attempted (not very carefully) to make vegan cream cheese, since we didn't have any. To make the pseudo cream cheese I didn't look at a recipe but put some stuff into a blender that I vaguely thought may have been in recipes I had used or seen before: soaked cashews, lemon juice, vinegar maybe, coconut oil, maple syrup, salt maybe. I don't know. I didn't like the way it tasted but was also battling a sudden ant infestation in the kitchen, so didn't want to spend any more time on this, but Billy claims he liked it. When I make kolaches like this again I want to use good 'ol store bought heavily processed vegan cream cheese. It will be easier and taste less gross–assuming I get one of the kinds at the store that isn't gross.
I made a bread dough of whole wheat and bread flours, oat milk yogurt, sugar, yeast, flax seed meal and water, vegan milk, margarine, and salt. The dough was shaped and given an impression in the center that I filled with the cashew paste "cheese" and apricot jam. This was topped with posipka (sugar, flour, cinnamon, margarine) and baked.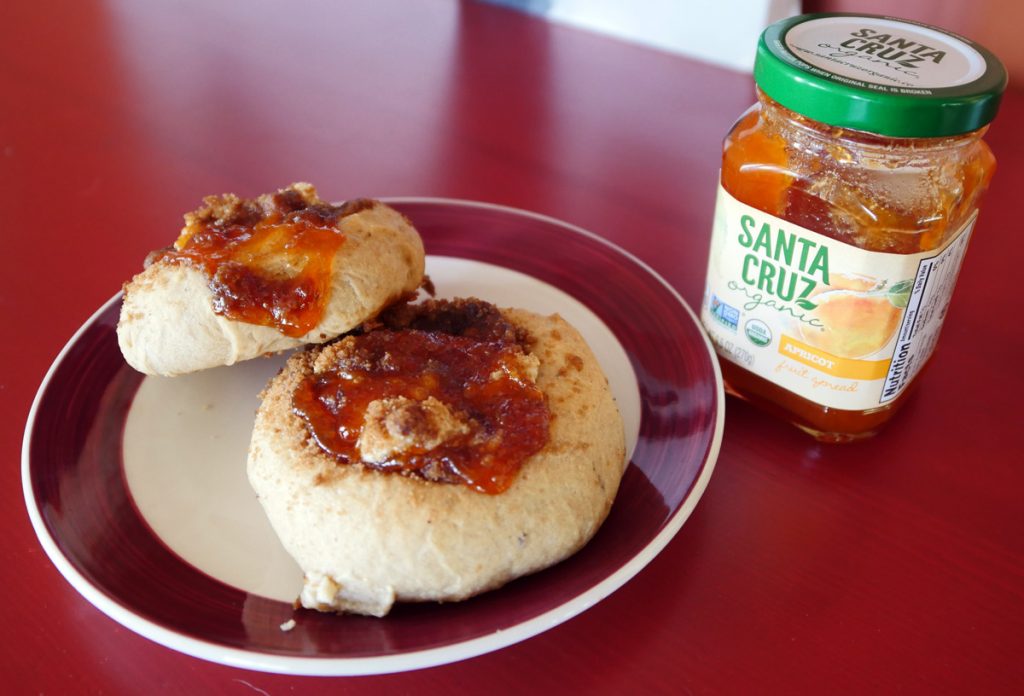 Billy: English Guacamole
For VBC Condiments I made guacamole and added some finely diced English cucumber bits, along with salt, fresh lime and some crushed red pepper made from garden jalapeños. I'd originally planned to make mustang grape jam from the last pass of grapes on our vines but ran out of time; still planning to do so.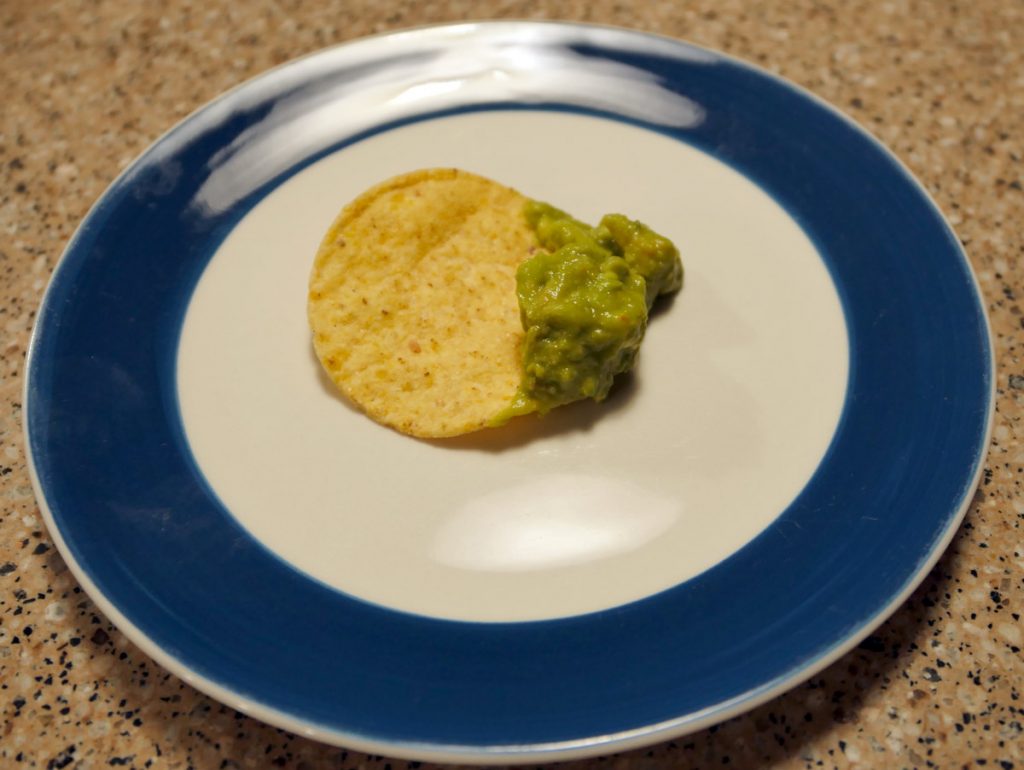 Slynn: Avocado Ranch Dressing
Sometime in August I made an avocado ranch dressing to go with this meal that Ramon made. He made a different type of condiment to go on top as well. I don't remember what was in it! I like this recipe because it doesn't call for mayonnaise. I've made it a few times before, and I like this version best because I used fresh cilantro. It came out bright green. It is pretty thick as far as dressing goes. Maybe you could add some more milk to make it thinner. I used flax milk, but maybe a nut milk would be better.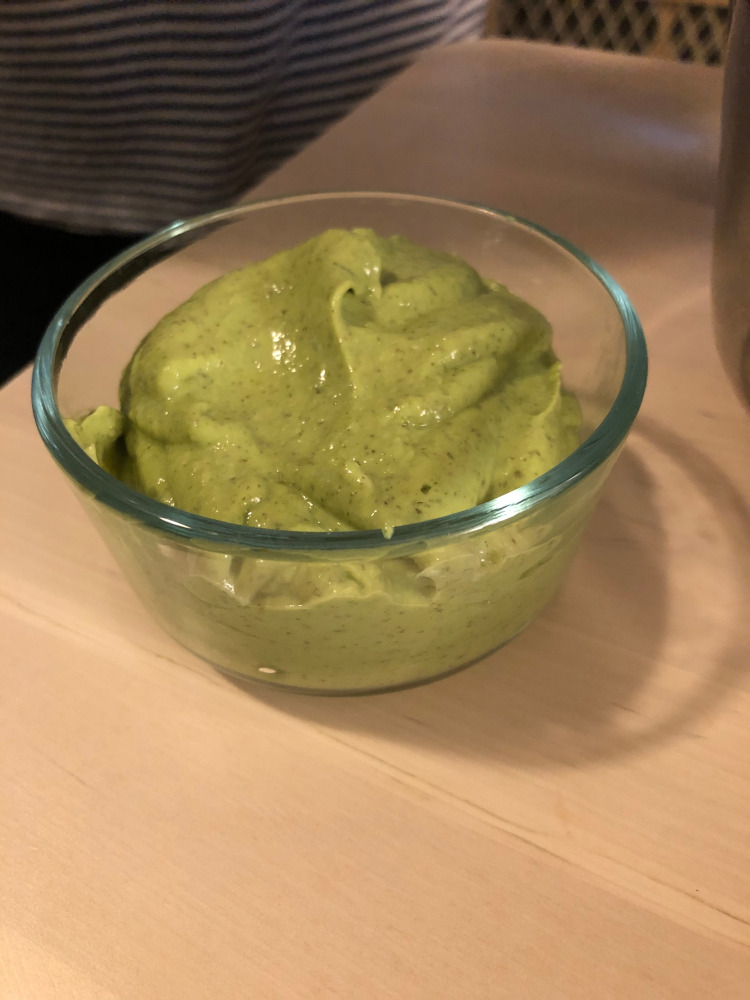 Ramon: Pico de Gallo de Escabeche; Vegan Feta
My contribution [as mentioned by Slynn above] was a pico de gallo inspired by escabeche, sort of a combination of the 2 without time to pickle the carrots. It had shredded carrots, onion, cilantro, pickled jalapeño, lime juice, salt, garlic, and pineapple.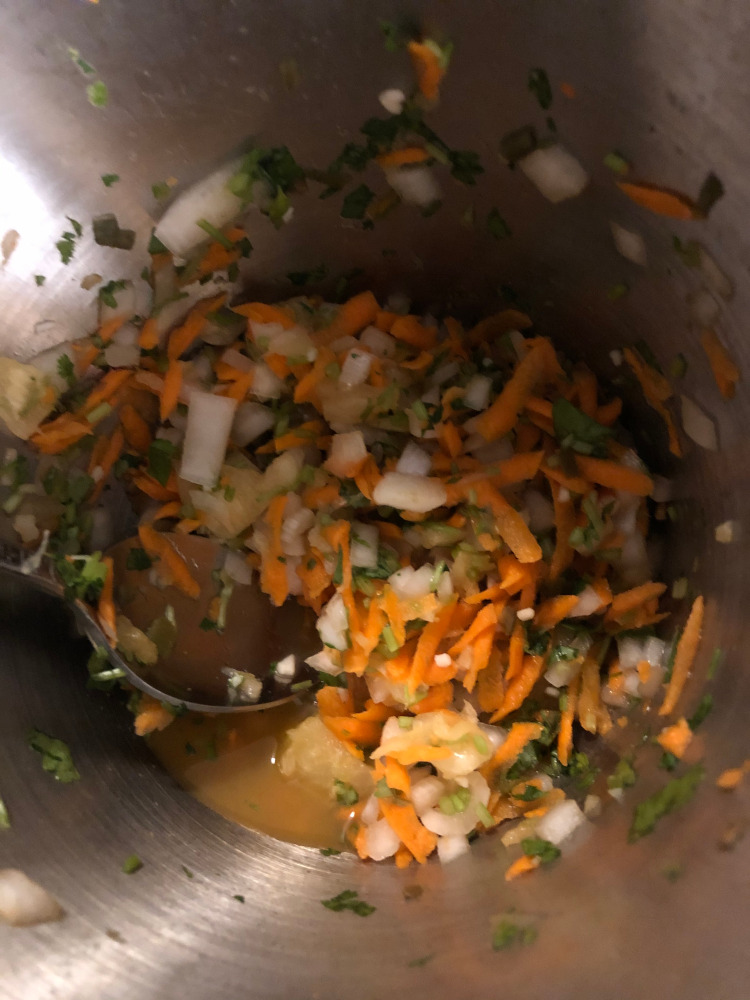 We used this and the avocado ranch to top mushroom al pastor quinoa bowls. The added pineapple was inspired by the Al pastor.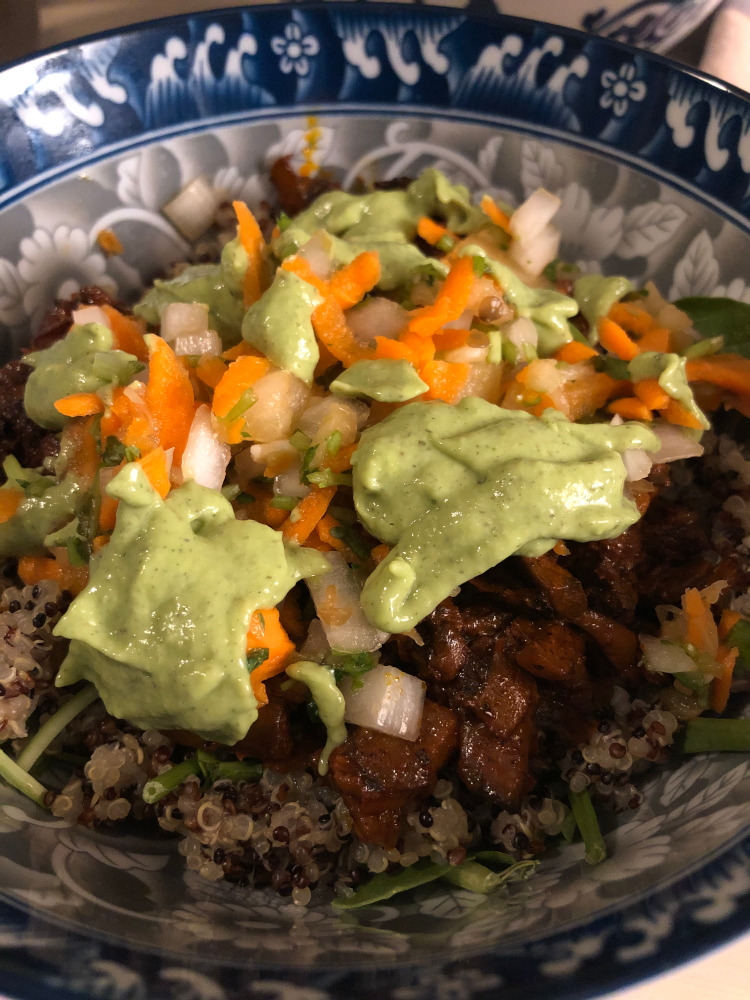 I also made a feta cheese using this recipe. https://www.theedgyveg.com/2019/09/17/best-vegan-feta-cheese-easy-vegan-substitute-for-feta-cheese/.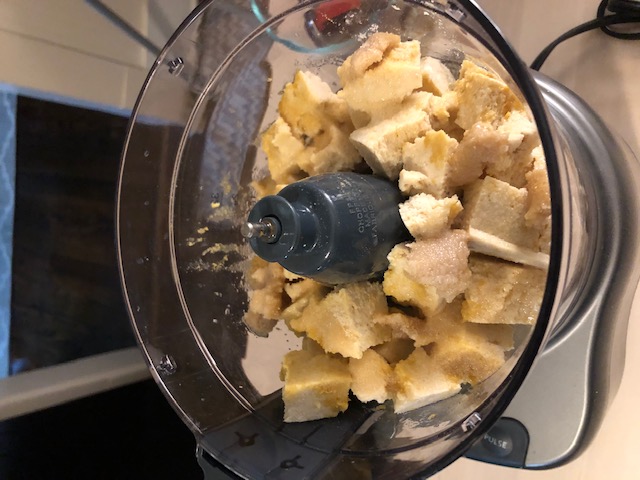 It turned out quite tasty and topped lots of food in the past couple weeks as it also made a lot.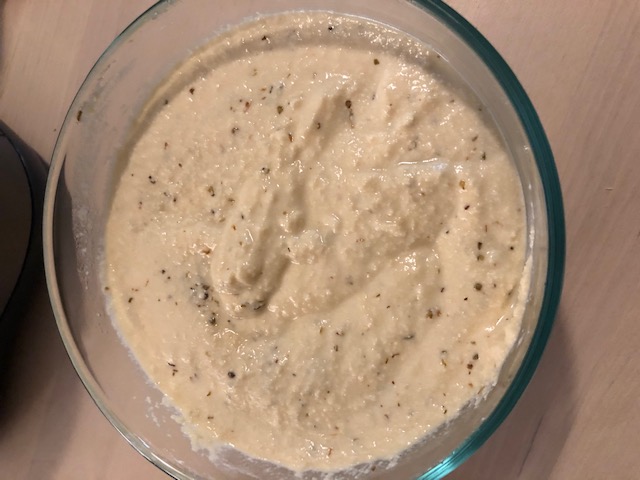 Lentil tacos, falafel burgers, etc.
While the texture and flavor was very reminiscent of feta it also sort of spread well, so I used it on bagels. Kind of a Swiss army vegan cheese. Just throw everything in the food processor. I added oregano and olive oil because only following a recipe seems to bum me out.