August 18th, 2013 – No Bake
Sunday, August 18th.
VBC Meeting #6: No Bake
Hosts of the month: Michelle and Thony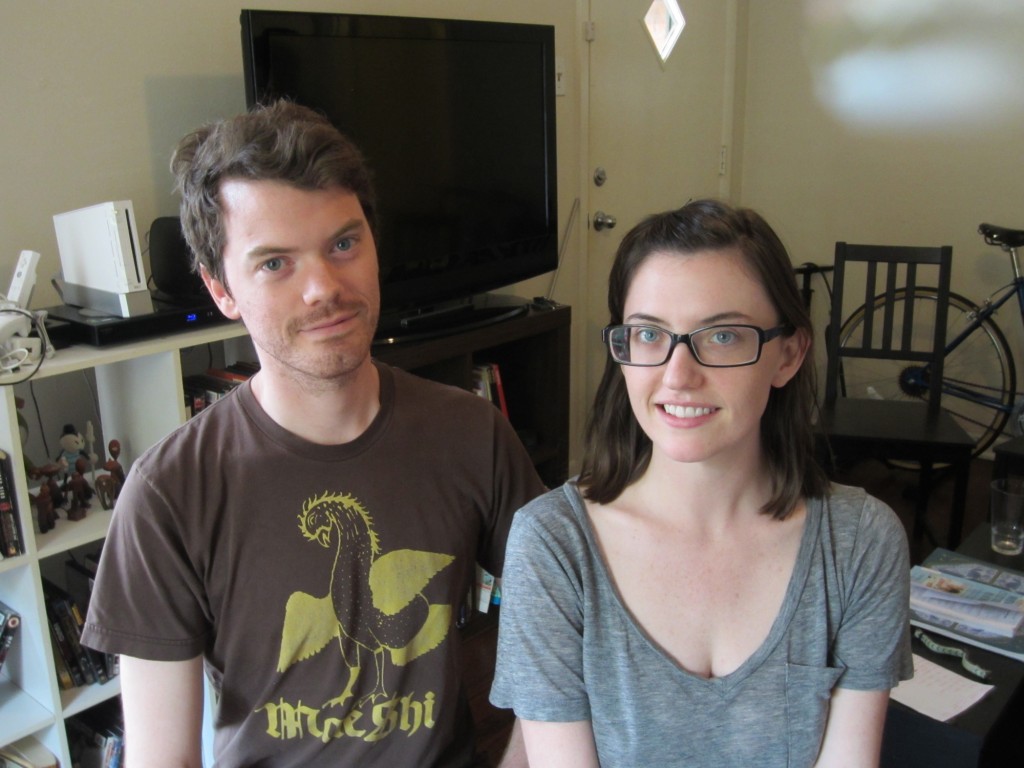 Because it was August, we went with a "no-bake" theme. I don't know if it was the theme or because we met in Dallas, but we had three new baker attendees: Vanessa, Jesse, and Lilly!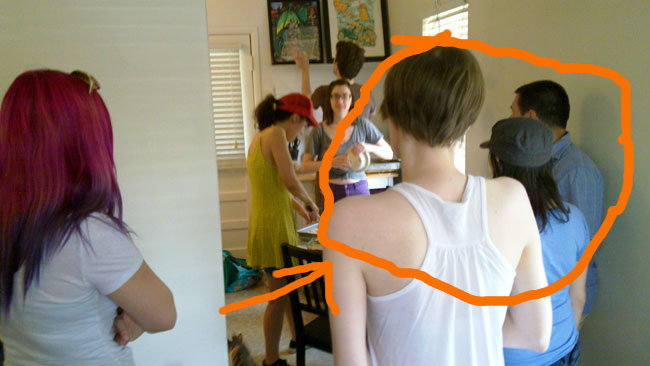 This is what we made: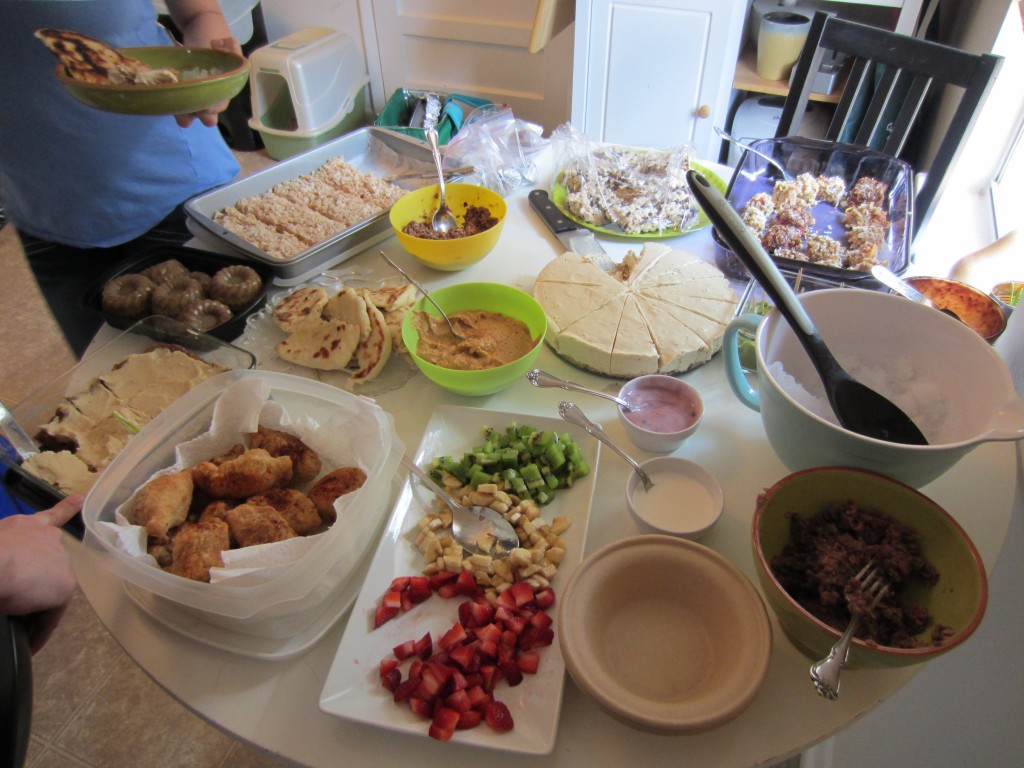 Jesse: Raw Vegan Lemon Cheesecake
Clearly Vegan Bake Club does not believe in wasting time not eating the goods just because we neet to get a picture for the blog. You can see how creamy this smoothly delicious cheesecake was. We were very impressed by Jesse's inaugural Vegan Bake Club venture.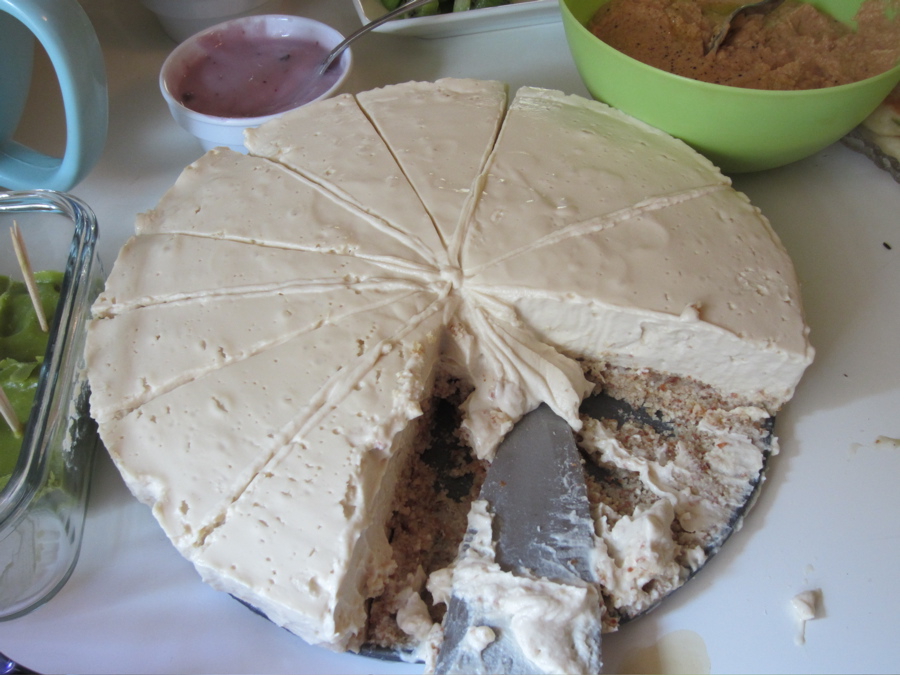 Lilly: Veganic(tr) Sprouted Brown Rice Treats, Chocolate Banana Pops, AND Frozen Chocolate Banana Coconut UFOs
Lilly overcompensated for it being her first Vegan Bake Club meeting my bringing three things. Actually, she made her rice treats in two versions, so four things! We were happy just to have her company, but you can never have too many treats. Especially when they are freezable.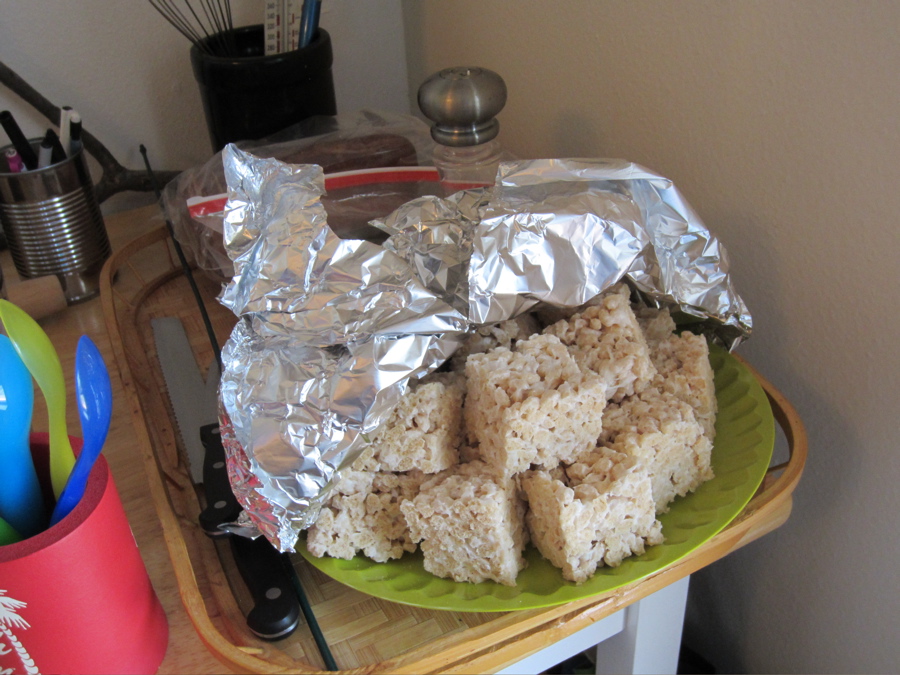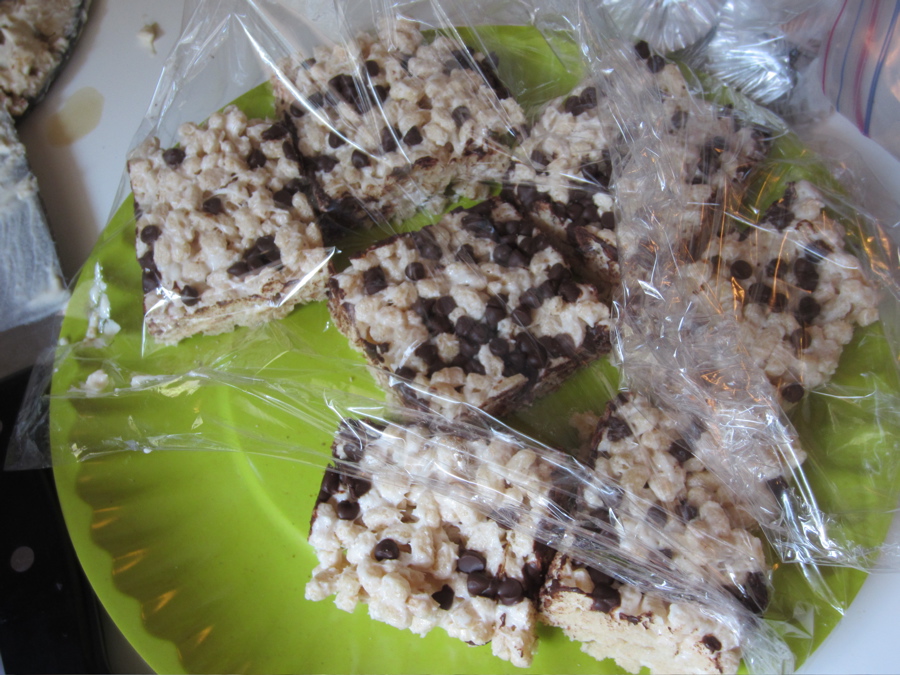 Trista: a Raw Lime Tart
The fresh lime taste of the nut-based filling paired yummily with the sweet and chewy date-based crust. I know the stuff I write about the food we make is sometimes not very unique and might be kind of annoying, but I usually write these things late at night. Just enjoy the pictures and thinking about how you will contact me about coming to the next Vegan Bake Club meeting.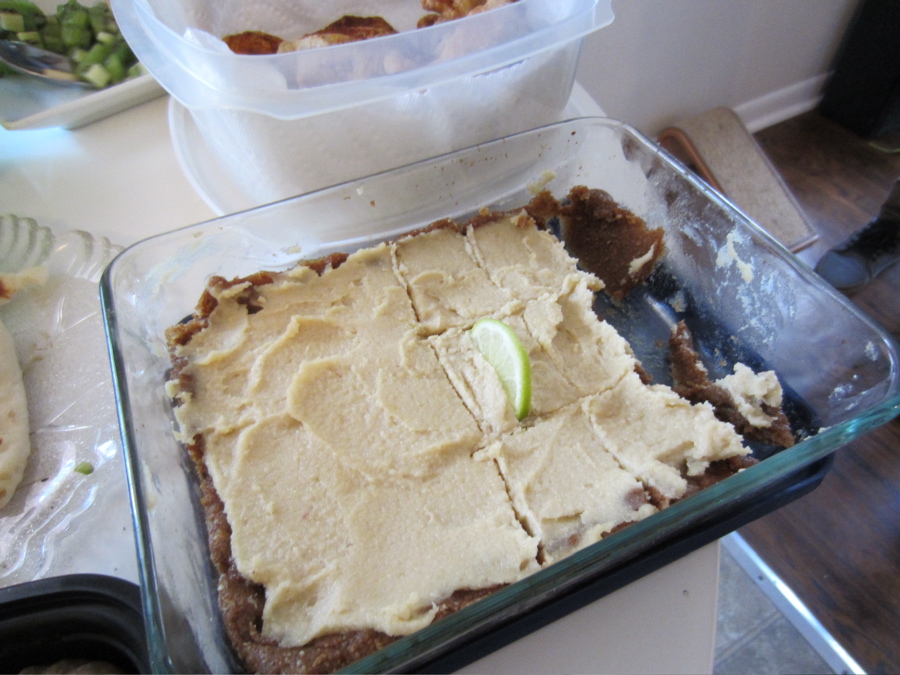 Lauren: Coffee Agar dessert, Crispy Marshmallow Treats
Agar desserts like this are maybe an acquired taste, but I really wanted to try out the mini bundt cakes pan that Slynn kindly gifted me for my birthday just two days before the meeting. The rice crispy treats were made to try out the Dandies Vegan Marshmallow Super Crisp Rice Treats! Recipe.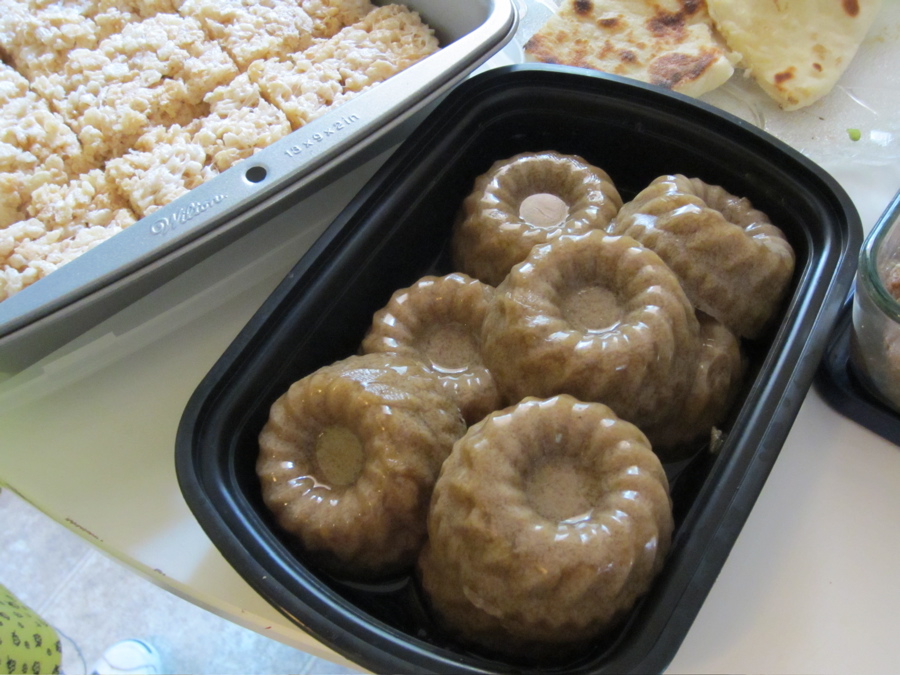 It took about as long to cut these treats as it took to make them.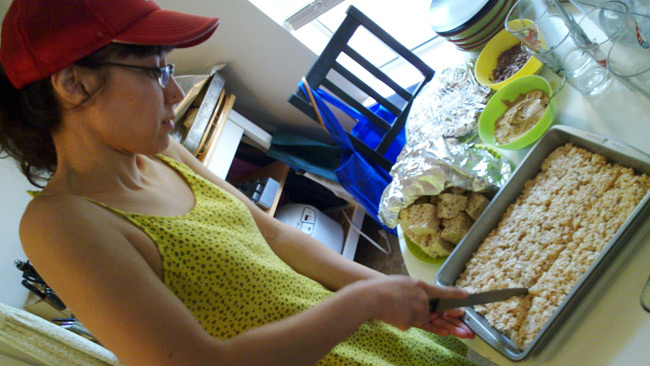 Billy: Potato Butternut Samosas
This was my favorite of the day. Since I often bring up Billy's gross spicy cookies from Secret Ingredient meeting, It only seems fair to put this statement out there.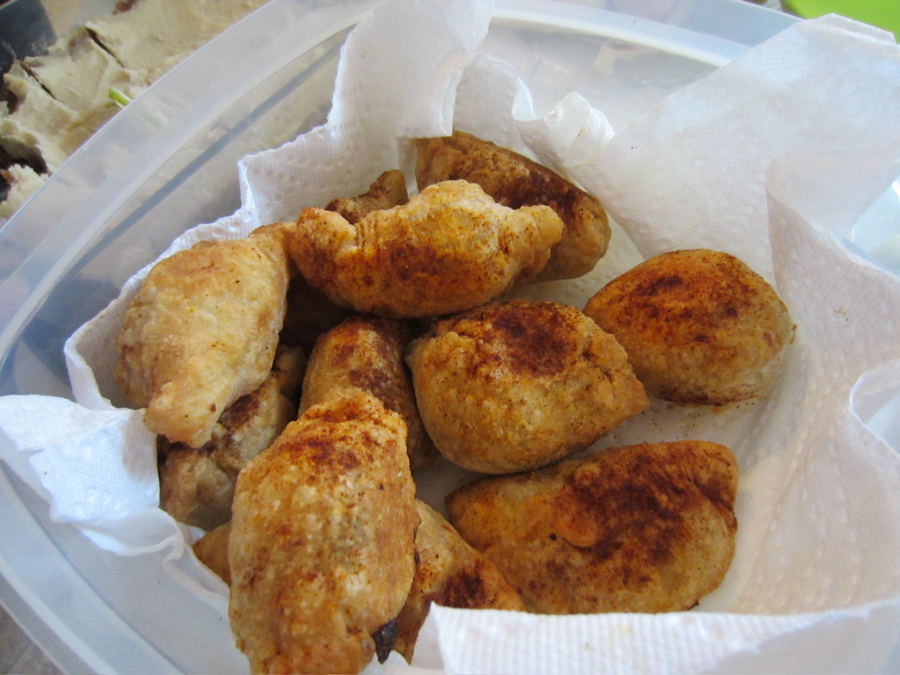 Vanessa: Avocado Paletas
Shaped like ice cubes, these richly colored matte green treats were just as richly flavored. The recipe came from Paletas: Authentic Recipes for Mexican Ice Pops, Shaved Ice & Aguas Frescas by Fany Gerson.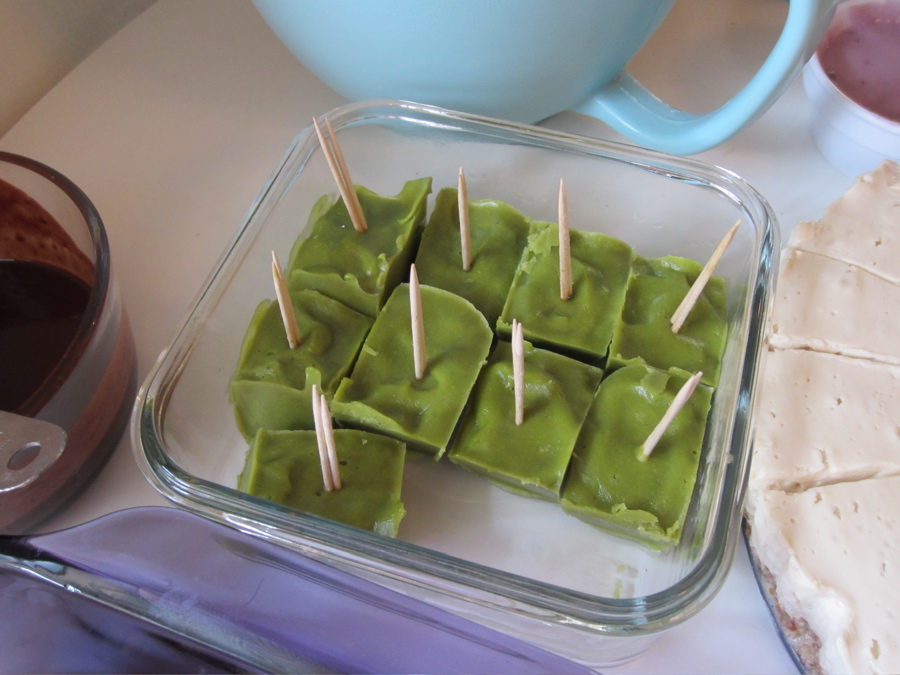 Anthony: Olive Tapanade, BBQ Hummus, Naan
I think the name and picture explains itself. Strong mmm flavors on naan were a pleasant savory contrast to the many sweets of the day. We like a nice balance when it comes to savory v. sweets at our meetings because it helps us avoid sweet-induced stomach aches.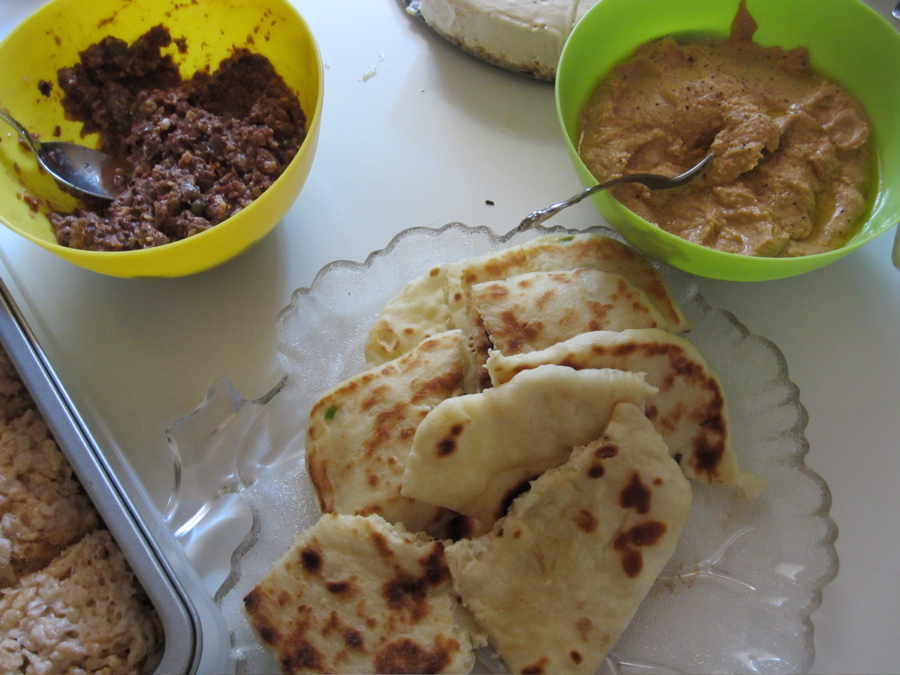 Slynn: Raw Strawberry Coconut "sushi" 3-ways: Strawberry/Orange, Strawberry Chocolate Chip with Pineapple Preserves, and Cocoa Strawberry with Strawberry Preserves
Slynn adapted her sushi from the Tales of a Kitchen recipe. She incorporated orange peel into the sushi in honor of John, but he was sick and didn't make it to the meeting! We enjoyed it on his behalf though and sent him the vitamin c we got from this treat with our minds.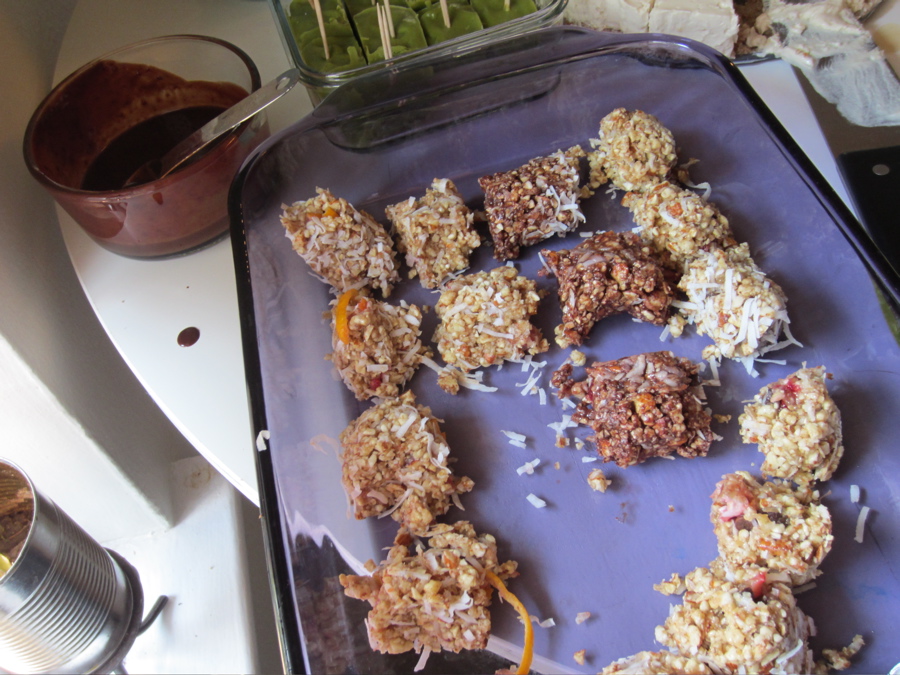 Michelle: Patbingsu, AND Limeade
Patbingsu is traditionally shaved ice served with sweetened azuki beans. Michelle served hers with fruit and coconut milk.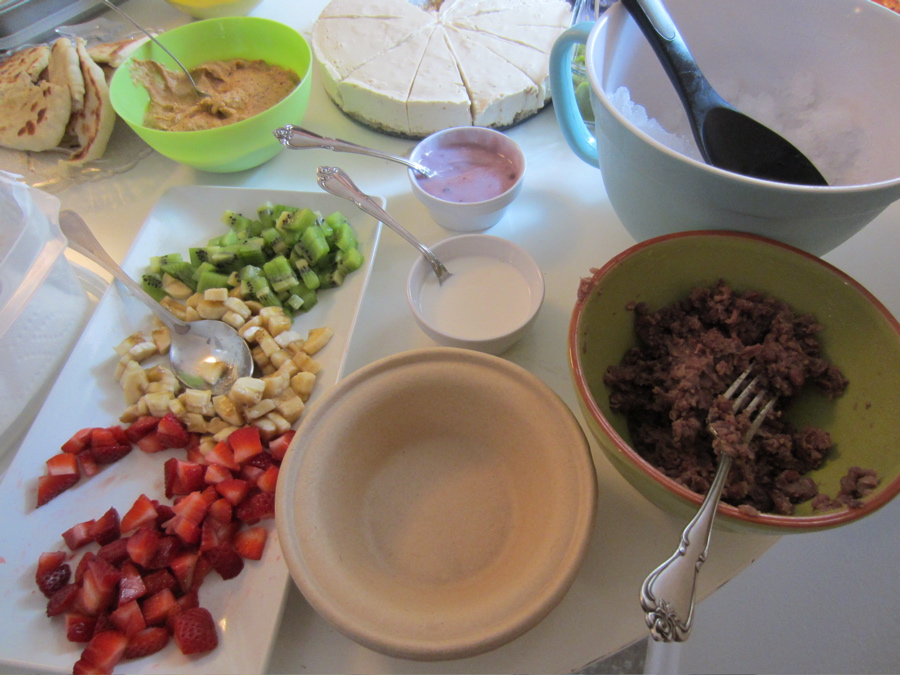 Here is a picture of Rainy and someone's feet.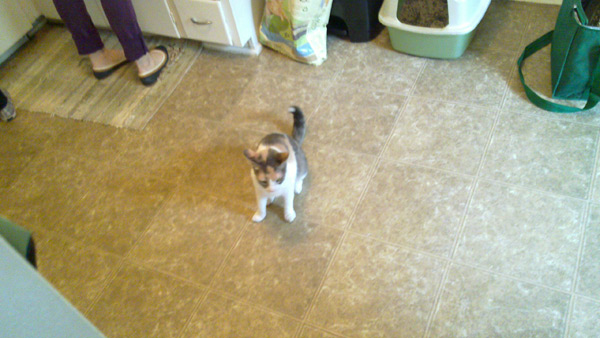 Dang. That is a cute cat.