April 23, 2023 – National Picnic Day
Sunday, April 23, 2023
VBC Meeting #122: National Picnic Day
Host of the Month: Billy and Lauren
Location: Ponder, TX
For April, the 23rd was the day most available for people to attend, and as April is usually nice weather in North Texas, we opted for a picnic at Denton's McKenna park. We even discovered later that April 23 was National Picnic Day! Ten days out or so, it was looking like it would be perfect weather, 73°F and sunny. But as the day approached, the forecast was revised to a high in the mid 50s with rain and wind, so we ate picnic foods inside a house instead.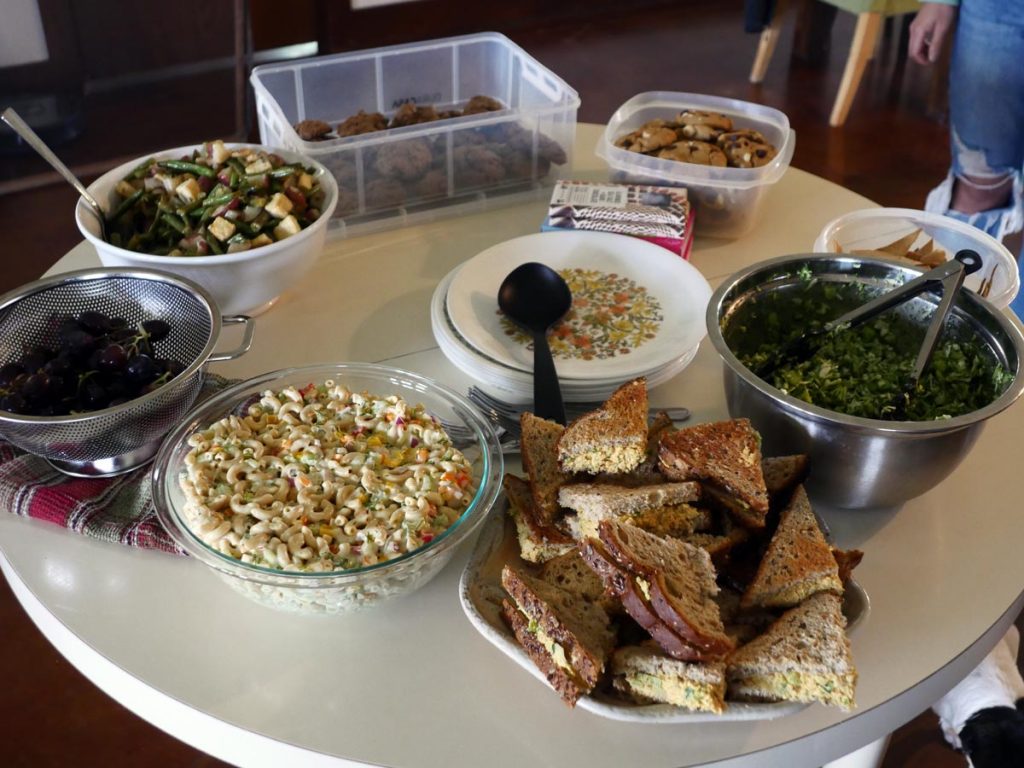 This is what we made: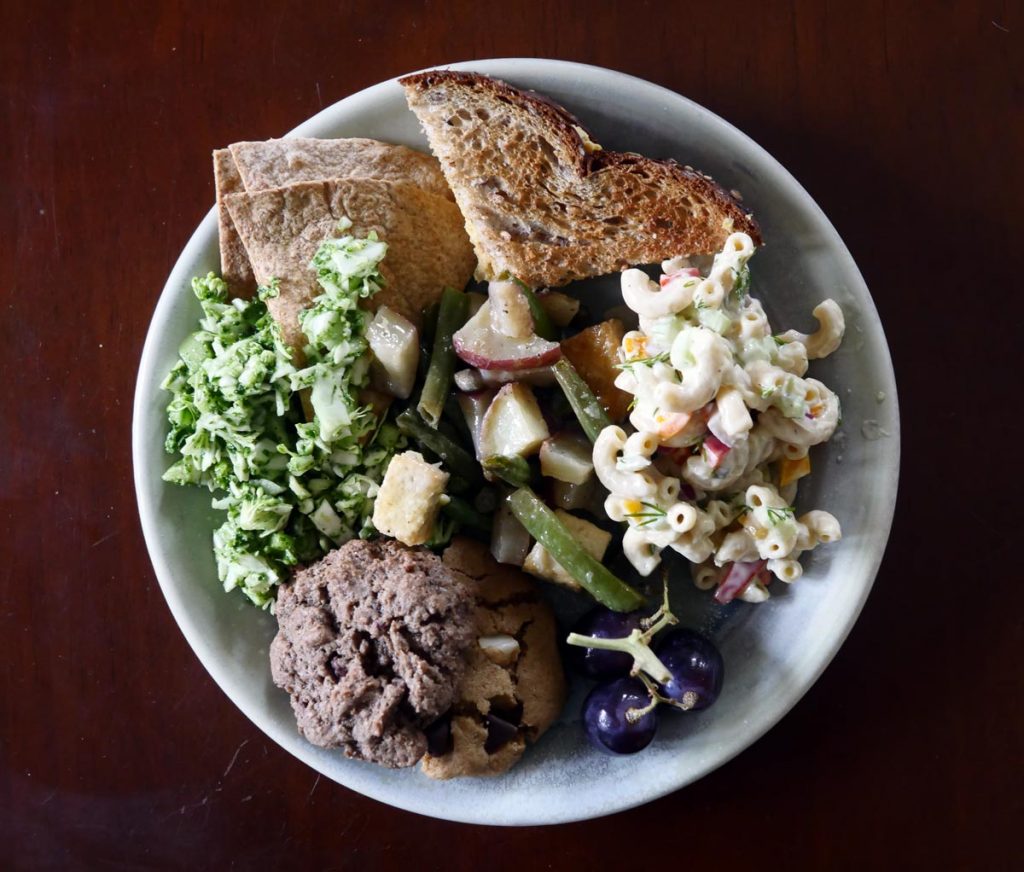 Slynn: Roasted Red Potato and Green Bean Salad
Slynn cut a block of extra firm tofu into cubes then used a tofu press to squeeze out the water. She coated the cubes in corn starch, liquid aminos, and olive oil for baking. She added the tofu to a salad recipe from 350 Best Vegan Recipes that contained fresh trimmed green beans from Kroger and little red potatoes that she roasted on a baking sheet. The dressing contained olive oil, white wine vinegar, Dijon mustard, lemon juice, fresh basil, capers, salt, and black pepper.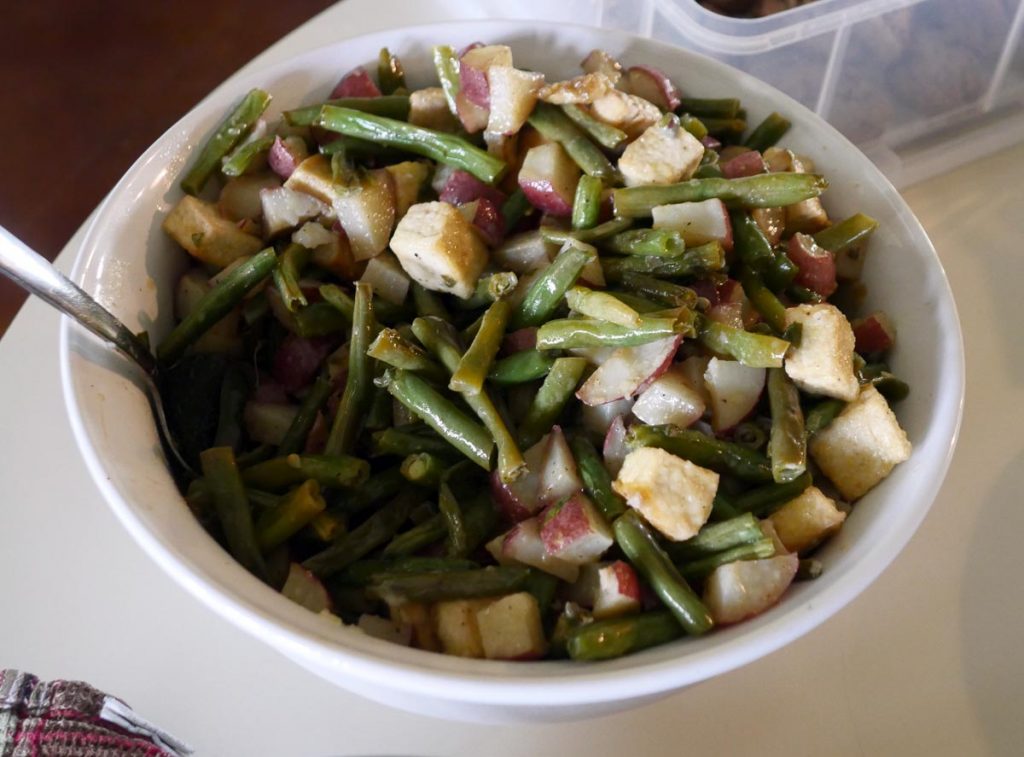 Lauren: Chocolate Chip Macadamia Nut Cookies
Lauren worked from the America's Test Kitchen Vegan For Everybody chocolate chip cookie recipe to make these chocolate chip macadamia nut cookies. For adaptations, she used whole wheat flour for half of the all-purpose flour, added ground flaxseed, substituted sunflower butter for the almond butter, and added macadamia nuts because her parents had sent a big bag in the mail. Other ingredients included brown sugar, canola oil, water, baking powder, baking soda, salt, and of course, chocolate chips. She baked the cookies at 350°F for 13 minutes.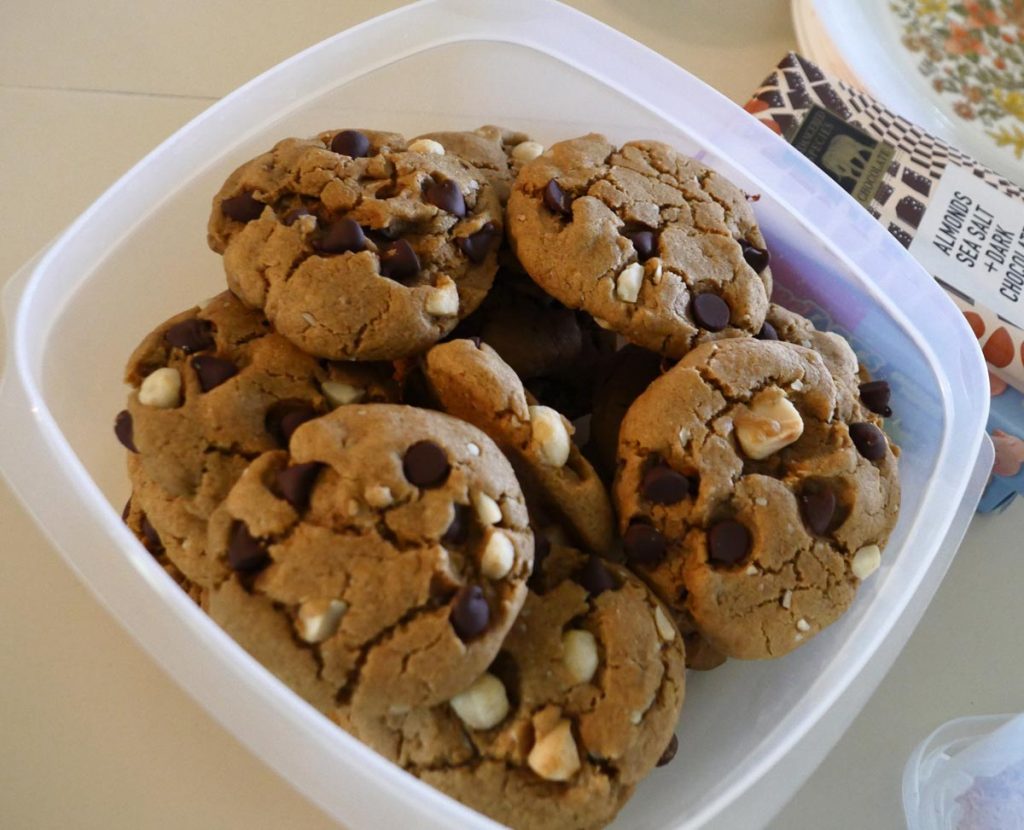 Minji: Mighty Green Salad
Minji served up a green on green on green salad dressed with more green. She put it together with finely chopped green cabbage, broccoli, and cucumber coated in a dressing made from blending parsley, baby spinach, garlic, olive oil, maple syrup, cashews, lemon juice, and salt. She served the salad with a side of crunchy whole wheat tortilla chips that she baked.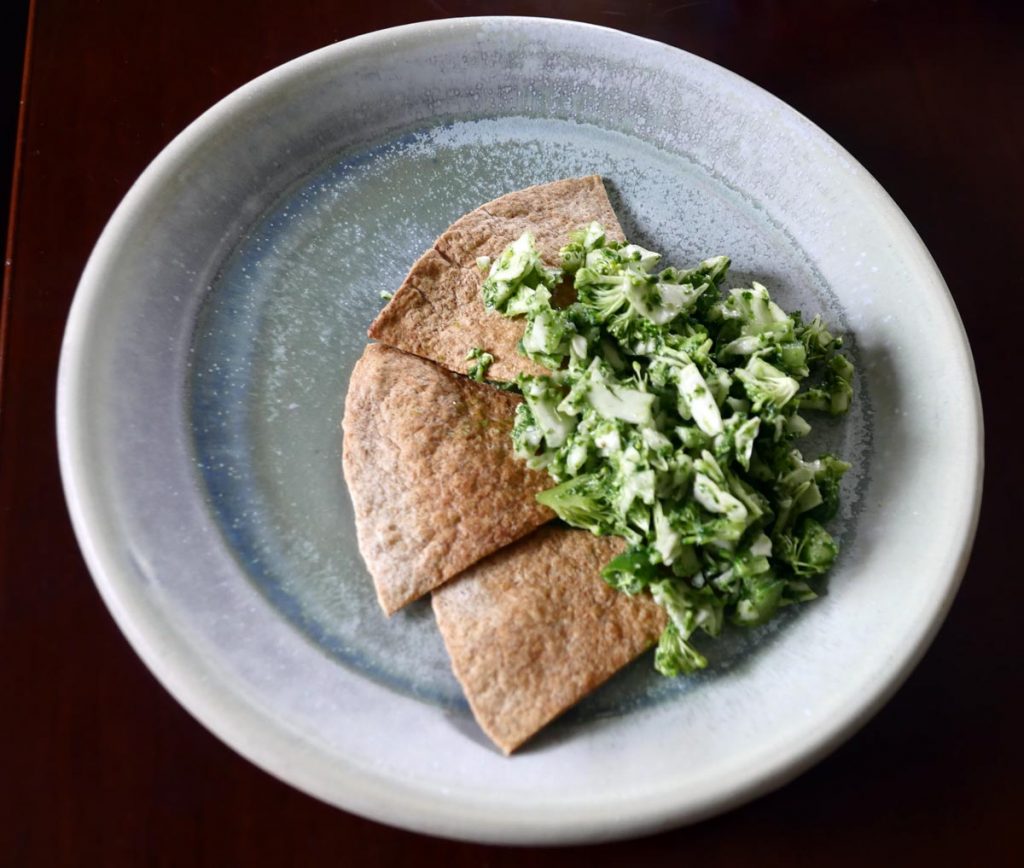 Kori: Best Vegan Macaroni Salad
Kori made a macaroni salad following the Nora Cooks recipe for the Best Vegan Macaroni Salad opting for the sweet pickle relish and yellow mustard options. Her one reported diversion from the recipe was to use mini red, orange, and yellow peppers instead of half of a red bell pepper. This really was the best vegan macaroni salad.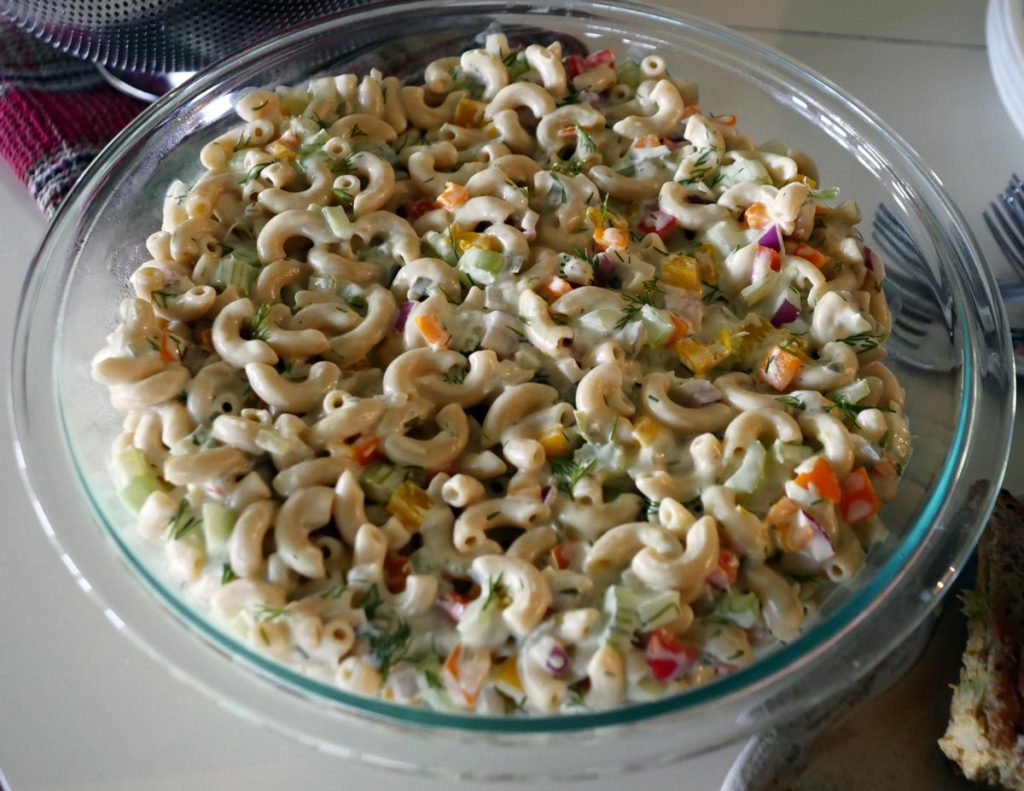 Ric: Nuteva Cookies
Ric was planning to make chocolate chip cookies, but after Lauren mentioned she was making them, he went with a Nuteva cookie. He mixed together 1/4 cup Nuteva chocolate hazelnut spread, 1/4 cup vegan butter, and a cup of sugar then added almond milk, 2 cups of flour, and a teaspoon each of baking soda and baking powder. He added chocolate chips too and baked the cookies for 10-12 minutes at 350°F.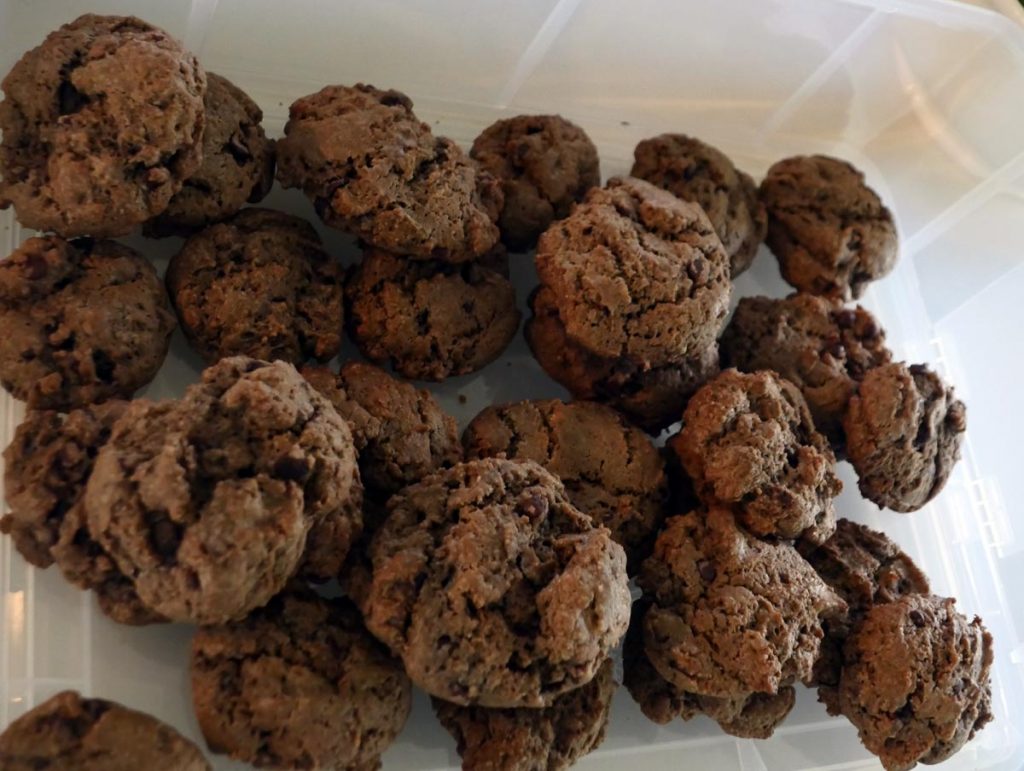 Billy: Chickpea Salad Sandwiches
Billy spread chickpea salad that Lauren had made earlier in the day (chickpeas, celery, shredded carrot, green onion, tahini, vegan mayo, lemon juice, water, curry powder, salt, and pepper) onto toasted slices of Dave's Killer Bread to make sandwiches. He cut each one into four pieces.