April 23, 2016 – Pizza Buffet
Saturday, April 23, 2016
VBC Meeting #38: Pizza Buffet
Host of the Month: Slynn and Ramon
Location: Denton, TX
For our thirty-eighth meeting we put together a vegan pizza buffet, including a handful of dessert pizzas (pizzerts? pizzarts?), that we consumed on Slynn and Ramon's pleasant front porch.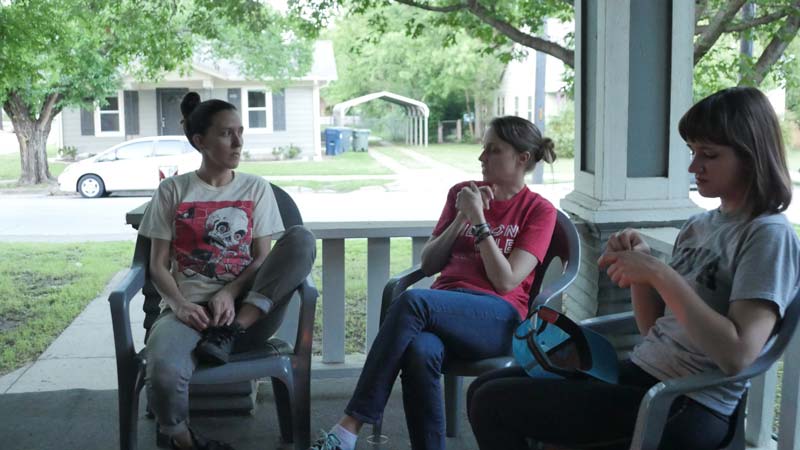 This is what we made: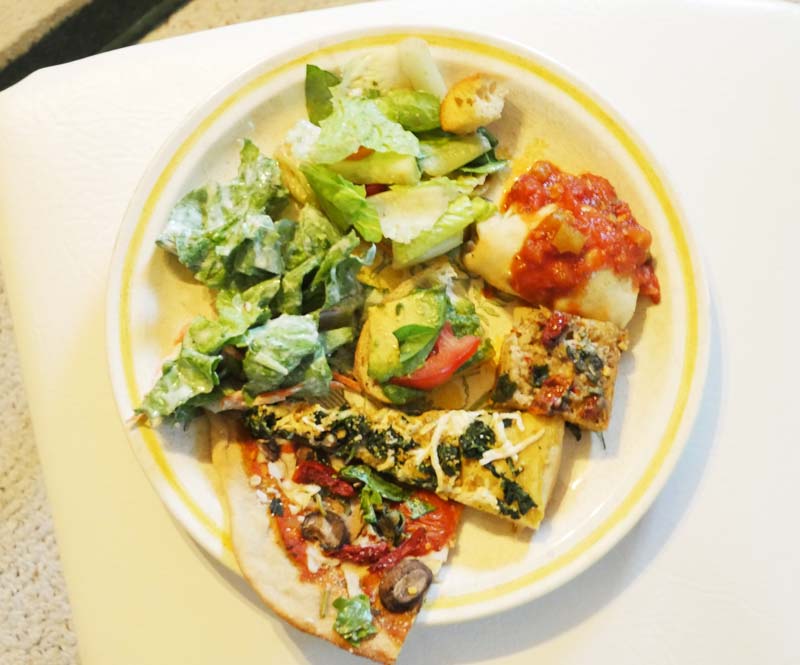 And this: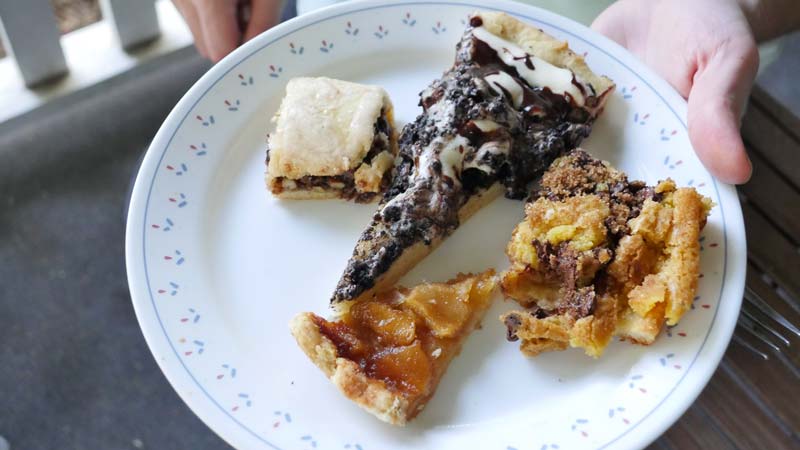 Shannon: Garlic bread
Shannon made a garlic bread recipe she found on the Guy Gone Vegan blog, a site full of veganized versions of Guy Fieri recipes. The bread was spread with a mix of Veganeaise, butter, Italian-y spices, paprika, crushed red pepper, Italian Parsley, Fresh Basil, and two heads (yeah, heads, not cloves!) of roasted garlic. She baked the garlicked bread then layered it with sun dried tomatoes and fresh basil.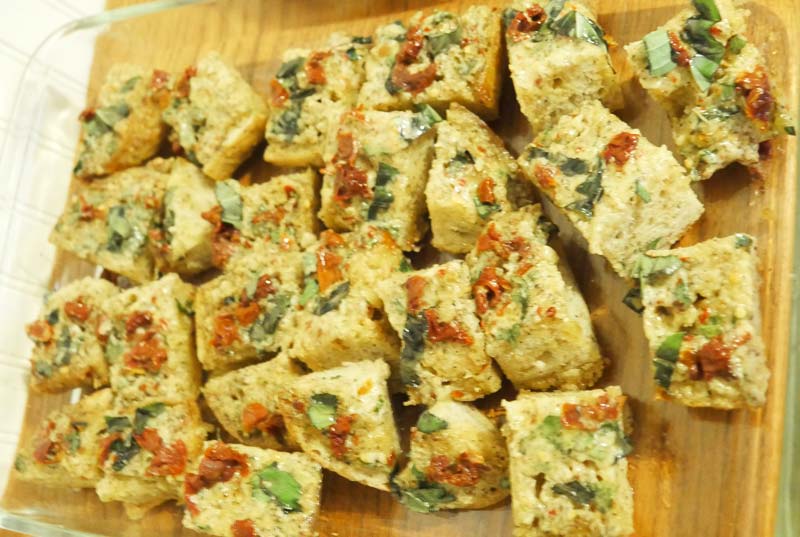 John: Chocolate Chip Cookie Pizza; Jel Shots.
For his pizza themed item, John topped store-bought pizza crust with yellow cake mix, chocolate chips, and brown sugar.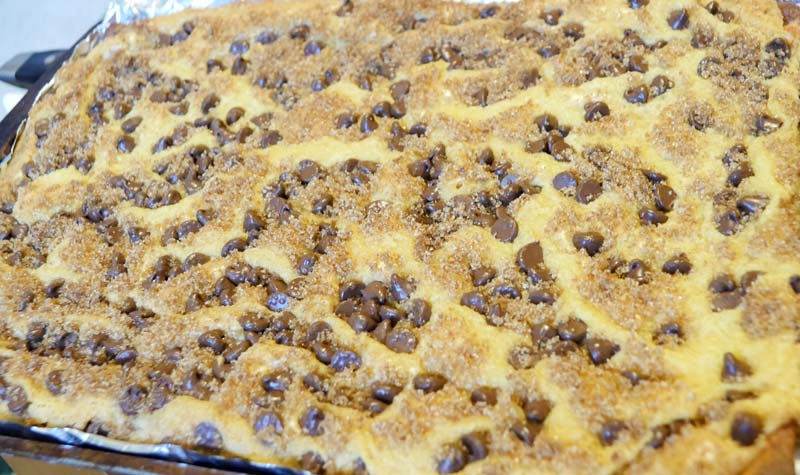 He made Jel shots for another party he was going to on this day and brought us some of the extras. He made a cherry Jel dessert shot with lime juice and citrus vodka and and orange flavored Jel with orange juice from fresh oranges and some raspberry vodka.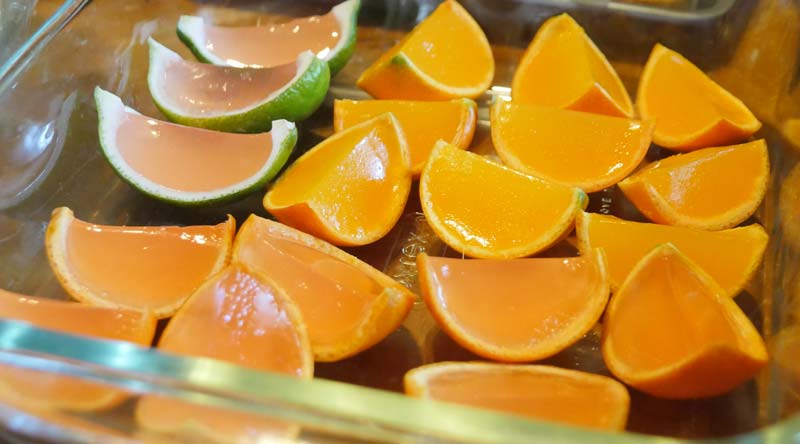 Caroline: Back-to-Basics Vinaigrette Salad
Caroline made a salad using Dreena Burton's Back-to-Basics Balsamic Vinaigrette recipe from the Eat, Drink & Be Vegan cookbook. She chopped up and baked some ciabatta bread for croutons that she added to the lettuce, carrot, cherry tomatoes, and cucumber salad.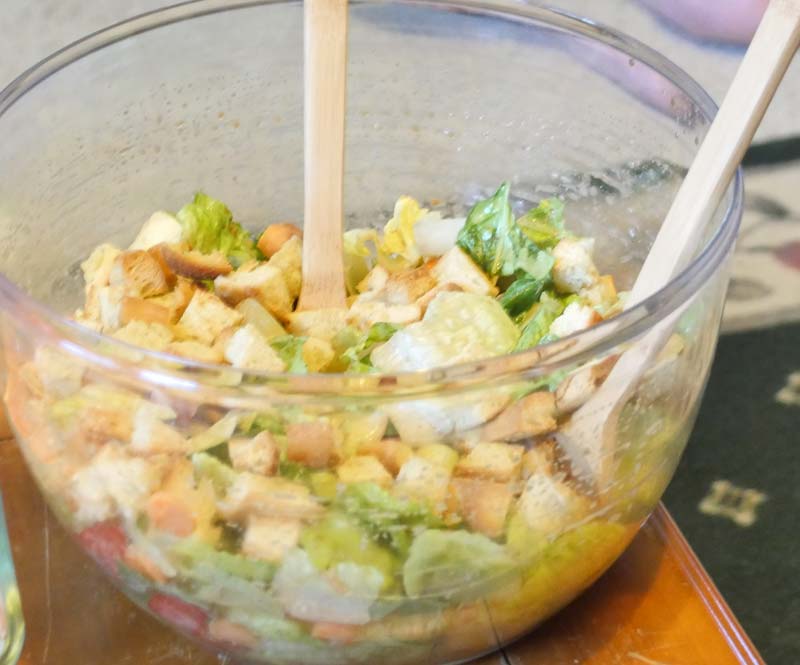 Drew: Veggie Ciabatta
Drew made a cashew, basil, spinach pesto served on ciabatta bread slices with tomato and avocado.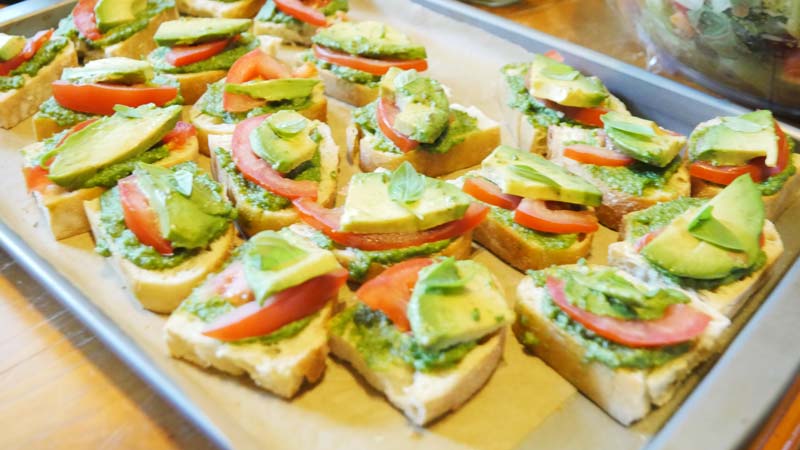 Billy: Home Grown Salad with Creamy White Dressing
Billy used his home grown lettuce and radishes to build a salad that also featured avocado, carrot shreds, and pecans. His dressing included Tofutti sour cream, soy yogurt, almond milk, onion powder, garlic powder, lemon juice, salt, and pepper.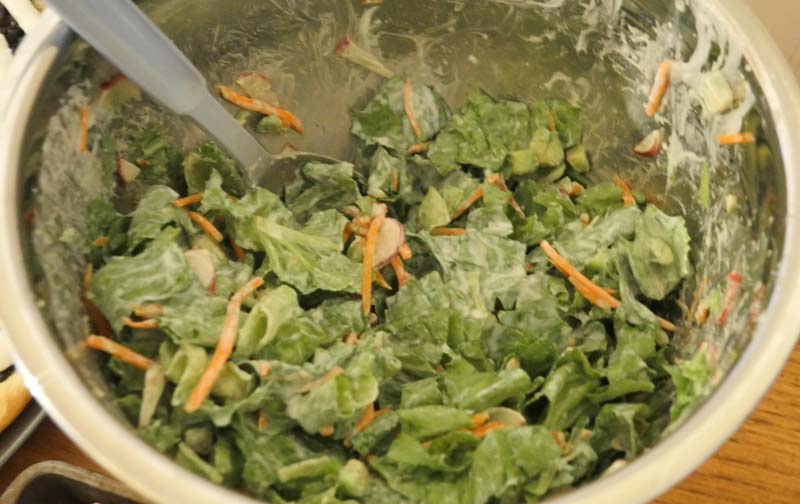 Ramon: Pepperoni and Roasted Eggplant Calzones
Ramon gets the elaborate award for making these pocket-sized calzones from scratch. For the ricotta, he soaked raw cashews for five hours before blending them with nutritional yeast, lemon juice, and spices. He made his own pepperoni with beans, vital wheat gluten, and spices that included fresh ground anise and peppercorn. He also prepared roasted eggplant with a maple balsamic glaze and concocted a sauce with canned tomatoes, pepper, onion, and mushrooms.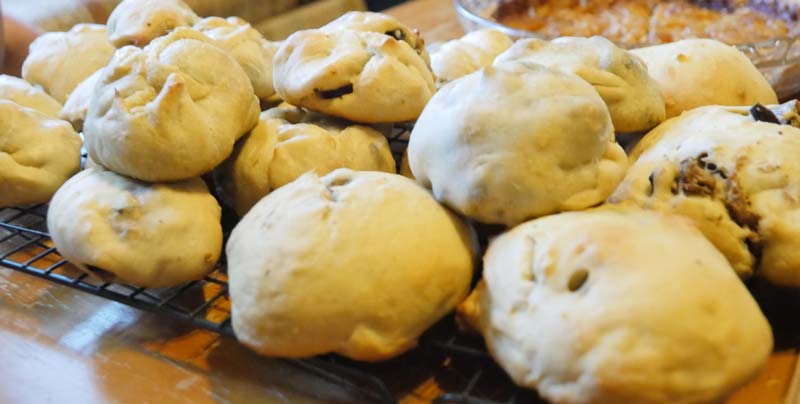 Because he couldn't envision a pizza buffet without it, he also made a very big bowl of ranch dressing consisting mostly of vegan mayonnaise plus almond milk, apple cider vinegar, fresh parsley from the garden, onion powder, and garlic powder.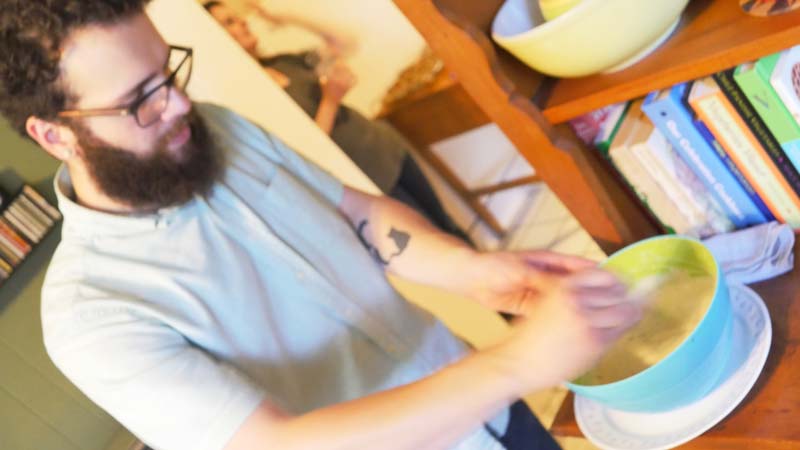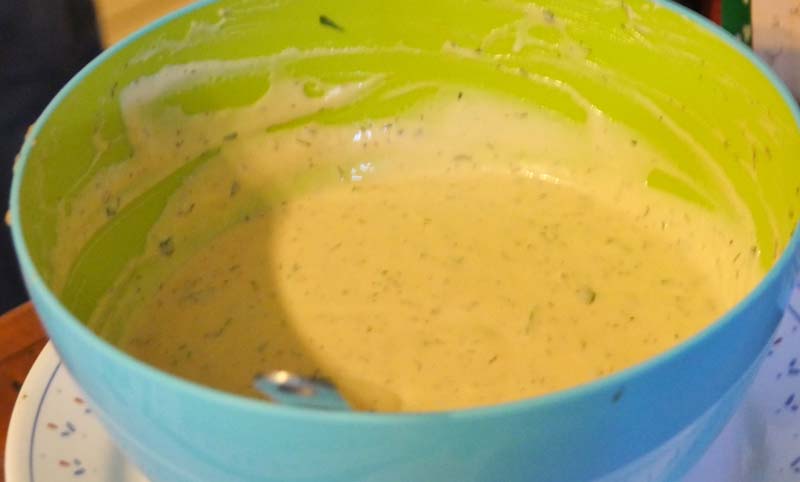 Taylor: Earthy Pizza
Taylor's pizza seemed equal parts hearty, healthy, and indulgent. She made a wheat flour crust topped with tomato, sun dried tomato, arugula, basil, portabella mushroom, olive oil, and garlic.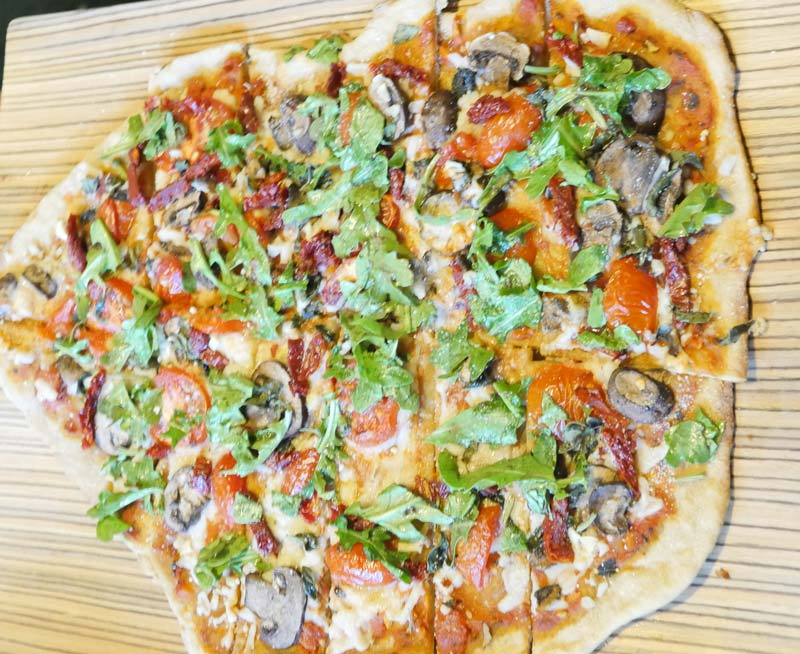 Lauren: Spinach Alfredo Pizza; Cinnamon Stromboli
Lauren made a spinach alfredo pizza on homemade crust. She made the sauce with almond milk, nutritional yeast, flour, garlic, salt, and pepper. To the pizza she added spinach, Daiya Mozzarella style shreds, and a sprinkling of vegan Parmesan made with ground almonds, nutritional yeast, garlic powder, lemon juice, sea salt, and pepper.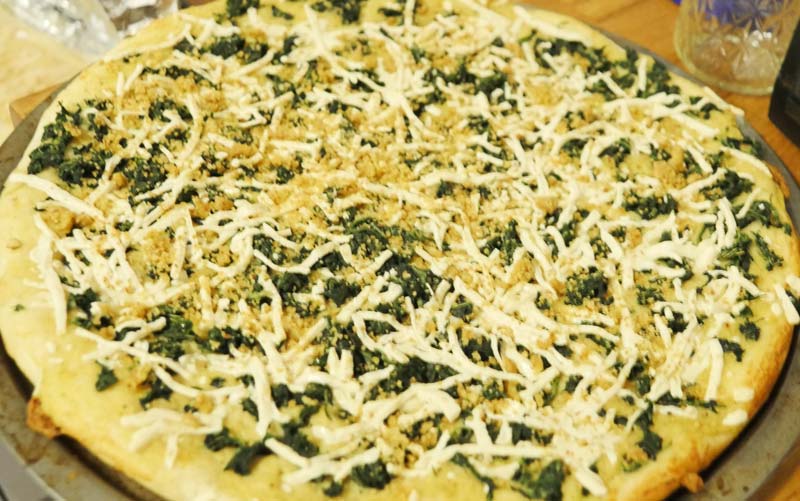 For dessert, Lauren made a cinnamon stromboli modeled after the one offered on Pizza Inn's buffet. She spread cinnamon, sugar, vegan butter, and pecans onto more of the homemade pizza dough, folded it over, and baked it. Once baked, she drizzled it with vanilla icing, cinnamon, and sugar.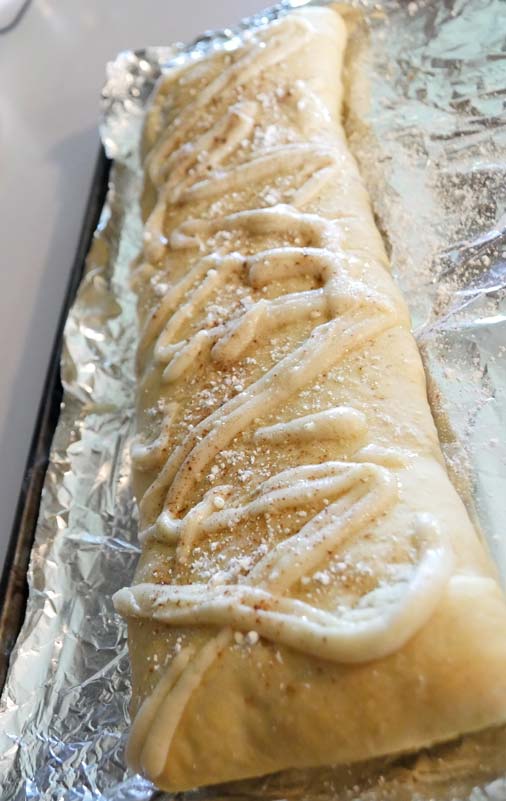 Slynn: Oreo Pizzart
Slynn made a standard pizza dough for her dessert. She topped it with crushed Oreos, vanilla icing, and melted chocolate. Check out the ghost hand that cut the pizzart!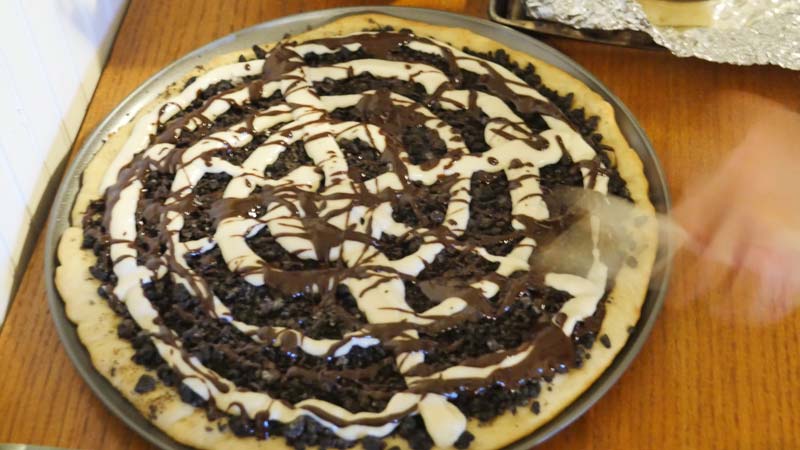 Lilly: Ginger Apple Pie
Lilly sautéed some fresh organic apples with powdered ginger to fill her pie. She basted the apples with ginger butter that she made with ginger syrup and Earth Balance vegan butter. For fanciness, she brushed apple butter on the edges of the pie for looks.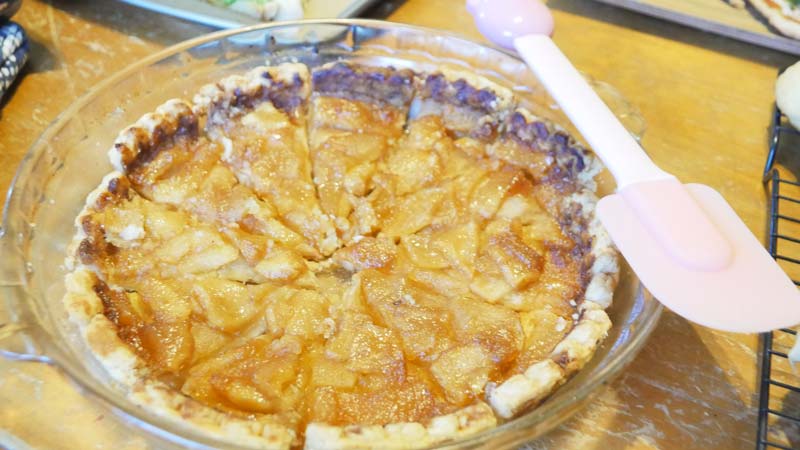 After filling up on vegan pizza buffet, we finished the day off with a good walk.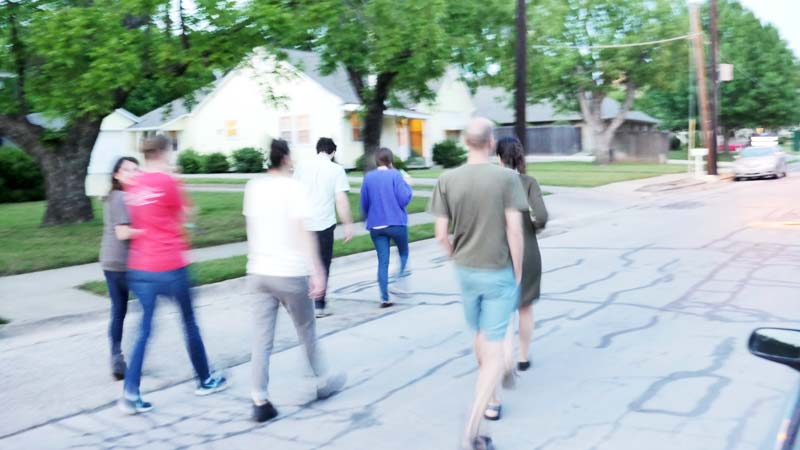 Save