April 20, 2019 – Make Ahead
Sunday, April 20, 2019
VBC Meeting #74: Make Ahead
Host of the Month: Billy and Lauren
Location: Ponder, TX
Sometimes you want or need to make your dinner, dessert, party snack, or other edible delight in advance. That is what this Make Ahead theme was about. Since this meal happened after the annual sheep and llama shearing day, the morning started with make-ahead banana bread.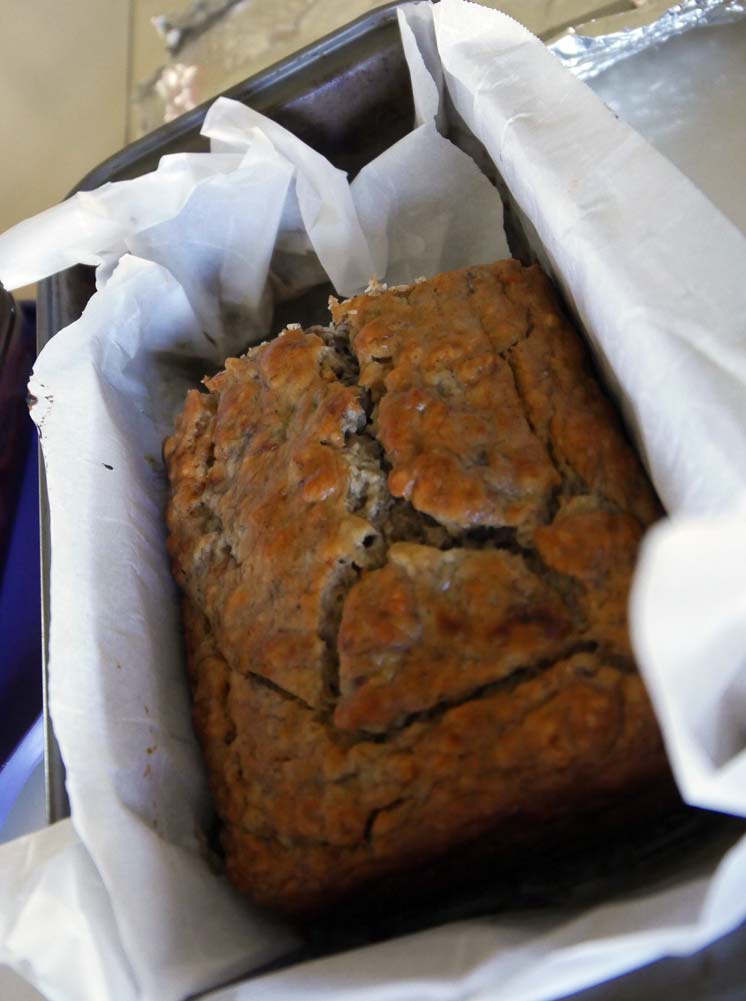 For the rest of it, this is what we made: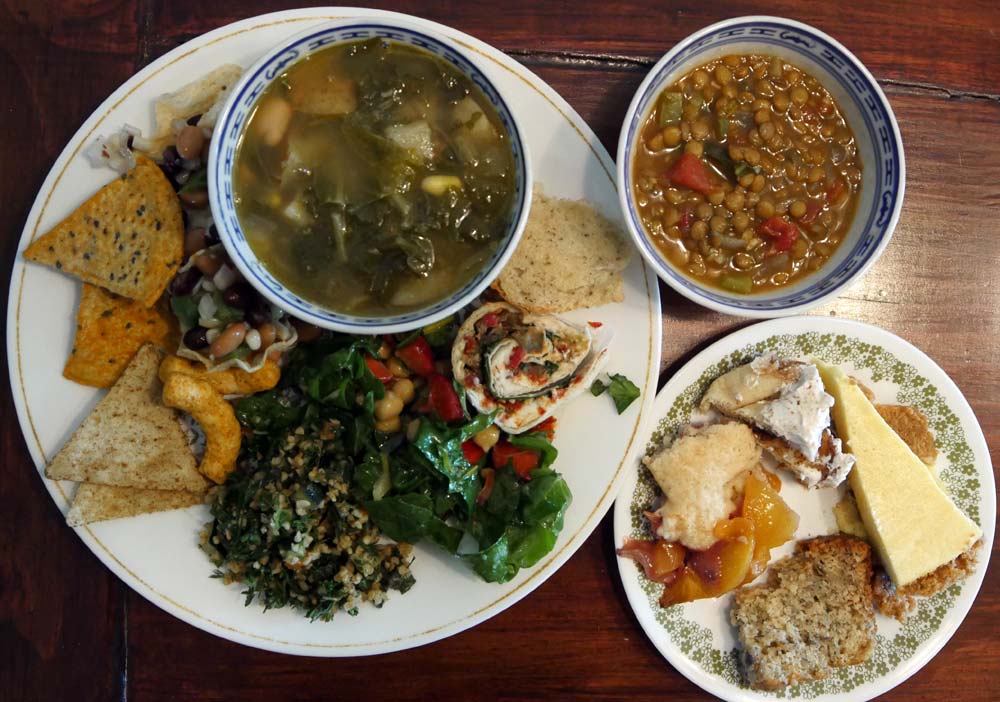 Shannon: Cowboy Caviar; Mango Pie
As is the norm, Shannon made two things for us. One, a good potluck, party, or anytime food, a variety of cowboy caviar that also sometimes goes by other names, she made with a can each of black, pinto, and kidney beans, a can of white corn, two chopped Anaheim peppers, and 1/2 a cup of chopped onion. She separately combined a cup of oil, 1/2 cup of cider vinegar, 1/2 cup of sugar, 1/2 teaspoon salt, and a 1/4 cup of the liquid reserved from the black beans to make a marinade that she heated to boiling to dissolve the sugar. After pouring this over the beans and veggies, she marinated the dish in the refrigerator (this can be for a few hours or over night). Before serving the cowboy caviar, she drained the excess marinade and saved it for later use, so the "caviar" wouldn't be swimming.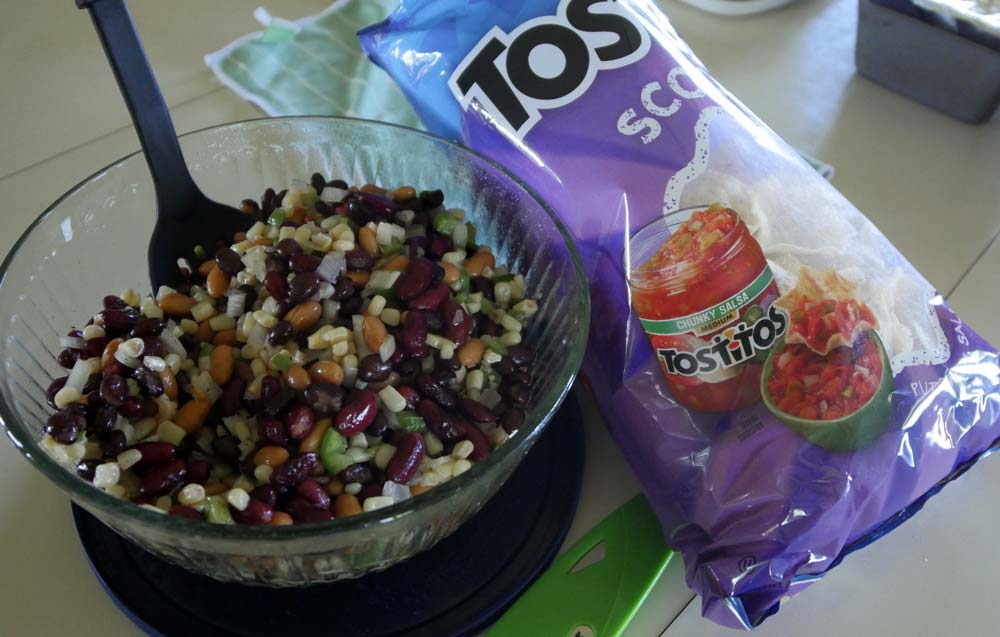 Second, Shannon made a mango custard-style pie by thoroughly veganizing a New York Times recipe. To make the mango custard, the recipe called for mango pulp, but not having any nor easy access to some, she puréed frozen mango chunks (after thawing) as a replacement, then heated it to warm. She prepared a box of unflavored Bakol Jel with boiling water then used an immersion blender to combine this with the mango and two ounces of sweetened vegan cream cheese. To complete the custard, she folded in So Delicious CoCoWhip coconut whipped cream. She made a graham cracker crust that contained the namesake crackers along with cardamom, a pinch of salt, and Earth Balance vegan butter. She put the crust in the freezer for fifteen minutes before baking it. Once the crust was finished, she filled it with the mango custard and let it set in the refrigerator over night.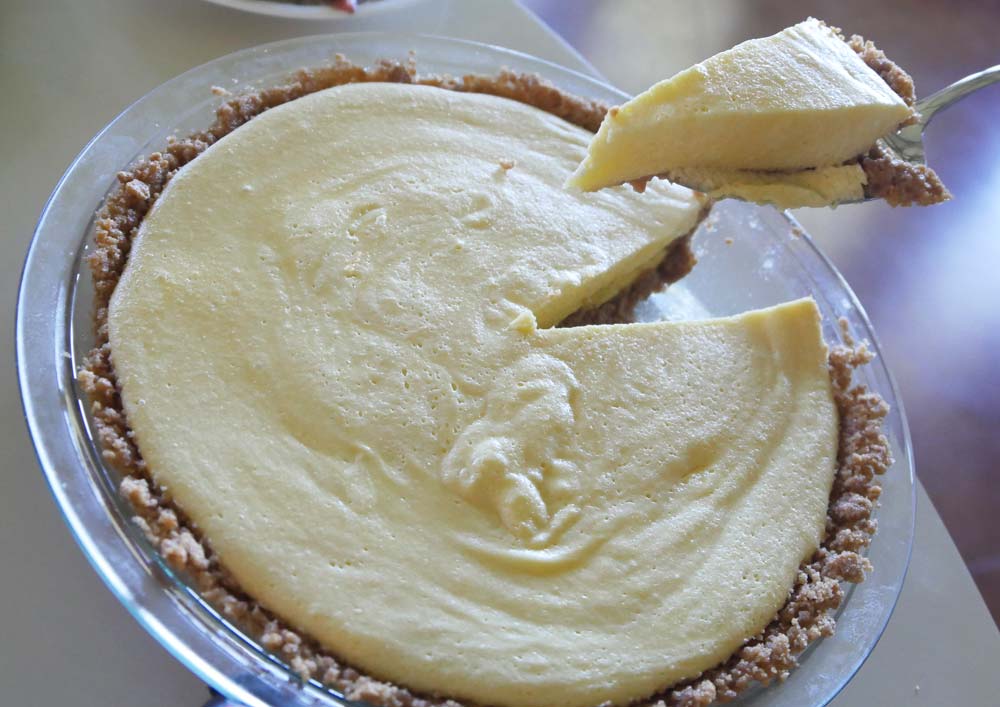 Caroline: Madeahead-By-Someone-Else Snacks
Caroline, currently a busy full-time employee simultaneously working on a master's degree, opted to share with us many delicious treats prepared and packaged for us well-ahead of the Sunday meetup. We enjoyed Hippeas Organic Chickpea Puffs in Sriracha Sunshine flavor (I am determined to have them again soon and to try their Vegan White Cheddar flavor too!), Farmhouse Culture Kraut Krisps of the Zesty Garden Veggie variety, Food Should Taste Good Brand Kimchi Tortilla Chips, and watermelon flavored Waterloo Sparkling Water. All treats mentioned were brought to us via Natural Grocers in Denton.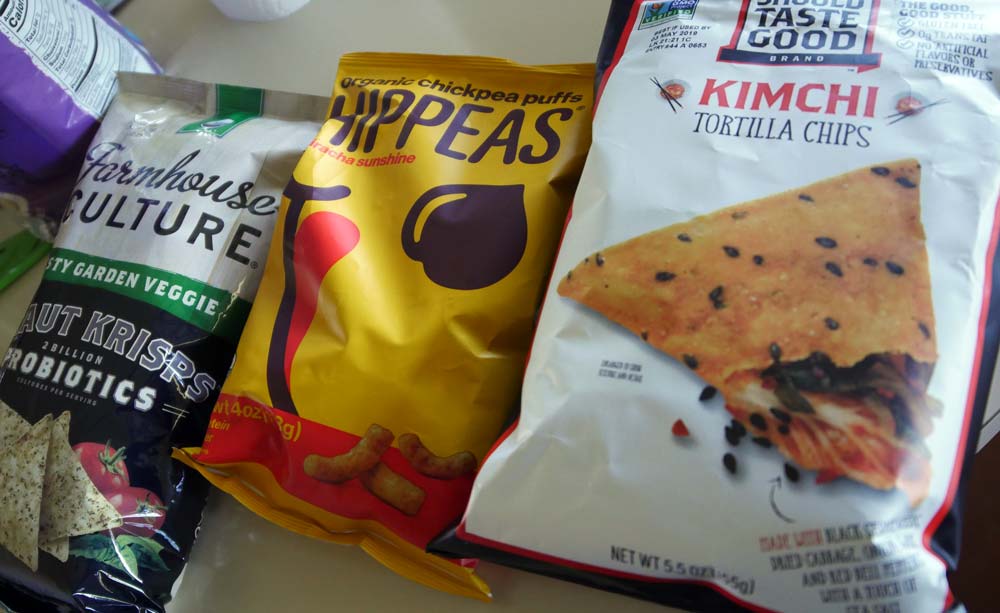 Lauren: White Bean and Chard Soup; Herb Bread
The morning of the VBC meeting, Lauren made a soup using great northern beans, Swiss chard from the garden, potatoes, onion, corn, vegetable broth from a carton, the zest of two lemons, the juice of 1 1/2 of those lemons, grated fresh ginger, salt, pepper, and garlic powder. This soup remained true to its original form with reheating even a few days later.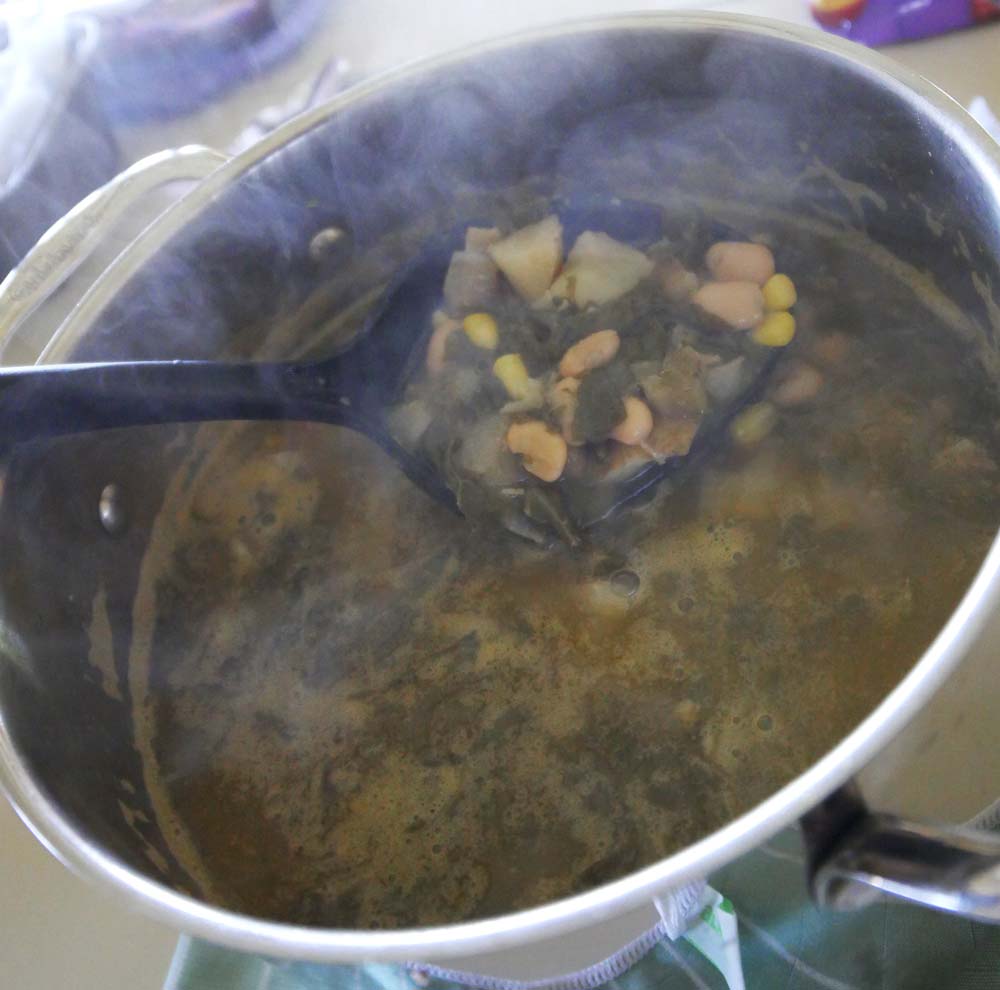 To pair with the soup, the night before the event, Lauren made a free-form herb bread based off the recipe on the back of the King Arthur Bread Flour bag using bread flour, instant yeast, water, Italian seasoning (supplemented with extra basil, oregano, and thyme), plus salt and a bit of sugar.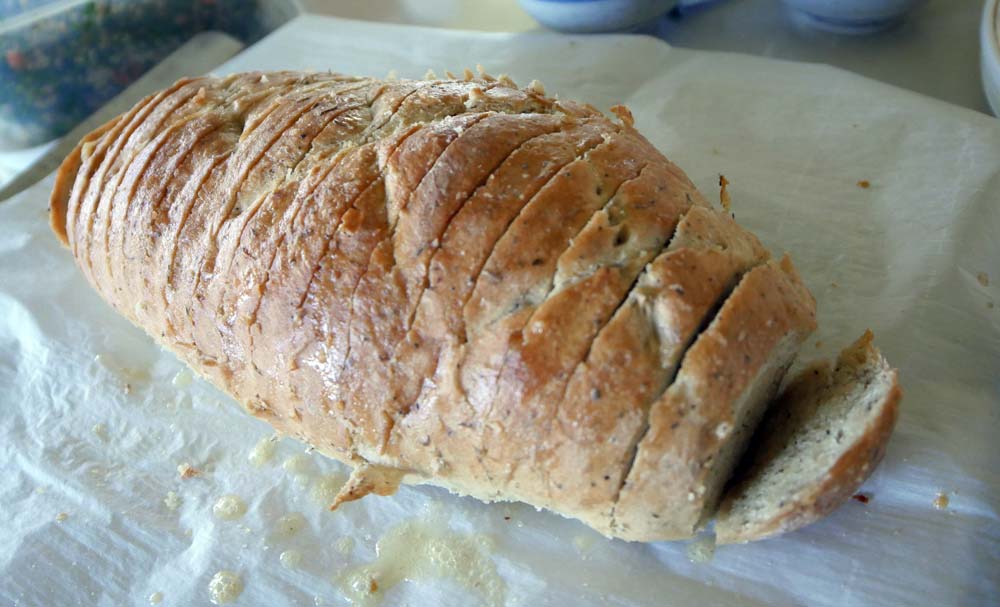 Drew: What's In the Fridge Lentils

Pragmatic Drew threw together lentils with several things he already had on hand and needed to use up. He first cooked onion and bell pepper, then added water, dry lentils, tomato, yellow squash, kale, cilantro, salt, pepper, coriander, cumin, garlic, and paprika for a burstingly flavorful but healthy entrée.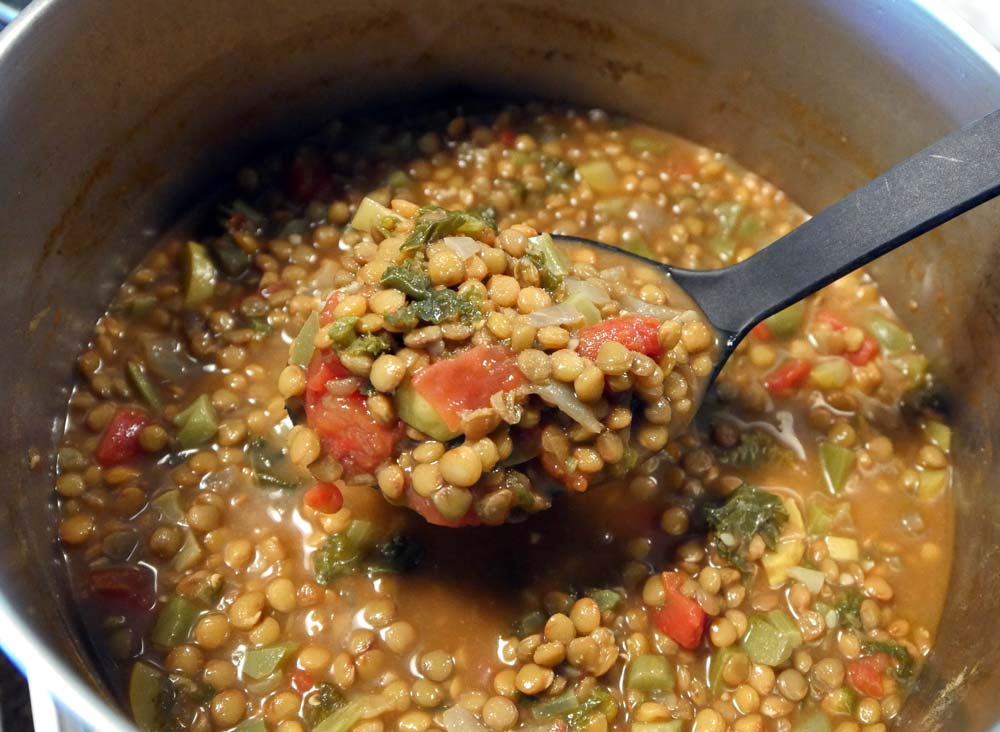 Billy: Tabbouleh Billy
Billy made ahead his own style of tabbouleh with bulgur, cucumber, carrot, and from his garden, green onion, dill, parsley, and mint. He dressed the grain, veggie, and herb salad with olive oil, cumin, salt, and black pepper. Additionally he added a small number of tiny tomatoes also from his garden.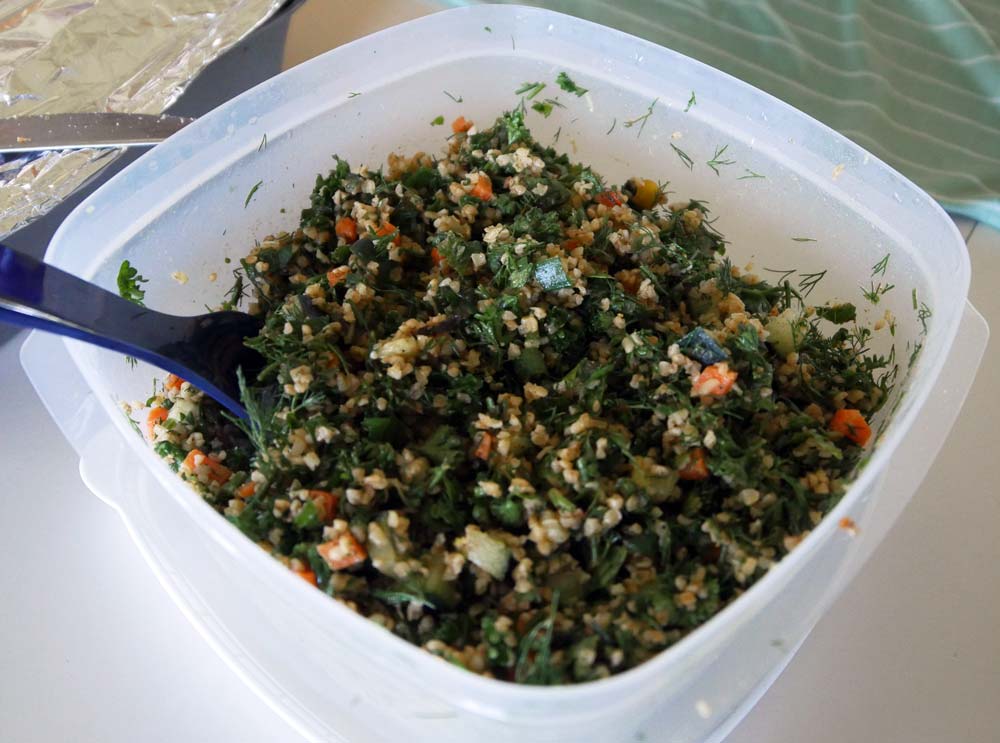 Lilly: Spinach and Strawberry Salad
Lilly took rainbow chard and strawberry from the Denton farmer's market and added chickpeas to create a bright fresh salad. In addition to using the chard leaves as a salad base, she also included the red chard stalks chopped small as an aesthetic tie between the green chard leaves and red berries. She made a vinaigrette of olive oil, lemon juice, a splash of agave, and ground ginger.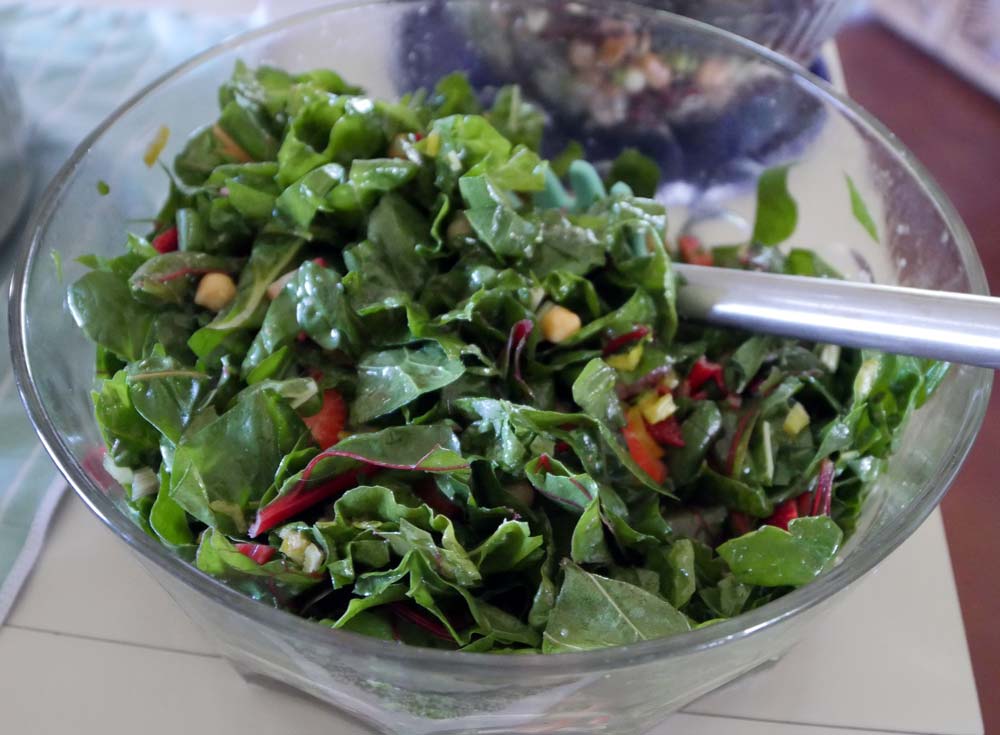 Tara: Mediterranean Pinwheels
Tara had an idea to make savory pinwheels, deciding what exactly to put into them in a just-before-closing dash through Trader Joe's in Southlake. After collecting materials she spread tortillas with vegan cream cheese, fresh spinach, sun-dried tomatoes (not in oil), Antipasto Mediterranean Vegetables containing semi-dried artichokes, zucchini, eggplant, and tomatoes marinated in extra virgin olive oil, oregano, garlic, and salt (she patted the veggies dry). She seasoned the filling with Mrs. Dash Garlic and Herb Seasoning Blend, red pepper flakes, onion powder, minced garlic, salt, and pepper. She rolled up the tortillas and refrigerated them overnight. To help avoid a mess, she waited to cut the pinwheels until just before serving.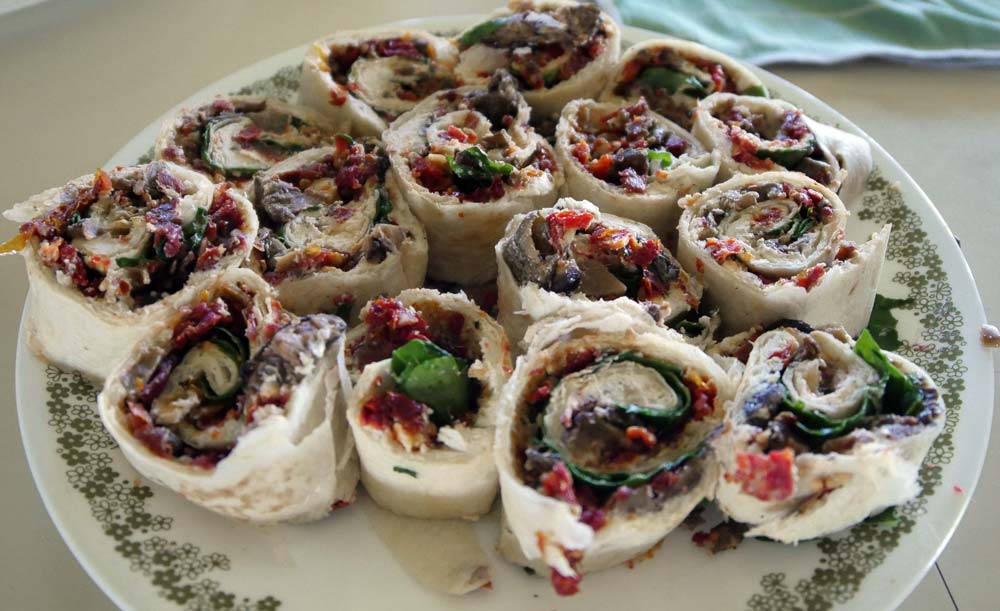 Slynn: Strawberry Peach Cobbler
Slynn filled her cobbler with chopped peaches and strawberries sweetened with sugar and some flour as a thickener for any liquid runoff. She made a batter with flour, sugar, baking powder, coconut creamer, and salt. She dolloped this over the fruit and baked.