Sunday, July 21, 2019 – Freedom
Sunday, July 21, 2019
VBC Meeting #77: Freedom
Host of the Month: Caroline, Drew, and Macy
Location: Denton, TX
Being the month of Independence Day, our theme for July was Freedom. That is, we gave ourselves the freedom to make whatever we wanted.
This is what we made: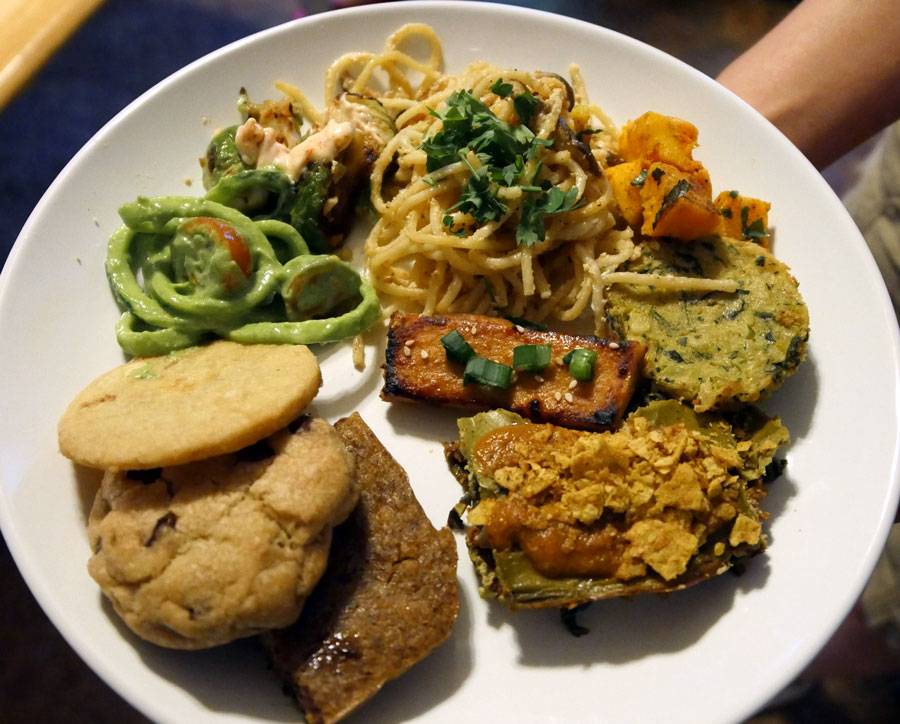 Shannon: Vegan Pasta Carbonara
Shannon made us a vegan pasta carbonara with spaghetti and, in place of ham, featuring roasted shitake mushrooms coated in oil, smoked paprika, salt, and pepper. She poured a cashew cream sauce of oil, oat milk, lemon juice, nutritional yeast, paprika, salt, pepper, and garlic over the pasta and topped it with fresh parsley.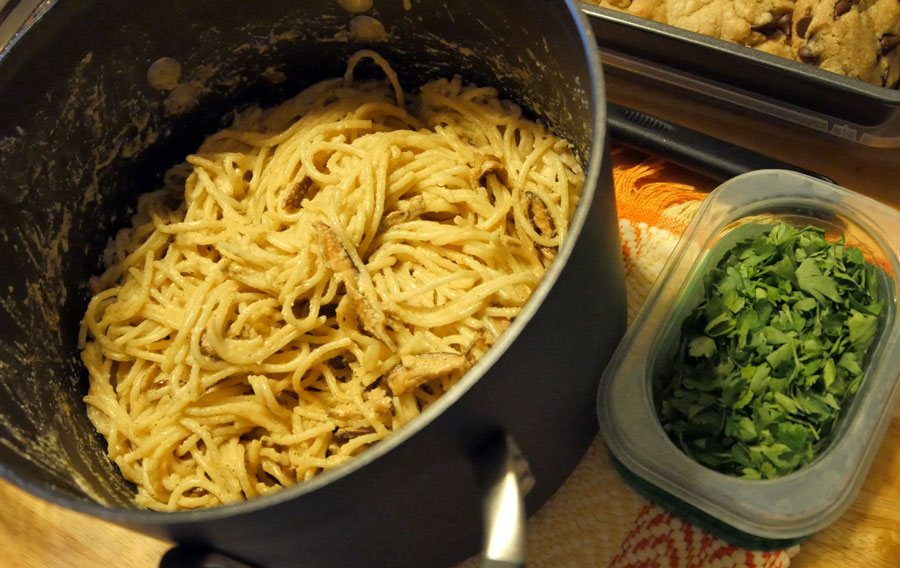 Stacey: Chocolate Chip Cookies
Stacey, Shannon's sister who we had frequently heard about but never met, turned up to her first Vegan Bake Club meetup with a batch of tasty vegan chocolate chip cookies adapted from the 1970s Betty Crocker recipe. The original chocolate chip cookies were the first thing she learned to bake back when she was in high school, so they became the first thing that Stacey chose to veganize. She replaced the egg with Energ-G Egg Replacer though she and Shannon thought in retrospect that maybe apple sauce would have made for a wetter dough.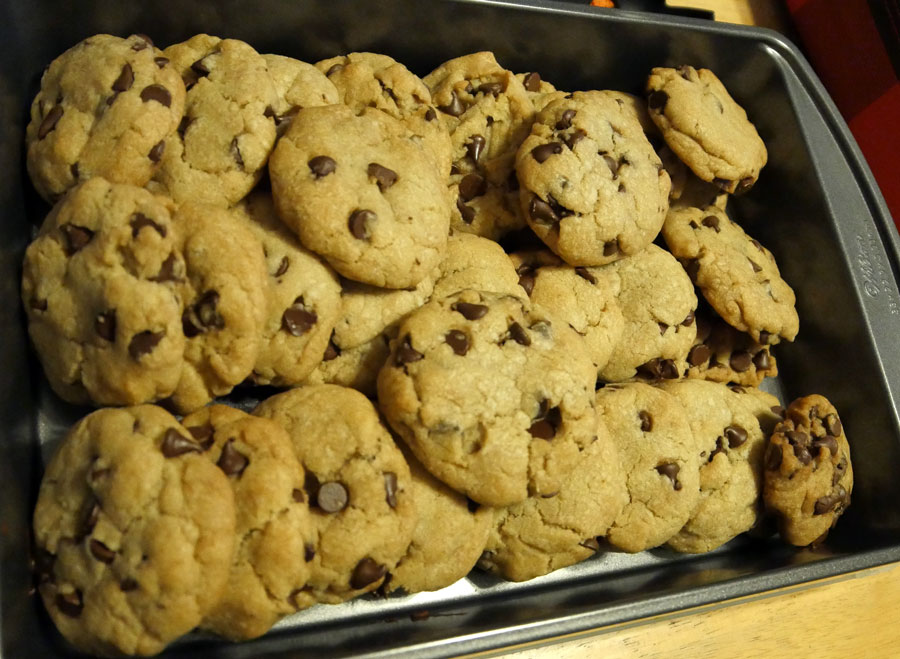 Caroline: Green and Fresh Zucchini Noodles
Caroline spiralized zucchini into noodles and coated them in a sauce made from blended avocado, basil, spinach, lemon juice, cashews, water, plus cherry tomatoes.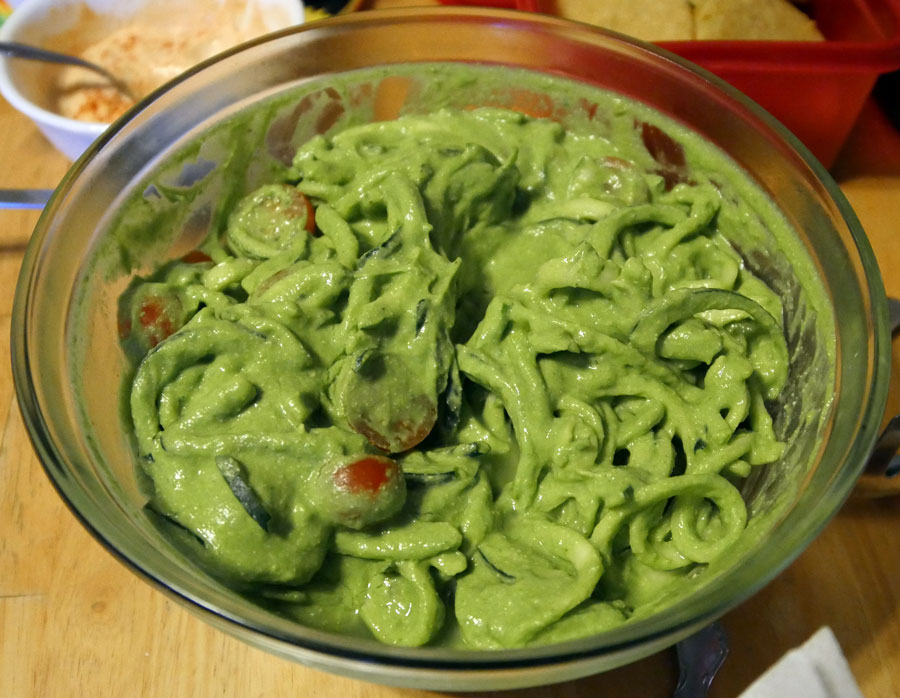 Slynn: Veggie Frittata; Gluten-Free Quinoa Chocolate Chunk Bars
Slynn used the freedom theme as an opportunity to make a toddler-friendly frittata recipe she had been wanting to make. She cooked spinach, riced broccoli, riced butternut squash, riced cauliflower, and green onion with salt, black pepper, and garlic powder. She mixed these veggies into a batter consisting of chickpea flour, nutritional yeast, baking powder, and water, pouring it into muffin tins to bake. While she worried initially that the batter was too runny, it baked up into into a nice quiche-like form.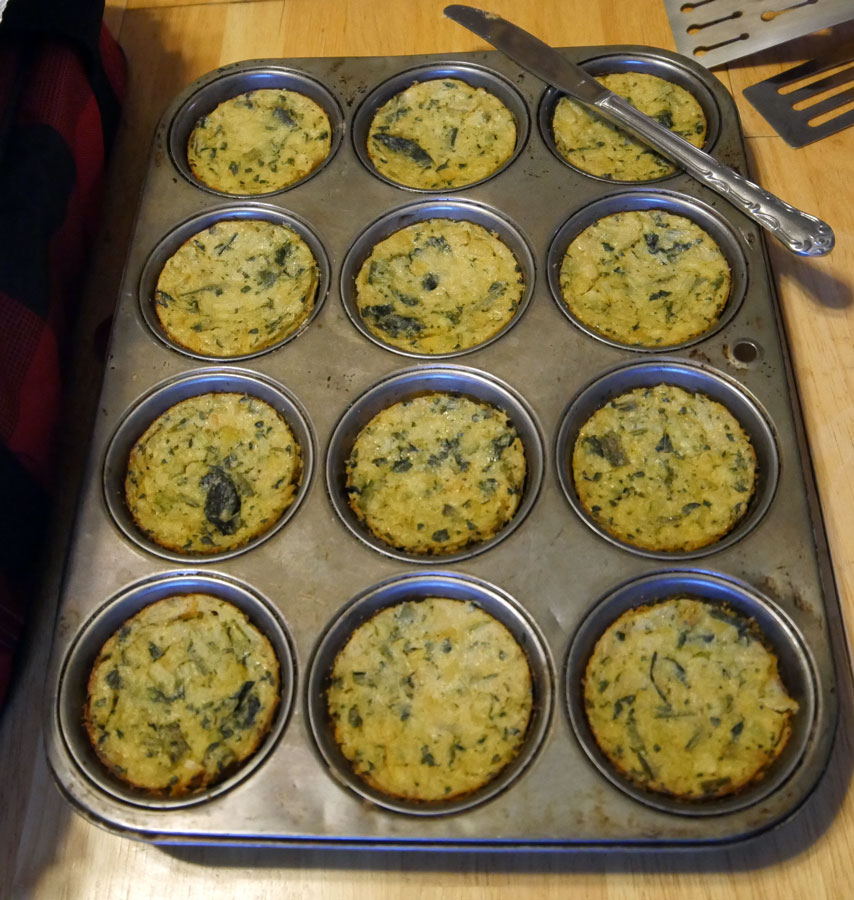 For a healthier-type of sweet, Slynn also made gluten-free chocolate chunk bars by combining quinoa, chickpea flour, brown sugar, cinnamon, flaxseed meal, and Ener-G Egg Replacer.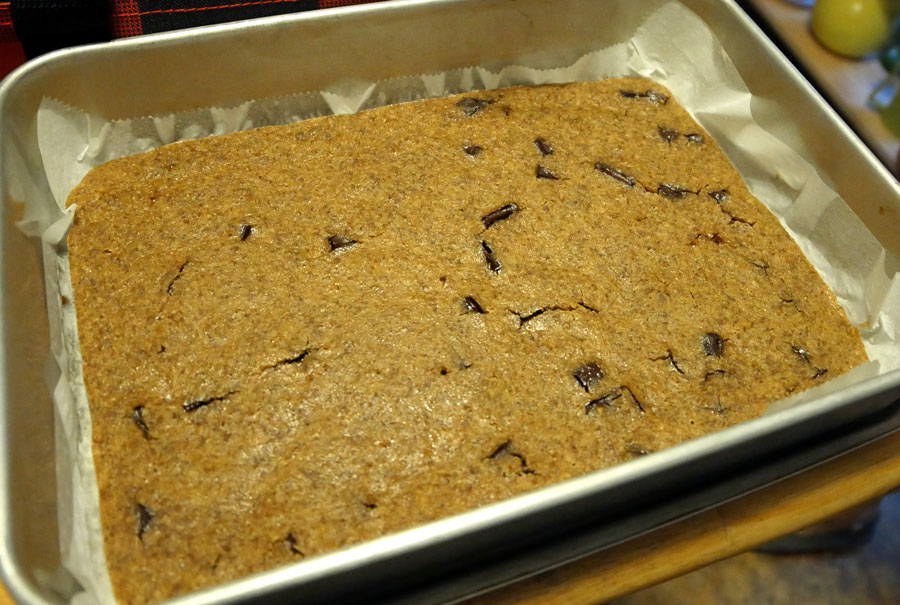 Ramon: Chiles Rellenos Quiche
Ramon pulled from several online recipes to make a chiles rellenos quiche, which he viewed to be less work than making a bunch of chiles rellenos. Traditionally chile relleno is coated in an egg mixture and fried, so he arrived at the idea to make chiles rellenos into a quiche to introduce egginess. He used crushed tortilla chips to add the crunchy fried-like quality. For the pepper aspect, he used roasted poblano peppers. In place of beef he used cauliflower walnut taco meat from a Vegan Richa recipe that he had leftover from a meal earlier in the week. He made a ranchero sauce using two de-seeded jalapeños from a random chiles rellenos recipe he picked out. For the quiche character, he used a topping from a PBS recipe Slynn had used a long time ago but subbed fresh cilantro for dry basil. Originally, he also intended to include a standard nutritional yeast queso but worry that the quiche topping wouldn't set properly or the queso would become rubbery in baking prevented him from including it. Instead he depended on cheesiness coming from tossing crushed tortilla chips in a Dorito-style seasoning made based on a recipe with garlic, paprika, cayenne, cumin, nutritional yeast, and green onions (green onions instead of onion powder since Slynn had it left over).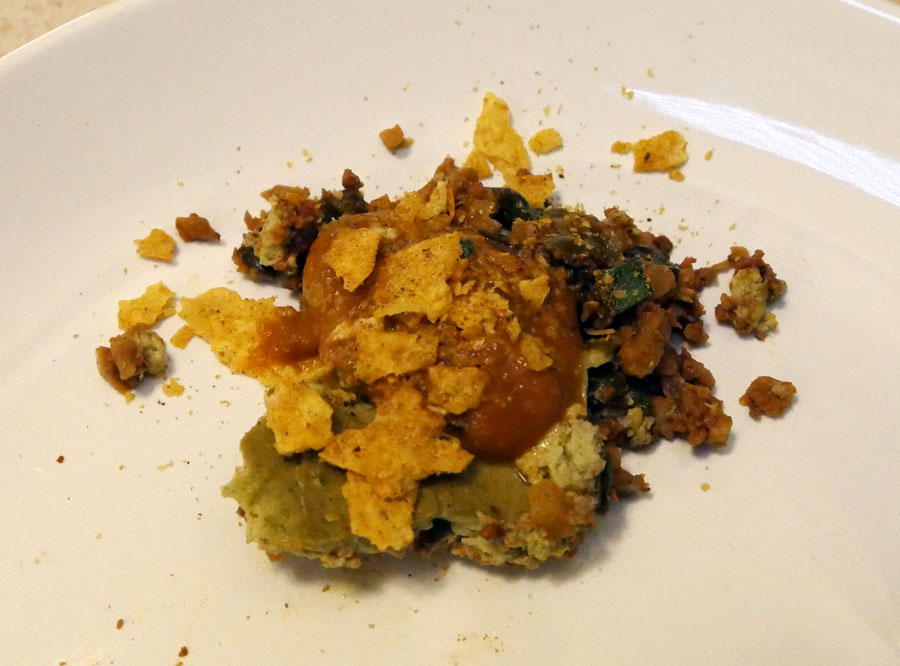 Billy: Baby Butternut Bites
Billy microwaved two of his homegrown butternut squashes to soften them before cutting them into cubes. He then pan fried them with salt, pepper, cinnamon, and fresh mint.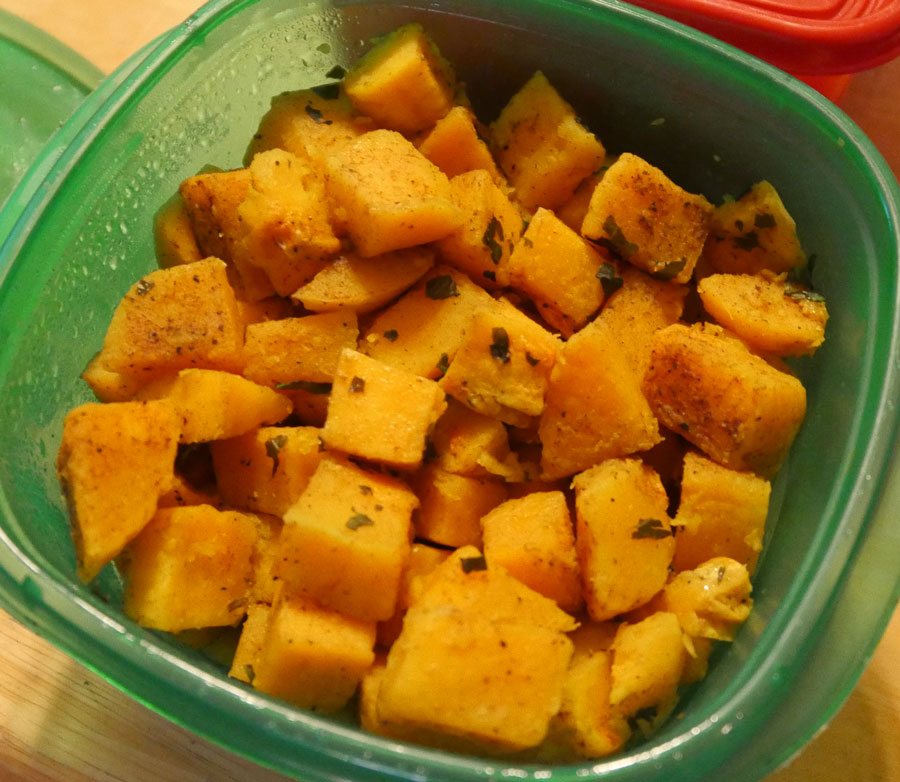 Drew: Pan-Fried Brussels Sprouts
Drew prepared fresh Brussels sprouts in the style of Minimalist Baker's crispy garlic Brussels sprouts with sriracha aioli. He halved them, then coated them in olive oil, salt, and minced garlic. He pan fried them on medium high heat with the lid on for two minutes then flipped them over to cook for another two minutes with the lid back on, then stirred them for another minute. His sauce varied from the Minimalist Baker's in that he used vegan mayo instead of hummus for the sauce base. The sauce also included sriracha, apple cider vinegar, lemon juice, paprika, and garlic powder.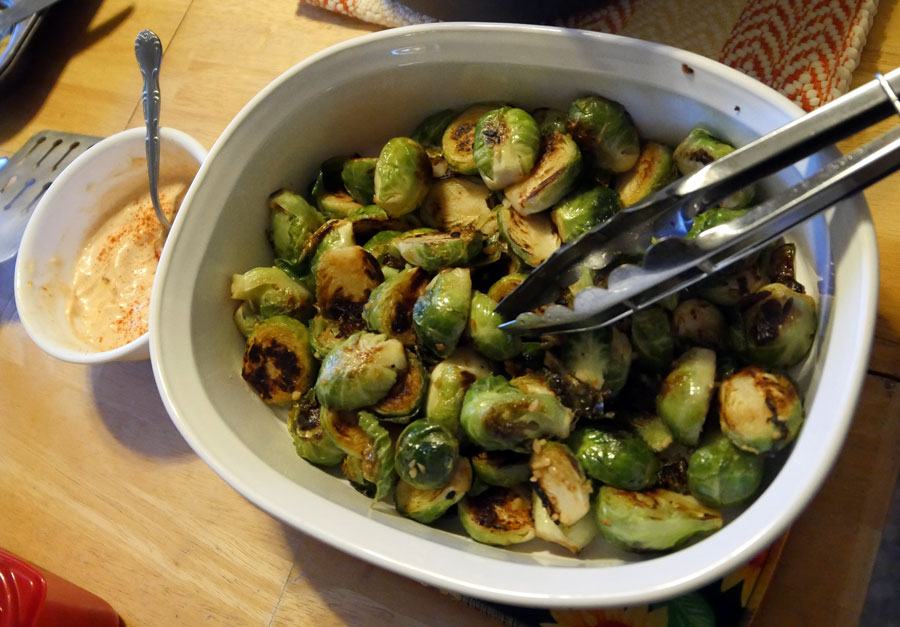 Lauren: Dengaku Tofu; Apricot Shortbread Cookies
Lauren made a miso ginger flavored tofu, inspired by Japan's centuries old dengaku tofu. She cooked slices of tofu on the griddle then spread a sauce of red and white miso pastes, tahini, soy sauce, sugar, vinegar, wine, water, and grated ginger over them before sticking them in the broiler. After cooking, she sprinkled the slices with green onion and sesame seeds.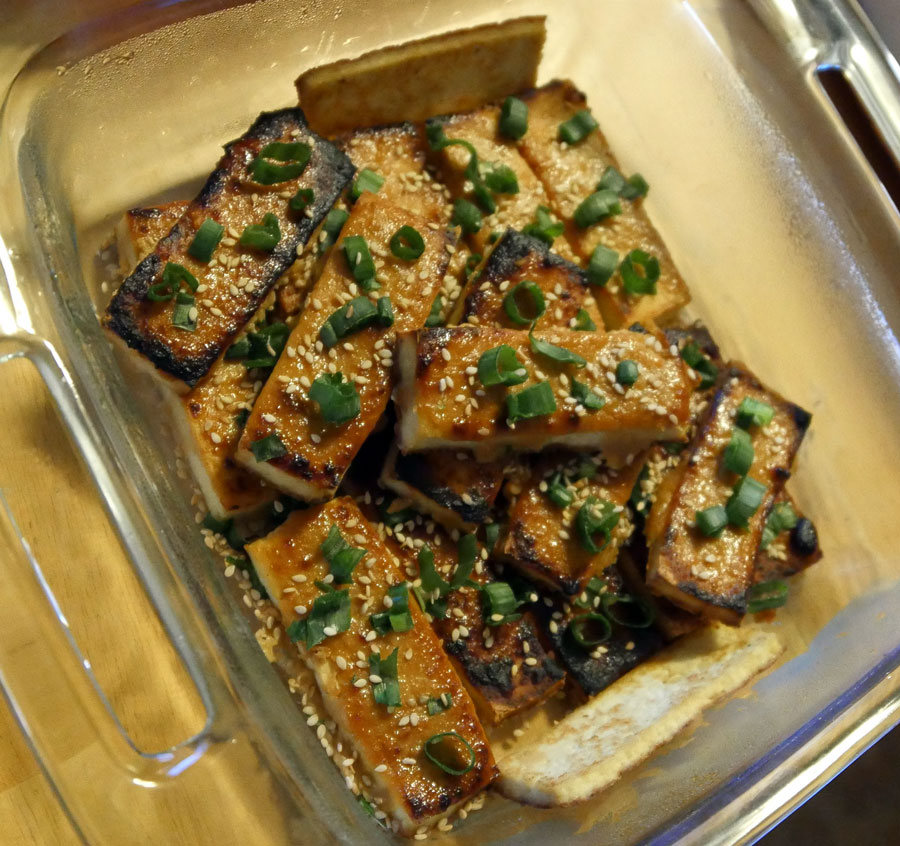 Lauren also made shortbread cookies with flour, Earth Balance Soy-Free Buttery Stick, sugar, vanilla, cardamom, orange zest, and diced dried apricot.